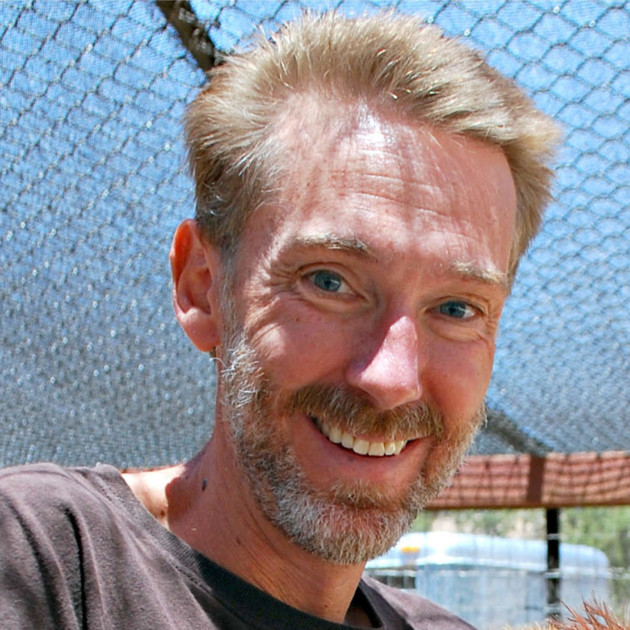 Matt Ball co-founded Vegan Outreach and served as the group's Executive Director for more than 20 years. As Executive Director, Matt built the organization into a leading animal advocacy charity, with revenues and assets approaching $1,000,000 and thousands of active members around the world. Under his leadership, activists distributed more than 22 million booklets exposing the treatment of farmed animals, and promoting compassionate, thoughtful living. These booklets convinced countless people to adopt more humane diets.
A globally-recognized authority on animal advocacy, factory farming, vegetarian diets, and applied ethics, Matt has presented at and written for many forums over the past two decades. He is the author of many essays and several books, including: The Animal Activist's Handbook (2007) and The Accidental Activist (June 2014). In 2005, he was inducted into the Animal Rights Hall of Fame.
Matt lives in Tucson, AZ with his wife Anne Green. Their daughter Ellen attends Pomona College.
1. Why booklets? Why not demonstrations, or protests, videos, or advertisements?
Oh, we did demonstrations, protests, banner holdings, letter writing, public fasts, media stunts, civil disobedience, etc. I could tell you all the lessons Anne (founding Vice President of VO), Jack (President of VO), and I slowly learned over the years, but the direction we ultimately pursued came about from a full evaluation of our ultimate goal: a vegan world.
In more realistic terms (in the timeframe of our lives), I want to reduce suffering as much as possible. The use and abuse of animals for food is arguably the greatest source of unnecessary suffering in the world, so the way to achieve our goal is to get as many people as possible to start making changes – and expand and maintain those changes – in their food choices.
The question then becomes: how can we get people to change their diet such that they cause less suffering? It is a non-negligible change for most people, but in general, there is an approximate bell curve of people's willingness and ability to change – from Uncle Dick the hunter who swears he'll never change, to cousin Jane who loves animals and has never really liked meat, with the majority in between.
We need to reach those on the right-hand side of the bell curve in such a way that we reduce as much suffering as possible per dollar donated and hour worked. For the reasons I discuss in the Advocacy for Maximum Change section of A Meaningful Life, the target audience is generally students – high school and, especially, college.
At the time Anne, Jack, and I were really working to start VO in the early 1990s, we realized we needed something more compelling and constructive than a banner or a chant. The internet wasn't a "thing" yet, so a booklet was the sweet spot between a shouted slogan and screening a movie for the relative handful of people who would be willing to attend.
The work of building a vegan world is a numbers game – we have to reach a lot of people to be able to influence the most receptive people on the right-hand side of the bell curve – especially those who aren't willing to seek out information, or who don't happen to come across and click on a link. As we do this work and society changes, the curve will shift, but it will still be a numbers game. Leafleting – at least in the range we're currently able to pursue – is one scalable way to reach a significant portion of the right-hand side of the curve.
The idea of specialize and network is also relevant – efficiency and effectiveness comes from focus. Given our limited resources, efficiency is very important in having the biggest possible impact.
2. You've classified some of your methods as utilitarian. Why do you take that approach?
As mentioned above (and discussed in Letter to a Young Matt), after I went vegetarian and got involved in activism, I took the "everything and anything" approach to animal advocacy. I cared about words, philosophy, "consistency." I wanted to be "right." It was only after I developed a chronic disease that I came to understand that what we're doing isn't a game. It isn't an argument to be "won." Activism isn't a forum for expressing my opinions or demanding my personal desires.
Rather, suffering is real. Suffering is the bottom line, and reducing suffering as much as possible must be the singular goal. To choose the best tactic for reducing suffering as much as possible, all other considerations need to be set aside.
Even though it can't be exactly quantified (and this is a real, ongoing concern), reducing suffering provides a specific metric by which to set goals and measure progress. Without this clear bottom line, we're left without any rational, defensible means by which to choose our actions. Just consider the alternative: no matter how compelling or immediate another campaign might seem, there will be more suffering in the world if we do not pursue utilitarian goals.
I now know, first-hand, that I don't want to suffer. I don't want to have lived and leave the world with more suffering than if I had made different choices.
3. Lots of people are in favor of reducing animal suffering but consider veganism to be an extreme step that they're unwilling to take. How do you involve those people?
In his interview with Vegan.com's Erik Marcus, author Jonathan Safran Foer explained the two motivations for his book Eating Animals: To be useful (not thorough), and to get new people to focus on the first step, not the last.
This is a perfect summary of my view as well. The optimal advocacy tools – booklets, videos, food samplings, etc. – are explicitly focused on getting people to take the first step toward helping animals. And then the next step. And to be able to maintain and expand those changes.
This is just our current view, however. When Anne, Jack, and I started, our focus was obviously much more along the lines of "vegan" – the name "Vegan Outreach," our first main booklet Why Vegan. It was all about veganism, not about getting as many people as possible to take steps that actually help animals and reduce suffering.
The use of the word "vegan" – vs. reaching the most people – has been an issue over much of VO's history. As we evolved in our thinking, we considered changing our name (for a second time; we started out at Animal Liberation Action). Two things stopped us. One was a study showing companies that changed their name had a significant drop in support / share price; this was relevant for VO, as our then-supporters were pretty much all vegan – and very pro-"vegan" – and very against the change. Second, in our survey of supporters about a possible name change, Peter Singer noted that it was very useful to have a "sane" vegan group as a part of the overall animal advocacy movement.
4. VO receives a lot of anecdotal feedback from people who have changed their diet as a result of your efforts. How do you know that VO is being effective? Does VO have any intention of trying to quantify results?
You are right about the feedback!
Given the stark facts, it could be argued that the biggest problem the animals face isn't the lack of people going vegetarian. Rather, a more significant problem is that the majority of people who do go vegetarian stop being vegetarian! It is much worse for the animals if someone tries to go vegetarian, doesn't feel healthy, goes back to eating meat and tells everyone about their experience. (Discussed more here.)
But even worse than failed vegetarians are all the people who give up eating big mammals and instead eat many more birds. (Math and sources here.)
These indicate a few of the problems faced by those who seek to quantify advocacy effectiveness. To truly understand the impact of any particular tactic for the animals, we need an accurate measure of the full net impact (i.e., how everyone changes their diet, not just the self-selected vegetarians who answer surveys). But we also need a measurement of results over a long-enough timeframe so as to capture failed vegetarians, as they can more-than-offset any short-term created vegetarians. (Not to mention evaluating effectiveness in a way that allows apples-to-apples comparisons with alternatives, capturing opportunity costs, scalability, etc.)
And, of course, honesty is an issue – both from the evaluator and within the evaluator's mind. We all want to believe the best of our ideas and work, which leads us to be severely biased, both consciously and unconsciously.
5. What role do you think research will play in the future of animal advocacy?
I obviously hate to say it, but I think research will not play as significant a role in the future of animal advocacy as it could or should. This is not just because of the difficulty of getting honest, statistically-significant, meaningful, long-term, prescriptive data. Rather, it is because there are relatively few individuals who are truly motivated by maximum impact.
This is just human nature. And we hurt animals when we ignore human nature.
Research results – regardless of if they are honest, relevant, scalable, significant, and universal – may shuffle the relatively few dollars from a handful of strict utilitarians, but they won't change human nature. If we want to do our absolute best for the animals, we have to work with people where they are – members and the public alike – rather from where we want them to be.
6. But don't you think that the more utilitarian-minded individuals are growing in number? For example, ACE has recently seen more individuals and organizations take an interest in measuring their impact. Shouldn't we make at least modest efforts to measure and improve our work?
It is absolutely true there has been a shift in advocacy focus. There has been a complete change in the animal advocacy movement since Anne, Jack, and I started Vegan Outreach, since I wrote "Veganism and Activism Reconsidered." In 1995, the magazine The Economist did a cover story on animal rights, which noted that in the United States, the movement focused on fur and vivisection. Thankfully, that is no longer the case—much, much more of our time and resources go to the ~99% of animals who suffer and die to be eaten.
And yet, even if there is a relative increase in the number of utilitarian-minded individuals, there is no way to be sure they will give their dollars based on research that is honest, relevant, scalable, significant, and universal. Few people, if any, have the time and/or ability to fully evaluate "studies" that claim to show effectiveness. This leaves utilitarians in the same place as non-utilitarians: vulnerable to manipulation by people telling them what they want to hear.
This is not to say I'm entirely pessimistic. But even with the significant and important change in animal advocacy focus, the groups that focus partially or exclusively on the ~99% of animals who die in the US each year raise most of their money with high-profile, short-term campaigns—investigations, rescues, celebrities, gatherings.
So it is true: the focus of advocacy in the US, as a whole, has changed surprisingly, significantly, and quickly for the better. But we can only be as successful as possible if we understand and work with human nature.