(NOTE: This post was made under Animal Charity Evaluators' previous name, Effective Animal Activism.)
This fall, EAA [now Animal Charity Evaluators] is conducting two studies on the effectiveness of particular types of direct outreach interventions in creating dietary change. Last week we posted about the methodology of our Leafleting Study; this post is about our Humane Education Study.
Background
Humane education can mean many things, but for the purposes of this study and this blog post, we will be referring to humane education presentations delivered in high schools and colleges that focus on the impacts of factory farming. In the presentations we are considering, the treatment of animals in factory farms is the main focus, but environmental, health, and social justice problems with factory farming may also be discussed. The presentations are delivered by presenters affiliated with animal activism organizations, usually to classes at the invitation of the teacher or professor, but sometimes in other lecture settings. The Humane League, one of EAA's top recommended charities, carries out such a program, as do many other organizations. For this study, EAA is working with The Humane League, Ethical Choices, Compassionate Action for Animals, and the Factory Farming Awareness Coalition, so our findings will be particularly representative of the effectiveness of their programs.
Compared to leafleting, less information is currently publicly available that estimates the effectiveness of humane education presentations. EAA has previously analyzed a post-lecture survey given last spring by Justice For Animals. This survey suffered from the lack of a control group and from both response and social desirability bias, since it was clearly affiliated with the lecture given and only a small proportion of students chose to take the survey. We expect this fall's study to provide better quality information about the effects of viewing humane education lectures.
What We're Measuring
We intend to measure any difference in diet between students who attended a humane education presentation two months previously and students who did not attend such a presentation. Specifically, we want to know whether the two groups report different rates of switching to a vegetarian or vegan diet within the three months before being surveyed. We do not believe that two months is the ideal time period for measuring long term dietary change. Rather, it is long enough that the most immediate effects of viewing the presentation will have passed but short enough to get timely results. It is also the same as the time period used in the leafleting study, which will assist us in comparing the effectiveness of the two interventions.
Methodology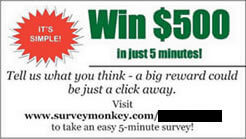 The Humane Education Study will take place in two phases. In the first phase, speakers from our partner organizations will give the presentations they would be giving this fall anyway, with one small change: they will pass out a sheet beforehand for students to sign up with their email address for a chance to win a prize. Business card While they are on campus, the presenters will also distribute business cards with a survey link and offer of a chance to win a prize to students to whom they did not present, either by asking teachers to distribute these cards to other classes or by leaving the cards in a central location on campus. The students who take the business cards and use the survey link will form the control group.
In the second phase, students in the control and intervention groups will take surveys online. As in the Leafleting Study, these surveys will appear to be concerned with respondents' overall diet, although we are only interested in their consumption of animal products.
The control group will be able to take the survey immediately upon receiving the business cards, since we are using their responses to measure baseline levels of dietary change and do not expect those to vary substantially within the short time frames under study.
The experimental group will consist of students who provided their email addresses on the sheets passed out in humane education lectures. Each of these students will receive an email approximately two months after the presentation they see, inviting them to take a survey for a chance of winning a prize. The survey landing page will not state that the survey is related to the humane education presentation, but will confirm that the student has already been entered in a raffle, and that filling out the survey completely will result in a second entry in the raffle and thus an increased chance of winning.
After all students who attended presentations have had a chance to respond to the survey, data will be collected and analyzed to find out whether a greater proportion of the intervention than control group reported becoming vegetarian or vegan in the three months preceding the survey. Regardless of the results, the data analysis will be published on EAA's website, and will inform our assessments of the effectiveness of humane education presentations as an intervention to help animals.
For more information on the methodology of this study, including links to the specific materials we are using, please visit the study page in our research section.