Shortly after this post was published, one of the authors of the study discussed published a retraction. See our post explaining the implications for animal advocates.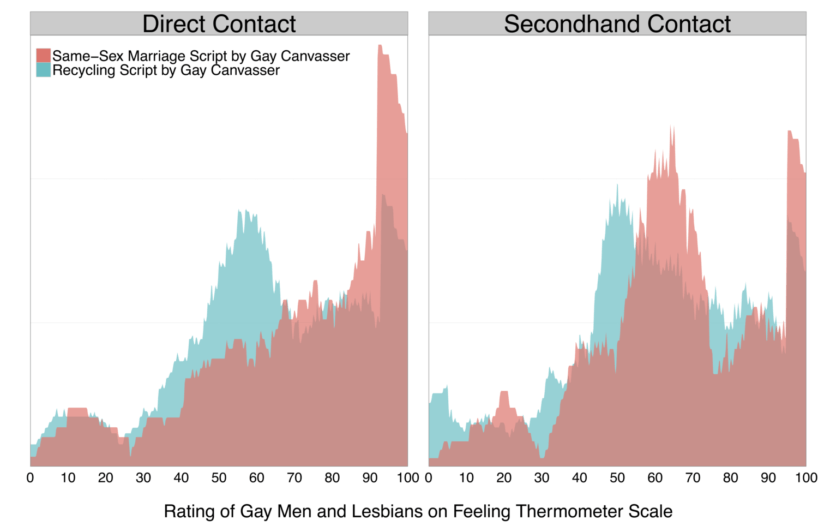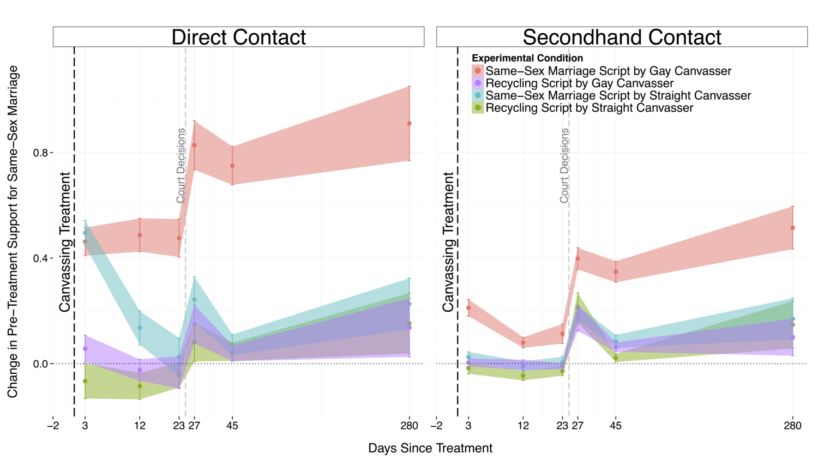 Advocates in a variety of social movements struggle to create changes in public opinion and behavior through highly visible demonstrations, carefully worded arguments in pamphlets and articles, conversations with personal acquaintances, and everything in between. Most of these efforts take for granted that repeated contact is the only way to change minds; a few people may agree with a message the first time they hear it, but most will need it to be normalized through repeated exposure even if they are relatively open to changing their position. This makes a recent study, published in Science, surprising: Researchers found that a single conversation with a stranger led to a significant shift in opinion even nine months afterwards. While it's not immediately clear how animal advocates can use these findings, there are some interesting lessons to be learned.
The study, conducted by Michael LaCour and Donald Green, tested the effects of canvassing by gay and straight canvassers on voters' opinions of same-sex marriage. All canvassers followed a script in which they initiated a discussion of same-sex marriage, focusing on listening to what the voter had to say, but also at a certain point revealing their own connection to the issue. Gay canvassers revealed that they were gay and talked about what marriage would mean in their own lives, while straight canvassers talked about gay friends or relatives. Voters contacted, and other registered voters in their household who were enrolled in the study, also took a series of surveys about a variety of political issues including same-sex marriage, which they did not know was related to the canvassing. Control groups in the original study included voters who were contacted by the same canvassers with a script about recycling (in which sexual orientation did not come up) and voters who took the surveys but were never contacted by canvassers. A follow-up experiment also tested the effects of canvassing by gay canvassers who revealed their sexual orientation during a conversation about abortion.
The study found that for statistically significant long term opinion change to occur, the canvasser had to be gay and had to conduct a conversation about same-sex marriage, not an unrelated issue. The authors hypothesize that the change is the result of "active contact" between the voter and a member of a marginalized social group, meaning that the interaction includes discussion of the issue that would be expected to separate the participants. They distinguish this from "passive contact" where the issue is not discussed, and from discussion of the issue without contact with a member of the marginalized group. Contact with a straight canvasser discussing same-sex marriage did cause short-term opinion change, but in the long term the effect disappeared, while contact with a gay canvasser who did not discuss same-sex marriage did not cause any greater opinion change than was observed in the control group which had no contact with canvassers.
The most obvious analogy to the farm animal advocacy movement is that discussing the treatment of farmed animals with a chicken or pig would cause significant and lasting opinion change, discussing the treatment of farmed animals with a human advocate with a personal connection to a rescued animal would cause significant but temporary opinion change, and simply being exposed to a chicken or pig would cause no change at all. Of course, non-human animals are not able to discuss their situations the way the gay canvassers in the study did. How can this study inform our efforts?
Contact + Conversation
Animal advocates often try to pair real or virtual contact with an animal with discussion of the issues that animal has faced. Farmed animal sanctuaries offer actual contact with rescued farmed animals paired with informational discussion about the animals themselves and the conditions they were rescued from. Other groups use photos or videos of farmed animals paired with information about their lives, in contexts as varied as documentaries, short online videos, leaflets, and protest posters.
This may be as close as animal advocates can come to the model that this study found effective. But the specific content and tone of the messaging matters: the organization that trained the canvassers did not initiate discussion about the study until they had found a canvassing script that appeared surprisingly effective to them. (For more context, you can hear clips of conversations on This American Life, along with a discussion of the process that led to the study.) The script used in the study dealt directly with the issue of same-sex marriage, but did so conversationally: rather than tell voters directly what to think, canvassers asked repeatedly for voters' own opinions and for stories about their lives, and emphasized commonalities between what they said and the canvassers' own position. The script was also long: an average conversation lasted 22 minutes. Animal advocates often make contact in a more formulaic way which involves less engagement with the audience; the results of this study suggest that it may be worth investigating ways to make a more individual connection, such as sanctuary tours and mentoring programs, even if they reach fewer people.
Indirect Contact
There was one group of voters in the study whose opinions changed substantially and stably without direct contact with a gay canvasser. These were the people who lived in a household with someone who spoke to a gay canvasser about same-sex marriage. Although the study design was careful to ensure that none of these people were actually present for the conversations had by members of their households, the change in opinion was contagious and lasting. The study did not investigate the mechanism of contagion; we don't know what voters did to convince others in their households to change their minds too. And the effect for household members was only about half as strong as for the voters who actually had conversations with gay canvassers. But this effect is one we could hope to see in animal advocacy: if we provide people with strong motivations to change their opinions and behavior, they may well transmit those changes to others close to them. We can also hope to transmit our own values to those we are close to, although we can't expect that this will always work.
Alliances with Other Groups
Animal advocates may be able to make progress on certain issues using methods directly analogous to those used in this study by making alliances with other groups affected by problems we care about. For instance, farming conditions that are bad for animals are also often bad for the humans who work on the farms, and since humans are more able to share their own stories, their direct stories might provide a more convincing message. By aligning with groups affected by poor working conditions in animal agriculture, or by harm it does to human health or the environment, we might be able to use the techniques described in this study to make progress on issues affecting both humans and non-human animals.
This study doesn't provide animal advocates with easy answers, and most likely any immediate follow-ups or replications won't either. But it does shed light on how contact works to create change in opinions, a very relevant topic for animal advocates.