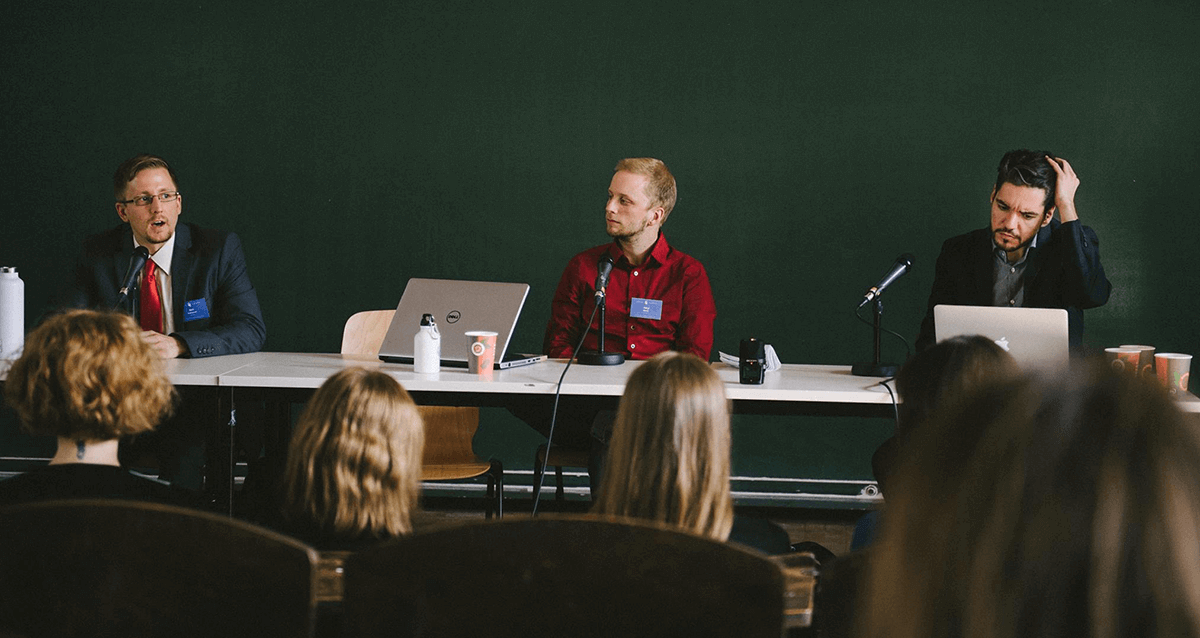 At ACE, we strive to make our research findings accessible and available to as many animal advocates as possible. In an effort to get the word out about our resources, our team will be attending, tabling at, and speaking at several major industry conferences this year around the world. We plan to provide and resources on effective ways to help animals, so that others can be more effective in their advocacy efforts.
Here's a roundup of the conferences we have already attended, and those we will be present at. If you are attending any of these, please come say hello!
In May, our Executive Director Jon Bockman and Researcher Jacy Reese presented at the Sentience Conference in Berlin, Germany. Over 300 people gathered to discuss effective strategies to reduce animal suffering. We were heartened to see so many thoughtful and dedicated people working to finding the best ways to help animals. Jon and Jacy discussed how existing charities can be more effective, how to best advocate for farmed animals, and what research can tell us about strategies going forward.
In addition, Jacy gave smaller presentations at many regional effective altruism and animal advocacy groups in several different countries. Here's a video interview he gave on the topic in Stockholm, Sweden.
In June, we attended and tabled at the Taking Action for Animals Conference in Washington, D.C. We handed out our popular Guide to Giving, as well as information on ACE's work over the past year.
In July, our entire team will be present at the Animal Rights National Conference, in Los Angeles, California. We will be tabling as well as presenting. Our Director of Research, Allison Smith, will discuss ways to measure the effectiveness of our efforts, and ways to go from there. Jon will share some of the lessons he's learned about effective management of nonprofit organizations.
In August, both Allison and Jacy will be present at EA Global, in Berkeley, California. Allison will be giving a presentation on a topic TBD, and will share her thoughts on effective animal advocacy with the broader Effective Altruism community.
In September, Jacy will be speaking on a panel at the International Animal Rights Conference in Luxembourg. On the panel, he will talk about some of the big questions that are faced by the farmed animal advocacy movement, such as whether it is best to focus on changing individual consumption, institutions, or social norms.
In October, Jon will be presenting at the Animal Grantmakers Conference in Denver, Colorado, where he will discuss the methodology underpinning our criteria for identifying which organizations are most effective. He will show how our findings on organizational impact assessment can be applied to a variety of animal-related causes.
In November, we are organizing our own Symposium on Multidisciplinary Research in Effective Animal Advocacy. Held at Princeton University, the symposium will bring together both academics and advocates who are conducting or planning research to benefit the animal advocacy movement. Peter Singer will provide a keynote address, and several ACE staff will present on the state of the movement, and the need for research to enable us to effectively help animals. We are still accepting abstract submissions from those interested in speaking, and registration is now open for those wishing to attend.
We hope to see many of you at conferences this year! We will post links to videos of the presentations as they become available, for those of you unable to attend.