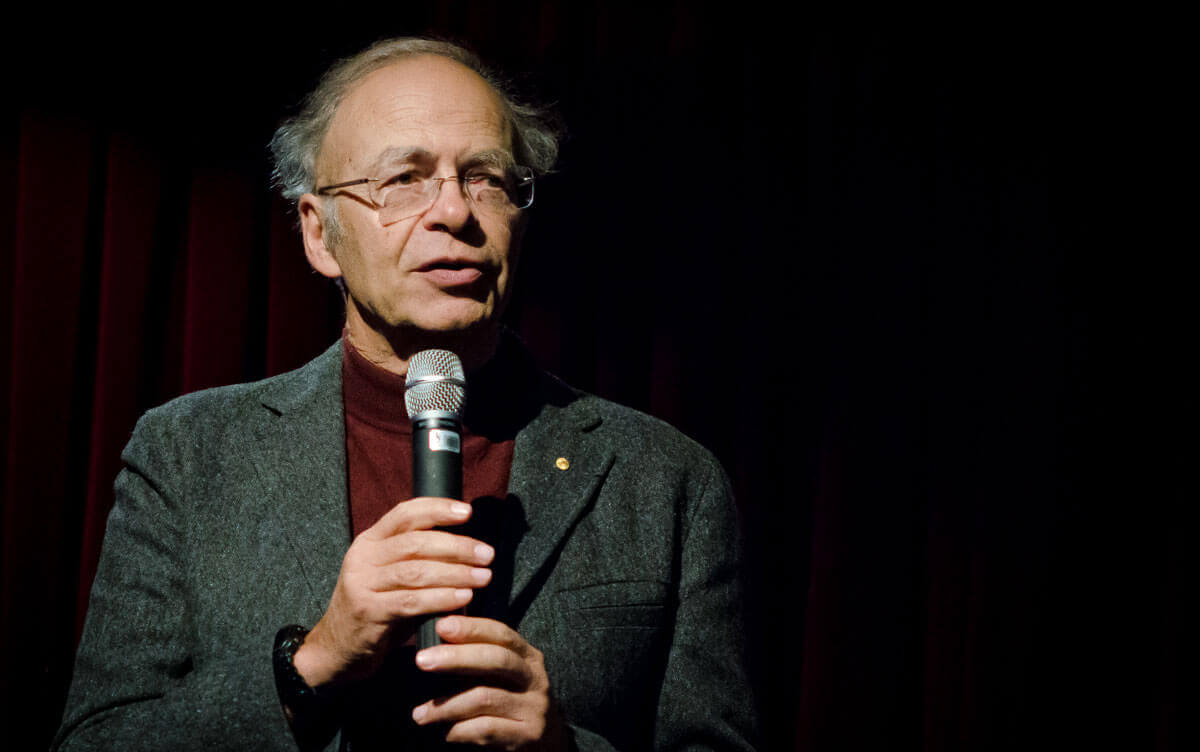 My first introduction to Peter Singer was during a philosophy course I took my freshman year at the University of Southern California. The class was about social contract theory, and one of the books we read was Singer's One World. To say that it opened my eyes to the world around me is an understatement. His comments on suffering, both of humans and animals, and our responsibility to reduce this suffering struck a chord with me. Gaining an awareness of the world outside of my sheltered private-school bubble changed the course of my entire life.
Singer is best known for two things: influencing the birth of the animal rights movement, after he published his renowned book titled Animal Liberation in 1975, and being one of the most notable advocates of the effective altruist creed. His numerous publications, interviews, and speeches have motivated millions of people to not just care about other beings, but actually do something to help them.
Currently, he teaches practical ethics as the Ira W. DeCamp Professor of Bioethics in the University Center for Human Values at Princeton University. He also serves as an advisory Board Member to ACE, where his guidance has proved invaluable to our growth and impact. Additionally he is helping bring ACE to Princeton University this November to host a symposium where Researchers, professors and graduate students across various disciplines will present work that they are conducting or planning with practical application to the animal advocacy movement.
In his notable 1972 essay Famine, Affluence, and Morality, he says, "If it is in our power to prevent something bad from happening, without thereby sacrificing anything of comparable moral importance, we ought, morally, to do it." I think that rather nicely sums up his perspective, and the moral compass I try to follow in my own life, thanks to his influence 12 years ago.
On July 6, Singer will be 70 years old. That's 41 years of changing millions of lives—since he published Animal Liberation—and even longer working in the field of practical ethics. Which, as he puts it, "means that when I began there was no such field." And he's still changing minds, inspiring action, and promoting effective altruism every day.
I plan on making a donation to ACE on July 6 in honor of Peter Singer and the impact he has had on my life. For me, reducing animal suffering is the greatest concern because of the sheer number of animals who are mistreated in this world. I want to bring more attention to effectively eliminating animal cruelty, and supporting ACE's work is my way of doing this.
If Peter Singer similarly inspired you to take action and to be more cognizant of your own impact on the world around you, I hope you will consider making a gift in his honor too.
Happy Birthday, Peter. Thank you for inspiring me and millions of others to lead with compassion.
If helping those in extreme poverty is also a focus of yours, we recommend supporting The Life You Can Save and their recommended charities.