Last July, thanks to generous donor support of ACE's Recommended Charity Fund, we were able to distribute $439,072 to our Top Charities and Standout Charities. Each organization has provided us with an update on how they've used their grant to help animals, and we're excited to share their achievements.
By making a gift to our Recommended Charity Fund, you will support multiple effective charities working around the globe to reduce animal suffering. Much of the inspiring work outlined below would not be possible without the grants provided by this fund. Thank you!
Top Charity Updates
The Humane League (THL)
$49,393 grant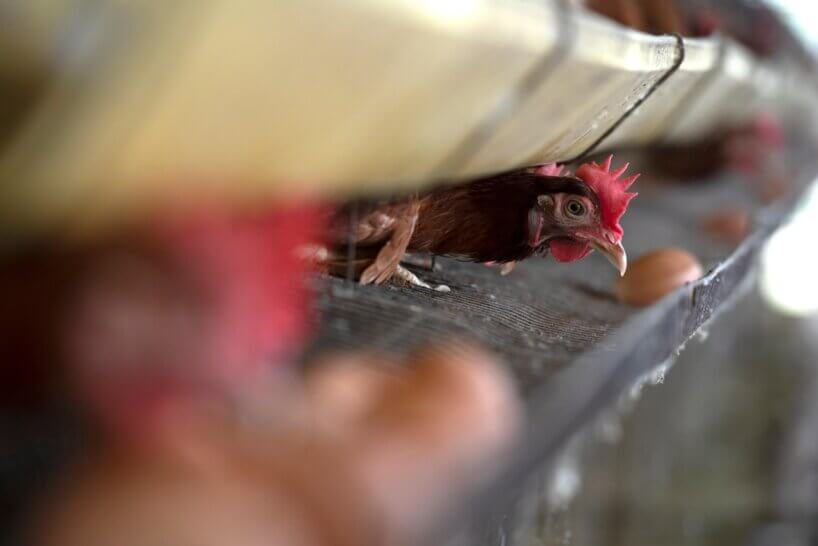 The Open Wing Alliance (OWA), THL's global coalition against battery cages, surpassed 100 global cage-free policies, and their campaigns broke through to the biggest companies yet. Thanks to the power of the OWA, THL secured eight of their biggest victories ever in 2021, including convincing major brands with tens of thousands of locations worldwide—like KFC, Taco Bell, and Dunkin' Donuts—to eliminate battery cages from their supply chains.
The percentage of the U.S. egg-laying flock living free from cages crossed a major benchmark: More than one-third of hens are now cage-free, which is over 100 million birds. Thanks to THL's efforts to ensure companies follow through with cage-free commitments and comply with state laws, 19.4 million more hens are free from cages compared to the year before.
In the U.S., retailers are responsible for purchasing the majority of chickens raised for meat. In 2021, THL broke through to the grocery sector and convinced four of North America's largest retailers—Giant Eagle, Kroger, Meijer, and Sprouts—to eliminate some of the worst and most widespread abuses faced by chickens, including live-shackle slaughter.
THL is leveraging the successful model of the OWA to build political and legislative power for farm animals in the U.S. Their new Public Policy program will focus on organizing and empowering a national alliance of local- and state-level animal advocacy groups to unite them around legislative agendas that include animals raised for food.
Fishes suffer immensely but lack tractable avenues for change. Knowing this, THL UK launched the first public campaign for fishes, pressuring English and Scottish decision-makers to better regulate fish slaughter and spare as many as 77 million farmed fishes from being painfully slaughtered while fully conscious.
Wild Animal Initiative (WAI)
$49,393 grant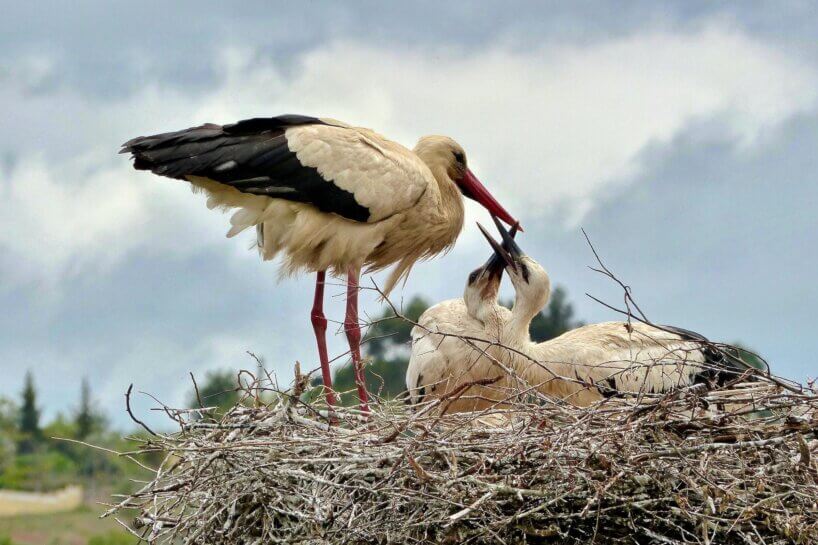 Science Director Vittoria Elliott joined the Wild Animal Initiative team, bringing over a decade of experience in ecology research, scientific grant writing, and conservation project management. Communications Manager Cat Kerr and Content Specialist Amy Klarup also joined the Wild Animal Initiative team, greatly expanding its reach and improving the quality of informational resources they can provide to scientists.
To encourage high-impact research in neglected areas, Wild Animal Initiative described why understanding individual animals' early-life experiences is essential to understanding the welfare of the population as a whole.
Wild Animal Initiative worked on a deep dive into wildlife contraception: its potential welfare applications, the state of current technologies, and directions for further research. This will be the first in a series of briefs on top research priorities.
Wild Animal Initiative was invited to peer review an article that was later published in the journal Frontiers in Marine Science. The paper draws on Wild Animal Initiative's work on age-specific mortality and optimal population density, demonstrating how their research is beginning to contribute to scholarly discourse.
To bring wild animal welfare ideas to a wider audience, Wild Animal Initiative has prepared to host sessions at upcoming scientific conferences. These include a panel on how existing wildlife contraception methods can maximize welfare in new ways and a training workshop for ecologists looking to expand their research into wild animal welfare.
Wild Animal Initiative's first call for proposals received 297 responses, 50 of which were so promising they invited them to the penultimate round. Final decisions will be made in the next few weeks.
While the Grants program is funded separately, Wild Animal Initiative is already seeing it make ACE donor dollars go further by creating opportunities for researchers to consider how they can apply their work to wild animal welfare, connecting them to new research collaborators, and introducing them to Wild Animal Initiative's services.
The Good Food Institute (GFI)
$49,393 grant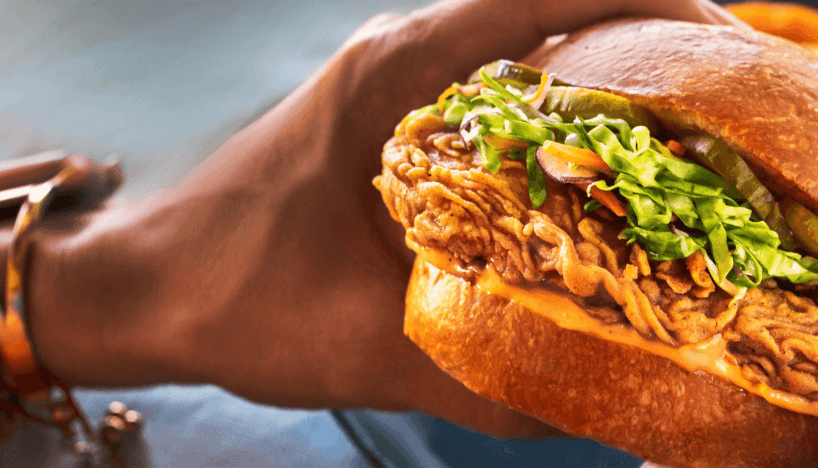 GFI Israel briefed Prime Minister Naftali Bennett on the climate advantages of alternative proteins in preparation for his first meeting with U.S. President Joe Biden.
After extensive engagement with GFI's U.S. team, the USDA announced a $10 million investment in a center for excellence in cellular agriculture.
After extensive engagement with GFI Europe, the U.K.'s National Food Strategy team recommended £125 million to support alternative protein innovation and research.
After many years working closely with GFI Brazil, JBS (the world's largest meat company) announced a $100 million investment in cultivated meat.
GFI India hosted more than 1,100 attendees at their virtual Smart Protein Summit. Attendees included leaders in Indian government, science, and industry.
GFI Asia Pacific secured approval for the first graduate-level alternative protein module in Southeast Asia at the National University of Singapore.
More than 1,500 people from 67 countries attended GFI's Good Food Conference. Presenters included government officials, big meat companies, and major alternative protein companies. Rep. Rosa DeLauro opened the event, and Ezra Klein closed it.
Energy Innovation's Dr. Anand Gopal and GFI's Bruce Friedrich published an opinion article for CNN on why the climate community should endorse government policy to support alternative proteins.
TIME Magazine quoted GFI extensively in an eight-page spread on the potential of cultivated meat to solve climate change.
GFI SciTech published a peer-reviewed scientific paper about cultivated meat scaffolding in the journal Advanced Science.
GFI U.S., Europe, and Israel attended COP26 and organized an event that was cosponsored by ClimateWorks Foundation, Climate Advisers, and the Atlantic Council.
For more highlights from 2021, read GFI's "Our Top 21 Moments of 2021" or sign up for their monthly highlights at gfi.org/newsletters.
Albert Schweitzer Foundation (ASF)
$49,393 grant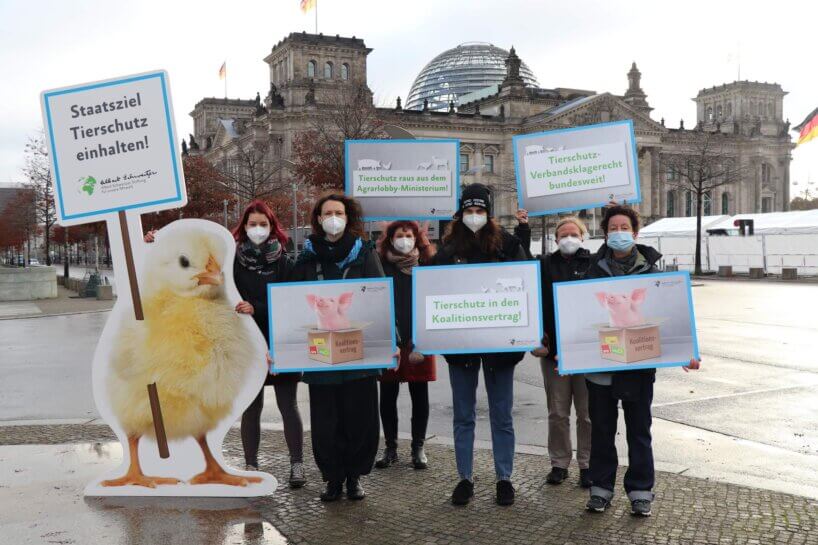 Standout Charity Updates
Faunalytics
$26,832 grant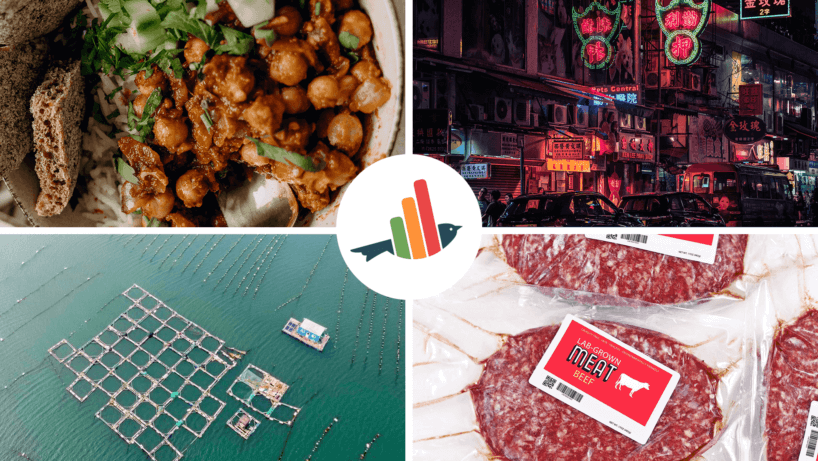 Sinergia Animal
$26,832 grant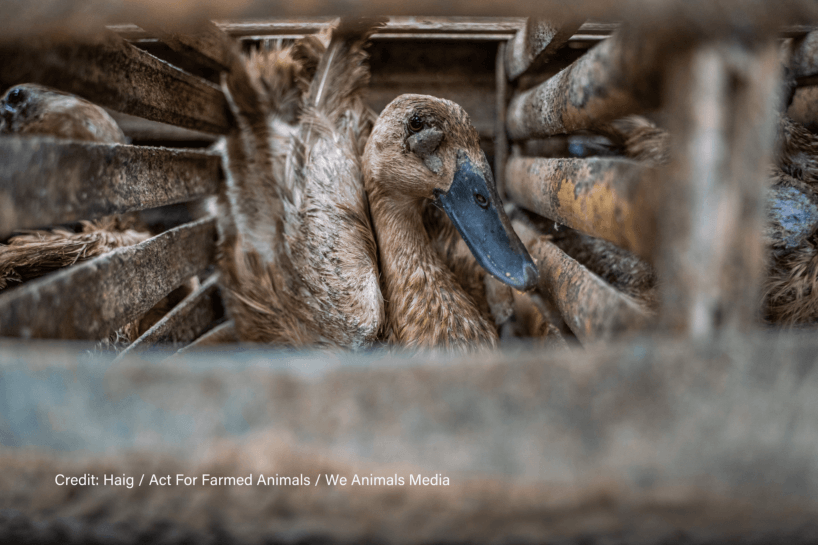 Sinergia Animal helped secure 16 cage-free egg and pig welfare commitments, impacting more than 100 countries. These include: Inspire Brands, a restaurant company with more than 32,000 restaurants in 65 countries; Harinera Del Valle, a food company in Colombia with more than 38 brands; and Halipar, a franchise group in Brazil with more than 400 stores.
They released high-impact billboards and murals to promote their cage-free campaigns, as well as ads in taxis, tuk tuks, and trucks. (See examples from Argentina, Chile, Colombia, Indonesia, and Thailand.)
In conjunction with We Animals Media, Sinergia Animal published an investigation revealing the extreme suffering of ducks at duck egg farms in Indonesia. Their goal is to mobilize stakeholders to work toward a cage-free future through their "Act for Farmed Animals" coalition.
They launched a new website, Banks for Animals, that ranks the policies of 69 banks and investors from 19 different countries on their animal welfare criteria. This initiative resulted in Bank Australia prohibiting the finance of fur farms, trade of wild animals, and animal testing. It also led Singapore-based DBS Bank to reference the "Five Freedoms" in their policies and encourage their clients to install higher-welfare housing systems.
The first edition of the course "Plant-Based Diets: Health, Culture, and Sustainability", about plant-based nutrition in Latin America, was provided for free to 165 graduates of health sciences. It obtained the endorsement of UNESCO Argentina, the International Vegetarian Union, the Chilean Association of Vegetarian Nutritionists, the Latin American Institute for Critical Animal Studies, and the Caribbean Medical Association.
For more updates, read Sinergia Animals' "Year in Review – 2021" report.
Compassion in World Farming USA (Compassion USA)
$26,832 grant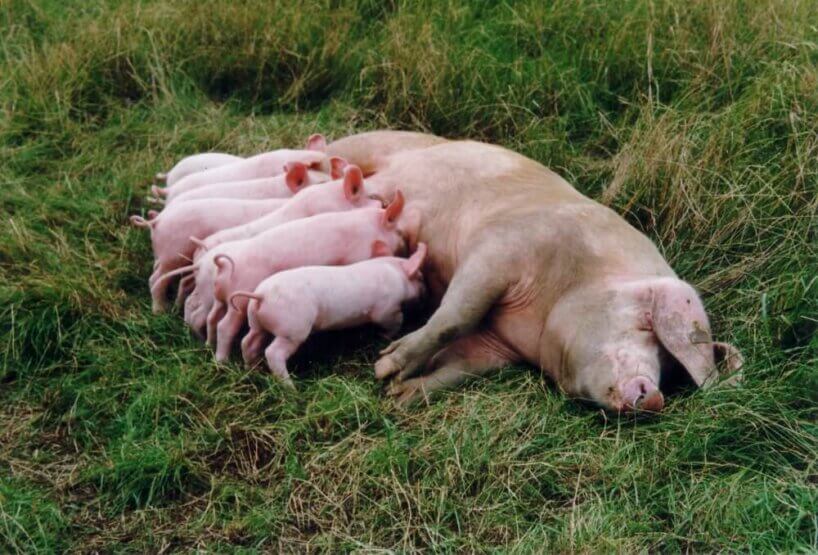 As a member of the Global Animal Partnership (G.A.P.) board and its technical committee, Compassion USA helped ensure the rigorousness of the scientific aspects of G.A.P.'s higher-welfare chicken breeds list. Food businesses now have a roadmap in the Better Chicken Commitment for improving the welfare of broiler chickens in their supply chains.
They announced that seven leading food and restaurant companies had formed a U.S. working group to improve broiler chicken welfare standards. The group, which is being organized by Compassion USA, aims to support members in exploring workable strategies and creative solutions for transitioning supply chains through the welfare standards outlined in the Better Chicken Commitment.
Following talks with Compassion USA, Sprouts Farmers Market (which has more than 360 stores in 23 states), committed to improving broiler chicken welfare, joining more than 200 U.S. brands that have made similar commitments. Shortly after, Natural Grocers (which has 159 stores in 20 states), announced that they were also joining the Better Chicken Commitment after years of discussions with Compassion USA's technical experts.
Compassion USA released a report on the environmental and ethical concerns of octopus factory farming, revealing eight reasons why the practice is cruel, damaging to the planet, and must be stopped. They released both a brief overview and the full report.
They released their fifth annual EggTrack report, which demonstrates companies' and producers' progress on their cage-free commitments, even amid supply chain disruptions caused by the COVID-19 pandemic. The announcement was covered as an exclusive by Bloomberg for the third consecutive year.
The Special Supplemental Nutrition Programs for Women, Infants, and Children (WIC) of California, D.C. and Hawai'i became the latest to approve cage-free eggs for purchase by participants, following outreach by Compassion USA.
Sociedade Vegetariana Brasileira (SVB)
$26,832 grant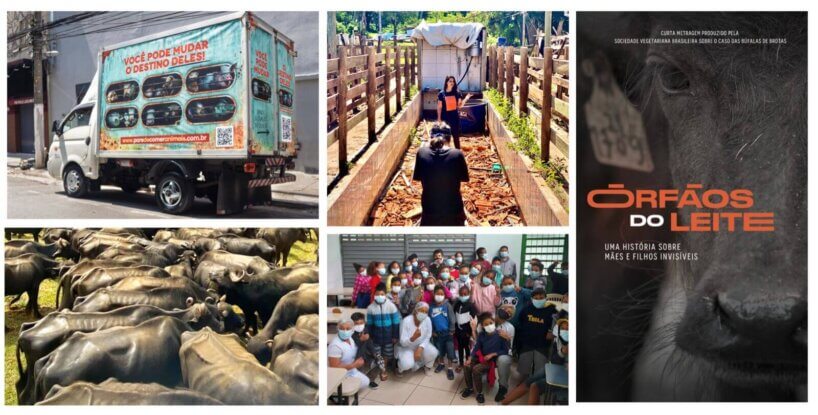 SVB debuted the "Caminhão do Terror" ("Terror Truck") action: A truck covered with images of animals caged as if going to the slaughterhouse—with actual sound of their cries—paraded throughout São Paulo city with a call to stop eating animals. The truck included a QR code that directed to a website with more information related to the matter. The teaser garnered 514,000 views, and 7,102 direct messages were sent.
SVB partnered with the Red Cross São Paulo to include plant protein and vegan recipe booklets in 1,500 staple baskets that were distributed to vulnerable people across the city, serving approximately 6,000 individuals. They also held nine workshops to teach attendees how to use plant protein.
SVB hired a campaigner, an assistant to the project manager, and a PR representative to expand their Meatless Monday campaign to cities outside São Paulo; two new cities have already committed. They also formalized their partnership with the Education Department of São Paulo.
Members of SVB's team assisted with disaster relief and helped garner media attention for a farm where over 1,000 buffalos were left completely abandoned. A short film about the orphaned calves, which relates the issue to milk consumption, will be launched soon.
An SVB campaigner spoke at the Meatless Monday Global summit, organized by Johns Hopkins Bloomberg School of Public Health.
SVB formalized their theory of change.
In partnership with Humane Society International, SVB carried out 40 workshops in social assistance centers in São Paulo: 4,800+ people attended and 97,000+ meals were served.
Two workshops to explain the vegan movement and give directions for the development of new products were held for the boards of two large companies.
The Good Food Fund (GFF)
$26,832 grant
In June, GFF—the authorized China partner of the Meatless Monday global movement—kicked off its series of national Meatless Monday roadshows in Wuhan.
The Food Systems Summit Dialogue "Visions for a WET Market Transformation", organized by UNFSS-AT2 China Action Hub and other conveners, focused on GFF's proposal to transform China's wet markets into WET (Wellbeing, Ecology, Transformation) markets. The dialogue received 80,000+ live views, and several hundreds participated in in-person market visits organized by GFF (with COVID restrictions).
Since debuting its post-earthquake relief in May, GFF's Solidarity Kitchen sent chefs and volunteers to cook nutritious and tasty plant-based foods for communities in Henan province affected by devastating floods.
In August, GFF completed its research project, "The Practical Application of Farm Animal Welfare in China", written by scholars from Chinese universities and the U.S.
The fifth Good Food Summit was held in September, with 63 speakers from nine countries. The summit included four major forums: Animal Welfare, Urban Food Environment, Eco-Chef 2030, and Food Education. The summit received 500,000+ live views and 730,000+ reads, and it was endorsed and recommended in China Science Association's Notable Academic Conferences of the Year (2021).
Rockefeller Foundation made a short documentary on GFF's award-winning prototype restaurant, Mama's Kitchen. It premiered at the FoodXFilm Festival in September.
In October, an in-flight magazine (which covers 350,000+ Chinese flights and has a monthly readership of 40 million Chinese aircraft passengers) carried an in-depth report about the first Good Food restaurant in Dali, with detailed accounts of GFF's plant-forward and animal welfare principles.
GFF spent six months collecting case studies on best practices in China's food systems; they included 24 cases in the first edition of their Sustainable Food Best Practices Case Collection (2021).
Essere Animali
$26,832 grant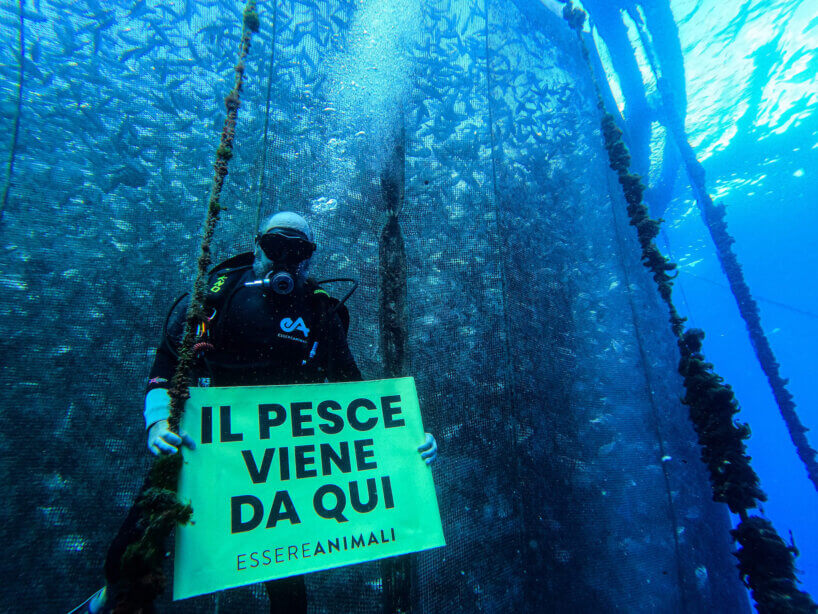 Essere Animali published three new undercover investigations: Two of them, which showed dairy farms that produce Grana Padano cheese, were released as part of the "No Animal Left Behind" campaign to urge the E.U. to implement stricter rules for farmed animal welfare.
Essere Animali collaborated with three different RAI national TV programs, bringing reporters inside farms for broiler chickens, fish, and pigs. The programs reached a total of 3.5 million viewers.
They released a drone investigation of the last mink farms in Italy, and after years of campaigning and investigations, finally won the campaign to ban fur farming in the country.
Essere Animali were invited to present their investigations on fish farms in Europe during the plenary session of the European Parliament, where the meeting of the Intergroup on the Welfare and Conservation of Animals took place.
They filmed the harsh reality of crammed cages at fish farms off the coast of Italy and reached hundreds of thousands on social media with the footage, which is part of a broader film project to be released in 2022.
More companies entered their MenoPerPiù (Less for More) program, training workers on the need to eat less meat and changing the menus at some of their canteens; for example, Alfaparf (a company with 400+ workers) created a menu that is more than 50% plant-based.
As part of their vegan facilitation project, IoScelgoVeg, Essere Animali published a podcast series and launched a new Instagram page that rapidly earned over 35,000 followers.
They worked to bring more than 45 Italian companies and 24 different restaurants on board for Veganuary 2022.
Anima International
$26,832 grant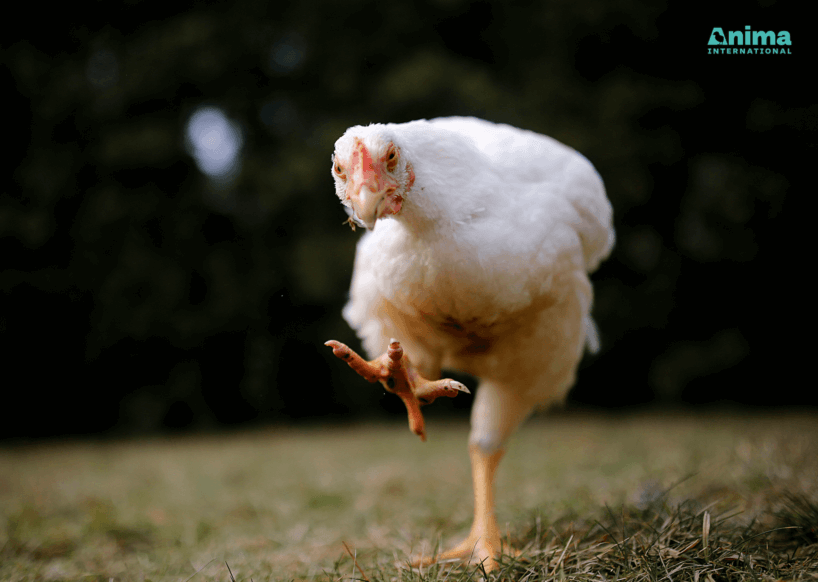 Vegetarianos Hoy
$26,832 grant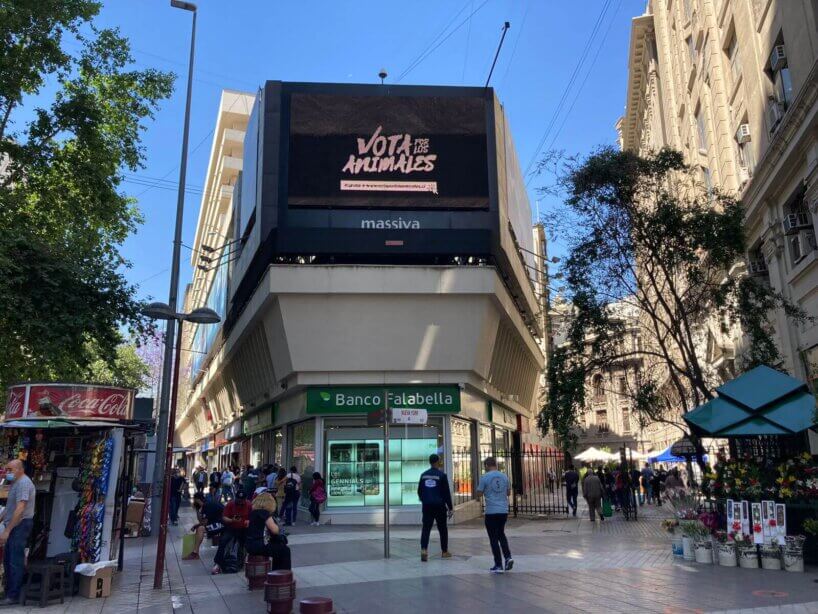 Vegetarianos Hoy launched Vota por los Animales, an initiative to raise awareness about electoral candidate's proposals about animals (or lack thereof) and secure commitments from them. During the presidential election in Chile, they advertised the initiative on social media and on billboards. The website achieved more than 10,000 visits, and the current elected president in Chile, Gabriel Boric, signed their presidential commitment to work for the animals while he was a candidate.
They helped three companies launch vegan alternatives through their Opción Vegana program—including Dunkin Donuts, which released 15 vegan donuts in 90 stores across Chile.
Between August and October, Vegetarianos Hoy published three reports on the results of a public opinion survey conducted with IPSOS Chile about the perceived importance of farmed animal welfare. They expect to use the data to back up bills and programs. The publications—"Treatment to Animals", "Diet & Plant-Based Products", and "Hens Welfare"—earned more than 60 media mentions, and found results such as "82% of Chileans agree with prohibiting cruel practices and generating regulations on high standards of animal welfare".
They presented a bill to establish welfare standards for fishes and animals used for aquaculture in Chile. They achieved the support of nine representatives, including the current president of the Commission on Fisheries, Aquaculture, and Maritime Issues, where the bill awaits discussion.
Vegetarianos Hoy has been working on improving their internal processes and work culture by hiring an external consultant, updating job descriptions, updating their recruitment and selection process, and conducting the first formal performance evaluation and "Climate and Job Satisfaction" evaluation.
Federation of Indian Animal Protection Organisations (FIAPO)
$26,832 grant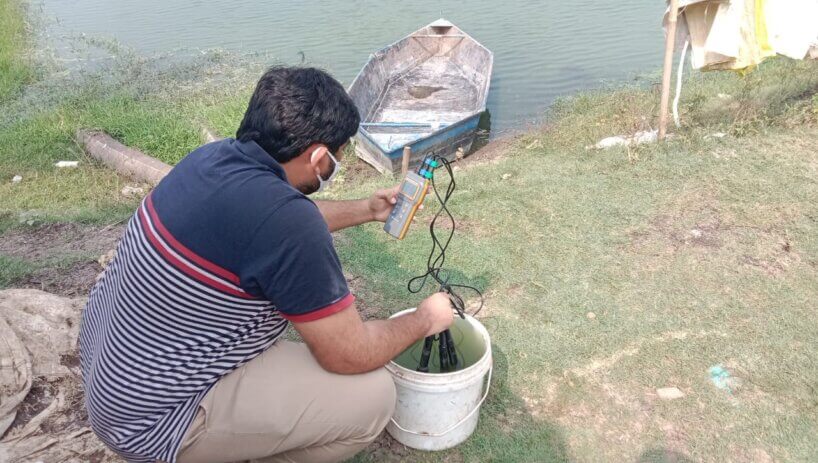 FIAPO's Stop Slaughter Campaign is underway in Punjab and Uttar Pradesh. More than 250 complaints against illegal slaughter have been received in Jalandhar (Punjab), where FIAPO have inducted five activists and built rapport with local urban bodies, police, and health officers.
After investigating illegal meat shops in Delhi, FIAPO sent letters to the Food Safety and Standards Authority of India, the Animal Welfare Board of India, and other stakeholders. They also filed a Right to Information (RTI) against the New Delhi Municipal Corporation for information on prohibiting unlicensed meat shops.
FIAPO collected visual evidence of the conditions where chickens are kept at poultry shops in Delhi. They urged local administrative bodies and food safety authorities to take action and plan to file a case in the Delhi High Court if nothing is done.
They completed baseline research on fish welfare in two states, Andhra Pradesh and Bihar, and filed RTIs regarding water and waste pollution due to aquaculture and antibiotic use. They also held four webinars on fish cognition and welfare standards with Friend of the Sea, Fish Welfare Initiative, and other experts.
FIAPO reported a fish disease that broke out in a village on the Bihar–Uttar Pradesh border. They persuaded fisheries departments and laboratories to conduct confirmatory tests and helped mobilize government resources to treat the outbreak.
FIAPO is pushing for dairy welfare standards in four states: Gujarat, Andhra Pradesh, Rajasthan, and Uttar Pradesh. They prepared a database of dairy milk cooperatives and stakeholders in three states, are working with four dairy cooperatives, and filed 38 RTIs for information on issues relating to dairy production. They are also incorporating key findings from their Gujarat dairy study into an advocacy plan.
With stability and confidence from their mid-year ACE grant, FIAPO is strategically planning their work in key programmatic areas under a new leadership team. They expect to complete their three-year strategic plan in March 2022.
---
If you are inspired by these achievements, please consider making a donation to support ACE's Recommended Charity Fund. Your gift today will help reduce future animal suffering. Thank you!