"The primary goal of the analysis will be to determine whether students who attend humane education presentations are more likely to have become vegetarian or vegan in the months prior to taking the survey than students in the control group. Depending on survey design, the analysis may also consider whether students who have seen the humane education presentation reduce consumption of animal products overall as compared to their peers who have not seen the presentation. If the sample size is large enough, the analysis will also consider these questions for smaller segments of the population studied, such as for high school students specifically." ACE's pre-analysis plan
ACE has now released the results of our humane education study, conducted with the help of presenters from Ethical Choices, The Humane League, Compassionate Action for Animals, and the Factory Farming Awareness Coalition. We surveyed students who attended in-class presentations by these organizations during fall 2013 as well as other students at the same schools. To understand the longer-term effects of the presentations, we timed the surveys to take place about two months after students had attended presentations.
We received responses from 169 participants in the experimental group and 60 participants in the control group, as well as another 64 students who took a survey soon after seeing a presentation and therefore did not properly belong in either group. This sample size was not enough to detect small effects of the presentations, but because presentations are more expensive per person reached than many other interventions (for instance, leafleting, online ads, or activities that receive mass media coverage), it was large enough to provide a good chance of detecting an effect if humane education was an exceptionally cost-efficient way to create diet change. We did not detect any effect of the presentations on animal product elimination or reduction. (We did find that control group members reported reducing their consumption of eggs slightly more than experimental group members, but believe that this is more likely a false positive than a true effect of the lectures, given the many comparisons we tested and the difficulties of reporting precise levels of egg consumption.)
We did find that respondents who had attended a lecture two months previously were slightly more likely to agree with several statements suggesting concern for farmed animals. It's possible that this indicates an important effect of the lectures that we don't know how to measure or connect to its ultimate results for animals. We don't know what this effect would be or how well the questions we asked would measure it, so we consider this section of our results exploratory and did not check them for statistical significance. We wouldn't make firm conclusions about the effectiveness of humane education on this basis.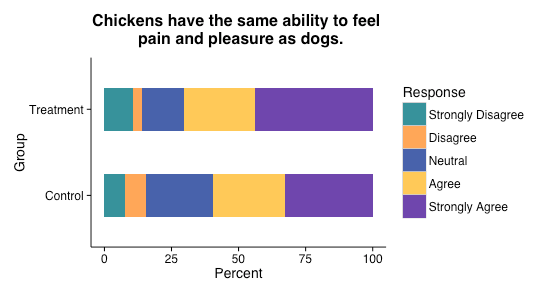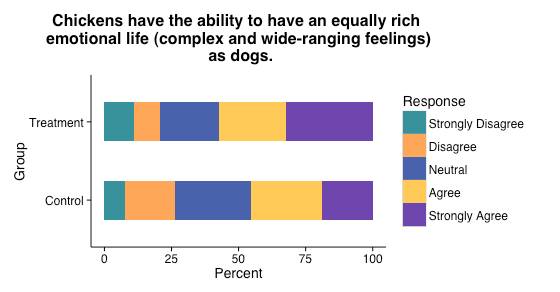 Overall, our results suggest that humane education is likely not an extraordinarily cost effective way of helping animals, at least not by causing diet change. It's possible that it is more effective on some subgroups of the population we studied, but our sample size was not large enough to investigate effects on individual subgroups with a reasonable chance of detecting likely effect sizes. It's also possible that humane education programs have some other effect that we don't understand but which is nevertheless important. Finally, some opportunities to give humane education lectures come at very low cost per student, and our sample size was not large enough to detect small effects, so these lectures could still be very cost-effective.
Now that we've finished analyzing the studies we conducted last fall, we're running a pilot to assess the feasibility of a study to investigate the effects of pay-per-view video. What else are you interested in learning about?