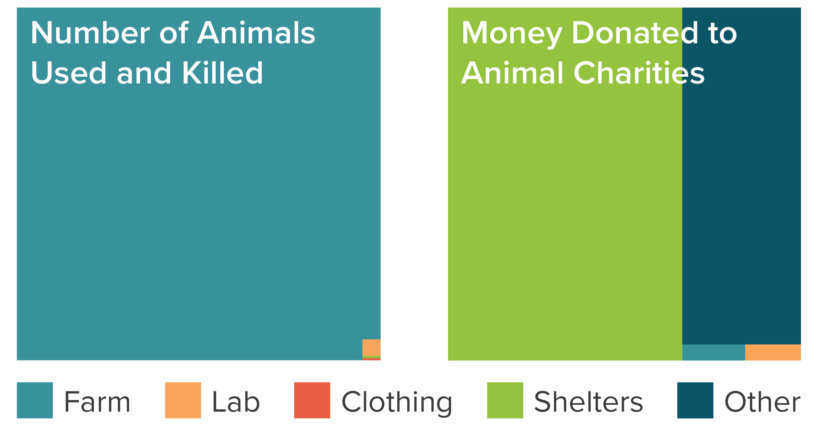 In the United States in 2015, over 99% of animals killed by humans were farmed animals. However, efforts to alleviate animal suffering do not reflect the disproportionate amount of suffering occurring on factory farms: 66% of all funding to animal charities went to shelter organizations, while only 1% was devoted to farmed animal organizations. The graphs pictured show this allocation in more detail. More facts are also available on our updated donation allocation page.
Due to the nature of the information, it was much easier to collect data concerning animals killed compared to data about donations to animal charities. This ease of collection generally translates into figures that are more precise than the donation figures. The reason the donation figures are less precise is because there is no guarantee that all relevant charities are included, while the animals killed figures are more regulated. For example, the USDA is a large government agency capable of devoting resources to measure the number of animals killed for food. This figure is the most precise available, as all farmed animals killed must be recorded by the USDA. Figures for animals killed in shelters, collected by organizations such as The Humane Society of the United States and ASPCA, are less precise than the farmed animal numbers, since there is no government agency tasked with the regulation of this procedure. Nonetheless, there are capable organizations collecting this data, so the figures should be relatively accurate compared to donation figures. For animals killed in labs and for clothing, precise government data is available, but unfortunately this data does not include all animals killed in these categories; the lab figures do not include rats or mice, while the clothing figures do not include animals other than mink. For the lab data, this number was improved by using third-party estimates.
Collecting data on animal charity donations required more than a simple search. Since there is no exhaustive list of every animal charity operating in the United States, we cannot claim to provide a definitive number for the amount of donations allocated. Nevertheless, we are fairly confident in the conclusions we come up with; a total of over 500 charities from two databases were collected, and the collection of more charities led to a greater disparity between categories of donations. This is partially due to the fact that the small number of farmed animal organizations makes it very likely that any list of animal charities will include all the major ones (there were 10 farmed animal organizations in total collected from the two databases).
Most people, understandably, are unaware of this large disparity in animal charity donations. William MacAskill, one of the notable figures in the effective altruism movement, succinctly describes the underlying problem:
"We should reward the charities that we believe do the most good, not those that have the best marketing strategy, otherwise the most successful charities will be those that are best at soliciting funds, not those that are best at making the world a better place."
Shelter organizations are often well-established and quite good at soliciting donations. While people may consider this to be an indicator of the charity's effectiveness, the data shows that this is not the case. These numbers should serve to inform potential donors that the most effective places to donate their money are to organizations focused on farmed animals. For those interested in donating to an animal charity, our list of top charities is a good place to start.