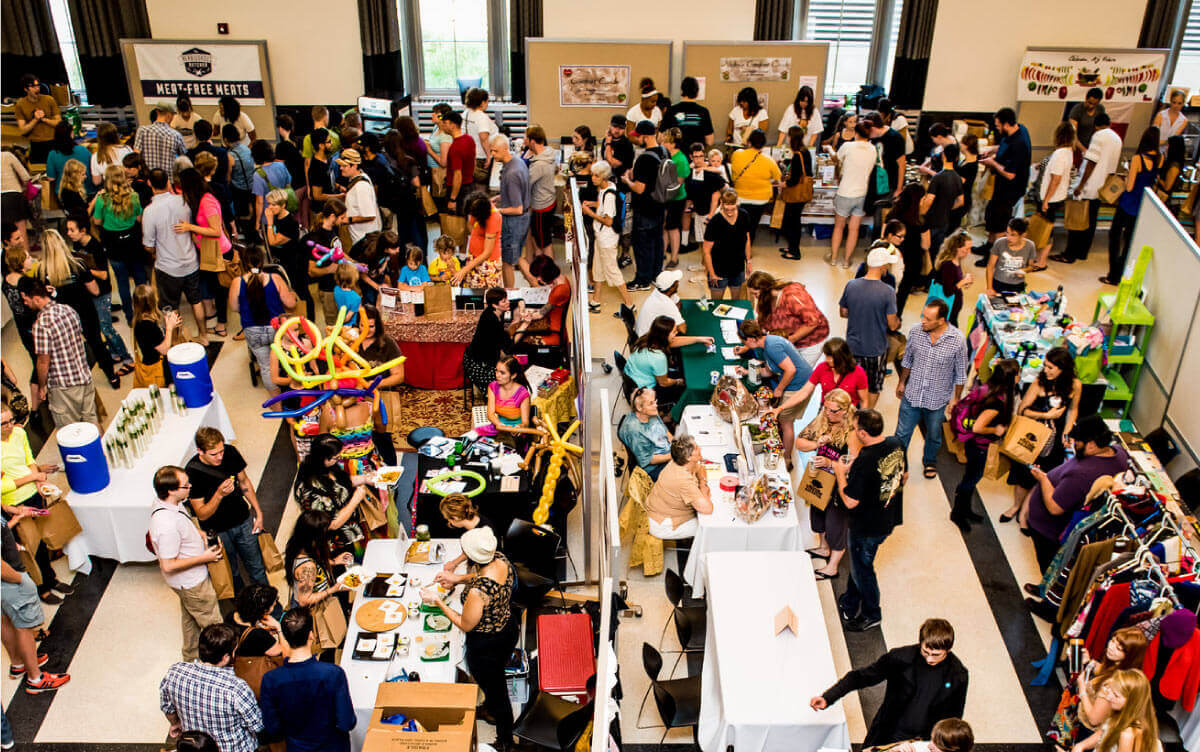 Animal advocates can be a particularly passionate group of people. In many ways that is a good thing, as passion can fuel the drive necessary to create positive change for animals. In fact, many people who work in this field wouldn't be able to make ends meet with a low-paying job and long hours if they didn't have an underlying passion that drove their efforts.
Unfortunately, sometimes this passion can lead to an event that does more harm than good. A passionate person might decide they want to host a vegfest or local advocacy event without properly considering the intricacies of doing so, and a poorly planned event can leave a bad impression on those who attend.
Make no mistake about it, holding a large event to advocate for animals is difficult work. For example, Compassionate Action for Animals has written a great Guide to Hosting Vegfests that showcases the many steps you need to take to hold a successful vegfest in your city. We highly recommend reading through their materials if you consider hosting your own event.
To supplement their guide, here are some often overlooked critical considerations you should take into account when deciding whether or not to host your own event. It is important to remember that for many people, this will be their initial exposure to advocacy, and first impressions are crucial.
Be aware of the planning fallacy. If you don't have experience organizing an event, then talk to someone who does. Avoid thinking "I'll sort it out later," and instead plan accordingly. Crunch times are sometimes unavoidable, but the idea here is to minimize any last-minute scrambles. Consider a dry run, visit your venue, know your challenges, organize your plans, and prepare for the unexpected.
If at all possible, put speakers in a separate room from vendors. Some organizers think it's not a big deal to just feature everything in a single room, but that arrangement creates many problems. It can be difficult to speak with people who come up to vendors because of the presentation going on in the background, and on the flip side it can be distracting to the speaker to have so many other conversations taking place at the same time as their presentation.
Troubleshoot technology issues before the event. Having issues with projectors or booming mic sounds can really ruin a great lineup of speakers. Have a professional on site to deal with any new problems that might arise, but hopefully you won't have any problems because you will have worked it all out prior to the event.
Make sure food service is well organized and will operate smoothly. Many times I've been at vegfests (whose main purpose is to promote vegetarian eating) where people had to wait in long lines to get veg food, and often simply left due to extended wait times or insufficient food supply. This is an opportunity to provide delicious veg options to a captive audience! Don't miss out.
Advertise. You've done all the hard work for setting up an event, but no one's going to show up if you don't promote it. Utilize the power of social media by creating and maintaining an event page on FB; invitees can even end up doing a lot of your promotion for you. Don't limit yourself to veg community forums either; advocacy events like vegfests draw many non-veg individuals, which is a great opportunity for education and portraying veg lifestyles in a positive and fun way. Does your city have a blog that lists events each weekend? Make sure you're on the list!
These are just a small sampling of issues that you need to think about before holding an advocacy event. Things will happen, technology will fail, people will call in sick. But if you've prepared accordingly, then none of these will result in a failure. Don't miss the opportunity to reach as many people as positively as possible; be professional in your advocacy.