We believe it's important to be transparent about our research. That's why we've posted upcoming studies that were still in the design phase.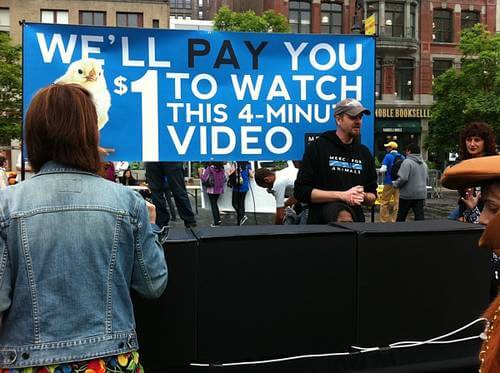 As we investigated each of the studies, we came to divided conclusions about how best to pursue them. As two of the potential studies needed more refinement, we decided to focus our energies on our stronger two protocols instead.
Specifically, we looked at the possibility of conducting research on the effectiveness of undercover investigation videos in the media, and determined that it would entail a significant expenditure to acquire statistically significant results. Additionally, we believe that a large portion of the total impact from undercover investigations may come on the web and be measurable in that context. As such, we may be able to collect a substantial amount of data from just working with organizations on how they promote their videos and how they record responses to unique URLs. We will look at this more closely in the future.
Additionally, our Video Outreach protocol presented some interesting and pivotal concepts, but ultimately needed work to increase the practicality of implementing our design. Further consideration will be given to this protocol over the next semester.
I'm happy to report that we've moved forward with both the Leafleting Study and the Humane Education Study. We're extremely pleased to be working alongside a variety of excellent groups including Mercy For Animals, The Humane League, Vegan Outreach, Compassionate Action for Animals, Factory Farming Awareness Coalition, and the Ethical Choices Program. Together we'll produce some of the best data on outreach methods thus far—I look forward to reviewing the results with all of you at the end of the year.