Archived Version: November, 2017
Status
Standout Charity
Primary Work Area

Industrial Agriculture

Website
Open Cages
Review Published
November, 2017
Type
Archived Review
Current Version
December, 2019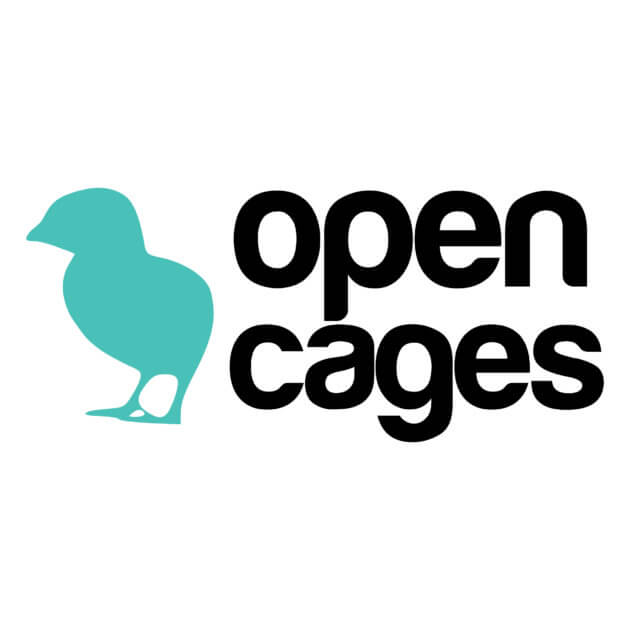 What does Open Cages do?
Otwarte Klatki (Open Cages) works to reduce the suffering of animals in Poland and in nearby countries including Lithuania, Estonia, and Ukraine. While in the past they have primarily campaigned against the production and sale of fur, they currently put a comparable amount of effort towards addressing the situation of animals farmed for food. Their programs include conducting corporate campaigns, investigating animal facilities, reaching out to restaurants to increase the prevalence of vegan options, and providing public education about veganism online and through info stalls.
What are their strengths?
Open Cages understands the value of using evidence to maximize the impact of their work. They measure the outcomes they achieve and actively look for ways to improve their materials and strategy. They have demonstrated a willingness and ability to improve, sometimes discarding ineffective programs to make room for more effective ones.
Given that Open Cages operates in a part of the world where the animal agriculture industry is relatively large and the animal advocacy movement is relatively small, we think they are well-positioned to engage in highly impactful work.
What are their weaknesses?
Open Cages is a largely volunteer organization, and they are just beginning to professionalize and set formal structures in place. They appear to lack some formal procedures that help improve staff experiences, including with regard to harassment and other internal conflicts. In general, their relatively short track record means that we have a fair amount of uncertainty about what they will be able to accomplish as they continue to grow.
Why didn't Open Cages receive our top recommendation?
We think that some of Open Cages' programs, including their corporate outreach work, are likely to be highly effective. We are also glad to see them working in Eastern Europe, which seems to have fewer effective animal advocacy organizations than some other parts of the world. However, because they are a largely volunteer organization and are just beginning to professionalize, we are relatively uncertain what the organization and its priorities will look like in the near future.
Open Cages has been one of our Standout Charities since November 2017.
How Open Cages Performs on our Criteria
Criterion 1: The charity has room for more funding and concrete plans for growth.
Before we can recommend a charity, we need to assess the extent to which they will be able to absorb and effectively utilize funding that the recommendation may bring in. Firstly, we look at existing programs that have need for additional funding to fulfil their existing purpose; secondly, we look at potential areas for growth and expansion. It is important to determine whether the barriers limiting progress in these areas are solely monetary, or whether there are other factors such as time or talent shortages. Since we can't predict exactly how any organization will respond upon receiving more funds than they have planned for, this estimate is speculative, not definitive. It's possible that a group could run out of room for funding more quickly than we expect, or come up with good ways to use funding beyond what we have suggested. Our estimates are indicators of the point at which we would want to check in with a group to ensure that they have used the funds they've received and are still able to absorb additional funding.
Recent Financial History
Open Cages has been steadily growing in size since their inception in 2012. At the end of 2015 they hired a dedicated fundraiser, which we believe has had a significant impact on their ability to raise funds; they achieved their 2016 fundraising goal by the third quarter.1 Their budget has increased yearly from $11,169 in 2013 to $162,573 in 20162 and we expect it to continue to increase to approximately $210,000 in 2017 as they expand.3 They have recently been awarded a substantial grant4 by The Open Philanthropy Project (Open Phil) for $472,864 to be used over two years.5 Anima has also recently been awarded a grant from Open Phil in part to support a planned merger with Open Cages; this merger was announced very late in our evaluation process and we are unsure how it will affect Open Cages' plans for the future or their fundraising abilities.6
Planned Future Expenses
Open Cages claims that they have a significant number of talented volunteers available—across the Eastern European countries they work in—who they would like to hire as paid staff.7 While they are gradually achieving this goal, additional funding would allow them to do this at a faster rate. When they received more funding than expected in 2016, they were able to make three new hires that year, which is a good indication that the hiring of new staff is currently limited by available funds.8 We expect that they would be able to hire around 5–20 staff in Poland in 2018 if they had sufficient funding to do so.
Open Cages is also investing more in their programs, such as their recent broiler chicken campaigns and their institutional meat reduction outreach.9 They also would like to expand further into Ukrainian and Russian speaking countries, as they feel that these are neglected areas where programs such as online education would be effective.10 Overall, these programs would likely benefit from additional funding—although there is a greater possibility for progress to be limited by time, especially with regard to becoming established in new areas.
Open Cages is enrolled in a charity donation scheme this year for the first time that allows the Polish population to donate 1% of their income to a chosen charity when filing their annual tax returns.11 Open Cages told us beforehand that this scheme could raise between $0 to $500,000,12 and later reported that it raised $50,000 in 2017.13
Conclusion
It seems that Open Cages' expansion is mostly monetarily limited, and they have good plans for growth in several areas, particularly new staff hires. The addition of a fundraiser to their staff has greatly improved their fundraising ability, however we think there is still a significant gap that won't be filled over the next year. We therefore think that they can take on $100,000–$800,000 in additional funds over the next year, after factoring in the grant from Open Phil.14, 15, 16
Criterion 2: The charity engages in programs that seem likely to be highly impactful.
Before investigating the way a charity's programs are implemented or the outcomes they've achieved, we consider the charity's overall approach to animal advocacy. We expect effective charities to pursue approaches that seem likely to produce significant positive change for animals, though we note that there is significant uncertainty regarding the long-term effects of many interventions.
Open Cages focuses primarily on reducing the suffering of farmed animals, which we believe is a high-impact cause area. They pursue many different avenues for creating change for animals: they work to influence public opinion, build the capacity of the movement, influence industry, and build alliances. Some of Open Cages' work may indirectly lead to legal change. Pursuing more than one avenue for change seems to be a good idea, because if one proves to be ineffective, Open Cages still might be impactful. However, we don't think that charities that pursue multiple avenues for change are necessarily more impactful than charities that focus on one.
To communicate the process by which we believe a charity creates change for animals, we use theory of change diagrams. It is important to note that these diagrams are not necessarily complete representations of real-world mechanisms of change. Rather, they are simplified models that ACE uses to represent our beliefs about mechanisms of change. For the sake of simplicity, some diagrams may not include relatively small or uncertain effects.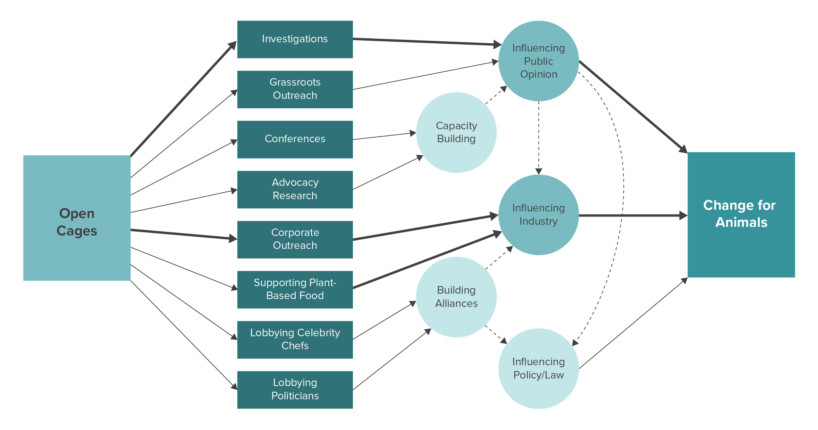 Influencing Public Opinion
Open Cages works to influence individuals to adopt more animal-friendly attitudes and behaviors. We think that the impact of such work may be relatively limited compared to the impact of efforts to influence key influencers. However, we still think it's important for the animal movement to target some outreach toward individuals, as a shift in public attitudes could lead to greater support for new animal-friendly policies. In fact, public outreach might be a necessary precursor to achieving institutional change.
Open Cages conducts undercover investigations of conditions on factory farms, which we think is a particularly effective intervention. They work to get as much media exposure as possible for their investigations,17 and there is some evidence of a negative correlation between media coverage of animal welfare and meat demand, at least in the U.S.18
Open Cages also works to effect change through various forms of grassroots outreach, including organizing festivals, leafleting, and using pay-per-view videos and virtual reality technology. There is currently very little research on the effectiveness of these methods, though we do not currently recommend the use of leafleting as we suspect that it is not as effective as some other means of public outreach.
Capacity Building
Working to build the capacity of the animal advocacy movement can have a far-reaching impact. While capacity-building projects may not always help animals directly, they can help animals indirectly by increasing the effectiveness of other projects.
Open Cages occasionally conducts and publishes research on effective advocacy interventions.19 Such research can play a pivotal role in how successful a movement can be. A group might expertly carry out a particular intervention, but if that intervention isn't effective (or if it has negative effects), then the group is not as impactful as they could be. They may even unintentionally cause net harm. By investigating the effectiveness of interventions like virtual reality technology, Open Cages may be able to increase their impact. If their findings inform other groups' work, they may over time achieve quite a high impact for a low cost.
Open Cages organizes and attends animal advocacy conferences. For instance, they organized the Conference on Animal Rights in Europe (CARE), which they tell us was the first effective farmed animal advocacy conference in Eastern Europe. Conferences provide opportunities for networking and sharing knowledge and experience, though there is little evidence available about their impact.
Influencing Industry
Working to influence the food industry can help animals by leading to welfare reforms or, less directly, by creating a climate in which it is easier for individuals to reduce their use of animal products. In the long term, putting pressure on the animal agriculture industry and paving the way for companies that produce alternatives to animal products could weaken the animal agriculture industry through the pressures of the marketplace, perhaps even without the presence of advocacy messages. Weakening the animal agriculture industry may enable stricter regulation of animal welfare.
Open Cages works with corporations to adopt better animal welfare policies and ban particularly cruel practices in the animal agriculture industry. We find that these interventions can be highly impactful when implemented thoughtfully.
Open Cages also works to support producers of plant-based alternatives to animal products, and to promote those alternatives to suppliers. We think that promoting plant-based products is a potentially high-impact way to influence the food system. Plant-based milk is already showing a tendency to take market share from the sales of conventional milk in the U.S., with sales in one category growing as sales in another category decline.20 It seems plausible that plant-based meat will similarly take market share from the sales of conventional meat, especially as it becomes more cost-competitive, widely available, and harder to distinguish from conventional meat in taste and texture.
Building Alliances
Open Cages' outreach to key influencers provides an avenue for high-impact work, since it can involve convincing a few powerful people to make decisions that influence the lives of millions of animals. This seems more efficient than working to reach many individuals in order to create an equivalent amount of change.
Open Cages builds relationships with Polish politicians and media and encourages them to consider animal welfare. They also lobbied Poland's celebrity chefs (many of whom are featured in retailers' branding) to condemn caged eggs.21 We think the effects of lobbying politicians, media, and celebrities can vary.
Criterion 3: The charity operates cost-effectively, according to our best estimates.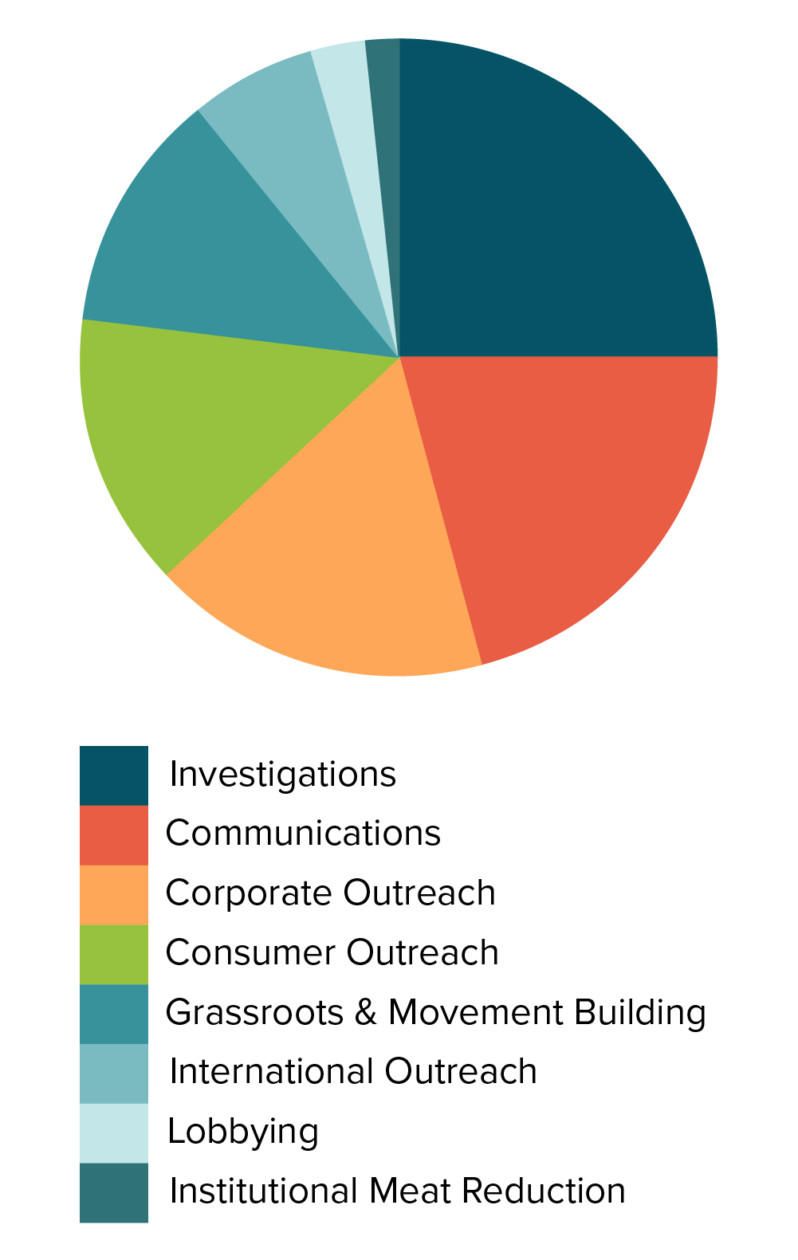 Open Cages runs several programs; we estimate cost-effectiveness separately for a number of these programs, and then combine our estimates to give a composite estimate of Open Cages' cost-effectiveness. Note that all the estimates factor in associated supporting costs, including administrative and fundraising costs.22 We generally present our estimates as 90% subjective confidence intervals.23 We think this quantitative perspective is a useful component of our overall evaluation because quantitative estimates of cost-effectiveness can be:
Helpful in our mission to identify highly effective ways of helping animals,24
Useful in making direct comparisons between different charities or different interventions,25 and
Helpful for increasing our transparency.26
However, the estimates of equivalent animals spared per dollar should not be taken as our overall opinion of the charity's effectiveness, especially given that we choose not to account for some less easily quantified kinds of impact in this section, leaving them for our qualitative evaluation. Furthermore, our cost-effectiveness estimates are highly uncertain approximations of some of the short-term costs and short to medium-term benefits associated with Open Cages' programs. As we have excluded more indirect or long-term impacts, the overall impact may be an underestimate. There is a very limited amount of evidence pertaining to the effects of many common animal advocacy interventions, which means that in some cases we have mainly used our judgement to assign quantitative values to parameters. Because charities have varying proportions of different types of impact, this makes our quantitative estimates particularly difficult to use to compare charities with a higher proportion of long-term impact to charities with a higher proportion of short-term impact.
We are concerned that readers may think that we have a higher degree of confidence in this cost-effectiveness estimate than we actually do. To be clear, this is a very tentative cost-effectiveness estimate and it plays only a limited role in our overall opinions of which charities and interventions are most effective.27
Investigations
We estimate that in 2017 Open Cages will spend 25% of their budget, or around $54,000, on Investigations.28, 29 This will result in about 3–10 investigations released.30, 31, 32 We estimate that media coverage of these investigations will receive between 9 million and 50 million views; these numbers might count an individual viewer more than once, as they include all views in cases where when someone sees coverage of one or more investigations from multiple sources.33, 34, 35 This is an estimated cost of between $6,000 and $20,000 per investigation,36 but only about $0.1 to $0.6 per 100 views.37, 38
Communications
We estimate that in 2017 Open Cages will spend about 21% of their budget, or $44,000, on social media outreach and other communications, including their blog, Facebook page, etc.39, 40 We estimate that this year the videos they share will get between 2 million and 4 million unique views to 95% of the video length.41, 42, 43 This gives us a cost of between $1.00 and $2.00 per 100 video views to 95%.44, 45 However, we note that users also engaged with Open Cages' content in many other ways, such as watching parts of videos, reading text posts, and reading blog posts.
Corporate Outreach
We estimate that in 2017 Open Cages will spend about 17% of their budget, or $35,000, on corporate outreach.46, 47 This is associated with some companies adopting new policies, and these policies seem to result in reduced suffering for some farmed animals. We estimate that Open Cages' corporate outreach will help cause 12–24 policy changes48, 49, 50 and we guess that these changes would affect 600,000–30 million laying hens.51, 52 The policies mainly focus on moving laying hens to cage-free systems.
Consumer Outreach
We estimate that in 2017 Open Cages will spend about 14% of their budget, or $29,000, on consumer outreach.53, 54 This will include the distribution of between 60,000 and 100,000 pieces of literature,55, 56, 57 as well as 400–1,200 pay-per-view views.58, 59, 60 That comes to a cost of $2.10 to $3.00 per person reached.61, 62
Grassroots and Movement Building
We estimate that in 2017 Open Cages will spend about 12% of their budget, or around $24,000 on grassroots and movement building.63, 64 This will include the supporting of 10–20 local groups,65, 66, 67 and 800–1,600 activists participating in activist training sessions.68, 69, 70 That comes to a cost per activist attending an activist training of $20 to $30.71, 72
International Outreach
We estimate that in 2017 Open Cages will spend about 6.4% of their budget, or $14,000, on International Outreach.73, 74 In 2017, Open Cages' work in this area will include expanding to Estonia, Ukraine, and Belarus, as well as sharing resources and mentoring when needed with groups in Russia, Latvia, Bulgaria, Moldova, Japan, Czechia, and Slovakia.75
Lobbying
We estimate that in 2017 Open Cages will spend about 3% of their budget, or $6,400, on Lobbying.76, 77 Open Cages reports that the main outcome of their lobbying with other groups in 2017 could include a fur ban in Poland.78
Institutional Meat Reduction
We estimate that in 2017 Open Cages will spend about 1.4% of their budget, or $2,900, on Institutional Meat Reduction.79, 80 This will cause 300–600 venues to introduce plant-based options.81, 82, 83
All Activities Combined
To combine these estimates into one overall cost-effectiveness estimate, we need to translate them into comparable units. This will introduce several sources for errors and imprecision, so the resulting estimate should not be taken literally—it is a rough estimate, and not a precise calculation of cost effectiveness.84 However, it will provide some information about whether Open Cages' efforts are comparable in efficiency to other charities'.85
We use our leafleting cost-effectiveness estimate to estimate that Open Cages spares between -10 and 1 animals from life on a farm per dollar spent on consumer outreach.86, 87, 88 We also use that estimate and a subjective adjustment factor89 to roughly estimate that Open Cages spares between -30 and 2 farmed animals per dollar spent on investigations.90, 91 We consider multiple factors92 to roughly estimate that Open Cages spares an equivalent of between -100 and 300 animals per dollar spent on corporate outreach.93, 94, 95
We exclude lobbying results from our final cost-effectiveness estimates and don't attempt to convert them into an equivalent animals spared figure; it is too difficult to disentangle the effects of this work from the total effects already captured by our other estimates. We also exclude international outreach results—as well as grassroots and movement building results—from our final cost-effectiveness estimate, because it is too speculative to estimate the short-term effects of those programs.
We weight our estimates by the proportion of funding Open Cages spends on each activity; overall, we roughly estimate that, in the short-term, after excluding the effects of some of their programs, Open Cages spares between -20 and 50 animals per dollar spent.96, 97, 98 This equates to between -20 and 50 years of farmed animal life averted per dollar spent.99, 100, 101 Because of extreme uncertainty even about the strongest parts of our calculations, we feel that there is currently limited value in further discussing these estimates. Instead, we give weight to our other criteria.
Criterion 4: The charity possesses a strong track record of success.
Have programs been well executed?
One of Open Cages' most longstanding programs is their investigation work. In 2012, they started performing extensive investigations of the fur trade; over the course of that year, they obtained footage from over 50 farms and garnered substantial media attention.102 They released two further fur investigations in 2016,103 but have largely shifted their focus towards caged egg farming.104 They released their first investigation into egg production in 2014;105 three months after the release of the investigation, the company they targeted went bankrupt.106 They released further caged hen investigations in February 2016, which were featured on several TV news programs.107 They have also experimented with virtual reality technology to present their investigations,108 and have launched a study with the University of Warsaw to assess its impact.109
They have also used their investigations to support their corporate outreach work. In 2017, they put pressure on Polish companies to commit to cage-free policies. They succeeded in obtaining commitments from all Polish discount stores and half of Polish retailers.110 They have started to expand their corporate outreach to Lithuania and Ukraine, but their work there is still in its early stages and has not yet resulted in any successes.111, 112 They have also had significant success in their fur-free retailer campaign, achieving a commitment from the largest Polish retail company to drop fur from their products.113
Open Cages is also involved in institutional meat reduction efforts. They approach restaurants to encourage them to introduce plant-based options; so far they have achieved success at 500 venues in Poland and 60 in Lithuania.114 This is comparable to the results of similar programs in Western European countries,115 and may be a good indicator of both Open Cages' competence and the tractability of advocacy work in Eastern Europe. This work also allows them to conduct related potentially impactful projects in the future, such as providing a searchable website of pledged restaurants for consumers.
Have programs led to change for animals?
Undercover investigations have a history of inspiring stronger animal protection legislation and better corporate policies, both of which relieve some suffering for farmed animals.116 There is some evidence that the media attention generated by investigations may be correlated with a reduction in the demand for meat, although we are less certain how well this research translates to countries in Eastern Europe.117 It is difficult to establish how investigations affect animals in both the short and long term, but we think that Open Cages' investigations have a strong record.
Their work investigating the fur industry in Poland could lead to change for animals once lobbying is successful, for example if legislation is introduced that meaningfully curtails the fur trade. As of October 2017, a bill is currently being drafted that includes the banning of fur; however, we are currently uncertain how successful this will be.118 Poland is the third largest fur producer in the world, and we think that such a ban could impact tens of millions of animals annually, if successful.119
The commitments made from Open Cages' corporate outreach campaigns will potentially affect hundreds of millions of animals once they have been implemented, although there is more uncertainty over the specific numbers in this case than with other organizations, as Open Cages reports that Polish businesses tend to be secretive about specific details such as this.120 As these commitments are not legally binding, it will be important to follow up with companies to ensure they are adhered to. As far as we are aware, Open Cages has not made explicit plans to follow up with companies yet; however, as most of these commitments are for 2024,121 it is probable that they will do so in the future. If these pledges are implemented, Open Cages' corporate campaigns will have led to direct and measurable increases in the number of animals being raised under higher welfare standards. While Open Cages was mostly responsible for the successes of corporate campaigns in Poland, the corporate outreach work of the Albert Schweitzer Foundation in neighboring Germany likely had some influence on targeted companies that operate in both countries.122
The change caused for animals as a result of Open Cages' institutional meat reduction work is less clear. Making more plant-based options available in restaurants may help reduce vegetarian/vegan recidivism, and will likely generally decrease animal product consumption; however, this is also dependent on the consumer demand for plant-based options, and we don't have a clear idea of the level of this demand in Poland.
Criterion 5: The charity identifies areas of success and failure and responds appropriately.
Open Cages' organizational culture places a strong emphasis on experimenting with their programs and self-assessing on a regular basis.123 They state that they are willing to acknowledge failures when they occur, and have shown their commitment to self-assessment and self-improvement by discarding several programs which they assessed as being relatively ineffective.124 They aim to evaluate and reorient their tactics based on their long-term mission, including by systematically setting specific and measurable short-term goals that are linked to their overarching strategy, systematically assessing their programs' performance, and changing their behavior in response to these self-assessments. We think the organization may benefit from setting goals or using metrics that more directly assess the number of animals affected by their programs.
Open Cages uses an Objectives and Key Results (OKR) framework to help set short-term goals relevant to their mission and long-term objectives.125 These OKRs are set and reviewed each quarter, with each short-term objective linked to the overall strategic plan.126 The OKR goals they have shared with us seem well designed for the purposes of self-evaluation; they are fairly specific and measurable, relevant to Open Cages' goals, and plausibly achievable, though they do not always provide specific time horizons.127, 128 Our impression is that, in the past, Open Cages' decision making has sometimes been guided more by their long-term goals than their programs' short-term performance. For example, Open Cages' initial focus was on conducting investigations to gain publicity, with the intent of laying the groundwork for corporate outreach and other advocacy programs that would eventually lead to change for animals.129, 130 Focusing on long-term goals in this manner could prevent an organization from overemphasizing results that are visible but do not match its aims. However, evaluating on short-term goals can also provide valuable guidance, informing an organization about its capacity to predict its programs' outcomes, and about its capacity to succeed at a given task.
Every six months, Open Cages reevaluates their programs, soliciting feedback internally as well as from external sources such as other animal advocacy organizations.131 Based on an evaluation document they have shared with us, they appear to consider a program's impact on farmed animals as a key consideration. The framework of assessment they have described to us includes important concerns such as opportunity costs, supporting the animal advocacy movement, and alignment with Open Cages' overall strategy.132 Their assessment process also involves asking important questions related to measuring success and failure, such as how they plan to evaluate the program, how long they plan to pilot it, and whether they already have data indicating that they should rethink their strategy.133 Metrics that they use to help evaluate specific programs include the number of restaurants that agree to provide vegan meals in response to their restaurant outreach, as well as the amount and overall sentiment of right-wing press discussion of their legal initiatives.134, 135 These metrics provide useful information, but we think an organization prioritizing among many different interventions could benefit from the use of metrics that are more directly related to their ultimate goals, rough estimates though they may be. Estimating the number of animals affected by programs such as banning fur or encouraging vegan menu options might be especially useful for determining these programs' marginal cost-effectiveness and allocating marginal funds.
Open Cages appears to have a strong cultural commitment to trying out new programs, acknowledging when they have failed, and changing tactics in light of signs of such failures. They have told us they view failure as a "positive byproduct" of vigorous efforts to find the best way to effect change.136 In the past, they have reportedly discarded some programs that they felt were less effective. For example, they reportedly stopped giving humane education talks at schools after a few months because they decided it was a relatively ineffective intervention, and stopped publishing an online magazine once they thought that it would be more efficient to direct readers to their website.137 They also report that they have changed the focus of several programs in response to new information. For example, they claim to have learned much about performing and popularizing investigations after their first attempt, and now claim to get more media attention while running smaller-scale campaigns.138
Criterion 6: The charity has strong leadership and a well-developed strategic vision.
Open Cages appears to have a strong commitment to finding and implementing effective ways to help farmed animals.139 We believe that their work contributes significantly to the animal advocacy movement's growth by helping it expand to neglected countries in Eastern Europe. As a Polish nonprofit association, Open Cages is required to have a board and a decision-making voting body composed of active Open Cages members.140 They are taking steps to include nonvoting members and external advisors in their decision-making process.141
The charity's mission emphasizes effectively reducing suffering/helping animals.
A strategy document that Open Cages provided to us indicates that their core values include helping farmed animals (especially because of how many there are), as well as identifying the best ways to do so, both by consulting the scientific evidence and by experimenting with and evaluating their programs.142
As discussed in Criterion 5, Open Cages makes efforts to explore promising programs, self-evaluate, and respond to evidence, indicating a commitment to effectiveness. Given their mission and their history of working to explore and evaluate interventions, we expect Open Cages to remain committed to effectively helping animals.
The strategy of the charity supports the growth of the animal advocacy movement as a whole.
We believe that Open Cages works in a relatively neglected area of animal advocacy, as there appear to be few other organizations in Poland pursuing programs similar to theirs, especially in the area of farmed animal advocacy.143, 144 They have also helped several other organizations work in Poland, such as ProVeg and the Albert Schweitzer Foundation, whom they have given advice on strategy, legal issues, and recruiting.145 They believe they will be able to coordinate corporate campaigns with the Albert Schweitzer Foundation in the future, and are currently in contact with them about this.146 They have also been coordinating their fur campaign with the organization Viva!147
Open Cages also appears to put significant focus on growing the animal advocacy movement in relatively neglected countries in Eastern Europe. They have helped start a network of Eastern European animal charities to target countries with relatively small farmed animal movements.148 Collaboration with these groups allows Open Cages to share their strategy, know-how, and experience, which is particularly important given that Open Cages anticipates that these newer groups will face challenges similar to those that they themselves faced.149 Open Cages encourages motivated activists in nearby countries to start their own organizations, offering support, mentoring, and fundraising.150 In addition, Open Cages is a member of international coalitions such as the Open Wing Alliance, the Fur Free Alliance, and the Eurogroup for Animals.151, 152
The board of the charity includes members with diverse occupational backgrounds and experiences.
The board includes three Open Cages co-founders: President Dobroslawa Gogloza, Vice-President Pawel Rawicki, and Vice-President Ilona Rabizo, all of whom we believe work for Open Cages full-time. Board member Jakub Stencel, Open Cages' development specialist, appears to mainly have work experience at Open Cages.153 The remaining three Board Members are computer scientist Krzysztof Witalewski, accountant Bogna Domagalska, and Marta Cendrowicz, who has experience in for-profit customer service and management. These Board Members each use their specialized skills for Open Cages; Witalewski works on social media, Domagalska on accounting and legal work, and Cendrowicz on corporate outreach.154
According to U.S. best practices, nonprofit boards should be comprised of at least five people who have little overlap with an organization's staff or other related parties.155 However, there is only weak evidence that following these best practices is correlated with success, and if they are correlated, that may be because more competent organizations are more likely to both follow best practices and to succeed—rather than because following best practices leads to success. As a young, largely volunteer-run organization based in Poland, we think it is reasonable that Open Cages' Board Members all conduct significant amounts of work for the organization. In fact, they have told us that they are legally required to choose active Open Cages members for the board, as Polish nonprofit associations are supposed to be self-governed. They are currently working to establish an advisory board, mostly in order to bring in more knowledge and experience from the business sector, but it is not common Polish practice to have such a board.156
The evidence for the importance of board diversity is somewhat stronger than the evidence recommending board sizes of five or greater, in large part because there is a significant body of literature indicating that team diversity generally improves performance. However, the evidence we are aware of for the importance of board diversity on organizational performance specifically is less strong.157 Although Open Cages' Board Members lack occupational diversity in that several of them work full-time with the organization, they do bring a variety of expertise in areas that are important for Open Cages' operations.
The board of the charity participates regularly in formal strategic planning on behalf of the charity, and involves other stakeholders in that process.
As a Polish nonprofit association, Open Cages is required to have a fifteen-member voting assembly which makes strategic decisions for the organization; their board is composed of seven of these members.158 The board is heavily involved both in the organization's planning and in Open Cages' major campaigns.159, 160 There are also currently two non-voting staff members who are invited to biannual meetings of the voting assembly.161 Open Cages' specific strategies vary a lot depending on the individual campaign and depending on who is running it, so they communicate as much as they can with their campaign coordinators in order to allow them a voice.162 For example, they have regular online meetings and day-long staff retreats to discuss their plans and staff members' potential concerns.163
Criterion 7: The charity has a healthy culture and a sustainable structure.
Open Cages is a largely volunteer organization that is just beginning to professionalize and set formal structures in place for some aspects of their culture. Financially, they've been very cautious insofar as they have actively sought funding from multiple sources and have not allowed their growth to outpace their fundraising ability.164, 165 Their culture is strong in some ways, including excellent volunteer involvement at all levels and good respect for and use of the diversity among their volunteers.166 However, there are some areas in which more formal policies could help to make staff and volunteers' experiences more consistent and positive, including around professional development and around the handling of harassment or other conflict within the organization.167
The charity receives support from multiple and varied funding sources.
Open Cages is primarily supported by donations, but receives some additional support through grants from other animal advocacy organizations and from revenue-generating activities including VegFests, the Conference on Animal Rights in Europe, and merchandising.168, 169 The grants from other organizations support specific positions; they told us that Anima pays to fund one staff position, the Open Wing Alliance funds a corporate outreach coordinator, and the Open Wing Alliance and PETA have each committed funds to help Open Cages staff operations in nearby countries.170, 171 Open Cages takes a very cautious tone when discussing their funding situation, which they say is because Poland is not a good place to fundraise for an animal advocacy organization and the base of potential donors is small; their first staff positions were funded by committed Open Cages volunteers.172, 173 This seems to have made Open Cages very proactive about seeking funding opportunities, as reflected by the many sources of funding listed here as well as their efforts to attract individual donors both in and outside of Poland.174
The charity provides staff and volunteers with opportunities for training and skill development, helping them grow as advocates.
Open Cages is primarily a volunteer organization and has no formal policies encouraging staff members' professional development.175 However, they have an extensive set of training options and programs for volunteers, and as they hire staff, they try to hire from their volunteers, who already know how to run their programs.176 For example, they organize a yearly training retreat, match volunteers with others who can help them learn needed skills, and sometimes pay for external trainings that are relevant to the work a volunteer does for Open Cages.177 Additionally, they tell us that volunteers trained by Open Cages have used the skills they learned with the organization to secure jobs with other organizations.178
The two volunteers we spoke with gave differing accounts of how much potential for training Open Cages offers.179, 180 Both agreed that a large amount of training within the organization is done by pairing volunteers with others who can show them how to do things.181 However, while this was all the training that one volunteer was aware of, another volunteer also knew of other training opportunities, such as getting support from Open Cages to attend external courses.182 It's possible that the training volunteers receive or are aware of depends on their role within the organization or the city that they live in.
The charity has staff from diverse backgrounds and with diverse personal characteristics (e.g., race, gender, age), and views diversity as a resource that can improve its performance.
Poland is a very ethnically homogeneous country, which is important in interpreting the meaning of diversity for Open Cages' staff and volunteers.183 Since Open Cages' staff is so small and comes from the ranks of their volunteers, they mostly think of diversity as it applies to their volunteer members.184 They actively try to recruit volunteers with diverse backgrounds and skill sets, because doing so increases their ability to reach out to different communities.185 For example, they specifically seek out Russian-speaking volunteers, who can help them build programs in nearby countries where Russian is spoken; some of their volunteers are Ukrainian immigrants and are very involved in Open Cages' efforts to expand to Ukraine, because they are very informed about important considerations there.186
The charity works to protect employees from harassment and discrimination.
Open Cages follows local laws that prohibit discrimination in employment; they also make many kinds of information, such as compensation levels, public in order to further avoid any possibility of discrimination.187 We spoke confidentially with two volunteers and performed some due diligence searches, and we did hear one report of one Open Cages activist harassing another.188, 189 While that report was not detailed enough for us to investigate further, our source also noted that due to the social structure of the organization, it is hard to report some kinds of problems as it is not clear who can help impartially and who would have a conflict of interest with regard to a given situation.190 We would suggest that as Open Cages continues to professionalize, they consider developing more formal frameworks for resolving situations of harassment or conflict within the organization in a fair and reliable manner.
Questions for Further Consideration
Why does a significant portion of Open Cages' outreach focus on dietary change rather than directly shifting public attitudes?
Some argue that the effectiveness of a strong focus on individual behavior change (e.g., dietary change) isn't supported by historical examples or other empirical evidence.191, 192, 193 They might argue that most successful social movements have focused their rhetoric on the institution they opposed rather than on individual behavior supporting that institution.194 Critics also believe it is difficult to build a mass movement when the perceived criteria for acceptance in the movement is a lifestyle change, and that a consumer focus provokes less moral outrage than focusing on the institution, thus missing an important driver of activism and subsequent social change.195
It's important to note that work on dietary change and on attitude change are not mutually exclusive; many animal advocacy activities, including many of Open Cages' programs, could plausibly lead to both types of change. In general, however, some of Open Cages' programs seem more focused on incremental change than on building a mass movement supporting institutional change.
Open Cages sees outreach focused on personal dietary change as a tool to develop opportunities for institutional changes and changes in public attitude.196 They are aware that focusing on individual dietary changes will not cause a breakthrough in the situation of farmed animals on its own, but believe it can help create space for shifting more general public attitudes and making small but meaningful corporate and legislative changes.197 They also believe that it will generally be easier to change people's attitudes if they are not so invested in everyday use of animal products.198
Open Cages hopes that by engaging in dietary outreach, they are able to help form a good consumer base for new startups in plant-based meat alternatives.199 They also believe that it is important that animal protection organizations educate their followers and prepare them for new technologies that could replace animal products.200 By making sure that the movement is considered expert in this area, advocates might be able to mitigate the risk that people will oppose cultured meat in the same way that many currently oppose GMOs.201
Some of Open Cages' activities (perhaps particularly protests) have the potential to backfire, either by leading to legislation targeting activists or by negatively affecting public opinion of activists. Should donors support such activities?
Critics have argued that some tactics employed by animal advocates, including protests, risk turning public opinion against the animal advocacy movement.202 While these activities make up a small proportion of Open Cages' work, they do organize and participate in protests and demonstrations.203 Investigations make up a larger part of Open Cages' work and have sometimes led to a slightly different type of backlash in which industry and government respond by attempting to pass laws that target advocates, such as ag-gag legislation in the United States.204 While Open Cages tries to maintain good relationships with media and governments, it's possible that they could encounter this sort of backlash, particularly when working in countries where they are not very experienced with the responses of local government.205
Open Cages sees the greatest threats to their work from government as arising not necessarily from their own tactics, but from the political climate in Eastern Europe, including in countries of interest to Open Cages such as Poland and Ukraine.206 There is a possibility that governments there will try to repress freedoms that Open Cages relies on for their work—and that civil society more generally relies on—such as the ability to freely gather in public.207 Open Cages is somewhat resilient to tactics that might be employed in such a case, because they don't rely on the government for funding. Nevertheless, they are closely watching the situation and keeping themselves informed of opportunities to form alliances to fight any restrictions.208
While Open Cages is aware of the potential for certain tactics to backfire and result in advocates becoming targets of ridicule or anger, they haven't found that to be the case with their work in particular.209 They see their tactics as generally fairly moderate for their region, where more dramatic protests and blockades are in common use by many different movements or groups of people, and are part of the cultural heritage from resistance to the Soviet regime.210 In fact, when Open Cages has participated in protests, they have often been organized at the grassroots level, rather than by Open Cages.211 Open Cages has had fur farmers try to tarnish their reputation by fabricating incidents of property damage or the release of animals, because they didn't find anything Open Cages had actually done that was scandalous enough to provoke the response they wanted.212
Does Open Cages worry that focusing on some of the most extreme confinement practices could lead to complacency with other forms of suffering farmed animals endure or with meat consumption?
Since pushing for welfare reforms often involves working directly with food and clothing industry companies, this work can give the public the impression that these companies treat their animals well when this is not the case, especially when animal advocates are incentivized to make the reforms seem like drastic improvements when animals still suffer substantially.213 Critics would also argue that, empirically, welfare reforms such as banning battery cages reduce only a very small portion of the harm of animal agriculture—if any—so they are not the most cost-effective use of time.214, 215, 216
In addition, some argue that welfare reforms (e.g., bans on battery cages) might lead consumers to think that farmed animals no longer suffer and that helping them is no longer a priority.217 They cite as evidence that some corporations market themselves as "humane" and "ethical," which suggests that appearing to support animal welfare does benefit those companies.218 However, this may only reflect gains to individual companies from positioning themselves as the most humane option.219 There isn't much evidence that this kind of marketing increases animal product consumption on the whole, and there is some evidence of a negative correlation between media coverage of animal welfare and meat consumption.220
On the other hand, some advocates argue that this work could increase the credibility of the animal advocacy movement by showing that it can make progress for animals on an institutional scale, not just an individual one.221 Single campaigns may not eliminate all the suffering in a specific area, but they can provide useful information and momentum for future campaigns. The success of welfare reforms also establishes the moral aspects of animal agriculture as a topic in the public domain, which seems important for further progress.
Open Cages does consider the possibility that their efforts will shift consumer attitudes in an unwanted direction, such as toward complacency, in their strategic planning.222 In the case of welfare reforms, they think there is enough evidence against increasing complacency to allow them to pursue these campaigns.223 The most convincing argument they see is the fact that there is no historical precedent for such an effect, and there is weak positive evidence that these tactics decreases complacency, as in the campaigns of Henry Spira.224 Open Cages also believes that moral progress is likely gradual, and exposing people to the horrors of animal farming may be best done by focusing on the practices that people are most likely to be against.225 Finally, welfare reforms are relatively tractable and affect many animals, but they aren't the only tactics Open Cages uses. By using additional tactics, they are also able to reach other, more receptive, audiences with arguments against animal farming and suffering.226
They still think that increasing complacency and providing moral excuses for eating animal products is a possible risk.227 Open Cages believes that animal advocates should consider such downsides of any intervention they employ and seek new data and evidence about whether current programs are net harmful both in the short term and the long term.228 They are ready to change approaches if new evidence emerges.229
There are many more farmed animals then there are animals used for fur. Open Cages seems to direct comparable resources towards advocacy for farmed animals and advocacy for animals used fur. Why does Open Cages do this?
ACE typically recommends advocacy focusing on animals farmed for food, because of the large number of animals this advocacy can affect.230 We estimate that in the U.S., over 99.6% of land animals used and killed each year are farmed for food, while under 0.1% are used for fur production.231 While patterns of animal use vary somewhat in different countries and regions, we believe that the condition of farmed animals is one of the most important problems for animal advocates throughout the world. There is some variability as far as which species are most common in which countries; for example, chickens are very numerous in both the U.S. and Europe, while many more rabbits are farmed in Europe than in the U.S., so campaigns on behalf of rabbits make much more sense in Europe than in the U.S.232 However, in general many more animals are farmed for food than used for other purposes, across a wide variety of countries.233
Open Cages considers animals farmed for fur to be part of the larger category of farmed animals.234 They address fur farming in particular for several reasons. First, the number of animals farmed for fur in both Poland and Lithuania is comparable to the number of animals in certain species farmed for food.235 Open Cages claims that in Poland, there are roughly as many fur-bearing animals as pigs or milk cows, while in Lithuania, the number of fur-bearing animals is comparable to the number of laying hens, and greater than the numbers of pigs, cows, goats, and sheep combined.236, 237 Thus, campaigns against fur in these countries can affect animals on a scale comparable with certain campaigns on behalf of other farmed animals. Second, Open Cages sees campaigns against fur farming as more tractable than campaigns against other types of farming, particularly in that it is much more plausible that they would be able to ban fur farming altogether than that they would be able to ban raising certain animals for food altogether.238 Finally, related to their greater tractability, campaigns against fur farming may help build the animal advocacy movement in ways that have already occurred in other countries, but are more recent or have not yet occurred in Eastern Europe.239
How tractable is promoting concern for farmed animals in Eastern Europe? How has Open Cages seen attitudes or policies shift since they began working on farmed animal campaigns, and are there any signs that attitudes will or will not be able to shift further?
Open Cages is the first charity we have reviewed that operates exclusively in Eastern Europe, although we have reviewed other charities, including ProVeg and the Albert Schweitzer Foundation, that do some work in Poland. Critics could be concerned that, due to political or social conditions in Poland and other Eastern European countries, advocacy techniques developed elsewhere won't work as well in Eastern Europe, or even that no animal advocacy techniques will be highly effective there.240 We think that Open Cages' accomplishments to date are sufficient to suggest that further progress will be possible, both in Poland and in other countries they've begun working in.241 However, we acknowledge that we know less about the region in general and about animal advocacy there than we do about some other areas.
Open Cages says that they see several signs of tractability in Eastern Europe. For example, in Poland they found that the media initially did not cover animal welfare in the egg or fur industries, but began to cover it in conjunction with their investigations.242 Now the media reportedly sometimes initiates coverage of animal welfare in these industries without an investigation, because it has become a newsworthy topic.243 However, they still see little media coverage of most other animal industries.244 Another indicator of tractability in Poland is that animal welfare issues have recently begun to be included in the platforms used by political parties, and may have played a role in some election results.245 Open Cages has also conducted some public polling on animal welfare issues in Lithuania and found that most people there are opposed to raising animals for fur and to housing hens in cages.246
---
The following materials are supplementary research documents associated with our charity review process and are referenced in the Comprehensive Review.
Research Documents