Archived Version: November, 2017
Status
Comprehensive
Primary Work Area

Industrial Agriculture

Entertainment

Website
AnimaNaturalis Internacional
Review Published
November, 2017
Type
Archived Review
Current Version
Last Updated
November, 2017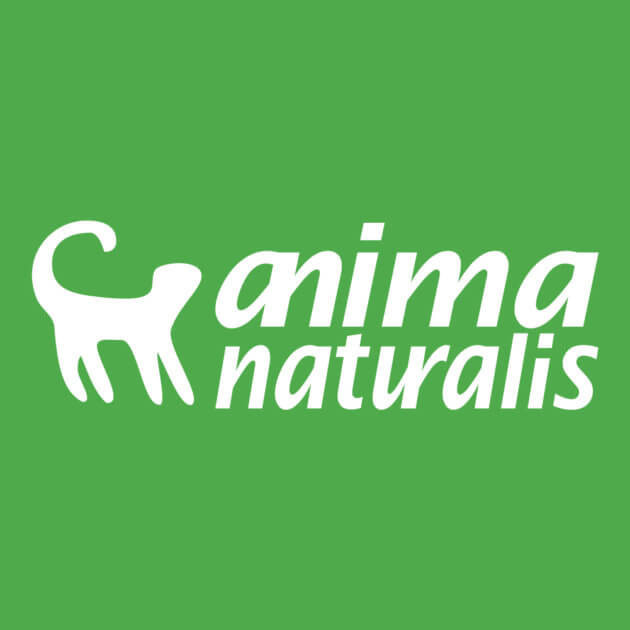 What does AnimaNaturalis do?
AnimaNaturalis works to reduce the suffering of animals in Spain, Mexico, Colombia, Venezuela, Ecuador, Argentina, and Chile. While they have historically focused on advocacy for animals in the entertainment industry, they are now directing more of their resources towards farmed animal advocacy because they believe that it has become more tractable due to shifts in Spanish and Latin American culture. AnimaNaturalis campaigns city-by-city, organizing protests, gathering signatures, and lobbying politicians. Some recent areas of focus include ending bullfighting, the use of animals in circuses, and the use of cages for farmed animals. They also work to change public attitudes and promote veganism through media and online outreach, as well as giving by talks and distributing leaflets.
What are their strengths?
AnimaNaturalis achieves a lot with a relatively small budget and a staff of volunteers. They seem to do an exceptionally good job of training and supporting volunteers, and overall they seem to have a surprisingly stable structure considering that they have no paid staff at all. AnimaNaturalis works in countries where there are few other animal charities, which likely presents opportunities for highly impactful work. AnimaNaturalis has learned and adapted their strategy over time, and we think that they could effectively use increased funding next year to hire their first paid staff members.
What are their weaknesses?
AnimaNaturalis has a fairly short history of farmed animal advocacy and no history of working with a budget large enough to afford paid staff members. Since they are just now preparing to hire their first staff and to shift the focus of their advocacy, we have some uncertainty about what their organization might look like in a few years' time.
AnimaNaturalis does plan to continue devoting approximately half of their resources to advocating for animals in the entertainment industry, which they believe is more tractable than farmed animal advocacy—especially in Spain. Advocating for animals used in entertainment might be a strategic choice for AnimaNaturalis given their locations, though we are uncertain about how much the impact of animal advocacy work, in general, differs across various countries due to differences in cultural influence and receptivity. We suspect that farmed animal advocacy work in certain countries, like the U.S., might be more impactful than work in other countries, especially if farmed animal advocacy is not yet tractable in those countries.
Why didn't AnimaNaturalis receive our top recommendation?
AnimaNaturalis hasn't yet done much work on behalf of farmed animals, and we think that it's likely that their work on advocacy for animals in entertainment is generally less effective than the best work on behalf of farmed animals. Additionally, because they are an all-volunteer organization looking to hire their first staff, we are relatively uncertain what the organization and its priorities will look like in the near future, especially if they receive enough funding to hire a significant number of people. We think they will be a better candidate for a recommendation after they transition to doing a significant amount of work on behalf of farmed animals and after there are some indicators that the organization functions as well when led by staff as it has when led by volunteers.
How AnimaNaturalis Performs on our Criteria
Criterion 1: The charity has room for more funding and concrete plans for growth.
Before we can recommend a charity, we need to assess the extent to which they will be able to absorb and effectively utilize funding that the recommendation may bring in. Firstly, we look at existing programs that have need for additional funding to fulfil their existing purpose; secondly, we look at potential areas for growth and expansion. It is important to determine whether the barriers limiting progress in these areas are solely monetary, or whether there are other factors such as time or talent shortages. Since we can't predict exactly how any organization will respond upon receiving more funds than they have planned for, this estimate is speculative, not definitive. It's possible that a group could run out of room for funding more quickly than we expect, or come up with good ways to use funding beyond what we have suggested. Our estimates are indicators of the point at which we would want to check in with a group to ensure that they have used the funds they've received and are still able to absorb additional funding.
Recent Financial History
AnimaNaturalis is run entirely by volunteers. As such, they have a smaller budget than most of the other charities that we review. In 2016 their fundraising goal was $52,800, however due to an administrative error they are uncertain whether this was achieved.1 In 2017 they estimate that their income will be $72,000–$81,6002 and their expenses will total $69,500. In addition to Spain, they operate in several South American countries and their sources of funding vary depending on the country. In Spain and Mexico where they are well established, their funding for programs comes primarily from monthly donors and one-off donations, as well as merchandise sales. In Columbia, Venezuela, Chile, Argentina, and Ecuador, their funding comes solely from merchandise sales. If we assume that their income for 2016 is roughly correct, then 2017 would represent a 50% budget increase, most of which they appear to have been able to utilize. Being able to put to use a significant budget increase is a good indication that their expansion is mostly monetarily limited; thus, they may have further room for more funding.
Planned Future Expenses
AnimaNaturalis has been involved in campaigning against animals used in entertainment for at least the last 10 years.3 Recently however they have begun a shift towards focusing on vegan outreach, and their plans for the next year reflect this overarching goal. They have three campaigns planned for the next year: a 21-day vegan pledge, 'No soy comida' (I am not food), a campaign connecting animal suffering and diet, and a campaign to influence government to end farm subsidies. So far their vegan outreach has involved leaflet distribution and promotion of their website hazteveg.com, so these new programs will represent a significant increase in this area and likely have substantial funding requirements. We expect AnimaNaturalis to divert some funds from existing animals in entertainment campaigns to cover this. It is also possible that progress in some of these areas will be limited by factors other than money—we find it particularly likely that progress in the campaign to end government subsidies will be a particularly slow process and this time factor may limit the funds that can be effectively put towards it. While they do have experience in the past with lobbying for regional policy change in bullfighting, a national campaign of this sort is a much larger undertaking.
Given additional funding, AnimaNaturalis would hire paid staff. As it is currently solely run by volunteers, we feel this would be a very effective and easy-to-implement use of funding, and should serve to greatly increase their capacity as an organization. Next year they are also planning on hiring a fundraising professional, who will oversee a new regular newsletter for their monthly donors, as well as maintain their existing donor database.
Conclusion
Overall we think AnimaNaturalis could take on an additional $130,000–$500,000 in funding over the next year, which would represent up to a 300% increase in their funds over this year.4, 5, 6 They seem to be using their current budget well, and given their planned staff hires and ambitious new campaign plans, we feel that the additional money would be well utilized over the next year.
Criterion 2: The charity engages in programs that seem likely to be highly impactful.
Before investigating the way a charity's programs are implemented or the outcomes they've achieved, we consider the charity's overall approach to animal advocacy. We expect effective charities to pursue approaches that seem likely to produce significant positive change for animals, though we note that there is significant uncertainty regarding the long-term effects of many interventions.
AnimaNaturalis focuses on reducing the suffering and abuse of animals, particularly in the entertainment industry. They have recently begun shifting their focus more towards farmed animal advocacy, and they plan to shift even further in the future. In general, we believe that advocating for farmed animals has a greater impact than advocating for animals used in entertainment, since the number of animals used for food far exceeds the number of animals used in entertainment. However, advocating for animals in the entertainment industry may be a strategic choice for groups that work in Spain and Latin America, since it may be more tractable there at this time. AnimaNaturalis explains that many Spaniards are introduced to animal welfare issues through the entertainment industry (particularly bullfighting), and that it is currently easier to get political backing to support advocacy for animals in the entertainment industry, rather than the food industry, in Spain.7
AnimaNaturalis pursues many different avenues for creating change for animals: they work to influence public opinion, build the capacity of the movement, influence industry, build alliances, and influence policy and law. Pursuing more than one avenue for change seems to be a good idea because, if one proves to be ineffective, AnimaNaturalis still might be impactful. However, we don't think that charities that pursue multiple avenues for change are necessarily more impactful than charities that focus on one.
To communicate the process by which we believe a charity creates change for animals, we use theory of change diagrams. It is important to note that these diagrams are not necessarily complete representations of real-world mechanisms of change. Rather, they are simplified models that ACE uses to represent our beliefs about mechanisms of change. For the sake of simplicity, some diagrams may not include relatively small or uncertain effects.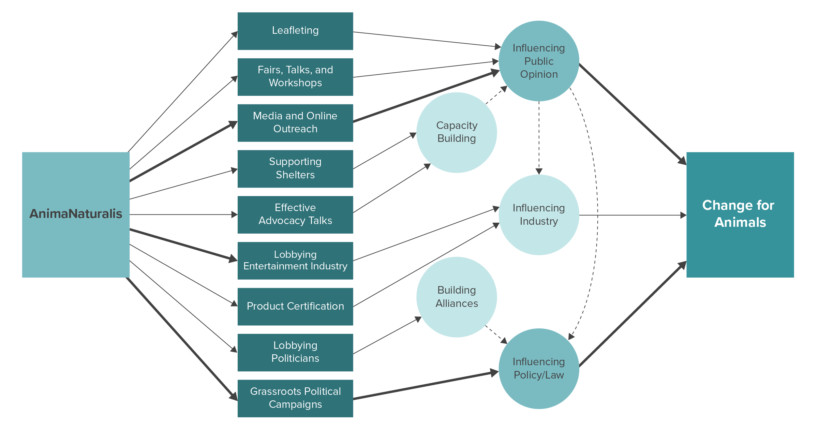 Influencing Public Opinion
AnimaNaturalis works to influence individuals to adopt more animal-friendly attitudes and behaviors. We think that the impact of such work may be relatively limited compared to the impact of efforts to influence industry or law. However, we still think it's important for the animal movement to target some outreach toward individuals, as a shift in public attitudes could lead to greater support for new animal-friendly policies. Public outreach might even be a necessary precursor to achieving institutional change.
AnimaNaturalis engages in media outreach, which we think may be a relatively effective means of influencing public opinion. They work with local and international press to expose animal abuse. There is some evidence of a negative correlation between media coverage of farmed animal welfare and meat demand, and we suspect that there may be a similar correlation between media coverage of animals in the entertainment industry and public support for the use of animals in entertainment.8
AnimaNaturalis also works to effect change through other forms of education, including leafleting, online outreach, and giving educational talks. While there is little evidence available about the effectiveness of these interventions, we do not currently recommend the use of leafleting or online ads, as we suspect that they are not as effective as some other means of public outreach.
Capacity Building
Working to build the capacity of the animal advocacy movement can have a far-reaching impact. While capacity-building projects may not always help animals directly, they can help animals indirectly by increasing the effectiveness of other projects.
AnimaNaturalis offers talks on effective advocacy for advocacy groups and at vegetarian and vegan fairs. We are not informed of the content of AnimaNaturalis' talks and there is little available research about the impact of advocacy talks in general, though we think they may be particularly valuable in Spain and in Latin America, where there are far fewer animal organizations than there are in the U.S. and probably fewer people with advocacy expertise.
Influencing Industry
Working to influence animal industries may help to create a climate in which it is easier for individuals to play a smaller role in the abuse of animals. In the long term, weakening animal industries may enable stricter regulation of animal welfare.
Alone or in conjunction with other groups, AnimaNaturalis lobbies businesses to end the use of animals. For instance, they report that, along with the Fundación para el Asesoramiento y Acción en Defensa de los Animales (FAADA) they helped negotiate the end of dolphin shows at the Barcelona zoo. The impact of AnimaNaturalis' corporate outreach campaigns varies according to how many animals are affected by each campaign.
In Mexico, AnimaNaturalis offers certification for products not tested on animals. There is little evidence on the impact of certification programs.
Building Alliances
Outreach to key influencers provides an avenue for high-impact work, since it can involve convincing a few powerful people to make decisions that influence the lives of millions of animals. This seems more efficient than working to reach many individuals in order to create an equivalent amount of change.
AnimaNaturalis maintains relationships with politicians, which they leverage in their political work. For instance, they used the political contacts that they made while campaigning against bullfighting in the Balearic Islands to later ban the use of animals in circuses there. We think that making and maintaining political alliances can be highly impactful.
AnimaNaturalis also works with animal-friendly businesses like Lush. Together, they ran a media campaign to promote alternatives to animal testing.
Influencing Policy and Law
We think that encoding protections for animals into the law is a key component in creating a society that is just and caring towards animals. While legal change may take longer to achieve than some other forms of change, we suspect its effects to be particularly long-lasting.
AnimaNaturalis works to influence the law with grassroots political campaigning, including organizing demonstrations and marches. Alone or in conjunction with other groups, they've advised political parties and introduced legislative initiatives to ban particularly cruel practices. Among other things, they've lobbied for welfare improvements for rabbits in the E.U., where rabbits are the second most highly consumed land animal. Grassroots campaigning has seemed to play an important part in successful animal-friendly legislation in the U.S., like Massachusetts Question 3 in 2016. We expect that it has also been partly responsible for AnimaNaturalis' political successes.
Criterion 3: The charity operates cost-effectively, according to our best estimates.
We think quantitative cost-effectiveness estimates are often useful as factors in charity evaluations, but we are concerned that assigning specific figures can be misleading and appear as more important in our evaluation than we intended. For AnimaNaturalis in particular, we believe that our back-of-the-envelope calculation of their cost-effectiveness is too speculative to feature in our review or include as a significant factor in our evaluation of their effectiveness. For instance, in thinking about their impact we considered the probability of AnimaNaturalis significantly contributing to a ban on bullfighting and how good such an outcome would be. Our estimates for these factors were very speculative; we considered other unknowns as well, and we omitted many possible scenarios for the sake of simplicity.9
In the future, we hope to have better ways of evaluating impacts on areas outside of farmed animal advocacy, which could lead to publishing a cost-effectiveness estimate for AnimaNaturalis. We think cost-effectiveness calculations will still be most useful as one small component in our overall understanding of charity effectiveness. That being said, our lack of a cost-effectiveness estimate doesn't necessarily indicate that this charity has lower overall cost-effectiveness than the charities that we have completed a cost-effectiveness estimate for.
Criterion 4: The charity possesses a strong track record of success.
Have programs been well executed?
Over the last 14 years, AnimaNaturalis has been almost solely focused on bringing about change for animals used in entertainment. They have recently started to focus more on spreading veganism, as they feel the social climate is more receptive now than when they first started. As this has been a recent shift, the majority of their track record consists of long running entertainment-focused campaigns that have started to see success in recent years.
In 2015 AnimaNaturalis joined InfoCircos, a coalition of five Spanish organizations focused on ending the use of animals in circuses. Since the beginning of 2016, 300 cities have banned animal circuses, partially as a result of their work. AnimaNaturalis has started campaigns in six of Spain's 17 autonomous communities, and has so far achieved four circus bans.10 They have also worked in collaboration with FAADA on a campaign, SOSDelfines, which has led to the end of dolphin shows at Barcelona Zoo. They are currently engaged in opposing bullfighting in four more autonomous communities, and their work has led, in part, to a regulation preventing the organization of bullfighting in the Balearic Islands.
AnimaNaturalis also collaborated with Compassion In World Farming (CIWF) on their rabbit campaign, which has made some progress in ending cage use for rabbits in the E.U.11 They contributed by lobbying Spanish Members of European Parliament (MEPs), circulating a petition, and running a campaign to send children's drawings to politicians. The latter is a particularly novel approach to campaigning, and thus difficult to assess how effective it was. In March 2017, the E.U. parliament voted in favor of a nonbinding resolution calling for cage use to be ended and for minimum rabbit welfare legislation to be introduced. Overall, given the large scale of the CIWF campaign—which involved many organizations—we expect that AnimaNaturalis played a minor role in its progression.
AnimaNaturalis' vegan outreach work has included the distribution of over 150,000 leaflets in Spain and Mexico, as well as holding talks and running cooking workshops. Their campaign centers around their website, Hazte Veg ("Go Veg"), which has had 1.2 million unique views in the last year, and is the most popular Spanish-language vegan website in operation; the corresponding Facebook page also has 1.2 million followers. Given the small size of AnimaNaturalis, and the relatively small portion of their budget used for social media, we find these numbers to be particularly impressive, rivalling some of the larger organizations we review.
Have programs led to change for animals?
AnimaNaturalis' entertainment campaigns led to change for animals in a direct way for those animals who are no longer used in cities where they are banned. We think this has probably affected quite a small number of animals, probably in the realm of 800–12,000 per year.12, 13 There is also an indirect effect in changing the attitudes and culture towards the treatment of animals, which is much harder to measure. For many in Spain, the protesting of bullfighting is their first exposure to considering animal rights or welfare; this exposure may make them more receptive to other forms of activism—such as vegan outreach—or, alternatively, it may make them more resistant as it may be perceived as a threat to their culture. Either way, we think this indirect impact is probably smaller than the impact AnimaNaturalis would have on animals if they were to direct the same amount of resources towards vegan outreach.
While AnimaNaturalis' contribution to the CIWF cage-free rabbit campaign was small, there are currently an estimated 340 million rabbits reared in the E.U. annually, so any contribution will likely affect a large number of animals if the campaign results in legislation. As such, this campaign has not led to change for animals yet, but is a promising line of work for the future.
Their vegan outreach work leads to change for animals when it influences people to reduce their consumption of animal products. As they are reaching a large audience with their vegan outreach website, we think that this has potentially led to a large change for animals, although some form of vegan pledge or other tracking metric would allow for a better way of measuring this effect.
Criterion 5: The charity identifies areas of success and failure and responds appropriately.
AnimaNaturalis appears to have some commitment to responding to success and failure when they recognize it. In the past, they have changed their overall strategy significantly after recognizing their current approach was failing to achieve change. However, our impression is that their policies for recognizing success and failure are in need of improvement. In particular, they currently set goals which do not clearly delineate success or failure, and use fairly indirect proxies for many desirable impacts, such as behavior and attitude change. Their lack of formal self-evaluation may be due in part to the charity's current organizational structure; they currently have two core staff members, both of whom are unpaid,14 as well as a large number of committed volunteers. However, AnimaNaturalis aims to restructure and hire staff in the near future15 and they are currently creating a new strategic plan. As such, we hope that the organization's forthcoming growth and development will be accompanied by formal target-setting and self-evaluation processes.
Our impression is that AnimaNaturalis often sets goals which are fairly broad in nature and do not specify a completion time, making it difficult for them to evaluate their past operations.16 As they grow and develop, we think the organization would benefit from goal-setting and self-assessment that is both more precise and (when relevant) quantitative. Estimating the number of animals affected and degree of welfare improvement caused by programs such as banning bullfighting or improving rabbit cages might be especially useful for determining which of these efforts could best make use of marginal funding.
AnimaNaturalis says the way in which they measure their programs' success is primarily based on two metrics: visits to their website and legal changes (laws and regulations) their campaigns have helped enact. These metrics capture some of the important outcomes their work could have, but there are significant aspects they exclude—such as the number of animals affected by a particular legal change and the degree of improvement in those animals' welfare. Our impression is that AnimaNaturalis places some value on these aspects as well; for example, they have noted that the scale of rabbit farming in Spain makes their work on rabbit regulation especially impactful.
We are uncertain how much weight they put on website visits as an indicator of success. While changing public opinion is an important part of their work, website visits seem like a far-removed proxy for the desired outcomes of diet change, animal advocacy, and support for AnimaNaturalis' proposed legal changes. If they wish to evaluate their public impact, we hope that they will eventually consider studying and targeting the behavioral changes that result from their campaigns.
We have some evidence that AnimaNaturalis is willing to change their programs in response to evidence. After finding a lot of their time was spent managing far-flung teams, they have chosen to run fewer groups, which operate only in cities where their work has most impact. They have also consolidated their efforts in general; they used to regularly run campaigns on many different issues, but eventually realized that they were not making progress with this approach.17 They also note that recent survey results claiming that 8% of Spaniards identify as vegetarians provide evidence for the increasing tractability of combating animal consumption in Spain,18 though we're uncertain to what extent this evidence influenced AnimaNaturalis' decision to focus more on this area.
Criterion 6: The charity has strong leadership and a well-developed strategic vision.
AnimaNaturalis appears to place some value on tractability and scope, two important indicators of effectiveness; they have recently begun farmed animal advocacy work on the basis of these indicators. We would like to see them continue to raise the priority of cost-effectiveness in the future, as they currently plan to put half of their efforts towards older, less effective programs. AnimaNaturalis' work in neglected Latin American countries like Colombia could contribute significantly to building the animal advocacy movement. They include all of their volunteers in their decision-making process, though some strategic decisions are reserved for their leadership. Currently, they do not have a board. We expect that AnimaNaturalis' governance procedures will change, possibly to a large degree, as the organization formalizes their structure and hires staff in the upcoming years.
The charity's mission emphasizes effectively reducing suffering/helping animals.
AnimaNaturalis' mission is to disseminate the idea of animal rights across Spain and Latin America, and to establish and protect the rights of all animals in these countries. The focus areas they discuss include reducing the suffering of animals in the food, clothing, and entertainment industries, as well as the suffering of animals in labs.
As discussed in Criterion 4, AnimaNaturalis' past work has focused almost exclusively on entertainment. However, as mentioned in Criterion 5, they have recently begun focusing more on farmed animals, citing both the scope and tractability of reducing animal suffering in this area. They plan to spend half of their time on farmed animal outreach, but want to continue spending half their time advocating for entertainment animals, as they are finally seeing results from this long-running program.19 Given their mission and track record, we think it is likely that AnimaNaturalis will continue to work in areas that offer opportunities to effectively help animals, though because of their past campaigns they will likely retain a commitment to working on behalf of animals in entertainment.
The strategy of the charity supports the growth of the animal advocacy movement as a whole.
AnimaNaturalis is committed to working in Latin American countries, many of which do not have a strong animal advocacy presence. Their media and individual outreach work in Colombia, for example, seems like a plausible path towards strengthening animal advocacy and raising awareness of animal suffering in a country where this topic is relatively neglected. In Mexico, where organizations like Mercy For Animals and Animal Equality already promote veganism, they hope to complement these groups' work by using messaging that emphasizes the health benefits of veganism, rather than the welfare costs of eating animal products.20 Overall, we see AnimaNaturalis as often filling neglected spaces in the movement.
The board of the charity includes members with diverse occupational backgrounds and experiences.
AnimaNaturalis does not have a board. They do have an internal Board of Directors, consisting of their leadership: seven local Directors and two international leaders.21
According to U.S. best practices, nonprofit boards should be comprised of at least five people who have little overlap with an organization's staff or other related parties.22 However, there is only weak evidence that following these best practices is correlated with success, and if they are correlated, that may be because more competent organizations are more likely to both follow best practices and to succeed—rather than because following best practices leads to success. As a small, all-volunteer organization based in Spain, we think it is reasonable that AnimaNaturalis does not have an external board.
The evidence for the importance of board diversity is somewhat stronger than the evidence recommending board sizes of five or greater, in large part because there is a significant body of literature indicating that team diversity generally improves performance. However, the evidence we are aware of for the importance of board diversity on organizational performance specifically is less strong.23 We are not aware of the occupational backgrounds of AnimaNaturalis' Board of Directors, although the board may lack viewpoint diversity because all Directors spend significant time volunteering at the same organization. However, these Directors do provide different national perspectives that AnimaNaturalis likely needs in order to make decisions effectively.
The board of the charity participates regularly in formal strategic planning on behalf of the charity, and involves other stakeholders in that process.
AnimaNaturalis has an annual meeting with all their volunteers during which they set their yearly goals. They also have a five-year strategic plan which they are currently updating. Their process is to have three members of their leadership work on the plan with external consultants; they then work on some parts with all volunteers. As an all-volunteer organization, AnimaNaturalis relies on committed animal advocates to carry out their programs, so we think it is important for them to include these advocates in their decision making.24
Criterion 7: The charity has a healthy culture and a sustainable structure.
AnimaNaturalis has no paid staff, and instead consists of a number of local volunteer groups in Spain and several Latin American countries. Perhaps due to the voluntary nature of each team member's participation, the social aspect of working with AnimaNaturalis figured prominently in our discussions with team members about culture. Everyone we spoke with mentioned that the team is like a family and that this has a very positive influence on their satisfaction with the organization.25 AnimaNaturalis does face some challenges due to their structure—including difficulty in delegating certain roles, and occasional problems with retention. However, they seem to do an exceptionally good job of training and supporting volunteers, and overall they have a surprisingly stable structure for an organization with no paid staff at all.
The charity receives support from multiple and varied funding sources.
AnimaNaturalis currently receives about 70–90% of their support from monthly donors. The rest of their income comes primarily from other donations, with under 10% of their projected income for 2017 coming from merchandising. Their budget overall is small compared to most other organizations we've comprehensively reviewed, but the focus on monthly donors suggests that their donor base is likely relatively wide, and their income is unlikely to fluctuate greatly.
The charity provides staff and volunteers with opportunities for training and skill development, helping them grow as advocates.
AnimaNaturalis currently has no paid staff; they are an all volunteer team. However, many of their volunteers are very committed to the organization and have put significant time into AnimaNaturalis projects over several years. The two volunteers we spoke with confidentially said that they have become stronger advocates through working with AnimaNaturalis, due to trainings provided by the organization, experiences they've had, and even occasions when the organization has paid for them to attend training courses. However, they also identified ways they could learn more and become more effective, such as through professionalization (allowing some members of the team to devote more time to the work); more trainings on specific subjects including social media management, English or other languages, and effective altruism; and a more efficient and thorough process for orienting new volunteers. Leadership also identified professionalization as an important way for AnimaNaturalis to improve.
The charity has staff from diverse backgrounds and with diverse personal characteristics (e.g., race, gender, age), and views diversity as a resource that can improve its performance.
AnimaNaturalis operates in Spain and Latin America, where attitudes towards race and diversity are different than they are in the U.S. Everyone we spoke to at AnimaNaturalis portrayed the organization as inclusive, with no reported problems of discrimination or perceived lack of diversity, and one volunteer noted that although class-based prejudice was a problem locally, they hadn't encountered or heard about such problems within AnimaNaturalis. Because they haven't perceived lack of diversity as being a problem for them, AnimaNaturalis has not attempted to specifically promote diversity within the organization.
The charity works to protect employees from harassment and discrimination.
We don't know of any specific policies in place at AnimaNaturalis to prevent harassment or discrimination. We spoke with two non-leadership volunteers and performed some due diligence searches, and are not aware of any reports of harassment or discrimination at AnimaNaturalis.26
Questions for Further Consideration
Does AnimaNaturalis worry that focusing on banning some of the most extreme confinement practices could lead to complacency with other forms of suffering farmed animals endure or with meat consumption?
Since pushing for welfare reforms often involves working directly with food industry companies, this work can give the public the impression that these companies treat their animals well when this is not the case, especially when animal advocates are incentivized to make the reforms seem like drastic improvements when animals still suffer substantially.27 Critics would also argue that, empirically, welfare reforms such as banning battery cages reduce only a very small portion of the harm of animal agriculture, if any, so they are not the most cost-effective use of time.28, 29, 30
In addition, some argue that welfare reforms (e.g., bans on battery cages) might lead consumers to think that farmed animals no longer suffer and that helping them is no longer a priority.31 They cite as evidence that some corporations market themselves as "humane" and "ethical," which suggests that appearing to support animal welfare does benefit those companies.32 However, this may only reflect gains to individual companies from positioning themselves as the most humane option.33 There isn't much evidence that this kind of marketing increases animal product consumption on the whole, and there is some evidence of a negative correlation between media coverage of animal welfare and meat consumption.34
On the other hand, some advocates argue that this work could increase the credibility of the animal advocacy movement by showing that it can make progress for animals on an institutional scale, not just an individual one.35 Single campaigns may not eliminate all suffering in a specific area, but they can provide useful information and momentum for future campaigns. The success of welfare reforms also establishes the moral aspects of animal agriculture as a topic in the public domain, which seems important for further progress.
AnimaNaturalis agrees with critics' concerns about focusing on extreme confinement practices. Nonetheless, they believe their efforts in this area have improved many animals' well-being and see them as a major accomplishment.
Some of AnimaNaturalis' activities (particularly protests) have the potential to backfire, either by leading to legislation targeting activists or by negatively affecting public opinion of activists. Should donors support such activities?
Critics have argued that some tactics employed by animal advocates, including protests, risk turning public opinion against the animal advocacy movement.36 While these activities only represent a portion of AnimaNaturalis' work, they do organize and participate in protests and demonstrations. While they used especially controversial protest tactics in their early years (including attention-grabbing strategies like nudity), they have moved away from such tactics and are now careful to send a more thoughtful message.
AnimaNaturalis has not yet experienced significant backlash from their protests; in fact, they tell us that politicians and police officers have praised AnimaNaturalis for their well-organized events.
Why does AnimaNaturalis direct fewer resources towards advocacy for farmed animals than they do towards advocacy for animals used in entertainment?
Because there are many more farmed animals than there are animals used in entertainment, Animal Charity Evaluators believes that farmed animal advocacy is a particularly high-impact cause area. However, AnimaNaturalis devotes a significant portion of their resources towards advocacy for animals used in entertainment.
AnimaNaturalis feels that, in the countries in which they work, advocating for animals in entertainment has historically been more tractable than advocating for animals in the food industry. AnimaNaturalis has been working on behalf of animals in the entertainment industry (particularly in bullfighting and circuses) for more than ten years and they feel that it is their area of expertise.
While vegan outreach has historically been difficult in Spain, AnimaNaturalis tells us that it is just now becoming more tractable. In fact, in one survey from 2017, 8% of Spanish respondents claimed to be vegetarian.37 Because vegan outreach is becoming more tractable, AnimaNaturalis intends to make it a larger focus. They hope to eventually spend at least half of their time advocating for veganism and the rest of their time advocating for animals in the entertainment industry.
---
The following materials are supplementary research documents associated with our charity review process and are referenced in the Comprehensive Review.
Research Documents