Archived Version: May, 2014
Status
Comprehensive
Primary Work Area

Industrial Agriculture

Website
Compassion Over Killing (COK)
Review Published
May, 2014
Type
Archived Review
Current Version
May, 2014
Last Updated
November, 2017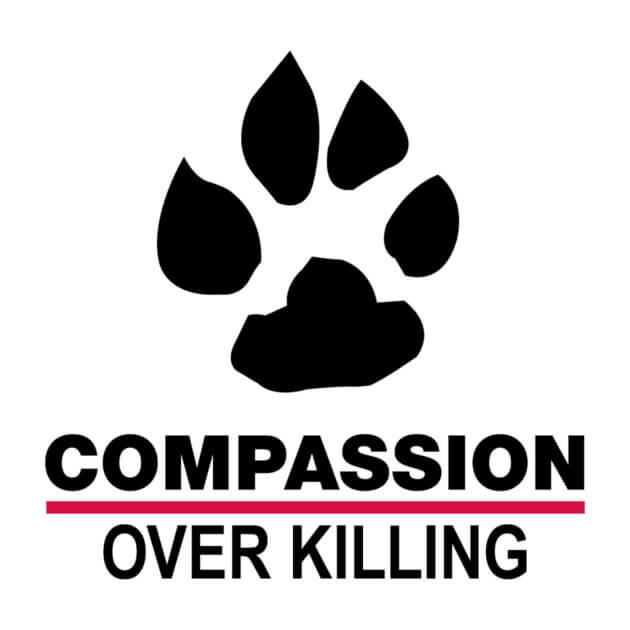 Compassion Over Killing (COK) works to combat animal abuse and focuses on farmed animal advocacy and promoting a vegetarian diet. They do this through undercover investigations, legal advocacy, corporate campaigns, vegetarian outreach, and pro-veg advertising. They also work on legal reform and on passing Meatless Monday initiatives.
What are their strengths?
COK conducts several undercover investigations each year. These efforts produce a wide variety of value: not only do they affect the lives of the animals and people directly involved, but they give the organization leverage when embarking on later corporate and legal campaigns. Producing consistent evidence of abuse proves that there is need for reform, and thus increases the likelihood that resolutions or bills will pass in favor of animal protection. Additionally, these investigations are often covered by major news media outlets, and thus receive considerable attention from the public. One study shows that meat consumption decreases in society during the time where such material is publicly being shown, but eventually levels off, suggesting that a continual presence of such material in the media results in reduction of consumption of animal products.
We believe that, when done efficiently, legal advocacy and Meatless Monday initiatives can have an especially large impact on the welfare of animals. Spending time convincing one politician, or one dining Director at a school, could result in incredibly large numbers of animals being spared suffering for a minimal time commitment.
What are their weaknesses?
We don't have much evidence of the effectiveness of COK's above initiatives, apart from our general thoughts on the specific types of work being done. There is some value to that, but we would have liked to delve deeper into COK's work to better understand their successes and failures. While they were open to sharing things in our conversation, we did not get many details about their specific campaigns; this may be because they didn't wish to share them, or that they simply did not have very much specific information—both situations are not ideal. Additionally, we wanted to better understand the distribution of funds on each of these activities, but we were only able to glean an understanding based on previous IRS 990 forms that are publicly available. As such, we had a difficult time determining where COK is being most efficient with their work.
When asked about what they would do with additional funding, it was not clear to us what would guide their decision process. It seemed that they were open to increasing funding to most of their programs, but did not favor any one area. They did discuss that they were moving toward legal reform and undercover investigations, so it may be safe to assume that they would direct more money to those areas, but we are uncertain if this is the case. We prefer to see a clear plan for which programs would receive marginal funding and why.
Why didn't COK receive our top recommendation?
Overall, we agree with COK's decision to focus more on legal reform and undercover investigations. While we find that both grassroots and legal/corporate outreach are valuable and in fact complement each other, we believe that groups like COK that have the ability and size to advocate for the legal/corporate reform should take the initiative and spend time focusing on these areas, and leave more grassroots outreach to the smaller groups who do not have the option of influencing the bigger picture areas. We are also encouraged by their assertion that they intend to spend more time measuring and evaluating their work in the future, and that they've started learning from others' impact analysis. However, we haven't seen much evidence of this yet, and we are unsure about many specifics of their successes and failures, and also of budgetary distribution, so we did not give COK our top recommendation.
How COK performs on our criteria
Criterion #1: The Organization Has Concrete Room for More Funding and Plans for Growth
It was not clear which areas COK would invest in if they had more funding, and therefore not clear how much more funding they could use. When discussing this, it seems like they would first invest more in their pro-veg advertising campaign. This could be a good use of additional funds, as they mentioned that their website traffic was up whenever these ads were running, but we'd prefer to see some more specific data before endorsing that idea.
However, after mentioning the pro-veg advertising campaign, it seemed like any of a wide variety of programs could receive the funding. We saw this uncertainty as indicative of a limited understanding of what works and what needs additional resources, two things that are greatly important to success. They don't anticipate funding changes from the previous year, and have remained fairly consistent over the past few years, so it is possible that they haven't addressed those possibilities because they do not plan on having any increase in funding.
Criterion #2: A Back-of-the-Envelope Calculation Finds the Organization is Cost-Effective
COK did not provide us with recent budget information. Accordingly, we have based our cost effectiveness estimates on the most recent IRS forms we could find, those from 2010 and 2011. Note that all estimates factor in associated supporting costs including administrative and fundraising costs.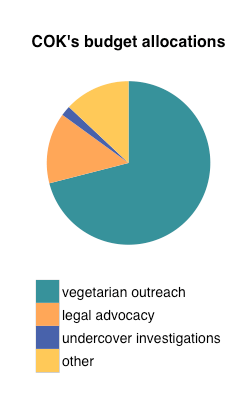 Vegetarian Outreach
During that time, 71% of COK's expenses were for vegetarian outreach programs; we estimate they spent about $576,298 on this yearly. They stated that these programs included advertising, literature (leaflet and Vegetarian Starter Guide) distribution, feed-ins, and humane education lectures. It seems likely from our conversation with them that they put fewer resources into this area now. We don't know how COK distributes their funds among these activities. For most of the activities, we also don't have a good sense of how cost-effective COK's implementations have been. In the case of the HULU ads, however, we know that one campaign had a cost of about $38 per click-through1 to a Vegetarian Starter Guide request through the path COK was tracking, but only about 2 cents per viewer of the ad. We've analyzed leafleting costs for other organizations and found that the total cost of printing and distribution is typically about 35 cents per leaflet.
Legal Advocacy
From 2010-2011, about 14% of COK's expenses were for legal advocacy, or around $109,578 yearly. A large percentage of these costs were donations of pro-bono work. Most recently, COK's legal advocacy efforts have been focused on fighting ag-gag laws alongside other animal advocacy organizations. They also bring proactive lawsuits that challenge misleading food labeling and marketing; in 2013 they participated in a suit against several federal agencies, claiming that they had failed to regulate deceptive egg labeling practices.
Undercover Investigations
From 2010-2011, about 2% of COK's expenses were for undercover investigations, or about $16,234 yearly. We believe they likely have spent more on this program since; in 2013 they completed three undercover investigations. We've analyzed undercover investigation costs for MFA with more information, and our estimates ranged from a $30,000 marginal cost per investigation (provided by MFA) to an average cost of over $140,000 (our estimate). We think it is more likely that COK's cost-effectiveness in this area is more similar to MFA's than it is different. Our estimate was that MFA spent about 8 cents per view of coverage of its undercover investigations, counting both views online and views through media exposure.
Other
From 2010-2011, about 13% of COK's program expenses, or around $105,519 yearly, went to activities not listed above. The most prominent of these activities is COK's corporate outreach. Currently, COK has campaigns asking Subway and Dunkin Donuts to provide more vegan options, but these campaigns have been ongoing for some time without clear results.
All Activities Combined
To compare COK's cost-effectiveness to that of other organizations, we would ideally combine the estimates above into a single overall estimate of cost-effectiveness, converting to units of animals spared from factory farms per dollar and weighting by the proportion of COK's work that each activity represents. For instance, we estimate that undercover investigations spare about 1.7 animals per dollar spent (again based on the case of MFA, whose accomplishments and budget we understand in more detail). We estimate that leafleting spares about 1.9 animals per dollar spent (based on the case of VO, again because more details are available). And we estimate that HULU ads result in about 2 animals spared per dollar spent, by using our Online Ad Impact Calculator together with the information that it costs about 3 times more to get a Vegetarian Starter Guide request through HULU ads than through the Facebook ads assumed by that calculator.
We conclude that COK's cost-effectiveness overall is probably between .5 and 2 animals spared per dollar spent. Based on the number of undercover investigations COK carried out in 2013, they probably allocated a significant amount of resources to that program alone; about 25% of their resources going to support these three programs would be reasonable. This would lead to an overall cost-effectiveness of about .5 animals spared per dollar spent even if their other programs have minimal effects. However, we believe it is likely that at least their legal advocacy program does have significant positive effects, though these effects are difficult to convert to these units. Thus, it is more likely that their overall cost effectiveness is in the 1-2 animals spared/dollar range, similar to that of other groups we have evaluated. All our estimates of this type have been uncertain, but this one especially so. We have also depended significantly on information from other groups to make it, so it is less useful, in particular, as a comparison between COK and those other groups.
Criterion #3: The Organization is Working on Things That Seem to Have High Mission Effectiveness
COK works on farmed animal advocacy, which we believe has great potential for reducing the suffering of animals.
Conduct undercover investigations
COK works to expose the suffering of animals in factory farms through undercover investigations. These investigations are then made public, and they make an effort to get as much exposure from these as possible. Their work also sometimes results in criminal charges against workers who abuse animals.
We believe that there is great value in these efforts. These investigations generate a large amount of public discussion about the treatment of animals in farms. It has been shown that meat consumption declines when these stories are in the media, and social media now provides a platform for free widespread sharing of the footage. This means that an extremely large number of individuals are exposed to their work. Additionally, the evidence of abuse provides materials for leaflets and videos, which can also be promoted publicly and result in a larger exposure. Lastly, these efforts provide the background information on farms that is necessary for legal and corporate reform.
Legal Advocacy
COK's legal advocacy efforts, particularly those involved with defeating ag-gag bills, seem to have high mission effectiveness. If ag-gag bills were to pass in many states, animal advocates would have a much harder time making the public aware of what happens in industrial agriculture. By preventing the passage of such bills, COK helps to empower many current and future activists and influencers.
Work with corporations to increase animal welfare
COK holds conversations with corporations to try and convince them to reduce or eliminate the use of animal products in their offerings. We think that this tactic has promise, but that it is important to tailor efforts to areas that have a higher likelihood of success and positive impact. They have invested resources in a number of different campaigns, and they have had the most success with corporations that are already catering to a vegetarian or health-oriented target audience.
Online and Grassroots Outreach
Online and grassroots outreach to individuals (including ads on HULU and Youtube, leafleting, food demos, humane education, DC VegFest, and VegWeek) seem highly effective because they are focused on changing the culture of animal use for food. This culture must ultimately change if conditions are to improve significantly for animals, as it is not possible that animal agriculture can continue to exist on its present scale in a way that is respectful of animals' interests. The effectiveness of this type of outreach is somewhat limited when compared to some other forms because viewers and readers are encouraged to make small-scale individual changes and may not influence others the way a change in law or corporate policy influences many people.
Criterion #4: The Organization Possesses A Robust and Agile Understanding of Success and Failure
While they have done more vegetarian outreach in the past, they are shifting towards online and legal approaches, as they see those as most effective. We agree that prioritizing advocacy that works to develop influencers, who can then in turn create change in others independent of the organization, is a good way to maximize impact.
COK has worked to eliminate eggs in retail company products (e.g. Boca) and asked restaurants (e.g. Subway and Dunkin Donuts) to add vegan options. We believe that COK's work with several producers of vegetarian foods was particularly valuable, as they have successfully convinced them to phase out the use of eggs in their products and thus directly affected a large number of hens. We are unsure as to the effectiveness of campaigns to introduce vegan proteins at Subway or a vegan donut at Dunkin Donuts.
We would like to see their focus shift more toward convincing a cluster of similar retail companies or restaurant chains to reduce or eliminate animal products in their offerings, as we see that as having a larger potential impact and a higher rate of success. It appears that COK also thinks this way, as they are planning to strategically spend more time in this area in the future. They believe that targeting a specific company, getting it to change, and then using that change to help pressure the next company to adopt new policies, is a good strategy that will lead to more corporate reform. We agree with that logic, and look forward to seeing what they develop in this area.
They have also conducted some very brief follow-up surveys immediately following the VegWeek campaign, although these have room for improvement since they occurred in such close proximity to the actual event and without a control group. We are encouraged that they plan on performing longer-term follow-up at future VegWeeks, and look forward to what they learn.
We are encouraged that they will focus more on evaluating their efforts, and that they will be investing more in online campaigns and less on the failed corporate campaigns, as this shows their willingness to shift resources toward that which is working. However, we see limited circumstances in which they have so far actively evaluated their programs and made decisions based on the results. We look forward to seeing more of this in the future.
Criterion #5: The Organization Possesses a Strong Track Record of Success
COK has had success in the past with Boca and several other producers of vegetarian foods in convincing them to remove all eggs from their products. These types of campaigns, when successful, have enormous potential to alleviate suffering. Convincing even one company to take steps like these results in hundreds of thousands of egg-free products, which has far-reaching potential to improve the lives of animals, so we are enthusiastic about the effects of this effort.
They have also worked on several other corporate campaigns where they try to rally public support to create a change in the offerings of fast food restaurants. Specifically, they have campaigns with Subway to introduce vegan sandwiches, and with Dunkin Donuts to introduce vegan donuts. They have not had significant success in either of those areas, but have convinced select Dunkin Donuts to offer soymilk. Subway has tested a vegan patty and falafel in select locations, and is testing hummus in over 1,000 stores. As these campaigns have been on-going for several years and have not produced results, we are unsure of their value. Considering these campaigns together with the earlier successful corporate campaigns, we find a mixed track record, with more success in the organized approach to several similar companies, as COK acknowledges.
COK has also run commercials on channels frequented by a reasonable target audience of young adults. While we are enthusiastic about these commercials in general, we would like to see some tracking information to ensure that they are being effective. COK says they have plans to do this more in the future as they continue these efforts online.
COK has seen success with their campaign to remove "Animal Care Certified" logos from egg cartons, as it was a phrase that meant nothing in terms of animal welfare. We are uncertain to what value this produced, or whether or not consumers changed their behavior as a result of this. However, this is a step towards implementing systematically truthful and understandable labeling, which has been shown to result in people purchasing more higher-welfare products and fewer lower-welfare equivalents. It also seems logical that more truthful labeling is a step in the right direction of convincing people to reduce consumption of animal products. Any news coverage of this issue would also have value in showing consumers that labels don't equate to truth, so we are optimistic that there was positive change as a result of this campaign.
Overall, COK has had success in many, though not all, of their stated goals. Some of these successes have translated directly into real change for animals, as with the successful corporate campaigns. Others have had less well-defined effects, though in general we believe that these effects have also been positive for animals.
Criterion #6: The Organization Has Strong Organizational Leadership and Structure
Erica Meier took over as Executive Director in 2005 and has run the organization since that time. They have a total of eight employees. They have had very little turnover; most Directors have been in their current position for more than three years. They have an orientation plan for new staff/volunteers with their Director of Operations.
Criterion #7: The Organization is Transparent
We do not see transparency as a focus of COK. We found it difficult to ascertain specific details of their work on their site, and were not able to acquire other details through our repeated contacts. It is unclear how much information they are unwilling to share, or simply didn't have time to generate for our requests.
COK does work with other groups to improve their efforts, which means that they are transparent in those conversations about their tactics. For example, they have discussed VegWeek and Meatout campaigns with FARM extensively so that they could discuss how to collect information and improve their efforts. Additionally, COK is in conversation with other groups about legal reforms and initiatives, which shows that they are open to sharing and collaboration in certain context.
---
The following materials are supplementary research documents associated with our charity review process and are referenced in the Comprehensive Review.
Research Documents