Archived Version: November, 2017
Status
Comprehensive
Primary Work Area

Cultured and Plant-Based Food Tech

Website
New Harvest
Review Published
November, 2017
Type
Archived Review
Current Version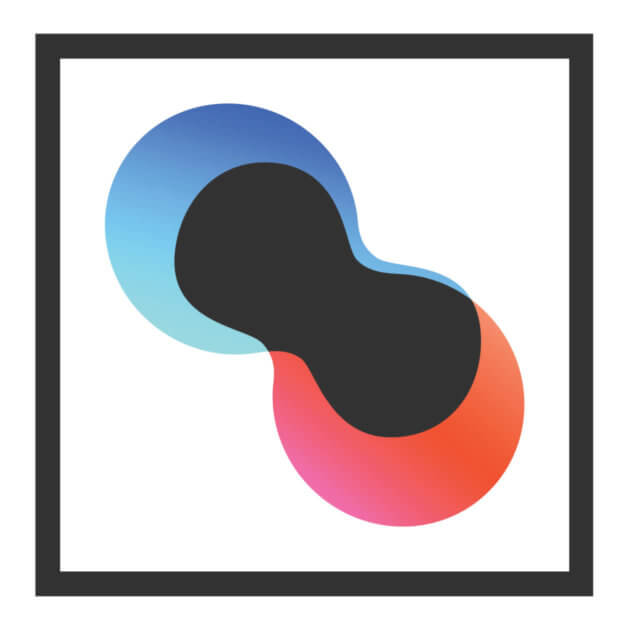 What does New Harvest do?
New Harvest is a 501(c)(3) nonprofit which funds academic research in cellular agriculture, i.e., the harvesting of cells and/or the products of cells for the development of animal products made without animals. Through their fellowship program, they currently fund promising research to advance the field of cultured meat (meat grown from cell culture), and they are working to produce open tools and protocols for research in their developing field.
What are their strengths?
We believe that developing competitive alternatives to animal products could have a huge impact for farmed animals. It could cause consumers to purchase fewer animal products, and it might do so much more quickly than using moral arguments to persuade consumers to stop eating meat, dairy, and eggs. New Harvest is one of very few organizations working in this area. They have restricted their focus to scientific research, which they see as their strength.
What are their weaknesses?
We are somewhat concerned that New Harvest may value developing new technology above reducing animal suffering, though these goals are likely to be aligned for most choices New Harvest will foreseeably face. Perhaps of greater concern are the reports we've received of New Harvest's competitive work culture, particularly within their fellowship program.1 We think New Harvest has significant room for growth in this area, and it's not clear whether they're aware of this or prioritizing it appropriately.
Why didn't New Harvest receive our top recommendation?
New Harvest is doing good work in an important and possibly underserved area. However, we are somewhat concerned that their fellowship program, which is their primary focus, does not have a long enough track record to demonstrate that their plans for growth are sound. We also note that a key component of the fellowship program seems to be providing fellows with support to develop as Researchers and scientists and to ensure that they are able to continue their research. We think New Harvest has significant room for growth in this area.
New Harvest was one of our Standout Charities from December 2015 to November 2017.
---
For further discussion, please see Criterion 7 of this review.
New Harvest was one of our Standout Charities from December 2015 to November 2017.
How New Harvest Performs on our Criteria
Criterion 1: The charity has room for more funding and concrete plans for growth.
Before we can recommend a charity, we need to assess the extent to which they will be able to absorb and effectively utilize funding that the recommendation may bring in. Firstly, we look at existing programs that have need for additional funding to fulfill their existing purpose and secondly, at potential areas for growth and expansion. It is important to determine whether the barriers limiting progress in these areas are solely monetary, or whether there are other factors such as time or talent shortages. Since we can't predict exactly how any organization will respond upon receiving more funds than they have planned for, this estimate is speculative, not definitive. It's possible that a group could run out of room for funding more quickly than we expect, or come up with good ways to use funding beyond what we have suggested. Our estimates are indicators of the point at which we would want to check in with a group to ensure that they have used the funds they've received and are still able to absorb additional funding.
Recent Financial History
When last reviewed in 2015, we estimated New Harvest could take on $100,000–$200,000 in additional funding.1 At that time they were a smaller organization with a budget of $300,000 but since 2015 they seem to have shown a period of continued growth in the fundraising capability of the organization. In 2016 they had a total income of approximately $640,000 from three sources—donations, the New Harvest Conference, and a grant from the Shuttleworth Foundation.2 Their expenses totaled $550,000. In 2017 their income is projected to increase to approximately $1 million with expenses totalling approximately $650,000. This recent divergence between income and expenses is most likely to build up their assets for financial protection as they continue to expand. However, it can also be a potential indication that they are not keeping up with their expansion, and that they may not have as much room for more funding over the next year.
In 2016 New Harvest ran their first conference for cellular agriculture. While this first iteration of the event was run at a loss of $41,400, they estimate that the 2017 conference will run at a net profit of $26,000 thanks to an increase in sponsorship deals. We find it likely that profits will only increase as this event gains more traction, and as they streamline the running costs as their experience increases.
Planned Future Expenses
New Harvest's central short-term goal is to create a viable, well-supported scientific community around cellular agriculture, which will enable scientists to pursue careers in this field, either in the industrial sector or in academia. One way in which they are aiming to accomplish this is through their fellowship program, which provides funding for scientists to pursue cellular agriculture related research. The program currently supports three people and they are looking to expand over the next year. They claim to have designed this program in such a way that it will be scalable with funding, potentially including the hire of a new staff member.
Conclusion
New Harvest estimates that they could effectively use a total budget of $2 million over the next year, primarily for research grants. Given the current small size of the Fellowship Program, we are less confident that they would be able to use this amount of funding. We believe there is potential for unforeseen issues as they scale up, such as difficulty in hiring additional staff and finding fellows. Based on their current rate of expansion, we estimate that they could use $200,000–$900,000 in additional funding over the next year.3, 4, 5
Criterion 2: The charity engages in programs that seem likely to be highly impactful.
Before investigating the way a charity's programs are implemented or the outcomes they've achieved, we consider the charity's overall approach to animal advocacy. We expect effective charities to pursue approaches that seem likely to produce significant positive change for animals, though we note that there is significant uncertainty regarding the long-term effects of many interventions.
New Harvest focuses on furthering the field of cellular agriculture. Since many of the products developed through cellular agriculture will be food products, their work will primarily benefit farmed animals, which we believe is a high-impact cause area.
New Harvest works to build the capacity of the movement by funding and sharing research in cellular agriculture. Though it is not their focus, we think that their work may also influence public opinion and the food industry.
To communicate the process by which we believe a charity creates change for animals, we use theory of change diagrams. It is important to note that these diagrams are not necessarily complete representations of real-world mechanisms of change. Rather, they are simplified models that ACE uses to represent our beliefs about mechanisms of change. For the sake of simplicity, some diagrams may not include relatively small or uncertain effects.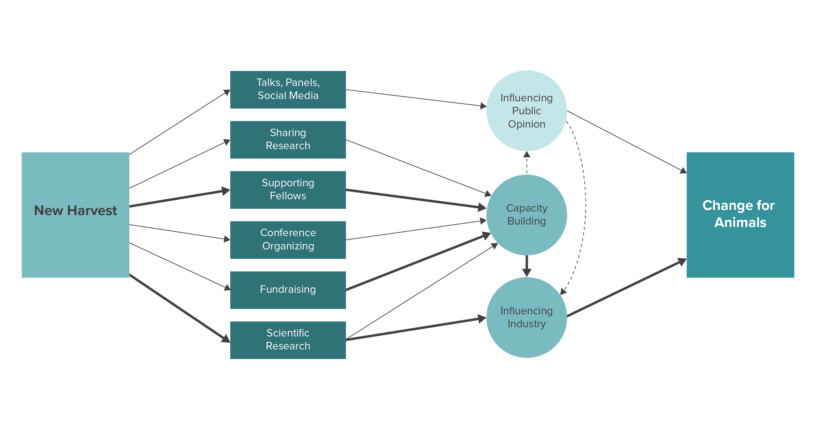 Influencing Public Opinion
We think that the impact of efforts to shift public opinion may be relatively limited compared to the impact of efforts to influence industry or law. However, we still think it's important for the animal movement to target some outreach toward individuals, as a shift in public attitudes could lead to greater support for new animal-friendly policies. Public outreach might even be a necessary precursor to achieving more institutional change.
Executive Director Isha Datar has given talks and spoken on panels, some of which are available online. Both Datar and New Harvest are also active on social media. They use their social media channels to inform rather than advocate, occasionally even tweeting or retweeting pessimistic views about the future of cultured meat. In general, there is little evidence available about the effectiveness of these educational interventions. However, it seems that there may be a particular need for public education on the topic of cellular agriculture, since the field is so new.
Capacity Building
Working to build the capacity of the animal advocacy movement can have a far-reaching impact. While capacity-building projects may not always help animals directly, they can help animals indirectly by increasing the effectiveness of other projects.
New Harvest builds the capacity of the field of cellular agriculture by working with young scientists in their Research Fellowship program. These Researchers may go on to start, or work for future cellular agriculture companies.6 New Harvest also contributes to the capacity of the field by sharing their research with other groups. In addition to sharing cell cultures and protocols for cellular agriculture research, they have also conducted and shared focus group research—in conjunction with the Environmental Law Institute—to investigate public perceptions of cellular agriculture. We think that conducting and sharing research can be an effective capacity-building intervention.
New Harvest facilitates the sharing of information through their conference. There is little evidence on the effects of conferences, though they may be relatively cost-effective interventions given that they generate revenue through ticket sales. While many animal advocacy conferences generate revenue from within the movement (e.g., from other animal advocates and animal charities), New Harvest's conference likely generates revenue from diverse attendees, including academics and the general public. Similarly, New Harvest focuses on securing funds from academic and scientific grant-making institutions rather than from the animal advocacy movement.7 By bringing in funds that would not have otherwise been used to help animals, New Harvest's fundraising activities might be more effective than other animal charities' fundraising activities at building the capacity of the movement.
Influencing Industry
Working to influence the food industry may help to create a climate in which it is easier for individuals to reduce their use of animal products. In the long term, successfully increasing the availability and quality of cultured and plant-based foods could weaken the animal agriculture industry through the pressures of the marketplace, perhaps even without the presence of advocacy messages. Weakening the animal agriculture industry may enable stricter regulation of animal welfare.
We think that developing cultured animal product alternatives is a potentially high-impact way to influence the food system. It seems plausible that demand for conventional meat will decrease once cultured meat is put on the market, especially as it becomes more cost-competitive, widely available, and harder to distinguish from conventional meat in taste and texture.
Criterion 3: The charity operates cost-effectively, according to our best estimates.
We think quantitative cost-effectiveness estimates are often useful as factors in charity evaluations, but we are concerned that assigning specific figures can be misleading and appear to be more important in our evaluation than we intended. For New Harvest in particular, we believe that our back-of-the-envelope calculation of their cost-effectiveness is too speculative to feature in our review or include as a significant factor in our evaluation of their effectiveness. For instance, in thinking about their impact, we considered the probability of a single New Harvest grantee launching a commercial product that takes market share from animal agriculture and the share of the market they could be expected to capture. Our estimates for these factors were very speculative; we considered other unknowns as well, and we omitted many possible scenarios for the sake of simplicity.
Additionally, New Harvest is focused on helping animals in the medium and long term, and we have not evaluated the medium-term or long-term impacts of any other charities, so we worry including this cost-effectiveness calculation would be unfair to those other organizations.8 That being said, our lack of a cost-effectiveness estimate doesn't necessarily indicate that this charity has lower overall cost-effectiveness than the charities that we have completed a cost-effectiveness estimate for.
In the future, we hope to have better ways of evaluating medium and long-term impacts, which could lead to us publishing a cost-effectiveness estimate for New Harvest. We think cost-effectiveness calculations will still be most useful as one small component in our overall understanding of charity effectiveness.
Criterion 4: The charity possesses a strong track record of success.
Have programs been well executed?
In 2014, New Harvest launched two companies, Clara Foods and Muufri (now Perfect Day), which are working on production of animal-free egg whites and milk respectively. In their first year the teams both successfully attracted outside funding (of $1.75 million9 and $2 million10 respectively), meaning that New Harvest considers these to be successful examples of their company grant model.11 Although venture capitalist funding is a good indication that the companies themselves will be successful, it is not clear how much of their potential for success is attributable to New Harvest's work, compared to the work of the companies themselves. The companies are also yet to release their products, and so we have a great deal of uncertainty as to how well they will perform, and thus how much change they will create for animals.
Since late 2015 New Harvest has shifted their focus to their Research Fellowship Program, which is still in its early stages as far as research goes, and as such, does not yet have many successful outcomes. In May 2017, they decided to discontinue research with their first Research Fellow, as the research was overly ambitious and the project was not meeting the proposed deadline. They have six fellows that they are currently working with, one of whom has developed an open-source protocol for culturing a turkey nugget. This is an example of the sort of success that New Harvest hopes to achieve through this program.
New Harvest has also been involved in public and academic outreach. In 2016 New Harvest held their first annual conference to bring together people working in the field of cellular agriculture to showcase their work and research. The 2017 conference featured 22 speakers and 22 exhibitors across two days. They have also been engaging in interviews and giving talks at universities and food conferences. In 2017 so far, they have given 45 media interviews and 19 talks.12
Have programs led to change for animals?
While New Harvest's successful programs could lead to significant benefits for animals, this will likely occur on a relatively long time scale. Since they work to foster the field of cultured animal product development rather than developing individual products themselves, any impact they have will happen through the work of others who they supported. The grants that New Harvest has provided to startups in the past have helped them to start work on cellular agriculture. However, those companies must continue to grow and experience success after receiving outside funding before their products can come to market and potentially reduce the demand for the products of animal agriculture.
Their refocus towards funding academic research has a more indirect path to impact for animals, compared with funding startups, as successes in cellular agriculture research do not necessarily lead to the formation of startups that aim to bring cultured meat to market. On the other hand, we think there could be significant benefits if they continue to produce research outcomes, such as protocols for production of various products. It is possible multiple companies could make use of them, either by using the product as a whole or by using the information to develop more complex products on a faster timeline than could be achieved without this research. We think this is the major potential benefit of New Harvest's research work.13
New Harvest's outreach work leads to change for animals by supporting their main work in furthering the development of cultured animal products. Their conference in particular serves as a forum for the movement to share ideas, and should help accelerate some of the progress being made, although it is unclear to what extent. Given that sponsorship deals now cover the cost of the event, this seems like a worthwhile area for New Harvest to continue working in.
If cultured meat becomes cost-competitive with conventional meat, the impact for animals could be enormous. The Good Food Institute estimates that cultured meat could become cost-competitive with conventional meat in about a decade. The Open Philanthropy Project (Open Phil) reports that one of two scientists they spoke with who work on tissue engineering gave a similar estimate, though Open Phil themselves remain much more pessimistic about the development of cultured meat in the near future. We are not certain whether it is realistic to expect cultured meat to become cost-competitive with conventional meat within a decade. Based on our current knowledge, we suspect that a decade might be somewhat optimistic, and our current estimate is that 10–70 years might be more realistic.14 We think it is likely that New Harvest's work will contribute to bringing this about sooner, particularly if any breakthroughs are made in the research they are funding.
Cost-competitive cultured meat would impact animals by reducing the demand for animal products. Plant-based dairy products such as milk continue to take market share from the sales of conventional milk in the U.S., with sales in the former category growing as sales in the latter category decline. It seems likely that cultured meat products will have similar effects, sometimes replacing plant-based products, but also replacing products of animal agriculture, particularly because they will likely be harder to distinguish by taste and texture than current substitutes.
Criterion 5: The charity identifies areas of success and failure and responds appropriately.
As they are a somewhat young organization working on projects which generally have long-term payoffs, New Harvest cannot easily evaluate their progress in the short term, particularly in terms of their effect on animals. However, they do seek out relevant information regarding the progress of their fellowships, and, crucially, have updated their programs in response to new information. Their target-setting and self-evaluation overall seem to be fairly informal and unsystematic, relying on the judgment of New Harvest's leaders. We think it is important that they set expectations for their research fellows' progress and evaluate them accordingly; this would help them identify how fellows' outcomes compare to reasonable prior expectations, and would improve their estimates of future projects. They currently do this via comparing fellows' progress to proposed timelines, though we are uncertain to what extent, and do not know how these timelines are decided upon and amended.
New Harvest's short-term aims tend to follow directly from their medium-term goals of supporting cellular agriculture fellows and producing useful tools for cellular agriculture Researchers.15 Our impression is that they tend not to set precise, time-bound targets for their fellowship program as a whole. We appreciate New Harvest's acknowledgement that negative results can provide useful information even if they do not directly offer a way forward, especially since focusing only on positive results can incentivize poor research habits. New Harvest also appears to set more specific targets for their own research when it is close to fruition and thus easier to predict; they estimate that their first project supporting the cellular agriculture community should be complete by May 2018.16 We are not certain how specifically they set goals for their fellows; they have mentioned that their fellows have proposed research timelines, but our impression is that these timelines do not factor heavily into their self-evaluation except in cases where a fellow falls significantly behind.
In general, New Harvest doesn't weigh quantitative metrics heavily when measuring success and failure, as they are of the opinion that that they can be irrelevant or misleading.17 We think this is a reasonable position when conducting work with goals as broad and long-term as New Harvest's. As a result, New Harvest mainly uses their own judgment of reasonable progress to evaluate their research projects. They keep track of their fellows via weekly online "Fellow-Up" meetings in which fellows present their weekly reports, as well as via biannual retreats. New Harvest then uses their judgment to evaluate progress in the fellowship program based on these interactions.18
We are aware of several cases in which New Harvest responded to indications that a program needed improvement. Notably, they instituted a number of new policies for their fellowships after they closed a fellowship for the first time earlier this year. These changes included instituting regular communications with fellows, as well as disbursing funds on a shorter time scale and providing fellows with more support. We think these changes are reasonable, and they appear to generally be well-grounded in New Harvest's experiences with the closed fellowship. New Harvest also dismissed their development Director after they found that the position was not raising enough money to offset costs, and decided against building their own cultured-meat laboratory because it seemed to be too costly and low-impact relative to funding Researchers at other locations.19
Criterion 6: The charity has strong leadership and a well-developed strategic vision.
New Harvest's mission of developing the field of cellular agriculture has the potential to reduce farmed animal suffering on a very large scale, and their work so far has mostly been directed toward this aim. However, their track record makes us weakly concerned that they may focus on replacements for non-agricultural animal products at the expense of projects where their work would most cost-effectively help animals. They support other work in cellular agriculture by supporting young Researchers and by sharing relevant knowledge, tools, and techniques.
We are somewhat concerned that New Harvest appears not to have a strategic planning process, and that we do not know if their decision-making involves their board or other stakeholders. In addition, while their current Board Members have knowledge relevant to supporting innovative research in general, we think it is possible New Harvest could benefit from the advice of someone with expertise in conducting or managing research more closely related to cellular agriculture.
The charity's mission emphasizes effectively reducing suffering/helping animals.
New Harvest's mission is "to build and establish the field of cellular agriculture." They have also described their "very long-term goal" as replacing the animal agriculture industry with cellular agriculture built on a simple open platform.
We believe that successfully establishing cellular agriculture could lead to immense benefits for animals if this technology could be brought to the point of providing cost-competitive animal product alternatives. However, it is possible that New Harvest may face decisions where their stated mission would suggest actions that are not the most effective at reducing animal suffering.20
In the past, we have also seen indications that New Harvest is interested in supporting animal product replacement in general, regardless of effectiveness or suffering reduction. For example. in 2015, a New Harvest intern ran a crowdfunding campaign for a rhino genome-sequencing project organized by Pembient, a company aiming to produce synthetic rhino horn substitutes, a project that we think was likely ineffective at reducing harm to animals. New Harvest's strategy has also changed significantly in the past, as they shifted from supporting startups to funding research fellows around 2015, suggesting they may be willing to redirect their efforts again in the future. However, New Harvest's current and recent projects appear to all be closely related to replicating animal agriculture products, as were the startups they funded, Muufri (now Perfect Day) and Clara Foods.
Given their mission and track record, we think it is likely that New Harvest will remain committed to cellular agriculture work that has the potential to effectively help animals. However, we think they have a larger chance of redirecting or broadening their aims to include work that does not effectively help animals than other charities we have reviewed.
The strategy of the charity supports the growth of the animal advocacy movement as a whole.
Given their focus on cellular agriculture research, New Harvest's work does not have a direct bearing on much of the animal advocacy movement although they are contributing to a neglected and potentially high-impact area. They aim to provide significant support for the field of cellular agriculture, both by training fellows who can become part of its talent pool and by developing and sharing research knowledge, tools, and techniques. We believe that when done well, such work contributes meaningfully to the growth of a potentially valuable section of the animal advocacy movement.
The board of the charity includes members with diverse occupational backgrounds and experiences.
New Harvest's board has three members: Scott Bannister, an angel investor who has funded innovative software; Karien Bezuidenhout, the COO of a foundation supporting social entrepreneurship; and New Harvest founder Jason Matheny, who has research experience in many areas and is currently Director of IARPA.
According to U.S. best practices, nonprofit boards should be comprised of at least five people who have little overlap with an organization's staff or other related parties.21 However, there is only weak evidence that following these best practices is correlated with success, and if they are correlated, that may be because more competent organizations are more likely to both follow best practices and to succeed—rather than because following best practices leads to success. Given that the organization's staff is so small, we believe it is not unreasonable for them to take a more prominent role when it comes to setting goals. As a result, the board's small size alone does not weigh significantly against New Harvest's effectiveness as an organization.
The evidence for the importance of board diversity is somewhat stronger than the evidence recommending board sizes of five or greater, in large part because there is a significant body of literature indicating that team diversity generally improves performance. However, the evidence that we are aware of for the importance of board diversity on organizational performance specifically is less strong.22 For its size, New Harvest's board appears to have a reasonable amount of occupational diversity. However, its small size means that it could likely be expanded to include other relevant viewpoints. Given their focus on funding cellular agriculture research in particular and their board's small size, we think New Harvest might benefit from adding Board Members with scientific or technological expertise related to the specialized research they aim to support, such as tissue engineering.
The board of the charity participates regularly in formal strategic planning on behalf of the charity, and involves other stakeholders in that process.
New Harvest does not have a strategic plan at present. We do not have information about any processes they have for setting goals or making strategic decisions. As a result, we are not certain to what degree New Harvest's board or other stakeholders are involved in the organization's planning.
Criterion 7: The charity has a healthy culture and a sustainable structure.
New Harvest looks for and receives funding from a broad variety of sources, which helps to provide stability for the organization. When it comes to organizational culture, however, New Harvest does not perform as well as we would hope. Given their small staff, we might not expect much from them in terms of formal policies or programs to support staff development or improve workplace culture. However, their fellowship program is one of their major focuses, and we believe that one of the key components of this program is to provide fellows with support to develop as Researchers and scientists and to ensure that they are able to stay in the field and continue to pursue the types of projects that New Harvest would like to see more of. We think New Harvest has significant room for growth in this area, and it's not clear whether they're aware of this or prioritizing it appropriately.
The charity receives support from multiple and varied funding sources.
New Harvest tries as much as possible to seek funding from donors and institutions that are not already involved with animal advocacy. To the extent that they are successful, they aren't drawing from funds which might otherwise be donated to other projects that help animals; on an organizational level, it also means that they have a greater diversity of donors, since they have funders with a variety of interests. They receive funding from a mix of institutional and individual donors, with about 20-30% of their projected income in 2017 coming from the Shuttleworth Foundation, their largest donor. New Harvest's annual conference is expected to bring in roughly as much money as it costs to produce, and they also generate a small amount of revenue through speaking fees. Overall, New Harvest uses a good variety of revenue sources—including some which are not accessible to other organizations that ACE evaluates.
The charity provides staff and volunteers with opportunities for training and skill development, helping them grow as advocates.
New Harvest has few staff, and although they do try to support staff development, their greatest focus area within training and skill development is the fellowship program. They hold weekly meetings and occasional retreats during which staff members help fellows to develop skills in areas like public speaking, scientific communication, and research design. One of the people involved with New Harvest who we spoke with confidentially told us that while the meetings and staff support are useful, the tone of the fellowship program can be more competitive than collaborative, making it somewhat challenging for fellows to seek help.23 Additionally, they noted that New Harvest seems hesitant to help connect fellows with outside resources, such as professional conferences relevant to their projects.
The charity has staff from diverse backgrounds and with diverse personal characteristics (e.g., race, gender, age), and views diversity as a resource that can improve its performance.
New Harvest's small staff is composed entirely of women, of whom most are women of color. Their fellows, as of mid-2017, are also all women. For New Harvest, however, this is incidental; they don't make a particular effort to hire women or people of color. As an organization, they don't see identities and backgrounds as relevant to the work that they do. However, one person who we spoke with confidentially said that New Harvest is interested in working with fellows of varied backgrounds and is looking to improve in that way.
The charity works to protect employees from harassment and discrimination.
New Harvest doesn't have formal policies in place to prevent harassment or discrimination, though for fellows their university policies apply. We spoke confidentially with two people closely involved with New Harvest and performed some due diligence searches, and are not aware of any reports of harassment or discrimination at New Harvest. We do however have some concerns about the work environment for fellows.24 Fellows work in labs at universities that may not consistently enforce their existing harassment and discrimination policies. Based on our confidential conversations, we believe that if a fellow is subjected to hostile conditions within their university, New Harvest's willingness and ability to intervene is likely to be fairly limited.
Since fellows generally work specifically in biological science labs, they may also be subject to distressing situations particular to the laboratory environment. We think it would make sense for New Harvest to invest more effort in finding ways to support fellows who encounter challenging or distressing situations within their university departments. For instance, they could either directly intervene whenever necessary, or facilitate searches for improved work environments in order to allow the fellows to progress with their research.
Questions for Further Consideration
Some might suggest that technological progress will come eventually, and what matters most in the long run is whether we've achieved the social change necessary to use those new technologies to help animals. Why is New Harvest working to advance technology rather than to shift public attitudes?
Critics of New Harvest might be concerned that their work does not directly help to change public attitudes towards animals, and changing those attitudes may be essential for ensuring lasting progress. Suppose we develop commercial animal alternatives that are initially competitive with animal products. If animal products somehow become more appealing to consumers, nothing would stop consumers from returning to animal products unless they have changed their attitudes towards animals.
As New Harvest points out, however, many animal charities are already working to shift public attitudes; some have been working in that area for decades. Advancing technology does not counteract all the work that is being done to shift attitudes. It may even catalyze a shift in public opinion. Some have argued that it may be easier for individuals to feel compassion towards animals when that compassion is not at odds with their diet or behavior.25 However, critics could argue that the social change resulting from new technologies is also inevitable.
New Harvest believes that there is a strong argument for charities to focus on areas other than technological development, particularly when for-profit companies seem likely to develop technology on their own. Still, in the case of cultured foods, New Harvest contends that there is a role for charities in encouraging early-stage research, helping connect scientists and business partners, and promoting cultural and institutional acceptance of new food technologies. We think New Harvest is appropriately looking for these opportunities, rather than working primarily on projects which would likely be done by food or technology companies if New Harvest were not involved.
What can New Harvest do to ensure that consumers will embrace cultured meat?
New Harvest reports that their approach to ensuring that consumers embrace cultured meat is to be as transparent as possible about this developing technology as it progresses, so that the technology will not experience backlash or "scandals" after the products hit the market.26 New Harvest cited that their annual conference is one of the biggest initiatives towards welcoming the general public—non-scientists, consumers, etc.—to get a sense of what cultured meat is, and it's also an opportunity to collect information about attitudes and questions that arise at this event. Ultimately though, New Harvest notes that they can not ensure that consumers will embrace cultured meat.
Is New Harvest concerned about the possibility that cultured meats will not reach cost-competitiveness?
Some reports, such as the Open Philanthropy Project's Animal Product Alternatives report and Van der Weele & Tramper (2014) suggest it is unlikely that cultured meats will become cost-competitive with conventional meat.27, 28 One important contributing factor cited in these reports is the minimum costs of the growth medium necessary for culturing the desired cells. If cultured meat weren't able to become cost-competitive with conventional meat, it may have limited impact on the demand for the latter. If that proves to be the case, cultured meat may not save a vast number of animals subject to industrial agriculture.
While it is possible that cultured meat may never reach cost-competitiveness, New Harvest says that this doesn't make the research they are supporting worthless.29 New Harvest likens the situation to biofuels – biofuels aren't cost-competitive today for many reasons but one largely being that they compete with an artificially-priced commodity: fossil fuels. While we aren't currently using biofuels everyday, in the event of a catastrophe or growing fuel prices, that technology could be mobilized. They think this situation is similar to that of cultured meat. New Harvest also claims that they haven't done enough research in the area to suggest that cost-competitiveness is an impossible task. They do note that cost-competitiveness is difficult, but they don't yet know for sure that it's impossible.
Does New Harvest directly support work on developing products other than those that could decrease animal product consumption (e.g., promoting yeast based vanillas or flower fragrances)? Why or why not?
New Harvest does not directly support work on developing products other than those that would decrease animal product consumption.30 They report that they are only involved with groups that focus on those things because of their conference. New Harvest reports that they associate with these other groups because they believe it normalizes the technology and places it more in the "tech" landscape rather than the "nonprofit" landscape, which assists with uptake and reaching a new audience of consumers rather than activists.
Why doesn't New Harvest invest some of their resources into plant-based foods as well as cultured foods, when (a) plant-based foods may be easier to develop and (b) the further development of plant-based foods seems like it could relieve the need for better cultured food options?
New Harvest doesn't invest in plant-based food development because they think that the plant-based food landscape is not as neglected as the cultured food landscape. They also note that if they were to move into plant sciences, their Research Fellow structure would need to be remodelled. Due to the size of their organization, they don't feel prepared for such a remodelling at this time.
---
The following materials are supplementary research documents associated with our charity review process and are referenced in the Comprehensive Review.
Research Documents