Archived Version: November, 2017
Status
Top Charity
Primary Work Area

Cultured and Plant-Based Food Tech

Secondary Work Area

Industrial Agriculture

Legal and Legislative

Capacity Building

Website
The Good Food Institute
Review Published
November, 2017
Type
Archived Review
Current Version
November, 2020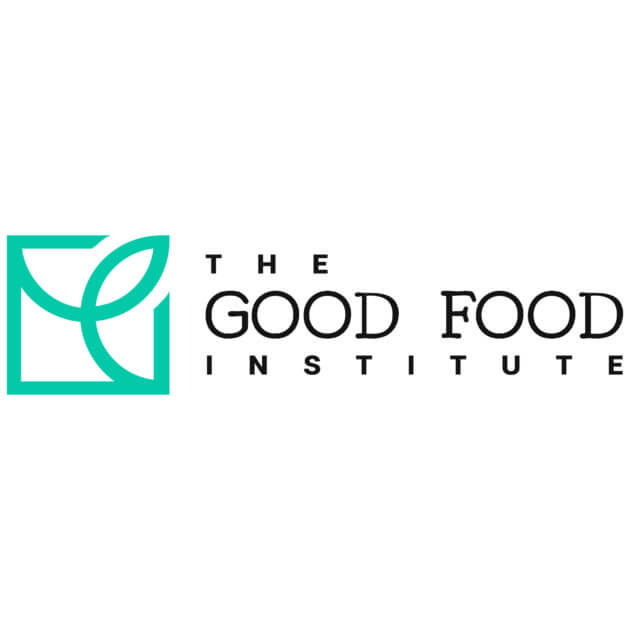 Donate
Based on our mid-year follow up, we still think that GFI has significant room for more funding. Please see this blog post for further details.
What does The Good Food Institute do?
The Good Food Institute (GFI) is working to transform the animal agriculture industry by promoting the development of competitive alternatives to animal-based meat, dairy, and eggs. GFI seeks out entrepreneurs and scientists to join or form startups in the plant-based and cultured1 meat (i.e., meat grown in a culture without animal slaughter) market sectors. They provide business, legal, scientific, and strategic guidance for plant-based and cellular companies, and they engage in policy work (regulatory and statutory) to level the playing field for plant-based and cellular products in the marketplace. GFI builds relationships with chain restaurants, grocery stores, and foodservice companies to improve and promote plant-based alternatives to animal products. Finally, GFI works with grant-making institutions, corporations, and governments to mobilize resources for research in synthetic and plant biology and tissue engineering.
What are their strengths?
We believe that developing competitive alternatives to animal products could have a huge impact for farmed animals. It could cause consumers to purchase fewer animal products, and it might do so much more quickly than using moral arguments to persuade consumers to stop eating meat, dairy, and eggs. We feel confident in GFI's leadership and strategic vision. They are focused on effectiveness and seem determined to maximize the efficiency of their operations and the impact of their work. Our impression, from a variety of sources, is that GFI has been involved in one way or another in a large proportion of the major developments in the plant-based food industry in the past year.
What are their weaknesses?
GFI was launched in February 2016, so their track record is quite short and does not yet include some of the outcomes they most hope to accomplish, e.g., the successful development of cultured meat, dairy, and eggs. We expect that it will take some time to develop cultured meat that can compete commercially with conventional meat. GFI has had more short-term success in helping companies develop and market plant-based alternatives to meat, but it is still hard to know what would have happened in these cases without their involvement. Finally, we still have some concerns that GFI's progress will be impeded by their difficulty in finding and hiring qualified staff.
Why do we recommend them?
Animal advocates have been working for decades to weaken the animal agriculture industry by encouraging individuals and institutions to reduce the demand for animal products and implement humane reforms. We are happy to support the effective implementation of those interventions, but we also believe that engaging in a wider range of promising tactics may increase the animal advocacy movement's chance of success. Developing and promoting attractive alternatives to animal products seems like a promising way to disrupt the animal agriculture industry. There are few charities working in this area, and GFI has shown strong leadership and efficiency. We are pleased to recommend donating to them.
How much money could they use?
We believe that GFI has room to take on $1.5 million–$4.4 million in additional funding over the next year.2, 3 We expect they would use additional funding to continue to expand, including hiring staff in each of their program areas and increasing their reserves as they increase in size.
What do you get for your donation?
Your donation supports GFI's programs and helps build their operating reserve, which is needed to ensure operational continuity. From an average $1,000 donation, GFI would spend about $220 on their science and technology program and about $200 on building their operating reserve. GFI would also spend about $200 on international engagement, $160 on their innovation program, $120 on their policy program, and about $90 on corporate engagement.4, 5 The impact that donations to GFI have for farmed animals is more speculative and long-term than the impact of donations to one of our other Top Charities. Given the speculative nature of GFI's impact on farmed animals, we currently have not completed a cost-effectiveness estimate for donations to GFI. Still, we think donations to GFI have quite high expected value.
The Good Food Institute has been one of our Top Charities since November 2016.
---
Based on our mid-year follow up, we still think that GFI has significant room for more funding. Please see this blog post for further details.
How The Good Food Institute Performs on our Criteria
Criterion 1: The charity has room for more funding and concrete plans for growth.
Before we can recommend a charity, we need to assess the extent to which they will be able to absorb and effectively utilize funding that the recommendation may bring in. Firstly, we look at existing programs that have need for additional funding to fulfill their existing purpose; secondly, we look at potential areas for growth and expansion. It is important to determine whether the barriers limiting progress in these areas are solely monetary, or whether there are other factors such as time or talent shortages. Since we can't predict exactly how any organization will respond upon receiving more funds than they have planned for, this estimate is speculative, not definitive. It's possible that a group could run out of room for funding more quickly than we expect, or come up with good ways to use funding beyond what we have suggested. Our estimates are indicators of the point at which we would want to check in with a group to ensure that they have used the funds they've received and are still able to absorb additional funding. Mid-year, if one of our Top Charities has raised all or most of the funding that we estimate they can use effectively, we follow up with them to determine whether they are still able to absorb new funds or whether we might want to notify our donors that their need has been filled.
Recent Financial History
Now in their second year of operations, GFI has seen rapid expansion through their brief history. Last year we estimated that they could use $500,000–$1 million more than their 2016 budget of $2.5 million, primarily to be used to establish an operating reserve1 and to begin some of their additional planned expansion.2 This year they are attempting to exceed that additional funding estimate, with a fundraising goal of $4.66 million.3 This includes the second half of their $1 million grant4 awarded by The Open Philanthropy Project (Open Phil) in 2016.5
Planned Future Expenses
At the moment, GFI is continuing their rapid growth—they are aiming to staff up to 38 employees by the end of the year, which would nearly quadruple their size since January 2017.6 Last year we had some concerns that continued expansion would take longer than anticipated;7 while they have dedicated one full-time employee to recruitment to help this problem, they have had several long standing vacancies over the course of 2017, which seems to indicate that this has been a challenge for them.8
Following this rapid growth period, we anticipate that GFI will slow their expansion over the next year.9 They are planning to increase their fundraising capability primarily through strengthening their relationships with existing donors as well as identifying new potential groups of donors.10 They hope this will allow them to maintain sustained growth beyond the startup phase.11 Given additional funding, we do think that GFI is structured in such a way that they could continue to expand their organizational capacity across all departments; however, we think that it's possible they will continue to encounter some hiring issues (although not to the same extent as those seen in 2017). They are also approaching a size where departmental communication and decision-making processes can suffer if not implemented well. As this infrastructure takes time to develop, we feel a slowed rate of staff expansion could be of benefit to them.12
Conclusion
We expect that GFI is on track to reach their fundraising goal for this year and think that over the next year they could use an additional $1.5 million–$4 million in funding in order for them to continue their expansion across all of their programs.13, 14, 15
Criterion 2: The charity engages in programs that seem likely to be highly impactful.
Before investigating the way a charity's programs are implemented or the outcomes they've achieved, we consider the charity's overall approach to animal advocacy. We expect effective charities to pursue approaches that seem likely to produce significant positive change for animals, though we note that there is significant uncertainty regarding the long-term effects of many interventions.
GFI focuses on developing cultured and plant-based alternatives to animal products. Since their goal is to transform the food industry, their work will primarily benefit farmed animals—which we believe is a high-impact cause area.
GFI pursues many different avenues for creating change for animals: They work to build the capacity of the movement, to influence industry, to build alliances, and to influence policy and law. Though not their focus, they also do some work to influence public opinion. Pursuing more than one avenue for change seems to be a good idea because if one proves to be ineffective, GFI still might be impactful. However, we don't think that charities that pursue multiple avenues for change are necessarily more impactful than charities that focus on one.
To communicate the process by which we believe a charity creates change for animals, we use theory of change diagrams. It is important to note that these diagrams are not necessarily complete representations of real-world mechanisms of change. Rather, they are simplified models that ACE uses to represent our beliefs about mechanisms of change. For the sake of simplicity, some diagrams may not include relatively small or uncertain effects.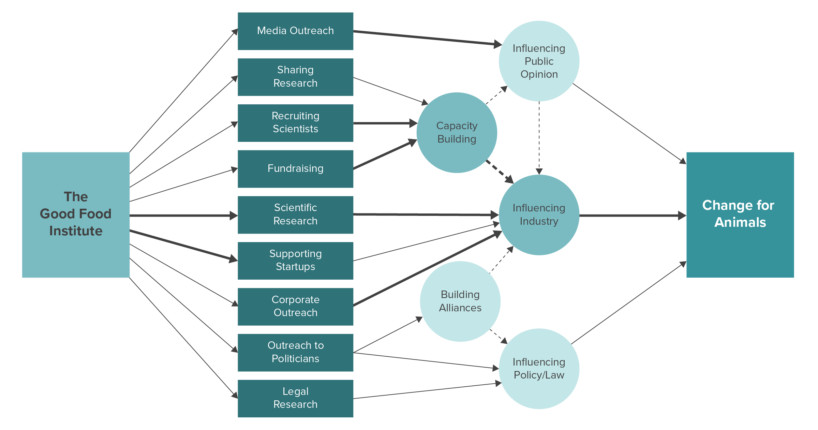 Influencing Public Opinion
GFI works to educate the public, in the hopes of generating support for cultured and plant-based foods. We think that the impact of such work may be relatively limited compared to the impact of efforts to influence key influencers. However, we still think it's important for the animal movement to target some outreach toward individuals, as a shift in public attitudes could lead to more institutional change. Public outreach might even be a necessary precursor to achieving more institutional change.
GFI engages in outreach both through mainstream media and social media. While their main goal is to inspire "influencers," this work can also influence public opinion. They work to secure media attention for their own work as well as for plant-based and cultured meat companies, and they have been covered in more than 480 scientific and mainstream media venues.16 Little is known about the impact of these interventions on public opinion, though it seems that raising public awareness of cultured products may be valuable, especially since the field is so new.
Capacity Building
Working to build the capacity of the animal advocacy movement can have a far-reaching impact. While capacity-building projects may not always help animals directly, they can help animals indirectly by increasing the effectiveness of other projects.
GFI builds the capacity of the animal advocacy movement by recruiting scientists and entrepreneurs to work in cellular agriculture and plant-based technology and by doing scientific research. They also contribute to the capacity of the cellular agriculture field by sharing their research with other groups. In addition to sharing white papers, Technological Readiness Assessments (TRAs), and other research related to food technology, they have also conducted a small amount of consumer research.17 We think that conducting and sharing research can be an effective capacity-building intervention.
We also consider some of GFI's fundraising activities to be capacity-building. Whereas many animal charities draw funds primarily from within the movement (e.g., from other animal advocates and animal charities), GFI is seeking to reach potential donors whose primary interests are in environmental protection, the sustainability of the global food system, and human health. GFI also works to convince academic institutions,18 government agencies,19 and other major funders20 to invest in alternatives to animal products. Since some of these funds would probably not have otherwise been used to help animals, GFI's fundraising activities might be more effective than other animal charities' fundraising activities at building the capacity of the movement.
Influencing Industry
Working to influence the food industry may help to create a climate in which it is easier for individuals to reduce their use of animal products. In the long term, successfully increasing the availability and quality of cultured and plant-based foods could weaken the animal agriculture industry through the pressures of the marketplace, perhaps even without the presence of advocacy messages. Weakening the animal agriculture industry may also enable stricter regulation of animal welfare.
We think that developing cultured animal product alternatives is a potentially high-impact way to influence the food system. Plant-based milk is already showing a tendency to take market share from the sales of conventional milk in the U.S., with sales in one category growing as sales in another category decline.21 It seems plausible that cultured and plant-based meat will similarly take market share from the sales of conventional meat, especially as it becomes more cost-competitive, widely available, and harder to distinguish from conventional meat in taste and texture. GFI has noted that if plant-based meat captured the same share of the meat market that plant-based milk has captured of the milk market, that would spare almost 1 billion land animals (and even more sea animals) annually in the United States alone.
GFI also influences the food industry through corporate outreach. They work with corporations to increase the availability of animal product alternatives and have developed a "restaurant report card" to score the top 100 chain restaurants according to their plant-based options.22 In general, we think that corporate outreach is a relatively effective animal advocacy intervention, though we are less certain of the effects of promoting plant-based options in restaurants than we are of the effects of working with corporations to implement welfare reforms.
Building Alliances
Reaching out to influencers provides an avenue for high-impact work, since it can involve convincing a few powerful people to make decisions that influence the lives of millions of animals. This seems more efficient than working to reach many individuals in order to create an equivalent amount of change.
GFI works with many key influencers. For instance, GFI's science team has met with some of the largest venture capital funds in the world, from Andreessen Horowitz to DFJ to Kleiner Perkins, as well as many key innovation-focused investors. GFI's corporate engagement team has met repeatedly with Tyson Foods, ADM, Cargill, and other global food conglomerates. We think the impact of lobbying influencers can vary.
Influencing Policy and Law
We think that encoding protections for animals into the law is a key component of creating a society that is just and caring towards animals. While legal change may take longer to achieve than some other forms of change, we suspect its effects to be particularly long-lasting.
GFI works to affect legal change through lobbying policy makers, writing op-eds, providing information to congressional offices, and researching potential regulatory pathways for cultured products.23 GFI also organized an event on Capitol Hill to promote plant-based meat that was co-sponsored by Beyond Meat. Since there are not many groups working towards favorable policies supporting plant-based and cultured food, we are uncertain about the tractability of this work. However, given that GFI is one of only two groups working in this area,24 there is potential for this to be a high-impact strategy.
Criterion 3: The charity operates cost-effectively, according to our best estimates.
We think quantitative cost-effectiveness estimates are often useful as factors in charity evaluations, but we are concerned that assigning specific figures can be misleading and appear to be more important in our evaluation than we intended. For GFI in particular, we believe that our back-of-the-envelope calculation of their cost effectiveness is too speculative to feature in our review or include as a significant factor in our evaluation of their effectiveness. For instance, in thinking about their impact we considered the probability of a single GFI-supported startup launching a commercial product that takes market share from animal agriculture and the share of the market they could be expected to capture. Our estimates for these factors were very speculative; we considered other unknowns as well, and we omitted many possible scenarios for simplicity.
Additionally, GFI is focused on helping animals in the medium and long term, and we have not published estimates of the medium-term or long-term impacts of any other charities, so we worry including this in a cost-effectiveness calculation would be unfair to those other organizations.25 That being said, our lack of a cost-effectiveness estimate doesn't necessarily indicate that this charity has lower overall cost effectiveness than the charities for which we have completed a cost-effectiveness estimate.
In the future, we hope to have better ways of evaluating medium-term and long-term impacts, which could lead to publishing a cost-effectiveness estimate for GFI. We think cost-effectiveness calculations will still be most useful as one small component in our overall understanding of charity effectiveness.
Criterion 4: The charity possesses a strong track record of success.
Have programs been well executed?
GFI is a relatively young organization; they were founded in October 2015 and officially launched in February 2016. They have made some accomplishments in their first two years, but their track record is understandably shorter than the track records of some more established groups. They have six departments, all of which approach GFI's goal from different directions: innovation, science & technology, policy, corporate engagement, international engagement, and communications. Their innovation department and their science & technology departments are their two core departments, and represent the largest focus of their work.
GFI's innovation department has two primary areas of focus—firstly, encouraging scientists and entrepreneurs to join the plant-based and cultured meat industries, and secondly, supporting the ongoing success of existing companies in the industry.26 They have assembled a list of potential companies based on what they believe are promising ideas that have not been capitalized on,27 and they have developed a list of more than 220 entrepreneurs and scientists, many of whom take part in monthly video calls led by GFI.28 In the last year, they have had some success in assisting in the founding of a plant-based meat company in India, Good Dot, and a plant-based fish company in the U.S., SeaCo.29 The companies have both raised millions in venture capital and are making progress towards competition with animal products.30 Although venture capitalist funding is a good indication that the companies themselves will be successful, and while the companies might not exist without GFI, it is unclear what portion of the responsibility for the companies' outcomes should be attributed to GFI. The companies also have yet to release their products, so we have a great deal of uncertainty as to how well they will perform, and thus how much change they will create for animals.31 Two additional companies have also arisen out of talks between entrepreneurs through the communication channels that GFI facilitates, but their information is not public at this stage.32
GFI's science and technology department is involved in the development and promotion of the science of plant-based cultured meat, dairy, and egg technologies.33 They are currently focused on core foundational work—making connections with organizations and writing white papers and "mind maps"—and as such they do not yet have a significant track record.34 They have produced Technological Readiness Assessments—documents detailing the current state of technology, and evaluating where more research is needed.35 All the research GFI does is published, so that the industry as a whole can benefit.36 One of their biggest successes over the last year are the presentations that Senior Scientist Liz Specht gave to various venture capitalist firms. GFI believes these presentations played a key role in the firms investing more than $15 million into cultured meat.37 Another notable accomplishment was the development of plant-based meat and fish courses at UC Berkeley.38 The courses were popular enough that UC Berkeley decided to introduce a permanent "Program for Meat Alternatives" course, co-designed by GFI and which GFI plans to replicate nationally.39
As GFI's remaining programs were all established in 2017, they are in the process of preparatory work such as making industry connections, and do not yet have any notable accomplishments.
Have programs led to change for animals?
GFI's theory of change is based on achieving medium-term and long-term change for animals, and many of GFI's accomplishments have not yet led to changes for animals. It is possible that the media attention that GFI has earned might have had some indirect benefits for animals. GFI has raised concerns in widely-read publications about the impacts of industrialized animal agriculture, including its contributions to climate change and its unsustainability. In addition to promoting awareness of cultured meat, it's possible that these media stories have inspired some of their audience to reduce their meat consumption. On the other hand, some animal advocates are concerned that the messaging of cultured meat companies could reinforce the notion that we need to eat animal flesh, and this could inhibit the spread of vegetarianism and veganism—especially if cultured meat technologies fail to become cost-competitive.40
If successful, the two companies that have launched under GFI's influence in the past year are expected to produce commercial plant-based products that will compete with existing animal products within one year.41 If those products reduce the demand for animal products, this could affect a large number of animals. Since GFI works to foster the field of plant-based and cultured animal product development rather than developing individual products themselves, any impact they have will happen through the work of others who they have helped support. The assistance that GFI has provided to these companies has helped them to launch into the plant-based foods market. However, these companies must continue to grow and experience success after receiving outside funding before their products can come to market and potentially reduce the demand for the products of animal agriculture.
If cultured meat becomes cost-competitive with conventional meat, the impact for animals could be enormous. GFI estimates that cultured meat could become cost-competitive with conventional meat in about a decade.42 The Open Philanthropy Project (Open Phil) reports that one of two scientists they spoke with who work on tissue engineering gave a similar estimate—though Open Phil themselves remain much more pessimistic about the timeline for the widespread commercial availability of cultured meat.43 We are not certain whether it is realistic to expect cultured meat to become cost-competitive with conventional meat within a decade. Based on our current knowledge, we suspect that a decade might be somewhat optimistic, and our current estimate is that 10–70 years might be more realistic.44 This time horizon may be significantly delayed by the earliest scientific and regulatory hurdles, as research and funding into this area will likely grow as the barriers to eventual success diminish. If GFI were not doing their current work to overcome the scientific and regulatory hurdles, we expect that commercialization might take a lot longer than it would otherwise.
Cost-competitive cultured meat would impact animals by reducing the demand for animal products. Plant-based dairy products such as milk continue to take market share from the sales of conventional milk in the U.S., with sales in the former category growing as sales in the latter category decline.45 It seems likely that cultured meat products will have similar effects, sometimes replacing plant-based products, but also replacing products of animal agriculture—particularly because they will likely be harder to distinguish by taste and texture than current substitutes.
Criterion 5: The charity identifies areas of success and failure and responds appropriately.
We have overall seen positive indications of GFI's ability to identify and respond appropriately to indicators of success and failure, but we are still relatively uncertain about how they perform on this criterion. This is in part because the organization is young, and several of their programs (including technology and legal work) are aimed at relatively long-term payoffs. Some of their organizational policies still appear to be in development, making it difficult to assess how they will be enacted. GFI has told us they aim to begin more formally evaluating themselves in early 2018, including by using Key Performance Indicators (KPIs).46 We believe doing so would help them to set more concrete goals and potentially allow for more transparent self-assessment than their current system. They currently self-evaluate largely based on individual-level quarterly goals, which appear to be generally well designed for indicating success and failure, making it likely that this will be the case for their updated process as well.
GFI has demonstrated some willingness to change behavior in response to evidence of failure, for example by changing how their innovations team seeks to foster "white-space" companies. They have also changed who is involved in their hiring process several times in response to past trouble acquiring talented candidates. They have now found a setup that has successfully brought them significant growth in their staff numbers.
GFI is still developing their formal procedure for setting goals. They plan to establish more structured short-term goal setting with KPIs that tie into their long-term strategic goals in early 2018, once their current round of recruiting nears completion.47 We believe that this will meaningfully improve their ability to evaluate their success and failure as an organization. Currently, they evaluate their work mainly based on staff members' progress on their individual quarterly goals.48 These goals appear to be fairly well-designed for guiding GFI's actions and indicating success and failure at GFI's broader mission. In addition to being time-bound, they are often specific and measurable, allowing GFI staff to recognize success or failure.49 All of these goals are directly associated with the longer-term goals of the organization's strategic plan, making them generally relevant to GFI's overall mission; they also appear to be achievable, but not trivially so.50
We have seen some examples of GFI identifying past or potential weaknesses and taking steps to improve them. For example, they decided to work with a recruiter to hire new talent in 2016 after being unable to fill some of their open positions for six months.51 More recently, after having poor results with multiple external recruiters, they temporarily allocated a staff member to work on recruiting full time (with assistance from their Director of operations).52 They have hired 16 new staff members so far this year,53 compared to seven in 2016 (and only three between June and December 2016).54 They also prioritized hiring leadership personnel, and they believe they can now recruit more quickly by having each Director focus on hiring for their own department.55 Overall, it seems that GFI was able to recognize and eventually respond to their hiring program's challenges, although it will take some time to determine the quality of the hires they made under the new process. GFI has also revised their process for helping start new businesses, in order to avoid the risk of unsuitable leadership; now they not only share and discuss ideas for potential new "white space" companies, but build business plans and recruit founding members for them.56
It would be difficult for GFI to quantitatively estimate most of their programs' cost effectiveness at this point in their development. Still, GFI has told us that they are carefully tracking all of their outcomes, including the amount of money being invested in the cultured and plant-based meat industries as a result of their work.57 They have also expressed an interest in evaluating the number of animals helped by their programs.58 We believe making these kinds of rough estimates can be a useful way for organizations to self-evaluate.
Criterion 6: The charity has strong leadership and a well-developed strategic vision.
GFI's mission of developing plant-based and cellular alternatives to animal products has the potential to reduce farmed animal suffering on a large scale. Despite their short track record, we have some evidence that they choose effective opportunities to help animals within this field.59 GFI also attempts to support other work on plant-based and cellular alternatives to animal products by guiding startups, analyzing legal challenges, and drawing in bioengineering talent.60
GFI's strategic planning process provides opportunities for their board61 and non-leadership staff members to give input. GFI's board includes animal advocates with a variety of experiences, and they also have a number of advisors with relevant backgrounds, including academic fields as well as for-profit marketing. However, we are somewhat concerned that two of their five Board Members are from GFI's founding organization, Mercy for Animals;62 this may indicate that GFI's strategic planning is still being guided by an outside organization, even two years after the charity's founding.
The charity's mission emphasizes effectively reducing suffering/helping animals.
GFI's mission is to create "a healthy, humane, and sustainable food supply."63 They have told us that they want to replicate the successes of plant-based milk alternatives with cellular and plant-based alternatives to meat, using the power of markets and food technology to provide alternatives to animal agriculture.64 We believe that achieving this aim could lead to immense benefits for animals.
GFI's past work also provides some evidence that they prioritize effectively helping animals, such as their innovation department's choice of plant-based food companies to found, as discussed in Criterion 4. Given their mission, we expect that GFI will remain committed to work that has the potential to help animals effectively.65
The strategy of the charity supports the growth of the animal advocacy movement as a whole.
Given their focus on plant-based and cellular alternatives to animal products, much of GFI's work does not have a direct bearing on much of the animal advocacy movement, although they are contributing to a neglected and potentially high-impact area. This work is largely aimed at supporting plant-based foods and commercial cellular agriculture, including by supporting startups, publishing analyses of regulatory challenges, and raising awareness of cellular agriculture among scientists.66 We believe that, when done well, such work contributes meaningfully to the growth of a potentially valuable section of the animal advocacy movement.
There is also a portion of their work involving corporate outreach, which does overlap more with other organizations' efforts. However, GFI has told us that they focus on convincing large food conglomerates to put resources into plant-based and cultured meat, and also on convincing chain restaurants and chain grocery stores to provide non-animal protein. In contrast, other organizations mostly work with these companies to improve farmed animal welfare.67 We agree that this work is potentially neglected within the animal advocacy movement, although we do not have a good sense of their degree of success.
The board of the charity includes members with diverse occupational backgrounds and experiences.
GFI's five-person board includes Bruce Friedrich, GFI's co-founder and Executive Director, as well as Kathy Freston, an author of vegan books, and Josh Balk, a longtime animal advocate who co-founded the plant-based food company Hampton Creek. The remaining two Board Members are leaders at Mercy For Animals (MFA), which helped found GFI. These are MFA President Nathan Runkle and MFA General Counsel Vandhana Bala.68 GFI also has four advisors who have experience in relevant fields, including the psychology of diet change; their advisors with primarily for-profit experience all appear to have backgrounds in marketing.69
According to U.S. best practices, nonprofit boards should be comprised of at least five people who have little overlap with an organization's staff or other related parties.70 However, there is only weak evidence that following these best practices is correlated with success, and if they are correlated, that may be because more competent organizations are more likely to both follow best practices and to succeed—rather than because following best practices leads to success. As such, we think the size of GFI's board, combined with the inclusion of one staff member and two members of a closely related organization, overall provide a small amount of evidence against their effectiveness as an organization.
The evidence for the importance of board diversity is somewhat stronger than the evidence recommending board sizes of five or greater, in large part because there is a significant body of literature indicating that team diversity generally improves performance. However, the evidence we are aware of for the importance of board diversity on organizational performance specifically is less strong.71 GFI's board includes members of some relevant occupational backgrounds, but we are concerned that two of its five Board Members are leadership staff at the same external organization. This seems to indicate that MFA has significant influence over GFI even two years after the latter was founded. Further, it indicates a potentially troubling lack of viewpoint diversity, since MFA staff members constitute a significant fraction of the board and are likely to have similar opinions about what decisions GFI should make. However, the large number of animal advocates on their board does provide a positive indication that GFI will stay focused on areas that are most likely to help large numbers of animals.
The board of the charity participates regularly in formal strategic planning on behalf of the charity, and involves other stakeholders in that process.
GFI sends all strategic documents, monthly reports, and quarterly goals and outcomes to all Board Members for feedback. Most of their Board Members also participate in GFI's biannual strategic meetings, where many of these issues are discussed.72 GFI has also told us that they reevaluate their strategic plan twice a year and they do so in a manner that allows for significant input from non-leadership stakeholders. The majority of their strategic planning is done via drafting and editing a strategic plan document on which all staff are invited to comment. While staff members mostly work on the sections of the plan related to their own department, they are welcome to edit other sections as well. The board is also given access to this document.73 Board members are generally encouraged to communicate their thinking and provide feedback to GFI's staff. However, while the board is expected to participate in GFI's strategic governance, GFI believes their detailed decision making should be guided mainly by their staff.74
Criterion 7: The charity has a healthy culture and a sustainable structure.
GFI is a young, remote organization that is still growing fast and therefore has a developing culture. Currently their culture seems to be marked by high levels of effort put into maintaining connections and accessibility across the organization, including weekly all-staff meetings and weekly internal reports by each staff member.75 Staff members we spoke to also mentioned specifically that Bruce Friedrich, GFI's Executive Director, is particularly open and accessible—both in that he is always willing to make time to talk with staff members, and in that he is particularly proactive with regard to seeking feedback on himself and his management of the organization.76, 77, 78 We hope that as the organization grows these values become a part of GFI's culture overall, rather than merely Friedrich's personal style.
The charity receives support from multiple and varied funding sources.
GFI is entirely supported by grants and donations.79 Their three largest donors provided a total of around 25-40% of their funding in 2016, and we would expect those donors to provide a similar, perhaps slightly larger, amount of funding in 2017—though GFI's intention is to raise significantly more money overall.80, 81 GFI's fiscal management strategy is to spend each year what it raised the prior year; this enables them to budget on a rolling 12-month timeframe.82, 83 Overall, we think that while their funding sources are not especially diverse, they do rely on a relatively broad donor base and take a responsible and sustainable approach to their finances.
The charity provides staff and volunteers with opportunities for training and skill development, helping them grow as advocates.
GFI is a young organization in a new field, and many employees are very recent hires, making it somewhat difficult to obtain information about staff growth and development.84 GFI does actively encourage staff to reflect on their work, and emphasizes autonomy for all staff, which should enable staff to grow and develop as they face new choices and situations.85, 86 The staff members we spoke with confidentially mentioned that training was most obviously available in the form of conversations with other staff members, but also noted that when they had suggested other professional development opportunities, they were encouraged to pursue them.87
The charity has staff from diverse backgrounds and with diverse personal characteristics (e.g., race, gender, age), and views diversity as a resource that can improve its performance.
GFI aims for diversity in their hires primarily through hiring practices that are intended to help them minimize the effects of bias, such as encouraging staff to score applications anonymously, using generalized ability tests, and meeting applicants only late in the process.88 While they've hired many women, including in seven of nine Director roles, they find that their team is lacking in diversity in other ways, and they've met with Encompass to discuss further steps they can take to develop their diversity strategy.89 One staff member we spoke to mentioned that they hoped GFI would be able to begin paying interns, which might help diversify their team by broadening the pool of potential interns who could afford to take a position with GFI.90, 91
The charity works to protect employees from harassment and discrimination.
GFI has policies in place to protect staff from harassment and discrimination, which they train all employees on.92 We have spoken confidentially with two non-leadership staff members and performed some additional due diligence searches, and are not aware of any reports of harassment or discrimination at GFI.93
Questions for Further Consideration
Some might suggest that technological progress will come eventually, and what matters most in the long run is whether we've achieved the social change necessary to use those new technologies to help animals. Why is GFI working to advance technology rather than to shift public attitudes?
Critics of GFI might be concerned that their work does not directly help to change public attitudes towards animals, and changing those attitudes may be essential for ensuring lasting progress. Suppose we develop commercial animal alternatives that are initially competitive with animal products. If animal products somehow become more appealing to consumers, nothing would stop consumers from returning to animal products unless they have changed their attitudes towards animals.
As GFI has pointed out, however, many animal charities are already working to shift public attitudes; some have been working in that area for decades.94 In fact, advancing technology elegantly complements all the work that is being done to shift attitudes. It may even catalyze a shift in public opinion. Some have argued that it may be easier for individuals to feel compassion towards animals when that compassion is not at odds with their diet or behavior.95 However, critics could argue that the social change resulting from new technologies is also inevitable.
GFI believes that there is a strong argument for charities to focus on areas other than technological development, particularly when for-profit companies seem likely to develop a technology on their own. Still, in the case of plant-based and cultured foods, GFI contends there is a role for charities in encouraging early-stage research, laying the scientific groundwork for the advancement of these technologies, working on government and foundation funding of R&D, helping connect scientists to for-profit funding and business partners, and promoting cultural and institutional acceptance of new food technologies. GFI actively seeks out these opportunities, rather than working primarily on projects which would likely be done by food or technology companies if GFI were not involved. In particular, GFI believes that they can help coordinate companies and take other actions that benefit the industry as a whole, whereas individual companies are sometimes pushed to focus on proprietary gains.
What can GFI do to ensure that consumers will embrace cultured meat?
GFI sees value in market research, and may conduct some themselves; they have already conducted a short survey to identify the most appealing name for cultured meat.96 They would also be interested in research done to identify other factors important in promoting plant-based and cultured meat, such as whether consumers are more likely to respond well to promotion related to health benefits or to animal welfare.97 They plan to conduct such research and will encourage its use by companies. GFI is also involved in a research project to investigate interventions to help mitigate concerns over naturalness, which act as a barrier to clean meat acceptance in the U.S.
Is GFI concerned about the possibility that cultured meats will not reach cost-competitiveness?
Some reports, such as the Open Philanthropy Project's Animal Product Alternatives report and Van der Weele & Tramper (2014) suggest it is unlikely that cultured meats will become cost-competitive with conventional meat.98, 99 One important contributing factor in this conclusion, which is cited in these reports, is the minimum costs of the growth medium necessary for culturing the desired cells. If cultured meat weren't able to become cost-competitive with conventional meats, then it may have a very limited impact on the demand for conventional meats and so a very limited impact on decreasing the vast number of animals subject to industrial agriculture.
GFI is certainly aware of the possibility that cultured meats will not become cost-competitive, but reports that the more their scientists dive in, the more optimistic they become about the potential for clean meat to reach cost-competitiveness.100 GFI reports that when their scientists started working on this issue in June 2016, they were explicitly told that GFI does not need to promote clean meat; GFI reports that if their scientists thought it cannot become cost-competitive with the products of industrial animal agriculture then they would stop promoting it and would instead focus on plant-based meat.101
GFI reports that as their scientists investigate further, they have become more optimistic—because clean meat is so much more efficient than animal-based meat.102 One of their senior scientists, Dr. Liz Specht, has met with venture capital firms and other venture investors to present technology plans of specific clean meat companies and their pathways to commercialization.103 GFI further reports that, based partly on her analysis, many leading venture capital investors and firms have become much more interested in clean meat companies. GFI believes this has probably been key to their investments in the technology.104 GFI plans to release a white paper in the next few months that summarizes Specht's analysis.105
Does GFI directly support work on developing products other than those that could decrease animal product consumption (e.g., promoting yeast based vanillas or flower fragrances)? Why or why not?
GFI currently focuses primarily on plant-based meat and clean meat because they believe that we can now help animals the most by focusing on farmed animals.106 For this same reason, they hope to do more work with eggs.107 They don't expect to move beyond animal products, since their goal is to help as many animals as possible.108
It seems that GFI's room for funding may be limited by its apparent difficulty filling open positions. Is GFI confident that it will be able to expand as quickly as it would like?
Last year ACE had some concerns that GFI's continued expansion would take longer than anticipated; while GFI has dedicated one full-time employee to recruitment to help resolve this problem, they have had several long-standing open vacancies over the course of 2017, which seems to indicate that this has been a problem for them.109, 110
Still, GFI reports that they are "absolutely confident" that they will be able to expand as quickly as their budget allows—but they also note that their hiring process is rigorous and that they are committed to adding staff in a methodical way.111 GFI further reports that they have now put together an exceptional group of professionals.112
GFI's 2017 staff growth includes seven Directors over the past nine months, so that now all nine Director roles are filled.113 GFI's focus on hiring their leadership team positions means that they predict that the hiring pace will now increase, as all staff will now be hired by their respective supervisors.114
GFI now has 28 staff members, and they have recently hired their 29th staff member (who will start in January 2018).115 That is a growth of more than 18 staff members over the previous 12 months.116 GFI anticipates that if they meet their $4.66 million target for 2017, that will allow them to grow to 47 staff; they are confident that they can hire those additional 18-19 people within about six months.117 GFI believes that the currently open positions that will prove difficult to fill are the major gifts officer position and the foundation relations manager position.118
Why does GFI invest some of its resources in plant-based foods as well as cultured foods when (a) plant-based options already exist, and (b) the development of cultured foods seems like it could relieve the need for better plant-based options?
Some of GFI's potential donors may be concerned about GFI's decision to invest resources in the development of plant-based foods in addition to cultured foods. After all, plant-based meat is already commercially available and we have not yet seen evidence that it has taken market shares from conventional meat. Moreover, if and when groups like GFI succeed in putting cultured products on the market, there may be even less consumer interest in plant-based products than there is now.
We think that some of the work GFI has done so far on plant-based meats is promising, and the fact that it had not already been done suggests that there is a role for charities working in this area. In particular, charities may be able to do more to foster and accelerate the introduction of certain technologies than companies could, since companies must protect their commercial interests and intellectual property. However, since there are already companies operating profitably in this area, we do think there is particular need for charities to be aware that some work could be done efficiently without their help. GFI is aware of this and has stated that they do not provide much in the way of communications or graphic design assistance once a company is beyond its seed round of fundraising.
GFI argues that though it is true that plant-based products already exist, there may be significant room for the improvement of plant-based technology, and improving plant-based technology may yield shorter-term traction, i.e., greater market share, than the cultured foods.119 Recently developed plant-based products already seem to seem to represent improvements from past products; for example, the Impossible Burger, released in 2016, has received favorable reviews from vegans and omnivores alike.120 GFI's fostering and promotion of the development of similarly popular plant-based products could cause a significant reduction in the demand for animal products, particularly if they focus on plant-based chicken and fish and if they convince institutions to serve the plant-based products rather than animal products.121
If and when cultured meat becomes commercially available, it may take market shares from plant-based meat, but that does not necessarily eliminate the value of developing better plant-based meat technology. GFI argues that plant-based meat requires fewer resources and is more sustainable than cultured meat, so we should continue to promote plant-based products.122
---
The following materials are supplementary research documents associated with our charity review process and are referenced in the Comprehensive Review.
Research Documents