Help bring $250,000 in new donations to effective animal charities!
Your donation may be eligible for a special dollar-for-dollar matching opportunity made possible by the generosity of an anonymous benefactor. This program aims to direct much-needed funding to charities that are effectively working to reduce and eliminate animal suffering. We hope it will inspire you to make your first-ever donation to an effective animal advocacy charity. Donations will be matched up to $250,000 (thus potentially bringing a total of $500,000 in donations to effective animal charities).
If your gift meets the following criteria, please consider taking advantage of this unique opportunity to double your donation:
The following ACE recommended charities spend the majority of their time and resources on reducing the suffering of farmed animals. Supporting their work is an especially effective approach to helping animals, since 99% of the animals who are used and killed by humans are farmed animals.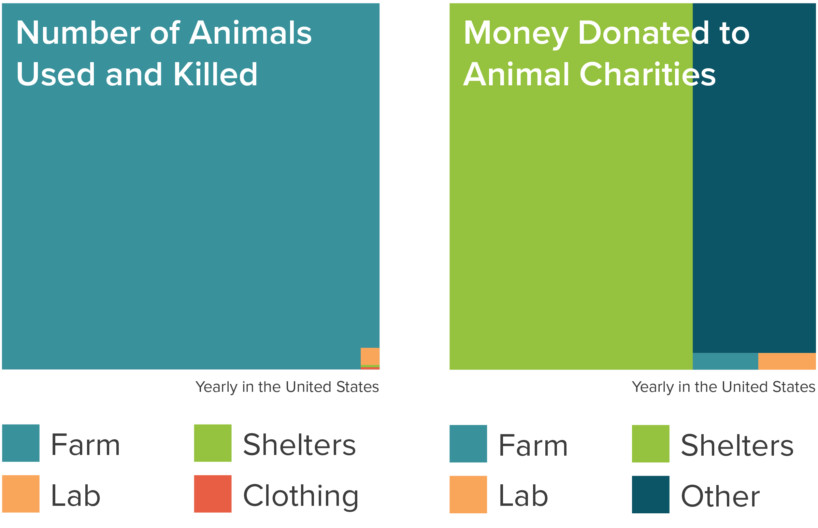 By directing your donations to farmed animal advocacy organizations, you are sparing as many animals as possible from a lifetime of suffering.
If you made a donation to any of the following charities as a result of ACE's recommendation, please submit your information below. Donations made after May 1, 2017—and during the time period in which the following charities were recommended by ACE—will be considered.
Albert Schweitzer Foundation (ASF)*
Anima International*

donations made December 2, 2019 and later

Animal Equality*

donations made on or before December 1, 2019

Federation of Indian Animal Protection Organisations (FIAPO)

donations made December 2, 2019 and later

The Good Food Institute*
The Humane League*
L214

donations made between November 27, 2017 and December 1, 2019

Open Cages (now part of Anima International)

donations made November 27, 2017 and later

ProVeg International (formerly VEBU)

donations made on or before December 1, 2019

Sociedade Vegetariana Brasileira (SVB)

donations made November 26, 2018 and later

Vegan Outreach

donations made on or before November 25, 2018
* If you made your donation through ACE, you do not need to submit a receipt.
Fill out this form to report your first-time gift to an effective animal charity and request that it be matched.
---
To have your gift matched, this must be your first gift to an animal advocacy charity. In this case, "animal advocacy charity" applies to any organization whose stated mission is to improve the welfare or rights of animals. This means that if you have made a donation in the past to a charity that, for example, works broadly on behalf of companion animals or wild animals, or to an animal sanctuary, your gift to the charities listed above will not be considered for this matching opportunity. You may however still submit your donation to the charities listed above for matching if you, for example: (i) gave the occasional small donation ($50 or less) to your local animal shelter, (ii) paid a companion animal adoption fee, or (iii) donated to an environmental organization whose mission is not explicitly to help animals, but that may have some campaigns to save certain wild animals.
All of the charities listed on this page are eligible for this matching opportunity. They include selections from ACE's recommended charities that advocate for farmed animals, and that were agreed upon by the generous benefactor funding this program.
Donations must be made after May 1, 2017.
The match will apply only to a single first-time donation. However, if you wish to spread your gift amongst several charities, then you may:
Make a donation to be split amongst ACE's Top Charities;
Make multiple donations to participating charities on the same day (donation receipts must all show the same date of transaction).
Donations must be a minimum of $50 each and may not exceed $25,000 combined.
Donations will be tracked and sent to the recipient charities for confirmation twice per year. Matching gifts will be distributed to the charities in July of 2017 and January of 2018.
We hope that all participants will be honest and will not abuse this generous offer from a fellow philanthropist. Donations will be excluded from this matching opportunity if we find that:
The donor has already made a donation through ACE prior to the reported first gift;
The recipient charity notifies us that they (i) did not receive the donation specified, or (ii) this was not the donor's first gift to their organization.