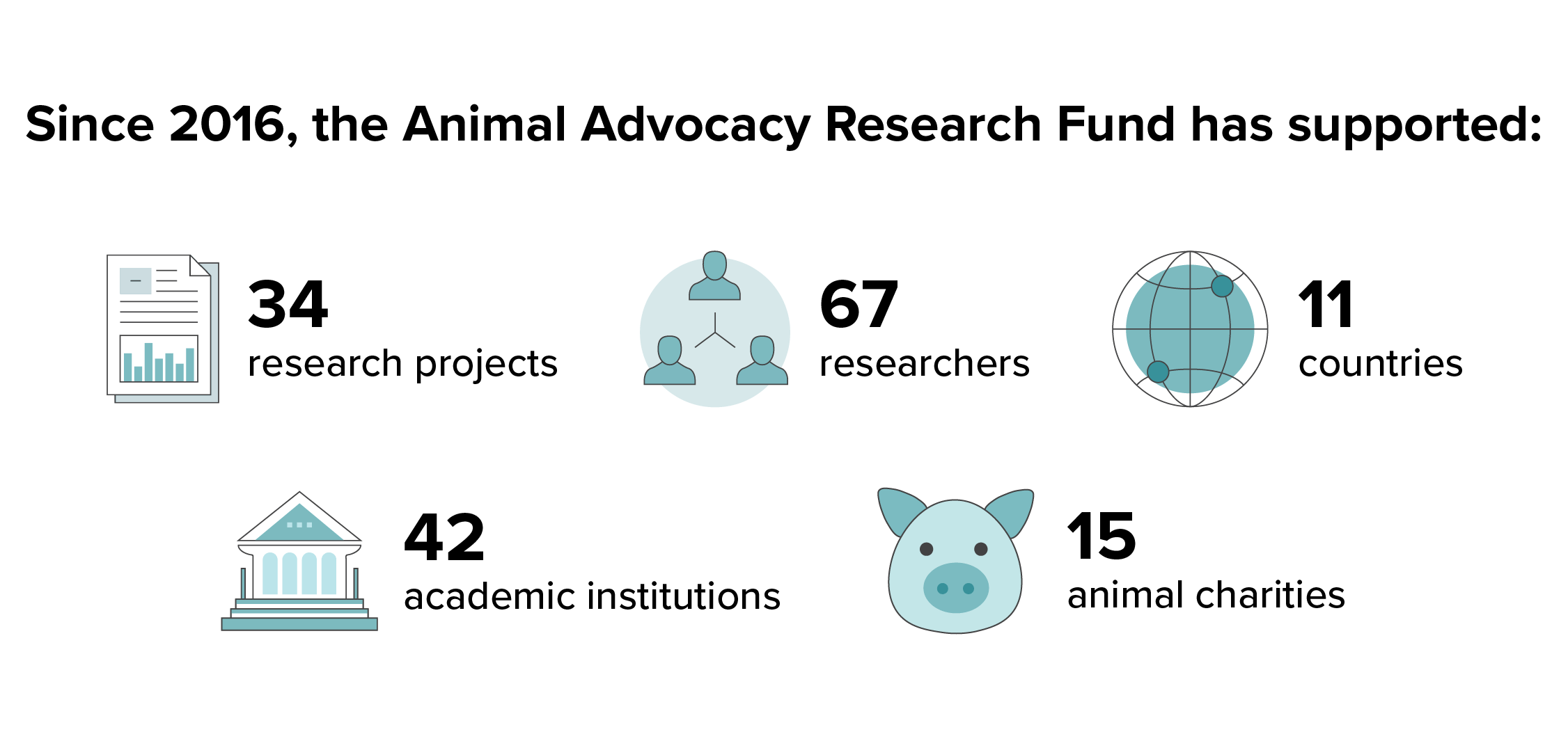 Summary
For the past three years, the Animal Advocacy Research Fund (AARF) has strived to continuously improve our collective understanding of effective animal advocacy through the support of high-quality research. Through diligent monitoring and evaluation of all facets of the AARF, it has evolved into a respected, well-organized program with a highly engaged volunteer committee.
From an operational perspective, we have developed clear policy and procedure documents, improved our granting agreements, created explicit indirect cost and conflict of interest policies, and implemented standardized follow-up processes for all ongoing projects. All of this work was completed in consultation with the best practices of other well-established granting institutions.
In regard to soliciting high-quality research applications, we have made connections with granting offices at various universities, identified and connected with academic animal welfare programs, and utilized our Top Charity contacts, Effective Altruism (EA) networks, and newsletters. We have polled the volunteer oversight committee to assess engagement, recruited new members based on gaps in expertise, and are currently building a list of external reviewers to ensure all proposals receive the highest quality of review possible. We have also added automation to streamline the proposal review process.
In 2018 alone, the AARF funded 13 novel research projects conducted by academic teams from the Good Food Institute, Animal Ethics, and Stanford University, among others. A number of projects that were started in 2018 have already been completed and published in peer-reviewed journals such as Appetite and Frontiers. In total, the AARF has supported 67 Researchers, many of whom started their careers in economics, social science, or marketing, but ultimately made the transition into animal advocacy research because of the funding available through the AARF. These Researchers span the globe, working in countries such as Germany, Australia, and the United Kingdom. The research supported by AARF funding also extends worldwide, with many projects exploring effective advocacy in China and India, two of the most populous countries and fastest growing markets for animal products.
Having launched in 2016, the AARF is still in its infancy, but the success it has already demonstrated speaks to the need for this type of funding stream. Prior to the AARF, funding opportunities for animal advocacy research were extremely limited. Researchers interested in exploring this topic were subject to highly competitive academic grants with a much broader focus. As more research projects are completed, published, and used by animal advocates and advocacy organizations, we will see the demonstrated success of the AARF continue and grow.
"AARF funding and the guidance of the ACE team allowed us to utilize research best practices to create a pilot study to strategically assess and improve our programming."
– Katie Cantrell, Executive Director, Factory Farming Awareness Coalition
Background
The AARF was created in 2016 with the intent to support research that contributes to a better understanding of effective animal advocacy. A generous gift of $1 million USD was pledged to cover all aspects of the AARF for three years, providing research teams with funding for novel projects, as well as all associated administrative costs. The AARF was initially set up and managed by Research Fund Program Officer Greg Boese and then transferred to Samantha Berscht in December of 2017.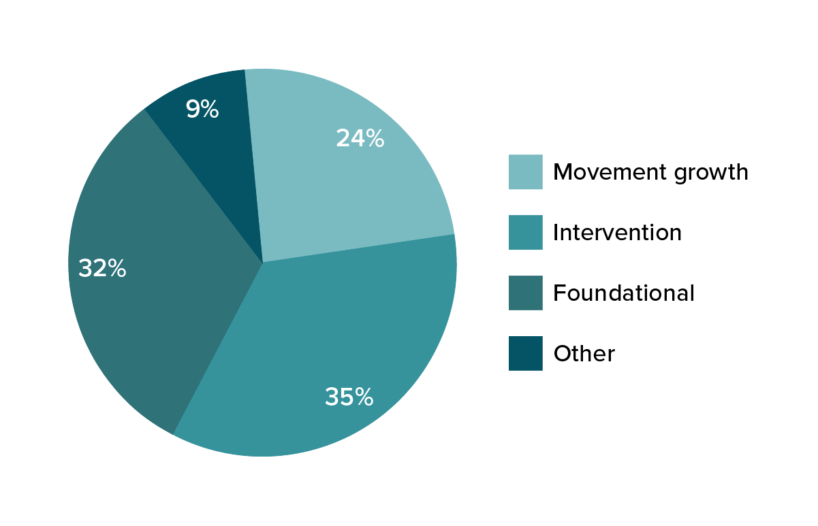 As of January 2019, the AARF has provided funding to 34 research projects, the majority of which focus on advocacy interventions, foundational research, and movement growth.
The aim of this review is to assess the outcomes of the AARF up to this point and to eventually inform recommendations about how it could best operate going forward.
Operational Overview
A call for proposals is issued two to three times per calendar year (with the exception of the inaugural year). The exact dates are chosen in consultation with the ACE research team and the Animal Advocacy Research Fund Oversight Committee (AARF OC).
The Research Fund Program Officer (RFPO) is responsible for identifying appropriate reviewers for every proposal received. Recently, we implemented a process where each member of the AARF OC quantifies their ability to review a proposal by selecting a grade that indicates their level of comfort with the proposal topic.
Proposals are assigned to members of the AARF OC at least three weeks before the first review. Every proposal that is received goes through three rounds of review. The first review focuses only on the proposal content, and is performed using a structured questionnaire with response categories on a Likert scale. In the second stage, proposals are unblinded, and reviewers once again use a structured questionnaire to evaluate the experience and track record of the Principal Investigator (PI), the research team, and the suitability of the institution where the research is planned. The third and final stage of the review process is a group discussion. The purpose of the discussion is to clarify the intent of the project, ask any questions about unclear information, and ensure that all members of the OC are well informed about each proposal prior to the voting process.
Once the group discussion is complete, committee members are given one week to submit a Yes/No vote for all proposals. A proposal is approved for funding if at least two thirds of submitted votes are in favor of funding.
The term "Funding Round" refers to one entire cycle of all the processes outlined above.
Summary of Funding Rounds
As of May 2019, six funding rounds have been completed and we are currently in the process of completing the seventh. In total, for all seven rounds, 119 applications have been submitted to the AARF. On average, 17 applications are submitted each round, and with an average success rate of 36%, six proposals are approved for funding in each round.
In total, the AARF has funded 34 research projects. As of May 2019, five of these projects are complete.
Round 1
The first call for proposals was issued on September 2, 2016. There were 17 applications received and six were selected for funding.
The chart below provides an overview of projects funded in Round 1.
Project Title
Overview
"How do we reduce meat consumption? Understanding the motivational dynamics of behavior change in the moral domain"
The purpose of this work is to investigate how to overcome self-protection motives when confronting meat eaters with messages aimed at reducing consumption.
"The impact of new products on ethical beliefs"
View completed project
This project tested whether the availability of consumer goods affected ethical beliefs. Models of cognitive dissonance would predict that the availability of cultured animal products would lead consumers to put more moral weight on the environment and farmed animals.
Key findings:

Information about cultured meat may actually negatively affect beliefs.
Due to concerns about the "unnaturalness" of the product, many do not find it an acceptable substitute.
Those who perceive the product positively do change their ethical beliefs.

"Meet your meat: Using virtual and real contact to reduce meat consumption"
The purpose of this research is to test the effects of virtual and real contact with farmed animals.
"'Infighting' in the vegan community: Examining and overcoming a barrier to successful veganism and/or collective action"
This project aims to examine how different members of the animal advocacy movement view each other, and test whether past experiences of infighting or conflict predict current involvement and future involvement intentions.
"Testing the effects of humane education: Pilot research for a randomized controlled trial"
This project will randomly assign 22,000 high school and college students to participate in a presentation that covers factory farming's effects on animals, personal health, workers rights, and the environment and determine whether their long-term behavior is impacted.
"Testing self-persuasion as a technique for reducing meat consumption"
This study builds on on preliminary evidence for the efficacy of self-persuasion strategies. It aims to randomly assign university students to either self-persuasion, traditional persuasion, or control groups, and measure ensuing behavior change.
The total funding commitment for all approved projects in Round 1 was $137,015. All of the funds committed in Round 1 have been distributed and one of the projects is now complete. Four projects are nearing completion and will likely be published over the next year.
Total budget of Round 1: $130,905.98
Average budget of all applications in Round 1: $25,253
Average budget of funded applications in Round 1: $14,694
Success rate = 53%
"Our AARF-funded study on clean meat messaging taught us (advocates and industry associates) a lot about the probable difficulty of trying to overcome some consumers' concerns about unnaturalness. As a result of the study, money and energy can be put toward more fruitful avenues…the research has been published in the journal Meat Science, thereby expanding the audience of academics exposed to advocacy research, as well as on Faunalytics' website, which received more than 200,000 unique visitors in 2018. Receiving funding for this project made it possible to reach out to a wide and varied audience, some of whom would never have been exposed to animal advocacy any other way."
– Jo Anderson, Research Director, Faunalytics
Round 2
The second call for proposals was issued on January 27, 2017. There were 21 applications received and seven were selected for funding.
Project Title
Overview
"Increasing the effectiveness of social media for animal advocates: A replication of Mercy For Animals' Facebook post analysis"
View completed project
This project determined which characteristics of social media posts are associated with the highest number of impressions, to maximize the number of people reached with pro-veg content online. Results were also broken down by various languages.
Key findings:

Original videos on Facebook performed better than shared videos, photos, links, and plain text in all metrics.
Photos on Instagram resulted in more likes and engagement, but videos provoked more comments.
Twitter posts about the environment, celebrities, or animal advocacy news did well. Longer tweets also performed better, and while posting about cows was effective, cruelty footage was not.

"Examining the effects of moral blame in campaigns promoting veganism"
The purpose of this project is to test the efficacy of persuasion attempts that emphasize—either directly or implicitly—the moral blame and personal responsibility of non-vegans for the suffering of animals.
"Messages to overcome naturalness concerns in clean meat acceptance"
View completed project
The goal of this study was to find ways of describing cultured meat that could address naturalness concerns and increase acceptance.
Key findings:

Telling potential consumers about the unnatural side of conventionally-produced meat was effective.
Describing conventionally-produced meat as unnatural produced the most acceptance of clean meat.
Trying to directly reduce naturalness concerns was ineffective.

"Improving consumer attitudes towards cultured meat"
The project will identify the most effective messaging for improving consumer attitudes towards cultured meat and will test that messaging in applied settings.
"Nudging for good: An experimental analysis of moral aversion to the consumption of animal products"
The purpose of this research is to test the effects of different animal advocacy message framings on attitudinal and behavioral outcomes.
"The price of moral values: Motivated beliefs, selective search, and food consumption"
The goal of this project is to measure people's avoidance of factory farm messaging, and how this aversion relates to persuadability.
"How do conventional and confrontational animal advocacy campaigns influence personal and political mobilization?"
The purpose of this research is to explore the interplay between combinations of more conventional and confrontational forms of animal advocacy.
The total funding commitment for all approved projects in Round 2 was $99,161. As of May 3, 2019, $68,537 of these funds have been distributed and two of the projects are now complete. Three projects will likely wrap up by the end of 2019.
Total budget of Round 2: $99,161
Average budget of all applications: $19,035
Average budget of funded applications: $14,165
Success rate = 33%
Round 3
The third call for proposals occurred in June of 2017. There were 20 applications received and seven were selected for funding.
| | |
| --- | --- |
| Project Title | Overview |
| "The impact of animal advocacy books on attitudes and behaviour" | The purpose of this project is to test the impact of animal advocacy books on attitudes towards animals and towards diets, as well as on the consumption of animal products and meat alternatives. |
| "Advocating plant-based eating: Which messages work for whom, and why?" | Drawing on a stage theory of behavior change and utilizing participants from three different countries in two continents, the purpose of this research is to provide evidence on which messages are the most effective in promoting the transition to a plant-based diet. |
| "Knowing what you eat: Measuring effectiveness of educational interventions" | The purpose of this study is to estimate the relationship between knowledge of animal food production and animal consumption. Pervasive educational interventions (e.g., university ethics classes) will be evaluated to determine if they influence knowledge and animal consumption behaviors. |
| "Awareness and food choices" | This is a confidential study that involves a large randomized control trial of university students. After one group is exposed to an education intervention, cafeteria purchases will be tracked to investigate actual, rather than reported, diet change. |
| "Pledging a meat-free month: An experience sampling study with smartphones" | This project will look at the effectiveness of meat-free pledges, as well as the impact of temporary meat avoidance on people's beliefs and practices. |
| "Examining the harm caused by crop cultivation to vertebrate wild animals in the United States" | This research examines the agricultural practices that harm vertebrate wild animals. These activities are divided into two categories: population control (baiting, fumigation and trapping), and cultivation (tillage, sowing, and harvesting). |
| "Developing a targeted approach to animal advocacy campaigns" | The purpose of this research is to develop a model of individual and group differences in motives for vegetarianism, so that animal advocacy groups can tailor campaigns and maximize their impact on groups and individuals with different motives for adopting plant-based diets. |
The total funding commitment for all approved projects in Round 3 was $155,676. As of May 3, 2019, $109,686 has been distributed. None of the projects from Round 3 are complete yet, but all are making good progress.
Total budget of Round 3: $155,676
Average budget of all applications: $25,328.04
Average budget of funded applications: $22,634.50
Success rate = 40%
"AARF funding allowed us to conduct a thorough version of our popular 'Dominate Facebook' social media analysis, resulting in a comprehensive analysis of animal advocacy media on Facebook, Twitter, and Instagram for five different languages. Without the help from AARF, it's very unlikely that we would have completed the project."
– Steven Rouk, Analytics and Research Specialist, Mercy For Animals
Round 4
The fourth call for proposals was issued for February 26, 2018. Fifteen applications were received and six were selected for funding.
Of the funded proposals in this round, three projects involved foundational research, one focused on movement growth, and two were reviews/meta analyses.
| | |
| --- | --- |
| Project Title | Overview |
| "Investigating the role of do-gooder derogation and stereotyping in response to vegan advocacy" | The purpose of this research is to examine the role of vegan stereotyping, anticipated moral reproach, and the framing of moral motivations in non-vegans' responses to a vegan target. The research will also explore current vegans' self-reported moral motivations and strategies for communicating about veganism with different audiences. |
| "Establishing a field of research for wild animal suffering" | The aim of this project is to explore how to establish an expert field of research on wild animal welfare. This project will include a discussion of (i) the importance of prioritizing targeted capacity building in wild animal advocacy, (ii) the costs and benefits of establishing an interdisciplinary field, and (iii) a series of case studies investigating key factors in recently-established academic fields. |
| "A review of advocacy interventions deployed by grassroots vegan activists" | Across the United States, grassroots vegan activists are organizing local meet-ups, hosting festivals, organizing chef competitions, and adopting other creative strategies to expand veganism. This Researcher plans to identify the number, size, and range of advocacy interventions used by these groups, and to evaluate the efficacy of some of these approaches. In addition to preparing a summary report based on the findings of the proposed study, the Researchers will use the lessons learned to create a "vegan activism toolkit" and an interactive webinar series for vegan activists. |
| "Strategic communication research to advance legal rights for nonhuman animals" | The purpose of this research is to explore public perceptions of legal rights for nonhuman animals and to develop strategic communication practices that advance the cause of nonhuman animal legal rights. Researchers will use a combination of qualitative focus groups and online surveys to refine and test effective advocacy messages and communication approaches. |
| "Surveying attitudes toward interventions reducing wild animal suffering among scientists and students" | The purpose of this project is to gain insight into the lines of research on wild animal suffering most likely to be accepted by and appealing to biologists and animal welfare scientists and students. This project will also explore which fields are likely to foster further research on welfare biology. |
| "Investigating and optimizing V-label effectiveness" | The purpose of this research is to investigate the impact of "vegetarian," "vegan," and "plant-based" labels on consumer evaluations of a range of food products. |
The total funding commitment for all approved projects in Round 4 was $98,393. To date, $45,740.38 has been distributed. None of the projects from Round 4 are complete yet, but all are making good progress towards their goals.
Total budget of Round 4: $98,393.00
Average budget of all applications: $36,165.47
Average budget of funded applications: $16,398.83
Success rate = 40%
Round 5
The fifth call for proposals was issued for May 31, 2018. There were 15 applications received and four were selected to receive funding.
Of the funded projects, one tested a specific intervention, two involved foundational research, and one involved movement growth.
Project Title
Overview
"Plant-based meat and dynamic norm messages"
The purpose of this research is to test the effectiveness of dynamic normative messages about plant-based meat in influencing consumers' willingness to try and/or purchase plant-based meat.
"A cross-country survey on the appeal of plant-based and clean meat in China, India, and the USA"
View completed project
This project underline the importance of cultured meat producers exploring new markets for their products, especially as meat consumption in developing countries continues to rise.
Key Findings:

This project found high levels of acceptance of cultured meat in the three most populous countries worldwide, with higher levels of acceptance in China and India compared to the USA.

"Are existing plant-based chicken and burger products generally acceptable to meat-eaters and flexitarians or is more research needed to create more acceptable products?"
View completed project
This project compared the taste of essentially every major plant-based chicken and beef burger on the market.
Key findings:

More research is needed to create at least one plant-based chicken that seems analogous to real chicken.
Existing plant-based chicken and burgers have a potential consumer base among meat eaters.
These products should be marketed to be consumed in prepared dishes or with condiments.

"Plant-based meals and menu design"
The purpose of this research is to test various restaurant menu design interventions in order to determine which interventions are the most effective in influencing people to choose plant-based options. The approach involves an online experiment in which participants will view a randomized menu condition and choose a menu item, as if out for a meal with a friend.
The total funding commitment for all approved projects in Round 5 was $83,547.47. To date, $71,973 has been distributed.
Total budget of Round 5: $83,547.47
Average budget of all applications: $27,963
Average budget of funded applications: $22,278.75
Success rate = 27%
Round 6
The sixth call for proposals was issued for November 2, 2018. There were 11 applications received and three were selected to receive funding.
Of the funded projects, one is an intervention study, and two focus on movement growth.
| | |
| --- | --- |
| Project Title | Overview |
| "Understanding ballot initiatives" | The purpose of this project is to explore ballot initiatives in the United States and to determine how best to mobilize support from the public and bypass lobbyists. |
| "A restaurant-based dynamic norm intervention to reduce meat consumption" | This projects aims to gain a better understanding of how to advocate for plant-based dietary choices in restaurants while avoiding negative effects due to psychological reactance. |
| "Public choice meets meat: Is government intervention needed in meat labeling?" | There is ongoing debate surrounding companies' right to label plant-based proteins with words that elicit animal-based proteins. This project seeks to predict the consequences of labeling laws as they relate to consumer adoption of plant-based alternatives to meat. |
The total funding commitment for all approved projects in Round 6 was $74,047.
Total budget of Round 6: $74,047
Average budget of all applications: $15,981
Average budget of funded applications: $24,682.33
Success rate = 27%
Round 7
The seventh call for proposals was issued for March 31, 2019. Twenty applications were received.
This Round is still in progress and the oversight committee is currently in the process of completing their blinded reviews. We aim to have final funding decisions made by June 30, 2019.
Trends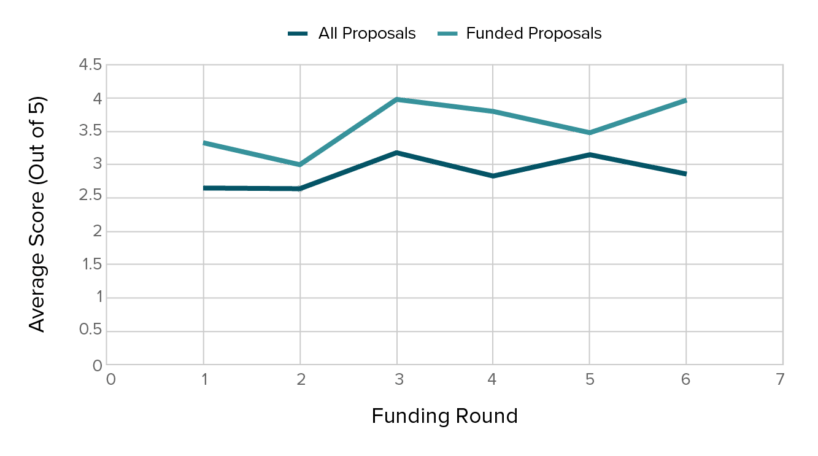 Throughout all funding rounds, the number of proposals submitted to the AARF, as well as the quality of these proposals, has remained relatively consistent. The sustained interest from the research community over time highlights the critical role of the AARF in supporting animal advocacy research.
Budget
Currently the AARF operates two to three funding cycles annually. Each round sees an average of six applications selected for funding, with an average budget for each proposal of $17,659.66 USD.
| | | |
| --- | --- | --- |
| Round | Total Grant Budget (USD) | Total Grant Money Distributed (USD) |
| 1 | $129,850.98 | $129,850.98 |
| 2 | $99,161.00 | $68,537.00 |
| 3 | $155,676.00 | $109,686.03 |
| 4 | $98,393.00 | $47,568.00 |
| 5 | $83,547.47 | $71,973.47 |
| 6 | $74,047.00 | $7,000.00 |
| All Rounds | $640,675.45 | $432,935.48 |
Administration Expenses
| | |
| --- | --- |
| Year | Total Cost (USD) |
| 2016 | $52,663.92 |
| 2017 | $49,976.69 |
| 2018 | $39,024.65 |
| 2019 (projected) | $45,000.00 |
| Total | $186,665.26 |
At this stage, a total of $827,340.71 has been committed to the AARF. This leaves $172,659.29‬ of the original $1 million USD pledge to be allocated.
With an average granting cycle cost of $121,499 and an average yearly administration cost of $46,666.39, this gives us approximately one year to complete two more rounds of research using the current model.
Closing Thoughts
A significant amount of research has been funded as a direct result of the AARF, with many projects going on to be published in impactful journals. Without funding from the AARF, much of this research would not have been completed. The results from these research projects are already having an impact on effective animal advocacy practices. Much of the work done on cultured meat—be it estimated demand, consumer acceptance, palatability, or advertising strategies—has been utilized by advocacy organizations and plant-based meat producers alike.
Regardless of the approach the AARF takes going forward, there are some general considerations worth mentioning. Up until this point, ACE has provided very broad topic suggestions to potential Researchers. Now that the AARF has been in operation for close to three years, it is likely worthwhile to perform a thorough examination of existing research and literature within the realm of animal advocacy to identify crucial areas of neglect where knowledge gaps still exist. For example, there is still no definitive answer of whether graphic images work better than non-graphic ones at inspiring behavior change. Identifying these underserved areas would allow ACE to make more specific recommendations to Researchers so that future proposals can be tailored to address these areas of need. We also plan to closely evaluate our call for proposal dates to determine what time of year aligns with receiving the most high-quality applications, and to standardize these dates going forward.
Due to the significant amount of administrative work required to follow up with all active Researchers each quarter, we are currently exploring how to streamline this process. There may be programs or applications available that could automate and track follow-up reports from active Researchers and allow us to better utilize the RFPO's work hours.
Finally, as mores studies from the AARF are completed, it is important to understand the impact of these publications. At some point, it may be worth re-evaluating the focus of the AARF and shifting from a position of knowledge-generation to concentrate more on uptake and implementation. We have already begun exploring strategies to encourage Researchers to consider implementation as part of their application, and we have started to investigate how best to measure implementation and impact of completed projects. Recently, we completed an all-employee workshop to identify the most effective mechanisms for encouraging and tracking implementation. We may revise the current application requirements to ask AARF applicants to consider impact and implementation in their research proposals. This could include having applicants (i) identify and connect with other Researchers working in similar areas, (ii) outline a plan for dissemination of results beyond academic journal submissions, or (iii) connect with animal charities to ensure their research questions align closely with advocacy needs. On our end, we are considering changing our indirect cost policy to cover open access journal fees or designating a portion of each AARF grant to be put specifically towards dissemination. We also plan to start an open submission section on the AARF website where animal charities can list what research results would be the most helpful in their day-to-day work.
"Knowing there is a reliable source of funding for research into the most effective interventions for animals means that I can think seriously about a longer-term career in effective animal advocacy research, and encourage others to do the same. Without AARF funding, our two large-scale studies on consumer acceptance of cultured meat would not have been possible. AARF is a fantastic resource, not only for research funding, but for directing the research agenda in effective animal advocacy. It is no exaggeration to say this resource will help to save billions of animals."
– Chris Bryant, Ph.D. Candidate, University of Bath