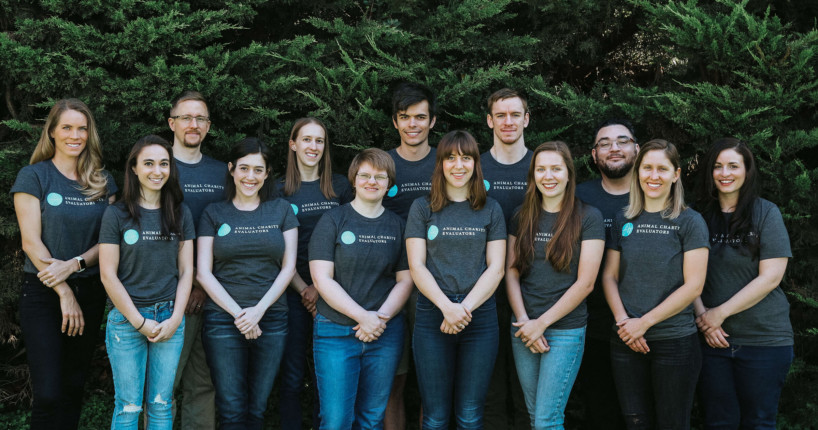 If you have found yourself working to help animals but struggling to know how to have the biggest possible impact, or if you are excited about the prospect of thinking critically about how we can use research and data to reveal the most effective ways to reduce suffering, ACE might be the perfect place for you. Our mission is to find and promote the most effective ways to help animals. We conduct research to identify some of the most impactful animal advocacy interventions—as well as the effective charities that use them—and then we promote those findings to the public.
The work we do at ACE is tough but rewarding. The lack of available data makes it difficult to analyze different interventions, but it also provides an opportunity for an exciting and engaging search for knowledge. Having built a strong reputation as a trusted authority and leader in our field, and having influenced over $11 million in donations to our recommended charities, ACE and each of our staff members have the potential to create substantial change for animals.
Our team is passionate about our mission and invested in our goals. All ACE staff members work remotely, which allows for a flexible schedule and comfortable work environment. If you are interested in eliminating animal suffering and want to help find the most effective ways of doing so, please join us!
We update this page regularly to reflect our open staff, intern, and volunteer positions. Please note all positions are remote—ACE works from a virtual office.
Open Staff Positions
We do not have any open staff positions at this time.
Open Internship Positions
We offer research internship positions every 4 months, starting the first weeks of April, August, and December. The application deadline for each quarter is the 1st of the month prior to the start date (i.e., March 1 for internships starting in April, July 1 for August, November 1 for December). Depending on the project and intern's availability, there is an option for a shorter (approx. 3-month) internship.
We also offer a 4–6 month communications internship position on a rolling basis. We are currently accepting applications year-round.
Stipends: ACE will provide stipends for interns working 20 or more hours/week, starting at $500 per month. Larger stipends will be granted on an as-needed basis. Unfortunately, at this time, we are only able to offer stipend payments to those whose legal residence is in the United States, Canada, the United Kingdom, and Germany. We welcome applicants from other countries to apply for an unpaid internship.
All internship positions are remote—ACE does not have an office.
| Position | Date | Length | Hrs/Wk | Apply |
| --- | --- | --- | --- | --- |
| Research Internship | August – November | 4 months | 10-20* | Apply |
| Communications Internship | Year-round | 4 months | 10-20* | Apply |
*depending on the availability of the intern and the needs of the project
Internship descriptions
| | |
| --- | --- |
| Research Internship | Mentored by a member of our research team, our research interns design and execute original projects that suit their interests as well as ACE's needs. Previous interns have designed and conducted surveys, investigated the animal advocacy movement in other countries, conducted literature searches, and reviewed the latest animal advocacy research. |
| Communications Internship | Mentored by a member of our communications team, our communications interns work on projects that suit their interests as well as ACE's needs. Past intern projects include social media management, content creation, graphic design, and web development, as well as tracking possible media opportunities. |
Open Volunteer Positions
| Position | Task | Dates | Hrs/Wk | Location | Apply |
| --- | --- | --- | --- | --- | --- |
| Transcription and Editing Volunteer | Conversation summaries | Year-round; especially needed in summer | Flexible | Remote | Apply |
Volunteer descriptions
| | |
| --- | --- |
| Conversation Summaries | As part of our research, ACE conducts conversations with leaders at animal advocacy organizations. We seek to make summaries of these conversations available as background material for our charity and intervention evaluations. Volunteers can help by writing detailed but readable summaries of conversations based on audio recordings or transcriptions. let us know in your application whether you prefer to work from a recording or a transcription. Note that some participants in conversations are not native English speakers or may speak with an accent; let us know in your application whether you expect that this would pose a difficulty for you. |
Commitment to diversity and equal employment opportunities
Animal Charity Evaluators provides equal employment opportunities and highly values diversity. As such, we are committed to maximizing the diversity of our organization. We want to engage all those who can contribute to our mission and to making an impact. We offer a mission- and employee-focused virtual work environment and a competitive compensation package.
We strongly encourage women, people of color, LGBTQ+ individuals, persons living with disabilities, and people of various socioeconomic backgrounds to apply for this position.
Animal Charity Evaluators is committed to providing equal employment opportunities to all qualified applicants and does not discriminate on the basis of race, color, ethnicity, religion, sex, gender, gender identity and/or expression, sexual orientation, size, national origin, disability, age, marital status, veteran status, pregnancy, parental status, genetic information or characteristics (or those of a family member) or any other basis prohibited by applicable law.
About Animal Charity Evaluators
Animal Charity Evaluators (ACE) is a U.S.-based, 501(c)(3) nonprofit organization dedicated to finding and promoting the most effective ways to help animals. Through evaluating animal charities and researching interventions used to help animals, we aid compassionate givers, professionals, and volunteers in making informed decisions about how to help animals as effectively as possible. We provide career and volunteering recommendations and promote best practices for animal charities. We also award grants to academics and organizations to help them conduct their own research.