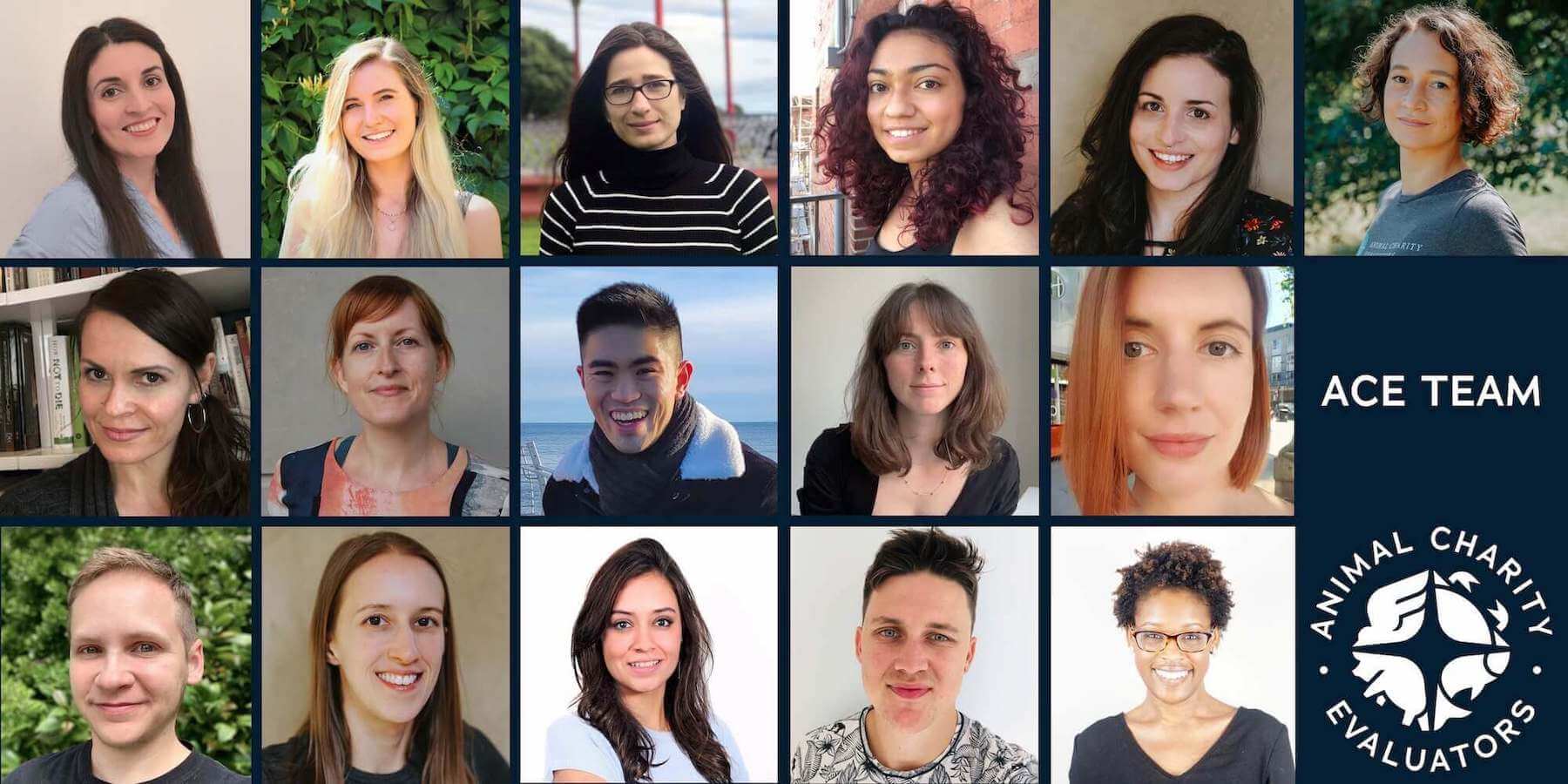 Do you want to help reduce animal suffering? Are you interested in joining an organization that uses research, data, and critical thinking to find the most effective ways to make an impact? If you want to use your talents to make sure as many animals as possible experience wellbeing, working with ACE may be the perfect opportunity for you.
Our team conducts research and engages with experts to help identify the most effective interventions for animal advocacy, identifying a shortlist of recommended charities each year. We also award Movement Grants to promising projects around the globe working to reduce animal suffering and fundraise to increase the pool of money for animals and the people all over the world who help them. We create impact by strategically communicating about our work to people who want to make a difference for more animals.
Our work is tough but rewarding. The lack of available data makes it difficult to analyze different interventions, but it also provides an opportunity for an exciting and engaging search for knowledge. ACE and each of our staff members have the potential to create substantial change for animals.
ACE seeks team members who share our Guiding Principles: We are anti-speciesist. We seek evidence. We welcome diverse perspectives. We do the most good that we can. We are transparent. We are compassionate.
We offer a fully remote environment with flexible schedules, a competitive salary and benefits, and a supportive, collaborative culture. If you are interested in eliminating animal suffering and want to help find the best ways of doing so, please join us!
We update this page regularly to reflect our open staff, fellowship, and volunteer positions. Please note all positions are remote—ACE works from a virtual office.
Open Staff Positions
We do not have any open staff positions at this time.
Open Fellowship Positions
We do not have any open fellowship positions at this time.
Commitment to diversity and equal employment opportunities
Animal Charity Evaluators provides equal employment opportunities and highly values representation, equity, and inclusion. We want to engage all those who can contribute to our mission and make an impact. We offer mission-driven, meaningful work, a remote, flexible environment, and a competitive compensation package.
We strongly encourage people who are Black, Indigenous, or of the global majority (of color), LGBTQ+ individuals, persons living with disabilities, genders underrepresented in animal advocacy, and people of all socioeconomic backgrounds to apply to work with us.
ACE is committed to providing equal employment opportunities to all qualified applicants and does not discriminate on the basis of race, color, ethnicity, creed or religion, sex, gender and/or gender expression, sexual orientation, body size, national origin, disability, age, marital status, veteran status, family status, genetic information or characteristics (or those of a family member), ancestry, place of origin, socioeconomic status, political belief or activity, conviction of an irrelevant offense, or any other basis prohibited by applicable law.
About Animal Charity Evaluators
ACE is a 501(c)(3) nonprofit registered in the United States with a globally distributed team dedicated to finding and promoting the most effective ways to help animals. We work toward this mission by evaluating and recommending charities, awarding grants to promising projects, and driving capital in the animal advocacy movement.