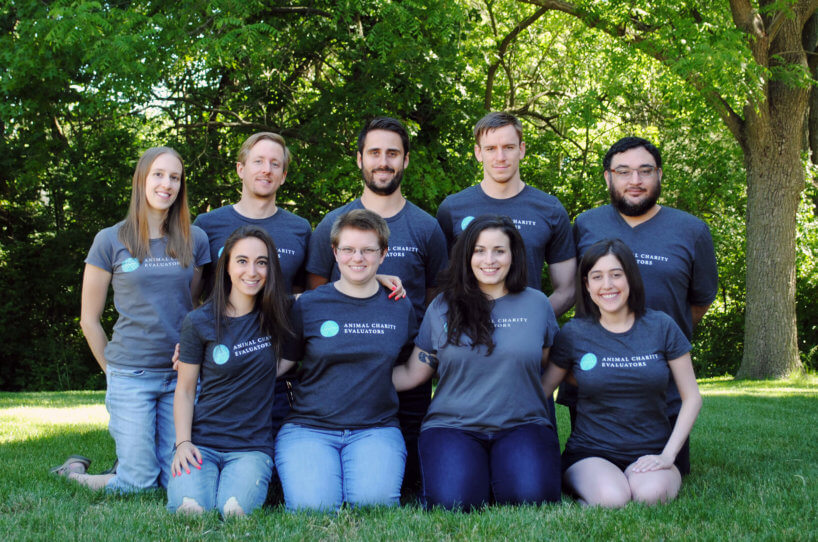 If you have found yourself working to help animals but struggling to know how to have the biggest possible impact, or if you are excited about the prospect of thinking critically about how we can use research and data to reveal the most effective ways to reduce suffering, ACE might be the perfect place for you. Our mission is to find and promote the most effective ways to help animals. We conduct research to identify some of the most impactful animal advocacy interventions—as well as the effective charities that use them—and then we promote those findings to the public.
The work we do at ACE is tough but rewarding. The lack of available data makes it difficult to analyze different interventions, but it also provides an opportunity for an exciting and engaging search for knowledge. Having built a strong reputation as a trusted authority and leader in our field, and having influenced over $5 million in donations to our recommended charities, ACE and each of our staff members have the potential to create substantial change for animals.
Our team is passionate about our mission and invested in our goals. All ACE staff members work remotely, which allows for a flexible schedule and comfortable work environment. If you are interested in eliminating animal suffering and want to help find the most effective ways of doing so, please join us!
We update this page regularly to reflect our open staff, intern, and volunteer positions. Please note all positions are remote—ACE works from a virtual office.
Commitment to Diversity and Equal Employment Opportunity Clause
Animal Charity Evaluators is an equal opportunity employer, highly values diversity and is committed to maximizing the diversity of our organization, as we want to engage all those who can contribute to our mission and to making an impact. We offer a mission and employee-focused virtual work environment and a competitive compensation package.
We strongly encourage women, people of color, LGBTQ+ individuals, persons living with disabilities, and of various socioeconomic backgrounds to apply for positions with ACE.
Animal Charity Evaluators is committed to providing equal employment opportunities to all qualified applicants and does not discriminate on the basis of race, color, ethnicity, religion, sex, gender, gender identity and expression, sexual orientation, national origin, disability, age, marital status, veteran status, political ideology, amnesty, pregnancy, parental status, genetic information or characteristics (or those of a family member) or any other basis prohibited by applicable law. This policy applies to all terms and conditions of employment, including recruiting, hiring, promotion, assignment, training, leaves of absence, termination, and compensation.

Open Internship Positions
We offer internship positions every quarter, starting the first weeks of March, June, September, and December. The application deadline for each quarter is the 1st of the month prior to the start date (i.e. February 1 for internships starting in March, May 1 for June, August 1 for September, and November 1 for December).
All internship positions are remote—ACE does not have an office.
| Position | Date | Length | Hrs/Wk | Apply |
| --- | --- | --- | --- | --- |
| Research Internship | June – August | 3 months | 20-40 | Apply |
| Communications Internship | June – August | 3 months | 20-40 | Apply |
Descriptions
| | |
| --- | --- |
| Research Internship | Mentored by our Director of Research Allison Smith, our research internship involves cataloging information of charities from around the world, helping develop charts and graphs to illustrate data, writing research pages for our site, and learning/implementing some basic research designs. |
| Communications Internship | Mentored by our Director of Communications Erika Alonso, our communications internship involves promotion through social media, improving functionality of our site, editing, writing, media outreach, generalized web development, and tracking possible media opportunities. |
Open Volunteer Positions
| Position | Task | Dates | Hrs/Wk | Location | Apply |
| --- | --- | --- | --- | --- | --- |
| Research Volunteer | Conversation summaries | Year-round; especially needed in summer | Flexible | Remote | Apply |
Descriptions
| | |
| --- | --- |
| Conversation Summaries | As part of our research, ACE conducts conversations with leaders at animal advocacy organizations. We seek to make summaries of these conversations available as background material for our charity and intervention evaluations. Volunteers can help by writing detailed but readable summaries of conversations based on audio recordings or transcriptions. let us know in your application whether you prefer to work from a recording or a transcription. Note that some participants in conversations are not native English speakers or may speak with an accent; let us know in your application whether you expect that this would pose a difficulty for you. |