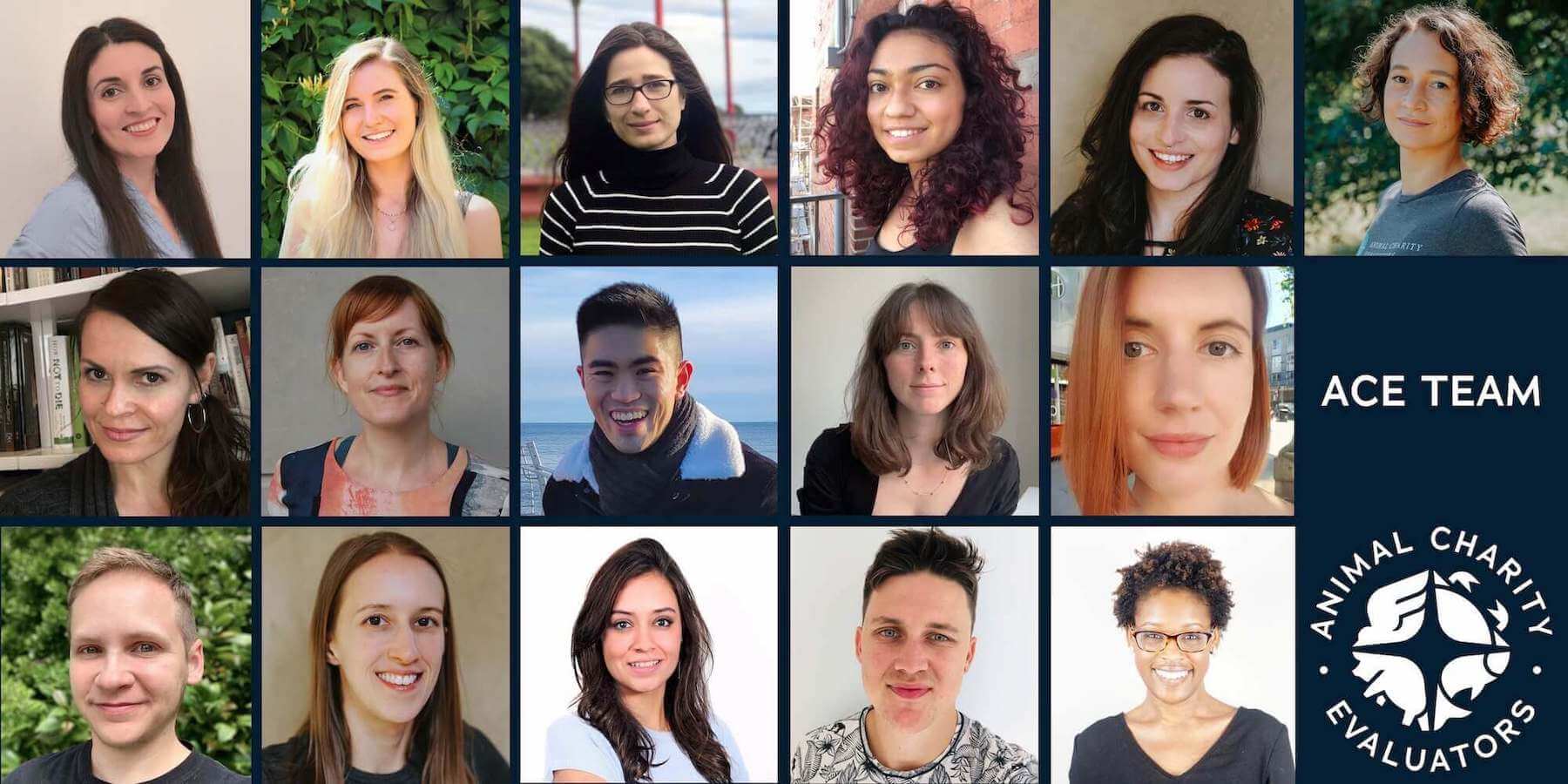 If you have found yourself working to help animals but struggling to know how to have the biggest possible impact, or if you are excited about the prospect of thinking critically about how we can use research and data to reveal the most effective ways to reduce suffering, ACE might be the perfect place for you. Our mission is to find and promote the most effective ways to help animals. We conduct research to identify some of the most impactful animal advocacy interventions—as well as the effective charities that use them—and then we promote those findings to the public.
The work we do at ACE is tough but rewarding. The lack of available data makes it difficult to analyze different interventions, but it also provides an opportunity for an exciting and engaging search for knowledge. Having built a strong reputation as a trusted authority and leader in our field, and having helped to influence an estimated $59 million in donations within the animal advocacy movement, ACE and each of our staff members have the potential to create substantial change for animals.
Our team is passionate about our mission and invested in our goals. All ACE staff members work remotely, which allows for a flexible schedule and comfortable work environment. If you are interested in eliminating animal suffering and want to help find the most effective ways of doing so, please join us!
We update this page regularly to reflect our open staff, fellowship, and volunteer positions. Please note all positions are remote—ACE works from a virtual office.
Open Staff Positions
We do not have any open staff positions at this time.
Open Fellowship Positions
We do not have any open fellowship positions at this time.
Information for future applicants
We typically offer research fellowships each year starting in January and July and lasting for 4 months. Note: We are not accepting applications at this time, but we may open up applications for July fellowships at a later date.

We also offer a 4–6 month communications fellowship position on a rolling basis. Due to the high volume of applicants, we are not accepting applications at this time.
ACE invites all interested parties over the age of 18 to apply, regardless of their career stage or work experience; we welcome mid-career applicants and/or those with non-linear work experiences.
Stipends: ACE will provide stipends of $1,500/month for fellows working at least 20 hours/week. Unfortunately, at this time, we are only able to offer stipend payments to those whose legal residence is in the United States, Canada, or the United Kingdom. We welcome applicants from other countries to apply for an unpaid fellowship.
Conflicts of interest: Please note that we are unable to hire a fellow who holds a formal position or an internship with a charity that we might consider for review. Please see our employment/affiliation policy for more information.
All fellowship positions are remote—ACE does not have an office.
Commitment to diversity and equal employment opportunities
Animal Charity Evaluators provides equal employment opportunities and highly values representation, equity, and inclusion. We want to engage all those who can contribute to our mission and make an impact. We offer mission-driven, meaningful work; a remote, flexible environment; and a competitive compensation package.
We strongly encourage women; people who are Black, Indigenous, or of the global majority (of color); LGBTQ+ individuals; persons living with disabilities; and people of all socioeconomic backgrounds to apply to work with us.
ACE is committed to providing equal employment opportunities to all qualified applicants and does not discriminate on the basis of race, color, ethnicity, creed or religion, sex, gender and/or gender expression, sexual orientation, body size, national origin, disability, age, marital status, veteran status, family status, genetic information or characteristics (or those of a family member), ancestry, place of origin, socioeconomic status, political belief or activity, conviction of an irrelevant offense, or any other basis prohibited by applicable law.
About Animal Charity Evaluators
Animal Charity Evaluators (ACE) is a U.S.-based, 501(c)(3) nonprofit organization dedicated to finding and promoting the most effective ways to help animals. Through evaluating animal charities and researching interventions used to help animals, we aid compassionate givers, professionals, and volunteers in making informed decisions about how to help animals as effectively as possible. We provide career and volunteering recommendations and promote best practices for animal charities. We also award grants to academics and organizations to help them conduct their own research.