Animal Charity Evaluators (ACE) evaluates animal advocacy organizations in order to find those that are able to do the most good with additional donations. Following anti-speciesist principles, we recognize that success can take many forms; we aim to compare these different types of successes by the amount of animal suffering they can prevent or reduce.
Our charity recommendation process involves several sequential stages, with new recommendations being released at the end of November each year. Our goal is to identify the most effective animal charities, not to rate or grade all organizations. We consider a large number of groups in the early stages of our process, then a smaller number at each stage that follows, until we recommend a few groups that we are very confident are highly effective.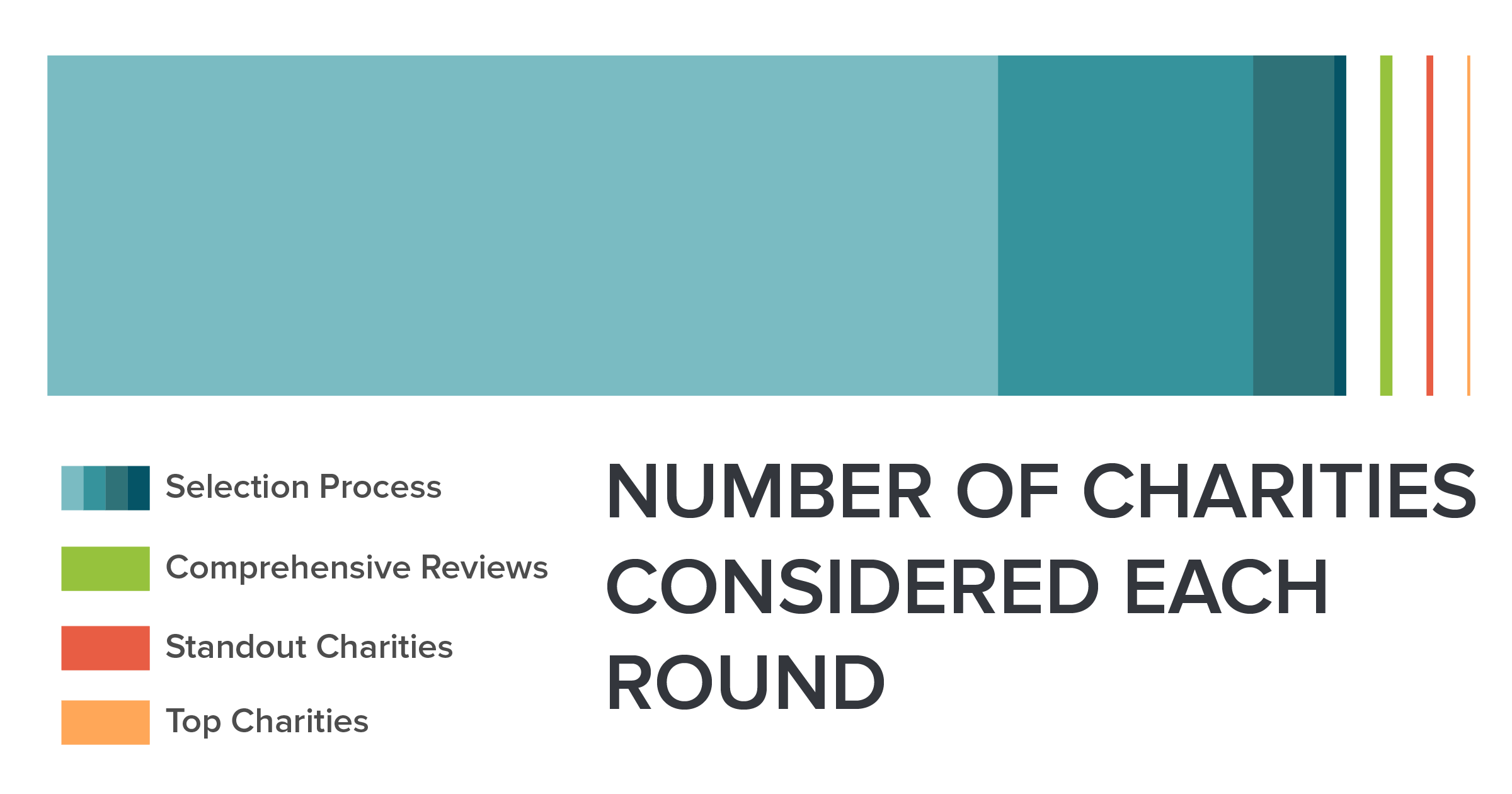 Fig. 1: Number of charities considered each round of ACE's 2021 evaluation process
We start by gathering a list of groups that are currently working to help animals and assessing which groups meet our criteria for basic consideration. We invite a number of charities from this list to be evaluated through a comprehensive review. We involve organizations in the evaluation process and request information to get a fuller picture of the organization's activities and how well it fits our criteria for recommendation. Finally, after a rigorous research process, we select the best of these groups as our Top Charities and other groups with exceptional strengths as Standout Charities. Any organization designated as a Recommended Charity is re-evaluated at least every other year. Additionally, we evaluate new organizations each year.
Selection and Prioritization
We generate a list of organizations for consideration by combining existing lists of animal advocacy organizations, organizations that we are aware of for other reasons, and suggestions solicited from experts and obtained through our website. Suggestions for our next round of evaluations are welcome.
As we compile our list of organizations, we strive to include those that are focused on highly effective areas. In areas that we consider to be less promising, we evaluate only those groups recommended to our attention. Therefore, while we hope that our evaluations cover a large percentage of groups working toward farmed animal advocacy and wild animal welfare, we omit many charities focused on companion animal welfare from consideration. As we conduct future research, we may revise our opinions on which areas offer the most effective ways of improving animal lives. We would then revise our heuristics accordingly.
We filter down our list of organizations using a quantitative model that prioritizes charities based on the outcomes they work toward, the regions they work in, and the specific animal group(s) their programs target. Through a process of iterative discussion and voting, the evaluations committee selects charities to invite to participate in our evaluation process.
Evaluation
ACE's research team conducts comprehensive reviews for all organizations that agree to participate in our evaluation process. For a comprehensive review, we fully examine publicly available information and also solicit materials and information from the organization.
The finished product of each review is a report of a charity's performance on each of ACE's evaluation criteria. Important components of such a report include an assessment of the effectiveness of a charity's programs, an estimate of their ability to use additional funding effectively, and a cost-effectiveness analysis of their recent work.
We publish the results of finished reviews along with relevant supporting materials. Before publishing a review, we show it to the relevant organization for review and approval. If we are unable to produce a review that accurately reflects our views and is acceptable to the organization being evaluated, we indicate that the organization declined to participate in the evaluation process.
Top Charities
These charities stand above the rest in terms of the quality and impact of their work, and they perform very well on our criteria taken as a whole. We believe that these charities are excellent giving opportunities for donors who want to help as many animals as possible by donating to organizations that will use their resources thoughtfully and efficiently. They work in ways that are likely to produce the greatest gains for animals, actively evaluate and improve their programs, and have a demonstrated need for more funding.
We promote these organizations and encourage the public to donate to their programs. We use the amount of money that we direct to these organizations as a metric for the impact of our work.
Standout Charities
These charities also stand above the rest and produce high-quality work, however, they did not quite meet the standards for our Top Charity selections. This may be because of minor concerns or uncertainties about their approach or projects, or simply because we feel that the organizations we recommend as Top Charities are stronger in areas that we view as most important.
We promote these organizations to the public, but we don't focus heavily on encouraging people to donate to them. We think these organizations are certainly worthy of support, but in order to maximize our impact and provide clear signals to potential donors, we don't actively solicit donations on their behalf to the extent that we solicit donations for our Top Charities.
Considered
This category consists of organizations that we directly considered in the first phase of our evaluation process. At the bare minimum, this means that we visited their website to determine their focus area. If we think that an organization is working in a potentially high-impact area, then we take a closer look after our initial round of examination by visiting the organization's website and reviewing other publicly available information about its mission, methods, and past achievements.
Declined to Be Evaluated
We planned to publish reviews of these charities, but for one reason or another, we were not able to make contact with them or secure their permission for review or publication. This could be because we simply couldn't reach someone at the organization to request that we publish our review, in which case we specify that the charity "did not respond to our contact." Otherwise, we offer charities the option of choosing a reason or reasons for declining the writing or publication of a review, and we publish those reason(s) on our website. These optional reasons include the following:
They were too busy during Animal Charity Evaluators' evaluation season to participate in the evaluation process.
They chose to wait until the following year to be evaluated. (Optionally, charities may choose to include more details, e.g., "because they were developing a new program," "because they were bringing on new staff," "because they were in search of a new Executive Director," etc.)
They disagree with Animal Charity Evaluators' evaluation criteria, methodology, and/or philosophy.
They do not support Animal Charity Evaluators' decision to evaluate charities relative to one another.
Animal Charity Evaluators drafted a review that they felt misrepresented or misvalued their charity.
They do not consider themselves to be an animal charity.
They do not currently have a significant need for more funding.
In order to maximize cooperation from the organizations we evaluate, we give them the freedom to deny the publication of our review and supporting materials. We think this policy benefits both ACE and the animal advocacy community at large. It helps us because it allows groups to communicate with us more freely, which in turn lets us learn more about the organizations we evaluate. Another important consideration is that there are some types of information that may harm an advocacy group if shared publicly. By involving the organizations we evaluate in the decision of what to publish, we allow the stakeholders most affected by the information we publish to help identify what should remain confidential. Although the charities we evaluate help us decide what to publish and what to omit from their review, all of the materials we do publish reflect our own views. These views sometimes differ from those of the group involved.
Voluntarily Removed from Consideration
This designation refers to those charities where someone in a leadership role has made a donation to ACE within the last three years. To adhere to our conflict of interest policy, we do not evaluate groups from whom we have accepted donations, so as to avoid the appearance of impropriety.
Not Considered; Outside Our Scope
This category refers to those organizations whose work could be seen as a conflict of interest to the writing of an impartial review. We restrict these listings to those groups that are in a related field, and that we would have otherwise evaluated if it were not for this concern.