As part of our organizational strategy, we have refined our Theory of Change—a method that outlines how an intervention (or group of interventions) is expected to create real-world change based on evidence.
The process by which a charity or intervention creates change for animals can be difficult to understand. To communicate our assumptions about how change occurs, we created a Theory of Change diagram (Fig. 1), using arrows to represent the possible effect of each intervention. This diagram is not necessarily a complete representation of real-world change; rather, it's a simplified model that showcases the change ACE wants to see in the world: less animal suffering and greater animal welfare.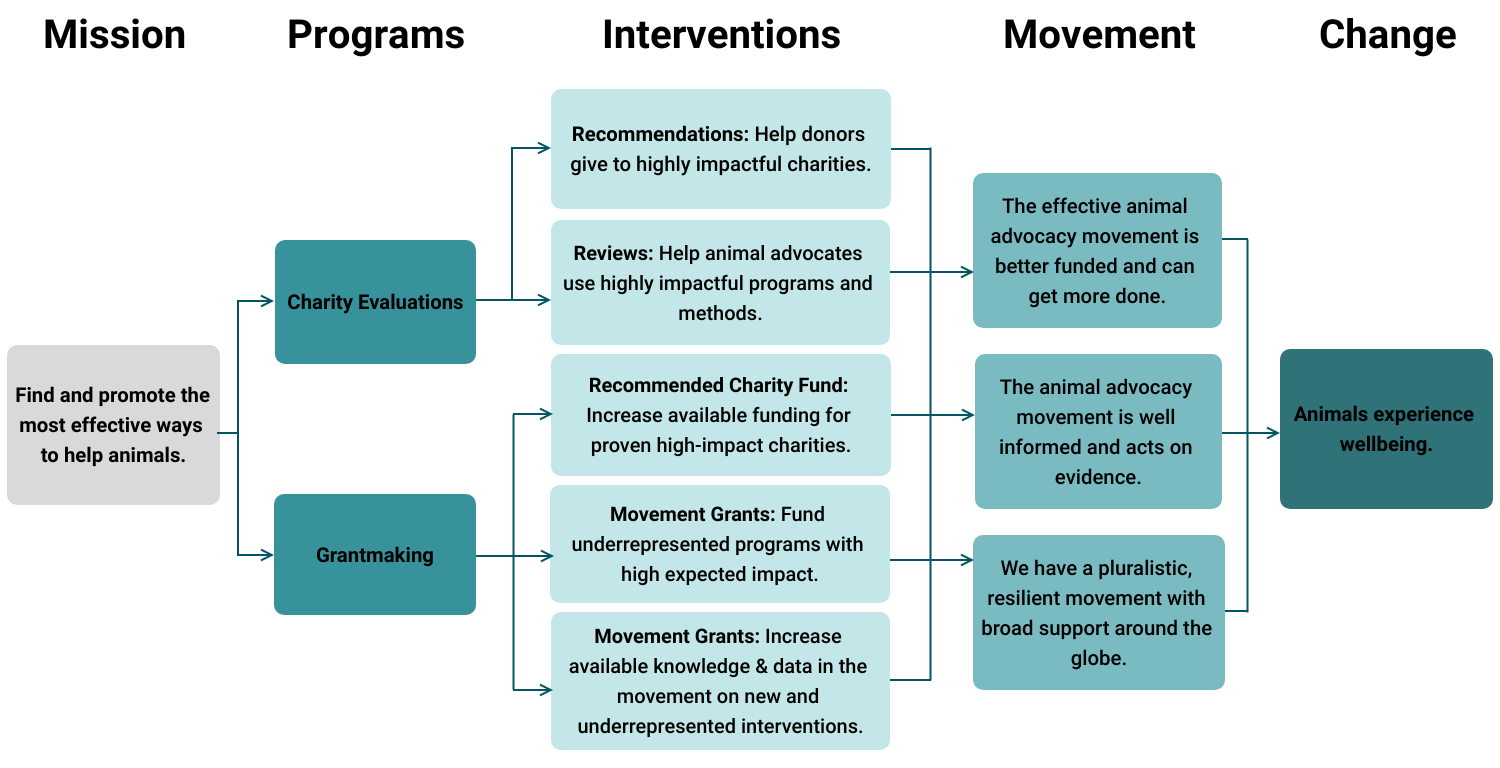 Fig 1: ACE's Theory of Change diagram
To achieve this change, the animal movement needs more funding so that we can be better informed about what animals need and identify which interventions are likely to help the greatest number of animals. This is why ACE conducts charity evaluations to identify which organizations will likely make the greatest difference for animals. Donors can then use our recommendations to find the most impactful ways to support animals, and our reviews help charities identify which type of work will help animals the most.
Our grantmaking aims to increase the money pool for high-impact charities so they are able to carry out more effective work. Our Recommended Charity Fund helps donors support our Top and Standout Charities through a single donation. However, ACE recognizes that we cannot create real-world change by focusing only on large, well-established organizations. That's why our grantmaking also includes our Movement Grants program, which funds small organizations that work in high-priority regions, use novel approaches, or focus on underrepresented animals. Supporting a wide variety of organizations will also provide new information on what interventions work best.
Together, our programs and interventions fill a gap in the movement that builds capacity and amplifies the incredible work that advocates and donors do to help animals.