We are enormously grateful to our supporters for fully funding ACE's programs for 2017! We have met our funding cap, and will not be accepting donations for ACE until January. We will absolutely need your help again in 2018, so please contact ACE's Director of Philanthropy Kalista Barter if you would like to discuss how you can support ACE's research, education, and fundraising programs in 2018.
We are very pleased to advise that you donate to ACE's new recommended charities this year. Please consider doubling your donation by supporting ACE's recommended charities through our Recommended Charity Fund. An anonymous donor will match your donation to ACE's Recommended Charity Fund through the end of the year! We are a 501(c)(3) charitable organization, and all donations made to the below options are tax-deductible for donors located in the United States.
Donate to the ACE Recommended Charity Fund
What is the Recommended Charity Fund?
Our goal with the ACE Recommended Charity Fund is to make sure that every dollar you donate will be used as effectively as possible to reduce animal suffering. All donations to the Fund in 2017 will be 100% matched, and distributed to ACE's recommended charities in January.
Your donation will be directed mostly to Top Charities, but we will also contribute a significant amount of funds to Standout Charities in order to support their excellent work. Overall, 75% of funds raised will be directed to our three Top Charities, while 25% of funds raised will go to our nine Standout Charities. The funds designated for Top Charities will be divided according to our understanding of their room for more funding, while the funds designated for Standout Charities will be divided evenly.
January 2018 Distribution of the Recommended Charity Fund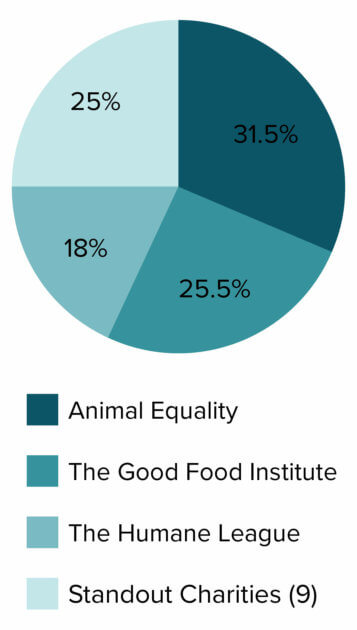 ---
ACE is still proud to offer convenient methods of donating to our Top Charities. However, only donations to the above Recommended Charity Fund will be matched in 2017.
More Ways To Give
For major gifts, we recommend sending your gift via check or electronic fund transfer to avoid credit card fees. To find out about these and other ways to make a donation—including planning your legacy gift, donating securities, or to find out if your employer will match your donation—please see our Other Ways To Give.
To find out which countries have tax-deductible donation options for our recommended charities, please review this list.
Read our gift acceptance policy and recurring donation terms for more information.