The number of wild animals far exceeds the combined number of humans, farmed animals, companion animals, and animals in laboratories. Unfortunately, many wild animals—possibly the vast majority—live very short lives and experience painful deaths.1 The estimated numbers of animals in the world suggest that, in total, wild animals experience more pleasure and pain than humans or domesticated animals.
Considering the number of animals within different groups can be helpful for prioritizing where resources should be directed, but it is not the only relevant factor for prioritization. Other important factors include the degree to which different species are sentient and the amount of suffering they endure in their lives. This means that we don't necessarily believe that resources in the animal advocacy movement should be distributed according to how numerous each group is.
Table 1: Animal groups as a percentage of the world population
Animal groups2
World population
%
Animals in labs
∼192.1 million3
0.00001%
Dogs
∼850

million4

Cats
∼600 million5
Companion animals (dogs + cats)
∼1.45 billion
0.00012%
Farmed land animals
∼40.5 billion6
Farmed fishes
∼125 billion7
Farmed animals (land animals + fishes)
∼165.5 billion
0.01%
Wild animals
∼1015 8
99.99%
Total
∼1015
100%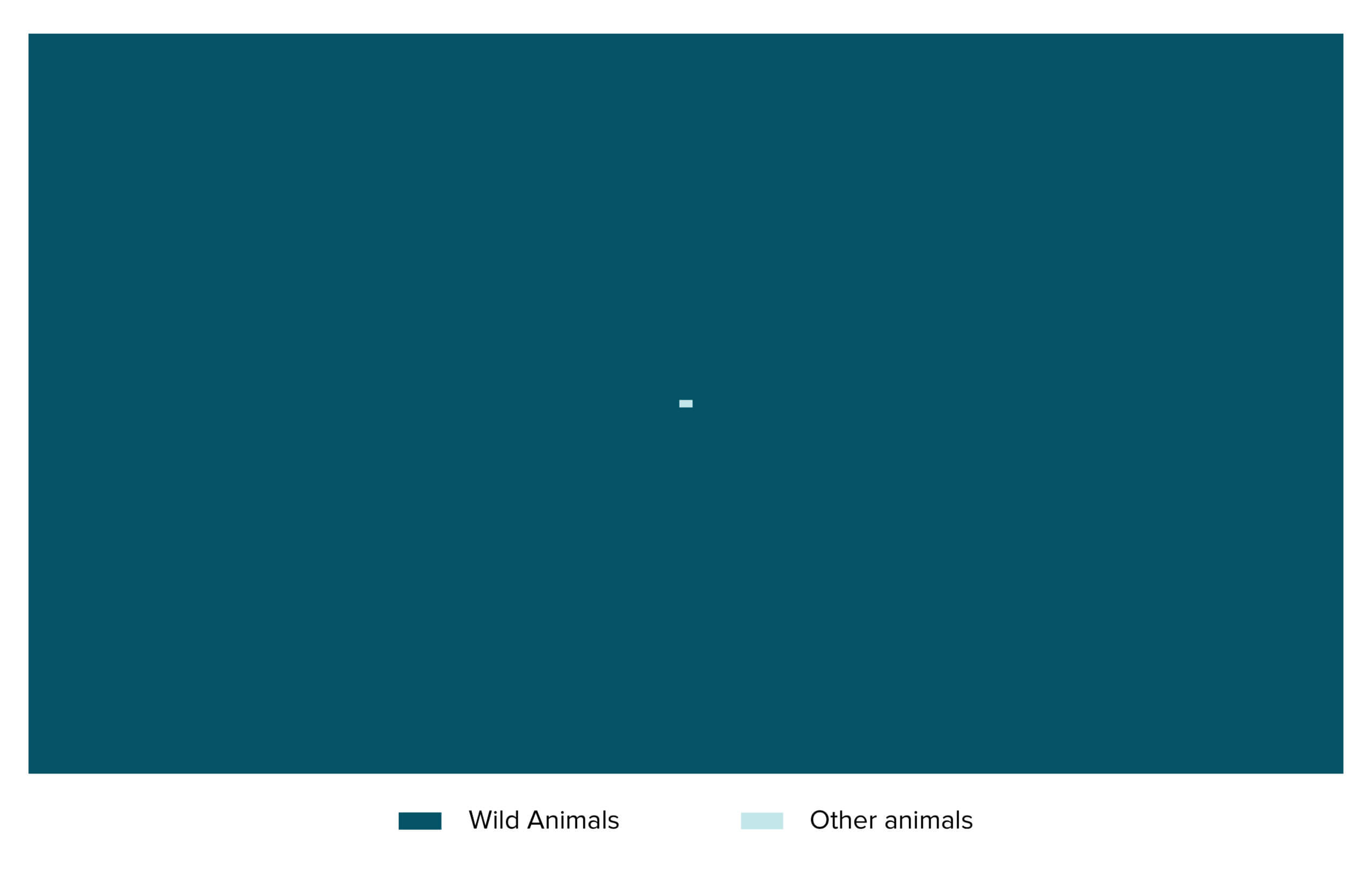 According to our comprehensive list of animal charities, most organizations that focus on wild animals are concerned with biodiversity conservation rather than wild animal welfare. We know of fewer than five charities that focus on improving wild animal welfare. Their total global funding is estimated to be less than $10 million per year9—a tiny amount relative to other cause areas; e.g., $200 million goes toward farmed animal welfare each year.10 We hope to see more charities working to improve wild animal welfare in the near future.
The lack of evidence for the effectiveness of interventions to improve wild animal welfare is partially due to the complexity of natural ecosystems and the difficulty of measuring the impacts of interventions in the wild.11 Due to this limitation, we believe that: i) research is a promising way to help wild animals because it can inform decisions about which interventions to pursue, and ii) we should also prioritize farmed animal welfare because it is a more tractable cause area, involves a large number of animals, and receives little funding compared to other causes. We acknowledge that improving wild animal welfare may be riskier than other causes because of the high level of uncertainty involved, but its potential positive impact is also high.
References
Animal Charity Evaluators. (2016, November). Why farmed animals? https://animalcharityevaluators.org/donation-advice/why-farmed-animals/
Bar-On, Y. M., Phillips, R., & Milo, R. (2018). The biomass distribution on Earth. Proceedings of the National Academy of Sciences of the United States of America, 115(25), 6506–6511. https://www.pnas.org/content/pnas/suppl/2018/07/13/1711842115.DC1/1711842115.sapp.pdf
CAROcat. (n.d.). Statistics on cats. Retrieved January 27, 2022, from https://carocat.eu/statistics-on-cats-and-dogs/
Eskander, P. (2018, February 13). To reduce wild animal suffering we need to find out if the cause area is tractable. Animal Charity Evaluators. https://animalcharityevaluators.org/blog/to-reduce-wild-animal-suffering-we-need-to-find-out-if-the-cause-area-is-tractable/
Farmed Animal Funders. (2021). State of the movement report: 2021. https://farmedanimalfunders.org/wp-content/uploads/2021/12/External-FAF-State-of-the-Movement-Report-2021.pdf
Fishcount. (2019). Numbers of farmed fish slaughtered each year. Retrieved January 27, 2022, from http://fishcount.org.uk/fish-count-estimates-2/numbers-of-farmed-fish-slaughtered-each-year
Gompper, M. E. (Ed.). (2013). Free-Ranging Dogs and Wildlife Conservation. Oxford University Press. https://doi.org/10.1093/acprof:osobl/9780199663217.001.0001
Horta, O. (2010). Debunking the idyllic view of natural processes: Population dynamics and suffering in the wild. Télos (Τέλος). Revista Iberoamericana de Estudios Utilitaristas, 17(1), 73–90. https://redib.org/Record/oai_articulo652920-debunking-idyllic-view-natural-processes-population-dynamics-suffering-wild
McMahan, J. (2010, September 19). The Meat Eaters. The New York Times. https://opinionator.blogs.nytimes.com/2010/09/19/the-meat-eaters/
Spurgeon, J. (n.d.). Helping Wild Animals. Giving What We Can. Retrieved January 17, 2022, from https://www.givingwhatwecan.org/cause-areas/animal-welfare/wild-animals/#fn7
Taylor, K., & Alvarez, L. R. (2019). An estimate of the number of animals used for scientific purposes worldwide in 2015. Alternatives to laboratory animals, 47(5–6), 196–213. https://doi.org/10.1177%2F0261192919899853
---