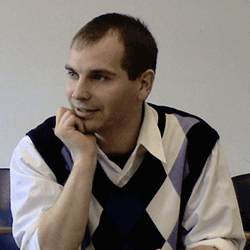 ACE's Director of Communications Erika Alonso had the privilege of interviewing Dr Anthony J. Nocella II Ph.D., award-winning author, community organizer, and professor is an Assistant Professor of Sociology and Criminology at Fort Lewis College. He is an Executive Director of the Institute for Critical Animal Studies, National Co-coordinator of Save the Kids, and co-founder and Editor of the Peace Studies Journal.
We've featured a few highlights from the interview below. You can read the interview in its entirety here.
EA: Could you explain what critical animal studies is?
AN: Critical animal studies founded in 2006 by myself and a few others is a field and movement that is rooted in putting theory to activism in a radical, revolutionary, critical and intersectional way for total liberation.
EA: You said that ICAS was the first kind to work in an intersectional way. Is this "bridging" of scholarship with activism a recent trend?
AN: Scholars have long been involved in activism since day one of activism, but theory to practice and the idea of praxis took off at least since critical theory developed out of the Frankfurt school. The Frankfurt school was not asking for reform, the Green Party, or working in or with the government. Rather, they were working for revolution. Critical theory was about revolution and overthrowing the dominant regime, ideology, and paradigm. What emerged out of critical theory was the radical student movement of the 1960s, which aided and assisted in the rise of the women's liberation movement, Black power movement, anti-war movement, anti-imperialism movement, and right to free speech on campus.
However, today I am seeing fewer and fewer scholars participate in current rallies, protests, and acts of civil disobedience for causes such as the Black Lives Matter movement, animal rights, queer rights, trans rights, and environmental causes. Perhaps this is because scholarship is becoming more institutionalized, professor jobs are becoming harder to obtain, and academics are fearful that challenging the status quo and oppressive dominant ideologies will result in them losing their jobs. This of course develops a culture of fear. However, I think it is important to do what is right, rather than what is safe. What is safe, will foster careerists and opportunists.
EA: How can animal activists build bridges with other movements?
AN: To build bridges with other movements, you have to understand that when you're there for them, then you're there for them completely. You have to put your politics and morals aside, and not judge other people. You don't have to agree with all of their politics, but you have to be genuine, and build honest, trustful relationships with people, and not come in with your own agenda. This is a principle of total liberation. For example, showing up to a rally with a "Vegans for Black Lives Matter" sign would be counterproductive, and will ruin bridges that could have been built. It's important not to become an oppressor and dictate what others can do with their bodies. Only once you prove that you are involved in another movement to help people that are marginalized and oppressed can you start having honest conversations with people about your politics. That's the only productive way to build bridges.