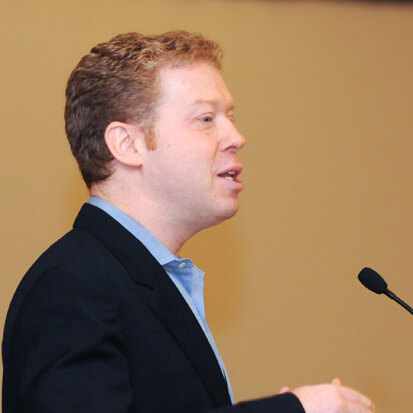 ACE's Executive Director Jon Bockman had the privilege of interviewing animal law and policy expert David Wolfson. David is a partner at Milbank, Tweed, Hadley & McCloy LLP. He has published extensively in the animal protection field and has taught animal law at Harvard and NYU. He represents a number of animal protection groups including the Humane Society of the United States, Compassion Over Killing, Compassion in World Farming, and Mercy For Animals.
We've featured a few highlights from the interview below. You can read the interview in its entirety here.
JB: What are some legal essentials that the typical animal-rights activists should be aware of when they are trying to advocate for animals? Are there any things that you would encourage them to pay attention to or to be mindful of?
DW: There are some important things that farm animal advocates should understand about the current legal landscape. At this point, there really is no federal law that relates to how animals are treated from a welfare perspective. The few state laws that exist are highly problematic and generally fall incredibly short when trying to help animals. Therefore, there is a need to improve the laws in this area.
Unfortunately, at this time, advocates need to recognize that the way that farm animal law generally works is through state criminal laws. While California and hopefully Massachusetts have made some progress in this area, it's very difficult to regulate the countless different ways that animals are abused through a criminal prohibition on individual practices. Because of the size of the industry, the number of animals involved, and the number of cruel practices, if we ever were to design a law that would deal with every issue we want to address in farmed animal welfare, it would run to thousands of pages. It's not a practical way to address these issues on any scale. At this time, all that we are able to do on this front is to educate people and remove the worst excesses, such as gestation crates and battery cages.
While we can work on these very specific and worthwhile laws, in order to improve things significantly, we would need a far more detailed administrative law or regulatory system. That sort of system can only work effectively with both an appropriate agency or governmental oversight, and with individual oversight of the governmental oversight. In the United States, at this time, we have neither of these. We do not have agencies that we can trust to enforce a great law even if we were to pass one, and because of the technical laws about how individuals can challenge governmental action, it would be very difficult for individuals to hold such an agency accountable.
Therefore, it is not surprising that the changes in animal well-being are not coming from great laws, but rather from consumer campaigns, where consumers pressure corporations to improve their practices, from social education and veganism, and from venture capitalists who are creating alternative meat products. The fact is that it's easier to change the world through these approaches at the moment, rather than through some grand regulatory scheme to ensure that animals raised for food are treated well.
For your readers who are interested in learning more about the current status of legal protection, or lack thereof, for farmed animals, I recommend reading a text I wrote with Mariann Sullivan, called Foxes in the Henhouse, available in "Animal Rights" (Oxford University Press).
JB: Many aspects of industrial agriculture are truly scandalous and simply wrong by any person's standards, from popular topic items like pink slime, to hormones and antibiotics, to government subsidies, to hiding the true cost of meat when considering the environmental effects, to the treatment of animals and of farm workers. Why aren't more lawsuits brought up by activists or even opportunistic lawyers? Even if the above practices are technically legal, shouldn't there be many angles to turn them into devastating lawsuits? It seems surprising that there is not more being done in that area.
DW: Yes, you might wonder why people aren't suing the USDA left and right for failing to uphold the law. The fact is that it is very difficult to do that, and people have looked into it many times. I look forward to the next five years, when twenty young brilliant lawyers come along and succeed and prove us all wrong.
Lawsuits cost a lot of time and money to put together. There are two situations in which they generally come about: either a nonprofit with limited resources puts together a case, or a large class action law firm looking for a certain amount of remuneration takes it on. Either way, these cases don't get taken on unless there's a very strong legal argument, so it's not very common to see them, despite the overwhelming evidence that there is a lot wrong with the system.
However, I think we are beginning to see some creative lawsuits around animal protection. For example, there have been lawsuits filed by class action law firms around the misrepresentation of the conditions of animals in marine parks: people go there under the false pretense that the animals are treated well, and when they find out that they are not, they are surprised. Similarly, there were a whole host of class action lawsuits that came out of price fixing in the agriculture industry. This is huge progress, as even five years ago, no one would have envisioned that class action lawsuits could be used in this way.
We have seen some other types of lawsuits taken on in animal protection contexts. For example, my law firm represented HSUS on a false claims lawsuit, where, after a big meat recall in California, a stockyard named Hallmark was sued for lying to the government when it claimed that the meat it was selling, which ultimately ended up in the school lunch program, was produced and sold in conformance to the law, when in fact it was not. In fact, it turned out that they had been treating animals horribly and violating lots of laws. The ruling ultimately went in favor of the animals, and there was a very large judgment – $150 million I believe – against the stockyard. They were unable to pay it, but some of the attorney costs were recovered, and it sent an important message to the industry. This was the first time that the False Claims Act had been used in an animal protection context. We are seeing more and more of these types of lawsuits every day, so I am optimistic that progress will continue to be made.