Archived Version: December, 2014
Status
Top Charity
Primary Work Area

General Animal Advocacy

Industrial Agriculture

Website
Animal Equality
Review Published
December, 2014
Type
Archived Review
Current Version
November, 2018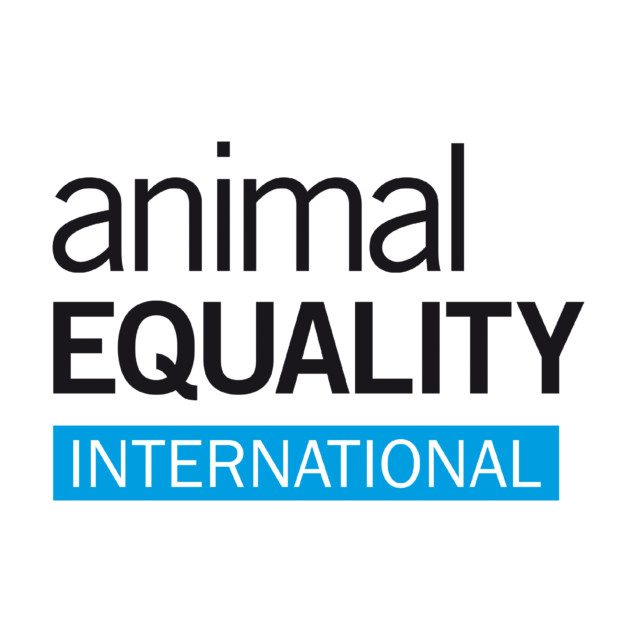 Summary
What does Animal Equality do?
Animal Equality advocates for animals by conducting undercover investigations and promoting them through media outlets. They also conduct grassroots outreach, including demonstrations, protests, leafleting, and video showings. Related to their undercover investigations, they also conduct some legal and corporate outreach efforts.
What are their strengths?
Animal Equality achieves significant successes with very small amounts of money; in particular, they have conducted undercover investigations for a fraction of the cost of other organizations. They have a robust understanding of success and failure, and are continually setting goals and performance improvement plans to increase their impact. They have a sound strategy for increasing their reach, reasonable expansion plans, and significant room for more funding.
What are their weaknesses?
Animal Equality is spread out among seven different countries. While this allows them to have a larger reach, it also means that they all have significantly fewer resources to work with in each country, and some of those countries don't have any paid employees. This leads to concerns about sustainability. They have also grown in just the past year and started formally paying staff who were previously volunteers, so they don't have a long track record of maintaining high quality efforts with larger amounts of funding.
Why do we recommend them?
Despite our concerns above, we think Animal Equality does an exceptional job given their level of resources. They are able to produce and market undercover investigation videos at a low cost relative to other organizations, and their efforts to evaluate and improve their work are strong. They exhibit high levels of transparency and work with many other groups to achieve their goals. Their leadership shows a strong understanding of strategy.
How much money could they use?
We are setting a target amount of $50,000, but think Animal Equality could use up to $200,000 in increased funding this year. This increase seems substantial, given their current budget, but Animal Equality is currently in the process of shifting from an entirely volunteer run organization to one which pays its staff. As such, we would expect some of the money to be used to hire staff in truly new positions, such as fundraisers. But other resources would go to pay staff in jobs that have previously been performed by volunteers, such as a video editor or a country coordinator position in Mexico. Paying these people would actually lessen the burden on current staff while making the organization more efficient, because volunteers are harder to manage than paid staff.
What do you get for your donation?
From an average donation of $1,000, Animal Equality would use about $380 towards investigations of the conditions of animals on farms and in other industries, paying for a tiny fraction of an investigation but reaching hundreds of thousands of people through media coverage. They would use about $200 to support grassroots outreach, funding two information stalls which would distribute about 650 pieces of literature each. They would use about $160 on social media and online outreach, and about $160 on bigger protests. Finally, they would spend about $60 on legal advocacy, mostly related to their investigations and protests, and about $40 on corporate outreach related to their investigations. Our rough estimate is that these combined activities would spare about 10,900 animals from life in industrial agriculture.
Animal Equality is currently working on professionalizing their operations. If they receive additional funding beyond what they have budgeted for this year, we think they will use it increase organizational stability by to hiring fundraisers (a new role in their organization) and paying staff to do critical work that has previously been done by volunteers.
How Animal Equality Performs on Our Criteria
Criterion #1: The Organization Has Concrete Room for More Funding and Plans for Growth
Animal Equality has room for more funding. They have primarily been staffed by volunteers, and have plans to hire additional staff to improve efficiency.1 As they have operated on a very limited budget in past years (though this increased substantially in the two last years to $300,000/year),2 they would like to hire fundraisers in Spain, Italy, England, and Germany.3 They also want to invest in a graphic designer and video editor4 and employ the currently-volunteer coordinators in Venezuela and Mexico.5
Animal Equality has been able to do an impressive amount of investigations and outreach with limited finances, and they demonstrate an ability to learn from their mistakes, which leads us to believe they have a good understanding of how to efficiently invest their finances. Their work spans many countries,6 and they currently have very limited development and fundraising staff, so we think hiring fundraisers makes sense. And as work in Venezuela and Mexico is currently led entirely by volunteers,7 it also seems sensible to hire staff in those countries to ensure that their efforts are sustainable.
Overall, Animal Equality has room for more funding and reasonable plans for expansion. They have an itemized list of ways they would spend up to about $350,000 per year over their current budget, most of which we think they are actually positioned to take on.8 In total, we think they could use a funding increase of about $200,000 this year.9 At the end of 2013, their assets were worth about 15% of their 2013 expenditures.10 This is a low assets to expenditures ratio, consistent with our impression that they are currently working towards organizational stability and constrained largely by funding issues.
Criterion #2: A Back-of-the-Envelope Calculation Finds the Organization is Cost-Effective
Animal Equality runs several programs; we estimate cost effectiveness separately for each of their main programs and then give a composite estimate of their overall impact. Note that all estimates factor in associated supporting costs including administrative and fundraising costs.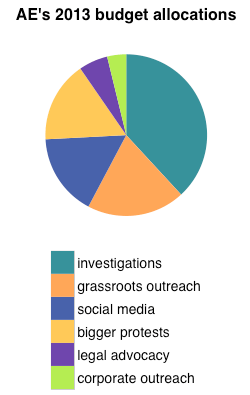 Investigations
Animal Equality spent about 38% of their 2013 budget, or $104,610, on investigations documenting the conditions in which animals live.11 In 2013 they conducted and publicized 10 investigations, which they estimate about 135,000,000 people were exposed to through media coverage.12 The videos of the investigations also got over 1,000,000 views where they were hosted online.13 On average, one view of a media story about the investigations cost less than 1 cent, or one view of a video online cost about 10 cents.14
Grassroots Outreach
Animal Equality spent about 20% of their 2013 budget, or $53,862, on grassroots outreach.15 They held 502 info stalls in 34 cities, generating 21 news stories, handing out 367,000 pieces of literature, and showing video to 25,300 people.16 They spent an average of $1,584 per city reached.17 In each city they handed out an average of 10,794 pieces of literature and an average of 744 people watched their video.18
Social Media
Animal Equality spent about 16% of their 2013 budget, or $45,020, on social media outreach.19 We think the most interesting measure of the success of this outreach is the number of shares their posts had; numbers of views can be confusing, since one follower who reads every post will count as many views. Shares are more likely to present the information to people who are not already involved in animal advocacy and present that information particularly credibly because it is being recommended by a friend.20 Their content was shared about 1,917,862 times throughout the year,21 for an average cost of about 2 cents per share.22
Bigger Protests
Animal Equality also spent about 16% of their 2013 budget, or $44,348, on large protests intended to draw media attention.23 They estimate that media coverage of their protests reached around 15 million people, while videos of the protests were viewed online by about 34,200 people.24 On average, one view of a media story about the protests cost less than 1 cent, or one view of a video online cost about $1.30.25
Legal Advocacy
Animal Equality spent about 6% of their 2013 budget, or $16,015, on legal advocacy.26 Animal Equality's legal advocacy is generally closely related to their other work; for instance they press cruelty charges as a result of some of their investigations.27 We don't think the results of their legal work can be separated from the results of their investigations and protests, so they are already accounted for above.
Corporate Outreach
Animal Equality spent about 4% of their 2013 budget, or $10,531, on corporate outreach.28 Animal Equality's corporate outreach, like their legal advocacy, is generally closely related to their other work, particularly to their investigations. They encourage companies using the animals they have documented being treated badly to change their policies; for example, following a 2014 investigation into rabbit farming, they convinced several restaurants to adopt company policies against selling rabbit meat.29 We aren't sure what, if any, changes resulted from their corporate outreach in 2013.
All Activities Combined
To combine these estimates into one overall cost-effectiveness estimate, we need to translate them into comparable units. This will introduce several sources for errors and imprecision, so the resulting estimate should not be taken literally.30 However, it will allow us to judge whether Animal Equality's efforts are comparable in efficiency to other groups'.31
Some of Animal Equality's activities involve showing video footage of animal agriculture or other situations dramatizing the treatment animals endure.32 To estimate the cost-efficiency of these activities, we use our Online Ads Impact Calculator, together with the number of views per dollar calculated above. We estimate the cost-efficiency of investigations by assuming that one view of a video online is approximately equal in impact to one view of an online ad, while media views have no direct impact, since viewers have less access to related resources and likely are paying less attention.33 Animal Equality's investigations result in about 10 online views per dollar spent, so about 13.6 animals are spared per dollar spent on investigations.34 We estimate the cost-efficiency of protests similarly, but because we think seeing a video of a protest is less likely to inspire behavior change than seeing a video of an investigation, we multiply the result by a factor of ⅓ to reflect this decrease in expected efficiency.35 Since about .8 people see the videos online for every dollar Animal Equality spends on large protests, this results in an estimate of .4 animals spared per dollar spent.36
Animal Equality's grassroots outreach involves video, for which we again treat one viewer as equivalent to one viewer of an online ad, but also the distribution of literature.37 We estimate the effects of distributing literature using our Leafleting Impact Calculator. For every dollar Animal Equality spent on grassroots outreach in 2013, we estimate that 4.5 animals were spared through literature distribution and .7 through video outreach, making a total of 5.2 animals spared per dollar.38 Finally we consider Animal Equality's social media outreach. This is harder to liken to efforts whose effects we have seen studied, but for the purpose of including it in our estimate, we'll assume that on average each share of a social media post reaches one person about as persuasively as a leaflet;39 this gives an efficiency of about 28 animals spared per dollar.40
Weighting each of these effects by the proportion of Animal Equality's budget spent on them, we find an overall effectiveness of about 10.9 animals spared per dollar.41 This is near the high end of the range of estimates for other groups we have reviewed at this depth.42 Because of extreme uncertainty even about the strongest parts of our calculations (the calculators linked above each have error bounds spanning 2-3 orders of magnitude), there is currently limited value in further elaborating this estimate. Instead, we give weight to our other criteria.
Criterion #3: The Organization is Working on Things That Seem to Have High Mission Effectiveness
Undercover Investigations
Animal Equality works to expose the suffering of animals in factory farms through undercover investigations. These investigations are then made public, and they make an effort to get as much exposure from these as possible.
We believe that there is great value in these efforts. These investigations generate a large amount of public discussion about the treatment of animals in farms.43 It has been shown that meat consumption declines when these stories are in the media,44 and social media now provides a platform for free widespread sharing of the footage.45 This means that an extremely large number of individuals are exposed to their work.46 Additionally, the evidence of abuses provides materials for leaflets and videos, which can also be promoted publicly and result in a larger exposure.47 Lastly, these efforts provide the background information on farms that is necessary for legal and corporate reform.48
Online and Grassroots Outreach
Online and grassroots outreach to individuals seems highly effective because it is focused on changing the culture of animal use for food. This culture must ultimately be changed if conditions are to improve significantly for animals, as it is not possible that animal agriculture can continue to grow at its present rate in a way that is respectful of animals' interests.49 The effectiveness of this type of outreach is somewhat limited when compared to some other forms because viewers and readers are encouraged to make small-scale individual changes and may not influence others the way a change in law or corporate policy influences many people.
Corporate Outreach
Corporate outreach seems to have high mission effectiveness because it involves convincing a few powerful people50 to make decisions which influence the lives of millions of animals. This seems likely to be easier than reaching and persuading millions of consumers in order to accomplish the same goal. However, corporate outreach often deals with small welfare improvements.51 It's not clear whether such improvements, even if very easy to achieve, are highly effective in the long term, since as well as changing conditions for animals, they may also influence public opinion, either towards concern for farmed animals or towards complacency with regard to industrial agriculture.52
Legal Outreach
While it is important to create a public demand for change by conducting undercover investigations and grassroots outreach, it is also necessary to pair those efforts with attempts to discuss reform measures with legislative bodies in order to create lasting improvements in laws regarding animals. Reaching out to local governments can therefore be a necessary step in creating new and/or improved animal welfare laws.
Protests and Demonstrations
In order to draw attention to a specific issue, activists sometimes schedule events where they gather as many supporters as possible in a given area and perform some sort of action. The action can range from a silent observance53 to loud and confrontational performance. Organizers contact media outlets or film their event to increase exposure at a later time through various means of promotion. Protests and demonstrations can have varied effects depending on how they are carried out; depending on the objective, the result can be people taking a stance on the issue, increased discussion of an issue in the public, or positive/negative feelings toward the organizing group or issue.54
Criterion #4: The Organization Possesses A Robust and Agile Understanding of Success and Failure
Animal Equality has a solid understanding of success and failure. They have an extensive set of goals that they observe and track throughout the process for each of their campaigns.55 Their organization in this area shows their commitment to finding the best possible ways to advocate for animals.
They frequently run undercover investigations, but originally did not press charges on them.56 However, once they learned of the benefits of pressing charges,57 such as prosecution of abusers and those who break the law, and the side effect of media coverage, they began doing so for investigations in which they saw that laws had been broken.
Based on the impact they've seen from their investigations, and the repercussions of some of their other outreach tactics (such as civil disobedience), they've decided to focus mainly on factory farming and investigations.58 However, they will continue some campaigns on other issues, primarily for the media attention, fundraising, and new contacts that result from their work.59
They are also actively working to evaluate the quality of their materials and programs. They are currently conducting a study on the impact of vegan guides that they have passed out in the past, and their findings from similar previous studies are influencing their decisions moving forward.60
Animal Equality has grown significantly in the past few years, but they still have a small budget relative to the quantity of their work. After failing to raise the funds they need to fully carry out all of their programs, they are now planning to hire professional fundraisers.61,62
Criterion #5: The Organization Possesses a Strong Track Record of Success
Successfully carrying out planned programs
Animal Equality has a strong track record of conducting undercover investigations. Following investigations in Italy (lamb, 2013-2014), Spain (rabbit, 2014), France (duck, 2012), and the UK (pig, 2012), they succeeded in garnering a variety of actions including signed petitions to reduce or eliminate meat consumption, widespread media coverage, sanctions against offenders, boycotts on animal products from certain producers, and prison sentences for animal cruelty.63
They have engaged in a variety of grassroots outreach events as well, including setting up more than 300 informative booths during 2013 and passing out more than 180,000 leaflets.64 They organized several protests in 2013, including a "corpse silent protest" featuring 400 activists from around the country65 and several bull-fighting protests in Spain. When promoted professionally, these events can produce large amounts of media attention and grow an organization's supporter base.
They have had a number of rescue campaigns involving animals from a variety of abuse situations, but they do not typically involve a large number of rescued animals (Some examples include rescuing six animals used in circuses in Mexico and an open rescue of 6 hens in Germany).66,67 Instead, the greatest value comes from the exposure in the media and garnering of public support,68 and Animal Equality makes sure to capitalize on the opportunity by gathering large amounts of petition signatures.69 In 2014, they reached over 1 million followers and became the most followed non-governmental organization in Spain.70
Programs leading to change for animals
In addition to considering their track record in successfully carrying out their intended actions, we consider whether these actions give them a strong record of making a positive difference for animals.
Animal Equality's efforts to help farmed animals have primarily tried to affect animals through influencing individual consumers to avoid certain products or give up meat or animal products entirely.71 They have prosecuted cruelty charges as a result of certain investigations,72 but do not have an extensive record of inspiring legal or corporate policy changes.73 This means that evidence that their programs help animals is somewhat limited, because it is difficult to track the behavior of individual consumers and to understand the motivations for any changes.
One of Animal Equality's strengths is that they are very good at getting media coverage of their activities, including both protests and undercover investigations. Media coverage of the treatment of farmed animals has been shown to decrease demand for animal products in the United States.74 If this is also true in Europe, and we would expect it to be, Animal Equality's undercover investigations, particularly of farm conditions, help animals on a large scale by reducing demand for meat and other animal products.75 Animal Equality has also gathered some other evidence of the effects of their operations; they claim responsibility, for instance, for a surprisingly large reduction in lamb consumption at Easter in Italy, after they released an investigation dealing with the treatment of lambs on farms.76 Because of surrounding circumstantial evidence,77 We think that investigation likely did have some responsibility for the large change reported, although other factors may also have contributed.
Criterion #6: The Organization Has Strong Organizational Leadership and Structure
Animal Equality has a strong leadership structure, with their three main coordinators each having over 15 years of activism experience.78 No paid staff have ever left the organization, though some volunteers have left.79 They have a network of ten coordinators spread out between seven different countries.80
Animal Equality has or is developing standard protocols for many of their project areas,81 so new staff and volunteers have guidelines to ensure consistency in their work, which is especially important given their vast network spanning many countries.
Criterion #7: The Organization is Transparent
Animal Equality openly shares the product of much of their work (such as undercover investigation videos) with a variety of organizations.82 They hold discussions with related organizations and collaborate on strategic campaigns.83 While some of these relationships are not disclosed publicly, that is due to possibly compromising the effectiveness of their campaigns, which we view as a valid concern. They also proactively share with other European and American organizations.84 Animal Equality was open in their discussions with ACE and provided all information that we requested.
---
The following materials are supplementary research documents associated with our charity review process and are referenced in the Comprehensive Review.
Research Documents