Archived Version: May, 2014
Status
Top Charity
Primary Work Area

General Animal Advocacy

Industrial Agriculture

Website
Mercy for Animals
Review Published
May, 2014
Type
Archived Review
Current Version
December, 2019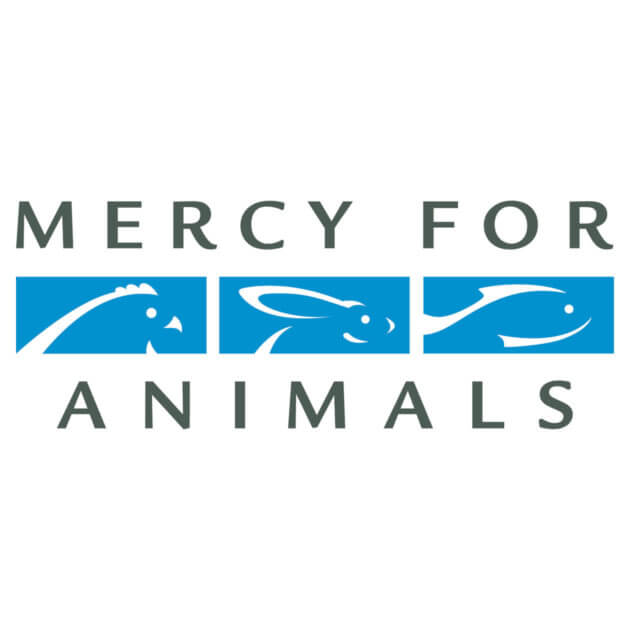 Donate
What does Mercy For Animals do?
Mercy For Animals (MFA) engages in a variety of farmed animal advocacy programs generally centered around their undercover investigations and subsequent videos of factory farms. They promote these videos primarily through media and online campaigns. They engage in legal and corporate campaigns, and conduct a variety of outreach such as leafleting and conducting pay-per-view events.
What are their strengths?
MFA's main program, undercover investigations, has an unusually high number of advantages and diverse results. While undercover investigations can be risky and logistically complicated to carry out, they often receive significant media coverage and thus can influence a very large number of people. Additionally, they offer avenues for corporate outreach and legal advocacy and provide photos and videos that can be used for other forms of outreach. MFA has a long record of successfully carrying out such investigations and following through on the additional avenues for influence they provide. They also have the ability to use additional funds to carry out more investigations.
We also believe that MFA's approach to individual/consumer level outreach has high expected effectiveness, especially considering the recent shift of their focus to online campaigns. We believe this shift was motivated by a good understanding of which areas MFA was best placed to have success in, and that MFA's team has the experience necessary to make the new focus on online outreach very productive. We also believe they have room for more funding to further expand their online outreach programs.
What are their weaknesses?
We have some uncertainty about MFA's organizational stability; as they are near the end stages of a deliberate restructuring and shift in focus, some recent turnover is understandable. However, for the same reason, we can't be sure the present model will serve the organization well in the long term. The shifts to their programs also mean that their track record with some of their educational programs is relatively short. We also found that, while they were fully cooperative with our investigation and cooperate and share information with other advocacy groups, they do not habitually share as much information publicly as we believe they could. This may be because some of their activities must remain confidential in order to be effective (e.g., undercover investigations in planning stages), and they err on the side of caution.
Why do we recommend them?
Overall, we find MFA to be an exceptionally strong organization because of their demonstrated willingness to adjust their programming to seek maximum effectiveness and because of the range of programs they have undertaken with good results. We think their undercover investigations and related corporate and legal campaigns are particularly promising approaches. We are pleased to recommend donating to them.
How much money could they use?
We are setting a target amount of $60,000, but think MFA could use up to $500,000 in increased funding this year. Of that, we'd expect about $350,000 could be used in education programs, either to double the number of online ads they will run this year or to expand other projects. The other $150,000 could be used to fund 1-5 more undercover investigations, or as needed elsewhere.
What do you get for your donation?
From an average donation of $1,000, MFA would use about $360 towards undercover investigations, funding a tiny part of an investigation but on average reaching about 4,500 viewers. They would spend about $460 on educational outreach, including both grassroots and online programs. In 2014, they expect to spend the majority of their education budget on online and media outreach; $460 spent on online ads will reach about 1,917 viewers. While these two areas account for most of MFA's program budget, they would also spend about $90 on social media outreach to their followers on various networks, $60 on corporate outreach, and $30 on legal advocacy not related directly to undercover investigations. Our rough estimate is that these combined activities would spare about 2000 animals from life in industrial agriculture.
We don't know exactly what MFA will do if they raise additional funds beyond what they've budgeted for this year, but we think additional marginal funds will be used similarly to existing funds, specifically with much of them going towards education and undercover investigations.
This review is an archived copy, originally published in May 2014. See our most recent review of Mercy For Animals.
How Mercy For Animals Performs on Our Criteria
Criterion #1: The Organization Has Concrete Room for More Funding and Plans for Growth
MFA has room for additional funding to support undercover investigations and education efforts.1 They expect their own development efforts to lead to higher levels of funding this year than in past years,2 but have room for additional funding beyond the planned increase.3 At the end of 2013, their assets were worth about 95% of their 2013 expenditures.4 This is an assets to expenditures ratio in the range we would expect from an organization that is able to spend funds as it receives them but is maintaining a responsible fiscal cushion.
Regarding undercover investigations, MFA conducted and publicized 6 investigations last year in the U.S. and Canada.5 Investigations can be helpful because they prompt change in company policies,6 but a major impact is the publicity they receive and the attention they bring to the conditions farmed animals endure.7 Each investigation is newsworthy for a limited amount of time, which MFA tries to prolong by bringing pressure to bear on related companies and encouraging prosecutors to press animal cruelty charges.8 MFA estimates that if they had the funds, they could conduct significantly more undercover investigations; at least 6 more per year, and possibly beyond that.9 We aren't sure at what point returns from investigations would start to diminish as news networks or viewers found them less interesting but expect that an increase to 12 per year would be within the range where additional investigations still have significant effects, especially because not every investigation is picked up by every network or in every area.10 Since each investigation costs a minimum of $30,000 to conduct11 (and our estimate for average cost, including administrative and legal needs, is over $100,000),12 there is substantial room for increased funding.
Regarding education, MFA has room for significantly increased funding in the budget for online ads alone.13 Their planned budget for online ads this year is $350,000, and they claim they could use about 5 times this much effectively.14 While we find this claim somewhat optimistic, we think they could probably use substantial funding, up to double what they currently have budgeted, to expand this or other education programs.
If MFA does receive more funding, we are uncertain what they will use it for; however, it seems likely they would use it for investigations or education, both of which we believe are good uses for additional funding.
Criterion #2: A Back-of-the-Envelope Calculation Finds the Organization is Cost-Effective
MFA runs several programs; we estimate cost-effectiveness separately for each program, then combine our estimates to give a composite estimate of their overall impact. Note that all estimates factor in associated supporting costs including administrative and fundraising costs.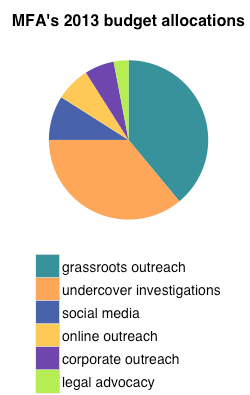 Grassroots Outreach
We estimate that MFA spent 39% of their 2013 budget, or around $895,600, on grassroots educational outreach.15 This included events in 70 cities which generated over 100 news stories, the distribution of over 500,000 pieces of literature, and 10,000 pay-per-view video views.16 This is a cost of about $12,794 per city reached, with an average of 1 news story, 143 pay-per-view viewers, and 7,143 pieces of literature (mostly leaflets and some Veg Starter Guides) per city.17
Undercover Investigations
We estimate that MFA spent 36% of their budget in 2013, or around $843,847, on undercover investigations.18 This resulted in 6 undercover investigations in the U.S. and Canada.19 Footage of these investigations got over 1,000,000 views on Youtube and over 10,000,000 views through media (e.g., news) coverage.20 This works out to an average cost of $140,641 per investigation, but just 8 cents per view, counting both Youtube and media views.21 MFA estimates the marginal cost of additional investigations at around $30,000, since many legal and administrative costs do not scale directly as more investigations are performed.22
Social Media
We estimate that MFA spent about 9% of their 2013 budget, or $197,775, on social media outreach, including their blog, Facebook page, etc.23 We think the most interesting measure of the success of this outreach is the number of shares their posts had; numbers of views can be confusing, since one follower who reads every post will count as many views. Shares are more likely to present the information to people who are not already involved in animal advocacy and present that information particularly credibly because it is being recommended by a friend.24 In 2013, MFA's social media posts received over 100,000 shares, so one share cost on average $1.98.25
Online Outreach
We estimate that MFA spent about 7% of their 2013 budget, or $164,384, on online materials and public outreach, including online ads.26 This resulted in 2,000,000 views of their pro-veg online video site and 1,000,000 views of their site on how to reduce animal product consumption.27 These two measures are not independent; one of the desired outcomes for viewers of the video is that they will visit the site about reducing animal product consumption.28 Therefore, our cost effectiveness estimate will assume all viewers of the instructional site navigated there from the video, although this is an oversimplification. Then each view of the video cost about 8 cents.29
Corporate Outreach
We estimate that MFA spent about 6% of their 2013 budget, or $145,488, on corporate outreach.30 This outreach has two outcomes, again causally related. First, some of the outreach is in the form of distributing online petitions calling for companies to adopt more humane practices; people who sign these may have learned something about industrial farming.31 Second, companies actually adopt new policies, and these policies result in reduced suffering for animals.32 In 2013, MFA got about 600,000 signatures on its petitions,33 which is a cost of about 24 cents per signature.34 It's harder to estimate the number of animals affected, both because it would require a lot of detail about corporate operations and because MFA has worked on campaigns cooperatively with other groups.35 Using the lower estimates provided by MFA, about 1,500,000 pigs per year will be spared particularly egregious suffering due to MFA's 2013 campaigns.36 This is a cost to MFA of about 10 cents per 1 pig in each year that the reforms endure and would not otherwise have occurred.37 However, we have not accounted for the work of other organizations on the same campaigns.
Legal Advocacy
Finally, we estimate that MFA spent about 3% of their 2013 budget, or $75,472, on legal advocacy not directly related to investigations.38 The main outcome of this work was that MFA helped to defeat 11 ag-gag bills in 2013.39 Again, this work was done cooperatively with other organizations, so the costs to MFA alone do not cover the full costs of this work.40
All Activities Combined
To combine these estimates into one overall cost-effectiveness estimate, we need to translate them into comparable units. This will introduce several sources for errors and imprecision, so the resulting estimate should not be taken literally.41 However, it will allow us to judge whether MFA's efforts are comparable in efficiency to other groups'.42
Many of MFA's activities involve showing video footage of industrial agriculture; we use our Online Ad Impact Calculator to estimate the cost-efficiency of these activities, together with the number of views per dollar calculated above.43 For the efficiency of undercover investigations, we assume that one view on Youtube is equivalent to a click on an online ad in ultimate effect, while media views have no direct impact, since viewers have less access to related resources and likely are paying less attention.44 Undercover investigations result in about 1.2 Youtube views per dollar spent, which means about 1.7 animals are spared from life in industrial agriculture per dollar.45 We also consider views of the pro-veg online video site as equivalent to ad clicks; indeed many of these resulted from ad clicks.46 This gives the online outreach a cost efficiency of about 17 animals spared per dollar spent.47 The grassroots outreach efforts are measurable both through pay-per-view views and through leaflets and other literature distributed. From pay-per-view views, assuming each view is equivalent to an online ad click, we get an efficacy of .02 animals spared per dollar.48 From literature distribution we get an efficacy of .4 animals spared per dollar using our Leafleting Impact Calculator.49 Therefore the total efficacy is around .4 animals spared per dollar, taking into account both effects.50
Other effects are more difficult to convert to comparable units. For the purpose of including it in our estimate, we'll assume that on average each share of a social media post reaches one person about as persuasively as a leaflet;51 this gives the social media outreach a cost-effectiveness of .3 animals spared per dollar.52 We won't try to convert either corporate outreach or legal advocacy results into these units; the animals affected by corporate outreach are spared only a fraction of the suffering associated with life in industrial agriculture,53 and both types of campaigns were conducted in concert with other groups so it is difficult to disentangle MFA's effects from the total effects.54 Discounting these more complicated effects and weighting the other effects by the proportion of the budget devoted to them, we get a total cost-effectiveness of about 2 animals spared per dollar,55 in the same range with other groups we've reviewed at this depth.56
Changes for 2014
We note that MFA plans in 2014 to devote more resources to online advocacy, in particular to online advocacy outside the U.S., and fewer resources to grassroots events.57 It is clear that this will improve their cost-effectiveness by our current method of calculation, though we also note that we aren't extremely confident in any cost-effectiveness calculations that involve so many effects which are very difficult to measure, which is why we consider other criteria in determining which organizations to recommend.58
Criterion #3: The Organization is Working on Things That Seem to Have High Mission Effectiveness
MFA's programs overall appear to be highly effective because they focus on farmed animal advocacy, which we believe to be an exceptionally good opportunity to help animals given the present circumstances.59
Legal Advocacy
MFA's legal advocacy efforts, particularly those involved with defeating ag-gag bills, seem to have very high mission effectiveness. If ag-gag bills were to pass in many states, animal advocates would have a much harder time making the public aware of what happens in industrial agriculture.60 By preventing the passage of such bills, MFA helps to empower many current and future activists and influencers.61
Undercover Investigations
MFA works to expose the suffering of animals in factory farms through undercover investigations.62 These investigations are then made public, and they make an effort to get as much exposure from these as possible.63 Their work also sometimes results in criminal charges against workers who abuse animals.64
We believe that there is great value in these efforts. These investigations generate a large amount of public discussion about the treatment of animals in farms.65 It has been shown that meat consumption declines when these stories are in the media,66 and social media now provides a platform for free widespread sharing of the footage. This means that an extremely large number of individuals are exposed to their work.67 Additionally, the evidence of abuses provides materials for leaflets and videos, which can also be promoted publicly and result in a larger exposure.68 Lastly, these efforts provide the background information on farms that is necessary for legal and corporate reform.69
Online and Grassroots Outreach
Online and grassroots outreach to individuals seems highly effective because it is focused on changing the culture of animal use for food. This culture must ultimately be changed if conditions are to improve significantly for animals, as it is not possible that animal agriculture can continue to grow at its present rate in a way that is respectful of animals' interests.70 The effectiveness of this type of outreach is somewhat limited when compared to some other forms because viewers and readers are encouraged to make small-scale individual changes and may not influence others, the way a change in law or corporate policy influences many people.71
Corporate Outreach
Corporate outreach seems to have high mission effectiveness because it involves convincing a few powerful people72 to make decisions which influence the lives of millions of animals.73 This seems likely to be easier than reaching and persuading millions of consumers in order to accomplish the same goal. However, corporate outreach often deals with small welfare improvements.74 It's not clear whether such improvements, even if very easy to achieve, are highly effective in the long term, since as well as changing conditions for animals, they may also influence public opinion, either towards concern for farmed animals or towards complacency with regard to industrial agriculture.75
Criterion #4: The Organization Possesses A Robust and Agile Understanding of Success and Failure
MFA appears to have a strong understanding of success and failure and to be willing to significantly modify their programs in order to increase efficiency by allocating more resources to more successful programs.76 The largest example of this is their shift, starting in late 2012, away from a local model of organizing and towards a more online-based model,77 where they found they could be more effective.78 They significantly restructured their organization and have been gradually moving resources away from grassroots organizing and local projects (e.g., tabling at festivals, advertising on billboards) and towards online outreach and more effective local projects (e.g., leafleting).79
MFA also takes care to use testing to guide smaller design decisions as appropriate.80 For instance, many of their online materials undergo split-testing to ensure that they are as effective as possible.81
We find the shift towards online materials extremely persuasive in demonstrating that MFA is willing to make significant changes if they find an opportunity to become more effective by doing so. We do have some uncertainty about the criteria they use to determine when such an opportunity has been found, in part because the staff member we have primarily communicated with joined the organization after the current transition towards a more online-based model had already begun.82 However, what we know of how MFA makes decisions suggests they consider reasonable sources of evidence (for instance, pilot testing materials for revisions of their Veg Starter Guide through Faunalytics)83 and take multiple people's viewpoints into consideration for large decisions,84 which tends to help prevent important factors from being overlooked.
Criterion #5: The Organization Possesses a Strong Track Record of Success
Successfully carrying out planned programs
MFA has been conducting undercover investigations for over 10 years,85 and investigations have had positive results including significant publicity,86 changes in corporate policies,87,88 and animal cruelty convictions.89,90 This is a long and strong track record of success in their primary program, carrying out and publicizing undercover investigations.
As discussed above, MFA's other activities have changed over time and are still undergoing significant changes as online outreach activities are receiving more focus and are being expanded to cover other countries (China, India, and Mexico).91 Accordingly, their organizational record is less strong in some of these areas.92 However, the current Director of Education, Nick Cooney, is responsible for many of these newer programs, and he personally has significant experience in these areas.93
Programs leading to change for animals
Besides their track record in successfully carrying out their intended actions, we consider whether these actions give them a strong record of making a positive difference for animals. The undercover investigations do have a history of inspiring stronger state animal protection legislation94 and better corporate policies,95 both of which relieve some suffering for farmed animals.96 They have also been found to temporarily reduce overall demand for meat,97 which means they have probably reduced the overall number of animals raised on farms. Some advocates worry that promoting stronger animal welfare policies will make consumers more comfortable with industrial agriculture, but this research suggests that MFA's use of undercover investigations to encourage stronger welfare policies may not have that effect.98 Given the general difficulties of establishing how animal advocacy affects animals in both the short and long term, this is an extremely strong record.99
Individual outreach activities, both locally and online, have less strongly documented effects on animals. However, there is some evidence that providing individuals with information about industrial agriculture and about going vegetarian or vegan does cause some changes in diet, whether the information is presented in a video or a leaflet.100 These activities also have less potential to make the contacted individuals comfortable with higher-welfare products, because advocates control the entire message, instead of relying on the media to convey it.101
We do not consider MFA's direct corporate outreach or its legal advocacy not directly related to undercover investigations to have very strong track records. This is because the successful large-scale campaigns we know about have mainly been in concert with other organizations we expect to have significantly more sway, in particular the Humane Society of the United States.102
Overall, we believe MFA's track record of success to be exceptionally strong, based on their record with undercover investigations and on the personal record of their Director of Education.
Criterion #6: The Organization Has Strong Organizational Leadership and Structure
MFA has several Directors who have been with the organization for multiple years, including the President, who is also the organization's founder.103,104 MFA has 13 employees, of which 7 are in key leadership positions, and 6 independent contractors.105 Directors have frequent contact with one another, so that the organization is able to act as a whole.106 The organization has been recently restructured,107 so it is difficult to judge the stability of the current structure. However, the fact that many leaders have remained with the organization through that transition is encouraging.108
Criterion #7: The Organization is Transparent
MFA has cooperated fully with our evaluation process. They cooperate often with other advocacy organizations,109 and they have expressed a willingness to publish additional information from the studies they've done in developing new materials so that other advocates can learn from them.110
Beyond the information non-profits are generally required to share,111 MFA does not provide an exceptional amount of organizational information to the general public. (For instance, our cost effectiveness estimates would have looked very different working from publicly available information about MFA's program spending, simply because there is not very much of it).112 We believe this is in part due to concerns about confidentiality for ongoing investigations and corporate outreach projects, as MFA works in some sensitive areas.113
---
The following materials are supplementary research documents associated with our charity review process and are referenced in the Comprehensive Review.
Research Documents