Status
Standout Charity
Type of Work

Industrial Agriculture

Website
VEBU
Review Published
November, 2016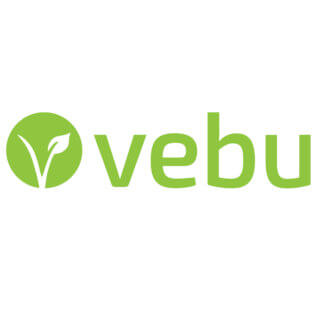 What does VEBU do?
VEBU was founded in 1892 to promote veganism and vegetarianism in Germany. They are in the process of expanding internationally under the name ProVeg. In addition to conducting grassroots outreach to persuade individuals to change their diets, VEBU works with people and organizations that are able to implement more impactful changes. For instance, they have worked with leaders in the meat industry to create and market vegetarian products; they've trained caterers and other food industry professionals; and they co-host a biannual conference along with medical professionals on vegan health and nutrition. VEBU is planning to expand some of their most successful programs to the United Kingdom, France, Spain, and Poland.
What are their strengths?
VEBU is focused on effectiveness; they seek to maximize their impact by influencing other influencers. They continually evaluate their work, conducting surveys to investigate the effectiveness of their interventions and the quality of their materials. VEBU appears to be a well-respected organization that is able to work with many different partners. They are a member of the German Climate Alliance; their CEO recently spoke at the German Meat Congress; they were invited to speak at the European Parliament about the benefits of a vegan diet; and their administration of the V-Label makes them well-positioned to establish relationships with food manufacturers.
What are their weaknesses?
It is difficult to measure the impact that VEBU's work has had for animals. We believe that influencing influencers is likely a high-impact strategy, but we are uncertain of the actual change that has resulted from VEBU's recent work. It is always difficult to evaluate the impact of grassroots outreach, and we suspect that the short-term impact of VEBU's corporate achievements has been variable in magnitude. Meanwhile, because VEBU has been working primarily in Germany, the impact of their work thus far may have been limited by the relatively small size of the country.
Why didn't VEBU receive our top recommendation?
Thus far, we think that VEBU's reach has been relatively limited. Implementing a corporate policy in Germany would have about ¼ the impact of implementing a similar policy with a company with the same market share in the U.S., but we doubt it takes only ¼ the effort. We are encouraged that VEBU is expanding to other countries, but we note that such rapid international expansion can bring challenges. Groups that are spread out across several countries may find that communication and project management become more difficult and that they have significantly fewer resources to work with in each country. VEBU does not yet have a strong track record of success as an international organization, but we have confidence in their leadership and we look forward to following their progress.
How VEBU Performs on Our Criteria
Criterion #1: The Charity Has Concrete Room for More Funding and Plans for Growth
VEBU has expanded substantially within Germany in the past several years. Both their budget and the size of their staff have grown fairly steadily since 2011. From 2014 to 2015 and 2015 to 2016, they had budget increases of around $400,000 each year. Since we haven't reviewed them before, we have some limitations in understanding which programs have been expanded, but we think that VEBU has largely been able to use funds to grow programs that perform well, rather than expanding into areas they expect to be less useful. For example, they have significantly increased the number of VeggieWorld fairs they hold in different cities, and they expect to continue expanding that program in coming years.
VEBU is now looking to expand internationally by changing their brand to ProVeg, a more understandable name across languages, and extending what they see as their highest-impact programs to the United Kingdom, France, Spain, and Poland. They're currently working on preparing a body of content in all the languages they will need for this expansion, and in 2017 intend to start building a presence in each of these countries through social media, media, VeggieWorld fairs, and possibly corporate outreach and additional community building.
We think that expanding to four new countries simultaneously is an ambitious goal for an organization which has previously been primarily active in one country, albeit with some international work in labeling, institutional outreach, and event planning. VEBU has some advantages in this work, such as their cooperation with the Center for Effective Vegan Advocacy, which has some additional international contacts, and their choice to expand programs they've already optimized for Germany, and in some cases have tried in other countries. We think that they can likely handle the basic expansion that they have planned. However, we think that some of VEBU's plans for what they could accomplish with a much larger increase in funding than they've had in past years, such as expanding to even more countries or building staff in new countries very quickly, may be overly optimistic. If they do expand to more countries, they plan to do so by merging with existing organizations in those countries, which seems strategically wise.
We think that VEBU could use an increase in funding of at least $500,000 to $1 million in the next year, primarily to fund their planned international expansion. Since we can't predict exactly how any organization will respond upon receiving more funds than they have planned for, this estimate is speculative, not definitive. We could imagine a group running out of room for funding more quickly than we expect, or coming up with good ways to use funding beyond what we have suggested. Our estimates are indicators of the point at which we would want to check in with a group to ensure that they have used the funds they've received and are still able to absorb additional funding.
Criterion #2: A Back-of-the-Envelope Calculation Finds the Charity is Cost-Effective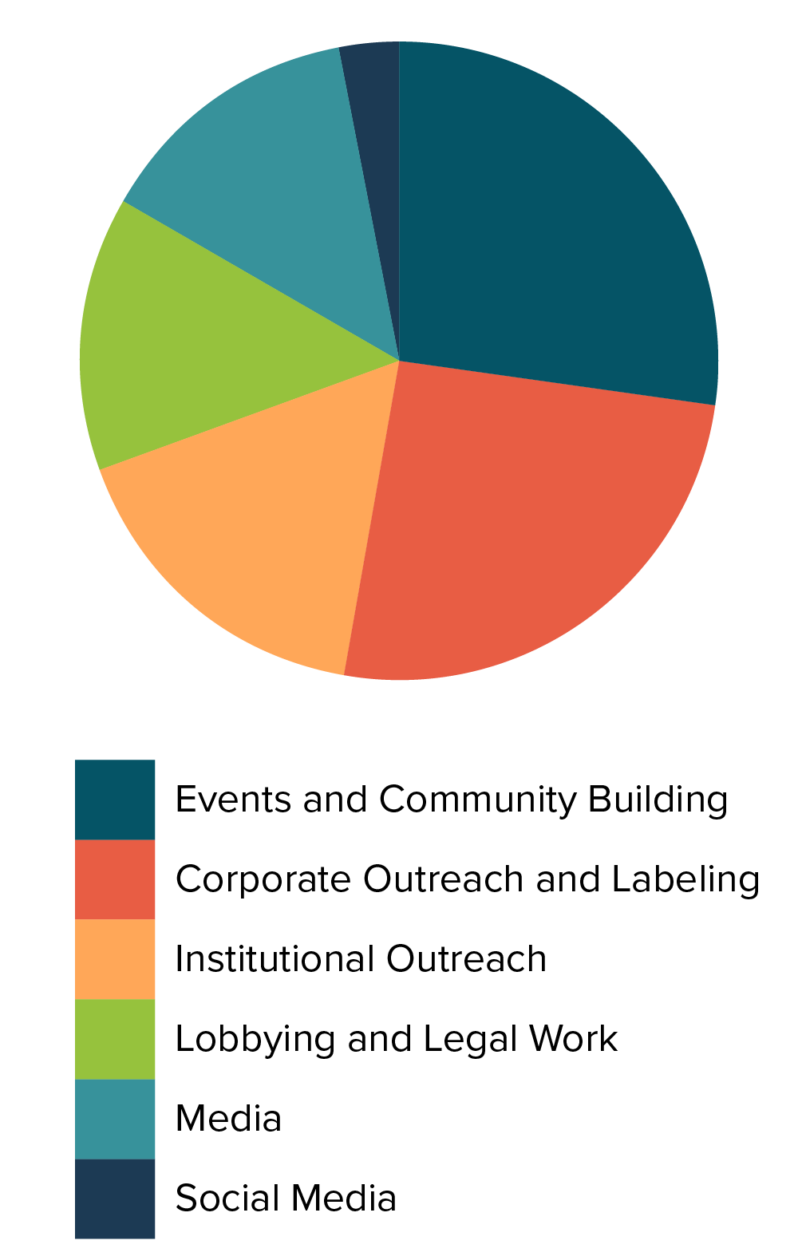 VEBU runs several programs; we estimate cost-effectiveness separately for each program, then combine our estimates to give a composite estimate of their overall impact. Note that all estimates factor in associated supporting costs including administrative and fundraising costs. Where we give estimates as ranges, they represent our 90% subjective confidence intervals; that is, we expect the true value to be within the range given in 90% of cases.1 We think this quantitative perspective is a useful component of our overall evaluation, but the estimates of equivalent animals spared per dollar should not be taken as our overall opinion of the charity's effectiveness, especially given that we choose not to account for some less easily quantified forms of impact in this section, leaving them for our qualitative evaluation.
Events and Community Building
We estimate that in 2015 VEBU spent 28% of their budget, or around $463,000, on events and community building. This includes their support of local community groups in projects like leafleting and film screenings, publications that help make veganism and vegetarianism build a mainstream presence in Germany, their participation in Veganes Sommerfest Berlin, and organizing four VeggieWorld fairs.
Corporate Outreach and Labeling
We estimate that in 2015 VEBU spent 26% of their budget, or around $429,000, on corporate outreach and labeling of vegan and vegetarian projects. This includes supporting and advising companies in adding vegan and vegetarian options or reformulating existing products to be vegetarian, benchmarking programs to encourage progress within an industry, and the V-Label program, which is a self-supporting project licensing companies to use a standard label to indicate when a product is vegan or vegetarian.
Institutional Outreach
We estimate that in 2015 VEBU spent 17% of their budget, or around $289,000, on institutional outreach to encourage meat reduction and to help the medical community better support vegans and vegetarians. The meat reduction outreach includes trainings for chefs and caterers, and in 2016 expanded to include programs directly targeting school kitchens. The outreach to the medical community includes the VegMed medical congress as well as work with the insurance industry in Germany to improve access to information about plant-based diets as preventive medical care.
Lobbying and Legal Work
We estimate in 2015 that VEBU spent 14% of their budget, or around $231,000, on lobbying and legal work. This includes a wide variety of efforts, such as lobbying for animal agriculture reduction as part of plans to combat climate change, lobbying for legally binding definitions of the terms vegan and vegetarian, lobbying to ensure plant-based products can be sold using terms that traditionally refer to meat (e.g. sausage), and holding an international law symposium on vegan rights, such as the right to be provided plant-based meals by food services associated with public institutions.
Media
We estimate that in 2015 VEBU spent 14% of their budget, or around $222,000, on media engagement. This includes issuing press releases and positioning themselves as an authority on veganism and vegetarianism in traditional media in Germany. In 2015, we estimate that content related to VEBU got between 10 million and 200 million views through the media.
Social Media
We estimate that in 2015 VEBU spent 3% of their budget, or around $45,000, on social media, including their newsletter and Facebook page. We estimate that this year the videos they share on Facebook will get between 600,000 and 750,000 unique views to 95% of the video length. This gives us a cost of between $0.06 and $0.08 per video view to 95%. However, we note that people also engage with VEBU's posts in other ways, so the cost per engagement is lower. Throughout 2015, VEBU had between 80,000 and 100,000 active subscribers to their newsletter. This metric doesn't directly figure into our cost-effectiveness calculations because the subscribers are already accounted for in the figures of people reached by VEBU's outreach.
All Activities Combined
To combine these estimates into one overall cost-effectiveness estimate, we need to translate them into comparable units. This will introduce several sources for errors and imprecision, so the resulting estimate should not be taken literally. However, it will provide information about whether VEBU's efforts are comparable in efficiency to other charities'.
We use our impact calculator for leafleting and online ads to find that VEBU spares between 0.2 and 2 animals from life on a farm per dollar spent on events and community building.2 We exclude many impacts of VEBU's events, most notably VeggieWorld fairs, because we lack information about their short-term effects. We use a separate impact calculator for social media to find that VEBU spares between 0.3 and 5 animals per dollar spent on social media and media programs.3
We use VEBU's estimate of the number of meals affected yearly by caterer training, together with our estimate for the number of animals spared by one person avoiding meat for a year, to estimate that VEBU spares between 0.04 and 2 animals per dollar spent on institutional outreach. This excludes the results of VEBU's outreach to teaching facilities for chefs and to the medical community, which we expect to be mostly longer-term. Similarly, we use our own estimates for the number of meals affected yearly by corporate policies influence by VEBU and our estimate for the number of animals spared by one person avoiding meat for a year, to estimate that VEBU spares between 0.01 and 2 animals per dollar spent on corporate outreach and labeling.
We exclude results of lobbying and legal work from our final cost-effectiveness estimates and don't attempt to convert them into an equivalent animals spared figure; it is too difficult to disentangle VEBU's effects from those of other advocacy groups. For VEBU's work in this area, it is also very difficult to to confidently estimate any short-term impacts on animal suffering. We also exclude the results of VEBU's media work from our final cost-effectiveness estimates and don't attempt to convert them into an equivalent animals spared figure. VEBU tells us that their media work is intended to help normalize vegetarianism and veganism; while we understand how it would have these effects in the long-term, we don't have a good framework for understanding how much short-term change their style of media work would create.
We weight our estimates by the proportion of funding VEBU spends on each activity to estimate that in the short-term, VEBU spares between 0.2 and 1 animals per dollar spent. We have also run parallel calculations to estimate that this means VEBU spares animals between 0.07 and 0.3 years of suffering on farms per dollar spent.4 Because of extreme uncertainty even about the strongest parts of our calculations, there is currently limited value in further elaborating these estimates. Instead, we give weight to our other criteria. We also exclude more indirect or long-term impacts from this estimate, which could result in it being an underestimate of overall impact. Because charities have varying proportions of different types of impact, this makes our quantitative estimates particularly difficult to use to compare charities. In particular, we think that VEBU's relatively large focus on "influencing the influencers" through programs like outreach to the meat industry and to the medical community means that our choice to exclude long-term impact might lead us to underestimate VEBU's cost-effectiveness more than it leads us to underestimate the cost-effectiveness of other groups.
Criterion #3: The Charity is Working on Things That Seem to Have High Mission Effectiveness
Online and Grassroots Outreach
VEBU conducts online and grassroots outreach in order to change individuals' attitudes towards farmed animals. Inspiring individual consumers to make animal-friendly changes affects animals by reducing the demand for animal products. Increasing the number of vegans and vegetarians could also lead to greater support for new animal-friendly policies, such as the institutional adoption of plant-based products. We think that outreach targeted to individual consumers might even be a necessary precursor to more institutional change.
Still, the impact of grassroots outreach seems limited relative to the impact of other interventions. Even if viewers and readers make individual changes, they might not influence many others to do the same. By comparison, a change in corporate policy or the law can influence many people's behavior and might have a greater indirect impact on social norms and the growth of the animal protection movement.
Corporate Outreach
Corporate outreach seems to have high mission effectiveness because it involves convincing a few powerful people to make decisions that influence the lives of millions of animals. This seems likely to be easier than reaching and persuading millions of consumers in order to accomplish the same goal. Whereas many animal charities conduct corporate outreach to achieve small welfare improvements for animals, VEBU focuses on convincing companies to replace animal products with plant-based products. We expect the impact of such work to be variable in magnitude.
Lobbying and Legal Work
While it is important to create a public demand for change by targeting outreach towards consumers, the best way to ensure lasting change may be to enshrine legal protections for animals in the law. VEBU lobbies for the liberal regulation of plant-based foods and for the promotion of other vegan and vegetarian interests, such as the right to vegan meals in public institutions.
Training Food Service Professionals
VEBU trains chefs to prepare vegan food, which may create change by encouraging the chefs to serve less meat, but we have little information about the magnitude of the change. To our knowledge, there is little evidence available about precisely how much chefs change their practices as a result of the trainings or the length of time for which they maintain those changes.
Vegan Food Labeling
VEBU administers the V-Label, a certification of vegetarian and vegan products in Europe. Food labeling does not seem to be an especially high-impact intervention, but there are at least three small ways in which it might benefit animals. First, it might promote animal-friendly diets by reminding consumers that vegetarian and vegan products are available. Second, it might improve vegetarian retention by making it easier for current vegetarians to identify vegetarian products. Third, it might encourage food companies to work with VEBU and remove unnecessary animal products from their merchandise in order to earn the certification. It's possible that food labeling could also have a small negative effect, perhaps by deterring omnivores from buying vegetarian or vegan products. We expect the effects of the V-Label to be small, but net-positive.5
Criterion #4: The Charity Possesses a Robust and Agile Understanding of Success and Failure
VEBU seems to possess a strong understanding of success and failure.
In order to maximize their impact, VEBU works to "influence the influencers." In addition to conducting grassroots outreach aimed at convincing individuals to change their diets, they work with people and organizations that are able to implement more impactful changes. For instance, they have worked with leaders in the meat industry, catering industry, and medical establishment.6
VEBU regularly conducts research on the effectiveness of (a) their approaches, and (b) the implementation of their approaches. They've conducted more than ten surveys in the past year, including a survey to gauge participants' attitudes towards the VegMed conference and a survey to evaluate their online "vegan kickstart" program.7 We are not equipped to evaluate the quality of VEBU's surveys because most of them are not available in English.8
VEBU sometimes changes direction based on new evidence about their audience. For instance, they held a small focus group to evaluate their Vegan Times newsletter. They concluded that arguments in favor of veganism are relatively unpersuasive; now, they focus on explaining how to go vegan.9 Similarly, when they learned that many Germans avoid vegetarian or vegan diets due to health concerns, they organized a biannual conference on vegetarian nutrition and medicine in collaboration with a large teaching hospital called Charité.10
VEBU has a history of discontinuing programs that seem ineffective and redirecting their resources elsewhere. For example, their "Thursday is Veggie Day" campaign saw success for a few years, but became the subject of media backlash after Germany's Green Party publicly endorsed it in 2012. VEBU has since replaced it with a "Plant Power" campaign. In 2010, VEBU developed a website for kids and teenagers, but they closed it to focus on other projects when it didn't meet their outreach goals. Similarly, VEBU has cut many of their offline outreach projects, like leaflets and restaurant guides, when they've found more cost-effective alternatives.11
In order to raise public awareness of animal welfare, VEBU conducts media outreach. They write 80-100 press releases each year and have become a contact for many media organizations who need information about animal welfare. One way that VEBU tracks their success in this area is by tallying the number of times they are mentioned in German print media each quarter. The number of mentions has quadrupled over the past five years.12
VEBU seems willing to try new and innovative programs, especially if they are revenue-generating and at least partially self-funding. For example, they worked with a company called Sante to develop a Vitamin B12-fortified toothpaste for vegans.13
In order to improve the efficiency of the animal protection movement in Germany, VEBU has worked to fill "important niches."14 For example, they promote the health benefits of plant-based diets; they promote the development of plant-based products; they train food service professionals; and they conduct grassroots outreach.15
Criterion #5: The Charity Possesses a Strong Track Record of Success
Have programs been well executed?
VEBU has a strong record of achievements in Germany, the country in which they were founded.
They are a member of the Climate Alliance Germany, a coalition of more than 110 organizations that makes recommendations to the German Government for climate action. Recently, VEBU drafted the section on nutrition for the alliance's Climate Action Plan 2050. They recommended that Germany's animal agriculture industry should be reduced by 50% by 2050. The rest of the alliance supported VEBU's suggestion and it is now their official recommendation to the German government.16 VEBU was also invited to speak at the European Parliament about the connection between animal agriculture and climate change,17 and they have been involved in planning the German government's implementation of the Paris Agreement.18
VEBU has seen some success in their work to obtain animal-friendly commitments from corporations and to reduce the amount of meat served in hospitals, schools, and other institutions. They've worked with supermarkets other food retailers to improve the availability of vegetarian and vegan products and they've worked with food manufactures to remove animal products from their merchandise and to clearly label their vegan products.
VEBU works with vegan startups and meat companies to help them develop plant-based products. CEO Sebastian Joy was recently invited to speak at the German Meat Congress, where he presented an argument that producing plant-based products is in the best interest of meat companies. VEBU worked with Rügenwalder, a German meat company, to develop a line of plant-based meats. Rügenwalder has now invested 44 million euros in the marketing of their new meat-free products.19
VEBU has successfully organized a number of vegan fairs and events in Europe. In addition to VegMed, they organize a series of VeggieWorld fairs. In 2016, they held five VeggieWorld fairs in different German cities and expanded to Switzerland, the Netherlands, and France. They also collaborated with the Albert Schweitzer Foundation and Berlin Vegan to organize Veganes Sommerfest Berlin, the largest vegan summer festival in Europe.
VEBU is planning to expand internationally under the name "ProVeg." While we feel that VEBU has a strong track record in Germany, it is important to consider that they have very limited records of success in the countries they are expanding to. We understand that VeggieWorld Paris was a success,20 but overall they have very little experience working in France, Spain, Poland, or the U.K. We are encouraged that VEBU strategically chose to expand to countries that are "geographically and culturally close to Germany,"21 and that they are hiring residents of each country who, having worked for pro-veg organizations previously, have local knowledge and connections.
Have programs led to change for animals?
It is difficult to measure the impact that VEBU's institutional outreach has had for animals. We believe that influencing influencers is likely a high-impact strategy, but we are uncertain of the actual change that has resulted from VEBU's recent work to influence the German government and the meat industry.
We suspect that the short-term impact of VEBU's corporate achievements has been variable in magnitude. Working with institutions to replace meat-containing meals with meat-free meals can help reduce the demand for animal products and, thus, the number of animals used and killed for food. However, much of VEBU's corporate work involves working with companies to label and market their existing animal-free products. This work might benefit animals in the long run (e.g. by normalizing veganism or making it easier to adhere to a vegan diet), but it does not seem likely to significantly benefit animals in the short term.
It is always difficult to evaluate the impact of grassroots outreach, like VEBU's VeggieWorld fairs and online campaigns. Individual behavioral changes are very difficult to measure and track. The available evidence is enough to be suggestive that VEBU has had a positive effect, but it is not enough to determine the magnitude of that effect with confidence.22
Criterion #6: The Charity Has Strong Leadership and Long-Term Strategy
Leadership
VEBU is led by Sebastian Joy, who has served as CEO since 2008. There are also three department heads and a part-time, unpaid president who help with decision-making. Our impression is that Joy is a capable leader and public figure, although it is more difficult for us to evaluate his public presence because much of the coverage is in German. Joy holds a master's degree in nonprofit management and lectures on business planning and management in nonprofit-organizations, indicating expertise in his work and a broader understanding of nonprofit management beyond the animal movement.
VEBU has a board of directors with eight members, elected every two years. The board includes a diverse set of experiences and skillsets, including those of Joy, the CEO. While it is common and reasonable to have the CEO of an organization also on the board, it can be concerning because we want to ensure the organization is flexible and incorporates diverse perspectives. Because we consider Joy to be particularly open-minded and self-critical, this is less of a concern.
Long-Term Strategy
VEBU is working to promote veganism and reduce the consumption of animal products. We support this approach because we consider farmed animal protection to be the most promising area for doing the most good for animals. At ACE, we prioritize the welfare of sentient beings over the value of insentient entities like the environment, and we think the suffering of farmed animals represents a strong moral priority, even though human health is also important. VEBU gives significant weight to each of these areas: animal suffering, human health, and environmental concerns, as well as sustainability—the ability to feed a growing human population. However, because VEBU is only focused on promoting plant-based eating, and not on reducing consumption of specific animal products, this is less likely to cause differences in strategy. For example, we would be concerned if VEBU focused on reducing consumption of beef specifically, because even though this might have the most impact on reducing greenhouse gas emissions, chicken and fish consumption are probably more important from an animal advocacy perspective.
VEBU has numerous strategic documents and presentations, both for VEBU in Germany and for their expansion with ProVeg. We think this emphasis on strategy is evidence of effectiveness, although we might be concerned by a potential excess of strategizing, which could be facing diminishing marginal returns.
VEBU currently serves as the main promoter of veganism and plant-based eating in Germany,23 and they are currently working to extend their reach to many other countries. Inspiring individual consumers to make changes has a direct impact on animals by reducing production, but can also help grow the movement to create further change. In particular, having a large number of vegans and vegetarians could mean more support for new animal-friendly policies, such as the institutional adoption of plant-based products. Because VEBU takes both an individual and institutional approach, they likely can be particularly effective at using consumer demand to drive institutional policy change with less of a need for other charities to do so.
Criterion #7: The Charity Has a Healthy Culture and Sustainable Structure
VEBU receives a substantial amount of its income from program revenue (33%), such as their V-Label program, and public grants (9%) with 58% coming from donations and membership fees. Since donations are less reliable, these other sources of income indicate greater financial stability than most charities we have reviewed. We consider each of these income sources to be more reliable than one-off donations. VEBU has maintained a consistent and growing income over the past several years without any fluctuations that might indicate financial instability.
VEBU has existed since 1892 and has not drifted far from their original values and strategies. Their current president has been in his position since 1996, and VEBU has several decades of organizational stability. They have strong internal documentation, including detailed written procedures for hiring and onboarding new staff.
For transparency, VEBU sends out a quarterly magazine to its supporters with details of their achievements and strategy. VEBU cooperated fully with our questions during the evaluation process.
VEBU frequently works with other charities such as Beyond Carnism, the Albert Schweitzer Foundation, Greenpeace, Foodwatch (a consumer protection organization in Germany), and Deutsches Tierschutzbüro. They meet informally with Animal Equality Germany and are in contact with Nick Cooney of Mercy For Animals, Bruce Friedrich from The Good Food Institute, and many other leaders of the international animal advocacy movement. For example, VEBU, the Albert Schweitzer Foundation, and Berlin Vegan organize the largest vegan summer festival in Europe: Veganes Sommerfest Berlin. In August 2016, there were approximately 60,000 participants. VEBU also engages with the effective altruism community. For example, they lend office space to the local Berlin group and regularly attend EA conferences.
Criticism/FAQ
Why does a significant portion of VEBU's outreach focus on dietary change, e.g. reducing meat consumption, rather than directly shifting public attitudes?
Critics argue that a strong focus on dietary change isn't supported by historical examples or other empirical evidence.24, 25, 26 Some argue that successful social movements have focused their rhetoric on the institution they opposed rather than on individual behavior supporting that institution.27 Critics also believe it is difficult to build a mass movement when the perceived criteria for acceptance in the movement is a lifestyle change, and that a consumer focus provokes less moral outrage than focusing on the institution, thus missing an important driver of activism and subsequent social change.
Some charities feel that a focus on dietary change in certain programs, such as leafleting, is more likely than other approaches to lead to immediate behavior change that directly spares animals. If people simply change their attitudes with respect to farmed animals, that might not lead to actual impact for animals. After all, many people currently care about animals, but relatively few are vegetarian or vegan.28 It might actually be easier to change individuals' attitudes after convincing them to change their diets, since they will no longer need to reconcile their compassion towards farmed animals with eating them.
In general, however, VEBU's approach seems more focused on incremental change than on building a mass movement, which may be the real underlying difference between the two sides.
VEBU focuses on the promotion of veg diets over other ways to help farmed animals, like humane reforms. Do they worry that this means they're missing out on high-impact campaigns and the ability to build useful connections with food companies?
Critics of VEBU could argue that many of the most visible and successful animal advocacy campaigns that have involved working with influencers like corporations and government have had goals of humane reform, such as the elimination of battery cages. Since VEBU emphasizes working with these same groups of influencers, they might have more impact if they promoted animal welfare reform in addition to veg diets and the creation of plant-based options.
VEBU says that while humane reform campaigns have some benefits, there are already many charities working on them. Additionally, there is a risk that working on humane reform promotes the idea that consuming higher-welfare animal products is morally acceptable. VEBU feels that the role for them which best supports the animal advocacy movement is their current role, reducing the overall consumption of animal products as much as possible in order to reduce the number of animals affected by any farming practices.
In the animal advocacy movement overall, we have seen more success on corporate campaigns calling for welfare reforms than on corporate campaigns calling for additional plant-based options to be introduced. This is true even in Germany, where two strong organizations, VEBU and the Albert Schweitzer Foundation, have had corporate outreach programs addressing the creation of plant-based options for several years. However, VEBU's corporate outreach seems to be among the most successful programs in the movement for encouraging the creation of plant-based options, and may be the most successful such program. It seems probable that maintaining and growing this program will be more beneficial in the long-term than it would be for VEBU to switch focus to something which other groups are already doing successfully.
Some would argue that the development of animal-free foods will be the key turning point for ending animal farming. What role does VEBU play in facilitating these technologies?
VEBU promotes the development and marketing of plant-based foods in their work with businesses. For example, their work with one of Germany's largest meat producers has led them both to strengthen their line of plant-based meats and to spend millions of Euros advertising them.29 They have also supported vegan start-ups and new businesses, including cafés, nutrition consulting services, and supermarkets.30 VEBU's lobbying department also focuses on making sure the legal climate is as favorable as possible for plant-based foods.31
VEBU helps consumers find and try new plant-based foods through their consumer events and through their V-Label program. Their VeggieWorld fairs provide an opportunity for consumers to try new products from many producers in one location.32 The V-Label program provides a clear indicator showing which products are vegetarian or vegan during normal shopping.33
All of VEBU's work in these areas so far has involved plant-based foods, but we expect that as cultured meat, dairy, and eggs become available, VEBU will encourage their use.
---
The following materials are supplementary research documents associated with our charity review process and are referenced in the Comprehensive Review.
Research Documents