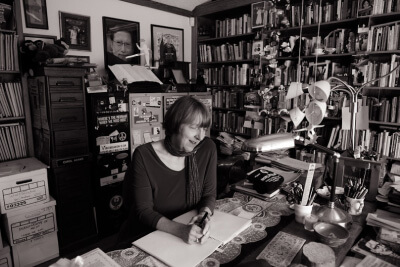 ACE's Director of Communications Erika Alonso had the privilege of interviewing Carol J. Adams, lifelong activist and renowned author of many books including The Sexual Politics of Meat and most recently Never Too Late to Go Vegan: The Over-50 Guide to Adopting and Thriving on a Plant-Based Diet.
We've featured a few highlights from the interview below. You can read the interview in its entirety here.
EA: What is sexual politics of meat?
CA: The Sexual Politics of Meat, [SPoM] as a book, identifies several key aspects of the cultural phenomenon I labelled "the sexual politics of meat." One is that eating meat has been equated with masculine behavior, and to refuse to eat meat (dead animals) is to make a statement not just about food but about gender. Also, I argue that veganism/vegetarianism has been devalued in our culture by being associated with women. I look at the racial politics of meat eating, what I call the "democraticizing" of meat eating in the US, and how meat eating became equated with a triumphal Western culture. Meat eating became the symbol of colonial power, of virility, and military prowess. So meat eating was imbricated—deeply set—within a patriarchal world that I see as colonialist, racist, and deeply committed to a gender binary.
EA: SPoM was published 25 years ago. How have things changed since then?
CA: First, veganism has wonderfully advanced in twenty five years, though we probably need another fifty years before we will even know the heights vegan cooking can achieve. We have clearly established that you can live very happily as a vegan. However, veganism is still burdened by superstitions around the gender binary. We have vegan groups who promote the idea that "Real men eat vegetables. Real men are being vegan." I'd like to see us dismantling the notion of manhood, not just redefining it.
Another development is the increased sexualization of the media. Pornographic motifs like placing women in slaughterhouses, or models clad in the raw flesh of dead animals while posing in a meat locker, that suggest women are like meat would have shocked people in the 1980s, but today are seen as business as usual. While the media should be analyzing these attitudes, it is instead participating in it. (See The Pornography of Meat)
While veganism has helped us increase people's ability to move away from a meat-centric and dairy-centric diet, I'd like to see more conversation within the vegan community of not perpetuating dominant culture perspectives about gender, race, or sexuality, and that's a harder struggle.
EA: In SPoM, you discuss how language plays a role in oppression. Do you have any suggestions or practical applications of how we can liberate our language when communicating with others?
CA: We should be more precise in our language. I'm conflicted about the word "meat" because the animal disappears in it, but you have to start somewhere when critiquing the culture. When we talk about cow's milk, we should make sure that we're showing that this milk doesn't exist separate from the animal it was taken from. Instead of saying "chicken wings" say "a chicken's wings." This re-situates the absent referent.
In political language, we should be respectful of other movements' choice of words, for instance, we should not respond to the hashtag #blacklivesmatter with #alllivesmatter. We should not wrench language that's already been politicized from its referent and try to seize it for ourselves. We recognize that language exists within a structure of oppression, and we need to consider whether the language we use is helping or hindering someone else's oppression. Don't use language that insults someone by associating them with an oppressed group. It should be obvious, but don't use the body parts of women as insults. Language exists as part of the prop that holds up oppression, and we should not contribute to strengthening its oppressive aspects. That means if we're challenged that our choice of language is oppressive we should listen to the critique, respect the person voicing the critique, and rethink our choice of words.