We are very excited to share the following updates from our 2020 Summer and Fall recipients.1 While the COVID-19 pandemic continues to present challenges, we are consistently impressed with the dedication and ingenuity of our Movement Grants recipients. These individuals and organizations have come up with innovative solutions to achieve impact, while still prioritizing personal safety and being respectful of various restrictions.
Below you will find a high-level overview of some of the great work that has been completed over the past year.
Summer Grants
Animal Justice ($10,000)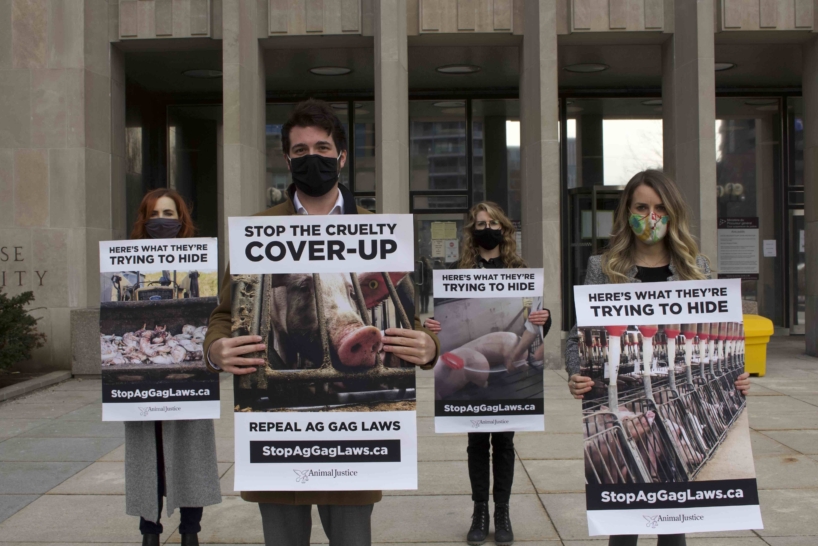 Animal Justice advocates for animals through a variety of approaches, including lobbying and advocating for animal protection laws, filing lawsuits, and leveraging media to obtain exposure and educate the general public. Animal Justice utilized their Movement Grant to fight back against recently introduced ag-gag laws in Canada. These anti-whistleblower laws can make undercover investigation and reporting of the conditions on Canadian farms very challenging. Animal Justice has reported that the first legal case challenging Canadian ag-gag law has been filed. The case was filed in the province of Ontario, on the grounds that it is unconstitutional to outlaw hidden-camera exposés exposing animal suffering at farms and slaughterhouses. Being able to show the true conditions behind the closed doors of factory farms is an important element in influencing social and legal change, and laws aimed at covering up cruelty have the potential to undermine long-standing advocacy efforts.
Associação Vegetariana Portuguesa ($10,000)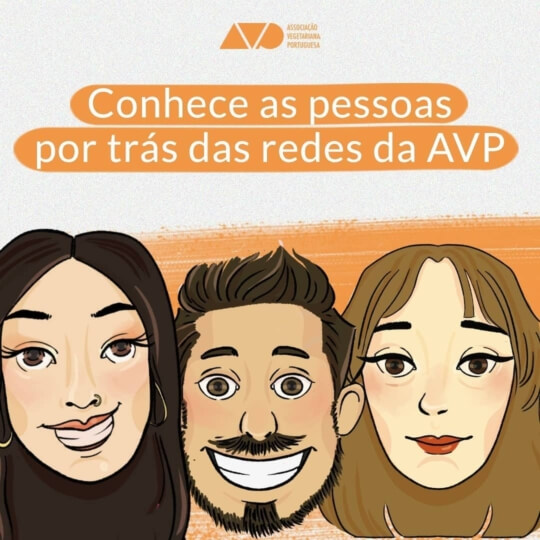 Associação Vegetariana Portuguesa (AVP) advocates for the adoption of plant-based diets via education, corporate advocacy, capacity building, and political lobbying in Portugal and within the European Union. Our grant to AVP allowed them to hire a full-time manager, part-time manager's assistant, and campaign assistant. With dedicated employees, AVP will spend the remainder of 2021 ranking Portuguese major retailers in terms of their vegan offerings, which has the potential to trigger more product innovation and increase the variety of vegan products available at supermarkets. The team also plans to develop a guide to kickstarting a plant-based or vegan company. AVP is in the process of running Proteína Verde: a project that aims (i) to show how factory farming contributes to major environmental problems on the national level and (ii) to recommend public policies that promote the growth and consumption of plant-based proteins. AVP reports that their Veg-Pledge, which began in early 2020, has been completed by over 14,000 individuals, and their complementary VeggieKit ebook has been downloaded over 38,000 times.
Center for Animal Law Studies ($10,000)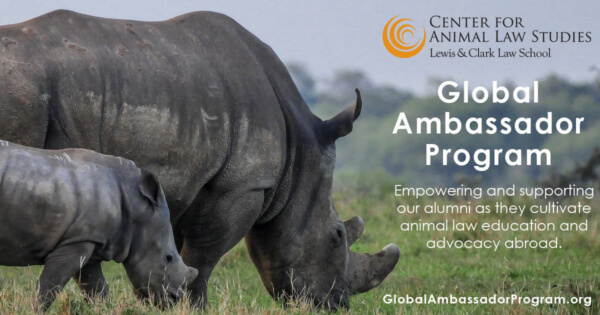 The Center for Animal Law Studies (CALS) at Lewis & Clark Law School is one of the leading U.S. institutions focusing on animal law and training the next generation of attorneys specializing in this area. CALS offers over 25 animal law courses and offers the first and only advanced degree in animal law. The Movement Grant supported the launch of their Global Ambassador Program (GAP). The GAP offers animal protection stipends for CALS' Animal Law LLM alumni to foster and facilitate animal protection in their own countries through education, advocacy, and outreach. CALS now has GAP Ambassadors in Australia, Chile, China, Kazakhstan, and South Africa. These projects focus on a variety of topics, including global animal law development, scientific advances in animal cognition and emotion, and the presentation of intersectional non-legal literature.
Encompass ($35,000)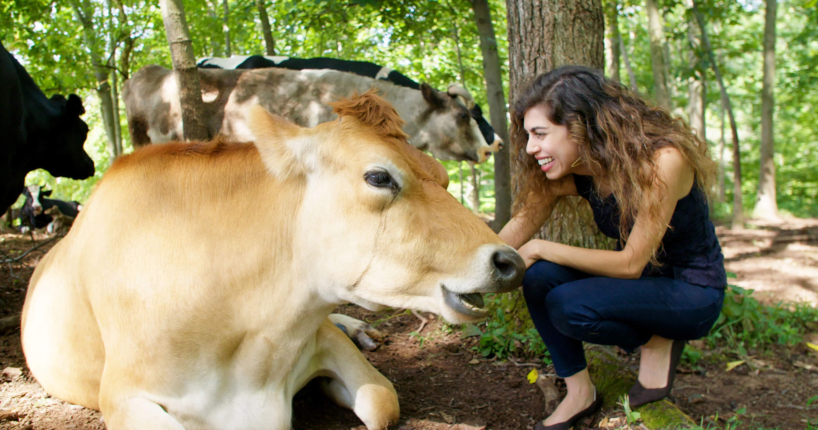 Encompass aims to make the farmed animal protection movement more effective by fostering racial equity. From the Movement Grant, Encompass was able to hire an Executive Assistant. Encompass reported that they provided training to 78 executives, advocates, and philanthropists from 28 organizations around the world via their Racial Equity Institutes. They also supported 26 Black, Indigenous, and other advocates of the global majority2 through an intensive Executive Development Cohort that provides leadership tools and resiliency support. Encompass has created a Global Majority talent database to help advocates learn skills such as public speaking, moderating, and board service. By the end of 2021, Encompass aims to publish a report on the state of the movement's racial diversity, equity, and inclusion as well as an anthology titled "Antiracism in Animal Advocacy: Igniting Cultural Transformation," which contains 16 powerful essays about racial equity and animal advocacy.
Freedom and Respect for Every Earthling ($12,000)
Freedom and Respect for Every Earthling (F.R.E.E.) works in Romania to create change for farmed animals via outreach, cage-free campaigns, and humane education. F.R.E.E. utilized their Movement Grant to write and disseminate a regular newsletter, launch a fundraising campaign, and create printed materials and merchandise to be offered at outreach events. F.R.E.E. reports that these efforts have led to a doubling of their monthly donors. They are also in the process of hiring for paid positions at the organization.
Material Innovation Initiative ($25,000)
Material Innovation Initiative (MII) aims to accelerate the development of sustainable materials for the fashion, automotive, and home goods industries, with a focus on replacing animal-based materials. Through the support of the Movement Grant, MII has been able to expand its stakeholders (entrepreneurs, scientists, academics, brands, and retailers) in the fashion, automotive, and home goods industries that are committed to animal-free and environmentally sustainable materials. This includes not only supporting new inventions, but also improving the circularity of materials commonly used as alternatives. MII recently published their "State of the Industry Report: Next-Gen Materials," as well as a report titled "What Makes Silk, Silk," which takes a scientific deep dive into silk's molecular structure, the current mode of production (and its environmental footprint), design needs, and suggestions for innovators.
Menú por el Planeta ($4,000)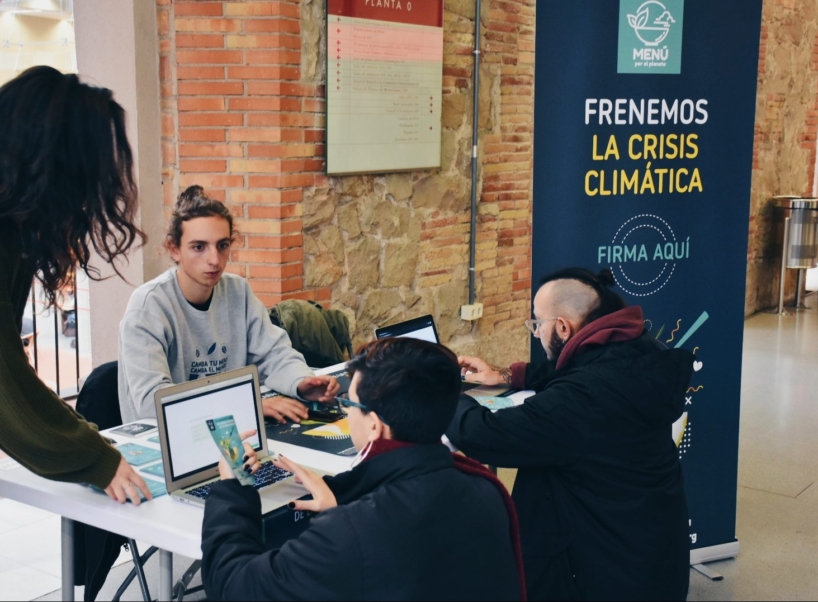 Menú por el Planeta aims to increase plant-based options in Spanish universities. Despite universities in Spain being closed due to COVID-19, Menú por el Planeta has utilized this time to improve their operations and scale up their initiative. From the Movement Grant, Menú por el Planeta has been able to collaborate with two universities in Spain to get them to include plant-based options in their daily menus. The universities have also included plant-based options as a key performance indicator in their sustainability plans, which Menú por el Planeta hopes will ensure the continuity of plant-based options in their cafeterias. Menú por el Planeta is currently working with six more universities to encourage similar changes.
Rethink Priorities ($35,000)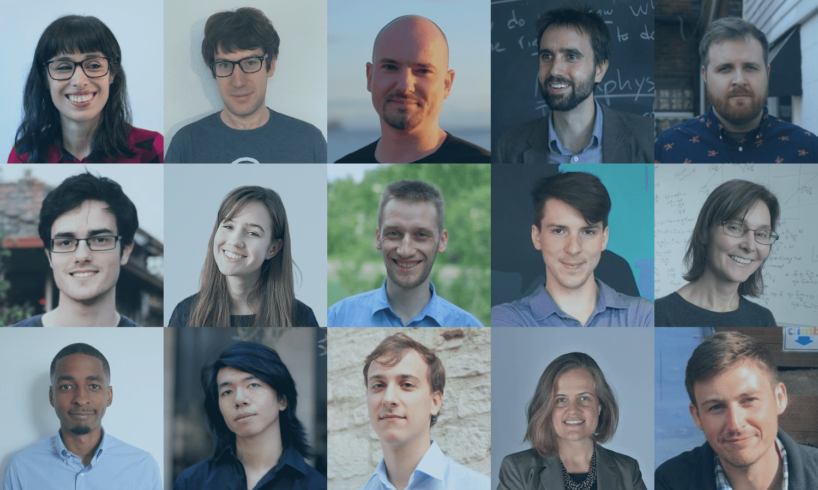 Rethink Priorities is a think tank dedicated to researching the best ways to make the world a better place, focusing on different topics—one of them being nonhuman animals. With their Movement Grant, Rethink Priorities was able to hire a professional fundraiser (director of development) to join their team. Having a dedicated fundraiser onboard has allowed Rethink Priorities' leadership to focus on strategy and research management and also aids in long-term sustainability. Rethink Priorities is now in the process of hiring new researchers to examine high-priority issues around the best interventions to benefit farmed and wild animals, both vertebrates and invertebrates.
SHAMAYIM: Jewish Animal Advocacy ($4,000)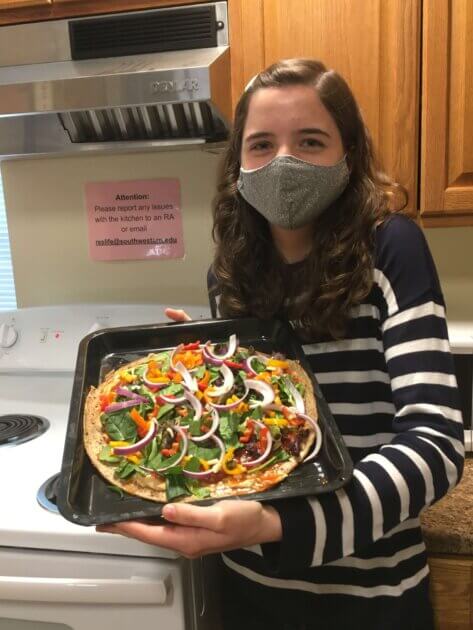 SHAMAYIM: Jewish Animal Advocacy is a U.S.-based nonprofit organization that runs programs, campaigns, and educational opportunities to educate the Jewish community about animal advocacy and veganism. The Movement Grant will be directed toward their Shamayim Campus Fellowship, which aims to give Jewish college students the tools and support they need to educate their communities about animal advocacy. Fellows are expected to organize five campus events to teach other students about plant-based eating in connection with the Jewish faith, the climate, personal health, and animal welfare. This year, due to COVID-19, students will be creating either in-person or virtual learning opportunities, where they will orchestrate discussion groups, book clubs, film events, and vegan cooking workshops.



Aquatic Life Institute ($30,000)
The Aquatic Life Institute (ALI) is a new organization that aims to advise and fund research on aquatic animals with a focus on farmed fishes, which we believe is a highly important but often neglected area. ALI pursues its mission through its five pillars: research, coalition building, key stakeholder campaigns, legislative and lobbying work, and public education efforts. In their first six months, ALI has used their Movement Grant to engage with leading global certifiers to discuss adding environmental enrichment to their standards. ALI has also built the foundations of the Aquatic Animal Alliance and its sister coalitions, extending them to 70 members in total, and coalesced the movement on a set of effective altruism-designed asks for aquatic animals. ALI is working to streamline future corporate campaigns for the movement. Advocating for meaningful standards from certifiers will enable organizations to simply ask retailers to source from these specific certifiers. ALI hopes these changes will increase the likelihood of success of these campaigns and increase the impact of each victory.
The Greenfield Project ($11,250)
The Greenfield Project conducts field research and legal and regulatory analysis to identify policies and practices that support factory farming. Their research results are used to develop programs and policies that support more sustainable, humane agricultural practices. The Greenfield Projects utilized their Movement Grant to research a subset of USDA food purchases—non-entitlement "surplus" purchases which vary by year in response to market and political conditions. Surplus removal purchases constitute a relatively small portion of the USDA's total commodity purchases, but are made in response to market surpluses and at the behest of industry groups, rather than to fill the needs of the USDA's nutrition assistance programs. The research has already revealed a number of trends that give insight into how consumer preferences, welfare reforms, and market trends affect demand for animal products. The Greenfield Project is currently in the process of writing up their findings into a comprehensive report.
Modern Agriculture Foundation ($15,000)
The Modern Agriculture Foundation (MAF) is an Israeli nonprofit organization that aims to advance plant-based and cell-cultured food products. MAF reports that there is a tremendous need for plant-based products in the Israeli market, and companies need help as they currently spend significant resources scaling up their manufacturing processes. MAF's Movement Grant went toward their Alternative Proteins IL 2020 Technology Seminar, and their Alternative Proteins 2021 Magazine. MAF reports that the Technology Seminar was the first event in Israel to connect the pharma, biotech, and medical industries to the alternative protein space; was a full-day event; included 16 talks; and attracted 360 attendees. The talks are available on MAF's Youtube channel. The Alternative Proteins Magazine is a mapping of Israel's alternative protein space and includes features and insights from members of the local and global industries, and is intended to serve as free information for the industry, a gateway for the global industry to learn about the Israeli market, and a stage for Israeli companies to publish themselves to global readers. The magazine is available on MAF's website.
Nonhuman Rights Project ($15,000)
The Nonhuman Rights Project (NhRP) is a civil rights organization dedicated to securing rights for nonhuman animals by filing lawsuits; working with local, state, and federal governments; and fostering anti-speciesist education. The Movement Grant allowed NhRP to run a four-week digital advocacy campaign on social media asking individuals to sign a pledge to free captive elephants from zoos, roadside zoos, travel circuses, and other captive environments, in order for them to live in sanctuaries for the remainder of their lives. The NhRP reports this campaign reached an audience of 315 thousand and gained NhRP two thousand new and meaningful supporters who are interested in advocating for captive elephants and elephant rights. NhRP was also able to increase their supporter base in California and Colorado, key geographic areas where the NhRP plans to file lawsuits in 2021.
Vegetarianos Hoy ($25,000)
Vegetarianos Hoy is based in Chile and works to reduce the consumption of animal products through outreach to individuals, the government, and corporations. Through their grant, Vegetarionos Hoy was able to start working in countries new to them, now with team members in México, Colombia, and Argentina. They also report they were able to certify 397 products with vegan labels, recruit 22 thousand participants from across Latin America to their Veggie Challenge, and launch their legal strategy. They have also increased their presence on mainstream media, doubling their press appearances with over 200 opportunities in 2020 alone.
Wild Animal Initiative ($30,000)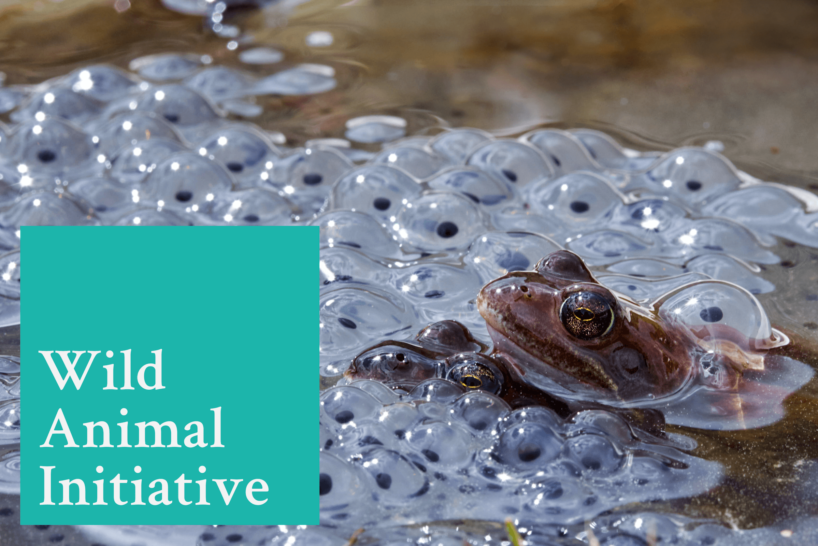 Wild Animal Initiative (WAI) looks for ways to improve the welfare of wild animals via research and outreach to academics. WAI utilized their Movement Grant to strengthen their operations and improve program effectiveness. WAI also re-distributed some of their funds to external scientists researching wild animal welfare, in addition to conducting their own independent research on the subject. They have engaged academics on the topic of wild animal welfare and reported that they are building connections in order to foster collaboration in the burgeoning field of wild animal welfare.
World Day for the End of Fishing ($10,000)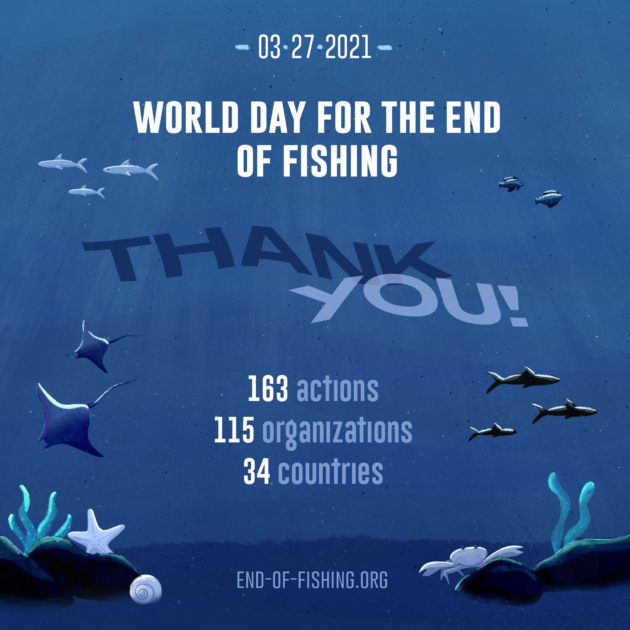 World Day for the End of Fishing (WoDEF) works toward the abolition of fishing and fish farming. Aside from fishes, WoDEF is concerned with other aquatic animals such as crustaceans and cephalopods. Each March, WoDEF organizes a day dedicated to calling for the end of human-caused harm to fishes. This event encourages a broad group of organizations to develop their own fish welfare projects, such as street protests and other initiatives. The Movement Grant has allowed WoDEF—which was previously a volunteer-led organization—to hire part-time salaried staff. They were also able to effectively mobilize 115 organizations in 34 countries to organize advocacy actions. In total, 163 actions were carried out, which is a new record of participation for WoDEF.
Fall Grants
Animal Justice Project ($15,000)
Animal Justice Project (AJP) is a U.K.-based nonprofit that aims to end the exploitation of animals using methods such as undercover investigations, consumer outreach, lobbying, and campaigns. The Movement Grant allowed AJP to fund 27 digital billboards that focused on their foul truth campaign, meant to raise awareness about the flaws of welfare labels. The team also offered free mini plant-based chick'n burgers to the public to prove how tasty vegan alternatives can be. AJP reports the billboards were featured in two newsletters with an estimated range of thousands of people. In total, AJP estimates the reach of the billboards was over 1.7 million. They also produced and disseminated a leaflet entitled "Five Ways to Help Chickens." AJP reports that they have been in contact with key players in the plant-based food industry and plan to continue with this work.
Aquatic Animal Alliance ($30,000)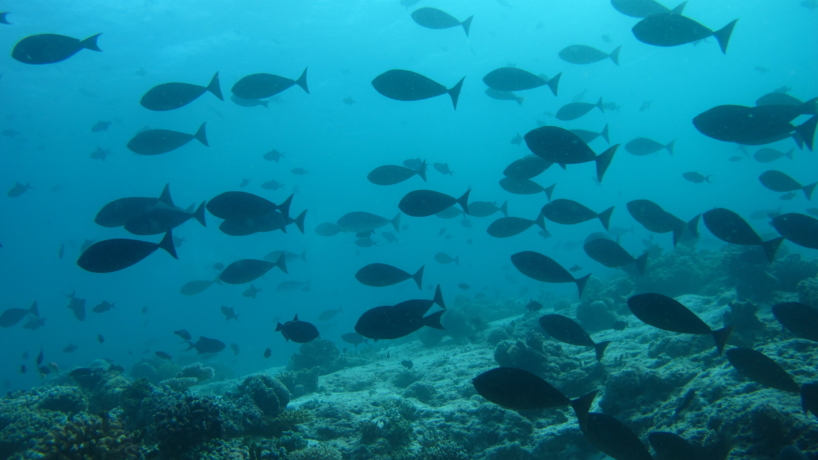 The Aquatic Animal Alliance (AAA) is a recently formed coalition promoting the wellbeing of aquatic animals through a strong, united voice. For their first campaign, they brought together several large nonprofits to voice feedback on the new aquaculture standards of GLOBAL G.A.P. The coalition also identified an opportunity for certifiers of aquatic animal products to introduce welfare requirements in their labeling standards. We believe the aquatic animal advocacy movement is a promising avenue for change as aquatic animals are a highly numerous and neglected group. With their Movement Grant, AAA was able to scale up their membership and release the potentially first-ever Aquatic Animal Welfare position statement. The coalition currently works toward securing environmental enrichment as a foundational welfare intervention, which could shape the future of the aquatic animal advocacy movement.
Arvind Animal Activist ($5,000)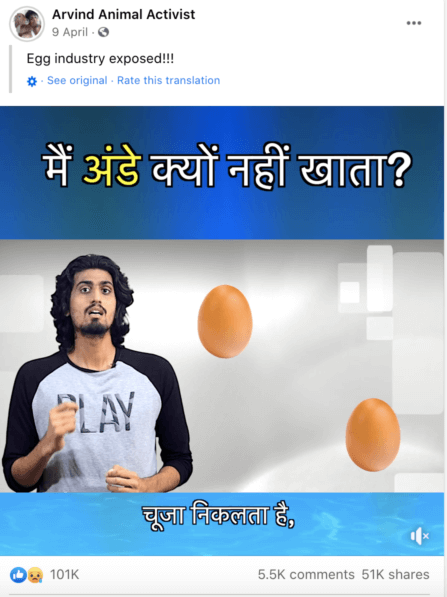 Arvind Kannan and his partner have been producing educational videos about veganism and promoting them through Facebook, YouTube, and Instagram using the social media handle "Arvind Animal Activist." Their videos cover the ethical, health, and environmental reasons for going vegan and are primarily targeted at Indian audiences that speak Tamil and English. Since receiving a grant, some of their highest-performing videos have garnered over a million views, including an explanation of the egg industry. Arvind has also learned Hindi well enough to create social media content, and he reports that their Facebook page has seen dramatic growth, with around 25,000 new followers in the span of a few months. Arvind and his partner are working hard to create more content that will be both effective and relatable for the local population. They have plans to produce videos in French, which would expand their reach even further.
Augi & Draugi ($11,245)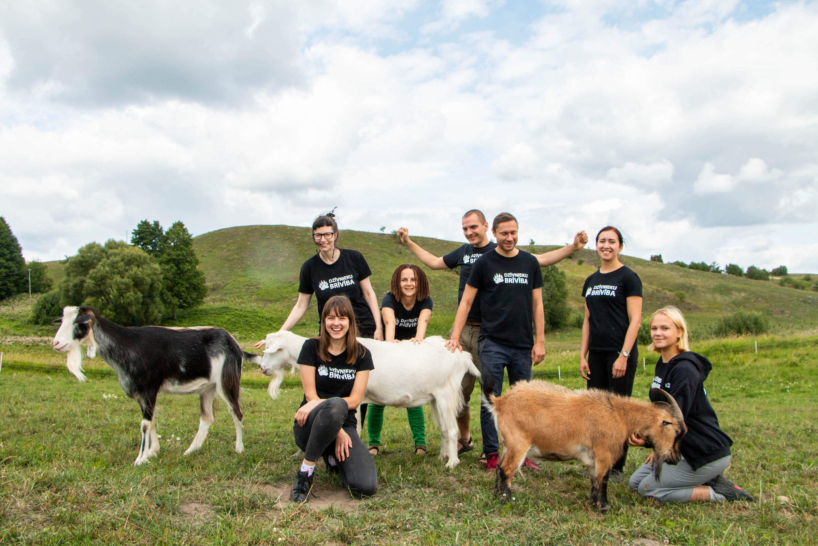 Augi & Draugi is a Latvian restaurant outreach program aimed at reducing animal consumption and increasing plant-based nutrition in Latvian society. Their main approach is to improve the availability of plant-based options in restaurants. Our grant supported the salary of a Project Coordinator and also funded a survey on Latvian consumption choices. From the experience of similar campaigns in neighboring countries, Augi & Draugi learned that data on consumption choices can be a valuable tool in outreach to restaurants and media. Augi & Draugi is a project by Dzīvnieku brīvība, a Latvian organization that works to end factory farming, fur farming, and the use of animals in the entertainment industry. According to our grant recipients, plant-based food is now available in all regions of Latvia. They credit our Movement Grants program with helping to make Latvia a vegan-friendly place, as well as helping them to reach more people via their activism.
Christopher Sebastian ($5,000)
Christopher Sebastian is an author, researcher, and lecturer. He is involved with various animal advocacy initiatives and is a guest lecturer at Columbia University. His work focuses on animal rights and its connection to other forms of anti-oppression. Through the Movement Grant, Sebastian has been able to create content for the Ravens Corps as well as the Northwestern Animal Rights Network while they in turn support plant-based community feeding efforts in Palestine. The Movement Grant also allowed Sebastian to create free content for three animal sanctuaries who used these materials to raise money, and he provided education to vegan student organizations internationally. Currently, Christopher is mentoring a nascent organization in Nepal and providing social media support to several vegan and climate justice organizations.
Counterfactual Ventures ($27,500)
The recently launched Counterfactual Ventures is leveraging emerging technology to launch and incubate 16 venture-backed startups per year that aim to enable alternative protein to replace animal-based products. The Movement Grant provided early momentum for the launch of the organization, allowing Counterfactual Ventures to conduct initial research and recruit a core team. Counterfactual Ventures reports that their team now includes a previous NASA mathematician, previous Managing Director of Food-X, previous Director of Founders Intelligence, and previous leader of R&D at Intellectual Ventures. They are currently raising investment capital and recruiting future founders of their high-impact startups. We are excited to see how the organization develops over the coming months and years.
Dansk Vegetarisk Forening ($15,000)
Dansk Vegetarisk Forening (DVF) is a Danish association for vegans, vegetarians, and anyone else interested in a plant-based diet and lifestyle. DVF has a variety of programs in support of their mission. At the time of awarding the grant, the Danish government was working on plans to drastically reduce the country's CO2 emissions. We believed that it was an especially promising time to work on policy change in Denmark. DVF used their Movement Grant to scale up their political work during some crucial months ahead of major negotiations on agricultural reform and climate action plans in Denmark. This paved the way for several key actors proposing that Denmark should become a world leader in plant-based food products.
Dyrevernalliansen ($12,000)
Founded in 2001, Dyrevernalliansen (Norwegian Animal Protection Alliance) is a foundation committed to improving animal welfare, with a focus on intensive farming practices, the fur industry, and animal experimentation. From 2008–2012, they have run the Norwegian Animal Protection Fund (NAPF), which funds research projects to further the animal advocacy movement. The Movement Grant supported the operational costs of the NAPF for one year. This funding has enabled Dyrevernalliansen to re-purpose existing funds toward research projects on animal welfare.
Factory Farming Awareness Coalition ($10,000)
Factory Farming Awareness Coalition (FFAC) delivers humane education in schools, community groups, and businesses across the U.S. and Canada. With their previous grant, FFAC piloted an internship program in the San Francisco Bay Area to develop a network of high school and college student leaders to help raise awareness of animal ethics in their communities by delivering presentations, organizing Green Monday campaigns at their schools, tabling at events, and founding clubs. FFAC reports that in their 2020 summer cohort, they were only able to accept 17% of applicants. With the Movement Grant, FFAC has been able to expand this program to accommodate many more students, and they've added a fellowship program. This grant also supported other staff who devised curriculum, led cohorts, and worked one-on-one with students in office hours. In 2021, FFAC introduced an alumni program, consisting of workshops to support alumni advocacy and social events to nurture community.
People for Animals Uttarakhand ($15,000)
People for Animals is one of the largest animal welfare organizations in India. The Movement Grant supported their legal branch: People for Animals Uttarakhand. People for Animals Uttarakhand provides training sessions to police personnel on the effective enforcement of animal welfare laws. They also provide consulting services to State Animal Welfare Boards to help improve their general operations. Since receiving the Movement Grant, the group has set up a series of workshops to be held with Delhi Police, Jammu Police, and Ranchi Police. Bare Acts and Resource Material including landmark judgments from Indian Courts have been shared with the authorities to educate them about animal protection laws in India. They report that the grant has brought them closer to the goal of sensitizing authorities and building the capacity to enforce animal protection laws in India more effectively.
Reimagine Agriculture ($10,000)
Reimagine Agriculture aims to transform Canada's agricultural system by tackling unaddressed inefficiencies and externalities through an ethical, environmental, and human health lens. The formerly volunteer-led organization utilized the Movement Grant to hire their first staff member. They report that having someone who can focus on Reimagine Agriculture full time has been crucial for their overall output. Reimagine Agriculture has also hired and managed a team of volunteers, providing significant growth for the whole organization. The team has also worked with organizations within the animal welfare community to mutually share resources and provide wider education on the agricultural system. With schools continuing to be largely online, Remagine Agriculture has been collaborating with educators across Canada to understand how to most effectively provide resources to them. They've also produced a policy brief directed at the most crucial changes that need to occur for the alternative protein industry to flourish in Canada, with specific calls to action around funding and regulations.
Réseau Sentience ($5,000)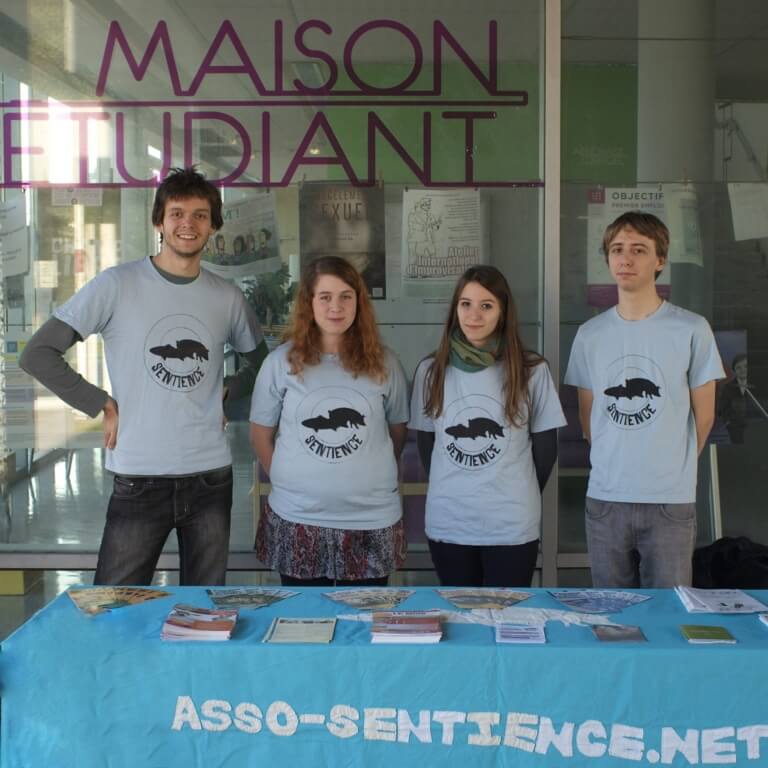 Réseau Sentience is a network of student groups at French universities. The network aims to raise student awareness of anti-speciesism by hosting animal rights discussions on campuses and encouraging university cafeterias to include more plant-based options on their menus. We appreciate Réseau Sentience's work to build the animal advocacy movement in France via university groups. The Movement Grant will go toward updating Réseau Sentience's website and to fundraising efforts to recruit civic service volunteers. The aim of the civic service program is to have volunteers working at least 24 hours a week, which would boost the overall output of their work.
Rostlinně ($10,000)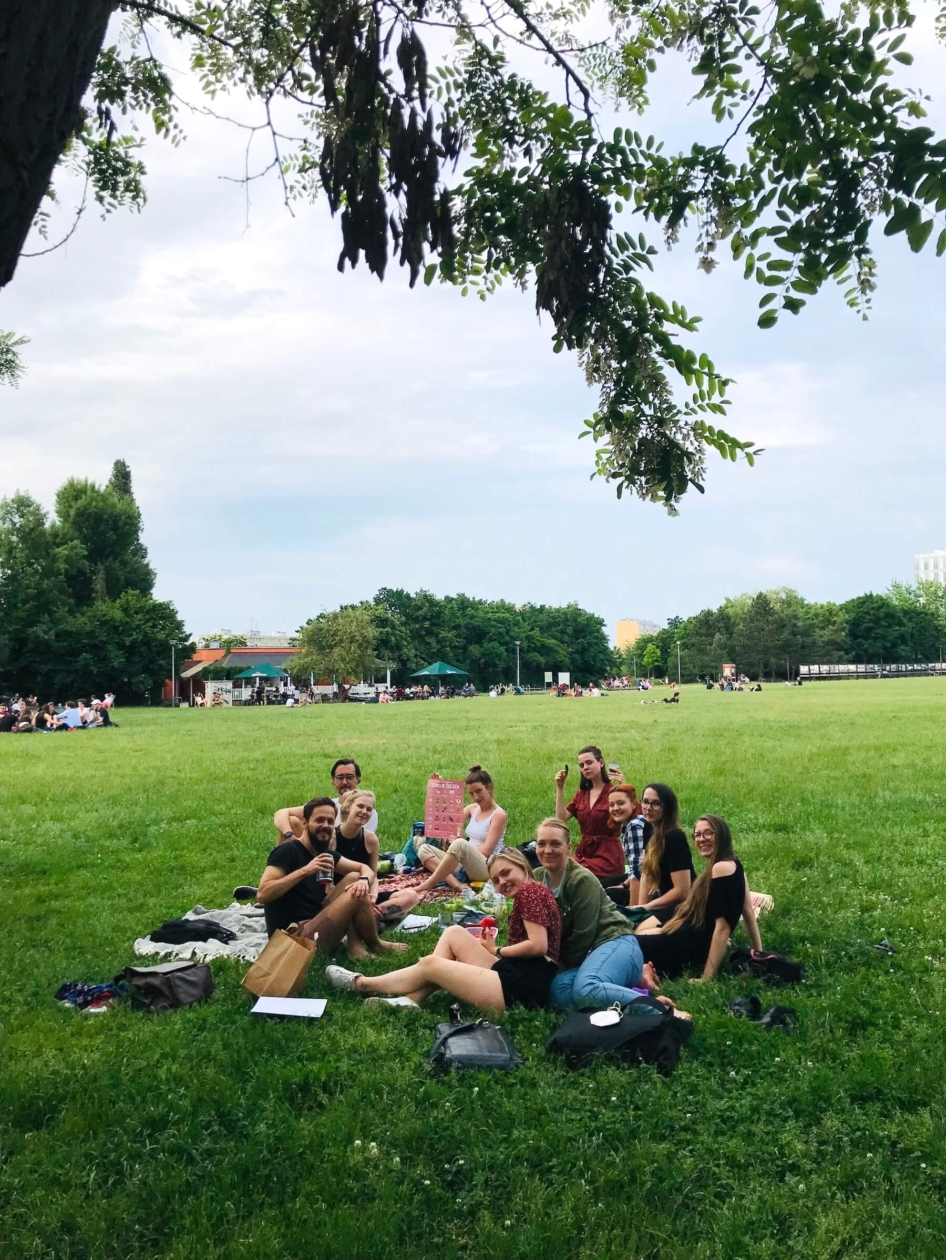 Rostlinně promotes the consumption and availability of plant-based foods in the Czech Republic. They are a part of OBRAZ – Obránci zvířat, a Czech animal advocacy organization. With their Movement Grant, they have conducted a coffee chain ranking, organized the first-ever Plant-Powered Perspectives conference in Prague and launched the third edition of their Plant-based Product of the Year Award with more than 8,500 votes. A previous Movement Grant supported their Social Media Manager, and their social media presence continues to grow. Rostlinně is collaborating with plant-based market-leading companies and distributors in the Czech Republic and believes the plant-based future is closer than ever.
Sentient ($20,000)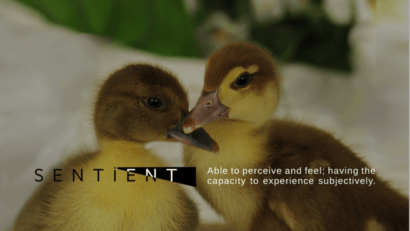 Formed in 2017, Sentient is an Israeli nonprofit focused on conducting undercover investigations, primarily into industrial agriculture. Activists at Sentient combine their expertise from a variety of fields, including journalism, technology, psychology, social media, and more. Their most recent investigation was an exposé of what happens to Australian cattle on the vast outback stations in Australia. The Movement Grant supported Sentient's undercover work by enabling them to hire skilled staff including an experienced engineer. Due to social media and press censorship on graphic footage, activists need to tell the story of animal suffering in different and more subtle ways. Sentient therefore shifted to focus on artistic content that is engaging and impactful.
Vegan Outreach ($10,000)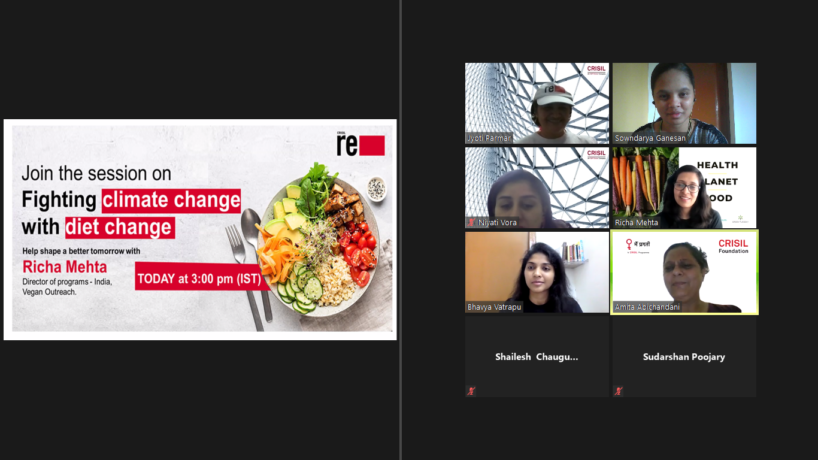 Vegan Outreach, a nonprofit organization active in various countries, utilized their Movement Grant specifically to support their presence in India. Vegan Outreach created their Green Tuesday Initiative, and they report they have already had a number of prominent organizations sign on. BITS Pilani, Goa, one of India's most prestigious institutes, became the latest signatory of the Green Tuesday Pledge to address the rising global climate change crisis. Once fully implemented, they have committed to reducing the use of animal products by 15%. Vegan Outreach has also been able to work with other organizations in India to serve meat-free meals to their employees and reduce their environmental impact.
---