Archived Version: November, 2017
What does Faunalytics do?
Faunalytics works to connect animal advocates with information. This mostly involves creating independent research, working directly with client organizations on various research projects, and providing resources for individual advocates through the content library they host on their website.
What are their strengths?
Faunalytics is working in an important field: supporting other organizations through research. We think that even small improvements made through research can substantially increase the number of animals helped if they are applied by many animal advocates. Faunalytics has published important work on vegan/vegetarian recidivism that helped many advocates better understand the self-reported reasons people stop eating a vegan/vegetarian diet. They are currently involved in a few potentially important projects, including a randomized controlled trial focused on evaluating the effects of using virtual reality outreach to advocate for farmed animals, a study on overcoming unnaturalness as an objection to cultured meat, and a multinational study on attitudes towards farmed animals.
What are their weaknesses?
We think the research topics and methodologies Faunalytics chooses could be better selected for maximizing the benefit they have for advocates. For example, they work on many topics—especially with their client work and library maintenance—that are focused on a relatively small number of animals, which make the gains from research likely much smaller. We think that some, but likely not all, of their work on less important topics is driven by difficulty in raising funds from grants and donations that could be used for other projects. We also have some concern with the way that Faunalytics has presented their research, which we think encouraged some advocates to take their study on vegetarian recidivism as presenting more definitive implications for advocacy than it really did.
Why didn't Faunalytics receive our top recommendation?
Faunalytics is working in an important area of animal advocacy: research and support for other advocates. Their research is generally of good quality relative to other animal advocacy research, and their work helps the movement become more effective and more evidence-based. However, we think more of their research could focus on questions that have more powerful implications on important advocacy decisions, like which messages or tactics are most impactful in effecting dietary change.
Faunalytics has been one of our Standout Charities since December 2015.
How Faunalytics Performs on our Criteria
Criterion 1: The charity has room for more funding and concrete plans for growth.
Before we can recommend a charity, we need to assess the extent to which they will be able to absorb and effectively utilize funding that the recommendation may bring in. Firstly, we look at existing programs that have a need for additional funding in order to fulfill their existing purpose; secondly, we look at potential areas for growth and expansion. It is important to determine whether the barriers limiting progress in these areas are solely monetary, or whether there are other factors such as time or talent shortages. Since we can't predict exactly how any organization will respond upon receiving more funds than they have planned for, this estimate is speculative, not definitive. It's possible that a group could run out of room for funding more quickly than we expect, or come up with good ways to use funding beyond what we have suggested. Our estimates are indicators of the point at which we would want to check in with a group to ensure that they have used the funds they've received and are still able to absorb additional funding.
Recent Financial History
When last reviewed in 2015, we estimated that Faunalytics could use $140,000 in additional funding during 2016, primarily for additional pro bono and independent research as well as administrative work on their website and email list.1 While this amount would have roughly doubled their budget, they had clear plans for growth and their main limitation in achieving that growth was monetary. Since 2013 Faunalytics' annual expenses have stayed consistent at around $150,000, with 2017's predicted budget at $140,486.2, 3 This is in line with their consistent revenue, which indicates that money is a factor limiting their progress.
Planned Future Expenses
Over the next year Faunalytics will reportedly be prioritizing their work on two ongoing studies; a study on cultured meat in conjunction with the Good Food Institute and the Animal Advocacy Research Fund, and a randomized controlled trial with two treatment arms comparing 360-degree video4 with conventional video, in conjunction with Animal Equality.5 They will also be commencing an international study on attitudes and behaviours towards animals and meat.6 Due to funding constraints, their Research Director position is currently a part-time role, and given additional funding they would like to increase this to full-time in order to further progress these studies and plan new studies.7 They would also seek to hire at least one part-time (PhD or PhD candidate) Researcher, who would help design independent studies to fill knowledge gaps in animal advocacy.8 On the administrative side, they would hire a part-time technical manager in order to make changes to and maintain their website and email alerts.9 Given adequate funding, we find it highly likely that they would be able to fill these positions over the course of the next year.
Faunalytics primarily relies on grants and donations, and they have taken in $91,000 in the last year—exceeding their budgetary goal of $85,000.10 Most of their donations come from "about a dozen" regular donors.11 They have a secondary source of income from client fees for custom research, which made up 33% of their total income in 2016.12 Although the fees make up a substantial part of their funding at present, they are still hoping (as they were in 2015) to decrease work in this area and transition to more pro bono and independent research, to give them more control over the kind of research they engage in.13 They are taking incremental steps in this direction, such as increasing applications for funding grants and attempting to increase their number of regular donors. However, they do not expect this to constitute a significant change in funding over the coming year.14
Conclusion
Faunalytics estimates that they can effectively use between $250,000 and $300,000 in additional funding over the next year to facilitate their desired growth.15 We are slightly less certain that their plans will cost as much as they estimate, and we estimate their room for funding at $170,000–$400,000.16, 17, 18 This would allow them to end their client-based research—freeing up resources for more pro bono and independent research—as well as provide them with sufficient funding to hire their desired staff. Given the consistency of their financials over recent years, we think that almost all of this additional funding is unlikely to be filled in the next year.
Criterion 2: The charity engages in programs that seem likely to be highly impactful.
Before investigating the way a charity's programs are implemented or the outcomes they've achieved, we consider the charity's overall approach to animal advocacy. We expect effective charities to pursue approaches that seem likely to produce significant positive change for animals, though we note that there is significant uncertainty regarding the long-term effects of many interventions.
Faunalytics researches issues that affect a variety of animals, including (but not limited to) farmed animals—which we believe is a high-impact cause area. Faunalytics pursues one primary avenue for creating change for animals: they work to build the capacity of the movement through research and evaluation. Their capacity-building work might lead indirectly to changes in public opinion, the food industry, the movement's alliances, and U.S. policy.
To communicate the process by which we believe a charity creates change for animals, we use theory of change diagrams. It is important to note that these diagrams are not necessarily complete representations of real-world mechanisms of change. Rather, they are simplified models that ACE uses to represent our beliefs about mechanisms of change. For the sake of simplicity, some diagrams may not include relatively small or uncertain effects.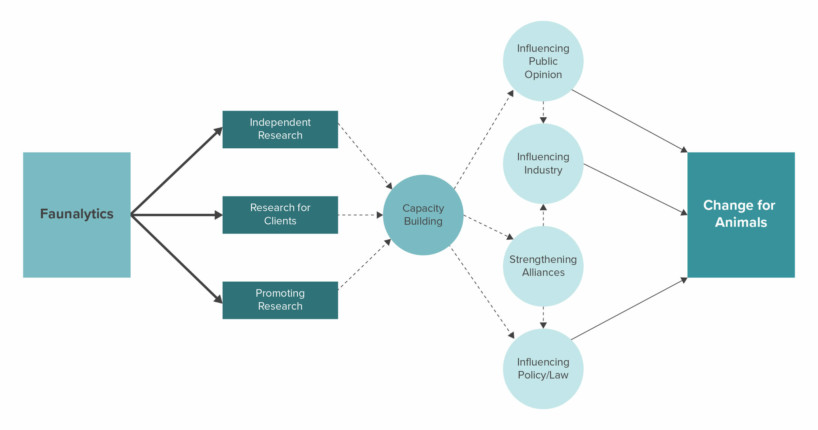 Capacity Building
Working to build the capacity of the animal advocacy movement can have far-reaching impact. While capacity-building projects may not always help animals directly, they can help animals indirectly by increasing the effectiveness of other projects.
Conducting research on effective advocacy can play a pivotal role in how successful a movement can be. A group might expertly carry out a particular intervention, but if that intervention isn't effective (or if it has negative effects), then the group is not as impactful as they could be. They may even unintentionally cause net harm. By researching public attitudes and by helping charities investigate the effectiveness of their persuasive material (or by conducting such studies independently), Faunalytics may be able to increase the impact of advocacy groups.
In addition to conducting original research, Faunalytics promotes existing research and data. They maintain a research library and make their data available on their website. If other groups use Faunalytics' resources to inform their work, Faunalytics may over time achieve quite a high impact for a low cost.
Criterion 3: The charity operates cost-effectively, according to our best estimates.
We think quantitative cost-effectiveness estimates are often useful as factors in charity evaluations, but we are concerned that assigning specific figures can be misleading and appear as more important in our evaluation than we intended. For Faunalytics in particular, we believe that our back-of-the-envelope calculation of their cost effectiveness is too speculative to feature in our review or include as a significant factor in our evaluation of their effectiveness. For instance, in thinking about their impact we considered the probability of Faunalytics causing animal advocacy resources to be more effectively allocated within animal advocacy and how good that outcome would be. Our estimates for those factors were very speculative; we considered other unknowns as well, and we omitted many possible scenarios for simplicity.
Additionally, Faunalytics is focused on helping animals in the medium and long term, and we have not evaluated the medium-term or long-term impacts of any other charities, so we worry that including this cost-effectiveness calculation would be unfair to those other organizations.19 That being said, our lack of a cost-effectiveness estimate doesn't necessarily indicate that this charity has lower overall cost effectiveness than the charities for which we have completed a cost-effectiveness estimate.
In the future, we hope to have better ways of evaluating medium-term and long-term impacts, which could lead to publishing a cost-effectiveness estimate for Faunalytics. We think cost-effectiveness calculations will still be most useful as one small component in our overall understanding of charity effectiveness.
Criterion 4: The charity possesses a strong track record of success.
Have programs been well executed?
Over the years Faunalytics has run several independent studies, most notably their ongoing Animal Tracker,20 a longitudinal survey of animal-related attitudes and behaviours. They have recently completed their 10th year of the study.21 They acknowledge that the initial questions could have been designed better; however, they feel that the benefits of having a long-term study outweigh the issues in its design.22 In particular, we think that the survey is vulnerable to social desirability bias—the questions are clearly about animal advocacy issues, and the study does not include a social desirability scale23 (although Faunalytics notes that this would significantly increase both the length of the survey and the overall cost of the study).24, 25 In addition, the survey has a 30% response rate, which leaves potential for self-selection bias; those interested in animal advocacy issues are more likely to respond. This means that the responses in a given year may not be accurate representations of the surveyed population as whole. However, these issues have always been present—so the study may still be useful for giving a sense of trends over time. It also has particular value in that it provides the opportunity to make comparisons across six demographic variables: age, gender, ethnicity, region, pet in household, and education.
In early 2016, Faunalytics finished their study on lapsed and current vegetarians/vegans, publishing the final report and full dataset.26 This project took longer than planned, due to the unexpected complexity of the study.27 Their independent studies are generally well regarded—which has helped lead to their collaboration with major animal advocacy groups on forthcoming studies on cultured meat and virtual reality videos.
In the last two years, Faunalytics has made improvements in the way they present their findings, including both the Animal Tracker and Lapsed Vegetarians/Vegans study. In addition to publishing reports, they have made efforts to discuss their studies in more accessible ways, including by using series of blog posts to explain the results and methods of each study28 and producing more infographics to summarize their results.29 In addition, they have a graphical visualization tool30 which was developed (pro bono) by Animal Visuals for the Animal Tracker results.
In addition to independent studies, Faunalytics offers their services on both a pro bono and fee-for-service basis to other organizations.31 They have worked with numerous animal advocacy groups on various research projects. Generally these projects involve market research techniques such as surveys and focus groups to assist clients in measuring their impact and finding ways to improve. Examples of recent work in this area include work with the National Anti-Vivisection Society (NAVS) to determine attitudes of students and educators towards dissection, as well as pro bono work with the Palestinian Animal League (PAL) to help them administer the first study on attitudes towards veganism in Palestine.
Finally, Faunalytics has maintained a research library since 2004, which features a database of over 3,400 studies in animal-related social science.32 They produce a summary for each study, and distribute a weekly newsletter detailing recent additions to the library.
Have programs led to change for animals?
In general, Faunalytics' work leads to change for animals when it helps other organizations carry out their work more effectively. For example an organization may incorporate Faunalytics' findings about lapsed vegans/vegetarians into a vegan outreach program and obtain a higher rate of engagement as a result. As their work is of a supporting nature, it is particularly difficult to accurately assess the impact that Faunalytics has had for animals. We think, however, that due to its widely applicable nature and likely focus on high-impact areas, their independent research is likely to lead to the biggest change for animals, relative to their other areas of work. The recent steps they've taken in improving the accessibility of this work will likely lead to an increased audience and therefore further increase in the magnitude of this impact; however, we do not currently have evidence as to the degree of this effect.
Faunalytics' client work seems to have been successful in improving the programs of their clients, and they perform an annual qualitative survey to assess how they can improve in this regard.33 However, the nature of their client work introduces limitations with regards to creating change for animals. The studies are often highly specialized to solve a specific problem for the client and thus are not always very applicable to the movement as a whole. In addition, clients often require publications to be delayed (or in some cases not be published at all), which severely limits the impact of this work.
Faunalytics' research library is currently the largest database for animal advocacy research, and is therefore a useful tool for improving the effectiveness of advocates. It is not clear what the size of this impact is; however, it seems to require a relatively small cost—given that many of the summaries are written by volunteers—and thus it is likely a worthwhile body of work to maintain. We think that, overall, there is evidence to suggest that Faunalytics' work both informs the animal advocacy movement—allowing organizations to make better decisions and thus effect greater change for animals—and improves the effectiveness of their clients' programs. However, it is not clear what the magnitude of the impact is.
Criterion 5: The charity identifies areas of success and failure and responds appropriately.
Given that they are working on research projects which generally have long-term payoffs, Faunalytics cannot easily evaluate their progress in the short term, particularly in terms of their effect on animals. However, they do seek out relevant information regarding the success of their projects with regard to meeting clients' and animal advocates' needs, and they have updated their programs in response to this feedback. In addition, they track metrics they consider to be relevant to their overall mechanism of change. We think their decision to institute pre-registration and to formalize their open commentary procedure is likely to improve the quality of their research to a significant degree, and we think it demonstrates a thoughtful response to criticism of their past research.
Faunalytics' short-term aim is generally to make progress on or complete their current studies.34 Our impression is that they do not track success and failure by formally assigning themselves annual goals;35 this may be because the nature of the research process makes it difficult to either delineate or expect particular levels of progress.36 Given their programs' long-term and often indirect path to impact for animals, they also do not attempt to track success in terms of the number of animals they affect.37
However, Faunalytics does make an effort to evaluate their research work on its more proximate goals. In the case of client work, this includes conducting follow-up surveys both immediately and six months after project completion to determine what they could have done better.38 They also conduct an annual survey of animal advocates to determine how useful their studies and the knowledge they disseminate have been to the movement, and to find out which of their efforts need improvement.39 Several years ago, they made significant changes to their web content in response to reader feedback, aiming to making it easier to access and easier to understand—including by discussing the practical implications of research for advocates.40 More recently, they have tried additional approaches to make their research more accessible, including by writing blog post series discussing their results and developing infographics that summarize key outcomes.41, 42 They also make a monthly assessment of the key metrics involved in their logic model.43
Faunalytics has also retired one program after deciding that it was less effective than their other work: this was Humane Trends, a project to track 25 different indicators for the animal advocacy movement's strength across the United States. The factors that contributed to this decision included the cost (as measured in staff time) and the extent to which it was used by advocates, in addition to the questionable quality of the data and "scores" that the program produced.44
In addition, Faunalytics has made significant changes to their research process based on their understanding of past setbacks. In our 2015 conversation, Che Green indicated that Faunalytics had taken criticism of their study of lapsed and current vegans/vegetarians seriously, and that they would likely respond in part by instituting policies of public pre-registration and open commentary for all major studies.45, 46 They have since instituted these policies; they now pre-register research plans for their major studies on the Open Science Framework. They have also instituted a more formal open commentary process for these studies that involves seeking feedback from fellow effective animal advocates at multiple points in the research process, both directly and through posts on relevant Facebook pages. While they have conducted few major studies since 2015, they are making use of pre-registration and their new open commentary process for their current study of individual outreach via virtual reality—as well as upcoming studies on attitudes towards cultured meat and attitudes towards animals in the BRIC countries.47 We believe that these changes are likely to significantly improve Faunalytics' research process, as they can help indicate problems with research designs and allow for quicker and earlier responses.
Criterion 6: The charity has strong leadership and a well-developed strategic vision.
Faunalytics' work is focused on providing useful information and expertise to animal advocates,48 especially in the area of farmed animal advocacy.49 The organization appears committed to working effectively to help advocates help animals, a goal which should help keep them oriented towards impactful work in the future. However, a majority of their studies so far have been proprietary client work,50 which we think is likely to be significantly less effective than their independent research. They have told us they are considering reducing the number of such studies they conduct.51
Faunalytics' Board Members bring a variety of experience to the organization's decision-making process, in which they play an active role. While the organization's current Board Members and advisors have knowledge relevant to Faunalytics' operations and strategic thinking, we think Faunalytics could benefit from having a statistician or quantitative social scientist in an advisory role.
The charity's mission emphasizes effectively reducing suffering/helping animals.
Faunalytics' mission is "to empower fellow animal advocates […] with access to the research, analysis, strategies, and messages that maximize [their] effectiveness to reduce animal suffering."52 They aim to carry out this mission by conducting useful research, organizing and analyzing relevant information, promoting effective practices, and spreading awareness of the resources they offer.53
While their mission is issue-agnostic, Faunalytics has told us that they spend "60–70%" of their resources on work relating to farmed animals, because they believe that this area offers particularly cost-effective opportunities to help animals. In particular, all of their independent research has had a connection to animal agriculture.54 As discussed in Criterion 4, we believe their client work often requires Faunalytics to spend time on projects that are likely less effective than their independent projects. However, they have told us that they hope to reduce the amount of client work they take on so that they can focus on higher-impact projects.55 Given their mission and their track record, we expect Faunalytics to remain committed to effectively helping animals, although they may spend a significant portion of their time on less effective research as part of their client work.
The strategy of the charity supports the growth of the animal advocacy movement as a whole.
Faunalytics' strategy is fundamentally based on supporting other animal advocates.56 As noted above, they aim to provide information and expertise that will help animal advocates do as much good as possible. They use their knowledge of the field to guide their research, but also consult animal advocacy organizations to ensure their planned studies will be useful.57 All of their independent studies are also collaborative efforts in which other organizations provide input on research design and analysis.58
However, in contrast to their publicly-accessible independent study results and Research Library, the results of Faunalytics' client studies are generally proprietary; moreover, these studies make up the majority of the studies they have conducted thus far.59 Thus, a large portion of Faunalytics' work is not directly shared with the animal advocacy movement as a whole. However, some of this work may be shared by the client organization with other animal advocacy groups doing similar work.
The board of the charity includes members with diverse occupational backgrounds and experiences.
Faunalytics' board has five members—including Che Green, their founder and Executive Director.60 Their four non-staff Board Members include Caryn Ginsberg, a consultant with experience working for nonprofits; Sharie Lesniak, a former corporate advertiser working in animal advocacy outreach; Mandy Weeks, an attorney; and Anthony Bellotti, a political consultant and campaign manager.61 They also have five non-board advisors who play a more minor role in their decision making, several of whom have experience in fields of study relevant to animal advocacy. Three of their four non-staff Board Members are women; Executive Director Che Green thinks having female leaders is important, especially in a female-heavy movement.62
According to U.S. best practices, nonprofit boards should be comprised of at least five people who have little overlap with an organization's staff or other related parties.63 However, there is only weak evidence that following these best practices is correlated with success, and if they are correlated, that may be because more competent organizations are more likely to both follow best practices and to succeed—rather than because following best practices leads to success. Given that the organization's staff is so small, we believe it is not unreasonable for them to take a more prominent role when it comes to setting goals; as such, we think Faunalytics' five-person board including one of their staff members does not provide significant evidence for or against their effectiveness as an organization.
The evidence for the importance of board diversity is somewhat stronger than the evidence recommending board sizes of five or greater, in large part because there is a significant body of literature indicating that team diversity generally improves performance. However, the evidence we are aware of for the importance of board diversity on organizational performance specifically is less strong.64 Faunalytics' board appears to have a reasonable amount of occupational diversity. Given their focus on research, we think Faunalytics can benefit from the ability to consult people with relevant academic expertise. They have advisory Board Members with experience studying animal abuse, animal use in experimentation, and the history of animal protection,65 but might benefit from Board Members or advisors with backgrounds in statistics or quantitative social science.
The board of the charity participates regularly in formal strategic planning on behalf of the charity, and involves other stakeholders in that process.
Faunalytics' strategic plan is updated annually, with major updates taking place about every two years.66 They have told us that the board is heavily involved in the process and provides a large amount of feedback, while the advisors play a relatively minor role—providing general input and occasionally specific feedback on areas of their expertise.67 Since Faunalytics only has three staff members (their executive, research, and content Directors),68 we think it is likely that they are also significantly involved in the planning process.
Criterion 7: The charity has a healthy culture and a sustainable structure.
Faunalytics is a small organization, which presented some challenges to our inquiries about their organizational culture.69, 70 They have relatively little in the way of formal plans to address staff morale, training, or incidents of harassment and discrimination.71 Because of their small size, we were only able to speak confidentially with one member of their team, and even so it is difficult to maintain confidentiality given that they have only three staff members in total.72, 73 Our impression is that the organization still relies heavily on founder and Executive Director Che Green, but is making some efforts to spread responsibility more evenly among staff and is open to contributions from other staff members.74 On the financial side, Faunalytics seems to have a highly stable pattern of revenue, but since they plan to shift their work and therefore their sources of funding, this may not remain the case.75, 76, 77
The charity receives support from multiple and varied funding sources.
Faunalytics currently generates revenue through donations and through fee-for-service research projects for clients.78 In recent years, 30–50% of their revenue has come from fee-for-service projects.79, 80 However, they hope to reduce their reliance on fee-for-service work, which would allow them to more consistently choose their projects based on their expected impacts.81, 82 The main barrier to their doing so now is financial; they have a small donor base and would not be able to support their current staff roles if they transitioned all of their fee-for-service work to independent work without first increasing their revenue from other sources.83
We think that with the current fee-for-service model, Faunalytics is obtaining revenue from varied funding sources—which allows for good financial stability; as they move away from that model they will likely either need to increase their skill at fundraising and grow their donor base, or face a potentially precarious financial situation.84 They appear to appreciate this risk and be taking appropriate steps to mitigate it, such as reaching out to a larger number of foundations for potential grants and increasing their fundraising efforts with donors who have supported them in the past.85 The risk is also limited by Faunalytics' ability to take on client projects if financially necessary, meaning that while they might not be able to shift their efforts as they would like to, they aren't at special risk of financial insolvency.86
The charity provides staff and volunteers with opportunities for training and skill development, helping them grow as advocates.
Faunalytics only has three staff members, and we aren't sure how much training is provided in their volunteer program.87 Because of their small size—and perhaps because some of their staff work for Faunalytics part-time—they don't have a formal or regular staff-development program.88, 89 However, staff do have the opportunity to occasionally attend conferences or participate in training courses, and Faunalytics sometimes sets up trainings for them when a need is identified.90, 91 Because of Faunalytics' small size, we were only able to speak confidentially with one staff member, who told us that they found that, although Faunalytics does not have regular internal trainings, whenever they needed training related to their job Faunalytics was supportive and helped to arrange training opportunities as appropriate.92
The charity has staff from diverse backgrounds and with diverse personal characteristics (e.g., race, gender, age), and views diversity as a resource that can improve its performance.
Faunalytics has such a small number of staff members that it is difficult to assess the results of any diversity strategies based on staff demographics. They tell us that they are an equal-opportunity employer but not particularly proactive with regard to diversity.93 One area in which they do try to actively promote and reflect the diversity in the organization and the movement is by sending Board Member Caryn Ginsberg to represent the organization in some circumstances; they say this is due to a combination of her talents in that area and a preference to avoid having only men in visible leadership roles given the number of women involved with Faunalytics and the animal advocacy movement as a whole.94
The charity works to protect employees from harassment and discrimination.
Faunalytics did not have policies for staff regarding harassment or discrimination when we spoke with them, but is committed to developing and implementing them by the end of 2017.95 We spoke confidentially with one staff member and performed some due diligence searches, and are not aware of any reports of harassment or discrimination at Faunalytics.96
Questions for Further Consideration
Some argue that the expected effect size of individual diet change interventions such as leaflets, PPV, and VR is so small and the variability in diet is so large that these interventions cannot be subject to an adequately powered experimental evaluation with the sample sizes Faunalytics has historically employed. What is Faunalytics' view on this?
An important and critical feature of testing the significance of interventions is that they are sensitive to sample size. With a large sample size, there is an increased likelihood that we will find an effect if one exists, even if it is small. In contrast, with a small sample size, it can be difficult to conclusively detect small effects in our data, even if they are real. This is a critical consideration for animal advocacy research because we often care about these effects (e.g., small changes in diet).
Although a large sample size is more useful, it can be costly and time consuming. To strike the right balance between statistical confidence and budget constraints, one strategy is to calculate a minimum detectable effect—the smallest possible effect that you care about—and then collect a sample size just large enough to be able to detect that effect.
Faunalytics concedes that the issue posed in this question is largely true, although they point out that it is an issue in the movement that is not unique to them. Most of their independent studies to date have been descriptive rather than experimental, and as such have been not been powered as highly as an equivalent experimental study would be. Some of these studies have used large sample sizes—such as their 2005 study of semi-vegetarians and meat reducers97 and their 2014 study of lapsed and current vegetarian/vegans.98 For their client-based studies, they tend to be limited by the budgets of their clients, which often means that the sample sizes used aren't large enough to detect small effect sizes. For their current experimental studies, adequate sample size and power is a more significant concern; they have conducted power analyses for both the VR study with Animal Equality and their new cultured meat study. They plan to do this for all future experimental studies as well, and believe that there should be a greater priority in the field for funding higher powered research.99
Some would argue that the development of new cultured and plant-based food technology will be the key turning point for ending animal farming, and that a shift in public attitudes will naturally follow. What role does Faunalytics play in facilitating the development and acceptance of technologies?
We think that developing cultured animal product alternatives is a potentially high-impact way to influence the food system. Plant-based milk is already showing a tendency to take market share from the sales of conventional milk in the U.S., with sales in one category growing as sales in another category decline.100 It seems plausible that cultured and plant-based meat will similarly take market share from the sales of conventional meat, especially as it becomes more cost-competitive, widely available, and harder to distinguish from conventional meat in taste and texture.
If this effect is sufficiently large and comes sufficiently quickly, work on developing and promoting alternatives to animal products may be much more impactful than direct work on changing public attitudes toward animals or the treatment of farmed animals. Cultured and plant-based food technology could cause people to move away from animal products before public attitudes towards animals would have been changed due to advocacy efforts.
Faunalytics agrees that behavior change might precede attitude change in this way and have held this view for more than a decade. In addition to being a vocal proponent of both plant-based and cultured alternatives, they are currently conducting an experimental study to help overcome the naturalness barrier for cultured meat.101 They have also taken on the task of organizing research and Researchers who are working on these topics.102 Additionally, they currently have volunteers working on sizing the overall market for plant-based and cultured alternatives and they are actively involved with The Good Food Institute community.103
Have any groups updated their practices in light of Faunalytics' research?
Most of Faunalytics' studies have been on behalf of clients, and the results and actions they've taken are proprietary. Here are a few examples that Faunalytics gives of groups updating their practices based on some of their independent research:104
Based on Faunalytics' research in the early 2000s, most major organizations in the movement began using the term "animal protection" instead "animal welfare" or "animal rights," and using "advocate" instead of "activist."
Alley Cat Allies used the results of custom Animal Tracker questions in order to understand public support for different services for community cats and prioritize their advocacy accordingly.
Many organizations have updated their vegan/vegetarian outreach practices in light of Faunalytics' study of lapsed vegans/vegetarians. These include mostly anecdotal comments about advocates focusing more on strategies like incremental change and mentoring new vegans/vegetarians.
Here are examples that Faunalytics gave of groups updating their practices based on some of their work with their clients:105
Faunalytics has conducted two years of evaluations of the Veganuary campaign, finding that the program had a substantial positive impact but also identifying several areas of improvement that the Veganuary team has begun implementing.106
Faunalytics has analyzed the reasons for participation in The Save Movement, which gave their leaders insight regarding how to find, motivate, and sustain people who are bearing witness to farmed animal suffering.107
New England Anti-Vivisection Society (NEAVS) used Faunalytics' research on chimpanzee captivity to reframe the debate and focus on "retirement" of chimpanzees used in animal experiments, a notion that garners widespread approval from the public.108
Shelters that participated in a pilot study Faunalytics supported for the Jackson Galaxy Foundation began using clicker training to increase the perceived adoptability of the cats in the shelter.
One client who runs a farmed animal sanctuary had three different programs evaluated by Faunalytics and found that tours were most effective. As a result, they put more resources toward tours and fewer resources toward the other two programs.
Faunalytics has also helped a number of organizations by conducting small studies to assist them in choosing from among different options, including a new logo for one group, a leaflet title for another, etc.
Why doesn't Faunalytics publish more of their research in peer reviewed journals?
Some argue that publishing research in peer-reviewed journals is an essential part of the scientific process. Peer-reviewing acts as a quality control filter, and the process often results in the requirement of significant revisions to the research before it is deemed acceptable to publish. It is the accepted standard in almost all scientific disciplines.109 The process, however, can be time consuming—and does not guarantee that all mistakes and issues with the research will be found. Often, the more significant criticisms that research faces come after publication, when the scientific community disseminates the work.110
Faunalytics explains that they are a small organization with limited resources, and have thus made the strategic decision to prioritize getting their research into the hands of advocates. Reaching an academic audience is also important to them, but they are not focusing on this given their current level of funding. They argue that participating in the long revision cycle involved in formal peer review is not feasible with their current staff size and other commitments. They do, however, use an informal peer review process for all of their major independent studies—such as their study of lapsed and current vegetarians/vegans.111
There are some who think that the scope of suffering in the wild is much greater than the scope of farmed animal suffering. Does Faunalytics do any research on ways to help wild animals?
There are so many wild animals that improving their welfare may be a large-scale cause area even if only a minority of them are in distress.112 It is also a highly neglected cause area; although many organizations work to help wild animals in a general sense, few operate from a perspective that primarily values individual experience and that doesn't focus on preserving charismatic species at the expense of more numerous ones.113 However, wild animal suffering is also a relatively intractable problem, both because it is not directly caused by humans (so we can't simply stop the actions that lead to it) and because there are currently few people working on it, so possible interventions are not well-developed or understood.114 Even when we can think of things that seem like they would help wild animals fairly cost-effectively, there may be difficulties to implementing them that we simply don't know about because they haven't been attempted.115 ACE is also concerned that the general public has strong intuitions against intervention in the wild, and it's not clear how easily these intuitions can be overcome through thoughtful advocacy, so convincing others to join in helping wild animals might be particularly difficult.116 Because the cause of wild animals is so large-scale and neglected, ACE thinks we should direct resources to it if we can find opportunities to contribute.
Because the cause of wild animals is so large-scale and neglected, we should direct resources to it if we can find opportunities to contribute. Unfortunately, it's hard to identify good opportunities—or even any opportunities that have definitely positive outcomes for wild animals—because the cause is so intractable.117 It makes sense to direct resources to research that helps make the cause more tractable and identifies opportunities to make a broader difference,118 and to other ways of helping if we can find them.
Faunalytics has had some involvement in the research of anthropogenic wild animal suffering. For example, their Animal Tracker study examines a range of attitudes and behavior that impacts wild animals. They have also conducted a number of one-off studies for clients related to protecting wolves, elephants, tigers, primates, and other wild species. In their research library, they make a point of covering wild animal issues—including insects. They also say they are aware of the growing EAA interest in reducing naturogenic wild animal suffering, but have not yet researched the topic.119
---
The following materials are supplementary research documents associated with our charity review process and are referenced in the Comprehensive Review.
Research Documents