ACE releases annual recommendations on December 1. We evaluate groups based on our evaluation criteria and publish as many reviews as we can. We then decide which top performing charities will receive our recommendation.
December 2014 Recommendations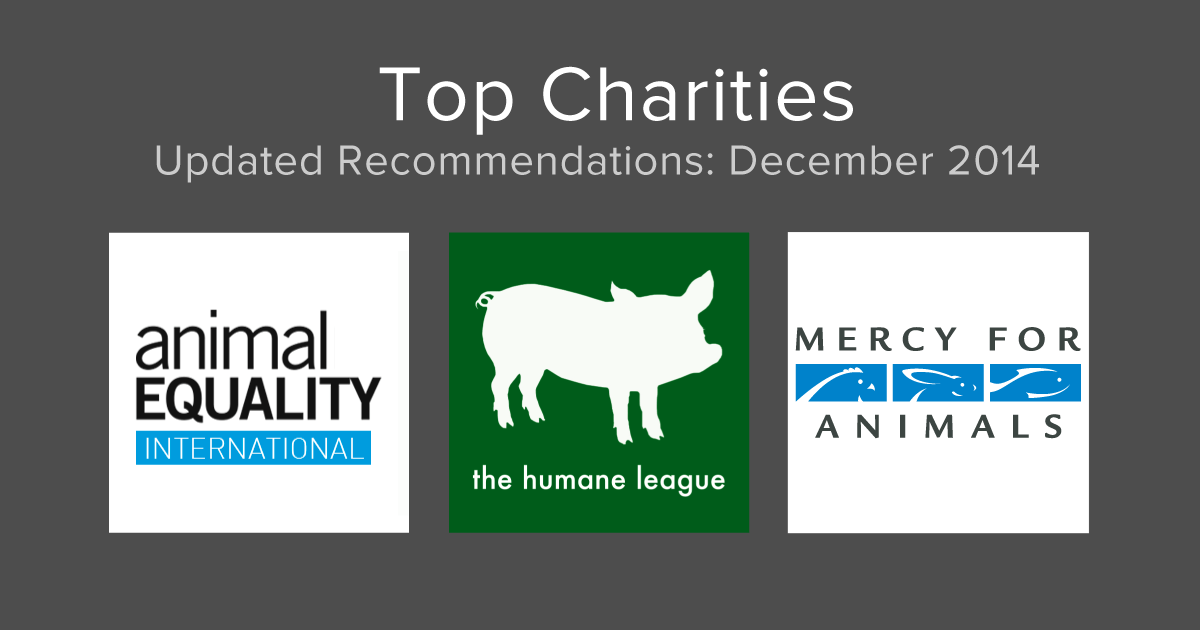 After considering 155 charities from around the world, we are proud to announce our top charities: The Humane League, Mercy For Animals, and Animal Equality. In addition to these top recommendations, we recognize the following standout organizations: Humane Society of the United States' Farm Animal Protection Campaign, Farm Animal Rights Movement, Vegan Outreach, and Albert Schweitzer Foundation. Please click on any of the links above to view each organization's full review.
Farm Animal Charities
Our top and standout charities all address farm animal issues with evidence-based and impact-focused programs. Due to the significant number of animals involved with animal farming, the poor conditions in which most farmed animals are kept, and the low amount of financial support provided to organizations that specifically work on farm animal issues, we continue to think that farm animal charities provide the largest value in reducing suffering.
Why we recommend our top charities, and how much money they could use
See the following snippets from our reviews for a snapshot of why we recommended each of these groups, along with how much additional financial support we think they could use, and how much money we hope to move to them.
The Humane League: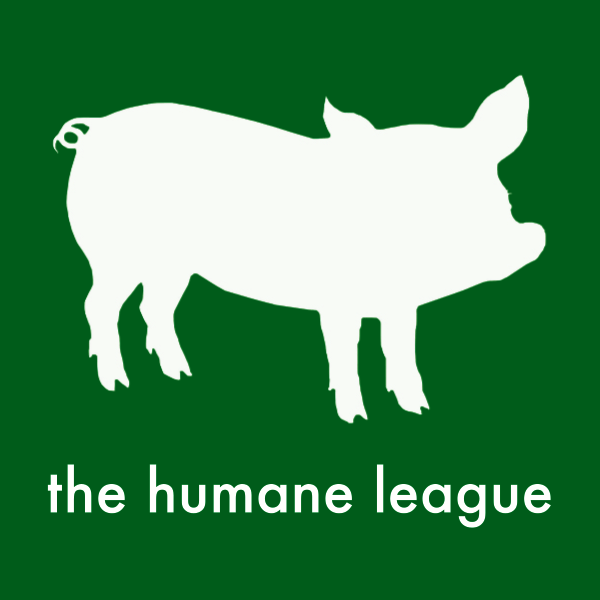 THL has an exceptionally strong commitment to using studies and systematic data collection to guide their approach to advocacy. They also have room for considerable amounts of increased funding to support both local offices and the online ads program. Our cost-effectiveness estimates show that their overall effectiveness is in line with that of other organizations we have evaluated in this depth.
We are setting a target amount of $50,000, but we think THL could use about $270,000 in increased funding this year. Of this, they could use about $80,000 to open two more local offices than they plan to open (thus expanding all of their local outreach programs), and $190,000 to roughly double the amount they'll spend on online ads.
Mercy For Animals: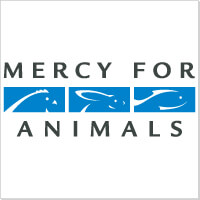 Overall, we find MFA to be an exceptionally strong organization because of their demonstrated willingness to adjust their programming to seek maximum effectiveness and because of the range of programs they have undertaken with good results. We think their undercover investigations and related corporate and legal campaigns are particularly promising approaches, and that they are effectively using funding for online ad campaigns.
We are setting a target amount of $50,000, but think MFA could use up to $600,000 in increased funding this year. In particular, we are convinced that they could again expand their online ads program substantially, as they will have released online materials targeted to several new markets in late 2014. We also believe they can continue to increase the number of undercover investigations they release per year. In 2014 they will have released 7 or 8 more than they did in 2013, for a total of 13 or 14.
Animal Equality: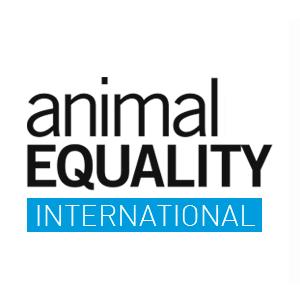 We think Animal Equality does an exceptional job given their level of resources. They are able to produce and market undercover investigation videos at a low cost relative to other organizations, and their efforts to evaluate and improve their work are strong. They exhibit high levels of transparency and work with many other groups to achieve their goals. Their leadership shows a strong understanding of strategy.
We are setting a target amount of $50,000, but think Animal Equality could use up to $200,000 in increased funding this year. This increase seems substantial, given their current budget, but Animal Equality is currently in the process of shifting from an entirely volunteer run organization to one which pays its staff. As such, we would expect some of the money to be used to hire staff in truly new positions, such as fundraisers. But other resources would go to pay staff in jobs that have previously been performed by volunteers, such as a video editor or a country coordinator position in Mexico. Paying these people would actually lessen the burden on current staff while making the organization more efficient, because volunteers are harder to manage than paid staff.
Tax-deductibility
Donations to The Humane League and Mercy For Animals are tax-deductible in the United States. Donations to Animal Equality are tax-deductible in the UK and certain other countries, but are not tax-deductible in the United States at this time, though this may change in the future (in which case we will update this entry).
Transparency
You can find more information on how we reached our decision in each of the individual reviews linked at the top of this post, or at our comprehensive list of organizations. Additionally, we have published information on our categorization system, our list of considered organizations, our reasons for not ranking charities, and our decision to include a longer list of standout organizations. We plan to continue providing additional transparency on our thinking on a regular basis through our blog; you can view these and other entries in our archives.
Let us know what you think of our latest recommendations in the comments below.