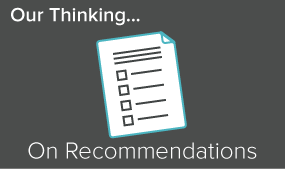 For our first round of recommendations that involved utilizing our evaluation template, we ended up recommending two organizations as our "top charities," and two organizations as "standout charities." Our initial thinking going into that round of reviews was that we would have 2 or 3 top charities, and 2 standout charities.
The "top charities" category indicates that we think they are the strongest charities that we have reviewed thus far. The "standout charities" designation means that they are very high quality organizations that didn't quite make the cut for "top charities," but instead were runners up.
Choosing the organizations for these categories was tough, but we felt good about our decisions. However, we are now conducting medium reviews on six additional organizations as well as receiving updates from the groups we conducted medium reviews on last time, which means that we are dealing with a larger pool of organizations for our top recommendations. Due to the uncertainty involved with making recommendations on organizations with such a low level of available research, we may want to identify any group as "standout" that we've vetted sufficiently but still feel that we might find out at some point is better than our top charities. This would lead to a larger number of standout charities.
We don't want to change our approach simply because of a difficult decision, but we discussed the pros/cons of allowing for additional standout organizations instead of our current two charity limit. Our thinking is broken down as follows:
Pros – Adding additional standout charities could:
Give more recognition to groups that are doing high quality work but hadn't made our previous cut.
Give groups more incentive to work with us, as there would more possibilities of some form of recommendation if they spend time talking with us.
Encourage "standout" groups to take extra steps to be more effective, as they are only one step away from being a "top charity."
Improve our relations with groups that perform high quality work.
More accurately reflect the large number of groups doing highly effective work on behalf of animals.
More heavily emphasize that the greatest difference in effectiveness is likely to be between farm animal advocacy groups and other animal charities, rather than among farm animal advocacy groups.
Cons – Adding additional standout charities could:
Cause more confusion about which groups we think are best.
Possibly dilute our "top charities" and take away some donations we would have otherwise moved to them.
Result in a greater rift between ACE and medium-reviewed organizations that do not get selected for "standout" designation.
After discussing these pros/cons, we feel that expanding the standout category is a logical step for us to take, so we plan on allowing for additional organizations in this category for our next round of recommendations.
What do you think? Are we making the right choice? Let us know in the comments below.