Introduction
Over the last few decades, climate change has received increased recognition and importance from scientists and decision-makers around the world. This reflects the severity of the problem and the urgent need for effective interventions.
It is well-known that people in marginalized communities are disproportionately affected by climate change, and many nonhuman animals suffer habitat loss, resource competition, disease, and even death. Industrialized animal agriculture is one of the highest sources of global CO2 emissions and has a catastrophic impact on all aspects of our environment. To reduce this impact on vulnerable populations and nonhuman animals, we must also advocate for the end of factory farming.
Learning from experts in more established social movements, like the environmental movement, can be invaluable for animal advocates. Drawing on their successes and failures presents insights into how advocates can work effectively. While the farmed animal advocacy movement is still relatively new, what can animal advocates learn from the environmental movement to strengthen their advocacy efforts?
Thank you to Dr. Robyn Gulliver for helping answer this critical question.
This is part two of Crossroads, a blog series about what human-focused social movements can teach us about nonhuman animal advocacy.
Note: This contribution has been edited for length and clarity.
Dr. Robyn Gulliver
Research Fellow, The University of Queensland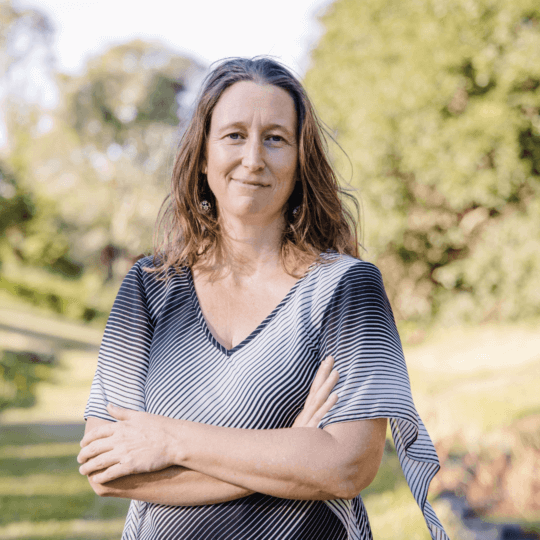 Dr. Robyn Gulliver is a Research Fellow at Australian National University and the University of Queensland, as well as a Board Director for The Commons Social Change Library. She is a multi-award winning environmentalist, writer, and researcher who has served as an organizer and leader of numerous local and national environmental organizations. Her research focuses on the antecedents and consequences of environmental and pro-democracy activism. She uses an interdisciplinary approach to examine how activist groups communicate with bystanders, supporters, and third parties; how they mobilize supporters; how they build and sustain networks; and what their campaigns achieve.
How can advocates use research to better understand how to gain support and spark action for farmed animals?
There is currently a wealth of research being conducted on activism and social change across the globe. This research encompasses a broad range of topics, from public attitudes toward animal activism and community expectations of animal welfare, to analyzing the effectiveness of legal and policy frameworks that govern animal rights and welfare. Additionally, researchers are exploring various tactics and strategies employed by animal activists to advance their cause, including direct action, lobbying, and public education campaigns. The extensive and diverse nature of this research underscores the importance of animal activism. However, it can be challenging for activists to navigate and identify relevant research that can be integrated into their advocacy activities.
To effectively integrate research into advocacy campaigns, it is helpful to understand what research is necessary. One approach to achieve this is to break down campaigns into distinct sections and identify any relevant research for each section. For instance, The Democracy Centre has developed nine simple questions to guide the planning of advocacy campaigns. These questions can be used as a framework to identify relevant research and narrow down the scope of research required:
What do we want? (Goals)
Who can give it to us? (Audiences)
What do they need to hear? (Messages)
Who do they need to hear it from? (Messengers)
How do we get them to hear it? (Delivery: strategy and tactics)
What have we got? (Resources; strengths)
What do we need to develop? (Challenges; gaps)
How do we begin? (First steps)
How will we know if it's working or not? (Evaluation)
Some examples of findings from an online search related to these topics deliver some informative and insightful research. For example, Faunalytics has produced an excellent overview of potential animal campaign goals and research, which can help inform answers to question 1. The Effective Altruism Forum recently provided an overview of effective messaging in animal advocacy campaigns, responding to question 3. Similarly, a case study by Animals Australia describes how they developed a successful social media strategy to respond to question 5, demonstrating how social media tactics can help build action for animal campaigns. A large range of social movement libraries and hubs can also provide research and resources to help with these questions, such as The Commons Social Change Library, PowerLabs, The Social Change Agency, Waging Nonviolence, MobLab Collective, and Leading Change Network.
It can be more challenging to access academic research, which can often be hidden behind paywalls and be written in complex language. However, academic researchers are often very happy to share their papers. If you read an abstract of a paper and want to know more, reach out to the researcher to ask for a copy (their email is usually provided alongside the abstract). Many academics are also interested in partnering with advocacy organizations to help build their own research portfolio. You could also consider gathering your own data to inform campaigns; for a quick guide to how to do this, visit Campaign Research 101.
How does group activism interplay with public engagement, and what could it mean for the farmed animal rights movement?
Activism is a powerful force for creating change, aiming to transform policies, practices, attitudes, and behaviors. Activists often design campaigns to reach a variety of stakeholders, including politicians, corporations, and decision-makers. In addition to changing these things, most activist groups also strive to educate and mobilize people for their cause. While these two goals are related, they require different approaches. Mobilizing people may require different tactics than those aimed at educating people. Therefore, it is crucial for activists to recognize and address this distinction when designing their animal advocacy campaigns. By doing so, they can maximize the effectiveness of their efforts and increase the likelihood of achieving their desired outcomes.
In general there are two different approaches that activism can interplay with public engagement: activism seeking to mobilize people, and activism seeking to educate people. Activists who seek to mobilize people aim to inspire and encourage individuals or groups to take action toward a particular cause. This may involve organizing events like protests, marches, boycotts, sit-ins, or other forms of direct action. The objective is to create a sense of urgency and motivate people to join the fight for change. Studies on the social psychological motivations of activism indicate that individuals who identify with a movement, feel a strong sense of injustice or negative emotion toward the cause, and believe that their actions will make a difference are more likely to participate in activism. Therefore, if an animal advocacy group aims to mobilize more people, they should seek to convey a shared sense of identity, injustice, and efficacy in their communications and activities. By doing so, they can build a community of passionate and committed advocates who are more likely to take action for the cause.
"Studies have demonstrated that people are more likely to trust information coming from individuals who share a similar identity, or a similar political or moral stance, or who are perceived to be from a 'majority' group.''
On the other hand, educating people about a cause involves triggering different psychological motivations that make individuals more receptive to new information. Recent research undertaken by our group shows that information-sharing tactics are commonly used by climate change advocacy groups. Their objective is to gain people's attention so they are willing to receive and process information about the issue. Studies have demonstrated that people are more likely to trust information coming from individuals who share a similar identity, or a similar political or moral stance, or who are perceived to be from a 'majority' group. Therefore, an effective approach for raising awareness of animal issues may involve advocacy groups using trusted and relatable individuals to give presentations and host events. Flyers or other materials, along with social media platforms, could feature people who may share an identity with a particular audience (e.g., sportspeople, parents/caregivers, artists etc) and include personalized, emotional stories; all factors which can make messages more impactful. By utilizing these types of education-based tactics, animal advocacy groups can more effectively communicate their message and gain support for their cause.
Can you share your insights into balancing campaign effectiveness with efficiency?
Almost all advocacy groups face the common challenge of working with limited resources to design, implement and evaluate campaigns which often seek to achieve broad-scale change. For many groups, it probably feels like they never have enough of what they need, given the scale of this goal! However, every group have some resources at their disposal: the key is to identify and leverage them effectively. Before designing a campaign, it is essential to evaluate the available resources and identify gaps that need to be filled.
For instance, some campaigns may have a dedicated core team of volunteer organizers but need more skills in promotion and communications. In contrast, others may have a large supporter base but few volunteer leaders. By taking stock of available resources and identifying gaps, advocacy groups can make informed decisions about how to allocate resources and build a successful campaign strategy. Fortunately, many tools and resources are available to assist groups in this process. These may include brainstorming sessions, surveys, power mapping, and identifying the spectrum of allies, among others. By using these tools to evaluate their resources, advocacy groups can develop effective campaigns that maximize their impact while working within their limitations.
In particular, long-term activists are an extremely valuable resource. Most of them are volunteers who juggle multiple demands on their time. so it's easy for them to drop out if they become overwhelmed. Changing the world requires a significant investment of time and effort, so recruiting volunteers and having them stick around and continue doing activism, especially organizing that activism, is critical to effective campaigning. Our research has found that the single most crucial factor influencing whether advocates persist in their efforts is the joy and happiness they experience in their roles. What matters most is that they feel like they are part of a team, enjoy the social aspect of campaigning, and that their work [is] valued and respected. Therefore, our suggestion to advocacy groups is to focus on building up your experienced volunteer resources first: ensure that your team is cohesive, supportive, welcoming and fun, as this is the foundation for building effective and efficient campaigns.
How do you think animal advocates can best show up for other social movements?
Animal advocates share many values with activists involved in other social movements. For instance, both animal and environmental advocates aim to promote sustainable practices and protect the Earth's natural resources. Similarly, animal advocates and anti-racism campaigners strive to end the exploitation and oppression of other beings. Thus, building allyship across different social movements is crucial in creating a more just world. Moreover, being an active ally—someone who takes action for other people, causes, and groups–can accelerate positive social and environmental change.
While allyship is crucial for building a better world, many people find it challenging to know what being a good ally entails. In a recent study conducted by our team, we examined how climate change groups in Australia built support for climate justice through solidarity actions. We found that most of these actions involved listening to and learning from other social justice movements, especially those led by marginalized communities. This required engaging in self-reflection and increasing awareness of how various forms of oppression intersect and affect individuals and communities.
Animal advocacy groups can also demonstrate good allyship by sharing resources, such as branding, funding, volunteers, and expertise. Many social movement organizations operate entirely through volunteer labor, and they would greatly benefit from having more activists participate in their activities and amplify their work. Larger organizations can help by creating and supporting movement "infrastructure" hubs, which offer training and mentorship, legal advice, or human resources skills.
Furthermore, stronger coalitions that bring together allies from various social movements can help create a more powerful force for positive change that benefits all. Animal advocates can collaborate with other movements by participating in joint actions, supporting their initiatives, and providing practical assistance when needed.
By recognizing the interconnectedness of social justice issues and actively working to build solidarity, we can create a more just and sustainable world for all beings.
Reader Interactions