Click on the play button to hear the audio version of this post:
Animal Charity Evaluators works to find and promote the most effective ways to help animals. Currently, we promote farmed animal advocacy as the highest impact cause area. I hope to use this blog as an opportunity to explain that decision, and address any concerns about our work taking away focus from the suffering endured by animals in all different cause areas.
In an ideal world, enough resources would be available to address all sources of suffering. In reality, we are faced with the decision of how to help animals as much as possible with the limited time and money that we have. We can make our resources go further towards helping animals by focusing on certain areas.
Animal advocates should focus more efforts on helping farmed animals.
ACE uses three criteria to determine where to focus our efforts in order to reduce as much suffering as possible:
Scale: How many animals are suffering because of the problem?
Neglect: How much attention is already given to the problem?
Tractability: Do we know of viable solutions to the problem?
The following chart illustrates scale and neglect in animal advocacy. While farmed animals account for over 99% of all animals used and killed by humans in the U.S., only 1% of donations to animal charities go to those that specifically focus on helping farmed animals. Even more staggering is that only 3% of total donations to charity in the United States go to either animal or environmental causes; assuming that half of that goes to animals (since we don't have a firm number available), that means a paltry 0.015% of donations in the U.S. go to charities that specifically focus on farmed animals.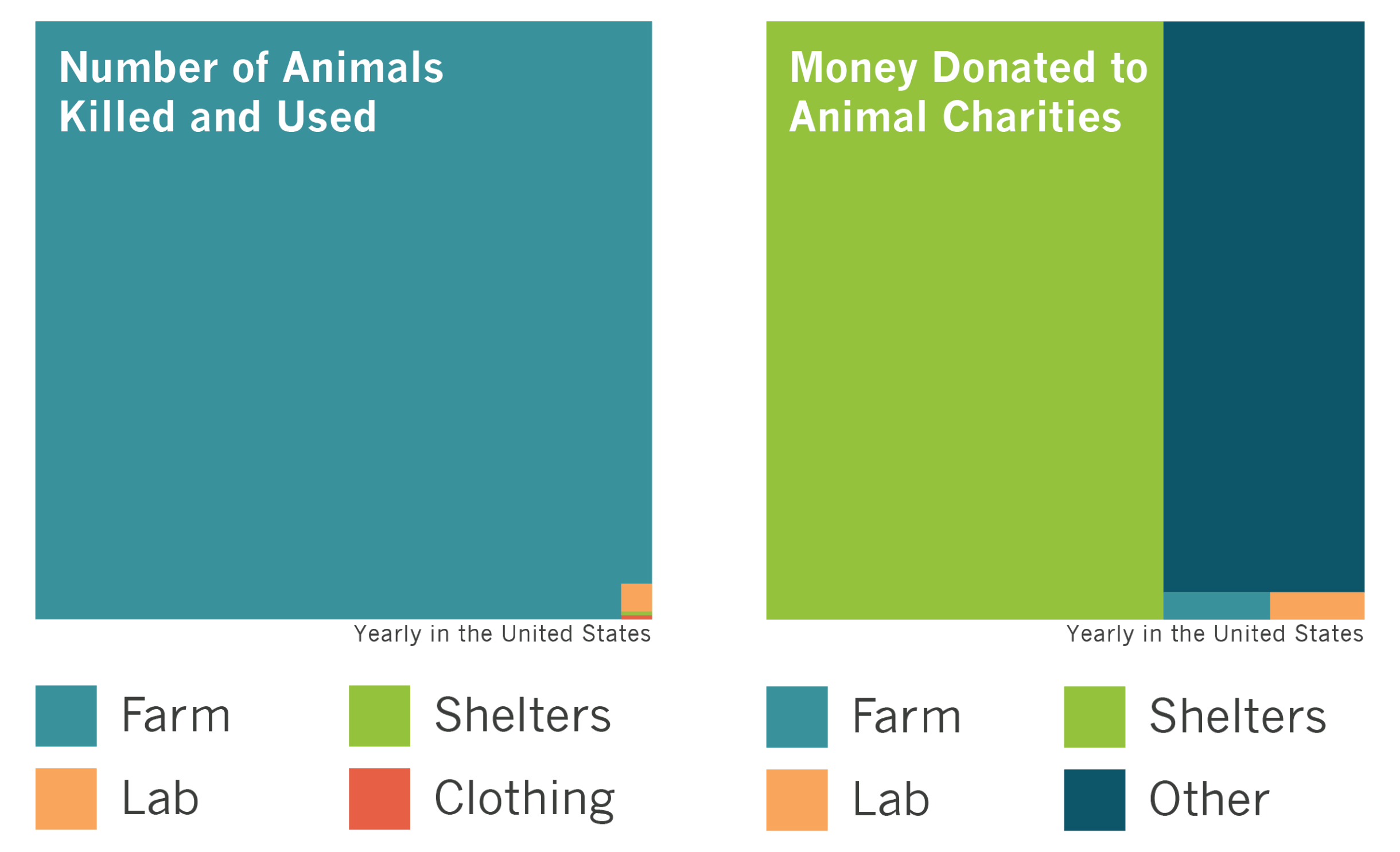 It seems clear that farmed animals deserve more attention—and funding—than they currently receive.
Currently, farmed animal advocacy is not in danger of receiving too much support.
While ACE promotes farmed animal advocacy, we do so knowing that there may come a time where we need to change our approach. For example, if we found that, through a significant and rapid shift, 50% of resources in animal advocacy were being devoted to farmed animals instead of the current 1%, we would consider reframing our approach to ensure that other animals are not ignored.
Unfortunately, this shift has not yet occurred. In fact, we recently updated the numbers for the donation allocation chart pictured above, and in the three years since we originally composed the chart, very little has changed. Farmed animals comprised 99% of animals used and killed by humans in 2013, and they still comprise 99% in 2016. Charities that focus specifically on farmed animals only received 1% of total funding in 2013, and they still only receive 1% of funding in 2016.
This shows that there is still a great deal of work to be done in creating a shift where a proportionally appropriate amount of resources is spent on behalf of farmed animals. It also suggests that there is very little danger of devoting too many resources to farmed animals at this time, and that we can therefore be strong in our messaging about the need to shift efforts to such an underserved population.
Using numbers to inform strategy does not indicate indifference to animals' individuality.
All animals have their own interests, desires, and personalities. It can be helpful to use stories about individual animals to communicate the importance of caring about animals, because it is easier for us to empathize with individuals than with large groups. However, it's important to note that animals aren't only individuals when they are in a small group or if we happen to know their personal stories. They don't lose their individuality when we talk about a large number of them, just like people living in New York City don't lose their individuality when we say that 8.4 million people live there. We don't think that each one of those people lack a personality simply because we don't know each individual story.
Similarly, a chicken doesn't only develop a personality when she is rescued from a farm, named, and taken to a sanctuary. She has that same personality even when she is in a battery cage surrounded by thousands of other chickens. This is why we should focus our efforts on helping animals in ways that affect the biggest populations. This way, we can make a difference for as many individuals as possible.
Using numbers to inform advocacy does not indicate a lack of concern for all animals.
In order to reduce as much animal suffering as we can, we advocate a distribution of resources to the areas of greatest need. That being said, we recognize that there are efforts outside of farmed animal advocacy that have the potential to help large numbers of animals as well. For that reason, we have designated several charities that work on other types of advocacy as Standout Charities. These include charities seeking to change the legal standing of animals, conducting research to guide animal advocacy, and working to better understand the ways that we can help reduce wild animal suffering.
Conclusion
Each life is inherently valuable, and we want to spare as many lives as we possibly can from suffering. Numbers help us understand and describe situations that are too large and pervasive for us to understand, which enables us to maximize our impact. Just like an animal shelter might make a tough choice to accept 20 puppies instead of 5 adult dogs because puppies are more "adoptable," we need to use numbers to inform our work so that we can help as many individual animals as possible.
For those interested in a more in-depth look at our thinking, we thoroughly explain our position on cause prioritization in order to be as transparent as possible.
Edit 8/29/2016: "farmed animals account for over 99% of all animals killed or used by humans in the U.S." was changed to "used and killed" to reflect the fact that we are only considering animals intentionally used and killed by humans and are not including insects or wild animals that are killed through means such as pesticides, pet cats killing wild birds, etc.