Archived Version: December, 2015
Status
Top Charity
Primary Work Area

Industrial Agriculture

Secondary Work Area

Entertainment

Legal and Legislative

Website
Animal Equality
Review Published
December, 2015
Type
Archived Review
Current Version
November, 2018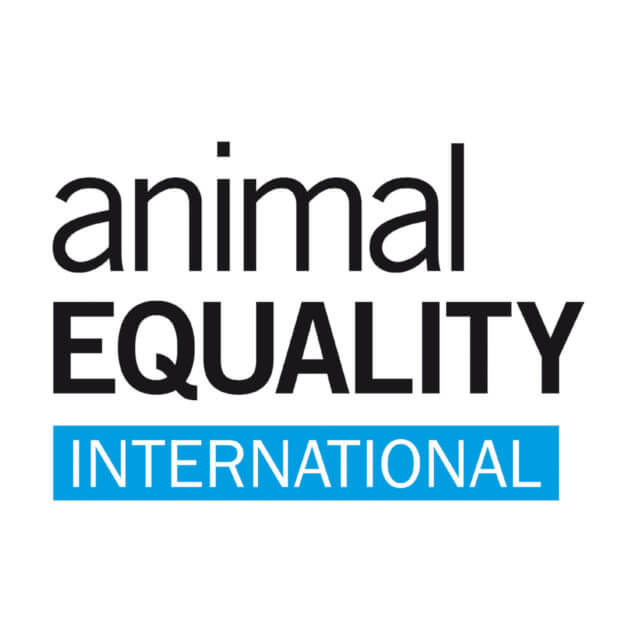 What does Animal Equality do?
Animal Equality advocates for animals by conducting undercover investigations and promoting them through media outlets. They also conduct grassroots outreach, including demonstrations, protests, leafleting, and video showings. Related to their undercover investigations, they also conduct some legal and corporate outreach efforts.
Animal Equality has branches in several countries, including the United Kingdom, Germany, Spain, Mexico, India, Venezuela, and the United States. We think their model of employing local activists to lead offices while coordinating actions internationally amplifies their effectiveness both by allowing them to present materials to more people and by directing resources to locations where they can be particularly effective.
What are their strengths?
Animal Equality achieves significant successes with very small amounts of money; in particular, they have conducted undercover investigations for a fraction of the cost of other organizations. They have a robust understanding of success and failure, and are continually setting goals and performance improvement plans to increase their impact. They have a sound strategy for increasing their reach, reasonable expansion plans, and significant room for more funding.
What are their weaknesses?
Animal Equality is spread out among eight different countries. While this allows them to have a larger reach, it also means that they have significantly fewer resources to work with in each country. In our last review, this led to concerns about sustainability, but given their success in the past year, we are now significantly less concerned. We are uncertain about how much the effects of animal advocacy work differ across various countries, given differences in receptiveness and cultural influence, which might make work in certain countries like the US more impactful than others. However we are not confident enough in this for it to be a major concern.
Why do we recommend them?
We think Animal Equality does an exceptional job given the resources they possess. They are able to produce and market undercover investigation videos at a low cost relative to other organizations, and their efforts to evaluate and improve their work are strong. They exhibit high levels of transparency and work with many other groups to achieve their goals. Their leadership shows a strong understanding of strategy.
We find Animal Equality an excellent giving opportunity because of their ability to produce good work on a low budget and their evidence-driven outlook, and are pleased to recommend donating to them.1
How much money do they Need?
We think Animal Equality could use up to $315,000-$390,000 in increased funding this year. They want to build an investigations department in the US, develop their 360° investigations program, expand educational outreach programs (both online and in person) in England, India, Mexico, Venezuela, Spain, Germany, and Italy, and hire fundraisers in the US and Spain.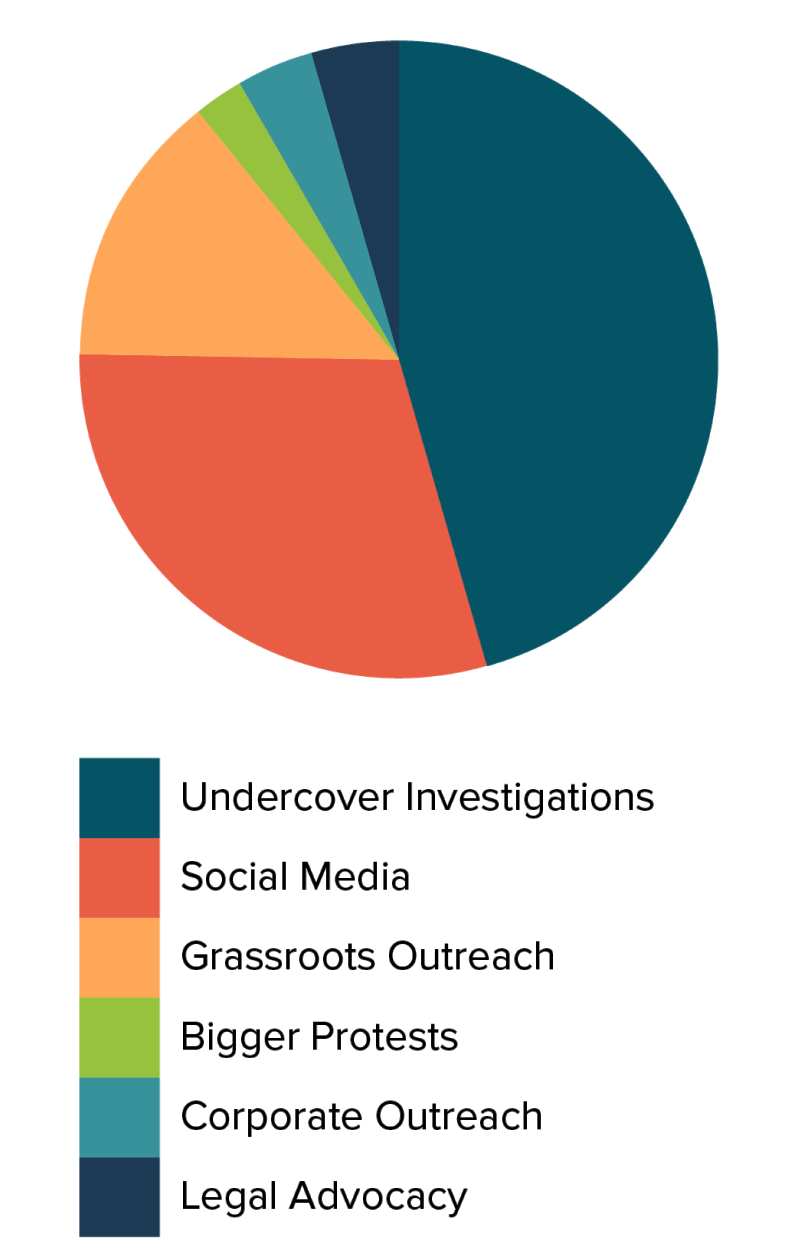 What Does Your Donation Achieve?
From an average donation of $1,000, we think Animal Equality would use about $460 towards investigations of the conditions of animals on farms, paying for a tiny fraction of an investigation but reaching hundreds of thousands of people through media coverage. They would use about $140 to support grassroots outreach, funding the distribution of about 370 leaflets and reaching 5 people with pay-per-view video. They would use about $300 on social media and online outreach, and about $20 on bigger protests. Finally, they would spend about $40 on legal advocacy, mostly related to their investigations and protests, and about $40 on corporate outreach related to their investigations. Our rough estimate is that these combined activities would spare about 13,200 animals from life in industrial agriculture.
---
We recommend unrestricted donations to Animal Equality, as we are not so confident that funds in one area will be used substantially more effectively than in other areas as to recommend restricting donations.
This review was originally written in December 2014, and has been updated to reflect our latest observations. Animal Equality has been one of our top charities since December 2014.
How Animal Equality performs on our criteria.
Criterion #1: The Organization Has Concrete Room for More Funding and Plans for Growth
In 2014, we concluded that Animal Equality had substantial room for more funding, about enough to double their budget from 2014 to 2015.1 In practice Animal Equality actually did raise that additional funding: when we reviewed them in 2014, their income through August had been around $340,000; in the last four months of 2014 they raised an additional $290,000.2 Their income for 2015 is around $720,000 as of the end of August.3 At the end of 2014, their assets/expenditures ratio was about 0.12.4 This is a low assets to expenditures ratio, consistent with our impression that they are currently working towards organizational stability and constrained largely by funding issues.
Given this increase in funding, we should expect that they have expanded their programs as well, in largely the ways they described as possibilities. This does seem to have come to pass. Animal Equality provided a detailed list of hires that they hoped to make if they received additional funding in the amounts they actually have.5 Of ten areas they hoped to hire in, they have hired in seven; in one of these, they are still trying to hire in an area where they had made some hires which did not work out.6 We listed their priority hires in the 2014 review, which were: fundraisers in Spain, Italy, England, and Germany, a Graphic Designer and video editor, and country coordinators in Venezuela and Mexico.7 Of these, they currently have a trainee fundraiser in Germany and are working with companies to develop fundraising strategies in Spain and Italy, have successfully hired a Graphic Designer and a video editor, and have hired country coordinators in both Mexico and Venezuela.8,9
We think these are reasonably strong results for the level of growth that we, and Animal Equality, had predicted. Some of the hiring plans, in particular fundraising, were in areas that Animal Equality had little experience in, and it is not surprising that there were difficulties in expanding their organization as quickly as they have.10 We've talked with them about what they learned from this process, and their conclusion that they need to interview more thoroughly seems reasonable.11
This year, Animal Equality again has substantial plans for expansion. While some of these still address their goal from last year of becoming a more professional organization, more focus on expanding existing programs and creating new ones. They want to build an investigations department in the US,12 develop the 360° investigations program13,14 expand educational outreach programs (both online and in person) in England, India, Mexico, Venezuela, Spain, Germany, and Italy,15 and hire fundraisers in the US and in Spain.16,17 They provided a list of positions they'd like to fund and additional material expenses they would like to take on which totaled around $780,000.18
Of the activities they describe, we are most skeptical of the need for Animal Equality to develop an investigations department based in the US. They have so far run extremely cost-effective investigations partially because they have avoided the legal and social climate of the US, which makes investigations difficult to conduct compared to some other countries.19 Animal Equality is well-positioned to share investigations from the US in other countries around the world where US companies do business.20 However, there are already several groups conducting investigations of farms in the US, and it's possible Animal Equality would do better to work with them to distribute their investigations internationally, as they have in the past, rather than also conducting and publicizing investigations into US farms.21 Creating a US investigations program accounts for about $150,000 of the proposed increase in budget.22
We think Animal Equality's other proposed expansions are within their capabilities and would mostly use money about as effectively as their current programs. (In many cases, they would be hiring in one country for a local position which already exists in another country, or expanding a program to cover more of the countries they already work in.)23 This means that, depending on whether the US investigations department would be as effective as their other work, they could use a funding increase of $630,000-$780,000. A substantial amount of their increase in funding from late 2014 to mid 2015 was traceable at least in part to ACE's recommendation,24 so although this represents similar percentage growth to their growth in recent years, we think at least half ($315,000 – $390,000) of this could be treated as a funding gap for ACE-directed donors.25 Since we can't predict exactly how any organization will respond upon receiving more funds than they have planned for, this estimate is speculative, not definitive. We could imagine a group running out of room for funding more quickly than we expect, or coming up with good ways to use funding beyond what we have suggested. Our estimates are indicators of the point at which we would want to check in with a group to ensure that they have used the funds they've received and are still able to absorb additional funding.
Criterion #2: A Back-of-the-Envelope Calculation Finds the Organization is Cost-Effective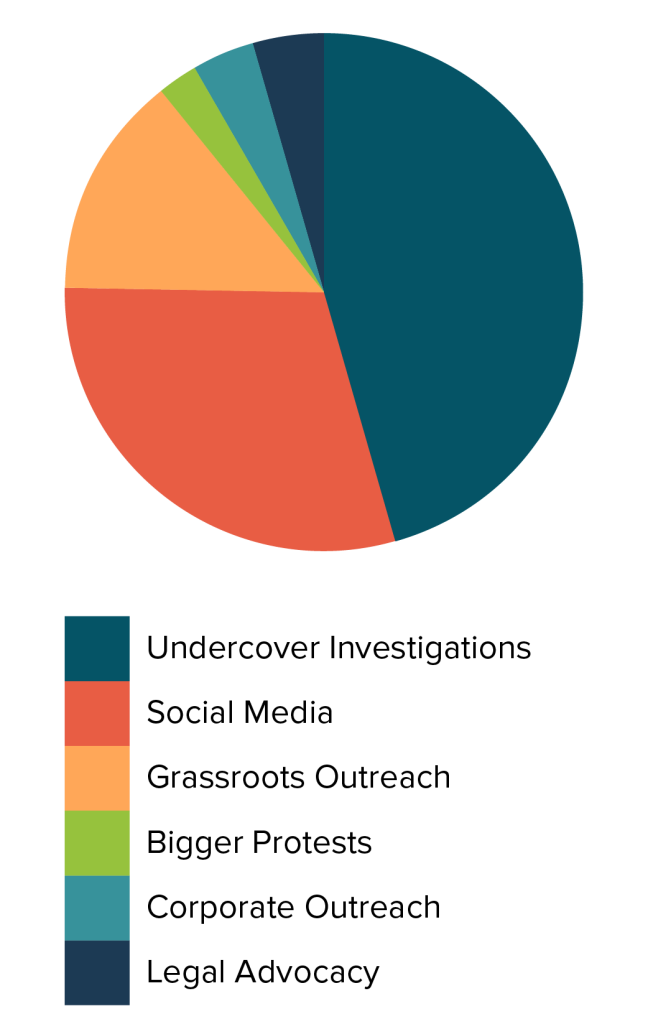 Animal Equality runs several programs; we estimate cost-effectiveness separately for each program, then combine our estimates to give a composite estimate of their overall impact. Note that all estimates factor in associated supporting costs including administrative and fundraising costs. We think this quantitative perspective is a useful component of our overall evaluation, but the estimates of equivalent animals spared per dollar should not be taken as our overall opinion of the organization's effectiveness, especially given that we choose not to account for some less easily quantified forms of impact in this section, leaving them for our qualitative evaluation.
Investigations
Animal Equality spent about 46% of their 2014-15 budget, or $230,969, on investigations documenting the conditions in which animals live.26 In 2015 they conducted and publicized 10 investigations, which they estimate about 180,000,000 people were exposed to through media coverage.27 The videos of the investigations also got about 2,000,000 views where they were hosted online.28 On average, one view of a media story about the investigations cost about $0.001, or one view of a video online cost about $0.12.29
Bigger Protests
Animal Equality also spent about 2% of their 2014-15 budget, or $12,121, on large protests intended to draw media attention.30 They estimate that media coverage of their protests reached around 900,000 people, while videos of the protests were viewed online about 6,600 times.31 On average, one view of a media story about the protests costs about $0.01, or one view of a video online cost about $1.82.32
Grassroots Outreach
Animal Equality spent about 14% of their 2014-15 budget, or $71,426, on grassroots outreach.33 They held 150 info stalls in 21 cities, generating 20 news stories, handing out 188,400 pieces of literature, and showing video to 2,400 people.34 They spent an average of $3,401 per city reached.35 In each city they handed out an average of about 9,000 pieces of literature and an average of 114 people watched their video.36
Social Media
Animal Equality spent about 30% of their 2014-15 budget, or $149,036, on social media outreach.37 We think the most interesting measure of the success of this outreach is the number of shares their posts had; numbers of views can be confusing, since one follower who reads every post will count as many views. Shares are more likely to present the information to people who are not already involved in animal advocacy and present that information particularly credibly because it is being recommended by a friend. Their content was shared about 14,056,840 times throughout the year, for an average cost of about $0.01 per share.38
All Activities Combined
To combine these estimates into one overall cost-effectiveness estimate, we need to translate them into comparable units. This will introduce several sources for errors and imprecision, so the resulting estimate should not be taken literally.39 However, it will allow us to judge whether Animal Equality's efforts are comparable in efficiency to other groups'.40
Some of Animal Equality's activities involve showing video footage of animal agriculture or other situations dramatizing the treatment animals endure.41 To estimate the cost-efficiency of these activities, we use our Online Ads Impact Calculator, together with the number of views per dollar calculated above. For the efficiency of undercover investigations, we assume that one view online is equivalent to a click on an online ad in ultimate effect. We do not assign a quantitative estimate to the impact of media views, even though we expect they are a significant portion of the impact of undercover investigations.42 Animal Equality's investigations result in about 8.5 online views per dollar spent, so we estimate about 23.5 animals are spared per dollar spent on investigations.43 We estimate the cost-efficiency of protests similarly, but because we think seeing a video of a protest is less likely to inspire behavior change than seeing a video of an investigation, we multiply the result by a factor of ⅓44 to reflect this decrease in expected impact. Since about 1 person sees the videos online for every $2.00 Animal Equality spends on large protests, this results in an estimate of 0.5 animals spared per dollar spent.45 However, Animal Equality's large protests could have other important impacts, such as building their community and inspiring new activists.
Animal Equality's grassroots outreach involves video (for which we again treat one viewer as equivalent to one viewer of an online ad) and the distribution of literature. We estimate the effects of distributing literature using our Leafleting Impact Calculator. For every dollar Animal Equality spent on grassroots outreach for 2015, we estimate that 3.8 animals were spared.46 Finally we consider Animal Equality's social media outreach. This is harder to liken to efforts we have seen studied, but we attempt to compare its impact to that of online ad views using several discount rates. We consider that (i) much of the social media content of animal advocacy groups is less optimized for dietary change than leaflets or online ads (10%), (ii) many of the social media users animal advocacy groups engage with are already vegetarian/vegan or have already been exposed to quite a bit of animal advocacy content (50%), and (iii) users on Facebook have numerous distractions and are probably less engaged with the content (50%). This gives an efficiency of about 6.5 animals spared per dollar.47
Weighting each of these effects by the proportion of Animal Equality's budget they required, we find an overall effectiveness of about 13.2 animals spared per dollar.48 This is at the high end of the range of estimates for other groups we have reviewed at this depth.49 Because of extreme uncertainty even about the strongest parts of our calculations, there is currently limited value in further elaborating this estimate. Instead, we give weight to our other criteria.
Criterion #3: The Organization is Working on Things That Seem to Have High Mission Effectiveness
Investigations
Animal Equality works to expose the suffering of animals in factory farms through undercover and open investigations. These investigations are then made public, and they make an effort to get as much exposure from these as possible.
We believe that there is great value in these efforts. These investigations generate a large amount of public discussion about the treatment of animals in farms.50 It has been shown that meat consumption declines when these stories are in the media,51 and social media now provides a platform for free widespread sharing of the footage.52 This means that an extremely large number of individuals are exposed to their work.53 Additionally, the evidence of abuses provides materials for leaflets and videos, which can also be promoted publicly and result in increased exposure.54 Lastly, these efforts provide the background information on farms that is necessary for legal and corporate reform.55
Online and Grassroots Outreach
Online and grassroots outreach about factory farming to individuals seems highly effective because it is focused on changing the culture of animal use for food. This culture must ultimately be changed if conditions are to improve significantly for animals, as it is not possible that animal agriculture can continue to grow at its present rate in a way that is respectful of animals' interests.56 The effectiveness of this type of outreach is somewhat limited when compared to some other forms because viewers and readers are encouraged to make small-scale individual changes and may not influence others the way a change in law or corporate policy influences many people.
Animal Equality also does a limited amount of outreach on other issues such as animals used in entertainment.57 This outreach likely has smaller direct effects than outreach on behalf of farmed animals.58 However, because it brings Animal Equality increased reach, credibility, and membership, it may have substantial indirect effects by increasing the effectiveness of their work on animal agriculture, which constitutes the majority of their operations.59
Corporate Outreach
Corporate outreach seems to have high mission effectiveness because it involves convincing a few powerful people60 to make decisions which influence the lives of millions of animals. This seems likely to be easier than reaching and persuading millions of consumers in order to accomplish the same goal. However, corporate outreach often deals with small welfare improvements.61 It's not clear whether such improvements, even if very easy to achieve, are highly effective in the long term. This is because in addition to changing conditions for animals, they may also influence public opinion, either towards concern for farmed animals or towards complacency with regard to industrial agriculture.62
Legal Outreach
While it is important to create a public demand for change by conducting undercover investigations and grassroots outreach, it is also necessary to pair those efforts with attempts to discuss reform measures with legislative bodies in order to create lasting improvements in laws regarding animals. Reaching out to local governments can therefore be a necessary step in creating new and/or improved animal welfare laws.
Cultural Influence
Animal Equality has been translating and publishing works relevant to animal advocacy for new markets.63 Artistic and cultural materials such as books and films can affect people's perceptions of animals.64 Books and documentaries may be perceived as more mainstream sources of information than materials that are clearly distributed by animal advocates. Organizations can have an impact on people's relationship to animals by producing high quality cultural works which people choose to view, read, and share with others.65
Studies and Evaluation
Studies specifically designed to be applicable to the work of Animal Equality and other similar organizations have the possibility to increase the effectiveness of campaigns by better understanding what makes a video, leaflet, or other persuasive material more influential.66 If some of these studies are able to improve upon the effectiveness of the materials currently being used, a group could increase not only their own effectiveness, but also that of many other organizations, by making the study results freely available.67 Over several years, this could lead to a very high impact for a low price.68
Criterion #4: The Organization Possesses A Robust and Agile Understanding of Success and Failure
Animal Equality has a solid understanding of success and failure. They have an extensive set of goals that they observe and track throughout the process for each of their campaigns.69 Their organization in this area shows their commitment to finding the best possible ways to advocate for animals.
They frequently run undercover investigations, but originally did not press charges on them.70 However, once they learned of the benefits of pressing charges,71 such as prosecution of abusers and those who break the law, as well as the side effects of media coverage, they began doing so for investigations in which they saw that laws had been broken.
Based on the impact they've seen from their investigations, and the repercussions of some of their other outreach tactics (such as civil disobedience), Animal Equality has decided to focus mainly on factory farming and investigations.72 However, they will continue mentioning other issues on their website and social media, primarily for the fundraising and new contacts that result from their work.73
They are also actively working to evaluate the quality of their materials and programs. They conducted three studies in 2014, two on vegan guides and one on Facebook messaging, which they have not yet publicly released.74 They are currently conducting a study on The 360° Project, and their findings from similar previous studies are influencing their decisions moving forward.75
They have learned several important lessons in the past years regarding hiring and internal processes. They are now giving new employees a six month probationary period, increasing communications between offices in different countries, and using their own time management tool due to lessons learned in the past year.76
Animal Equality has grown significantly in the past few years, but they still have a small budget relative to the quantity of their work. After failing to raise the funds they need to fully carry out all of their programs, they have been working to hire professional fundraisers. They have made some progress in this area but are still seeking to expand.77
Criterion #5: The Organization Possesses a Strong Track Record of Success
Successfully carrying out planned programs
Animal Equality has a strong track record of conducting undercover investigations. Following investigations in Italy (lamb, 2013-2014), Spain (rabbit, 2014), France (duck, 2012), and the UK (pig, 2012), they succeeded in garnering a variety of actions including signed petitions to reduce or eliminate meat consumption, widespread media coverage, sanctions against offenders, boycotts on animal products from certain producers, and prison sentences for animal cruelty.78 This work continues; they've conducted 8 investigations in 5 countries in the first ⅔ of 2015.79
They have engaged in a variety of grassroots outreach events as well, including setting up more than 300 informative booths during 2013 and passing out more than 180,000 leaflets, with slight increases in both activities in 2014.80 They organized several protests over the past few years, including a "corpse silent protest" featuring 400 activists from around the country81 and several bull-fighting protests in Spain. When promoted professionally, these events can produce large amounts of media attention and grow an organization's supporter base.
They have had a number of rescue campaigns involving animals from a variety of abuse situations, but those campaigns do not typically involve a large number of rescued animals. (Some examples include rescuing six animals used in circuses in Mexico and an open rescue of 6 hens in Germany.)82,83 Instead, the greatest value comes from the exposure in the media and garnering of public support,84 and Animal Equality makes sure to capitalize on the opportunity by gathering large amounts of petition signatures.85
Animal Equality is beginning to perform online outreach, but has a limited amount of experience in this area. However, when developing this program, they already had a strong social media outreach program for their supporters. In 2014, they reached over 1 million followers and became the most followed non-governmental organization in Spain.86
Programs leading to change for animals
In addition to considering their track record of successfully carrying out their intended actions, we consider whether these actions give them a strong record of making a positive difference for animals.
Animal Equality's efforts to help farmed animals have primarily tried to affect animals through influencing individual consumers to avoid certain products or give up meat or animal products entirely.87 They have prosecuted cruelty charges as a result of certain investigations,88 but do not have an extensive record of inspiring legal or corporate policy changes.89 This means that evidence that their programs help animals is somewhat limited, because it is difficult to track the behavior of individual consumers and to understand the motivations for any changes.
One of Animal Equality's strengths is that they are very good at getting media coverage of their activities, including both protests and undercover investigations. Media coverage of the treatment of farmed animals has been shown to decrease demand for animal products in the United States.90 If this is also true in Europe, and we would expect it to be, Animal Equality's undercover investigations, particularly of farm conditions, help animals on a large scale by reducing demand for meat and other animal products.91 Animal Equality has also gathered some other evidence of the effects of their operations; they claim responsibility, for instance, for a surprisingly large reduction in lamb consumption at Easter in Italy, after they released an investigation dealing with the treatment of lambs on farms.92 Because of surrounding circumstantial evidence,93 We think that investigation likely did have some responsibility for the large change reported, although other factors may also have contributed.
Criterion #6: The Organization Has Strong Organizational Leadership and Structure
Animal Equality has a strong leadership structure, with their three main international Directors each with over 15 years of activism experience.94 They are supported by 9 country Directors working in 7 countries.95 In the past year, Animal Equality has had some learning experiences regarding internal structure.96 They've responded by providing greater support to country Directors (in the form of additional meetings with each other and the international Directors and professional development time), as well as greater formalization of internal structures and protocols, including for hiring.97
We would expect organizations undergoing as much growth as Animal Equality has to experience some difficulties similar to those Animal Equality encountered during the past year. This is a consideration that informs the amount of growth we think any organization should undergo in a short time period.98 However, it is not particularly strong in the case of Animal Equality as compared to other organizations; Animal Equality did not experience especially critical problems, and did respond to them well. We think they're in a stronger position regarding organizational stability now than they were a year ago.
Animal Equality has or is developing standard protocols for many of their project areas,99 so new staff and volunteers have guidelines to ensure consistency in their work, which is especially important given their vast network spanning many countries.
Criterion #7: The Organization is Transparent
Animal Equality openly shares the product of much of their work (such as undercover investigation videos) with a variety of organizations.100 They hold discussions with related organizations and collaborate on strategic campaigns.101 While some of these relationships are not disclosed publicly, that is due to concerns about possibly compromising the effectiveness of their campaigns, which we view as a reasonable decision. They also proactively share with other European and American organizations. Animal Equality was open in their discussions with ACE and provided all information that we requested.
One minor concern we have relates to Animal Equality's transparency with the studies they conduct on their advocacy programs. They conducted some studies during 2014, and they have shared the results with some animal advocates, but have not yet published the results of any of the studies.102 We think these delays are due to honest concerns about how best to present the results, but we also think that such studies are much more valuable when reliably published in a timely manner.
---
The following materials are supplementary research documents associated with our charity review process and are referenced in the Comprehensive Review.
Research Documents