Archived Version: November, 2016
Status
Standout Charity
Primary Work Area

Industrial Agriculture

Secondary Work Area

Entertainment

Legal and Legislative

Website
Animal Equality
Review Published
November, 2016
Type
Archived Review
Current Version
November, 2018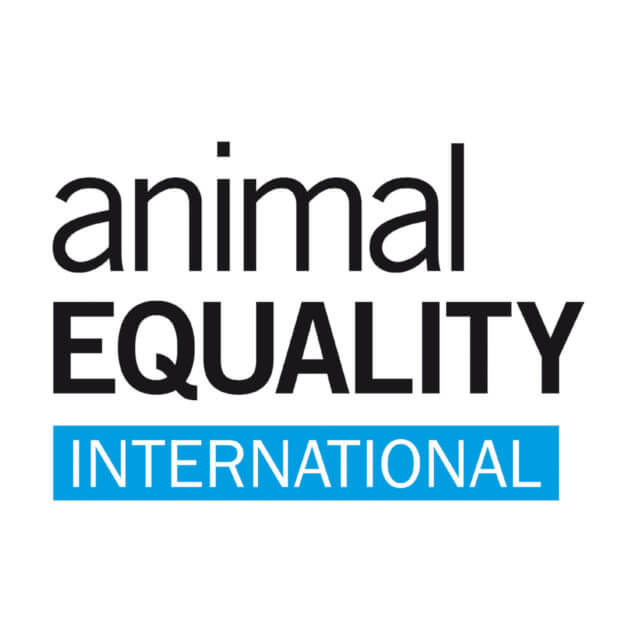 What does Animal Equality do?
Animal Equality advocates for animals by conducting undercover investigations and promoting them online and through media outlets. They occasionally press charges against animal abusers who they discover through their investigations. Animal Equality also conducts grassroots outreach, including leafleting, organizing protests, and showing videos. In 2016, they developed a new outreach program intended to convey the experiences of farmed animals using virtual reality technology. Animal Equality recently launched a corporate outreach department.
What are their strengths?
Animal Equality achieves significant successes with very small amounts of money; in particular, they have conducted undercover investigations for a fraction of the cost of other organizations. They have a strong understanding of success and failure and are continually setting goals to improve their performance and increase their impact. They have a sound strategy for increasing their reach and significant room for more funding.
What are their weaknesses?
Animal Equality is currently spread out among seven different countries and expanding to Brazil. While this allows them to have a larger reach than organizations that work in a single country, it also makes communication and project management more difficult and means that they have significantly fewer resources to work with in each country. In our 2014 review, we were concerned about Animal Equality's stability, but given their success in the past two years, we are now significantly less concerned.
We are uncertain about how much the effects of animal advocacy work differ across various countries, given differences in receptiveness and cultural influence. We suspect that work in some countries, like the U.S., might be more impactful than work in other countries. However, we have not seen enough evidence of this for it to be a major concern.
Why didn't Animal Equality receive our top recommendation?
We think that Animal Equality does an exceptional job with the resources they possess. They are able to produce and market undercover investigation videos at a low cost relative to other organizations, and their efforts to evaluate and improve their work are strong. However, we are concerned that Animal Equality's growth has slightly outpaced their ability to develop efficient processes for communication and project management.
How Animal Equality Performs on Our Criteria
Criterion #1: The Charity Has Concrete Room for More Funding and Plans for Growth
In 2015, we concluded that Animal Equality had substantial room for more funding, about enough to double their budget from 2015 to 2016. In practice Animal Equality actually did raise that additional funding: the 2015 and 2016 budgets they've provided to us this year show Animal Equality's projected income and expenditures for 2016 more than double what they were in 2015, with expenditures increasing by around $1.3 million.
Given this increase in funding, we should expect that they have expanded their programs as well. In fact, they have roughly doubled their staff by adding about 20 new employees. They have also addressed some of the goals they described to us last year, including building the 360° investigations/iAnimal program, expanding educational outreach in most of the countries where they were working, and hiring development staff. They did mention some goals last year which they haven't accomplished, specifically building an investigations department in the U.S. and expanding their educational outreach in Venezuela. We think these omissions make sense; they decided to stop working in Venezuela due to the current political climate, and we were much more skeptical about the value of Animal Equality conducting investigations in the U.S. than about their other plans, due to the saturation of U.S. media with investigations conducted by charities with existing U.S. programs. Instead they have grown their corporate outreach program much more quickly than we expected, with about half of their staff growth coming in that area alone.
This year, Animal Equality again has plans for expansion that would double the size of the organization in the next year. They want to continue expanding their corporate outreach and education programs, hire a Data Analyst and a Managing Director, and build a staff of lawyers in India in order to push for improved animal welfare laws there. They are also interested in creating a department that would specifically try to develop innovative advocacy techniques like the iAnimal program.
We think that Animal Equality has been able to double their effective program work yearly in the past, but at some cost to the efficiency of their systems of communication and management. We're concerned that continued rapid expansion requires a great deal of time on the part of senior staff who already have a very complicated job in coordinating Animal Equality's programs between several international offices. We have seen, and we think that Animal Equality has also seen, some evidence that their growth has slightly outpaced their ability to create structures to facilitate communication and project management throughout the organization.
We think Animal Equality could effectively use an increase in funding of at least $1 million to $1.3 million this year, which would allow them to grow in 2017, but not to double their current size. Since we can't predict exactly how any charity will respond upon receiving more funds than they have planned for, this estimate is speculative, not definitive. We could imagine a group running out of room for funding more quickly than we expect, or coming up with good ways to use funding beyond what we have suggested. Our estimates are indicators of the point at which we would want to check in with a group to ensure that they have used the funds they've received and are still able to absorb additional funding.
Criterion #2: A Back-of-the-Envelope Calculation Finds the Charity is Cost-Effective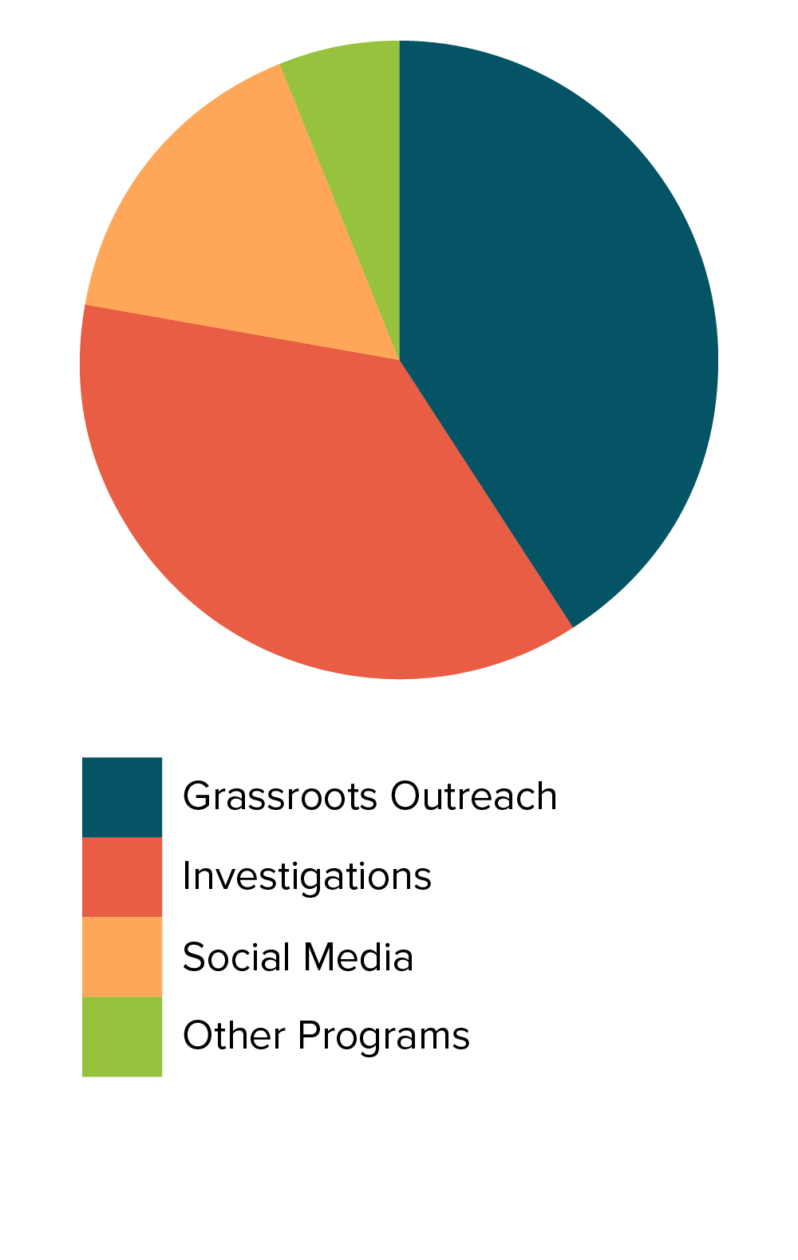 Animal Equality runs several programs; we estimate cost-effectiveness separately for each program, then combine our estimates to give a composite estimate of their overall impact. Note that all estimates factor in associated supporting costs including administrative and fundraising costs. Where we give estimates as ranges, they represent our 90% subjective confidence intervals; that is, we expect the true value to be within the range given in 90% of cases.1 We think this quantitative perspective is a useful component of our overall evaluation, but the estimates of equivalent animals spared per dollar should not be taken as our overall opinion of the organization's effectiveness, especially given that we choose not to account for some less easily quantified forms of impact in this section, leaving them for our qualitative evaluation.
Grassroots Outreach
We estimate that in 2016 Animal Equality will spend about 41% of their budget, or $899,000, on grassroots outreach. We estimate that they will conduct outreach in approximately 100 to 120 cities, handing out between 200,000 and 260,000 leaflets and other pieces of literature, and showing conventional and virtual reality videos to between 60,000 and 70,000 people. This will result in a cost of between $3.00 and $3.80 per person reached through any one of these means.
Investigations
We estimate that in 2016 Animal Equality will spend about 37% of their budget, or $820,000, on investigations documenting the conditions in which farmed animals live. We estimate that they will release between 10 and 13 investigations. The media coverage of these investigations, typically including several stories per investigation through television and print outlets, will receive between 10 million and 300 million views, including all views when someone sees coverage of one or more investigations from multiple sources. Investigations will be viewed 8 million to 12 million more times on YouTube and Vimeo. This is a cost of $63,000 to $82,000 per investigation, but only $0.30 to $5.00 per 100 views.
Social Media
We estimate that in 2016 Animal Equality will spend about 16% of their budget, or $346,000, on social media, including their Facebook pages and other platforms. We estimate that this year the videos they share on Facebook will get between 12 million and 17 million unique views to 30+ seconds. This gives us a cost of between $0.021 and $0.028 per 30+ second video view. However, we note that users also engaged with Animal Equality's content in other ways, such as watching parts of videos and reading text posts, so the cost per engagement is lower.
Other Programs
Finally, we estimate that in 2016 Animal Equality will spend about 6% of their budget, or $132,000, on various other programs including legal advocacy, the launch of their international corporate outreach team, and a very small online ads program.
Changes Since 2015
Animal Equality is spending a significantly larger fraction of their budget on grassroots outreach in 2016 than they did in 2015, from 17% to 41%. We think that this is mainly in connection with the development of their iAnimal program; they have also increased the amount of street views of conventional video that they generate as part of a study to determine the relative effectiveness of the iAnimal program. We also expect that in 2017 we will see a significant increase in the proportion of their budget spent on corporate outreach, due to hires being made in late 2016 and early 2017.
This year and in past years, Animal Equality has reported to us the number of media views of investigations as estimated by a media reporting service. In past years we did not use these numbers in our cost-effectiveness figures, both due to concerns about their being heavily inflated and concern that it was too speculative of an impact to quantify. This year we learned more about the methodology used to produce these numbers and that while the reporting services acknowledge problems with their numbers—chiefly that some reported views are of the newspaper or show a story appears in, and not of the story itself—more accurate but still comprehensive reports are not available. Despite these problems, we have found the reported number this year useful in forming our estimates of the number of times content has actually been viewed.
All Activities Combined
To combine these estimates into one overall cost-effectiveness estimate, we need to translate them into comparable units. This will introduce several sources for errors and imprecision, so the resulting estimate should not be taken literally. However, it will provide information about whether Animal Equality's efforts are comparable in efficiency to other charities'.
We use our impact calculator for leafleting and online ads to find that Animal Equality spares between 0.2 and 1.3 animals from life on a farm per dollar spent on education. We also use that calculator and an adjustment for the difference in depth and content of views of investigations through the media to estimate that Animal Equality spares between -10 and 27 animals per dollar spent on investigations.2 We use a separate impact calculator for social media to find that Animal Equality spares between 0 and 10 animals per dollar spent on social media programs.
We won't try to convert the results of other programs into these units; it is too early to confidently estimate the effects of Animal Equality's current legal and corporate outreach programs, and the online ads program is small enough to be ignored in the context of Animal Equality's budget overall.
We weight our estimates by the proportion of funding Animal Equality spends on each activity to estimate that in the short-term, Animal Equality spares between 0 and 11 animals per dollar spent.3 We have also run parallel calculations to estimate that this means Animal Equality spares animals between 0 and 3 years of suffering on farms per dollar spent. Because of extreme uncertainty even about the strongest parts of our calculations, there is currently limited value in further elaborating these estimates. Instead, we give weight to our other criteria. We also exclude more indirect or long-term impacts from this estimate, which could result in it being an underestimate of overall impact. Because charities have varying proportions of different types of impact, this makes our quantitative estimates particularly difficult to use to compare charities.
Criterion #3: The Charity is Working on Things That Seem to Have High Mission Effectiveness
Investigations
Animal Equality works to expose the suffering of farmed animals through undercover and open investigations. These investigations are then made public, and Animal Equality makes an effort to get as much exposure from them as possible.
We believe that there is great value in these efforts. They've garnered media attention from international outlets like The Guardian and BBC News. Since social media now provides a platform for free widespread sharing of the footage, a large number of individuals can be exposed to Animal Equality's work. There is weak evidence of a negative correlation between media coverage of animal welfare and meat consumption.
Investigation footage also provides material for leaflets and videos, which can also be promoted publicly. Lastly, investigations provide information about cruelty on farms that can be leveraged to achieve legal and corporate reform.
Online and Grassroots Outreach
Animal Equality conducts online and grassroots outreach in order to change individuals' attitudes and behavior towards farmed animals. Inspiring individual consumers to make animal-friendly changes affects animals by reducing the demand for animal products. Increasing the number of vegans and vegetarians could also lead to greater support for new animal-friendly policies, such as the institutional adoption of plant-based products. We think that outreach targeted to individual consumers might even be a necessary precursor to more institutional change.
Still, the impact of grassroots outreach seems limited relative to the impact of other interventions. Even if viewers and readers make individual changes, they might not influence many others to do the same. By comparison, a change in corporate policy or the law can influence many people's behavior and might have a greater indirect impact on social norms and the growth of the animal protection movement.
Grassroots Outreach Using Virtual Reality Technology
Animal Equality developed a virtual reality experience called iAnimal, which they use to demonstrate what life is like on a farm. We think that iAnimal might be a particularly effective way of changing people's attitudes towards animal agriculture. It might be useful for reaching people who would otherwise be difficult to reach. People who aren't already interested in animal welfare might discard leaflets or scroll past online videos, but they might be interested in trying a virtual reality headset. Additionally, virtual reality can make the suffering of farmed animals more vivid than other outreach materials can, which might increase the likelihood that viewers will feel moved by it.4 Animal Equality uses iAnimal to gain media attention and to engage with politicians as well as the general public. By working with people of political influence, Animal Equality can expand its impact.
Books and Documentaries
Animal Equality has been translating and publishing works related to animal advocacy so that they are available to new audiences.5 A survey of current vegetarians, vegans, and meat reducers indicates that books and documentaries are common catalysts for avoiding animal products. They may be perceived as more reliable sources of information than materials that are clearly distributed by animal advocates. Organizations can influence public attitudes towards animals by producing high quality cultural works which people can view, read, and share with others.6
Studies and Evaluation
Animal Equality studies the effectiveness of different interventions and messages. They often work with outside Researchers or organizations like Faunalytics. By investigating the effectiveness of their videos, leaflets, and other persuasive material, Animal Equality may be able to increase their impact. By publishing their findings, they may also help to increase the impact of other groups.
Criterion #4: The Charity Possesses a Robust and Agile Understanding of Success and Failure
Animal Equality has a solid understanding of success and failure. They have an extensive set of goals that they observe and track throughout the process for each of their campaigns.7 In this area, they demonstrate their commitment to finding the best possible ways to advocate for animals.
Animal Equality actively works to evaluate the quality of their programs and outreach materials. They are committed to reducing animal suffering, but they are not committed to any particular strategy for accomplishing their goals. In the past year, they focused increasingly on corporate outreach and virtual reality technology, based on new evidence of the impact of those programs.8 They also chose to close their office in Venezuela when they realized that the instability of its political climate was limiting their impact.
Animal Equality frequently runs undercover investigations. Originally, they did not use the investigations to press charges on animal abusers.9 However, once they realized that pressing charges can expand the impact of investigations, they began doing so in instances where they observe that laws have been broken.10 In addition to leading to the prosecution of abusers, pressing charges can lead to greater media exposure.
Animal Equality has learned several important lessons in past years regarding hiring and internal processes. They are now giving new employees a six month probationary period,11 using Asana to manage tasks, and working on internal communications.12 In order to improve international communication within the organization, they raised the frequency of their international meetings to two per month. The Executive Directors and international Directors have also begun traveling more.13 They periodically survey all staff in order to track job satisfaction and morale.
Criterion #5: The Charity Possesses a Strong Track Record of Success
Have programs been well executed?
Animal Equality has a strong track record of conducting investigations of factory farms. They've investigated 674 facilities since their inception in 2006.14 In 2016, they conducted eleven investigations. They investigated chicken and pig farming in the U.K., the lamb and rabbit industries in Italy, and chicken hatcheries in Spain.
A major focus for Animal Equality throughout the past year was the development of iAnimal, their virtual reality outreach program. So far, they've used the program to engage with journalists, politicians, filmmakers, and college students. They have used iAnimal in six different countries at veg fairs, music festivals, pride festivals, and other events. They are planning to share the equipment with other animal advocacy groups to further expand their reach. iAnimal is already generating media interest; it has been covered in CNN, the BBC, Vice, and other online publications.15
One strategy that Animal Equality uses in conjunction with their other outreach activities is asking people to pledge to eat fewer animals. After watching iAnimal or receiving the Love Veg newsletter, over 30,000 people have pledged to reduce or eliminate their meat consumption. Animal Equality has also obtained pledges from a handful of politicians to help put an end to factory farming.16
Using a recent grant from the Open Philanthropy Project, Animal Equality has been able to launch a corporate outreach program. They hired several new staff members and are collaborating with The Humane League to campaign against a major grocer in Mexico. We are very uncertain about how successful this program will be, although Animal Equality's overall efficiency, the experience of their new international Director of corporate outreach—who most recently directed Mercy For Animals' corporate outreach program—and Open Philanthropy Project's decision to fund the new program make us optimistic.
Animal Equality continually works to grow their social media presence. They have begun posting a greater number of short videos with a positive message, as those tend to get a lot of views. For example, they sometimes post videos of happy animals that have been rescued from farms. We think that these short, positive videos are unlikely to convince many viewers to change their diets or lifestyles, but they may help Animal Equality grow their social media following so that more people will be exposed to their most effective videos, like their investigation footage. Animal Equality currently has almost 4 million followers on Facebook and 700,000 subscribers to their newsletter.
Have programs led to change for animals?
Animal Equality aims primarily to help farmed animals by influencing individual consumers to avoid certain products or give up meat or animal products entirely. They have pressed charges of animal cruelty as a result of certain investigations, but do not have an extensive record of inspiring legal or corporate policy changes.17 Because it is difficult to track the behavior of individual consumers and to understand the motivations for any changes, evidence that Animal Equality's programs help animals is somewhat limited. Even when consumers pledge to change their diets, it is difficult to determine whether changes are made.
One of Animal Equality's strengths is that they are very good at getting media coverage of their activities. There is weak evidence that media coverage of the treatment of farmed animals is negatively correlated with meat consumption in the United States. If this is also true in Europe and Latin America, and we expect it is, Animal Equality's undercover investigations, particularly of farm conditions, help animals on a large scale by reducing demand for meat and other animal products.18 Animal Equality has also gathered some other evidence of the effects of their operations; they claim responsibility, for instance, for a surprisingly large reduction in lamb consumption at Easter in Italy after they released an investigation dealing with the treatment of lambs on farms.19 Because of surrounding circumstantial evidence,20 we think that investigation likely did have some responsibility for the large change reported, although other factors may also have contributed.
Criterion #6: The Charity Has Strong Leadership and Long-Term Strategy
Leadership
Animal Equality has a strong leadership structure, with three main international Directors each of whom have over 15 years of activism experience. This distributed leadership structure seems to be working well for Animal Equality, and we think more charities might benefit from trying it. However, there might be related difficulties, such as it being slower to shift organizational priorities, like focusing more efforts on farmed animals. This structure could also have contributed to their difficulties with project management over the past year. The international Directors are supported by 10 country Directors working in 7 countries.
Long-Term Strategy
Animal Equality "works to achieve a long-term social change, where all animals are treated with compassion and respect" and "focuses its attention on the the main area in which animals suffer the most: farmed animals." We support Animal Equality's choice to focus on improving farmed animal welfare and promoting plant-based diets because we consider farmed animal protection to be the most promising area for doing the most good for animals, other things being equal. We appreciate Animal Equality's focus on effectiveness, and they seem committed to this strategy in practice, such as by shifting their resources towards farmed animal advocacy and running studies on the effectiveness of different strategies.
They have a strategic plan reaching into 2020 which they revisit approximately twice a year. They incorporate changes at the beginning of each year.
Animal Equality has a highly international approach, which means they can help with coordination of charities and animal advocates across different regions to more effectively create global change for farmed animals. They also promote effectiveness-based strategy in the animal movement. While they aren't the only organization filling these niches, we think they have helped lead the farmed animal movement in international coordination, and they have supported the shift towards effectiveness-based strategy.
Criterion #7: The Charity Has a Healthy Culture and Sustainable Structure
In 2015, Animal Equality had some challenges with internal communication across offices and hiring efficiency. They responded by providing greater support to country Directors (in the form of additional meetings with each other and the international Directors and professional development time), as well as greater formalization of internal structures and protocols, including for hiring. Our impression is that these issues have dissipated in 2016. Animal Equality maintains high team morale and low turnover. In particular, Animal Equality's distributed leadership means all staff, especially country Directors, feel that they contribute significantly to the overall strategy of the organization. In 2016, Animal Equality improved on their internal processes and documentation. Animal Equality has also shown consistent growth in their budget and income each year, without any major fluctuations.
Animal Equality openly shares the products of much of their work (such as undercover investigation videos) with a variety of organizations. They hold discussions with related organizations and collaborate on strategic campaigns. While some of these relationships are not disclosed publicly, that is due to concerns about possibly compromising the effectiveness of their campaigns, which we view as a reasonable decision. Animal Equality was open in their discussions with ACE and provided all information that we requested.
One minor concern we have, as noted in our 2015 review, relates to Animal Equality's transparency with the studies they conduct on their advocacy programs. They conducted some studies during 2014, and they have shared the results with some animal advocates, but have not yet published the results of any of the studies. We think these delays are due to honest concerns about how best to present the results, but we also think that such studies are much more valuable when reliably published in a timely manner.21 We expect Animal Equality to be more public with the results of their 2016 study on virtual reality versus standard pay-per-view video outreach.
Criticism/FAQ
Why does a significant portion of Animal Equality's outreach focus on dietary change, e.g. reducing meat consumption, rather than directly shifting public attitudes?
Critics argue that a strong focus on dietary change isn't supported by historical examples or other empirical evidence.22, 23, 24 Some argue that successful social movements have focused their rhetoric on the institution they opposed rather than on individual behavior supporting that institution.25 Critics also believe it is difficult to build a mass movement when the perceived criteria for acceptance in the movement is a lifestyle change, and that a consumer focus provokes less moral outrage than focusing on the institution, thus missing an important driver of activism and subsequent social change.
Animal Equality feels that their work addresses both behavioral and attitudinal change, but a focus on dietary change in some of their programs, such as leafleting, is more likely than other approaches to lead to immediate behavior change that directly spares animals. If people simply change their attitudes with respect to farmed animals, that might not lead to actual impact for animals. After all, many people currently care about animals, but relatively few are vegetarian or vegan.26 It might actually be easier to change individuals' attitudes after convincing them to change their diets, since they will no longer need to reconcile their compassion towards farmed animals with eating them.
In general, however, Animal Equality's approach seems more focused on incremental change than on building a mass movement, which may be the real underlying difference between the two sides.
Some of Animal Equality's activities (particularly undercover investigations and protests) have the potential to backfire, either by leading to legislation targeting activists or by negatively affecting public opinion of activists. Has Animal Equality considered these possibilities?
Critics have argued that some tactics employed by animal advocates, including protests, risk turning public opinion against the animal advocacy movement.27 While these activities make up a small proportion of Animal Equality's work, they do organize and participate in protests and demonstrations. Investigations make up a larger part of Animal Equality's work and have sometimes led to a slightly different type of backlash in which industry and government respond by attempting to pass laws that target advocates, such as ag-gag legislation in the United States.
Animal Equality argues that their work has not led to a significant backlash. In Spain, where they have been using both investigations and protests for 5-10 years, the number of people who think that animal welfare is important has risen in the past decade.28 They find that both politicians and the public tend to respond favorably to investigations in particular.29
While Animal Equality tries to maintain good relationships with media and governments, their activists have been the target of legal charges in the past. It's possible that they could encounter this sort of backlash again, particularly when conducting investigations in countries where they are not very experienced with the responses of local government.
What exactly is Animal Equality's social media budget used for? It seems like Animal Equality can get exposure for free, so is it worth it to pay for increased exposure via social media?
Animal Equality spends a significant proportion of their budget on social media (16% this year, and more in some past years). Critics could question whether this is a good use of funding, particularly because much of Animal Equality's work (e.g. investigations) receives substantial free promotion through media stories written about it. These stories might be shared by supporters even if Animal Equality invested minimally in their own social media presence.
Animal Equality says that their social media budget mostly covers staff time spent on social media. They use social media both to share their investigations more widely and to build their network for other purposes. For example, they use social media to gather support for petitions and corporate campaigns. It also allows them to provide support to people who want to switch to or maintain a plant-based diet.30
We find Animal Equality's social media budget to be larger than that of many, but not all, similar organizations. Organizations with high social media budgets often, like Animal Equality, maintain a social media presence in multiple languages and/or countries, increasing the staff time devoted to writing posts and finding or producing content to share, but also increasing the audience reached.
---
The following materials are supplementary research documents associated with our charity review process and are referenced in the Comprehensive Review.
Research Documents