Archived Version: November, 2016
Status
Standout Charity
Primary Work Area

Industrial Agriculture

Secondary Work Area

Capacity Building

Website
Vegan Outreach
Review Published
November, 2016
Type
Archived Review
Current Version
November, 2018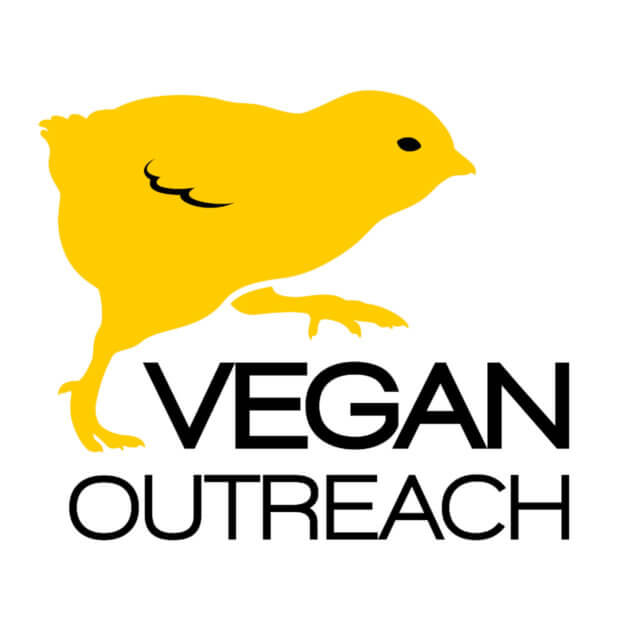 What does Vegan Outreach do?
Vegan Outreach engages almost exclusively in outreach on behalf of farmed animals. They produce a large number of leaflets each year that are distributed by Vegan Outreach staff and volunteers, as well as by other organizations. They do most of their work on college campuses in the U.S., but also have smaller programs in Canada, Australia, New Zealand, India, and Mexico. Vegan Outreach has recently been experimenting with new interventions, including an online vegan mentorship program.
What are their strengths?
Vegan Outreach has an exceptionally long track record (over 10 years) of carrying out their leafleting program. Our back-of-the-envelope calculations suggest that Vegan Outreach is approximately as cost-effective as other organizations we have reviewed at this level of depth. Vegan Outreach works cooperatively and shares information with other groups to reduce duplication of efforts, and they cooperated fully with our requests for information. They consider appropriate sources of information when planning changes to their interventions, including nutritional guidelines and studies on effective animal advocacy.
What are their weaknesses?
We have some concerns that Vegan Outreach has relied too heavily on poor sources of evidence to determine the effectiveness of leafleting as compared to other interventions. Focusing on a single intervention without more information about its effectiveness can be risky, in that an organization could potentially spend substantial amounts of money on less effective interventions. However, Vegan Outreach has recently been experimenting with new programs and is engaging in efforts to measure impact, so we think that they are taking appropriate measures to minimize risk and maximize their impact.
Though we believe that experimenting with new programs is a wise decision for Vegan Outreach, we note that they have not yet established a successful track record with any of their new programs. In fact, after experimenting with an online ads program, Vegan Outreach ended the program because they felt they lacked the technical skills to run it as well as other groups. While this is an indication that they are critically evaluating their own programs, it may also be an indication that the skills and knowledge that have served them in developing their leafleting program are not sufficient for success in other areas. Additionally, Vegan Outreach maintains a focus on individual outreach interventions, and we believe the effectiveness of outreach targeted to individuals may be relatively limited compared to some other interventions.
Why didn't Vegan Outreach receive our top recommendation?
Although we are impressed with Vegan Outreach's recent openness to change and their attempts to measure their effectiveness, we still have reservations about their heavy focus on leafleting programs. We are glad that they have made efforts to evaluate the impact of their work, though we have some concerns about the quality of their research.
Vegan Outreach has been one of our Standout Charities since May 2014.
How Vegan Outreach Performs on Our Criteria
Criterion #1: The Charity Has Concrete Room for More Funding and Plans for Growth
In 2014, we said that Vegan Outreach had limited room for funding to increase their distribution of leaflets on college campuses in the United States, but might be able to use additional funding in their then-new "Pay-per-Read" and vegan mentoring programs, or to expand their operations in countries other than the U.S. At the time, they were leafleting in the U.S., Australia, Canada, and Mexico. In the time since that review, their yearly budget has grown by about $300,000 and they've expanded their leafleting program in Canada, Australia, New Zealand, India, and Mexico. They have also continued and expanded their vegan mentor program, begun training their outreach coordinators (who have historically done mostly leafleting) to do humane education presentations, launched a community engagement initiative to reach the black community in the U.S., started a campaigns program to get more vegan entrees in chain restaurants, and experimented with other methods of outreach including online ads, video, and virtual reality video.
Vegan Outreach hopes to continue expanding the reach of their leafleting program by reaching one new country per year, and might be able to reach more with faster funding growth. They also have room for expansion in other programs if they find that they are working well; in particular, their campaigns, humane education, and virtual reality programs have been launched recently and are probably not at their full possible scale. A slightly more challenging expansion would be to scale up the community engagement initiative, if it is successful, not only by increasing the resources devoted to engaging the black community, but by creating parallel initiatives to engage other communities which are not currently well-represented in or served by the animal advocacy movement. Even without expansion plans, they would likely need more funding in order to comply with the new Fair Labor Standards Act, since it raises the salary threshold below which employees must be paid for working overtime.
Since we last reviewed them in 2014, Vegan Outreach actually has expanded their leafleting program to reach one new country per year, which we feel is good evidence that they will be able to continue to do so in the future. With regard to their other programs, the limiting question may not be whether Vegan Outreach can expand them, but whether they will be successful enough to justify the expansion; Vegan Outreach has ended online ad and "Pay-per-Read" programs because they did not consider them successful enough to maintain. We think that the fact that Vegan Outreach currently has several programs in early stages and is actively looking to determine which should be expanded is promising in this regard; since they are considering a variety of substantially different programs, simply expanding those with the best results is a reasonable way of finding good programs to invest in.
Over the most recent years we have data for, Vegan Outreach's budget has grown by 15-25% each year. We think that they would probably be able to maintain that rate of growth while working about as efficiently as they have been, which this year means they could absorb an increase in funding of at least $185,000 to $300,000. We can't predict exactly how any organization will respond upon receiving more funds than they have planned for, so this estimate is speculative, not definitive. We could imagine a group running out of room for funding more quickly than we expect, or coming up with good ways to use funding beyond what we have suggested. Our estimates are indicators of the point at which we would want to check in with a group to ensure that they have used the funds they've received and are still able to absorb additional funding.
Criterion #2: A Back-of-the-Envelope Calculation Finds the Charity is Cost-Effective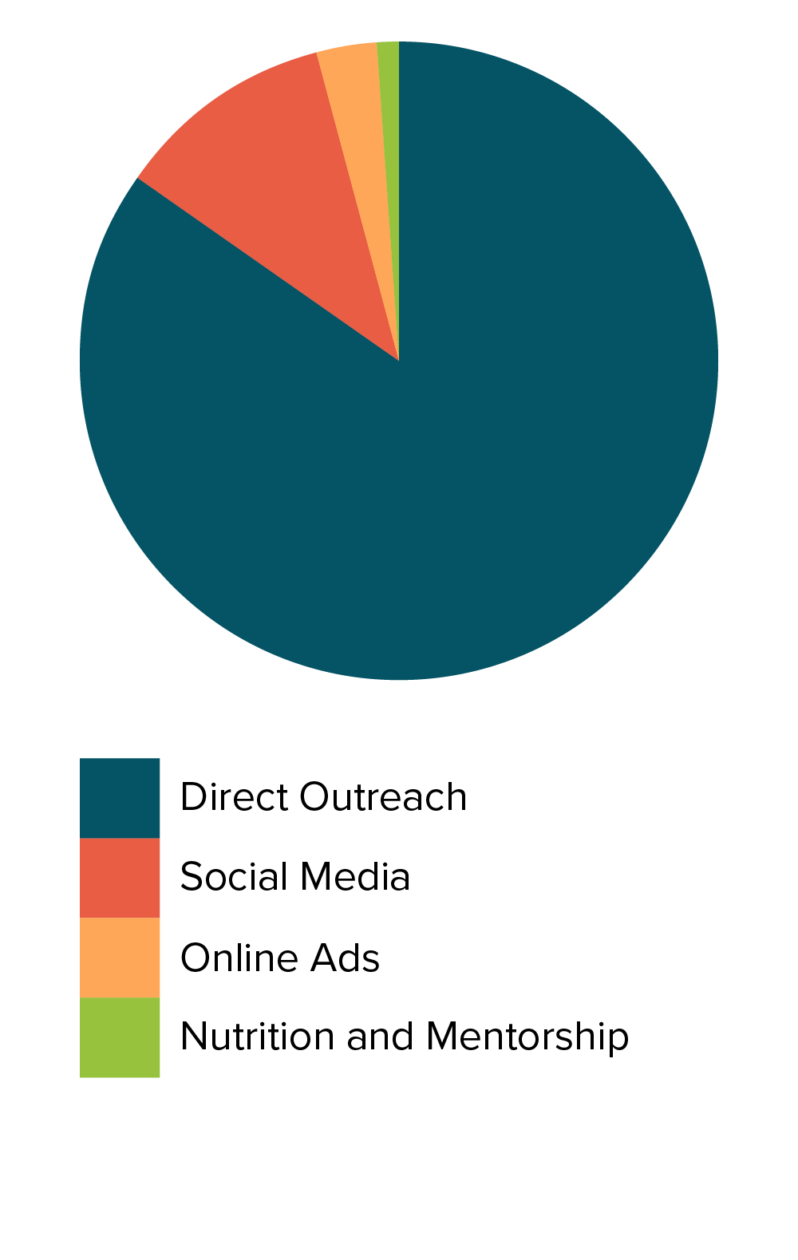 Vegan Outreach runs several programs; we estimate cost-effectiveness separately for each of their main programs and then give a composite estimate of their overall impact. Note that all estimates factor in associated supporting costs including administrative and fundraising costs. Where we give estimates as ranges, they represent our 90% subjective confidence intervals; that is, we expect the true value to be within the range given in 90% of cases.1 We think this quantitative perspective is a useful component of our overall evaluation, but the estimates of equivalent animals spared per dollar should not be taken as our overall opinion of the charity's effectiveness, especially given that we choose not to account for some less easily quantified forms of impact in this section, leaving them for our qualitative evaluation.
Direct Outreach
We estimate that in 2015 Vegan Outreach spent 84% of their budget, or around $1,043,000, on direct outreach, primarily leafleting and tabling. They reported reaching around 1,400 schools (mainly colleges and universities) during this time period and shipping out over 3.3 million leaflets to activists. We estimate that between 2.5 million and 3 million leaflets printed by Vegan Outreach were handed out to the public, resulting in a cost of $0.31 to $0.42 per leaflet.
Social Media
We estimate that in 2015 Vegan Outreach spent 11% of their budget, or around $141,000, on social media and lifestyle outreach, including their Facebook pages, food blog, and e-newsletter. We estimate that during the last year the videos they shared got between 570,000 and 800,000 unique views to 95% of the video length. This gives us a cost of between $0.18 and $0.25 per video view to 95%. However, we note that users also engaged with Vegan Outreach's content in many other ways, such as watching parts of videos, reading text posts, and reading blog posts or the e-newsletter, so the cost per engagement is lower.
Online Ads
We estimate that in 2015 Vegan Outreach spent about 3% of their budget, or around $37,000, on Facebook ads to promote plant-based diets. Vegan Outreach has since discontinued this program due to finding that other groups pursuing similar programs were having more success, so its performance is not likely to be very relevant to Vegan Outreach's future cost-effectiveness. We estimate that during 2015 Vegan Outreach's cost per ad click was between $0.30 and $2.00.
Nutrition and Mentorship
We estimate that in 2015 Vegan Outreach spent about 1% of their budget, or around $16,000, on nutrition and mentorship programs, most notably their vegan mentor program. By the end of 2015, the first full year of the program, Vegan Outreach reported having matched around 600 mentees to volunteer mentors, so we estimate a cost of around $26 to $27 per mentoring relationship. However, we note that it seems likely that a significant part of the cost to date has been fixed costs of setting up the program, so it's possible the program will become more cost-efficient as it grows. At the time of this review in late 2016, Vegan Outreach reported having matched over 2,000 mentees.
Changes Since 2013
In our previous review of Vegan Outreach, we based our cost-effectiveness estimate on data from the period between July 2012 and June 2013. During that period, leafleting was Vegan Outreach's only major program, and was the only program we considered in our estimate. Since then, they have tried a wider variety of approaches, though some, such as their humane education efforts, are still in early enough stages that we did not consider them in our cost-effectiveness calculations.
All Activities Combined
To combine these estimates into one overall cost-effectiveness estimate, we need to translate them into comparable units. This will introduce several sources for errors and imprecision, so the resulting estimate should not be taken literally. However, it will provide information about whether Vegan Outreach's efforts are comparable in efficiency to other charities'.
We use our impact calculator for leafleting and online ads to find that Vegan Outreach spares between 1 and 7 animals from life on a farm per dollar spent on leafleting, and between -0.2 and 5 animals per dollar spent on online ads.2, 3 [December 2017: We have since taken down the calculator because we were concerned that it, and the leafleting analysis it was based on, no longer reflected the current state of our understanding of leafleting. We have since published a new report on leafleting.] We used a separate impact calculator for social media to find that Vegan Outreach spares between 0.02 and 0.5 animals per dollar spent on social media programs (other than online ads).4
Finally, we estimated that the mentorship program causes mentees to stay vegetarian or vegan for 0.1 to 10 years beyond what they otherwise would, and that each such year each mentee spares an additional 5 to 25 animals through their diet choices. This leads us to the conclusion that Vegan Outreach spares between 0 and 6 animals per dollar spent on nutrition and mentorship.5
We weight our estimates by the proportion of funding Vegan Outreach spends on each activity to estimate that in the short-term, Vegan Outreach spares between 1 and 6 animals per dollar spent. We have also run parallel calculations to estimate that this means Vegan Outreach spares animals between 0.3 and 1.6 years of suffering on farms per dollar spent. Because of extreme uncertainty even about the strongest parts of our calculations, there is currently limited value in further elaborating these estimates. Instead, we give weight to our other criteria. We also exclude more indirect or long-term impacts from this estimate, which could result in it being an underestimate of overall impact. Because charities have varying proportions of different types of impact, this makes our quantitative estimates particularly difficult to use to compare charities.
Criterion #3: The Charity is Working on Things That Seem to Have High Mission Effectiveness
Online and Grassroots Outreach
Most of Vegan Outreach's resources support leafleting on college campuses to promote awareness of farmed animal suffering and to encourage young people to change their diets. Vegan Outreach also conducts online outreach using Facebook, blogs, an e-newsletter, and paid advertisements (though they recently ended their ads program).6
The effectiveness of outreach targeted to individuals may be relatively limited compared to some other interventions. Vegan Outreach generally does not emphasize other ways to help farmed animals beyond changing one's own diet or encouraging friends and family to do the same. Even if viewers and readers make small individual changes, they may not influence many others to do the same. Other interventions (e.g. legal and corporate policy work), can influence many people at once. Still, we think that individual outreach may be a necessary precursor to more institutional change.
Diet and Nutrition Mentorship
In addition to encouraging individuals to adopt animal-friendly diets, Vegan Outreach has programs designed to help individuals maintain animal-friendly diets. Executive Director Jack Norris is a registered dietician who works to educate other through his website and by delivering presentations at conferences and public events.7 Vegan Outreach also supports aspiring vegans through their Vegan Mentor Program. Given the high rate of vegetarian recidivism, supporting aspiring vegetarians and vegans may enhance the impact of other outreach strategies. However, we believe that supporting current vegetarians, vegans, and meat reducers is unlikely to be as cost-effective as the most effective ways of creating new ones.
Criterion #4: The Charity Possesses a Robust and Agile Understanding of Success and Failure
Vegan Outreach has historically measured the success or failure of their leafleting efforts largely through the spontaneous reports of individual leafleters and recipients of leaflets. This method does provide continuous updates on the state of operations, since leafleters gather impressions of their own success at every leaflet distribution. However, leafleters' impressions of their own success may be overly optimistic, as recipients who did change their diets after receiving a leaflet are more likely to report back to leafleters than recipients who did not make any changes.
Since our previous review, Vegan Outreach seems to have increased its efforts to supplement anecdotal evidence of success with evidence from other streams. For example, they recently conducted a study on the effectiveness of leafleting as well as a study of the relative effectiveness of four different leaflets. We have some concerns about these studies. For example, the latter one lacked a control group and a sufficiently large sample size. Still, we appreciate that Vegan Outreach has demonstrated an interest in scientifically evaluating their success. They are currently planning a new study and looking for ways to achieve a higher sample size by providing incentives to participants.
In at least some instances, Vegan Outreach uses empirical evidence to inform their strategy. For example, after Faunalytics published a study indicating the prevalence of vegetarian recidivism, Vegan Outreach initiated their vegan mentorship program to help address the problem. In another attempt to reduce recidivism, they've recently hired a campaigns manager to work with restaurants on improving vegan options. Vegan Outreach's strategy is also informed by their evaluation of their own strengths and weakness. For instance, they abandoned their online ads program because they felt they were not able to execute it as well as other groups.8
Criterion #5: The Charity Possesses a Strong Track Record of Success
Have programs been well executed?
Vegan Outreach has a long and solid track record of producing and distributing leaflets that advocate for farmed animals, against industrial agriculture, and for a vegan diet. Statistics on the Adopt a College site show a pattern of generally increasing distribution from 2003 through the present, which is one of the longest track records we've seen, particularly when it comes to a track record of engaging in a specific program.
Since our last review, Vegan Outreach has expanded to new countries; they now operate in the U.S., Canada, Australia, New Zealand, India, and Mexico. They've also hired new staff and developed a community engagement initiative to improve outreach in communities that are underrepresented in animal advocacy.
After a slow start, Vegan Outreach's vegan mentorship program has had some success. In the past year and half, they have matched over 2,000 participants with mentors. They are currently working to improve the efficiency of their matching system.
Not all of Vegan Outreach's programs have been as well executed as their leafleting program. For instance, Vegan Outreach acknowledges that they are not tech-savvy enough to execute an online ads program sufficiently well and have since discontinued it.9 We are concerned that, if Vegan Outreach begins offering a wider array of programs, the skills they've developed through the implementation of their leafleting program will not necessarily be sufficient for success in other areas.
Have programs led to change for animals?
As is the case for any group attempting to influence individuals' behavior, it is extremely difficult to establish how strong Vegan Outreach's track record is with regard to its ultimate impact upon animals. Individual behavioral changes are very difficult to measure and track. The available evidence is enough to be suggestive that Vegan Outreach has had a positive effect, but it is not enough to determine the magnitude of that effect with confidence.10
We consider Vegan Outreach's track record of accomplishments strong overall. While groups influencing government and corporate policies are able to more concretely demonstrate their short-term effects on animals, ultimately we believe that spreading changes in the way individuals think about and behave towards animals is extremely important. While we do our best to give all available evidence appropriate weight, we do not want to penalize groups engaging in this work because of the inherent difficulties of measuring its effects.
Criterion #6: The Charity Has Strong Leadership and Long-Term Strategy
Leadership
Several years ago, Vegan Outreach underwent a significant leadership transition with the departure of its Executive Director. The current Executive Director, Jack Norris, was one of the co-founders of the organization and has been involved in leadership roles since 1993. We have not noticed any significant issues with the leadership transition, and Norris' background as a Registered Dietician seems useful for promoting vegan eating.
Most members of Vegan Outreach's Board of Directors have worked with Vegan Outreach for many years. While this could raise concerns about organizational flexibility and agility, we think changes such as the new diversity program indicate they are remaining flexible. A long-standing board can also have benefits, such as avoiding drift from the core organizational values.
Long-Term Strategy
Vegan Outreach works to "end violence towards animals" and a move towards a "future when sentient animals are no longer exploited as commodities."11 While they care about all animal exploitation and suffering, they focus on promoting plant-based eating. We support Vegan Outreach's focus because we consider farmed animal protection to be the most promising area for doing the most good for animals, other things being equal. Vegan Outreach also works to make their leaflets and other programs as impactful as possible, a decision which we strongly support.
Vegan Outreach does not have a public strategic plan document. While we don't think having a strategic plan is the most important indicator of clear strategic thinking, we think it does help organizations achieve medium- and long-term goals by coordinating their programs.
The main impact of Vegan Outreach's leafleting program seems to be the creation of new vegans and vegetarians. This has a direct impact on animals by reducing production, but can also help create support for more institutional change. In particular, having a large number of vegans and vegetarians could mean more support for new animal-friendly policies, such as the institutional adoption of plant-based products. The leafleting program could also help train and inspire new activists, who go on to help with leafleting or other interventions to help animals.
Criterion #7: The Charity Has a Healthy Culture and Sustainable Structure
Vegan Outreach has a highly developed method for dealing with turnover and training new employees and volunteers at lower levels. Volunteers are encouraged to leaflet on their own using instructions provided on the website, but are also added to a list and contacted by outreach coordinators when they plan to visit their college or even their general area, so that the volunteer can leaflet with an experienced leader if they want. Outreach coordinators are usually hired after acquiring significant experience with leafleting, either as a volunteer for Vegan Outreach or in some other way. They also receive a handbook detailing how to approach their responsibilities.
Vegan Outreach has maintain a stable and growing budget for several years, indicating sustained fundraising ability. We also think that Vegan Outreach's successful leadership transition in 2014 indicates organizational stability.
Vegan Outreach produces an annual report containing financial and basic organizational information, and will distribute it to anyone who asks. They also work cooperatively with other animal advocacy organizations and share some information about what they find successful and unsuccessful on their website. They were cooperative and prompt in responding to our requests for information, which required more detailed and more sensitive information than is available online.
Criticism/FAQ
Why does a significant portion of Vegan Outreach's outreach focus on dietary change, e.g. reducing meat consumption, rather than directly shifting public attitudes?
Critics argue that a strong focus on dietary change isn't supported by historical examples or other empirical evidence.12, 13, 14 Some argue that successful social movements have focused their rhetoric on the institution they opposed rather than on individual behavior supporting that institution.15 Critics also believe it is difficult to build a mass movement when the perceived criteria for acceptance in the movement is a lifestyle change, and that a consumer focus provokes less moral outrage than focusing on the institution, thus missing an important driver of activism and subsequent social change.
Some charities feel that a focus on dietary change in certain programs, such as leafleting, is more likely than other approaches to lead to immediate behavior change that directly spares animals. If people simply change their attitudes with respect to farmed animals, that might not lead to actual impact for animals. After all, many people currently care about animals, but relatively few are vegetarian or vegan.16 It might actually be easier to change individuals' attitudes after convincing them to change their diets, since they will no longer need to reconcile their compassion towards farmed animals with eating them.
In general, however, Vegan Outreach's approach seems more focused on incremental change than on building a mass movement, which may be the real underlying difference between the two sides.
Does Vegan Outreach's experience and skill with leafleting transfer well to their newer programs?
While Vegan Outreach has a long track record of successfully carrying out their leafleting program and is now trying to diversify their program range, most of their other programs are very young and lack strong indicators of success. The most established of their programs other than leafleting is their volunteer mentorship program, which they initiated in 2014, and which is still a fairly small program run by a volunteer.17 Their community engagement initiative and humane education programs seem to use more staff time, but have been started more recently.18, 19 Vegan Outreach has not yet been able to evaluate the success of any of these programs, in part because they are still in early stages.
While we have no specific reason to doubt any of Vegan Outreach's current programs, there is evidence that Vegan Outreach's success with leafleting does not translate to some other related areas. In particular, Vegan Outreach operated an online ads program, but they recently discontinued it because they found that they did not have the technical skill to achieve the results they wanted.20 While it's encouraging that they recognized a problem with one of their programs and took steps to correct it, this also exposes limits to Vegan Outreach's versatility. This could be a minor drawback, if Vegan Outreach's skills do transfer well enough to make at least some of their new programs successful and they set up enough monitoring and evaluation to accurately identify which programs are working. It could also be a major drawback, if their skills don't extend to any of their new programs or they can't identify which are and are not successful. We are cautiously optimistic that their skills will transfer at least to their new in-person programs.
Some believe that online outreach is more cost-effective in general than in-person outreach including leafleting. Why did Vegan Outreach discontinue their online outreach program?
Vegan Outreach discontinued their online outreach program because running Facebook ads efficiently takes technical skill and other groups had more appropriate skill sets.21 Our impression from conducting other charity evaluations is that other charities have been able to run similar online ads programs more cheaply and with less difficulty than Vegan Outreach experienced. We think online outreach programs are also likely to be more efficient at larger scales, so in general we'd rather see a smaller number of large programs than a large number of very similar small programs. Overall, we agree with Vegan Outreach's decision to end this program.
---
The following materials are supplementary research documents associated with our charity review process and are referenced in the Comprehensive Review.
Research Documents