Certain animal charities can help many more animals with your donation than others can. This is largely because some ways of helping animals are much more efficient than others. We have explored charities' wide range of efficiencies by comparing the effects of a $1,000 donation to a companion animal shelter with a donation of the same amount to an ACE Top Charity. This resulted in the chart below. Although there is some variation in the effectiveness of different charities, and we have some uncertainty about the outcome of particular programs, we believe that by donating to an ACE recommended charity you can help many more animals than you would by donating to a conventional shelter.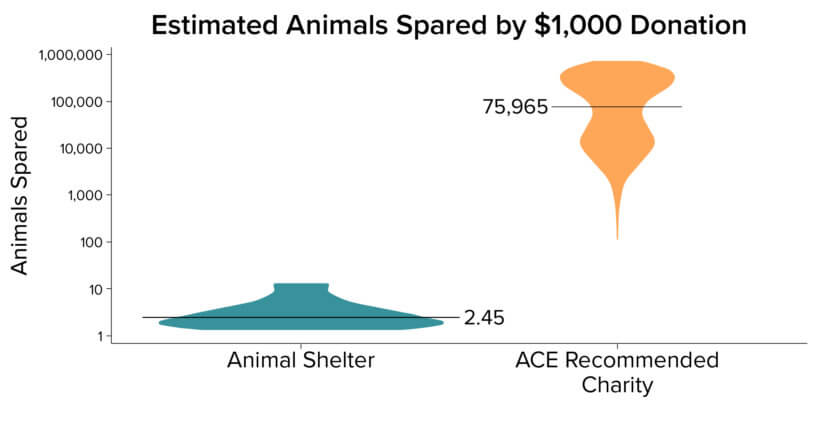 Note that the way in which animal shelters and ACE Top Charities "spare" animals is quite different. Shelters usually spare animals from life on the streets or from euthanasia by providing them temporary housing and trying to find them new owners, while ACE Top Charities tend to spare animals from life in industrial agriculture by reducing the size of the factory farming industry (preventing new farmed animals from coming into existence) and reducing the suffering of existing farmed animals by, for example, getting companies to adopt cage-free or other similar policies.
About the Data
Estimates for costs of animal shelters were obtained by searching Google for "what does it cost for an animal shelter to rescue a cat or dog" and visiting the resulting shelter/SPCA/humane society (but not sanctuary) websites.1 If the shelter provided its own estimate of what it cost, on average, to place an animal, that estimate was recorded. If the shelter provided its budget and an approximate or actual number of animals served, those were recorded and used to produce an estimate.2 If we could not find enough information on the shelter website to make an estimate, nothing was recorded. Some shelters provided enough information to make both kinds of estimates, in which case both were recorded. A total of 10 estimates were obtained. Average costs were also weighted by the number of animals served by the shelter to produce a weighted mean estimate.
Estimates for the costs of sparing animals from life in industrial agriculture through ACE recommended charities were taken from our 2016 cost-effectiveness estimates for Mercy For Animals and The Humane League. (We have not published such an estimate for The Good Food Institute because of their relative youth combined with their focus on relatively long-term goals.) We combined the distributions produced by each estimate, then cut off the tails of the combined distribution (10% on each end) to produce a distribution which is more comparable to the one obtained for shelters, because the ends of the distribution represented unlikely situations, the equivalents of which we did not consider for shelters. We also computed the median of the distribution.
About the plot
For each group of charities, estimates were plotted using a violin plot on a log scale.
For the animal shelter group, the weighted mean estimate was superimposed on the violin plot. Because the charities analyzed varied greatly in size, this is our best single estimate for the effectiveness of a typical donation to this type of charity.
For the recommended charities group, the median was superimposed on the violin plot. This is our best single estimate for the effectiveness of a typical donation to this type of charity.
Resources
ACE. Mercy For Animals Review. December 2016.
ACE. The Humane League Review. December 2016.
---
For more detailed thoughts on the effectiveness of animal sanctuaries, which are similar to animal shelters in some ways, see our blog post from September 24, 2015.

If we wanted to improve the accuracy of this estimate, we could adjust for the expected optimism that shelters have about their own cost-effectiveness and number of animals served. However, our charity reviews do not always explicitly adjust for similar biases either, and the large difference in cost-effectiveness that is the focus of this page is unlikely to be significantly affected by such an adjustment.