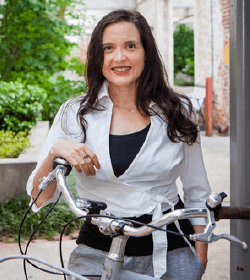 This is part one of our interview with Dr. Carrie Freeman about her latest book, Framing Farming. Carrie is an associate professor of communication at Georgia State University where she focuses on media ethics, communication strategies for social justice movements, and the media's coverage of nonhuman animal issues.
Carrie spoke with Erika Alonso, ACE's Communication Manager.
Erika: Your recent publication Framing Farming offers a great analysis of communication strategies put into practice by animal rights organizations. Could you summarize the general idea expressed in the book?
Carrie Freeman: I wanted to know how much animal rights organizations actually reflect "animal rights" in their vegetarian campaigns. It relates to being able to frame non-speciesist messages in a speciesist culture. So that's the challenge; we are all trying to figure out how to end animal exploitation and many of us in the animal rights movement have an abolitionist view in our hearts and minds in terms of wanting to eliminate the use of animals, but that is not where everybody else is in society. Their views are more about animal welfare: "use animals, but do so nicely." It's a challenge for us to reach people.
I wanted to talk about animal rights in a way that reaches people and their values and identity. I am not so pragmatic that I want to reach people exactly wherever they are by just promoting behavioral change. I feel like just talking to someone about a person's cholesterol may make them eat less meat but won't necessarily encourage them to boycott a circus It's important for our message to get people to question whether using and killing animals is necessary or just. We need to address the problem not only in terms of human health. Our message needs to give the whole picture. Our vegan campaigns can be more holistic in addressing larger issues that animal advocacy challenges.
Erika: I really enjoyed your analysis of different framing techniques used by animal rights organizations. For those who may not be as familiar with communications terminology, what is the importance of strategically framing messages?
Carrie: Framing, as a communications process, is designed to make a message meaningful, make it reach people on some level. I don't see it as a manipulative process; I think it is just a natural process of talking in such a way that you emphasize certain points, certain ways of seeing things. I also use the term framing because in social movement studies, that's a term used in discussing communication.
Erika: How is it that AR organizations can tailor a message that is both authentic to the movement and, at the same time, meaningful to those outside the movement?
Carrie: One difficulty we face is finding a way to make people feel accountable for the ways in which animals are used without putting them off entirely. Animal rights groups tend to frame messages in a way that places blame on animal agribusiness for the treatment of animals. But by doing this we are saying that if agribusiness would reform, we wouldn't have this problem. However, it's harder to say that the individual who is eating animal products is responsible. Each person contributing to the demand of animal products is giving money to support this cruelty.
Because of this, animal rights groups tend to approach the audience with a message that is meant to reveal something, to reveal that they are unaware of the cruelty of factory farming because agribusiness purposefully hides it from them. From this message we expect people to stop eating animals. Our message is "Look at this horrible factory farming. You don't want to contribute to this, do you?" What people outside the movement take away from that is that factory farming is awful, that they need to do things like switch to family farms or a more "natural" kind of farming. I think our message needs to de-naturalize the concept of farming itself.
I like the use of messages that are framed to reinforce the basic notion in human ethics that it's unethical to cause unnecessary harm. Any question of whether we need to harm animals puts our whole justice system/ethical system into question, which is what our society needs to do. We claim to be democratic and liberty loving and yet we have all these laws and practices that enslave other animals. It is very antithetical to what we say we are as a culture. We should provoke this discussion with our message. Our message may not change someone the first time they hear it, but instead, it changes the parameters of the debate away from questioning the treatment of farmed animals to questioning their very existence.
Erika: That seems to be an obstacle when I speak to others about completely removing animal products from their diet. Their response is something like "That's why I only buy local, free-range," etc. It makes me think that maybe the way in which I am communicating or the message that I'm conveying is actually promoting the thought that "humane" slaughter is somehow acceptable. Is it possible that animal rights activists are actually creating a message that is counterproductive to the movement?
Carrie: I think it might be. One of the things in framing literature is that the way you frame the problem needs to fit the solution. We have a little bit of a disconnect right now. We say, "look at how horrible this system is," which is true. And when people see images of factory farming, they are disgusted. For some reason, the natural solution people come to is to switch to "humane" ways of farming, to eliminate some of that suffering. Animal rights groups aren't promoting "humane eggs", milk, or happy meat, but people come to that conclusion because we are using this graphic imagery of factory farms specifically to assert our position.
On some level, it makes sense that we do this. We live in a digital culture and visuals are the main commodity of our movement. It's a currency that works. When people see animal suffering and industrialized cruelty, it works to our advantage in terms of animal welfare. One of the things I've noticed when talking to people about vegetarianism is that they will agree with you up to a point. Nobody wants to see animal suffering, but they have been conditioned to think that animals are not as important as humans and that we are entitled to use them. People do not even like to look at themselves as animals. The separation from our own animality is what we should really try to get past with our messaging.
Erika: So are graphic images only effective at promoting animal welfare? What are your thoughts of the use of this imagery overall?
Carrie: I don't have the research that groups such as Vegan Outreach, Mercy For Animals, and The Humane League do; they probably know exactly what pictures to put on the fronts of leaflets in order to get people to take them and what images to put throughout the leaflets, etc. Instead of asking what is the most effective way to have an immediate response, I focus on questions like "What visuals are appropriate to the message to promote the kind of thinking we need?". I suggest that a variety of images are necessary, both positive/negative, and happy/sad. I think an image can be very poignant and very sad without being graphic in the sense of violent or bloody. One that comes to mind is the image on the cover of Matthew Scully's Dominion. It's an image of one sheep with her legs tied together and she's just sitting on the ground. Although it isn't graphic, it is still very sad and acts as a representation of our domination and control over someone else and how vulnerable they are. I think you can find ways that you can touch people with an image without it having to be grotesque. And I think there are people in our movement that definitely understand this. For example, Bruce Friedrich and Matt Ball are very practical in knowing where to draw the line in terms of showing a visual that will be very emotionally provocative but won't be so gross that people will turn away. There are plenty of factory farming images that don't show blood but show the sadness and how pathetic the situation is.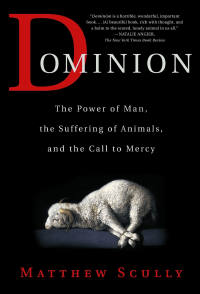 Another poignant image that comes to mind would be a fish gasping, unable to breathe outside of water. In my book, I emphasize the importance of including sea animals in our discussion more than we currently do and suggest that more groups get on board with this. We need to include all animals in our messaging, not just the most charismatic ones or the ones people most relate to. It's difficult because people tend to be more concerned about land animals, especially mammals. But the AR movement is concerned with saving lives. Pragmatically, the last thing we want is for people to eat more small animals. We need to focus on the message that all animal lives matter.
Erika: Right. I think we've already seen that society thinks animal lives do matter, but only some animals. For example, companion animals seem to be the most cared for, and have even been afforded certain rights legally. Why do we have laws against abusing some animals, while at the same time laws promoting even worse treatment against farmed animals?
Carrie: I think it's our job to show these moral inconsistencies in our justice system. Often, AR campaigns use the comparison "why are you petting your dog and eating this pig?" and I think that those comparative messages have value. If you like these animals and view them as someone, and you know that these other animals have similar capabilities and personalities, why are they treated differently?
It's just amazing how we can compartmentalize different animals. Melanie Joy speaks to this pretty well in her book about carnism. It doesn't make sense, why we treat dogs differently than cows. I think it's useful to bring up that cognitive dissonance in our messaging and make people uncomfortable with the choices they make. Hopefully in time, the movement will progress and the media will allow these things to be opened up for debate.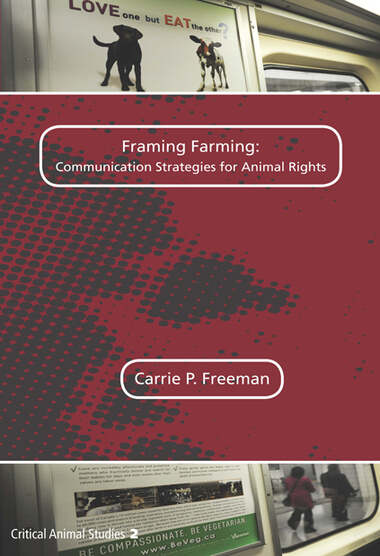 Read part two of our interview with Dr. Carrie Freeman, where we discuss social justice movements and Carrie offers some practical application of communication strategies to AR campaigns. You can also visit Framing Farming to find out more about the book as well as a list of resources for those interested in learning more about effective communications strategies.