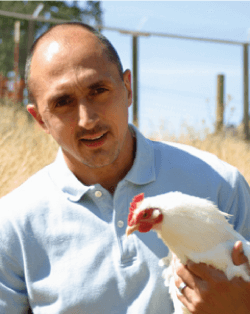 The following is a summary of a conversation that took place on September 4, 2014 as part of our evaluation of Vegan Outreach. Jack Norris spoke with Allison Smith, ACE's Director of Research. 
What's new at Vegan Outreach since the previous evaluation?
The following two programs are new initiatives at the organization since the previous evaluation in May. First, VO is testing out a 'Pay per Read' program in which people receive rewards for reading an electronic copy of one of their booklets and answering a survey. The participants then answer a follow-up survey about a month later to determine if their dietary habits have changed, and if so, to what extent. The pilot study is estimated to cost $0.44/person, which is comparable to the estimated costs that VO pays when they print and hand out literature at colleges ($0.25-$0.50/booklet, depending on how far they have to travel).
One the benefits of this program is that it allows VO to determine if it is a cost-effective way to change people's diets. Additionally, it will allows them to gather more information on their booklets to determine which are the most effective at reaching different demographics. The organization is confident that the program will lead to a plethora of good data.
The program came about when two people who were creating an app approached VO and asked if they wanted to take part in a pilot study with them. The app is based on technology currently used by Amazon, but Jack is not certain about the specifics of it. One of the shortcomings of existing rewards programs is that there are a lot of limitations with how to follow up with people. As a result, one of the goals of the developers is to have more control over how to follow up with people.
Jack provided us the preliminary results of the program via email:
24.7% of non-vegetarian participants who read a VO pamphlet (N=95/385) said they "probably" or "definitely" will reduce consumption of animal products after reading. At a cost of $0.44 per reader, with a total of 412 "treatment" readers (those assigned to read a VO pamphlet), this comes out at $1.90 per treatment reader reporting they "probably" or "definitely" would reduce consumption of animal products, and $3.63 per reader reporting they "definitely" would reduce. Follow-up results will offer further clarity on this question.
Another new development is the introduction of a Vegan Mentor program. This initiative involves volunteers following up with people who order their guides to ask them a number of questions pertaining to what they liked and disliked about the guides, and whether they can follow up with them further down the road. The guides will be re-designed in the next couple of months and VO will be taking into account the results of any surveys when carrying out the re-design. VO has also developed a handbook for the volunteer mentors.
Updates to leaflet designs
Vegan Outreach is currently re-designing their Compassionate Choices booklet using research from The Humane League and Nick Cooney. This research consisted of testing which booklet covers are more likely to garner positive attention and get people interested, and assessing which images have the greatest impact. The staff at VO are taking this data seriously when implementing the changes to the Compassionate Choices booklet.
The organization has Your Choice again and replaced some of the images that didn't test well. The changes were minor rather than a complete overhaul.
The Compassionate Choices literature is aimed at an adult audience whereas Your Choice is youth-oriented and aimed more towards college students. The images in Compassionate Choices depict a range of older people and language that is more suitable for an older demographic. The outcome of the changes to Compassionate Choices will be a significantly different booklet than the current edition.
They are updating the look of Even If You Like Meat and some of the citations, but keeping most of the content the same.
What's the status of the international programs?
The program in Australia continues and seems to be doing well. VO is considering running a 2 week program in New Zealand either at the end of this year or at the beginning of next year.
The organization has also secured funding to begin a program in Mexico. VO is currently waiting for their chosen leafleter to graduate, and hopes to have it operational in January 2015. This will be a co-branded and cost-effective agreement with Mercy For Animals, in which MFA has agreed to design and pay for the booklets provided that VO provides the person to disseminate them.
The start of the 2014 school year marks the first time that someone is doing a very thorough job distributing leaflets to students in Canada. There have been previous efforts to hit Vancouver, British Columbia; Ontario; and parts of Quebec, but other provinces were neglected due to the distance of travel involved. Someone has been hired to drive coast-to-coast rather than trying to hit various entry points from the United States. Jack noted that there is anecdotal evidence that Canada seems ripe for change and that even in the Midwest there are progressive attitudes that VO is looking to reach.
Beyond that, VO is open to looking at new situations and examining other realistic opportunities in the future.
What about the leadership transition?
The transition is going well for the most part. The overall thrust was that they have hired some people to lighten Jack's load so that he can focus on the big picture and remain focused on where the organization wants to go.
This has had the desired effect of ensuring that upgrades to Compassionate Choices are getting done, the Vegan Mentor program is getting done rather than just being talked about, the website is in the midst of getting upgraded, and a new logo has been designed. The overall aim of these changes is to achieve a more modern look to ultimately elicit more donations. The new website will be significantly different and the outcome of this overhaul will be more apparent when the changes are finished.
What's on the horizon?
Faunalytics has been doing a study on why people go back to eating meat. They contacted Jack seeking some advice on what nutrition questions should be asked. It was important to him to develop questions that were not leading, but instead would elicit truthful responses from people. He plans to play close attention to the results of this study and use the findings to promote the nutritional findings as aspects in future booklets, on the website, etc.
Jack believes that this semester they are on track to distribute 1 million leaflets, which would be the most they have ever distributed in a single semester.