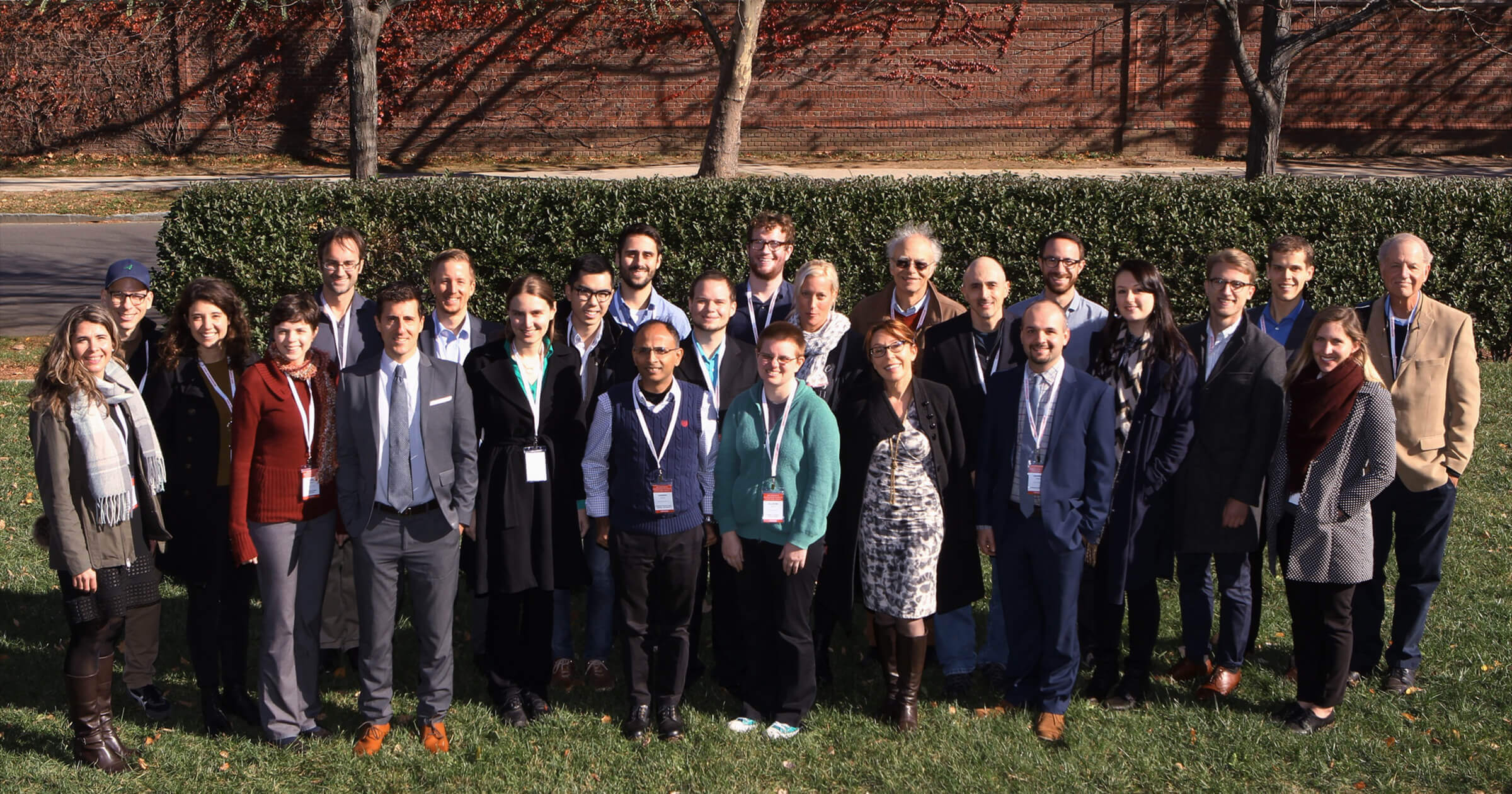 In November, ACE co-hosted the 2016 Symposium on Multidisciplinary Research in Effective Animal Advocacy at Princeton University. Organized in collaboration with the Princeton University Center for Human Values and the Princeton Animal Welfare Society, the event brought together academics and advocates to discuss current and future potentially high-impact research on topics of import to effective animal advocacy.
If you missed the event, video recordings are now available.
We were fortunate to have many thoughtful and well-respected animal activists and Researchers at the symposium, both on stage and in the audience. Talks covered a broad range of topics, from research methods to cognitive science to advocacy strategies.
The weekend began with a pre-conference event on Friday night. We were especially pleased to be joined by Kevin Wong, a Princeton student working closely with Peter Singer on his undergraduate thesis. Kevin's talk introduced a formula for comparing moral interests across species, and discussed the human bias that underpins most of modern philanthropy.
The state of the movement and the value of research
Saturday and Sunday were packed with presentations by distinguished speakers from both academic and advocacy spheres. Peter Singer's keynote address gave an overview of historical and contemporary views towards animals, and presented his favored theory on the moral status of nonhuman animals. He argued that in order to help the greatest number of individuals, the animal advocacy movement must focus on farmed animals specifically. Our Executive Director Jon Bockman gave a state of the movement address during which he emphasized the tremendous value of conducting research and highlighted the need for collaboration between Researchers and advocates, which will enable us to do our best possible advocacy work.
The role of science in animal advocacy
Becca Franks' presentation during the Cognitive Science panel discussed the mental lives of fish and how their impressive capabilities are strikingly at odds with the ways in which we treat them. Fish are used in greater numbers than other animals in several domains—as pets, for science, and in food—yet much of their cognitive life and abilities remain unknown. Franks taught us that fish prefer to be around others with whom they're familiar, can socially recognize each other, and can form preferential attachments. She emphasized that our perception of a species' capacity for mental experiences is often what leads us to include them in our sphere of moral concern, and that several factors—including our divergent evolutionary history and our limited exposure to fish habitats—significantly decrease our likelihood of perceiving these abilities in fish. It is extremely likely, given these insights, that the scale of suffering ignored by our exclusion of fish from our moral circle is particularly egregious.
Also on the Cognitive Science panel, Shane Schweitzer discussed the importance of mind perception in morality by explaining that once we decide an entity has a mind, we grant it moral standing. Schweitzer's study asked participants to write about chimpanzee rights, and found a statistically significant positive correlation between people's use of "experience type words" (as defined by a dictionary he created and tested in earlier studies) and their endorsement of animal rights, measured quantitatively. Schweitzer found that mind perception is predictive of attributed moral standing, and that this can manifest in the use of particular words. Schweitzer and his colleagues suggest that tuning in to the written language used in various animal advocacy interventions and materials could be of great use for analyzing their effectiveness.
Emphasizing education and inclusivity
On the Advocacy Through Education panel, Jeff Sebo presented on animal studies in higher education, drawing from his experience teaching in the Animal Studies Initiative at NYU and working with the Animal Studies Institute and Minding Animals International. Compared to other kinds of advocacy through education—such as leafleting and humane education talks—this interdisciplinary course of study allows students to examine much more deeply the issues that animals face and what we can do to address them. A successful animal studies program walks students through a systematic study of the root causes of oppression of human and nonhuman animals, equipping them with a comprehensive vision of how they can help animals effectively. Sebo stressed that engagement in shaping and promoting the field of animal studies now has a higher marginal value than in the future, since the potential to affect its direction at this early stage is significant. He cautioned that we should be wary of measurability bias when evaluating the effectiveness of investing in the field of animal studies (as with other areas of animal advocacy), as the results are often longer-term and more difficult to quantify with a high level of accuracy.
Garrett Broad's compelling and salient presentation "Is Effective Animal Advocacy Racist?" addressed the topics of diversity and inclusion in the animal advocacy and effective altruism movements. He began by stressing the moral importance of intersectionality, that is, a recognition of how different aspects of cultural identity (such as race, gender and economic status, among others) intersect to shape our experiences and to create power dynamics in the animal advocacy movement and beyond. He then argued that paying greater attention to race and culture can improve our research methods, pointing out that social science research is highly sensitive to contextual differences. Distinct cultural groups might respond to different types of advocacy messages in varying ways. Broad continued by urging the movement to develop more diverse leadership through active efforts that promote inclusivity. More diverse organizations are more effective and more likely to promote social change in a diverse society. Broad's presentation was thought-provoking in a number of ways, offering tangible suggestions for how to improve the movement both ethically and strategically. These key insights are of great importance not only in the current moment, but are also essential considerations as the movement continues to grow and expand.
Varied approaches to advocacy
Harish Sethu gave a thorough analysis of the pros and cons of using self-reported data and the importance of strong statistical literacy in the EAA community. Christie Lagally discussed the need for research in food innovation, specifically clean and plant-based dairy, eggs, and meat. She also touched on the different entry points into this industry for people with a variety of professional backgrounds. Rosie Wardle talked about how investors can be high-impact agents of change in animal advocacy by putting factory farming on the responsible investment agenda, and Zach Groff made a persuasive argument calling for more research in effective animal advocacy that focuses on the long-term and movement-level scale.
The program was rounded out by numerous other fascinating speakers who presented key research and insights. Networking time fostered conversation between advocates and academics and among people with different perspectives on advocacy goals and strategic approaches.
Responses and feedback
Two of our most highly prioritized symposium goals were to connect academics and advocates, and to present content that attendees could use to make their work more effective going forward. Our follow-up survey asked attendees to reflect on their experience by answering several questions. When asked whether they had learned anything at the event that they could use in their work going forward, 87% of respondents answered affirmatively. We also asked whether attendees had made useful connections while networking. For this question, 95% of respondents answered that they had. The most popular aspects of the symposium were networking opportunities and specific speakers and panels. On an open-ended question asking respondents to note their favorite part of the weekend, one of these two categories was mentioned in 82% of responses.
We were honored to have the opportunity to host the symposium this year, and are grateful for the generous assistance from Peter Singer, the Princeton UCHV, and PAWS. If you were unable to attend the event, video recordings are available.