Archived Version: December, 2019
What does Faunalytics do?
Faunalytics is a U.S.-based organization working to connect animal advocates with information. This mostly involves creating independent research, working directly with client organizations on various research projects, and promoting existing research and data for individual advocates through the content library they host on their website, all of which are forms of capacity building.
What are their strengths?
Faunalytics is working in an important field: supporting other organizations and advocates by creating and promoting existing research. We think that even small improvements made through research can substantially increase the number of animals helped if they are applied by many animal advocates. In the last 2–3 years, Faunalytics has increased their number of independent research publications on topics relevant to effective animal advocacy. They have published research on (i) the characteristics of donors to animal causes, (ii) attitudes towards farmed animals, (iii) corporate commitments, and more. Their research projects are highly transparent, publicly available, and seem to be the result of an impact-focused project prioritization process. Faunalytics also appears to have a particularly healthy organizational culture.
What are their weaknesses?
The effects of Faunalytics' programs on animals are indirect and difficult to measure. That said, we think they could do more to measure the impact of their research on other organizations and individual advocates. For example, they recently started to track their impact in a more robust way by going beyond collecting data on how many people are visiting their website, what their affiliations are, and whether they are advocates or academics. While we understand it may be difficult to measure the impact of their research, we think more steps could be taken, as they don't currently appear to have a strong process in place to systematically measure the impact of their independent research on the  animal advocacy movement. Since providing resources for animal advocates is their most important outcome, implementing more robust impact-tracking tools would likely increase their effectiveness by allowing them to better meet the needs of the movement.
Why do we recommend them?
Faunalytics is working in an important and relatively neglected area of animal advocacy: research and support for other advocates. Their research is generally of good quality relative to other animal advocacy research, and their work helps the movement to become more effective and more evidence-based.
Faunalytics has been one of our Standout Charities since December 2015.
How Faunalytics Performs on our Criteria
Interpreting our "Overall Assessments"
We provide an overall assessment of each charity's performance on each criterion. These assessments are expressed as two series of circles. The number of teal circles represents our assessment of a charity's performance on a given criterion relative to the other charities we've evaluated.
| | |
| --- | --- |
| A single circle indicates that a charity's performance is weak on a given criterion, relative to the other charities we've evaluated: | |
| Two circles indicate that a charity's performance is average on a given criterion, relative to other charities we've evaluated: | |
| Three circles indicate that a charity's performance is strong on a given criterion, relative to the other charities we've evaluated: | |
The number of gray circles indicates the strength of the evidence supporting each performance assessment and, correspondingly, our confidence in each assessment:
| | |
| --- | --- |
| Low confidence: Very limited evidence is available pertaining to the charity's performance on this criterion, relative to other charities. The evidence that is available may be low quality or difficult to verify. | |
| Moderate confidence: There is evidence supporting our conclusion, and at least some of it is high quality and/or verified with third-party sources. | |
| High confidence: There is substantial high-quality evidence supporting the charity's performance on this criterion, relative to other charities. There may be randomized controlled trials supporting the effectiveness of the charity's programs and/or multiple third-party sources confirming the charity's accomplishments1 | |
Criterion 1: Does the charity engage in programs that seem likely to be highly impactful?
When we begin our evaluation process, we consider whether each charity is working in high-impact cause areas and employing effective interventions that are likely to produce positive outcomes for animals. These outcomes tend to fall under at least one of the categories described in our Menu of Outcomes for Animal Advocacy. These categories are influencing public opinion, capacity building, influencing industry, building alliances, and influencing policy and the law.
Cause Area
Faunalytics conducts research to support the animal advocacy movement, broadly construed. We think that some cause areas within the animal advocacy movement, like farmed animal advocacy, have the potential to be more effective than others.
Theory of Change
To communicate the process by which we believe a charity creates change for animals, we use theory of change diagrams. It is important to note that these diagrams are not complete representations of real-world mechanisms of change. Rather, they are simplified models that ACE uses to represent our beliefs about mechanisms of change. For the sake of simplicity, some diagrams may not include relatively small or uncertain effects.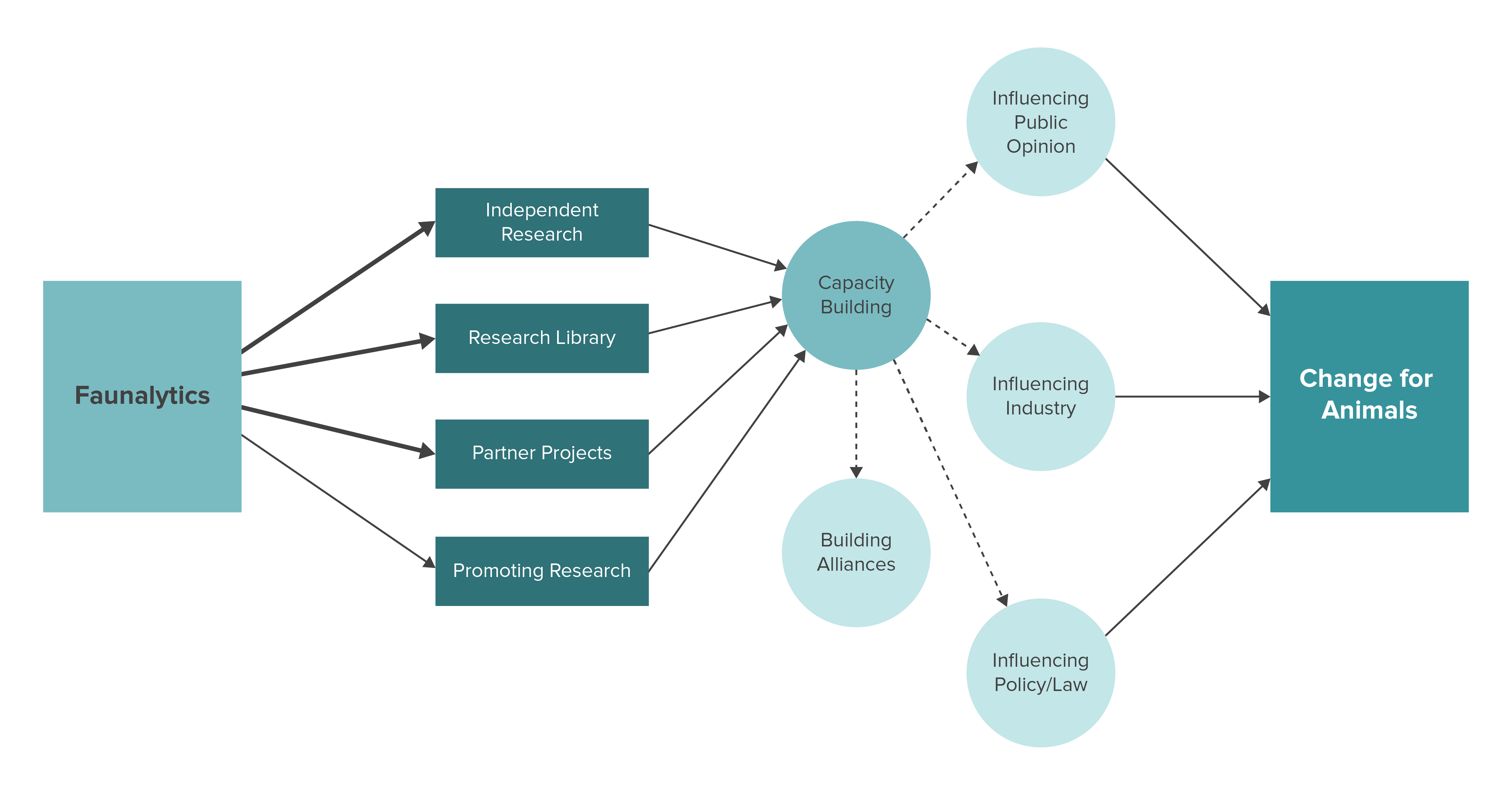 A note about long-term impact
We do represent some of each charity's long-term impact in our theory of change diagrams, though we are generally much less certain about the long-term impact of a charity or intervention than we are about more short-term impact. Because of this uncertainty, our reasoning about each charity's impact (along with our diagrams) may skew towards overemphasizing short-term impact. Nevertheless, each charity's long-term impact is plausibly what matters most. The potential number of individuals affected increases over time due to both human and animal population growth as well as an accumulation of generations of animals. The power of animal charities to effect change could be greater in the future if we consider their potential growth as well as potential long-term value shifts—for example, present actions leading to growth in the movement's resources, to a more receptive public, or to different economic conditions could all potentially lead to greater magnitude of impact over time than anything that could be accomplished at present.
Interventions and Projected Outcomes
Faunalytics pursues one primary avenue for creating change for animals: they work to build the capacity of the movement through research.
Capacity building
Working to build the capacity of the animal advocacy movement can have far-reaching impact. While capacity-building projects may not always help animals directly, they can help animals indirectly by increasing the effectiveness of other projects and organizations. Our recent research on the way that resources are allocated between different animal advocacy interventions suggests that capacity building is currently neglected relative to other outcomes such as influencing public opinion and industry. Faunalytics engages in independent research, research for clients, and the maintenance of an animal advocacy research library, all of which are forms of capacity building.
Conducting research on effective advocacy can play a pivotal role in how successful a movement can be. A group might expertly carry out a particular intervention, but if that intervention isn't effective (or if it has negative effects), then the group is not as impactful as they could be. They may even unintentionally cause net harm. Faunalytics conducts independent research on many forms of advocacy, including marketing cell-cultured meat, public outreach, corporate commitments, fundraising, and international advocacy. They also conduct research for clients, which we consider to be less effective because this research often is narrowly tailored to the client's needs and does not reflect the priorities of the broader movement. However, Faunalytics has been intentionally reducing their work for clients.2
In addition to conducting original research, Faunalytics promotes existing research and data. They maintain a research library and make their data available on their website. If other groups use Faunalytics' resources to inform their work, Faunalytics may achieve quite a high impact for a low cost over time.
Criterion 2: Does the charity have room for more funding and concrete plans for growth?
We look to recommend charities that are not just high impact, but also have room to grow. Since a recommendation from us can lead to a large increase in a charity's funding, we look for evidence that the charity will be able to absorb and effectively utilize funding that the recommendation may bring in. We consider whether there are any non-monetary barriers to the charity's growth, such as time or talent shortages. To do this, we look at the charity's recent financial history to see how they have dealt with growth over time and how effectively they have been able to utilize past increases in funding. We also consider the charity's existing programs that need additional funding in order to fulfill their purpose, as well as potential areas for growth and expansion.
Since we can't predict exactly how any organization will respond upon receiving more funds than they have planned for, our estimate is speculative, not definitive. It's possible that a charity could run out of room for funding more quickly than we expect or come up with good ways to use funding beyond what we expect. We check in with each of our Top Charities mid-year about the funding they've received since the release of our recommendations, and we use the estimates presented below to indicate whether we still expect them to effectively absorb additional funding at that point.
Recent Financial History
The following chart shows Faunalytics' recent revenue, assets,3 and expenses.4, 5 In this chart, the 2019 revenue and expenses are estimated based on the financials of the first six months of 2019.6 In 2018, donations from two major donors accounted for about a third of Faunalytics' revenue. They note that they expect their income to reduce in part because (i) one of their major donors decreased their support, and (ii) they have nearly eliminated their fee-for-service program, which used to be a source of income. Faunalytics is actively seeking to broaden their donor base in order to reduce reliance on their two large donors and sustain their growth.7 As shown in the chart below, Faunalytics has significant reserves they can use to absorb temporary declines in support.8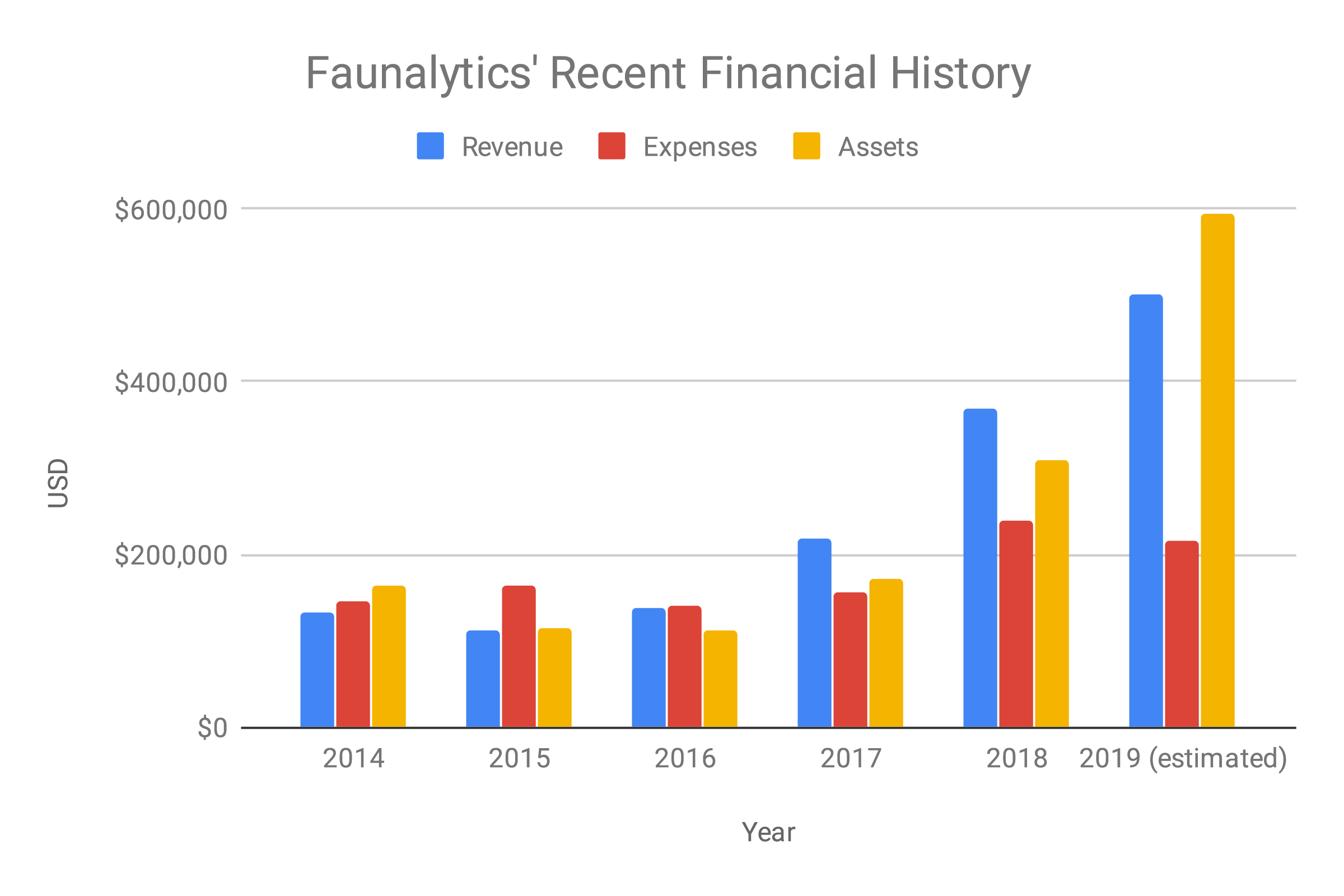 Estimated Future Expenses
A charity may have room for more funding in many areas, and each area likely varies in its cost-effectiveness. In order to evaluate room for more funding over three priority levels, we consider each charity's estimated future expenses,9 our assessment of the effectiveness10 of each future expense, and the feasibility of meeting each expense if more funding were provided.11
| | | |
| --- | --- | --- |
| Estimated future expense | Funding estimate | Priority level |
| Hiring between 1.7 and 4 new staff members12 | $53k to 0.33M13 | High (43%) and moderate (58%) |
| Improving communication among researchers14 | $10k to $60k | High |
| Improving outreach and communications15 | $20k to $25k | High |
| Organizing a retreat16 | $5k to $10k17 | Moderate |
| Improving the website and research library18 | $5k to $25k | Moderate |
| Potential additional expenses19 | $2.3k to $47k | Low |
Estimated Room for More Funding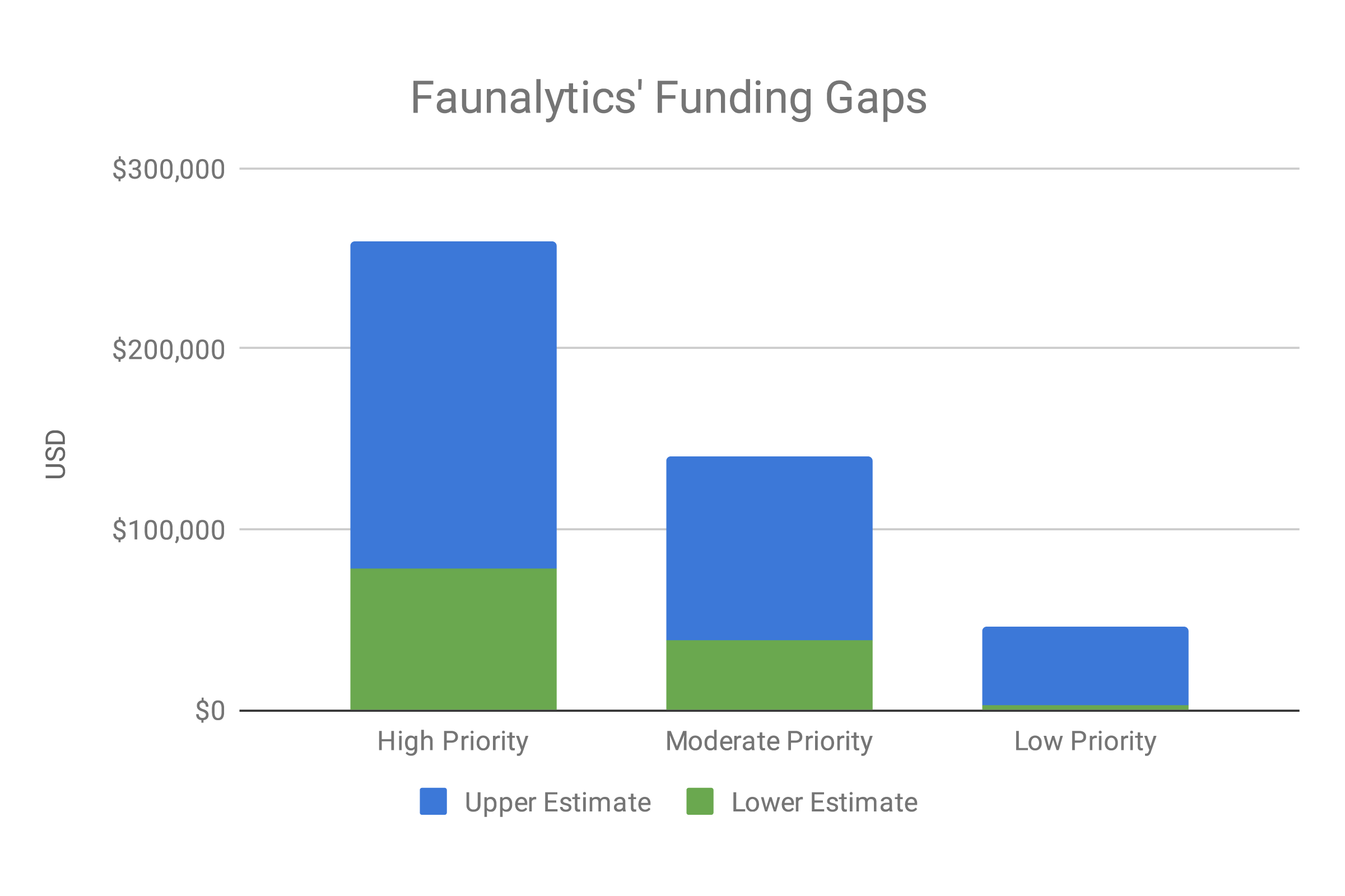 The cost of Faunalytics' plans for expansion over the three priority levels is estimated via Guesstimate and visualized in the chart above. Faunalytics' plans for expansion are expected to cost between $0.12M and $0.34M. Our room for more funding estimates include a linear projection of the charity's revenue from previous years to predict the amount by which we expect the revenue to increase or decrease in the next year. Faunalytics has received funding influenced by ACE as a result of its prior Standout Charity status, so in order to more accurately estimate their room for more funding, we have subtracted the estimated ACE-influenced funding from our estimates of future revenue, which means the charity's real 2020 revenue could be higher than the revenue we predict.20 Comparing Faunalytics' estimated revenue for 201921 and 2020,22 the projection predicts that in the next year, it will decrease by $0.37M to $0.47M. As mentioned before, this number may be particularly low as we excluded revenue influenced by ACE from this estimate. From 2016 to 2018, donations influenced by ACE accounted for 35% of Faunalytics' total revenue. We estimate that in the first half of 2019, ACE-influenced donations may account for 82% of Faunalytics' revenue.23 The estimates for change in revenue are more uncertain than the estimated costs of expansion, so we put limited weight on them in our analysis.
Criterion 3: Does the charity possess a strong track record of success?
Information about a charity's track record can help us predict the charity's future activities and accomplishments, which is information that cannot always be incorporated into our other criteria. An organization's track record is sometimes a pivotal factor when our analysis otherwise finds limited differences between two charities.
In this section, we consider whether each charity's programs have been well executed in the past by evaluating some of the key results that they have accomplished. Often, these outcomes are reported to us by the charities and we are not able to corroborate their reports.24 We do not expect charities to fabricate accomplishments, but we do think it's important to be transparent about which outcomes are reported to us and which we have corroborated or identified independently. The following outcomes were reported to us unless indicated otherwise.
Faunalytics was founded in 2000 as the Humane Research Council; all of their major current programs have been running for more than ten years. Their Independent Research program was launched in 2003 and has been particularly active since 2018, with a significant increase in the number of publications in recent years. They have been running their Research Library program steadily since 2007 with more than 200 new entries per year. Faunalytics recently deprioritized their Partner program, which they originally launched in 2001. Below is our assessment of each of these programs, ordered according to the expenses invested in each one (from highest to lowest) in 2018:
Independent Research
Research Library
Partner Projects
Program Duration
2003-present
Key Results25
Completed seven major studies on topics relevant for effective animal advocacy, including characteristics of donors to animal causes, public attitudes towards farmed animals, corporate commitments, and meat alternatives (2018–2019)
Completed six analysis-only projects, including a series of blog posts and charts about farmed animals based on FAO animal slaughter data, a study on the demographics of vegetarians,26 a study on charity donor behavior,27 and a study regarding animal product alternatives28 (2018–2019)
Developed the Animal Tracker survey, a longitudinal project consisting of 12 annual surveys of U.S. adults' attitudes and behavior towards animals and animal advocates (2008–2019)
Our Assessment
This program has been very active in the past two to three years, particularly since Faunalytics' Research Director started working full time (April 2018).29 Faunalytics' independent research publications have significantly increased since 2018. Their research projects are highly transparent30 and full reports are publicly available on their website. Research topics seem to be relevant for the farmed animal advocacy movement, with topics including public attitudes towards advocacy interventions, public perceptions of farmed animal-related issues, demographic characteristics of vegetarians, and slaughter statistics. Their annual Animal Tracker survey, which they launched in 2008, has the potential to help advocates increase their impact by gaining a better understanding of public attitudes and behaviors in the U.S.
Based on the quantity and quality of publications, as well as the focus on high-impact areas, we believe that this program can be highly useful for animal advocates to better inform their strategies and interventions, potentially leading to greater change for animals. However, we are uncertain about the extent to which Faunalytics' research products have reached and influenced individuals and organizations.

Program Duration
2007-present
Key Results31
Published more than 200 new summaries of studies in their research library which were distributed among other contents through weekly and monthly emails (2018)
Renovated their website, implementing a new site-wide navigation and new search and filter functions32 (2018)
Produced infographics and charts for their summaries and studies (2018–2019)
Our Assessment
Faunalytics' research library is a large database with resources relating to animal issues and animal advocacy.33 We think it is a particularly useful tool for capacity building. About two-thirds of the library resources relate to either farmed animal advocacy or general animal advocacy, and we think they have the potential to impact a large number of animals if used appropriately by other advocates in the movement. While it is not immediately clear how useful the research library has been in practice or how cost effective it is relative to their other programs, our overall impression is that through this program, Faunalytics has been distributing a large number of resources that have the potential to be high impact.
The redesign of their website and the production of infographics and charts for their content suggest a clear effort to improve the accessibility of their work and reach a wider audience, therefore increasing the magnitude of their impact.

Program Duration
2001-present
Key Results34
Consulted and partnered with at least 30 animal organizations35 (2001–2019)
Completed a study on the impact of Animal Equality's video on pork consumption (2018)
Worked with a small group of animal funders to create a new database and global mapping tool for animal-related grants36 (2019)
Our Assessment
Since 2001, Faunalytics has worked with numerous animal advocacy groups on various research projects which have likely helped their clients measure the impact of their work and find ways to improve.37 In recent years, Faunalytics has been intentionally reducing their partner (client) work. They've worked with four partners in 2018 and 2019. Their study with Animal Equality provided important lessons for future studies and is likely to have been useful in informing Animal Equality's work. Their ongoing project to create a global database and mapping tool for animal-related grants seems to be useful for animal-related funders to improve their impact, although it is a work in progress and results are yet to be seen.

Criterion 4: Does the charity operate cost-effectively, according to our best estimates?
A charity's recent cost-effectiveness provides an insight into how well it has made use of its available resources and is a useful component to understanding how cost-effective future donations to the charity might be. In this criterion, we take a more in-depth look at the charity's use of resources and compare that to the outcomes they have achieved in each of their main programs.
This year, we have used an approach in which we more qualitatively analyze a charity's costs and outcomes. In particular, we have focused on the cost-effectiveness of the charity's specific implementation of each of its programs in comparison to similar programs conducted by other charities we are reviewing this year. We have categorized the charity's programs into different intervention types and compared the charity's outcomes and expenditures from January 2018 to June 2019 to other charities we have reviewed in our 2019 evaluations. To facilitate comparisons, we have also compiled spreadsheets of all reviewed charities' expenditures and outcomes by intervention type.38
Analyzing cost-effectiveness carries some risks by incentivizing behaviors that, on the whole, we do not think are valuable for the movement.39 Particular to the following analysis, we are somewhat concerned about our inclusion of staff time and volunteer time. Focusing on staff time as an indicator of cost-effectiveness can reward charities that underpay their staff, and discourage organizations from working towards increasing salaries to be more in line with the for-profit sector. As for volunteer time, we think that volunteer programs can increase the cost-effectiveness of a charity's work, however, overreliance on volunteers can make a charity's work less sustainable. While we think that these factors are relevant and worth including in our analysis of cost-effectiveness, we encourage readers to bear these concerns in mind while reading this criterion.
Overview of Expenditures
The following chart shows Faunalytics' total expenditures in 2018 and 2019, divided by program.40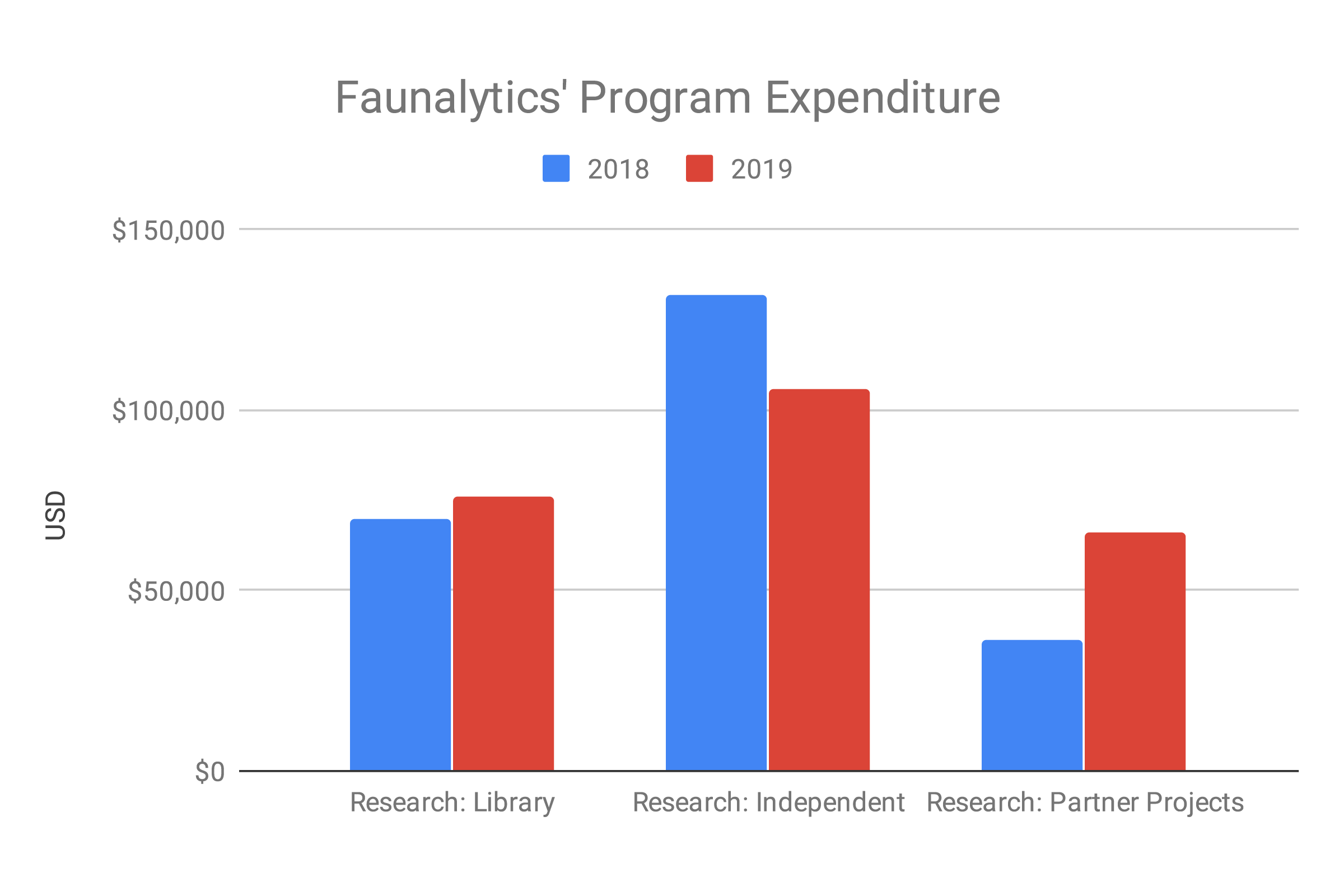 We asked Faunalytics to provide us with their expenditures for their top 3–5 programs as well as their total expenditures. The estimates provided in the graph were calculated by dividing up their total expenditures proportionately, according to the size of their programs. This allowed us to incorporate their general organizational running costs into our consideration of their cost-effectiveness.
Capacity Building/Building Alliances
Summary of outcomes: completed seven studies and six other data analyses; summarized 300+ studies for the Faunalytics research library; improved the searchability of the research library; received 230,000 research library visitors in 2018; and conducted two projects in partnership with other organizations. For more information, see our spreadsheet comparing 2019 reviewed charities engaged in capacity building/building alliances.
Note: Faunalytics engages in three programs that we have categorized as capacity building/building alliances for this analysis—Partner Projects, Research Library, and Independent Research.41
Use of resources
Table 1: Estimated resource usage in Faunalytics Research, Jan '18–Jun '19
Resources
Faunalytics'

Independent Research

Faunalytics'

Research Library

Faunalytics'

Partner Projects

Average across all reviewed charities42
Expenditures43 (USD)
$180,000
$110,000
$70,000
$1,400,000
Staff time (weeks44)
126
49
9
316
Volunteer time (weeks45)
23
55
0
55
Faunalytics' expenditures are much less than the average of other charities we reviewed, but their staff time is much higher than average when accounting for the size of their expenditures. All else equal, this will likely positively contribute to their cost-effectiveness as they have more staff time available per dollar spent.46
Evaluation of outcome cost-effectiveness
Capacity building/building alliances encompasses a broad category of outcomes for animals that are typically indirect, and as such, it is difficult to make an assessment of their cost-effectiveness. As Faunalytics was one of only two reviewed charities that reported conducting research, we are particularly uncertain as to how cost-effective their implementation has been. Faunalytics' research programs have individual outcomes, so as a measure of cost-effectiveness, we can estimate the average cost of each outcome—i.e., it costs them ~$35,000 for each of their partnered research projects, ~$26,000 for each of their independent research projects, and no more than ~$360 for each study added to their research library. That said, this is a somewhat simplistic quantification of cost-effectiveness as it doesn't take into account other factors—the quality of research, the likelihood that research will be used, the potential focus the research would have if it were used, etc. In particular, their programs have an impact for animals only to the extent to which they affect the behavior of other animal advocates in a way that improves their effectiveness. We think it's likely that they do have an effect and that the 230,000 visitors to their research library in 2018 provide some evidence of this. However, this does add to our uncertainty of their cost-effectiveness.
Criterion 5: Does the charity identify areas of success and failure and respond appropriately?
By conducting reliable self-assessments, a charity can retain and strengthen successful programs and modify or discontinue less successful programs. When such systems of improvement work well, all stakeholders benefit: Leadership is able to refine their strategy, staff better understand the purpose of their work, and donors can be more confident in the impact of their donations.
In this section, we consider how the charity has assessed its programs in the past. We then examine the extent to which the charity has updated their programs in light of past assessments.
How does the charity identify areas of success and failure?
As part of their strategic plan, Faunalytics does an organizational review, although it is not a robust formal self-assessment. Last year, the board did an evaluation of the Executive Director and this year, the board is evaluating itself by going through different responsibilities and identifying areas and opportunities for improvements.47
Following major projects, Faunalytics usually engages in informal retrospective meetings among team members and others to discuss their opinions on the potential outreach of each study. They also actively seek feedback. For example, as a result of their donor study, they conducted a webinar followed by a survey to help them assess its potential impact.48
For the development of their research projects, Faunalytics has consulted with external (non-advocacy) advisors on statistical methods49 and psychology-related research topics.
Does the charity respond appropriately to identified areas of success and failure?
We believe that Faunalytics has responded appropriately to their self-determined areas of success and failure in at least two ways, listed below.
A few years ago, as a thoughtful response to criticisms about the quality of their past research, Faunalytics made the decision to institute pre-registration and to formalize their open commentary procedure.50 In 2017, they put in place a pre-registration and open-data policy, and since then all original studies they conduct are publicly available on the Open Science Framework repository. They have also been publishing full descriptions of their analyses and methods in all of their research projects. As a result, Faunalytics has successfully increased transparency and rigor in their projects, probably improving the quality of their research to a significant degree.
In 2017, Faunalytics estimated that about 65% of their work was focused on farmed animals. Since then, they have been increasingly selective with the research topics they choose, prioritizing topics related to farmed animals and "meta topics" like increasing capacity, donations, or volunteers. Now, about 90%–92% of their resources go towards these topics.51 This effort to focus their work on the most impactful areas can also be seen by their ongoing formalization of a prioritization framework. The framework is focused on maximizing impact by prioritizing (i) topics involving a large number of animals, and (ii) research that can be used by many animal advocates.52
We believe that Faunalytics failed to respond appropriately to their self-determined areas of success and failure in at least two ways, listed below.
We recognize Faunalytics's efforts to conduct surveys and actively seek feedback on their work. However, our impression is that they could be doing more to measure the impact of their research on organizations and individuals. Recently, they started to formalize a way of measuring their impact in a more robust way. For example, they identify advocate stakeholders for each study they undertake so that they can ensure the results are useful to the movement.53 They also collect data on how many people are visiting their website, what their affiliations are, and whether they are advocates or academics.54 Although we think this is an appropriate way to start tracking their impact, we believe this decision could have been made sooner. We are concerned that because of the lack of early efforts in measuring the impact of their programs, Faunalytics could have failed to focus on the most useful areas for advocates to increase their impact.
Since our previous review, Faunalytics significantly reduced their partner (client) research projects based on the low likelihood that partner projects can be useful to the movement as a whole and the fact that these projects were less discretionary with topic choices. Faunalytics reports that they are being more selective about their work, only developing one or two client projects per year,55 while assisting several individuals and organizations through office hours. Even though we think that Faunalytics' non-client research projects can be potentially useful for more organizations, they also seem more speculative than their client projects. As they are moving away from their "safer" research projects which have been successfully used by their clients to inform their own work, we would like to see Faunalytics put more effort into identifying the needs of the movement and the best ways to make their research more impactful.
Criterion 6: Does the charity have strong leadership and a well-developed strategic vision?
Strongly-led charities are likely to be more successful at responding to internal and external challenges and at reaching their goals. In this section, we describe each charity's key leadership and assess some of their strengths and weaknesses.
Part of a leader's job is to develop and guide the strategic vision of the organization. Given our commitment to finding the most effective ways to help nonhuman animals, we look for charities whose strategy is aligned with that goal. We also believe that a well-developed strategic vision should include feasible goals. Since a well-developed strategic vision is likely the result of well-run strategic planning, we consider each charity's planning process in this section.
Key Leadership
Leadership staff
Che Green founded Faunalytics in 2000 and has served as its Executive Director for 19 years. He has experience as an analyst, investment banker, and research manager. For the past two years, Jo Anderson has served as Faunalytics' Research Director. Her background is in academia and research; she has a Ph.D. in social psychology from the University of Waterloo. For the past nine months, Brooke Haggerty has served as Faunalytics' Operations Manager. Faunalytics' leadership describes their approach as "democratic, involving team members in key decisions and goal-setting." Green makes final decisions for the organization when occasionally necessary.56
On a culture survey57, 58 that we distributed to the Faunalytics team, employees consistently agreed strongly that their leadership is attentive to the organization's strategy. They also agreed that their leadership is open and transparent, both internally and externally. Of course, Faunalytics has a very small team—three out of five employees were identified as members of leadership—which could have skewed the results of our survey.
Board of Directors
Faunalytics' Board of Directors consists of five members, including Executive Director Che Green.59 In the U.S., it's considered a best practice for nonprofit boards to be comprised of at least five people who have little overlap with an organization's staff or other related parties. However, there is only weak evidence that following this best practice is correlated with success.
Faunalytics' board is composed of individuals with diverse occupational backgrounds and experiences. It includes a consultant, a former corporate advertising professional, an attorney, and a campaign manager.
We consider the board's relative diversity in occupations to be a strength. We believe that boards whose members represent occupational and viewpoint diversity are likely most useful to a charity since they can offer a wide range of perspectives and skills. There is some evidence suggesting that nonprofit board diversity is positively associated with better fundraising and social performance,60 better internal and external governance practices,61 as well as with the use of inclusive governance practices that allow the board to incorporate community perspectives into their strategic decision making.62
Strategic Vision and Planning
Strategic vision
Faunalytics' mission is to "empower fellow animal advocates like you with access to the research, analysis, strategies, and messages that maximize your effectiveness to reduce animal suffering." We find that this mission is highly aligned with ACE's—we share the goal of reducing suffering and the view that advocates should be focused on effectiveness. Faunalytics offers a theory of change that appears to be highly influenced by those we have created in previous reviews.
Strategic planning process
Faunalytics creates a new strategic plan every two or three years and revisits it on a yearly basis. Their current plan was approved by their Board of Directors in late 2016. In the past, Green has taken the lead in strategic planning with input from other staff. However, this year, they plan to engage in a more collaborative process, with Anderson creating a strategic plan for the research department and Haggerty and Green creating the organization-wide plan together. As always, they will seek board approval of their final plan.63
Goal setting and monitoring
Faunalytics' strategic plan (shared privately with ACE) includes relatively short-term goals (e.g., "create 3–5 new studies by the end of 2018") and relatively long-term goals (e.g., "identify possible long-term successors for the executive director role"). In general, their goals seem measurable, attainable, relevant, and time-bound. There is room for them to set more specific goals. For instance, they could identify specific research areas for their new studies to address. However, keeping their goals more general may have benefits too, particularly in a quickly-developing research field where researchers need to remain flexible.
Criterion 7: Does the charity have a healthy culture and a sustainable structure?
The most effective charities have healthy cultures and sustainable structures to enable their core work. We collect information about each charity's internal operations in several ways. We ask leadership about the culture they try to foster and their perceptions of staff morale. We review each charity's policies related to human resources and check for essential items. We also send each charity a culture survey and request that they distribute it among their team on our behalf.
Human Resources Policies
Here we present a list of policies that we find to be beneficial for fostering healthy cultures. A green mark indicates that Faunalytics has such a policy and a red mark indicates that they do not. A yellow mark indicates that the organization has a partial policy, an informal or unwritten policy, or a policy that is not fully or consistently implemented. We do not expect a given charity to have all of the following policies, but we believe that, generally, having more of them is better than having fewer.
Culture and Morale
A charity with a healthy culture acts responsibly towards all stakeholders: staff, volunteers, donors, beneficiaries, and others in the community. Faunalytics leadership engages in one-on-one discussions with staff throughout the year to gauge their capacity, engagement, and morale. According to leadership, Faunalytics has a supportive culture and high morale. They discuss personal updates as well as work updates in their bi-weekly team calls, and they enjoy working with one another.66
The leadership's claims about Faunalytics' positive culture were supported by the results of our culture survey (which, because Faunalytics has such a small team, only included two respondents who weren't present during our conversation with leadership). When asked to describe Faunalytics' internal communication style with three adjectives, the most commonly used terms were "open" and "friendly" (or their respective synonyms), with three out of five respondents using each. Faunalytics' team seems to have a very high level of engagement; they scored an average of 6.75 out of 7 on the questions we adapted from Gallup's Q12 employee engagement survey.
As Faunalytics grows, they may need to create more formal processes for measuring staff morale, with opportunities for staff to provide anonymous feedback to leadership. However, at this time, formal surveys may not be necessary and anonymous reporting may not be feasible.
Diversity, Equity, and Inclusion67
One important aspect of acting responsibly towards stakeholders is providing a diverse,68 equitable, and inclusive work environment. Charities with a healthy attitude towards diversity, equity, and inclusion seek and retain staff and volunteers from different backgrounds, which improves their ability to respond to new situations and challenges.69 Among other things, inclusive work environments should also provide necessary resources for employees with disabilities, require regular trainings on topics such as diversity, and protect all employees from harassment and discrimination.
Faunalytics has such a small number of staff members that it is difficult to assess the results of any diversity strategies based on staff demographics. They consider their staff and board to be diverse in some respects (such as sexual orientation and disability status), but they acknowledge their lack of racial diversity.70 Several respondents to our culture survey noted that they would like Faunalytics to keep diversity in mind when hiring new employees, but that they believe the organization is already taking positive steps in that direction. For example, they post their job openings on websites that attract people outside of the animal advocacy movement and they consider whether their job descriptions and announcements are encouraging to people of all backgrounds.71
Since our previous review in 2017, Faunalytics has developed a non-discrimination and anti-harassment policy. It is mentioned in their employee handbook and publicly available on their website.
Sustainability
An effective charity should be stable under ordinary conditions and should seem likely to survive any transitions in leadership. We have no reason to doubt Faunalytics' ability to survive a potential transition in leadership, though we think they should continue to develop their succession plans.
Sustainable charities also need to continue raising the funds needed for their basic operations. Ideally, they should receive significant funding from multiple distinct sources, including both individual donations and other types of support. Faunalytics currently generates revenue through donations. In 2018, two large donors accounted for roughly one-third of Faunalytics' revenue. At the time of our previous review, Faunalytics conducted fee-for-service research for clients, which accounted for 30%–50% of their revenue.72 However, they have been phasing out their fee-for-service work and have not conducted any in 2019.73 They now need to diversify their sources of financial support to ensure their sustained growth.
Questions for Further Consideration
Faunalytics is intentionally deprioritizing their client work, which some people consider to be their most valuable program because results are highly useful for their clients and can inspire other animal advocates to assess the impact of their own programs. How would Faunalytics respond to this concern?
Faunalytics' response:
"Faunalytics has not received feedback that our partner/client work is our most valuable program. In fact, we have received the opposite feedback, including from ACE. Combined with an increase in support for our Independent Research program, we made the decision to focus more on self-driven studies that answer critical research questions for the movement rather than a single organization. However, we also recognize that we have the skills and experience to evaluate interventions and assess impact, so we are continuing to conduct partner studies on a selective basis (i.e., only on topics relating to farmed animals and "meta" questions).
We are also providing considerably more pro bono support to small organizations and individuals (almost two dozen groups and advocates in 2019 alone). We feel this balance provides the best of both worlds, allowing Faunalytics to prioritize research that informs the entire movement while helping individual groups with potentially compelling programs or interventions."
Does Faunalytics have a strategy in place to diversify their sources of income?
Faunalytics' response:
"Yes. Because of our long history, Faunalytics is fortunate to have a strong base of support from foundations and individuals that allows us to sustain our operations. As we are currently growing, however, our goal is to better diversify our new sources of funding to sustain not just current operations, but also incremental growth in staff and programs. To this end, Faunalytics is 1) making a concerted effort to expand our major donor program with a focus on effective altruists, including personal outreach to 200+ people in fall 2019; 2) identifying foundations who have not previously granted funds to Faunalytics, including three new foundation supporters so far in 2019; and 3) creating opportunities for donors to support specific research studies or capacity-building efforts that best align with their giving priorities."
Does Faunaytics intend to implement more tools to strategically measure the use of their work by other animal advocates and organizations?
Faunalytics' response:
"Yes. We have already implemented the first phase of our impact assurance and measurement plan, which entails identifying potential stakeholders for each new study and involving them in all phases of the research process. This will have two key benefits: Increasing the impact of our work by maximizing its relevance to the movement and making it possible for us to conduct targeted impact evaluation by reaching out to designated stakeholders about the use of our work.
For the rest of our impact plan, which has been drafted and will be finalized over the coming months, we will be improving on several existing ways of measuring our impact (e.g., our annual community survey, website metrics) and adding new ones. Faunalytics' impact is indirect and multi-faceted, so we will similarly measure it in multiple ways. Our goal is to identify objective measures for each of the five intermediate steps in our theory of change, which was influenced by ACE, and apply them at regular intervals going forward."
---
The following materials are supplementary research documents associated with our charity review process and are referenced in the comprehensive review.
Research Documents