Archived Version: November, 2017
Status
Top Charity
Primary Work Area

General Animal Advocacy

Industrial Agriculture

Secondary Work Area

Capacity Building

Website
The Humane League
Review Published
November, 2017
Type
Archived Review
Current Version
November, 2020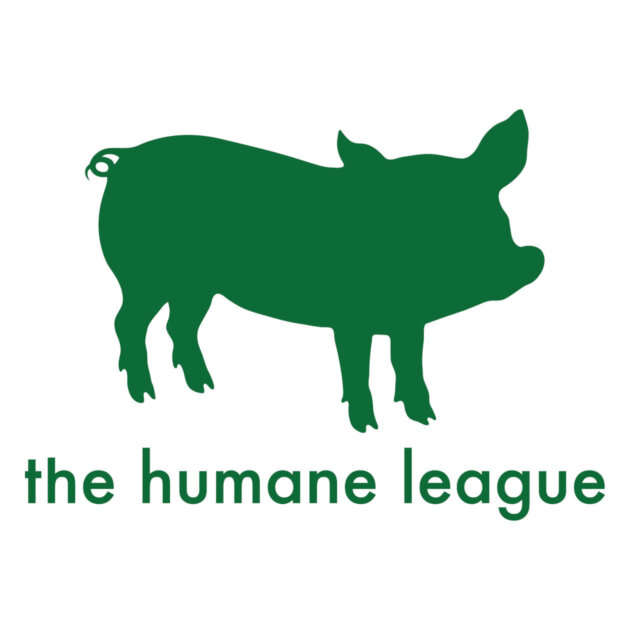 Donate
Based on our mid-year follow up, we still think that The Humane League has significant room for more funding. Please see this blog post for further details.
What does The Humane League do?
The Humane League (THL) engages in a variety of programs designed to persuade individuals and organizations to adopt behaviors that reduce farmed animal suffering. THL's largest programs, based on their budget, are their corporate campaigns and grassroots organizing. They encourage corporations to enact policies dictating higher animal welfare standards and they educate the public using outreach materials such as leaflets and online videos. Through their grassroots offices and campus leadership program, they recruit and train new animal advocates. THL also works to build the animal advocacy movement internationally through the Open Wing Alliance, which offers funding and training to advocacy groups interested in working on corporate campaigns.
What are their strengths?
In our view, THL's most significant advantage is not any single program, but rather their general approach to advocacy. Among animal advocacy organizations, THL makes exceptionally strong efforts to assess their own programs and to look for and test ways to improve them. Their success in their corporate campaigns, and the publication of their research through Humane League Labs (HLL), has shifted the outlook and programming of several other advocacy organizations toward finding the best ways to advocate for animals.
THL's organizational structure appears to be strong, with a cohesive and democratic culture promoting positive relationships between THL staff, Board Members, and volunteers. We think this is especially important for THL because part of the intention of their local offices is to build a grassroots movement, and setting a positive and results-oriented tone for those new to the movement is good for animal advocacy as a whole. Their track record demonstrates significant success. Recently, they've been especially successful with their corporate campaigns and appear to have played an important role in promoting corporate campaigns outside of the U.S.
What are their weaknesses?
We would like to see deeper critical engagement from THL with regard to important questions in effective animal advocacy, such as how interventions should be prioritized—as well as smaller questions, such as the direct implications of certain study findings. This is particularly true given that, in the past, a number of studies from HLL have had significant flaws. We hope that HLL's reorganization under a new Director will help in this regard, and there are some positive signs already, including improved analyses of earlier studies.
We are also somewhat concerned about THL's sustained high rate of expansion. THL has in the past been remarkably quick to expand in response to increased funding, more than doubling their budget each year in the recent past. It's possible that they will continue to use large amounts of new funding efficiently, but we also believe there's a chance that they're reaching a size where significant changes in organization or internal systems are required, which might put a damper on their growth.
Why do we recommend them?
THL has an exceptionally strong commitment to using studies and systematic data collection to guide their approach to advocacy. Their corporate campaigns are especially strong, and they have been flexible in using their grassroots network for a variety of advocacy efforts, including individual outreach, support for corporate campaigns, and political campaigning. We find THL to be an excellent giving opportunity because of their strong programs and evidence-driven outlook, and we are pleased to recommend donating to them.
How much money could they use?
We believe that THL has room to take on $600,000–$3.5 million in additional funding over the next year.1, 2 We expect they would use additional funding to continue to expand both their grassroots and corporate outreach programs. It's likely that they would use much of this funding internationally, to support the growth of their U.K. office and to fund further work through the Open Wing Alliance.
What do you get for your donation?
From an average $1,000 donation, THL would spend about $490 on corporate outreach to campaign for higher welfare policies. They would spend about $150 on grassroots outreach, including leafleting, supporting corporate campaigns, and humane education. THL would also spend about $140 on online ads, $100 on communications and social media, about $90 on campus outreach, and about $30 on studies through HLL. Our rough estimate is that these activities combined would spare -30,000 to 180,000 animals from life in industrial agriculture.3
We don't know exactly what THL will do if they raise additional funds beyond what they've budgeted for this year, but we think additional marginal funds will be used similarly to existing funds.
The Humane League has been one of our Top Charities since August 2012.
---
This estimation is based on our room for more funding Guesstimate model.

This range is a subjective confidence interval (SCI). An SCI is a range of values that communicates a subjective estimate of an unknown quantity at a particular confidence level (expressed as a percentage). We generally use 90% SCIs, which we construct such that we believe the unknown quantity is 90% likely to be within the given interval and equally likely to be above or below the given interval.

Sometimes our estimated cost-effectiveness ranges include negative numbers if we are not certain that an intervention has a positive effect, and it could have a negative effect, even if we think that isn't likely. This doesn't necessarily mean we think those interventions are equally likely to harm animals as to help them.
Based on our mid-year follow up, we still think that The Humane League has significant room for more funding. Please see this blog post for further details.
How The Humane League Performs on our Criteria
Criterion 1: The charity has room for more funding and concrete plans for growth.
Before we can recommend a charity, we need to assess the extent to which they will be able to absorb and effectively utilize funding that the recommendation may bring in. Firstly, we look at existing programs that have a need for additional funding in order to fulfill their existing purpose; secondly, we look at potential areas for growth and expansion. It is important to determine whether the barriers limiting progress in these areas are solely monetary, or whether there are other factors such as time or talent shortages. Since we can't predict exactly how any organization will respond upon receiving more funds than they have planned for, this estimate is speculative, not definitive. It's possible that a group could run out of room for funding more quickly than we expect, or come up with good ways to use funding beyond what we have suggested. Our estimates are indicators of the point at which we would want to check in with a group to ensure that they have used the funds they've received and are still able to absorb additional funding.
Recent Financial History
In 2016, we estimated that THL could use an additional $1 million–$1.5 million in funding for expansion across all their major programs.1 Since 2015, THL has managed to at least double their budget each year, with 2017's budget predicted to be $4.5 million—more than 250% larger than their 2016 budget.2 This sharp increase in funding is in part due to being awarded $3 million in grants from The Open Philanthropy Project (Open Phil) in 2016.3 Two of these grants are spread over two years,4 and thus have had a significant impact on THL's financials in 2017. In September 2017 they were awarded another $2 million grant by Open Phil, also to be used over two years for the Open Wing Alliance (OWA).5
Planned Future Expenses
THL is continually expanding both their grassroots and corporate outreach.6 Given additional funding they would likely hire more support staff for both these areas—particularly to support their broiler welfare campaigns, which were launched in the last year.7 Overall, however, THL is becoming increasingly international; they believe that extra funding would be best put to use through continued international development in a few different areas.8
THL has started to establish themselves in the U.K. At the time of publishing this review, THL has five employees there, and have made good progress with cage-free victories.9, 10 They are aiming to introduce their broiler campaigns there as well, before the end of 2017.11 This will require a significant amount of funding to progress, and we think there is a good amount of room for continued expansion, including further staff hires. Becoming established in a new country takes time however, and we have some uncertainty as to how quickly funds could be used on this.
The end of 2016 saw the launch of the Open Wing Alliance.12, 13 This is an international coalition of various advocacy groups—with a focus on cage-free campaigns—run and organized by THL. A large expense for this is the provision of funding and training to activists, which allows them to provide support to regions where there are few corporate campaigns.14 Again we think that there is the potential for a substantial amount of funding to be used here, although it is difficult to assess exactly how much, as the OWA is still in its early stages.
Given that THL has only very recently recieved Open Phil funding as of the time of this review, we find it fairly unlikely that there will be further Open Phil funding of them in 2018. However, THL has found that they have received more donations than expected since the Open Phil grants were announced, which they attribute to the grants improving the perceived validity of their work and thus drawing in more donors.15 They are therefore aiming to raise a similar amount of $5 million–$6 million this year, but they believe they could effectively use $10 million.16
Conclusion
Overall we are less confident than THL that they could use such a significant amount of funding over the next year; however, compared with previous years they have more areas requiring funding and we therefore think that they could use $600,000–$4 million, after factoring in the Open Phil grants that they have been awarded.17, 18, 19 As they would put additional funding primarily towards areas that are new for this year, there is some uncertainty as to how much those areas could take on and utilize effectively over the next year, so it is possible that in the future this overall room for more funding estimate will increase.
Criterion 2: The charity engages in programs that seem likely to be highly impactful.
Before investigating the way a charity's programs are implemented or the outcomes they've achieved, we consider the charity's overall approach to animal advocacy. We expect effective charities to pursue approaches that seem likely to produce significant positive change for animals, though we note that there is significant uncertainty regarding the long-term effects of many interventions.
THL focuses exclusively on reducing the suffering of farmed animals, which we believe is a high-impact cause area. THL pursues many different avenues for creating change: they work to influence individuals, build the capacity of the movement, influence industry, and influence policy. Pursuing more than one avenue for change seems to be a good idea, because if one proves to be ineffective, THL still might be impactful. However, we don't think that charities that pursue multiple avenues for change are necessarily more impactful than charities that focus on one.
To communicate the process by which we believe a charity creates change for animals, we use theory of change diagrams. It is important to note that these diagrams are not necessarily complete representations of real-world mechanisms of change. Rather, they are simplified models that ACE uses to represent our beliefs about mechanisms of change. For the sake of simplicity, some diagrams may not include relatively small or uncertain effects.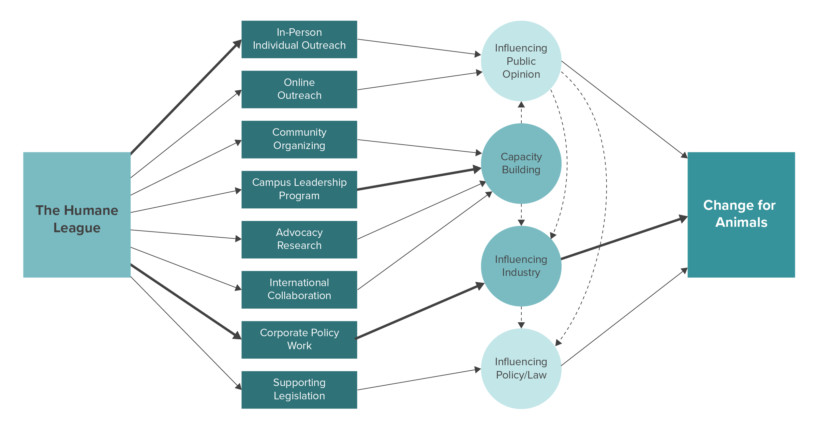 Influencing Public Opinion
THL works to influence individuals to adopt more animal-friendly attitudes and behaviors. We think that the impact of such work may be relatively limited compared to the impact of efforts to influence industry or law. However, we still think it's important for the animal movement to target some outreach toward individuals, as a shift in public attitudes could lead to greater support for new animal-friendly policies. Public outreach might even be a necessary precursor to achieving institutional change.
THL works to effect change through several different kinds of outreach, including leafleting, online ads, and education. While there is little evidence available about the effectiveness of these interventions, we do not currently recommend the use of leafleting or online ads as we suspect that they are not as effective as some other means of public outreach.
Capacity Building
Working to build the capacity of the animal advocacy movement can have a far-reaching impact. While capacity-building projects may not always help animals directly, they can help animals indirectly by increasing the effectiveness of other projects.
One way in which THL builds the capacity of the movement is by recruiting and mobilizing activists. They've recently shifted their grassroots strategy; whereas they used to set goals for leaflets distributed or students reached through presentations, they now also set goals for volunteer recruitment and community building, and their volunteers now play a larger role in their campaigns.20 THL also organizes on college campuses, providing training and leadership development for college students. A goal of THL's campus organizing is to help students create self-sustaining animal advocacy clubs on campus. Since these student activists may develop valuable skills and continue working in the animal advocacy movement in the long term, we believe that campus organizing is a potentially high-impact intervention.
Humane League Labs conducts and publishes research on effective advocacy. Such research can play a pivotal role in how successful a movement can be. A group might expertly carry out a particular intervention, but if that intervention isn't effective (or if it has negative effects), then the group is not as impactful as they could be. They may even unintentionally cause net harm. By investigating the effectiveness of interventions and publishing their findings, THL may be able to increase the impact of advocacy groups. If THL's findings inform other groups' work, they may over time achieve quite a high impact for a low cost.
THL works to build the capacity of the animal advocacy movement internationally as well as in the U.S. They share their knowledge and experience with other groups to improve corporate outreach strategy internationally, particularly through the Open Wing Alliance.
Influencing Industry
Working to influence the food industry can help animals by leading to welfare reforms, or, less directly, by creating a climate in which it is easier for individuals to reduce their use of animal products. In the long term, putting pressure on the animal agriculture industry and paving the way for companies that produce alternatives to animal products could weaken the animal agriculture industry through the pressures of the marketplace, perhaps even without the presence of advocacy messages. Weakening the animal agriculture industry may enable stricter regulations with regard to animal welfare.
THL works with corporations to adopt better animal welfare policies and ban particularly cruel practices in the animal agriculture industry. We find that these interventions can be highly impactful when implemented thoughtfully.
Influencing Policy and Law
We think that encoding protections for animals into the law is a key component in creating a society that is just and caring towards animals. While legal change may take longer to achieve than some other forms of change, we suspect its effects to be particularly long-lasting.
THL has done some work supporting animal-friendly legislation. For instance, they helped mobilize activists in support of Massachusetts Ballot Question 3 and they have joined a coalition to pass a 2018 ballot initiative in California.21 Because legal protections for animals can have a long-lasting impact on a large number of animals, we believe this work to be highly effective.
Criterion 3: The charity operates cost-effectively, according to our best estimates.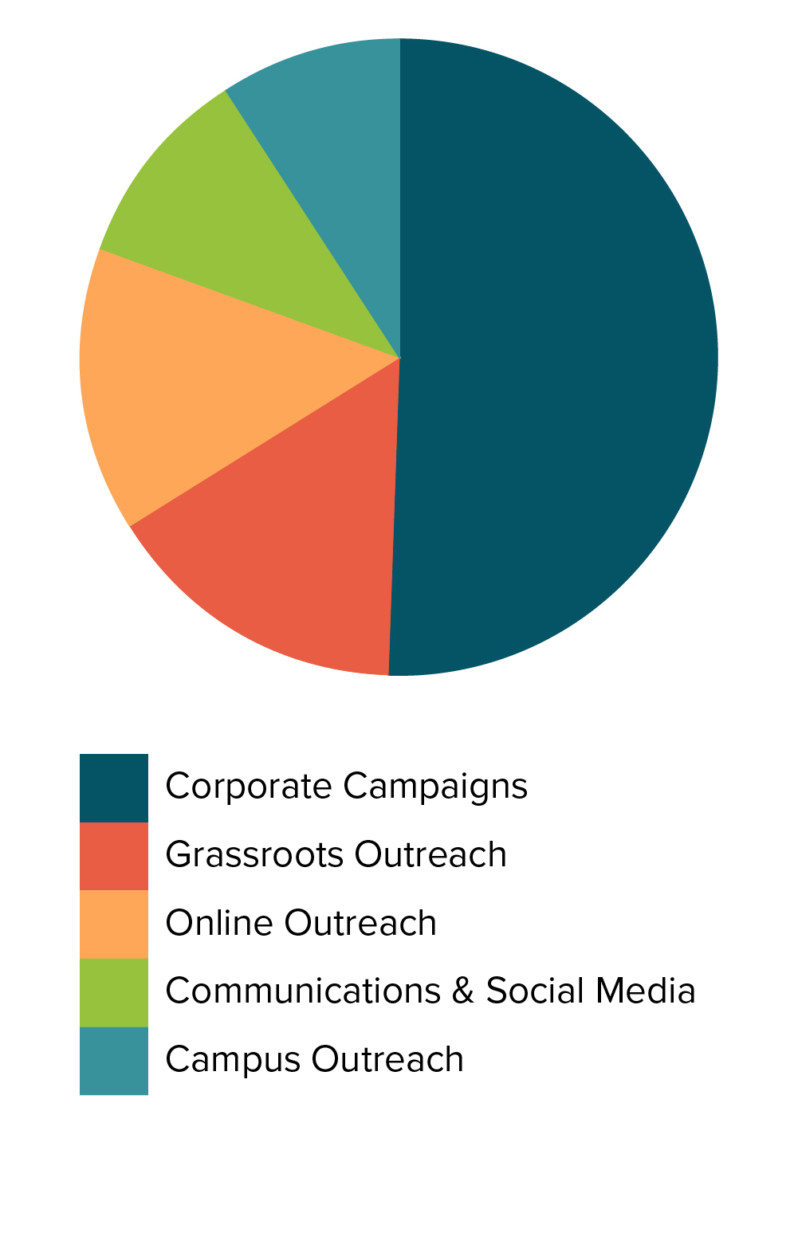 The Humane League runs several programs; we estimate cost-effectiveness separately for a number of these programs, and then combine our estimates to give a composite estimate of THL's cost-effectiveness. Note that all the estimates factor in associated supporting costs including administrative and fundraising costs.22 We generally present our estimates as 90% subjective confidence intervals.23 We think this quantitative perspective is a useful component of our overall evaluation because quantitative estimates of cost-effectiveness can be:
Helpful in our mission to identify highly effective ways of helping animals,24
Useful in making direct comparisons between different charities or different interventions,25 and
Helpful for increasing our transparency.26
However, the estimates of equivalent animals spared per dollar should not be taken as our overall opinion of the charity's effectiveness, especially given that we choose not to account for some less easily quantified kinds of impact in this section, leaving them for our qualitative evaluation. Furthermore, our cost-effectiveness estimates are highly uncertain approximations of some of the short-term costs and short to medium-term benefits associated with THL's programs. As we have excluded more indirect or long-term impacts, the overall impact may be an underestimate. There is a very limited amount of evidence pertaining to the effects of many common animal advocacy interventions, which means that in some cases we have mainly used our judgement to assign quantitative values to parameters. Because charities have varying proportions of different types of impact, this makes our quantitative estimates particularly difficult to use to compare charities with a higher proportion of long-term impact to charities with a higher proportion of short-term impact.
We are concerned that readers may think that we have a higher degree of confidence in this cost-effectiveness estimate than we actually do. To be clear, this is a very tentative cost-effectiveness estimate and it plays only a limited role in our overall opinions of which charities and interventions are most effective.27
Corporate Campaigns
We estimate that in 2017 THL will spend 49% of their budget, or around $2.2 million, on corporate campaigns.28, 29 This results in some companies adopting new policies, and these policies result in reduced suffering for animals. We roughly estimate that THL's corporate campaigns will help cause 60–190 policy changes30, 31 affecting 100 million–3 billion laying hens and broiler chickens each year.32, 33
Grassroots Outreach
We estimate that in 2017 THL will spend 15% of their budget, or around $680,000, on grassroots outreach.34, 35 This will include the distribution of between 400,000 and 600,000 pieces of literature,36, 37, 38 between 500 and 1,400 pay-per-view video views,39, 40, 41 and between 8,500 and 11,000 students reached with humane education presentations.42, 43, 44 We're unsure how costs are split between these activities, but note that if the costs are all assigned to leafleting, the cost per leaflet distributed is between $1.10 and $1.70.45, 46
Online Ads
We estimate that in 2017 THL will spend 14% of their budget, or around $620,000, on online ads.47, 48 The ads are placed on Facebook, and clicks lead viewers to pro-veg and pro-animal content.49 We estimate that they'll get 18 million–30 million clicks on their ads in 2017,50, 51, 52 making their cost per click between $0.02 and $0.04.53, 54
Communications and Social Media
We estimate that in 2017 THL will spend about 10% of their budget, or $470,000, on social media outreach and other communications, including their blog, Facebook page, etc.55, 56 We estimate that this year the videos they share will get 6 million–12 million unique views to 95% of the video length.57, 58, 59 This gives us a cost of between $4 and $8 per 100 video views to 95%.60, 61 However, we note that users also engaged with THL's content in many other ways, such as watching parts of videos, reading text posts, and reading blog posts.
Campus Outreach
We estimate that in 2017 THL will spend 8.6% of their budget, or around $390,000, on campus outreach.62, 63 Their campus outreach program shares some elements with their grassroots outreach, and results of campus outreach such as leafleting and pay-per-view views are included with similar results from grassroots outreach for simplicity.64 THL reports that in 2016/2017 this campus outreach will place more than 75 op-eds in their campus newspapers and will collect more than 10,000 meatless monday pledges.65, 66
Changes Since 2016
Figure 3 shows the way in which THL's budget size and allocation has changed since 2016.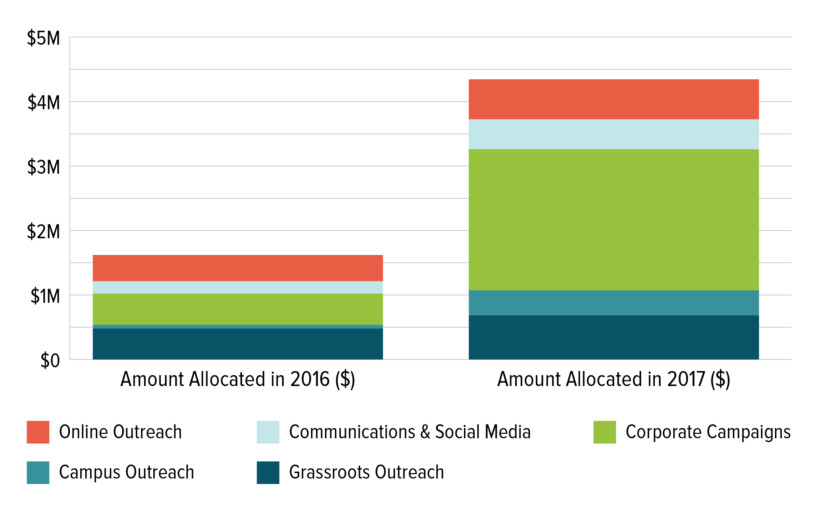 All Activities Combined
To combine these estimates into one overall cost-effectiveness estimate, we need to translate them into comparable units. This will introduce several sources for errors and imprecision, so the resulting estimate should not be taken literally—it is a rough estimate, and not a precise calculation of cost effectiveness.67 However, it will provide some information about whether THL's efforts are comparable in efficiency to other charities'.68
We use our leafleting cost-effectiveness estimate and a subjective adjustment for the difference in depth and content of grassroots outreach to roughly estimate that THL spares between -5 and 0.6 farmed animals per dollar spent on grassroots outreach.69, 70, 71 We use our online ads report to roughly estimate that THL spares between -3 and 30 farmed animals per dollar spent on online outreach.72, 73 We consider multiple factors74 to roughly estimate that THL spares an equivalent of between -60 and 360 farmed animals per dollar spent on corporate outreach.75, 76, 77
We weight our estimates by the proportion of funding THL spends on each activity; overall, we roughly estimate that, in the short-term after excluding the effects of some of their programs, THL spares between -30 and 180 farmed animals per dollar spent.78, 79, 80 This equates to between -13 and 40 years of farmed animal life averted per dollar spent.81, 82, 83 Because of extreme uncertainty even about the strongest parts of our calculations, we feel that there is currently limited value in further discussing these estimates. Instead, we give weight to our other criteria.
Criterion 4: The charity possesses a strong track record of success.
Have programs been well executed?
THL was founded in 2005 and has engaged in their current programs for several years. They have undergone substantial growth in recent years, and a lot of their major successes have occurred more recently. They have a substantial track record of carrying out their programs, opening offices in new cities, and training new staff.
Their most successful campaigns over the last few years have been in corporate outreach, particularly their cage-free campaigns. In 2016, after significantly expanding their campaign staff, their efforts resulted in over 100 cage-free commitments from dining companies, restaurants, manufacturers, and retailers in the United States.84 They have also started work on improving broiler welfare in 2017, and have currently obtained over 30 commitments in this area.85 Their recent expansion into the U.K. and Mexico has also led to several cage-free commitments being made, and we think it's likely they'll achieve the same for Japan over the coming years.86, 87
THL's corporate outreach program landed another major achievement in 2016: they convinced United Egg Producers (UEP) to pledge to eliminate the practice of culling male chicks.88 Instead of suffocating or grinding male chicks after they hatch, UEP will transition to using a new technology to determine the sex of chicken embryos before they hatch.89 Note that this welfare reform might have been more likely to happen without animal advocacy involvement than other reforms because it seems more likely to be a financial benefit for companies who make the change. There have also been concerns over the pledge's wording, which requires implementation "by 2020 or as soon as it is commercially available and technologically feasible," which seems open to interpretation and may be easy for UEP to circumvent (although THL disagrees with this).90
In late 2016, THL launched the Open Wing Alliance (OWA), an international coalition of organizations aiming to end cage confinement practices globally.91, 92 THL provides support to members both with training and tactics intended to assist them in launching campaigns in their own countries, and by issuing grants.93 The OWA enables campaigns that simultaneously target international corporations in many of the countries they operate in. These campaigns have resulted in commitments from nearly 20 corporations, many of which operate in hundreds of countries.94 The OWA's work so far has had a particular focus on Europe, where 21 of the 42 members of the OWA operate.95 THL is directly responsible for the creation of the OWA, and without their organizational capability and expertise in campaigning, the OWA would likely not have seen the success it has.96
THL continues to engage in grassroots outreach, particularly on college campuses.97 They conduct humane education and recruit and train student interns and campus coordinators. Through 2017, they have expanded this program and will be taking on 60 students to train at a summer retreat.98 THL volunteers and staff have distributed over 310,000 leaflets and over 40,000 veg starter guides, and they've trained over 700 individuals through an "Effective Activism" presentation, amongst other activities.99 They have also increased the numbers of their online volunteers through their Fast Action Network.100
Have programs led to change for animals?
The commitments resulting from THL's corporate outreach campaigns will likely affect a large number of animals once they have been implemented.101 As these commitments are not legally binding, it will be important to follow up with companies to ensure they are adhered to. THL has begun following up with companies, and they are working with Mercy For Animals to produce a shared database of commitments.102 They believe that ensuring corporate pledges are enforced will be a major project for them in coming years, and they plan to carry it out in part by running campaigns against companies that renege on their commitments.103 If these pledges are implemented, their corporate campaigns will have led to direct and measurable increases in the number of animals being raised under higher welfare standards—we estimate that implementation of the pledges they have already achieved would affect hundreds of millions of chicks, hens, and broiler chickens annually.104
While THL's direct impact cannot be tracked in campaigns on which they have joined with other organizations, they have had enough successes attributable solely to their own impetus that we are confident their corporate campaign program is operating successfully. They conducted many of their cage-free campaigns either independently or in a leadership role, and United Egg Producers' pledge to end chick culling was made after "exclusive conversations with The Humane League."105 THL's role as the organizer and leader of the OWA has allowed them to extend their success further by improving the effectiveness of organizations operating in different regions from them, and is evidence of the significant impact they have had in the movement.106
Many of THL's programs attempt to influence individual behavior, and the impact of these is substantially harder to measure. Included in this category are online ads, leafleting and other literature distribution, humane education, and most Humane League Labs (HLL) studies. Humane League Labs' studies may also work to inform the movement as a whole; however, there have been concerns over the quality of their past research,107, 108 and thus their effect on improving THL and other organizations' work is uncertain. Research so far suggests that some of these non-HLL activities have a positive effect, whereas leafleting—in particular—may have a slightly net-negative effect.109 Generally the research is not substantial enough for many of the interventions and some have not been formally evaluated at all. However, we believe that changing individuals' beliefs and behaviors is a crucial part of building a better world for animals, and we do not want to penalize groups doing this work for the inherent difficulties of measuring its success.
Criterion 5: The charity identifies areas of success and failure and responds appropriately.
The Humane League appears to have a strong commitment to recognizing and responding to success and failure. They set specific and relevant (though not always time-bound) goals, evaluate their programs based on research, and have made changes based on these assessments. Their operation of Humane League Labs (HLL) in particular indicates a commitment to evaluating effectiveness, but we are concerned about HLL's failure to meet past goals, as well as the poor quality of some of their past studies. HLL appears to have changed considerably in the past year or two, and their current work includes a highly relevant research project, as well as reanalyses of several past studies for which the original reports had drawn criticism. However, the latest iteration of HLL has a short track record, making it difficult to predict the extent to which they will provide high-quality, relevant research in the future.
For each of their campaigns, THL judges success by considering a list of relevant, concrete goals.110, 111 These targets appear to generally be achievable, but not trivial; they have achieved a fair portion of their U.S. campaign and hiring goals, as well as a few of the goals of their newer international programs.112 They note that the timelines for their overarching goals are difficult to establish, both because they have been growing rapidly (making it hard to know what they'll have resources for) and because their programs' results are inherently difficult to predict, especially the results of corporate campaigns.113 As such, they deliberately tend to set time-unspecified goals for these overarching campaigns, rather than aim for success within a particular time period.114 THL reports that they set time-bound goals for smaller-scale outcomes and individual projects,115 such as the upcoming goals for their U.K. corporate campaigns program.116 Since THL has not shared all of these time-bound goals with us, we are not certain how well-designed their overall goal-setting process is for indicating success and failure. However, the goals for their U.K. campaigns program provide some favorable evidence for the design of THL's shorter-term goals in general. In addition to being time-bound, they are relevant to THL's overall mission, fairly specific and measurable, and appear plausibly achievable based on the success of U.S. cage-free campaigns.117 THL has also shared some short-term goals for their programs in Mexico,118 which are similarly designed, but also include milestones indicating what THL believes to be meaningful increments of success;119 these milestones allow THL to better measure partial success at achieving their goals.
THL attempts to use research from Humane League Labs (HLL) to better understand the effectiveness of some farmed animal advocacy interventions. In the past, Humane League Labs seemed to have difficulty releasing their findings on their planned schedule,120 and they initially did not provide the level of statistical analysis we would have liked to see.121 Some of their past work has drawn criticism for inaccurate analyses and poor research methods, including overemphasizing small differences in outcomes and using the same participant pool for five separate studies.122, 123 Since then, THL Board Member Harish Sethu has taken on a volunteer role as head of Humane League Labs. More recently, THL has hired a Research Associate to work with him;124 they also plan to hire an economist and a social scientist.125 HLL is currently preparing to conduct two studies on individual outreach outcomes. One study will evaluate engagement with Facebook ads that direct users to documentary clips.126 The other will measure group-level consumption changes in response to a combination of individual outreach interventions.127 We are somewhat concerned that the former project was originally expected to be completed in 2016,128 although THL has told us that the delay was due to THL's communications staff being told to prioritize corporate campaign work over creating the source material for the study, rather than any decision on HLL's part.129 The latter study seems likely to provide important information for the animal advocacy community, as the past studies of individual outreach effects have generally relied on self-reported consumption—which is likely to be somewhat inaccurate130—and HLL aims to achieve significantly greater statistical power than previous studies of individual outreach methods.131 THL has told us they plan to take this study's results into account when deciding how much to spend on individual outreach.132 We are encouraged that THL makes a concerted effort to understand impact, and believe that they will be willing to shift their focus upon learning more about the effectiveness of different types of advocacy techniques. However, the willingness to do so is only valuable insofar as there is high-quality research to learn from.
In 2016, Humane League Labs released a statement of their commitments, including a commitment to improved research practices and to revising and reanalyzing their research. They are currently revisiting several studies they conducted in past years, with a priority on work that has drawn public interest, including criticism.133 They have recently released a reanalysis of HLL's first study,134 "Which Leaflet is More Effective?" and have told us they plan to revisit two more studies which were especially heavily discussed.135 One of these studies is part of a set of five studies for which HLL had used the same participant pool; they also aim to revisit another of these five studies in order to fully explore the possible issues arising from participant overlap.136 We are encouraged to see Humane League Labs commit to strong research principles and revisit past work in light of them. However, we are somewhat concerned to see indications that they continue to be unable to meet their stated deadlines, although this may have been due to specific past resource allocation decisions at THL, whose plans to hire more HLL staff suggest they are now willing to put more resources towards HLL. HLL has set more specific timelines for their research projects now that the plans have been fully developed, which appear plausibly achievable;137 their progress on these goals will more clearly indicate the new Humane League Labs' ability to create reasonable plans and generate useful research.
We are aware of several recent cases in which THL has changed their programming in response to indicators of success and failure. Because of a lack of evidence supporting leafleting's effectiveness, THL has focused more of their grassroots efforts on institutional campaigns.138 Since movement-building seems like a valuable resource for whichever other advocacy efforts turn out to be effective, they are also putting more attention towards evaluating and improving their volunteer programs' effect on getting people engaged in the animal advocacy movement.139 On a smaller scale, they have changed their approach to several programs, such as their cage-free corporate campaigns in Mexico, based on evidence that their original approach was not succeeding.140 This includes internal operations, where they have raised their standards for recruiting interns in part to avoid situations like interns throwing away leaflets instead of distributing them,141 as well as to select for interns who have relevant passions and/or skills, which they have found to be important for successful internship experiences.142
Criterion 6: The charity has strong leadership and a well-developed strategic vision.
THL has a stated commitment to reducing animal suffering,143 and their actions provide some evidence for their commitment to doing so effectively.144 This has guided them to do work that we think contributes significantly to the growth of the animal advocacy movement, both in the U.S. and—in particular—internationally. They appear to involve Board Members and department leaders in their decision making to a reasonable degree.145, 146 THL's non-leadership staff members also appear to be at least somewhat involved in department-level planning,147 and the organization plans to heavily involve them in the more formal strategic planning process they are currently developing.148
We are slightly concerned by the possibility of a lack of input from THL's non-leadership staff members regarding overall planning as the organization continues to grow, but THL appears to be handling this well at present and they are working to ensure it does not become a problem.149
The charity's mission emphasizes effectively reducing suffering/helping animals.
THL has told us that their mission is to reduce animal suffering by inspiring change at all levels.150 They have also told us that encoding animal protections into law is their "endgame."151 THL's efforts to self-evaluate and respond to evidence also indicate some commitment to effectiveness.152 Given their mission and their history of conducting evidence-supported interventions, we expect THL to remain committed to effectively helping animals.
The strategy of the charity supports the growth of the animal advocacy movement as a whole.
The Humane League aims to bring their resources and expertise to animal advocates in many countries, particularly those where the movement is relatively small. Through the Open Wing Alliance, they have shared tools with and trained advocates at many organizations, and provided grants and support to individual advocates in countries with few animal advocacy organizations.153 They have developed resources that they share freely with OWA member organizations, including a corporate outreach campaign manual and a guide to pressure campaigns.154 THL has also collaborated with other organizations in a variety of ways, including by sharing training materials and campaign research.155 They feel that collaboration is highly valuable to the animal advocacy movement, and see it as part of their role to encourage organizations to coordinate on large-scale campaigns.156
THL also pursues grassroots efforts that grow the animal advocacy movement, including through their campus leadership program and through volunteer and intern programs in cities with grassroots offices and nationally.157 They see these programs as a way that THL contributes to the long-term growth of the movement, rather than just growing their own organization.158 THL has also told us that they aim to have their corporate outreach campaigns complement those of other organizations,159 and they haved worked to coordinate their campaigns with other organizations' campaigns in the past.160 Their research at Humane League Labs can provide information that helps guide other advocates' work. As mentioned in Criterion 5, we are somewhat concerned about flaws in Humane League Labs' past studies, although they are taking steps to revisit these studies' results and improve the quality of their research.
Overall, THL carries out a number of programs which seem likely to support the growth of the animal advocacy movement in meaningful ways.
The board of the charity includes members with diverse occupational backgrounds and experiences.
THL's five-person board includes Harish Sethu, the Director of Humane League Labs and a computer science professor, and Lydia Chaudhry, who served in a volunteer role as THL's operations support and volunteer coordinator since 2009 but stepped down in early 2016.161 The board also includes Mark Middleton, the co-founder of a consulting firm, as well as Denise Tremblay, a retired university financial manager. THL is currently looking for a fifth Board Member to replace THL founder Nick Cooney, who recently stepped down from the role.162 THL's board doesn't have term limits, and two of their Board Members have been on the board since shortly after The Humane League adopted that name in 2008, as had Cooney.163, 164 We had questions about the degree of stability on the board; a board that does not change its composition could prevent an organization from adapting, or could fail to meet the needs of the organization as it grows; however, THL believes that they have been able to change methods and programs in response to new evidence in part because they have Board Members who are willing to learn from evidence and adjust their beliefs.165
According to U.S. best practices, nonprofit boards should be comprised of at least five people who have little overlap with an organization's staff or other related parties.166 However, there is only weak evidence that following these best practices is correlated with success, and if they are correlated, that may be because more competent organizations are more likely to both follow best practices and to succeed—rather than because following best practices leads to success. We think THL's five-person board—including one person with a significant role at THL, and another with a long history at the organization—provides a small amount of evidence against the effectiveness of the organization.
The evidence for the importance of board diversity is somewhat stronger than the evidence recommending board sizes of five or greater, in large part because there is a significant body of literature indicating that team diversity generally improves performance. However, the evidence we are aware of for the importance of board diversity on organizational performance specifically is less strong.167 THL's board appears to have a reasonable amount of occupational diversity.
The board of the charity participates regularly in formal strategic planning on behalf of the charity, and involves other stakeholders in that process.
THL has several different planning processes. In their annual budget-setting process, they establish major goals and plans for the next year and allocate resources for accomplishing those goals.168 THL has a leadership team composed of David Coman-Hidy, their six vice Presidents, and their general counsel.169 This group meets weekly to discuss progress and has a quarterly retreat during which they discuss planning in greater detail.170
The board is most involved in the budget-setting process, although THL's President also meets with them three times a year to discuss the organization's current status.171 The board usually operates by consensus; Coman-Hidy notes that, as a result, compromise and changing positions are regular occurrences for all Board Members and the President.172 THL also has an annual retreat with their staff at which they talk about their strategy and work on goal-setting for each department. Typically, each department also has its own retreat once a year where they discuss their departmental goals.173 THL has told us that they plan to adopt more formal strategic planning, and they intend to have non-leadership staff be heavily involved in this process.174 Our understanding is that, rather than participate in organizational planning in a way parallel to other departments, Humane League Labs sets strategy and self-evaluates independently of THL as a whole;175 the lab's Director has always been a THL Board Member rather than a staff member.176
We conducted two non-leadership calls with THL staff members.177 One respondent expressed concern that the opinions of non-leadership staff members might not continue to be adequately addressed as the organization grows. Another noted that, while large-scale strategy was usually communicated well to everyone, there could be confusion over specific planning details. Both respondents told us that there had been internal discussions of these issues and THL was working to address them.178
Criterion 7: The charity has a healthy culture and a sustainable structure.
THL seems to have largely succeeded in maintaining a healthy and productive culture through its growth in the past few years. They continue to monitor staff morale and opinions through frequent internal surveys and to make changes based on what they learn.179 As THL has grown, the culture has changed somewhat; while at a smaller size the organization was tighter-knit and had more of a familial or social feel for staff, now it is large enough to feel more "corporate," and leadership has implemented a number of formal ways of keeping all staff informed of each others' activities, whereas previously information spread more organically.180 We find this to be an expected and appropriate adaptation to a larger organizational size.
On the financial side, THL is fairly heavily reliant on a small number of large funding sources, and continues to make efforts to improve their fundraising among smaller donors.181
The charity receives support from multiple and varied funding sources.
THL is supported entirely through grants and donations; they have no revenue-generating programs.182 Around 55–75% of their grant and donation support is unrestricted.183, 184 The other 25–45% is dedicated to either corporate campaigns or online outreach.185 We know that these restricted funds come from at least two separate major donors, one of whom, the Open Philanthropy Project, has also provided THL with significant unrestricted support.186
Overall, in 2017 the Open Philanthropy Project alone is expected to fund 20–40% of THL's activities.187 This is a significant degree of reliance on a single foundation, and THL is working to reduce it through working with a consulting firm to find ways to raise more funds from a broad group of individual donors.188
The charity provides staff and volunteers with opportunities for training and skill development, helping them grow as advocates.
Training staff, interns, and volunteers is a key part of THL's strategy of helping to grow the animal advocacy movement by increasing the number of committed, trained, animal advocates.189 THL has large and structured volunteer, intern, and campus outreach programs designed in part to help participants become better advocates ready for positions of greater responsibility.190, 191 THL also tries to promote professional development among staff through structured training for managers and opportunities to attend relevant conferences and trainings.192 THL tells us that they try to promote from within as much as possible, and we have observed this in several cases.193 In our conversations with staff, we heard that while staff, interns, and volunteers all have opportunities for training and skill development, such opportunities tend to be much less structured for staff and more reliant on the staff member to take the initiative, which may lead to less overall growth.194
The charity has staff from diverse backgrounds and with diverse personal characteristics (e.g., race, gender, age), and views diversity as a resource that can improve its performance.
THL staff are diverse in terms of national origin, particularly due to THL's international expansion.195 THL is also taking steps to expand staff diversity in terms of other factors, with HR implementing best practices like blinding some steps of the application process to mitigate the effects of implicit bias, and a staff committee on diversity and inclusion helping to educate the organization and provide suggestions for improving THL's practices.196, 197, 198 THL told us that having diverse voices within the organization helps them respond better to new situations; for example, U.K. team members can provide good suggestions for corporate outreach in Japan, because of similarities within corporate culture in those countries that don't extend to the U.S. Additionally, the diversity and inclusion committee can help educate staff on how and when to ask for people's preferred pronouns.199, 200
The charity works to protect employees from harassment and discrimination.
THL has policies in place to protect staff from harassment and discrimination, on which they train all employees.201 We have spoken confidentially with two non-leadership staff members and performed some additional due diligence searches, and are not aware of any reports of harassment or discrimination at THL.202 In private communication, THL has informed us that they have confidential internal reporting mechanisms that they encourage staff members to use. It is possible that if incidents had occurred, staff members would have used the confidential reporting system and not reported these incidents to ACE or discussed them publicly; THL staff also may not be aware of claims that do not involve them, due to the confidential reporting system.
Questions for Further Consideration
Why does a significant portion of THL's outreach focus on dietary change rather than directly shifting public attitudes?
Some argue that the effectiveness of a strong focus on individual behavior change (e.g., dietary change) isn't supported by historical examples or other empirical evidence.203, 204, 205 They might argue that most successful social movements have focused their rhetoric on the institution they opposed rather than on individual behavior supporting that institution.206 Critics also believe it is difficult to build a mass movement when the perceived criteria for acceptance in the movement is a lifestyle change, and that a consumer focus provokes less moral outrage than focusing on the institution, thus missing an important driver of activism and subsequent social change.207
It's important to note that work on dietary change and on attitude change are not mutually exclusive; many animal advocacy activities, including many of THL's programs, could plausibly lead to both types of change. In general, however, some of THL's programs seem more focused on incremental change than on building a mass movement supporting institutional change.
THL finds that a focus on dietary change in certain programs, such as leafleting, is more likely than other approaches to lead to immediate behavior change that directly spares animals. If people simply change their attitudes with respect to farmed animals, that might not lead to actual impact for animals. After all, many people currently care about animals, but relatively few are vegetarian or vegan.208 It might actually be easier to change individuals' attitudes after convincing them to change their diets, since they will no longer need to reconcile their compassion towards farmed animals with their practice of eating them.
Additionally, in the past year THL has shifted more of their grassroots staff time to support their corporate campaign work locally and to focus on movement building in the form of volunteer recruitment and training.209 They still conduct outreach, but try to limit their outreach activities (like leafleting) to volunteer events rather than using paid staff, with some exceptions made for outstanding opportunities, like the Warped Tour.210 They have told us that they continue to conduct in-person individual outreach in large part for the sake of training volunteers and building community.211
Some of THL's activities (perhaps particularly protests) have the potential to backfire, either by leading to legislation targeting activists or by negatively affecting public opinion of activists. Should donors support such activities?
Critics have argued that some tactics employed by animal advocates, including protests, risk turning public opinion against the animal advocacy movement.212 While these activities make up a small proportion of THL's work, they do organize and participate in protests and demonstrations.213 While THL carefully targets their protests with specific goals in mind and tries to project a professional image through their protests, it's possible that they could still draw negative governmental attention or lower public opinion of advocates.214
THL has considered these possibilities, and they say they try to mitigate any negative impact of their work.215 For protests, they require professional attire, the use of THL-printed signs with a clear message, and the protests are carried out in silence.216 THL staff or trained volunteers are on hand to answer any questions from passerby or media, which allows for control of THL's message.217 THL says they have found a remarkably positive public response to this style of protest.218 Activism is never going to be unanimously popular among the public, but THL believes that the steps they take are likely why they have received mostly positive media coverage (outside of industry journals) and limited backlash from the public during events.219
Does THL worry that focusing on some of the most extreme confinement practices could lead to complacency with other forms of suffering farmed animals endure or with meat consumption?
Since pushing for welfare reforms often involves working directly with food industry companies, this work can give the public the impression that these companies treat their animals well when this is not the case, especially when animal advocates are incentivized to make the reforms seem like drastic improvements when animals still suffer substantially.220 Critics would also argue that, empirically, welfare reforms such as banning battery cages reduce only a very small portion of the harm of animal agriculture, if any, so they are not the most cost-effective use of time.221, 222, 223
In addition, some argue that welfare reforms (e.g., bans on battery cages) might lead consumers to think that farmed animals no longer suffer and that helping them is no longer a priority.224 They cite as evidence that some corporations market themselves as "humane" and "ethical," which suggests that appearing to support animal welfare does benefit those companies.225 However, this may only reflect gains to individual companies from positioning themselves as the most humane option.226 There isn't much evidence that this kind of marketing increases animal product consumption on the whole, and there is some evidence of a negative correlation between media coverage of animal welfare and meat consumption.227
On the other hand, some advocates argue that this work could increase the credibility of the animal advocacy movement by showing that it can make progress for animals on an institutional scale, not just an individual one.228 Single campaigns may not eliminate all suffering in a specific area, but they can provide useful information and momentum for future campaigns. The success of welfare reforms also establishes the moral aspects of animal agriculture as a topic in the public domain, which seems important for further progress.
THL has not seen evidence of increased complacency among corporations as a result of their achievements thus far, as companies have often been more willing to work with them after making progress on some issues.229 It's not clear whether they would be aware of increased complacency among consumers as a result of their work.
There are many more farmed fish than other species of farmed animals. Has THL considered allocating more of their resources towards farmed fish advocacy?
Each year, an estimated 37 billion–120 billion finned fish are slaughtered in the animal agriculture system, compared to roughly 60 billion–80 billion land animals.230, 231, 232 While many organizations aim to maximize their impact by advocating for chickens, some argue that those organizations should instead focus more on farmed fish advocacy, as there are even more farmed fish than farmed chickens and the field is currently relatively unexplored.233 We agree that helping fish is a valuable area that could potentially use much more work, though we think organizations might be understandably wary of the potential difficulty of campaigning for animals who people may be less likely to be concerned about, as well as the greater uncertainty regarding which changes should be prioritized.234, 235 Recently, several charities have entered this arena; Mercy For Animals has conducted a study on how messaging affects behavior and attitudes regarding fish, while the Albert Schweitzer Foundation conducts farmed fish advocacy programs informed by research on fish welfare.236, 237
THL has considered this issue and hopes to begin working on fish welfare issues in the future, after winning their broiler reform campaign and doing some work to ensure that cage-free commitments are honored.238 They find that there are a number of factors making advocacy on behalf of fish difficult, including limited information about what causes the greatest suffering, the many species of farmed fish, and the potentially lower resonance of the issue with the public, which could make THL's grassroots model less effective on this issue.239
However, THL sees slaughter reform as a potential target for corporate outreach to improve fish welfare.240 Mandating less cruel methods of slaughter has been tractable for other species in the past, and should be possible to apply across the fish farming industry.241 They are considering this as a potential next step for their corporate outreach campaigns.242
There are some who think that the scale of suffering in the wild is much greater than the scale of farmed animal suffering. What is THL doing to address wild animal suffering?
There are so many wild animals that improving their welfare may be a large-scale cause area even if only a minority of them are in distress.243 It is also a highly neglected cause area; although many organizations work to help wild animals in a general sense, few operate from a perspective that primarily values individual experience and that doesn't focus on preserving charismatic species at the expense of more numerous ones.244, 245 However, wild animal suffering is also a relatively intractable problem, both because it is not directly caused by humans (so we can't simply stop the actions that lead to it) and because there are currently few people working on it, so possible interventions are not well-developed or understood.246 Even when we can think of things that seem like they would help wild animals fairly cost-effectively, there may be difficulties to implementing them that we simply don't know about because they haven't been attempted.247 ACE is also concerned that the general public has strong intuitions against intervention in the wild, and it's not clear how easily these intuitions can be overcome through thoughtful advocacy, so convincing others to join in helping wild animals might be particularly difficult.248 Because the cause of wild animals is so large-scale and neglected, ACE thinks we should direct resources to it if we can find opportunities to contribute.
THL agrees that the number of animals in the wild means that the scale of potential suffering there is extremely high.249 For now, they believe the greatest opportunity for animal advocates is to work on factory farming, because it is a much more tractable issue.250 As a result, they aren't currently working on any wild animal suffering issues.251 They do hope that changing views on the treatment of farmed animals will lead to greater compassion for all animals, including wild animals.252
Some would argue that the development of new cultured and plant-based food technology will be the key turning point for ending animal farming, and that a shift in public attitudes will naturally follow. What role does THL play in facilitating the development and acceptance of technologies?
We think that developing cultured animal product alternatives is a potentially high-impact way to influence the food system. Plant-based milk is already showing a tendency to take market share from the sales of conventional milk in the U.S., with sales in one category growing as sales in another category decline.253 It seems plausible that cultured and plant-based meat will similarly take market share from the sales of conventional meat, especially as it becomes more cost-competitive, widely available, and harder to distinguish from conventional meat in taste and texture.
If this effect is sufficiently large and comes sufficiently quickly, work on developing and promoting alternatives to animal products may be much more impactful than direct work on changing public attitudes toward animals or the treatment of farmed animals.254 Cultured and plant-based food technology could cause people to move away from animal products before public attitudes towards animals would have been changed due to the advocacy efforts.
THL sees their work as supporting this transition in three ways: first, their welfare campaigns act as a deterrent for companies to partner with factory farms, while acting as a competitive advantage for non-animal options.255 Second, their outreach and education campaigns increase the public's concerns about animal-based foods and drive up demand for alternatives or reforms on farms.256 Third, when opportunities present themselves, THL has actively worked with institutions to replace animal foods with plant-based options (most successfully with meatless monday campaigns, meat reduction asks of dining companies, and working with universities to completely replace their standard mayonnaise with Just Mayo).257 THL supports all of these efforts through their movement building work with their grassroots network.258
THL is also looking for other opportunities that may develop as technologies improve.259 For example, they hope that someday soon a very inexpensive veg 'chicken nugget' will exist so that they can work with cost-sensitive institutions to swap out their meat nuggets.260 Eventually, they would like to have a large part of their institutional work focus on campaigns that can entirely replace factory farmed products.261
HLL's previous work has involved some questionable methodological choices. What steps, if any, has THL taken to improve the quality of HLL's research?
ACE thinks that some of HLL's early studies were not conducted as well as they could have been, and that there were problems in some of the write-ups of those studies.262 For example, HLL conducted five studies with the same participant pool, which might have caused the results of some of those studies to be influenced by earlier experimental manipulations.263 Some studies also did not include appropriate control groups, and many studies did not control for desirability bias.264 We think these early studies helped influence animal advocates to see research into animal advocacy methods as possible and desirable, but that their utility is otherwise limited by some of their design flaws. We think that at this point, further studies with similar issues would be of very limited value, though there is still a great need for strong, reliable research.
THL agrees that early HLL studies had a number of weaknesses.265 These studies were led by activists, not professional Researchers, and conducted with almost no budget.266 They were also among the first such studies conducted in the movement, and THL is glad for the interest in results-oriented activism that led them to embark on these studies, even if imperfectly.267
HLL's 2016 commitments, written by the new Director, Harish Sethu, address these types of methodological concerns.268 In addition to these commitments for future research, HLL is also reanalyzing the data in some of the reports that have generated the most public interest.269 The first of these reanalysis reports has already been released (see here) and editorial comments have been made on the original blog post indicating HLL's current position on the conclusions of the study.270 In the coming months, HLL will be releasing reanalysis reports on a few additional older studies as well to clarify their assessment of the conclusions reported therein.271
Given that the corporate pledges THL campaigns for—particularly the United Egg Producers (UEP) chick-sexing pledge—are non-binding, how can we be sure that they meaningfully support improvements in farmed animal welfare?
When THL and other advocacy groups secure policy pledges from corporations, those pledges are not legally binding.272 As a result, it's possible that corporations could choose not to honor their pledges, and could suffer few or no consequences as a result.273 Animal advocates can take some steps to create enforcement mechanisms for these pledges, such as ongoing monitoring with the threat of negative public campaigns if companies don't comply with their agreements.274 However, critics argue that even with such mechanisms in place, companies are likely to comply with commitments only to the extent that they are economically beneficial.275 This may mean that companies comply only with commitments to enact policies they would have implemented on their own, and advocates have no real impact.276
THL sees pledges as valuable for a few reasons, even though they are not legally binding.277 The first is that they do appear to drive real change in the standards on farms, as demonstrated by the major shift towards cage-free following the slew of commitments over the last few years.278 This seems to show that egg producers are taking these commitments seriously.279 THL believes that industry publications indicate this, too, as they now often discuss how to handle the transition to cage-free.280 Additionally, THL finds that these corporate commitments pave the way for the eventual laws that fully ban production and sale of cage eggs, like the law passed in Massachusetts and the proposition now underway in California.281 Lastly, the media conversation and discussion that these campaigns generate are another benefit beyond the improvements that they encourage.282 THL believes that increasing public awareness about the conditions on factory farms while providing an opportunity to speak out is useful in building a movement of advocates and concerned citizens around the world.283
THL says the UEP chick-sexing pledge has resulted in a large number of interested parties investing in this research and working to put the new technologies in place.284 They think that the pledge has greatly accelerated the timeline for adopting this technology and has created favorable coverage for the movement.285 In the case of the UEP pledge, THL says it took only one meeting with the UEP to put this in place.286 They believe it was a very meaningful and worthy use of only a few resources.287
Why does THL use local grassroots offices, when it might be that more animals can be affected by working on a national level?
Many animal advocacy organizations that have historically engaged in grassroots activism—including Mercy For Animals—choose not to operate local offices.288 Typically, this is because they believe they have a larger reach and can be more effective by operating programs online or through national media than by engaging in grassroots action. Sometimes these organizations still have a volunteer base which they encourage to engage in grassroots action, but without local staff support.289
THL now focuses the majority of their resources on their national (and now international) strategy.290 They say that local grassroots offices play a key role in pushing for this change, as they provide the boots on the ground to pressure major corporations and institutions to produce commitments.291 Regardless of the scale of the change they are asking for, they need activists who are organized by leaders in their community to support this work, whether it is gathering signatures for a ballot initiative, carrying out demonstrations, or participating in volunteer events.292 THL also sees local offices as an excellent entry point for new people into the movement, where they can gain valuable leadership and organizing skills from THL's professional staff.293
In 2017, THL significantly expanded their local presence in communities around the U.S. with their national volunteer program.294 This allows individuals in locations where they do not have a grassroots presence to be directly involved in their advocacy work, and is more similar to the volunteer programs of other national organizations.295 The program has been so successful that THL needed to add an additional program resource to manage the growing ranks of volunteers.296 THL believes that the popularity of this initiative—including how quickly their roster of volunteers has grown—points to a need and potential for more volunteers to be involved on the grassroots level.297 These volunteers are actively supporting THL's corporate campaigns, allowing them to put additional pressure on national companies.298
---
The following materials are supplementary research documents associated with our charity review process and are referenced in the Comprehensive Review.
Research Documents