Archived Version: November, 2017
What does Compassion in World Farming USA do?
Compassion in World Farming is an international organization working to improve farmed animal welfare. Their mission is to end factory farming and advance the well-being of farmed animals globally. Founded in 1967 by a British dairy farmer against the practices of factory farming being introduced and the increasingly poor conditions in which animals were being kept, they have nearly 50 years of campaigning experience.
In 2011 they formed a branch specific to the United States. This review focuses on their U.S. branch only.1 In the U.S., they are focused on changing corporate practices and policies through corporate campaigns and their Food Business program. These programs seek to influence retailers, food services, and manufacturers to adopt animal welfare policies and practices that measurably improve the lives of farmed animals. In support of this, they run initiatives to harness public engagement to influence these companies. To a smaller extent they also support national legislative efforts as they pertain to banning close confinement systems and "ag-gag" bills.
What are their strengths?
Compassion in World Farming USA (Compassion USA) shows a good understanding of the worst abuses that occur in animal farming, and have tailored their approach to focus on combating the causes of the highest levels of suffering. They actively seek to improve their work and conduct research on how to be more effective. In the U.S., they focus on welfare reforms for broiler chickens and laying hens.
Through their efforts in corporate and public outreach, Compassion USA has convinced key influencers to implement animal-friendly policies. This work likely impacts a larger number of animals than outreach to individuals. Compassion USA plays a different role in corporate campaigns than many of the other charities we evaluate. Rather than running negative campaigns against corporations, Compassion USA maintains friendly working relationships with corporations, helping them to write and implement more animal-friendly policies and monitoring their implementation of these policies.
What are their weaknesses?
Many of Compassion USA's programs focus on the problems with factory farms, but don't highlight issues with raising animals for food in general. We have concerns that addressing the problems of factory farms without making an ideological case against using animals for food in general may have long-term effects of increasing complacency in the use of animals for food. We also have concerns that encouraging more humane methods of production, rather than discouraging the use of animals for food altogether, could increase the perceived need to use animals for food.
Why didn't Compassion in World Farming USA receive our top recommendation?
We think Compassion USA has a strong commitment to effectiveness and plays an important and useful role in corporate campaigns by helping companies implement higher welfare policies and monitoring whether they follow through on them. However, because most of their successes in this area have been achieved in conjunction with other organizations, we're uncertain as to what would have happened had Compassion USA not been involved. Additionally, we think some of their food business work might be dramatically less impactful than their work on corporate campaigns. Finally, we have some concerns about the fact that Compassion USA's programs focus on improving welfare but not necessarily ending animal farming.
Compassion in World Farming USA has been one of our Standout Charities since November 2017.
---
We also have a review of the international organization based in the U.K.
How Compassion in World Farming USA Performs on our Criteria
Criterion 1: The charity has room for more funding and concrete plans for growth.
Before we can recommend a charity, we need to assess the extent to which they will be able to absorb and effectively utilize funding that the recommendation may bring in. Firstly, we look at existing programs that have need for additional funding to fulfill their existing purpose; secondly, we look at potential areas for growth and expansion. It is important to determine whether the barriers limiting progress in these areas are solely monetary, or whether there are other factors such as time or talent shortages. Since we can't predict exactly how any organization will respond upon receiving more funds than they have planned for, this estimate is speculative, not definitive. It's possible that a group could run out of room for funding more quickly than we expect, or come up with good ways to use funding beyond what we have suggested. Our estimates are indicators of the point at which we would want to check in with a group to ensure that they have used the funds they've received and are still able to absorb additional funding.
Recent Financial History
Prior to the 2015/2016 financial year,1 Compassion USA was supported by the CIWF headquarters, based in the U.K. This support ended as Compassion USA transitioned to being more self-sufficient, raising the majority of their funds through a December appeal.2 Their budget for 2016/2017 totaled $571,112 and this is projected to increase in 2017/2018 to $677,127.3 In 2016 they received a grant from The Open Philanthropy Project (Open Phil) for $550,000 spread across two years, for general expansion. So far they have used this additional funding to hire four staff members, increasing their team to seven people.4 In 2017 Open Phil issued another grant of $30,000 specifically for researching an expansion into Latin America.5
Planned Future Expenses
Compassion USA's work mainly centers around corporate outreach; they are currently working to get broiler welfare commitments from the entire restaurant sector by the end of the year, after which they will begin targeting grocers.6 While we think it likely they will achieve this, they believe that they could use at least one additional staff member, whose role would be to follow up with companies who have made commitments in the past, in order to check whether they are adhering to those commitments.7 We think that this is a crucial aspect of the work they are doing and that funding this expansion would be very beneficial.
Given further additional funding, they would invest more in their expansion into Latin America.8 The Open Phil grant has allowed them to get a basic understanding of how to direct their expansion, and they believe that there is a gap for broiler welfare work both in Brazil and in Mexico.9 They believe work in those countries would also strengthen their work in the U.S., as a large proportion of U.S. meat is exported to these regions.10 We think it is likely that they will need to hire staff to become established in these regions, however it is unclear how much of this would be achieved over the next year, if the funding is available.
Compassion USA is hoping to increase their budget to $1 million, as this is the amount they currently feel they could effectively put into use.11 To this end they are hoping for another substantial grant from Open Phil, although we are unsure that this will happen; while Open Phil often issues repeated grants to charities,12 they currently provide a significant amount of funding to Compassion USA to a point where we find it likely that they may be reluctant to give more. In addition to this, while Compassion USA is not currently receiving financial support from CIWF, they are hoping to obtain funding from them to hire a dedicated fundraiser.13 In the unlikely event that CIWF were not to provide this funding, the cost of hiring a fundraiser would represent an additional funding gap for the next year.
Conclusion
Overall we think that Compassion USA could use approximately $330,000–$1,000,000 in additional funding over the next year.14, 15, 16 We think there is a small possibility that Open Phil will make up some of this funding, so the actual gap needed from other sources may be smaller.
Criterion 2: The charity engages in programs that seem likely to be highly impactful.
Before investigating the way a charity's programs are implemented or the outcomes they've achieved, we consider the charity's overall approach to animal advocacy. We expect effective charities to pursue approaches that seem likely to produce significant positive change for animals, though we note that there is significant uncertainty regarding the long-term effects of many interventions.
Compassion USA focuses exclusively on reducing the suffering of farmed animals, which we believe is a high-impact cause area. While most of Compassion USA's work is designed to influence the animal agriculture industry, they also pursue other avenues for creating change for animals: they work to influence public opinion, build the capacity of the movement, build alliances, and influence policy and law. Pursuing more than one avenue for change seems to be a good idea because if one proves to be ineffective, Compassion USA still might be impactful. However, we don't think that charities that pursue multiple avenues for change are necessarily more impactful than charities that focus on one.
To communicate the process by which we believe a charity creates change for animals, we use theory of change diagrams. It is important to note that these diagrams are not necessarily complete representations of real-world mechanisms of change. Rather, they are simplified models that ACE uses to represent our beliefs about mechanisms of change. For the sake of simplicity, some diagrams may not include relatively small or uncertain effects.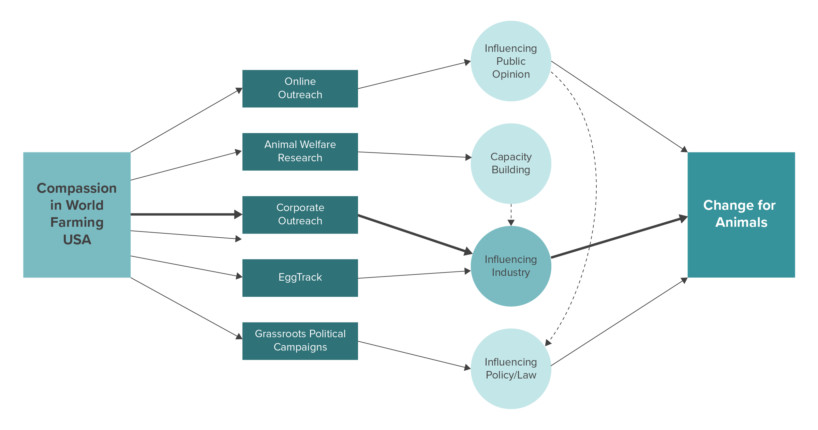 Influencing Public Opinion
Compassion USA works to influence individuals to adopt more animal-friendly attitudes and behaviors. We think that the impact of such work may be relatively limited compared to the impact of efforts to influence industry or law. However, we still think it's important for the animal movement to target some outreach toward individuals, as a shift in public attitudes could lead to greater support for new animal-friendly policies. Public outreach might even be a necessary precursor to achieving more institutional change.
The primary way that Compassion USA works to reach individuals is through online outreach, including producing and posting videos. There is little evidence available about the impact of online outreach.
Capacity Building
Working to build the capacity of the animal advocacy movement can have a far-reaching impact. While capacity-building projects may not always help animals directly, they can help animals indirectly by increasing the effectiveness of other projects.
Compassion USA has conducted animal welfare research, especially on broiler hen welfare. As part of their research, they produced cost-effectiveness estimates for corporate pledges, as well as a statement of transparency. This type of research can help to inform the corporate outreach strategy used by CIWF as well as other organizations.
Influencing Industry
Working to influence the food industry can help animals by leading to welfare reforms or, less directly, by creating a climate in which it is easier for individuals to reduce their use of animal products. In the long term, putting pressure on the animal agriculture industry and paving the way for companies that produce alternatives to animal products could weaken the animal agriculture industry through the pressures of the marketplace, perhaps even without the presence of advocacy messages. Weakening the animal agriculture industry may also enable stricter regulation of animal welfare.
Compassion USA works with corporations to adopt better animal welfare policies and ban particularly cruel practices in the animal agriculture industry. Compassion USA plays a different role in corporate campaigns than many of the other charities we evaluate. Rather than running negative campaigns against corporations, Compassion USA maintains friendly working relationships with corporations, helping them to write and implement more animal-friendly policies. Recently, they have been asking corporations to breed broiler chickens that have acceptable welfare outcomes, according to a forthcoming GAP-funded study at the University of Guelph. Through their EggTrack initiative, Compassion USA tracks corporations' progress towards their cage-free commitments and holds them accountable. We find that working with corporations can be highly impactful when done thoughtfully.
Influencing Policy and Law
We think that encoding protections for animals into the law is a key component in creating a society that is just and caring towards animals. While legal change may take longer to achieve than some other forms of change, we suspect its effects to be particularly long-lasting.
Compassion USA was a member of the Citizens for Farm Animal Protection coalition, which conducted a grassroots campaign in support of Massachusetts Ballot Question 3. We think that grassroots political campaigning can be highly impactful, though it's our understanding that Compassion USA played a relatively small role in the campaign for Question 3.
Criterion 3: The charity operates cost-effectively, according to our best estimates.
Compassion USA runs several programs; we would generally estimate cost-effectiveness separately for a number of their programs, and then combine our estimates to give a composite estimate of Compassion USA's cost effectiveness, however, in this case we could only make a sufficient estimate for one of their programs. Note that all the estimates factor in associated supporting costs, including administrative and fundraising costs.17 We generally present our estimates as 90% subjective confidence intervals (SCIs).18, 19 We think this quantitative perspective is a useful component of our overall evaluation because quantitative estimates of cost effectiveness can be:
Helpful in our mission to identify highly effective ways of helping animals,20
Useful in making direct comparisons between different charities or different interventions,21 and
Helpful for increasing our transparency.22
However, the estimates of equivalent animals spared per dollar should not be taken as our overall opinion of the charity's effectiveness, especially given that we choose not to account for some less easily quantified kinds of impact in this section, leaving them for our qualitative evaluation. Furthermore, our cost-effectiveness estimates are highly uncertain approximations of some of the short-term costs and short to medium-term benefits associated with Compassion USA's programs. As we have excluded more indirect or long-term impacts, the overall impact may be an underestimate. There is a very limited amount of evidence pertaining to the effects of many common animal advocacy interventions, which means that in some cases we have mainly used our judgement to assign quantitative values to parameters. Because charities have varying proportions of different types of impact, this makes our quantitative estimates particularly difficult to use to compare charities with a higher proportion of long-term impact to charities with a higher proportion of short-term impact.
We are concerned that readers may think that we have a higher degree of confidence in this cost-effectiveness estimate than we actually do. To be clear, this is a very tentative cost-effectiveness estimate and it plays only a limited role in our overall opinions of which charities and interventions are most effective.23
Food Business
Based on the figures that Compassion USA reported to us for their fiscal year of 2017,24 we estimate they will spend about 57% of their budget, or $390,000, on Food Business.25, 26 This includes awards for policies or commitments to supply higher welfare products and partnerships seeking to raise farmed animal welfare standards.27 Compassion USA reports that the purpose of their Food Business program is to push companies to adopt higher welfare policies and that if their Food Business program fails to cause companies to do this, Compassion USA will then turn to their Public Engagement program to attempt to cause this corporate change.28
We don't have a good understanding of the proportion of Compassion USA's impact on corporate policy that is due to their Food Business program and the proportion of impact on corporate policy that is due to their Public Engagement program. For that reason, we estimate some important quantitative results as significantly attributable to at least one of these programs in the concluding section of this criterion, which covers the outcomes of all of Compassion USA's activities combined.
Public Engagement
Based on the figures that Compassion USA reported to us for their fiscal year of 2017,29 we estimate that in that fiscal year Compassion USA will spend about 43% of their budget, or $290,000, on corporate campaigns and public engagement.30, 31 Compassion USA's corporate campaigns and public engagement seem to be fairly directly associated with some large companies adopting new policies. If they are implemented, our belief is that these policies will likely reduce net suffering in expectation for a large number of farmed birds.
Compassion USA's public engagement highlights reportedly included producing a video that had reached millions,32 a campaign that involved thousands of people petitioning or viewing a key video,33 and significant media coverage of their work with Perdue Farms that attempted to improve chicken welfare.34
We don't have a good understanding of the proportion of Compassion USA's impact on corporate policy that is due to their Food Business program and the proportion of impact on corporate policy that is due to their Public Engagement program. For that reason, we estimate some important quantitative results significantly attributable to at least one of these programs in the concluding section of this criterion, which covers the outcomes of all of Compassion USA's activities combined.
Communications and Social Media
We estimate that in 2017 the videos that Compassion USA share via Facebook will receive between 1,800 and 3,000 unique views to 95% of the video length.35, 36, 37 However, we note that users also engage with Compassion USA's content in many other ways, such as watching parts of videos, reading text posts, and reading blog posts.
Changes Since Their 2016 Fiscal Year
Compassion USA reported that they allocated the same amount of money in both the 2016 fiscal year and the 2017 fiscal year for each of their two major program areas—Food Business and Public Engagement.38 Compassion USA's budget increased by approximately 19% from their fiscal year of 2016 to their fiscal year of 2017.39
All Activities Combined
To combine our estimates into one overall cost-effectiveness estimate, we need to translate them into comparable units. This will introduce several sources for errors and imprecision, so the resulting estimate should not be taken literally—it is a rough estimate and not a precise calculation of cost effectiveness.40 However, it will provide some information about whether Compassion USA's efforts are comparable in efficiency to other charities'.41
We estimate that if they go into effect, the changes associated with either one of, or some combination of, Compassion USA's programs will affect between 600,000 and 10 million laying hens annually42, 43, 44 as well as between 200 million and 1 billion broiler chickens annually.45, 46, 47 If successful, these changes will move large numbers of laying hens to cage-free systems and cause welfare improvements for large numbers of broiler chickens. These changes would affect slaughter conditions, access to sunlight and perches, and possibly introduce the use of chickens who are less prone to health problems.
We are very unsure how farmed animals were affected by Compassion USA's public engagement, beyond the animals who were affected by the corporate policy changes that Compassion USA were reportedly involved in. It also seems that even if we were to add these public engagement effects to our model, the quantitative estimate of Compassion USA's overall cost-effectiveness would be dominated by our estimate of Compassion USA's effects on policy changes. For these reasons, we decided not to offer quantitative estimates of the benefits of these other public engagement outcomes.
We consider multiple factors48 to roughly estimate that overall, in the short term after excluding some of the effects of their programs, Compassion USA spares between -200 and 1000 farmed animals per dollar spent.49, 50, 51 This equates to between -30 and 100 years of farmed animal life averted per dollar spent.52, 53, 54 Because of extreme uncertainty about even the strongest parts of our calculations, we feel that there is currently limited value in further discussing these estimates. Instead, we give weight to our other criteria.
Criterion 4: The charity possesses a strong track record of success.
Have programs been well executed?
Compassion USA is primarily focused on their corporate outreach campaign, which has targeted cage-free egg commitments and improved broiler welfare commitments over the last two years. They have contributed to 11 corporations adopting cage-free policies55 and 16 corporations making improved broiler welfare commitments.56 While most of these successes were achieved in collaboration with seven other animal advocacy groups,57 Compassion USA has told us they were solely responsible for the first of the broiler chicken welfare commitments made by Whole Foods in 2016. We are somewhat skeptical of this claim, as Whole Foods founded the Global Animal Partnership (GAP)—the group responsible for establishing the broiler chicken welfare standards that Whole Foods recently adopted—and the President of Whole Foods currently holds a position on the GAP board. We think it's likely that Whole Foods would have made this commitment themselves. Also, as Compassion USA is one of three animal advocacy groups represented on the GAP board, any influence on Whole Foods is not likely to be solely attributable to them.
Compassion USA achieves successes in their corporate outreach work through two main programs—Food Business and Public Engagement. In their Food Business program, they seek to build relationships with companies in all food industry sectors—retailers, producers, manufacturers, and foodservice companies—in order to encourage the use of higher welfare sourcing. To this end, they offer companies advice on farmed animal welfare, with a particular focus on raising the baseline standard of welfare. They strategically target companies that other groups are campaigning against and work with them to develop policies that they believe the companies are likely to implement.58) They also reward these commitments with an award scheme for companies that make certain commitments to higher welfare. Since 2016, they have also organized an annual event called the Better Chicken Leadership Forum; the event brings together groups from companies in all the aforementioned sectors to align them with the common goal of improving the welfare of broiler chickens.59 We think that their approach to corporate outreach complements the work of groups who campaign more aggressively, such as The Humane League, and has likely had a large impact in securing the welfare commitments they have been involved with.
Their Public Engagement program utilizes pressure from the public to obtain improved welfare commitments from companies who are less responsive to their Food Business work. They have publicly handed corporations petitions with over 100,000 signatures, which has attracted media attention.60 They produced a video that exposed white striping in chicken meat which has reportedly attracted nearly 200 million views globally.61 They also launched EggTrack, a progress tracker to follow the cage-free commitments of corporations. This could help Compassion USA bring public attention to corporations' failures to meet their commitments.
Have programs led to change for animals?
The commitments made due to Compassion USA's corporate outreach work will likely affect a large number of animals once they have been implemented. As these commitments are not legally binding, it will be important to follow up with companies to ensure they are adhered to; for instance, there have already been concerns raised over Whole Foods' broiler chicken sourcing.62 Compassion USA is one of the only organizations that seems to have outlined significant plans to ensure these commitments are adhered to, and they see this as the 'second phase' of their corporate outreach program.63 If these pledges are implemented, their corporate campaigns will have led to direct and measurable increases in the number of animals being raised under higher welfare standards. They estimate that the cage-free and broiler commitments they have achieved in 2016 and 2017 will affect over 60 million egg-laying hens and over 700 million broiler chickens annually.64 (Most of these pledges commit to fully enacting cage-free policies by 2024.)
The main way in which their public engagement program leads to change for animals is through the support it provides for their corporate outreach campaigns. For example, they have had two successes in using petitions with over 100,000 signatures in their campaigns against Publix and Trader Joe's.65 They also worked with two of Pilgrim's Pride's contract farmers to expose the poor conditions on their farms.66 Another way in which the program leads to change is through the media attention and online views that all these activities achieve, which, while harder to relate to direct impact for animals, will likely have an effect on changing individuals' beliefs and behaviors. Compassion USA reports that the Pilgrim's Pride work received media coverage that reached a total of 9 million readers.67
Criterion 5: The charity identifies areas of success and failure and responds appropriately.
Compassion USA appears to take an active approach towards evaluating and responding to success and failure. They consider meaningful concrete targets and have demonstrated some willingness to change course in response to evidence regarding their programs' effectiveness. They measure the results of their corporate outreach programs in part by tracking the extent to which companies have adhered to their pledges, an important consideration that few of our reviewed charities currently consider. They also use cost-effectiveness estimates to measure their outcomes, reflecting an interest in measuring their programs' effectiveness at helping animals, although we believe that these estimates could be improved.
Compassion USA appears to set mission-relevant short-term goals that help them identify success and failure in their programs.68 They set these goals annually and hold quarterly meetings to discuss their progress.69 These goals often involve specific, measurable results like achieving pledges from a particular number of target companies within a given sector, or achieving pledges from companies representing a particular total number of chickens.70 Our impression is that Compassion USA generally set targets which are achievable, in some cases easily so, but do have at least some short-term goals which are not trivial to meet. They report having already exceeded two of their recent major targets (on broiler chicken policy pledges and cage-free commitment tracking), but have also told us that they recently failed to meet their target for tracking broader adherence to farmed animal welfare policies.
Compassion USA has also begun gathering information on the success and failure of the corporate pledges they campaign for. Their recent EggTrack program aims to provide annual updates on companies' extent of adherence to cage-free pledges, and they plan to enact similar programs to track adherence to broiler reform pledges.71 As large portions of relevant industries pledge to change their supply chains, Compassion USA plans to put more emphasis on ensuring these pledges are carried out—work which we see as a crucial part of corporate outreach.72
Compassion USA seems particularly interested in assessing their programs' cost-effectiveness, relative to other charities we have evaluated. They have demonstrated some willingness to change course based on effectiveness estimates in the past, for example by dropping their Pastured Poultry Week program after determining the same resources could be better spent on corporate engagement.73 This program involved encouraging farm-to-table restaurants to change their sourcing from factory farmed chickens to chickens raised on pastures.74 After conducting a survey to estimate the number of animals affected, Compassion USA concluded that it would be more effective to reach out to larger companies, even if it involved asking for smaller welfare benefits per chicken.75
Compassion USA has also changed their stance on broiler chicken breed requirements, allowing for faster-growing breeds if they can be shown to plausibly have high welfare.76 They recognize that fast-growth breeds offer the benefit of spending less time suffering, although these birds' suffering per minute is likely more acute due to a higher susceptibility to many conditions associated with poor physical health.77, 78 Compassion USA has told us that this broiler chicken position was developed in communication with organizations like Mercy For Animals, The Humane League, and the Humane Society of the United States as a part of a joint broiler chicken ask.79, 80 Rather than requiring slow-growing breeds in pledges, Compassion USA is now asking companies to raise breeds deemed to have acceptable welfare outcomes by a forthcoming GAP-funded study.81 The study will track outcomes for broiler chickens related to their behavior, growth, and health.82 In Compassion USA's opinion, it is likely that only slower-growing breeds will meet the standards for high welfare.83
While it is difficult to weigh the benefits of reducing different forms of suffering, or to compare any of these with increasing or reducing lifespan, studying these questions can cause farmed animal advocates to be more effective by helping them prioritize changes that are likely to benefit animals the most. Compassion USA's choice to consider high-welfare but fast-growing breeds, as well as their decision to use study results to determine which breeds qualify, are likely to lead to better policies. However, these decisions' effects depend in large part on the methods of the GAP-funded study, which we currently do not have much information about. Compassion USA has also noted that the change in their broiler chicken ask has made their outreach work more difficult in some respects, as it is more complicated to secure corporate commitments to policies that have not been finalized. We approve of Compassion USA's focus on welfare as well as their commitment to using evidence to inform their ask. However, we are somewhat concerned by their willingness to adopt a measure which they believe is not meaningful and which will make it somewhat more difficult for them and others to succeed in their corporate outreach campaigns.
Compassion USA releases a yearly estimate of the number of years of animal suffering reduced by their programs and their cost effectiveness as an organization, as well as a transparency statement explaining how these estimates were reached.84 We think it is important that charities be willing to make such estimates, to discuss the reasoning behind them, and to acknowledge their limitations, and Compassion USA has demonstrated a rare willingness to do all three. In addition, Compassion USA has taken care to correct for many considerations, such as the contributions of other charities that joined them in coalitions and the fraction of time chickens spend suffering, and they have generally used plausible or conservative-leaning estimates of these factors.85 However, we believe their estimates have some limitations which they do not fully take into account. In particular, their model estimates more impact for a pledge the further in the future it takes effect.86 We believe that this aspect of the model also leads them to systematically overestimate the effect of pledges in general, at least compared to ACE and the Open Philanthropy Project's models.87 While cost-effectiveness analyses must generally make simplifying assumptions, we believe this issue is significant enough that it may misguide Compassion USA in their self-assessment, and hence is worth addressing on their part. They could, for example, evaluate pledges' effects up to a fixed time horizon; as they note, this would instead estimate higher impact for more immediate changes.88, 89 Given their willingness to acknowledge their model's other limitations, as well as to change their programs in response to evidence, we hope to see their estimates improve in the future.
Criterion 6: The charity has strong leadership and a well-developed strategic vision.
Compassion USA has a stated commitment to ending factory farming, and their actions provide some evidence for their commitment to do so effectively.90 They also conduct some work that can help support the animal advocacy movement. Their corporate outreach work complements that of other organizations, and their projects to track corporate compliance can provide useful information regarding the efficacy of corporate outreach.91 They are currently conducting research to determine the viability of pursuing neglected corporate outreach work by expanding their operations to several Latin American countries.92
Compassion USA's annual goal-setting process involves all of their staff members, and does not appear to involve their board.93 However, Compassion USA's governance and planning overall appear to be strongly influenced by their parent organization, CIWF. Compassion USA does not create formal strategic plans; they are guided by CIWF's five-year plans.94 They view their strategy as feeding into CIWF's global strategy, and have told us that CIWF leadership's heavy presence on their board is to ensure cohesion with this international strategy.95) We are concerned by the resultant lack of viewpoint diversity on Compassion USA's board. In addition, while Compassion USA's leadership has input on the global planning process, we are uncertain as to what degree their non-leadership staff are involved; we think this process is likely still being developed as the organization grows.
The charity's mission emphasizes effectively reducing suffering/helping animals.
As mentioned above, Compassion USA's thinking appears to draw from that of its parent organization, CIWF. They have told us that they share CIWF's mission of ending factory farming.96 CIWF's forthcoming 2018–2022 strategic plan describes a focus on impact and a grounding in evidence as two of their core values.97 Like CIWF's publicly available 2013–2017 strategic plan, this plan describes CIWF's "essence" as the belief "that farm animals should not and need not suffer."98
CIWF and Compassion USA's prior work also demonstrate some willingness to be guided by impact. As mentioned in Criterion 5, Compassion USA takes a fairly active approach to self-evaluation, and is one of only a few organizations we have reviewed to conduct cost-effectiveness estimates of their campaigns. Given their mission and their history of conducting evidence-supported interventions, we expect Compassion USA to remain committed to effectively helping animals.
The strategy of the charity supports the growth of the animal advocacy movement as a whole.
Compassion USA plays a role in corporate outreach that we believe complements the work of other organizations, providing a more collaborative approach that may appeal to companies targeted by more aggressive charities such as The Humane League.99 They also publicly follow up on corporations' policy commitments with projects like their EggTrack initiative, which can provide useful information about corporate compliance to other animal advocacy organizations.100 In addition, Compassion USA is considering expanding their work to Latin American countries with relatively little organized anti-factory-farming presence, including sizeable countries like Mexico and Brazil.101 They are particularly interested in conducting broiler welfare campaigns in these two countries, which have large poultry industries.102 This would put them in a position to help develop farmed animal advocacy in these countries. While Compassion USA does not support the broader animal advocacy movement as actively as some of our other reviewed charities, we believe their projects can complement and inform other organizations' work.
The board of the charity includes members with diverse occupational backgrounds and experiences.
Compassion USA's five-person board includes three members of CIWF leadership, namely CIWF CEO Philip Lymbery, Director of Operations Kathryn Flanagan, and Director of Communications Richard Brooks. It also includes Lyn Devon, a fashion designer, and Brooke Schooley, an opera singer with a background in finance.103
According to U.S. best practices, nonprofit boards should be comprised of at least five people who have little overlap with an organization's staff or other related parties.104 However, there is only weak evidence that following these best practices is correlated with success, and if they are correlated, that may be because more competent organizations are more likely to both follow best practices and to succeed—rather than because following best practices leads to success. As such, the fact that Compassion USA's five-person board includes three members of their parent organization provides a small amount of evidence against the organization's effectiveness.
The evidence for the importance of board diversity is somewhat stronger than the evidence recommending board sizes of five or greater, in large part because there is a significant body of literature indicating that team diversity generally improves performance. However, the evidence we are aware of for the importance of board diversity on organizational performance specifically is less strong.105 We are concerned that Compassion USA's Board Members are leadership staff from the same external organization, and from its parent organization in particular. This seems to indicate that CIWF has significant influence over Compassion USA even several years after the latter was founded. Further, it indicates a potentially troubling lack of viewpoint diversity, since Lymbery, Flanagan, and Brooks constitute more than half the board and are likely to have similar opinions about what decisions Compassion USA should make.
The board of the charity participates regularly in formal strategic planning on behalf of the charity, and involves other stakeholders in that process.
Based on our conversation with Compassion USA, our understanding is that their board participates in the planning process primarily by reviewing the organization's annual goals each year.106 Compassion USA says that the board asks questions but rarely requests changes.107, 108 The organization's planning appears to be carried out largely by Compassion USA's staff, which proposes these goals each October and meets quarterly to discuss their progress.109 Given that the team is relatively small, we believe it is not unreasonable for them to take the reins when it comes to setting goals, rather than focusing on their own particular tasks and delegating more decision making to the board (as might happen in a larger organization with more division of labor).
The broader CIWF organization also conducts its own planning, including by creating five-year strategic plans. Compassion USA has told us that, as a branch of CIWF, their planning is guided by and aligned with CIWF's planning, but claim that Compassion USA has the final say in how they will operate, and has provided a lot of input for CIWF global planning.110, 111 They have shared with us the forthcoming 2018–2022 CIWF strategic plan, which describes actions aimed at an international agreement to ban factory farming. They have told us that they will continue their focus on corporate and public outreach, because this plan's proposed focus on legislation and the U.N. is primarily intended for other CIWF branches.112 We are uncertain how much opportunity Compassion USA's non-leadership staff members have to give input into CIWF's overall plan; since the organization has only recently grown beyond three staff members,113 this process is likely still evolving.
Criterion 7: The charity has a healthy culture and a sustainable structure.
Overall, Compassion USA seems to have a healthy culture. They prioritize setting up good management systems to support their growing team, including anonymous surveys regarding work climate, support for professional development, and a healthy work-life balance for staff.114 We are somewhat more concerned about Compassion USA's financial stability, due to their relatively heavy reliance on a single large funding source, though we note that they also appear to be aware of this as a risk to be managed.115, 116
The charity receives support from multiple and varied funding sources.
Compassion USA is a branch of Compassion In World Farming, and until 2016 received some funding from CIWF's U.K. headquarters.117, 118 As of 2017 they are fundraising on their own.119 However, they may still look to U.K. headquarters for some specifically targeted funding; we expect that Compassion USA might be able to rely on CIWF headquarters to bridge temporary funding shortages or help them regain a stable financial footing if needed.120
Currently 35–50% of Compassion USA's funding appears to come from a single two-year grant from the Open Philanthropy Project.121 That grant was announced in 2016.122 Compassion USA hopes that it will be renewed, but acknowledges that if it were not renewed, the impact on their budget and plans would be significant.123 We consider this a fairly heavy reliance on a single funding source, and would like to see Compassion USA succeed in attempts to grow their donor base, as they seem interested in doing.124 Most of the rest of Compassion USA's support comes from other foundations, leaving them with an especially heavy reliance on foundation support.125
The charity provides staff and volunteers with opportunities for training and skill development, helping them grow as advocates.
Compassion USA seems to be especially committed to staff development, providing each member of their small staff with $2,000 per year to invest in training and professional development.126, 127 Our inquiries with staff have also indicated that they feel well supported in taking on tasks that allow them to expand their skills and responsibilities at work.128, 129
The charity has staff from diverse backgrounds and with diverse personal characteristics (e.g., race, gender, age), and views diversity as a resource that can improve its performance.
Compassion USA staff are diverse in terms of gender and parental status, but less diverse in terms of race.130 Unlike many other organizations, leadership roles—including that of the Executive Director—are also occupied mostly by women.131, 132 Compassion USA is also interested in finding ways to promote more diversity both within their organization and in the animal advocacy movement as a whole, with Executive Director Leah Garces serving on the advisory council of Encompass, an organization dedicated to increasing diversity in animal advocacy.133
Compassion USA does have a good record of using staff's personal experiences to inform their work, particularly where they differ from those at other animal advocacy organizations.134, 135 For example, more Compassion USA staff are women and parents than at many comparable charities, which they think has helped them create videos targeted at parents, children, and families.136 Another example is their work on expansion to Latin America, for which they have the advantage of Garces' relatively strong understanding of Latin American culture, since she is half Colombian.137, 138
The charity works to protect employees from harassment and discrimination.
Compassion USA has policies to protect staff from harassment and discrimination, which they inherited from CIWF.139 They are looking into creating their own, U.S.-specific policies.140 We have spoken with two non-leadership staff members at Compassion USA and performed some additional due diligence searches, and are not aware of any reports of harassment or discrimination at Compassion USA.141
Questions for Further Consideration
There are many more farmed fish than other species of farmed animals. Has Compassion USA considered allocating more of its resources towards farmed fish advocacy?
Each year, an estimated 37 billion–120 billion finned fish are slaughtered in the animal agriculture system, compared to roughly 60–80 billion land animals.142, 143, 144 While many organizations aim to maximize their impact by advocating for chickens, some argue that those organizations should instead focus more on farmed fish advocacy, as there are even more farmed fish than farmed chickens and the field is currently relatively unexplored.145 We agree that helping fish is a valuable area that could potentially use much more work, though we think organizations might be understandably wary of the potential difficulty of campaigning for animals who people may be less likely to be concerned about, as well as the greater uncertainty regarding which changes should be prioritized.146, 147 Recently, several charities have entered this arena; Mercy For Animals has conducted a study on how messaging affects behavior and attitudes regarding fish, while the Albert Schweitzer Foundation conducts farmed fish advocacy programs informed by research on fish welfare.148, 149
CIWF's global headquarters has received a grant to study possible legislative and corporate avenues for farmed fish advocacy, which Compassion USA will have input on.150 Depending on the results and their own funding situation, Compassion USA hopes to begin working with fish in the coming years.151 They are also looking into salmon standards in particular, as Global Animal Partnership has received a grant to work on salmon standards.152 Because of the number of animals involved (roughly 200 million), as well as their estimate of the odds of success, Compassion USA would likely begin a farmed fish program by campaigning for salmon.153
Does Compassion USA worry that focusing on banning some of the most extreme confinement practices could lead to complacency with other forms of suffering farmed animals endure or with meat consumption?
Since pushing for welfare reforms often involves working directly with food industry companies, this work can give the public the impression that these companies treat their animals well when this is not the case, especially when animal advocates are incentivized to make the reforms seem like drastic improvements when animals still suffer substantially.154 Critics would also argue that, empirically, welfare reforms such as banning battery cages reduce only a very small portion of the harm of animal agriculture—if any—so they are not the most cost-effective use of time.155, 156, 157
In addition, some argue that welfare reforms (e.g., bans on battery cages) might lead consumers to think that farmed animals no longer suffer and that helping them is no longer a priority.158 They cite as evidence that some corporations market themselves as "humane" and "ethical," which suggests that appearing to support animal welfare does benefit those companies.159 However, this may only reflect gains to individual companies from positioning themselves as the most humane option.160 There isn't much evidence that this kind of marketing increases animal product consumption on the whole, and there is some evidence of a negative correlation between media coverage of animal welfare and meat consumption.161
On the other hand, some advocates argue that this work could increase the credibility of the animal advocacy movement by showing that it can make progress for animals on an institutional scale, not just an individual one.162 Single campaigns may not eliminate all suffering in a specific area, but they can provide useful information and momentum for future campaigns. The success of welfare reforms also establishes the moral aspects of animal agriculture as a topic in the public domain, which seems important for further progress.
Compassion USA has not seen evidence of increased complacency among corporations as a result of their achievements thus far.163 They feel that their work helps make animal welfare part of companies' cultures and brand identities.164 They also believe that by drawing public attention to animal welfare issues and convincing companies to commit to better treatment, they make companies accountable for how they treat these animals in a way they otherwise would not be.165 It's not clear whether Compassion USA would be aware of increased complacency among consumers as a result of their work.
The charity also agrees with some critics' concerns that welfare improvements alone may not be enough to reduce overall suffering of farmed animals, given the steady increase in meat consumption over time.166 They plan to supplement their existing programs with a project to promote "protein diversification"—convincing companies to shift some of their protein sourcing from animal- to plant-based products—which they hope will ultimately reduce animal product consumption.167
Some would argue that working for welfare reforms is an implicit endorsement of the use of animals. How does Compassion USA respond to this concern?
Most welfare reforms address only a portion of the suffering animals endure on factory farms. While such reforms can still reduce suffering significantly in the short term, critics argue that in the long term they may lead to complacency regarding further welfare improvements, and may encourage people to consume animal products they otherwise would not.168, 169 Some critics also feel that recommending one form of animal agriculture over another is an implicit endorsement of the use of animals, and are concerned that such behavior is wrong in all circumstances.170
On the other hand, charities may seek improvements within an unjust system because they believe it is the best way to help the victims, rather than because they want to support the system itself. If helping animals is the ultimate aim of the animal advocacy movement, that aim may be served by lending support to imperfect systems, if doing so will ultimately improve farmed animals' lives.
Compassion USA believes that it is a strength of theirs to be an animal advocacy organization that does not specifically condemn the use of animals.171 Instead, they emphasize that when animals are used, they must be treated in a way that meets their needs.172 They believe that working within this niche allows them to make progress by finding points of agreement with relevant parties and achieving steps that measurably reduce suffering.173
What does Compassion USA do to highlight the problems with using animals for food? What does Compassion USA do to fight speciesism?
Some argue that the animal advocacy movement can only get so far by focusing on certain individual behaviors (e.g., eating meat) or certain corporate practices (e.g., using cages). Even if we succeed in changing some specific behaviors, people will continue to treat animals badly as long as speciesist assumptions go unchallenged.174 It seems important, then, for animal advocacy organizations to not only combat the individual behaviors and corporate practices that cause animal suffering, but fight the cultural norms and attitudes that facilitate those behaviors and practices.175
Compassion USA believes that all of their work is focused on bringing to mind the inherent problems with using animals for food.176 They ask companies and consumers to recognize farmed animals as sentient beings and act accordingly.177 When reaching out to companies, they often highlight the physiological similarities between cats or dogs and farmed mammals like cows and pigs.178 They feel that this encourages thinking about the lived experience of farmed animals and can prompt the recognition that these animals are treated unjustly.179
What is Compassion USA doing to ensure that the introduction of slow-growth broiler chickens happens in a way that is net positive for animals?
When organizations campaign for animal agriculture reforms, it is crucial that the standards they use are carefully chosen to improve animals' well-being. This is often far from straightforward. One recent example is cage-free reforms for layer hens; while battery cage systems lead to obvious health issues for laying hens, the alternatives increase the rates of other problems, and the relative welfare impacts are a point of contention among animal welfare specialists. Determining proper genetic welfare standards for broiler chickens requires the same kind of careful consideration. It is possible that (i) slow-growth broiler chickens will lead to more birds being farmed and/or birds spending longer lives in factory farms to satisfy the same demand for meat, and (ii) this greater quantity of time spent by birds in factory farms will outweigh the reduced suffering due to improved health such that, overall, the introduction of slow-growth broiler chickens is net negative in expectation.
Compassion USA has played a role in shaping the broiler welfare standards now called for by many major animal advocacy organizations in the U.S., in part through their involvement with GAP.180 Some critics have been concerned to see that these standards include a "genetic health" component that is likely to lead to a requirement for slower-growing broiler breeds.181 While using these breeds avoids some of the health problems seen in faster-growing breeds, it also requires either more chickens or more growth time to provide the same amount of meat.182, 183 It is possible that the extra time broiler chickens spend suffering in factory farms could outweigh the lower suffering-per-minute they enjoy due to welfare reforms, leading to greater suffering overall.184
Compassion USA tells us they have considered this question in detail, for example by using data on illness rates to calculate the change in time spent suffering from various diseases as a result of switching to slower-growing but healthier broiler breeds.185 They also discussed these concerns with other groups (including Mercy For Animals, The Humane League, and the Humane Society of the United States) for several months before they jointly agreed to a broiler ask.186 Compassion USA has told us the resulting standards' breed requirements are focused on improving welfare, rather than on slower growth in particular.187 They believe that it is unlikely that faster-growing breeds will meet these standards because of their lower welfare, but they are willing to leave the door open to that possibility.188
---
The following materials are supplementary research documents associated with our charity review process and are referenced in the Comprehensive Review.
Research Documents