Archived Version: December, 2014
Status
Standout Charity
Primary Work Area

Industrial Agriculture

Website
Farm Animal Rights Movement (FARM)
Review Published
December, 2014
Type
Archived Review
Current Version
Last Updated
December, 2015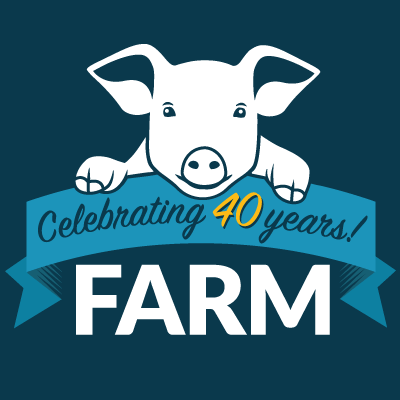 What does FARM do?
Farm Animal Rights Movement (FARM) is a farmed animal advocacy organization that raises awareness about animal agriculture, primarily by offering incentives to view a video about it and following up with viewers of that video to help them change their diets. While this is their current major program, FARM is one of the oldest farmed animal advocacy groups in the United States and also has a long history of engaging in other types of work, including organizing animal rights conferences and working with grassroots activists. They conduct a variety of outreach events as well as annual campaigns against using animals for food.
What are their strengths?
We find that FARM has a strong understanding of success and failure. This is best exemplified by their incentivized video outreach program, which has grown out of a change in direction the organization underwent in 2011 after seeing good initial results from a test implementation of pay-per-view video outreach. Besides the openness to change demonstrated by this example, the incentivized video outreach program is also continually being tested by follow-up surveys to viewers, allowing program staff to identify and make any needed changes. FARM has significant room for more funding to expand and improve this program, especially the materials sent to viewers as follow-up support. They appear to have stable leadership and organizational structure and have been fairly transparent, including cooperating fully with us in preparing this review.
What are their weaknesses?
FARM's overall track record of success has been more variable, including regarding some of the grassroots programs they continue to run. These programs accomplish some reliable outcomes like leaflet distribution, but are also intended to spark national conversation in the media, a goal with which FARM has not had reliable success.
Why did FARM not receive our top recommendation?
Right now, we don't recommend FARM as a top charity, mainly because the area in which they have most clearly demonstrated success, incentivized video outreach, is so narrow. Currently, we aren't very sure which interventions are most effective, so we prefer to recommend organizations which are having success in multiple areas. Video outreach also may not be the best intervention overall because it focuses on creating change at the consumer level, rather than persuading people to make or advocate big changes in society. However, we think FARM's understanding of success and failure truly is unusually strong, and we have designated them as a standout charity because of this.
How FARM performs on our criteria our criteria
Criterion #1: The Organization Has Concrete Room for More Funding and Plans for Growth
FARM has concrete room for funding and plans for growth. They plan to grow mainly in online and in-person incentivized video outreach, and to improve the materials they use to support viewers who have pledged to reduce animal product consumption after seeing a video.
The main area in which they could currently use additional funding is in creating more modern online materials. They raise a lot of their funds through restricted donations which are used specifically to incentivize video audiences, and new funds would improve the materials these viewers see, or possibly reduce the cost per view.
They want to improve and re-focus their Live Vegan materials. In early 2015 they plan to launch a new version of the site and a video series which is aimed at a younger audience, with less duplication of resources available elsewhere. They also plan to prepare materials targeted at their secondary audience, which consists primarily of middle-aged women; these are in an earlier stage of development.
Finally, although their 10 Billion Lives Tours were fully funded last year, that was due to a special situation which they do not expect to be repeated this year. They did not raise as much money as they needed to fund the kiosk tours from their appeals to small donors. This year FARM increased their fundraising in a variety of ways, including obtaining a larger grant from an organization which has made grants to them before and improving their fundraising among individual donors.
We think it's likely that FARM could use increased funding to maintain their current programs at their current level of efficiency and to implement updates to their materials that could increase their efficiency.
Criterion #2: A Back-of-the-Envelope Calculation Finds the Organization is Cost-Effective
FARM runs several programs; we estimate cost effectiveness separately for each of their main programs and then give a composite estimate of their overall impact. Note that all estimates factor in associated supporting costs including administrative and fundraising costs.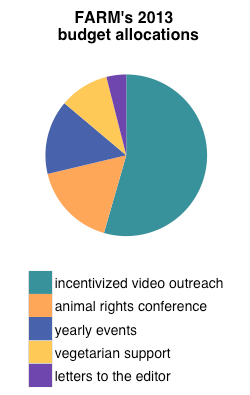 Incentivized Video Outreach
FARM's main program is the 10 Billion Lives tour and website. Combined, these programs used 55% of FARM's budget in 2013, or about $424,270. In 2013, FARM spent about 10% of their budget, or $79,197, on their Live Vegan and Meatout Mondays programs to support people attempting to reduce their consumption of animal products. These programs, especially Live Vegan, are mainly used as follow-up to the Ten Billion Lives program, so their effects are intertwined. FARM reported getting about 120,000 views of the full video (counting both online and in-person views), plus another 50,000 partial views online. This is a cost of about $4.20 per full view, or $2.96 per view including partial views. Viewers who selected to receive follow-up support through their Live Vegan program were about 31% more likely to report having made changes in later surveys.
Animal Rights Conference
FARM's next largest program in 2013 was the Animal Rights Conference, which used 17% of their budget, or about $130,109. This conference is self-supporting by sponsorships and attendance charges, with 1,100 attendees in 2013.
Yearly Events
FARM spent 15% of their budget, or $113,138, on yearly events in 2013, including Meatout, World Day for Farmed Animals, Vegan Earth Day, and Compassionate Holidays. Together, these programs included about 1,000 grassroots events at which 20,000 food samples and 100,000 leaflets were distributed. This comes to a cost of about $113 per event, with an average of 20 food samples and 100 leaflets being distributed at each event. In some years these events have also received significant press coverage which reached people who did not attend the events.
Letters to the Editor
Finally, FARM spent about 4% of their budget, or $28,284 on their Letters to the Editor program. This program resulted in over 1,000 letters being published in 2013, for an average cost of about $2.83 per letter.
We combine these estimates into a composite estimate with units of animals spared from industrial agriculture per dollar spent in order to compare FARM to other organizations. This introduces significantly more potential for error, as many factors involved have high uncertainty. However, it also allows for comparison between organizations engaged in very different activities.
We first estimate the effects of 10 Billion Lives and its follow-up programs, which together account for the majority of FARM's budget. Treating partial and complete video views as clicks on online ads and using our Online Ad Impact Calculator, we estimate that these programs spare about .5 animals per dollar spent. This may be an underestimate, since many more of FARM's viewers watch the entire video than in the sample that calculator was based on. We can compare it to an estimate based on FARM's own surveys of viewers. In these, FARM found that the average viewer of the full video spared between 3.6 and 8.4 land animals1 per year, depending on the medium in which they viewed the video. Most of these were chickens; adjusting for elasticity the same way we do for online ads and leafleting brings the number to 1-2.5 animals spared per viewer per year. Using the middle of this range, 1.75 animals spared per viewer per year, our estimate that diet changes last for on average 6.2 years, and the cost per full view above, we get an estimate of roughly 2.6 animals spared per dollar. We think this may be optimistic; we had difficulty understanding FARM's data because the scale they used to measure diet change was very ambiguous. We average these two flawed estimates and use the result, 1.6 animals spared per dollar, as our estimated cost-effectiveness of these programs.
The Animal Rights Conference does not directly affect any animals; the effects it does have are hard to measure. We do not make an attempt to convert these effects into animals spared per dollar spent. We do recognize the value of this event and address it in our discussion of other criteria.
FARM's annual events affect animals by persuading people to reduce their animal product consumption. Their impact through leafleting alone (calculated using our Leafleting Impact Calculator) is about 0.6 animals spared per dollar spent, which is likely an underestimate for their total impact, since there are other aspects of these events, such as media coverage. The Letters to the Editor program also has effects by reaching people through the mass media; again, we don't make any attempt to convert these effects into animals spared per dollar.
Combining our estimates, we see that FARM's overall cost-effectiveness is around 1.1 animals spared per dollar spent, ignoring the longer-term impacts of the Animal Rights Conference (which are mainly paid for separately by conference sponsors and attendees) and of media coverage. This is in the range of effectiveness of other organizations we have reviewed at similar depth, particularly considering that about 20% of FARM's budget is devoted to the programs (AR conference and Letters to the Editor) whose effects we didn't account for.
Criterion #3: The Organization is Working on Things That Seem to Have High Mission Effectiveness
FARM works in farmed animal advocacy, which we believe to be highly effective in general because farmed animals form the largest group of animals which can be helped by simple human actions which we understand now. Most of their work is in individual outreach, which we think is a necessary precursor to many possible systematic changes.
Pay-Per-View Video Outreach
Pay-per-view video outreach is a valuable technique because it is a way of reaching people with information about industrial agriculture and farmed animals even if they are not intrinsically interested in this information. As practiced by FARM, it also has high expected effectiveness because this outreach is focused on young viewers, who are thought to be more receptive to new ideas and who have a long time ahead of them to affect the world through their changed beliefs. Its effectiveness is tempered somewhat because it generally asks the viewer only to make individual changes, not to carry the implications of what they have learned beyond their own changed consumption patterns.
Follow-up Support for People Undertaking Dietary Change
We expect follow-up support for people who have expressed an interest in changing their diets to have strong results when paired, as in FARM's implementation of Live Vegan, with a persuasive message about why people should change their diets. Studies have found that many former vegetarians and vegans quit because they found these diets logistically difficult or had a hard time getting the appropriate nutrients. Follow-up advice and support should help reduce recidivism rates in some of these cases, and can be provided very cheaply through electronic means.
Animal Rights Conference
We believe that the Animal Rights Conference has great value because it focuses on creating and supporting activists and animal rights leaders. This allows it to have an impact much beyond the days of the conference, as attendees use connections and resources from the conference to increase the impact of their own work, much of it in highly effective areas.
Yearly Grassroots Events
Some aspects of FARM's yearly grassroots events are very useful, notably any media coverage and any outreach to individuals that makes a persuasive case for diet change, as with pay-per-view video or leafleting. Media coverage is particularly valuable, as it can start a conversation about possible changes that go beyond individuals' personal habits. We're less certain about other aspects, including food sampling, protests, and demonstrations. Protests in particular could have either high or low effectiveness, depending on whether they cause the general public to be more sympathetic to farmed animals or to the businesses being protested (e.g. if the protestors are perceived as unreasonable).
Incentivizing activism
It can be difficult to encourage people to become activists themselves, so in some cases it can be helpful to provide incentives or encourage a particular activity at a particular time to create a sense of belonging. Incentivizing activism can bring people into activism that otherwise may not have engaged in any form of outreach, so can be valuable beyond the specific event being advertised through the creation of repeat activism events. This makes individual outreach targeted at creating activists particularly useful, because it both works to change the culture around animals and food and to create influencers.
Criterion #4: The Organization Possesses A Robust and Agile Understanding of Success and Failure
FARM has a strong understanding of success and failure and a willingness to act on new information about what programs would be most successful. They use both viewership numbers and follow-up surveys to determine the impacts of their major program (10 Billion Lives and follow-up for it), and try to distinguish the effects of various aspects of the program where possible. This ongoing program of assessment is one of the stronger such programs we have seen. FARM does not carry out similar programs for their other activities, but we believe that this would be considerably more difficult to do and not necessarily have clear benefits, since they believe much of the benefit of those programs is in media coverage, which would not be easy to track by an analogous means.
FARM's history with pay-per-view video is also indicative of their willingness to change in light of new evidence. In 2010, the yearly grassroots events were their largest program area. In June 2011 they held their first pay-per-view event, and throughout the rest of the year they continued experimenting with pay-per-view. Because of the success they had during that period, they have now shifted their operations so that pay-per-view video is their main focus. In carrying out their PPV program through the 10 Billion Lives tour, they have recently optimized their reach by using tablets instead of conventional laptops.
We believe they would be open to another major shift if they found strong evidence that a new tactic would be significantly more effective than pay-per-view video, and that they would be willing to try out new techniques that seemed promising but under-explored. A more minor recent innovation in their programming is the partially animated video they are developing in hopes of reaching platforms that are cheaper to advertise on but which have found their existing materials too graphic. They plan to pilot a program using this video in late 2014 and shift additional resources to it depending on its success.
FARM has also recently revised their plans for their LiveVegan website based on data they have collected about its usage. They decided to focus more on meeting the needs of their target audience over providing a comprehensive veg-assist resource. They plan on releasing a video series and a new version of the website in early 2015.
We do have some concerns about the metrics they use to decide what programs to pursue. It seems to us that the online and in-person aspects of the 10 Billion Lives program are not likely to be equally effective at achieving their shared goal, and we aren't sure FARM would consider pursuing only one of them, even as they amass more evidence about the differences between them. Also, we believe that the follow-up surveys used could be redesigned to provide clearer information, specifically by using more quantitative descriptors of how often respondents eat various animal products. Despite these reservations, their understanding of success seems very strong.
Criterion #5: The Organization Possesses a Strong Track Record of Success
FARM has been carrying out most of their programs for many years, with the exception of the pay-per-view video program, which they started about three years ago and have grown considerably and successfully in that time. They now have three ongoing 10 Billion Lives Tours, one of which launched in 2014; we find that they have been very successful in establishing and expanding this program, and expect them to continue reaching new people with it. Their follow-up surveys also show that this program has been quite successful in getting viewers to reduce animal product consumption, including in comparison with a control group (for viewers on the Warped Tour). While we do have some concerns about the design of these surveys, the inclusion of a control group in even one case makes them exceptionally strong compared to other self-assessments that we have seen.
FARM's record with regard to securing media attention for their activities is more variable. In some years their annual events have received considerable coverage, and in others they have not. Other groups have been more successful at learning to consistently get the media's attention.
They have successfully organized over twenty conferences, which bring together some of the best minds in advocacy to share their ideas and wisdom with other advocates. We see these events as potentially very powerful, as they help fuel a passion for creating change for animals and likely produce many advocates who work for animals.
Overall we think FARM's recent track record is strong, as they have been reprioritizing to focus on areas where they have the best results. FARM is an older organization which has undergone some significant changes, and we appreciate that these have included significant strategic thought about how the organization can be most effective.
Criterion #6: The Organization Has Strong Organizational Leadership and Structure
FARM has four employees who guide programming decisions, the President (also on the board), the Managing Director, the Executive Director, and the Director of Programs. These leaders have worked with FARM for an average of 14 years and a median of 7.5 years. Other office staff tend to stay with the organization for an average of around three years. Most new office staff recently have been brought into newly created positions.
FARM has detailed procedures for training touring staff and volunteers who will work in the field, as they bring people into these positions quite often. They have an employee handbook, but no similarly detailed procedures for training office staff, since their office positions have low turnover.
Criterion #7: The Organization is Transparent
FARM updates financial information as is legally required, and they share information about what they find out from surveys upon request. Occasionally they publish some findings from surveys more widely, as with the Warped Tour results from summer 2013. They plan to make both of these kinds of information easier to find when they redesign their website in the near future. They also cooperated fully with our requests for information during our review.
---
The following materials are supplementary research documents associated with our charity review process and are referenced in the Comprehensive Review.
Research Documents