Archived Version: November, 2016
Status
Comprehensive
Primary Work Area

General Animal Advocacy

Industrial Agriculture

Website
Farm Animal Rights Movement (FARM)
Review Published
November, 2016
Type
Archived Review
Current Version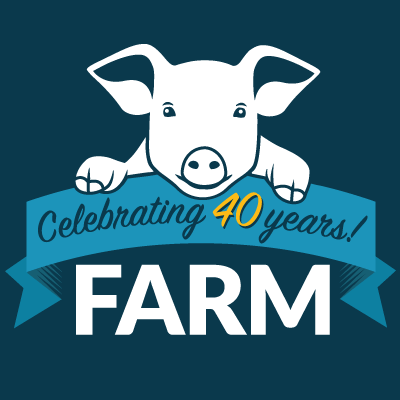 What does Farm Animal Rights Movement do?
Farm Animal Rights Movement (FARM) is a farmed animal advocacy organization that raises awareness about animal agriculture, primarily by offering incentives to view a video about it and following up with viewers of that video to help them change their diets. While incentivized video outreach is currently their major program, FARM is one of the oldest farmed animal advocacy groups in the United States and also has a long history of engaging in other types of work, including organizing animal rights conferences and working with grassroots activists. They conduct a variety of outreach events as well as annual campaigns against using animals for food.
What are their strengths?
We find that FARM has a strong understanding of success and failure. This is best exemplified by their incentivized video outreach program, which led the organization to change directions after seeing good initial results from a test implementation of the program in 2011. We also see great value in the animal rights conference that FARM hosts each year. It serves to strengthen the animal protection movement by bringing together animal advocates for discussion and networking.
What are their weaknesses?
FARM's overall track record of success has been variable, especially with regard to some of the grassroots programs they continue to run. These programs accomplish some reliable outcomes like leaflet distribution, but are also intended to spark national conversation in the media, a goal with which FARM has not had reliable success. While FARM is often responsive to evidence about the effectiveness of their interventions, we are uncertain whether they would consider shifting their focus from outreach targeting individuals, even if it became clear that other interventions were more effective.
Why didn't FARM receive our top recommendation?
FARM is not currently one of our recommended charities. One reason is that the area in which they have most clearly demonstrated success, incentivized video outreach, is quite narrow. There is currently very little research about which interventions are most effective, so we prefer to recommend organizations that are having demonstrable success in multiple areas. While FARM seems to have a strong understanding of success and failure, we are concerned that we haven't seen many recent attempts from them to use research or evidence to guide program decisions.
How FARM Performs on Our Criteria
Criterion #1: The Charity Has Concrete Room for More Funding and Plans for Growth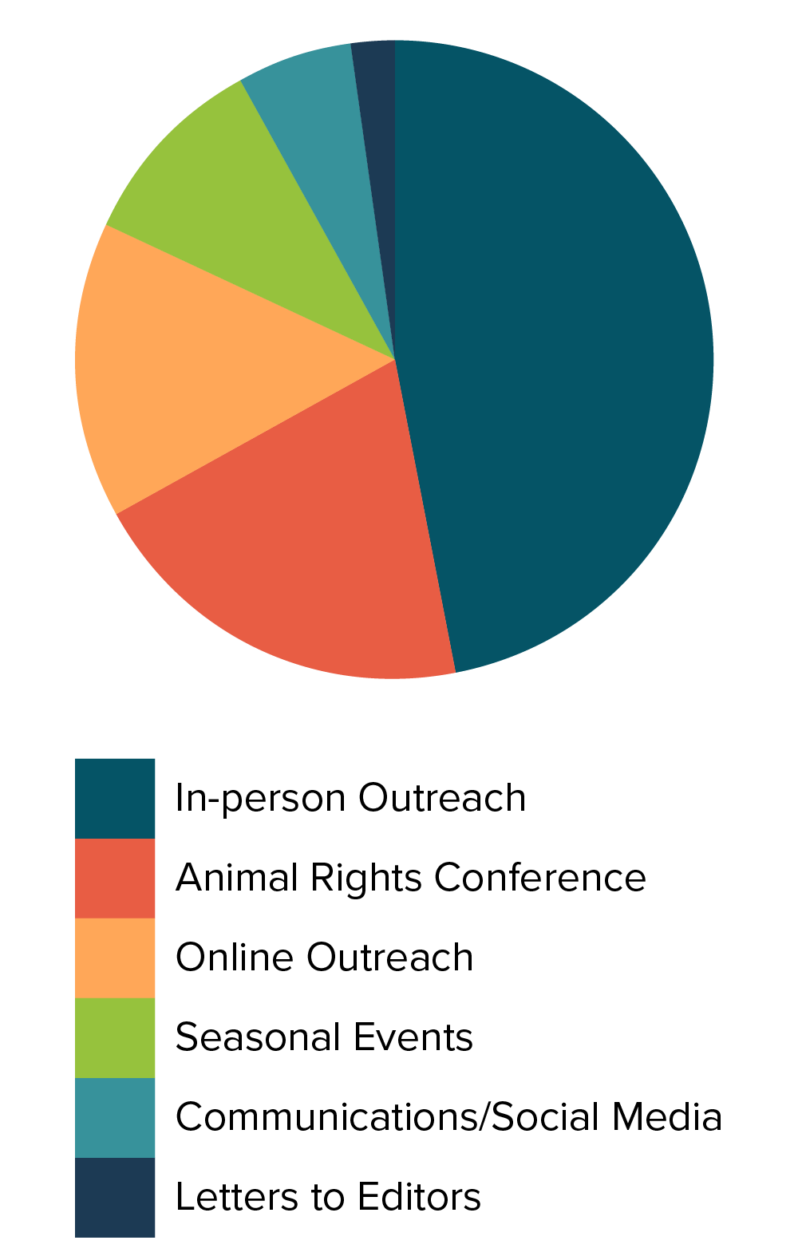 In 2014, we said that FARM had room for more funding both to update their materials and programs and to maintain their existing programs. They experienced some difficulty raising funds reliably enough to maintain and grow their outreach programs, and were relying on funding sources which they weren't certain would be available to them in future years. They also had various plans for updating their Live Vegan website and creating new materials targeted towards a youth audience. FARM's yearly budget has grown since then by about $700,000, and they have since created some of those materials, such as an animated video about animal agriculture which can be used in cases where real footage is considered too graphic, including most video advertising.
FARM is currently in a period of leadership transition; as part of that transition, they may change their goals for expansion during the next year. Currently, however, they are planning on expanding the focus of their vegan retention programs to include families and older adults, as well as their current young audiences. Even without expansion plans, they would need more funding in order to comply with the new Fair Labor Standards Act, since it raises the salary threshold below which employees must be paid for working overtime.
It's particularly hard to predict how FARM would use additional funding this year, since they appear to be at a moment of transition both for their leadership team and for their overall strategy. However, we think they could use an increase in funding of at least $100,000 to $500,000 to ensure their ability to maintain the same level of activity that they have achieved in the past and to help provide the resources to act strategically rather than reactively in setting up any new programs next year. We can't predict exactly how any charity will respond upon receiving more funds than they have planned for, so this estimate is speculative, not definitive. We could imagine a group running out of room for funding more quickly than we expect, or coming up with good ways to use funding beyond what we have suggested. Our estimates are indicators of the point at which we would want to check in with a group to ensure that they have used the funds they've received and are still able to absorb additional funding.
Criterion #2: A Back-of-the-Envelope Calculation Finds the Charity is Cost-Effective
Farm Animal Rights Movement runs several programs; we estimate cost-effectiveness separately for each program, then combine our estimates to give a composite estimate of their overall impact. Note that all estimates factor in associated supporting costs including administrative and fundraising costs. Where we give estimates as ranges, they represent our 90% subjective confidence intervals; that is, we expect the true value to be within the range given in 90% of cases.1 We think this quantitative perspective is a useful component of our overall evaluation, but the estimates of equivalent animals spared per dollar should not be taken as our overall opinion of the charity's effectiveness, especially given that we choose not to account for some less easily quantified forms of impact in this section, leaving them for our qualitative evaluation.
In-Person Outreach
We estimate that in 2016 FARM will spend 47% of their budget, or around $680,000, on in-person educational outreach. The primary focus of this outreach will be the 10 Billion Lives Tour, which will show videos to and generate dietary change pledges from between 50,000 and 70,000 people. Viewers may also choose to receive follow-up online support from FARM. Some of this funding has also gone to support additional grassroots work, such as campus advocacy groups.
Animal Rights Conference
We estimate that in 2016 FARM will spend 20% of their budget, or around $285,000, on the Animal Rights National Conference. This conference is mostly self-supporting. In 2016 we estimate that it had between 1,600 and 1,900 attendees.
Online Outreach
We estimate that in 2016 FARM will spend about 15% of their budget, or $220,000, on online outreach. This includes the online version of their 10 Billion Lives video outreach, as well as online support programs such as Live Vegan and Meatout Mondays. We estimate that the online outreach will result in approximately 100,000 to 120,000 views of the 10 Billion Lives video. Throughout 2016, FARM has also had between 150,000 and 220,000 active subscribers to their Meatout Mondays newsletter. This metric doesn't directly figure into our cost-effectiveness calculations because the subscribers are already accounted for in the figures of people reached by FARM outreach.
Seasonal Events
We estimate that in 2016 FARM will spend about 10% of their budget, or $153,000, on seasonal events. The largest two events included here are Meatout and the World Day for Farmed Animals. In addition to participation in protests, fasts, and other events, we estimate that these events will result in advocates handing out between 210,000 and 400,000 leaflets in 2016.
Communications and Social Media
We estimate that in 2016 FARM will spend about 6% of their budget, or $87,000, on social media outreach and other communications, including their blog and Facebook page. We estimate that this year the videos they share will get between 90,000 and 120,000 unique views to 95% of the video length. This gives us a cost of between $0.70 and $1 per unique video view to 95%. However, we note that users also engaged with FARM's content in other ways, such as watching parts of videos and reading text posts, so the cost per engagement is lower.
Letters to Editors
We estimate that in 2016 FARM will spend about 2% of their budget, or $36,000, on their program encouraging advocates to write letters to their local media about farmed animals. FARM reports that around 800 of these letters were published in 2015.
Changes Since 2014
FARM's work has undergone relatively few changes since we last reviewed them in 2014. In-person and online educational outreach still account for a majority of their budget and efforts, and the 10 Billion Lives program has remained the focus of their educational outreach. FARM tells us that recently they have begun placing more emphasis on the online version of this program, because they believe it to be more cost-effective. In our previous review, we did not separate the budgets for the in-person and online programs.
All Activities Combined
To combine these estimates into one overall cost-effectiveness estimate, we need to translate them into comparable units. This will introduce several sources for errors and imprecision, so the resulting estimate should not be taken literally. However, it will provide information about whether FARM's efforts are comparable in efficiency to other charities'.
We use our impact calculator for leafleting and online ads to find that FARM spares between -0.03 and 0.9 animals from life on a farm per dollar spent on in-person outreach and between 0 and 2 animals per dollar spent on online outreach.2 We also use that calculator to estimate that FARM spares between 0.5 and 5 animals per dollar spent on seasonal events.3 We use a separate impact calculator for social media to find that FARM spares between 0.2 and 4 animals per dollar spent on social media programs.
We don't estimate a number of animals spared by FARM's work on the Animal Rights Conference, because the effects of bringing together and empowering advocates are significantly more indirect and more speculative than FARM's other effects. Importantly, the AR conference is one of the largest programs relative to the charity's total budget which we don't quantitatively account for, for reviews where we provide a quantitative estimate. We don't know enough about the impacts of the Letters to Editors program to confidently estimate its effects on animal suffering, and it is also a very small part of FARM's activities overall.
We weight our estimates by the proportion of funding FARM spends on each activity to estimate that in the short-term, FARM spares between 0.2 and 1 animals per dollar spent. We have also run parallel calculations to estimate that this means FARM spares animals between 0.05 and 0.3 years of suffering on farms per dollar spent. Because of extreme uncertainty even about the strongest parts of our calculations, there is currently limited value in further elaborating these estimates. Instead, we give weight to our other criteria. We also exclude more indirect or long-term impacts from this estimate, which could result in it being an underestimate of overall impact. Because charities have varying proportions of different types of impact, this makes our quantitative estimates particularly difficult to use to compare charities.
Criterion #3: The Charity is Working on Things That Seem to Have High Mission Effectiveness
Animal Rights National Conference
Every year, FARM hosts the Animal Rights National Conference. Insofar as the conference helps to create and support activists and animal rights leaders, we believe that it has great value. Its impact reaches beyond the days of the conference, as attendees use connections and resources from the conference to increase the impact of their own work, much of which is in highly effective areas. The conference also brings in almost enough revenue to cover its costs, greatly increasing its effectiveness per dollar spent from FARM's general budget.
Pay-Per-View Video Outreach
Inspiring individual consumers to make animal-friendly changes affects animals by reducing the demand for animal products. Increasing the number of vegans and vegetarians could also lead to greater support for new animal-friendly policies, such as the institutional adoption of plant-based products. We think that outreach targeted to individual consumers might even be a necessary precursor to more institutional change.
Still, the impact of outreach targeting individuals might be limited relative to the impact of other interventions. Even if viewers and readers make individual changes, they might not influence many others to do the same. By comparison, a change in corporate policy or the law can influence many people's behavior and might have a greater indirect impact on social norms and the growth of the animal protection movement.
By offering viewers small compensation for their time, pay-per-view video outreach may be able to reach individuals who would not otherwise be interested in learning about industrial agriculture. However, pay-per-view also has a relatively high cost per individual reached, which might make it less cost-effective than other forms of individual outreach like leafleting and online ads. FARM has primarily targeted young viewers who may be more receptive to new ideas and who have a long time ahead of them to make animal-friendly choices and influence others.
Yearly Grassroots Events
FARM hosts several annual grassroots events. Some of the interventions employed at the events seem useful; the pay-per-view video outreach and leafleting that FARM conducts during these days may persuade individuals to change their diets. We're less certain about other interventions that FARM employs during their annual events, like food sampling, protests, and demonstrations. Protests in particular could have positive effects, negative effects, or both. For example, they might cause observers to become more sympathetic to farmed animals, but they also might cause observers to be more sympathetic to the businesses being protested.
Follow-up Support for People Undertaking Dietary Change
In addition to encouraging individuals to adopt animal-friendly diets, FARM provides support for people who have recently done so. They publish an online newsletter and maintain a website with vegan resources. Given the high rate of vegetarian recidivism, supporting aspiring vegetarians and vegans may enhance the impact of other outreach strategies. We believe that supporting current vegetarians, vegans, and meat reducers is very unlikely to be as cost-effective as creating new ones, though FARM's strategy of publishing an online newsletter and website may have a lower cost per person reached than many other supportive programs.
Criterion #4: The Charity Possesses a Robust and Agile Understanding of Success and Failure
FARM uses viewership numbers and viewer pledges to measure the impact of one of their major programs, the 10 Billion Lives tour. They have also done follow-up surveys to determine the impact of their programs, though, to our knowledge, they have not conducted such a survey since 2014. We are concerned that they now seem to be tracking only the short-term outcomes of their programs.
FARM's history with pay-per-view video is indicative of their willingness to change in light of new evidence. In 2010, the yearly grassroots events were their largest program area. In June 2011, they held their first pay-per-view event, and throughout the rest of the year they continued experimenting with pay-per-view. Because of the success they had during that period, they shifted their operations so that pay-per-view video is their main focus.
FARM also conducts pay-per-view video outreach online. While fewer viewers might be swayed by online outreach than by live outreach, FARM's online pay-per-view program is so much less expensive per person than their live pay-per-view program that FARM expects it to be more cost-effective. Based on our back-of-the-envelope calculations, we are not confident that online pay-per view is a much better option than in-person pay-per-view.
FARM has also recently made changes to their tour programs. Next year, they are planning to do two 10 Billion Lives tour rather than three separate ones. They expect to reach 80% of the number of viewers at 60% of the cost of this year's tour, which means that the program would become more cost-effective.
We believe that FARM would be open to another major shift if they found strong evidence that a new intervention would be significantly more effective than pay-per-view video, and that they would be willing to try out new techniques that seemed promising but underexplored. We are uncertain that FARM would shift their focus from outreach targeting individuals, even if it became clear that other interventions were more effective. Similarly, the online and in-person components of the 10 Billion Lives program don't seem likely to be equally effective at achieving their shared goal, but we aren't sure FARM would consider pursuing only one of them, even as they amass more evidence about the differences between them.
Criterion #5: The Charity Possesses a Strong Track Record of Success
Have programs been well executed?
FARM has been carrying out most of their programs for many years, with the exception of the pay-per-view video program, which they started a few years ago and have grown considerably. FARM has also successfully developed and expanded their 10 Billion Lives tour.
FARM's record with regard to securing media attention for their activities is more variable. In some years, their annual events have received considerable coverage, and in others they have not.4 Other groups have been more successful at learning to consistently get the media's attention using tactics like undercover investigations.
FARM has successfully organized the Animal Rights National Conference over 20 times in 35 years, which brings together some of the leaders in animal advocacy to share their ideas and wisdom with other advocates. We see these events as potentially very powerful, as they help to cultivate and unite the animal advocacy community. In recent years, we have been particularly encouraged by the presence of evidence-based strategy discussions, such as the 2016 panel with Wayne Hsiung and Bruce Friedrich. While we think the animal movement should still put substantially more focus on gathering and utilizing evidence, this is an encouraging step in the right direction.
Overall, we think FARM's recent track record is strong, as they have been reprioritizing to focus on areas where they have the best results. FARM is an older organization that has undergone some significant changes, and we appreciate that these have included significant strategic thought about how the organization can be most effective.
Have programs led to change for animals?
As is the case for any group attempting to influence individuals' behavior, it is extremely difficult to establish how strong FARM's track record is with regard to its ultimate impact upon animals. Individual behavioral changes are very difficult to measure and track. The available evidence is enough to be suggestive that FARM has had a positive effect, but it is not enough to determine the magnitude of that effect with confidence.5
While we do our best to give all available evidence appropriate weight, we do not want to penalize groups engaging in this work because of the inherent difficulties of measuring its effects.
We consider FARM's track record of accomplishments to be strong overall. While groups influencing government and corporate policies are able to more concretely demonstrate their short-term effects on animals, ultimately we believe that spreading changes in the way individuals think about and behave towards animals is extremely important.
Criterion #6: The Charity Has Strong Leadership and Long-Term Strategy
Leadership
FARM typically makes decisions with their Executive Director, Managing Director, and President, although their Executive Director recently left and they are looking for a new one. They find that this group decision-making process leads to better final decisions, although it can be slow and they might miss some opportunities. We appreciate that FARM has considered the pros and cons of their leadership approach, and in general think having multiple leaders is an effective strategy. FARM's board provides input on their largest decisions and have considerable influence on the organization's strategy. We are somewhat concerned by FARM's leadership seeming to continue to focus on some programs without sufficient evidence of their effectiveness.
Long-Term Strategy
FARM says they "believe in the inherent worth of all animals, as well as environmental protection and improved public health." Our impression is that they are particularly focused on animals, which is strongly aligned with our own values. This indicates that future strategic choices made by FARM will likely be more similar to decisions we would make, i.e. intended to reduce animal suffering, which is promising for their impact. Their overall strategy consists of "massive public awareness campaigns, innovative grassroots activism, and effective vegan support programs," but we think FARM is willing to consider new approaches to help farmed animals. We support FARM's choice to focus on promoting plant-based diets because we consider farmed animal protection to be the most promising area for doing the most good for animals, other things being equal.
FARM does have internal documentation on their big-picture and long-term strategy, but making this document accessible to people outside FARM has not been a priority for their leadership.
The main impact of FARM's grassroots activism, such as pay-per-video video outreach, seems to be the creation of new vegans and vegetarians. This has a direct impact on animals by reducing production, but can also help grow the movement to create further change. In particular, having a large number of vegans and vegetarians could mean more support for new animal-friendly policies, such as the institutional adoption of plant-based products. The grassroots outreach could also help train and inspire new activists, who go on to help with outreach or other interventions to help animals. Also important regarding FARM's role in the animal movement is the Animal Rights National Conference, which we believe facilitates collaboration, debate, and motivation in the movement as a whole.
Criterion #7: The Charity Has a Healthy Culture and Sustainable Structure
FARM has detailed procedures for training touring staff and volunteers who will work in the field, as they bring people into these positions quite often. They have an employee handbook, but no similarly detailed procedures for training office staff, since their office positions have low turnover. They are currently undergoing a leadership transition, with their Executive Director and program Director leaving the charity. Although they have not solidified their new direction and leadership situation, we don't expect this transition to cause significant issues with organizational stability.
FARM had some variation in its spending and income in the past two years. Specifically, rapid expansion in 2015 led to spending more money than they raised. However, given FARM's new emphasis on conservative budgeting and improved understanding of their fundraising situation, we expect them to have a more stable situation in the future. As of Fall 2016, FARM had already made up most of the budget shortfall from 2015. Additionally, one of FARM's largest program areas, the Animal Rights National Conference, is mostly self-sustaining, which adds some stability to the overall FARM budget.
FARM updates financial information as is legally required, and they share information about what they find out from surveys upon request. Occasionally they publish some findings from surveys more widely, as with the Warped Tour results from the summer of 2013. They have redesigned their website since our 2014 review, which has made information easier to find. They also cooperated fully with our requests for information during our review. We were impressed by their openness, telling us about the potential impact of the Fair Labor Standards Act on FARM, a regulation that will potentially decrease their (and other U.S. charities') cost-effectiveness by requiring them to pay higher salaries.
---
The following materials are supplementary research documents associated with our charity review process and are referenced in the Comprehensive Review.
Research Documents