Archived Version: November, 2016
Status
Comprehensive
Primary Work Area

Industrial Agriculture

Secondary Work Area

Legal and Legislative

Website
L214 Ethique et Animaux
Review Published
November, 2016
Type
Archived Review
Current Version
Last Updated
November, 2017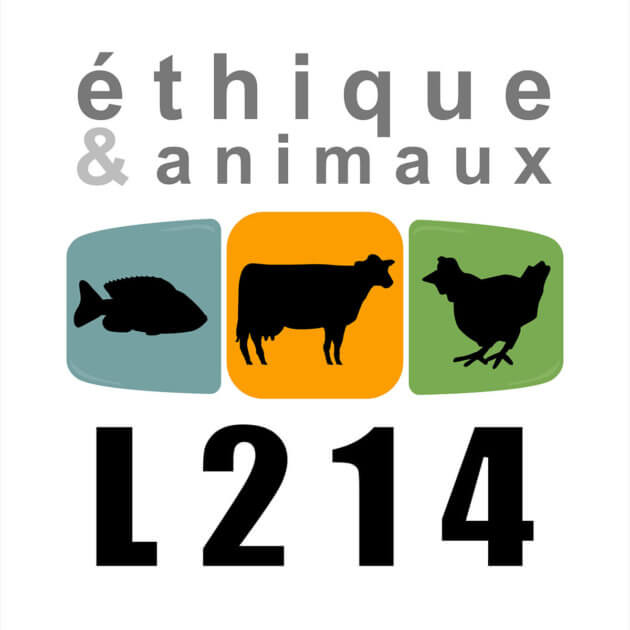 What does L214 do?
L214 works to reduce the suffering of farmed animals in France. Their programs include institutional campaigns such as corporate cage-free egg campaigns and restaurant outreach to increase the availability of vegan options. They also aim to educate the public through investigations of both slaughterhouses and farming operations, and through public education about veganism online, including a 21-day Vegan Challenge program.
What are their strengths?
Animal advocacy in France appears to be relatively neglected, making it potentially more effective than the same efforts would be in the U.S. This is particularly true of L214's focus on investigations, which we understand to be relatively rare in France. Their corporate campaigns have met with some early success and reflect some willingness to change their operations in response to new information—in this case, guidance from The Humane League and other organizations. L214 understands animal issues as connected to other issues, such as public health and the environment, and they do some multi-issue advocacy that emphasizes the intersections between animal advocacy and the interests of other advocacy movements.
What are their weaknesses?
Many of L214's programs, including some of their most promising, are relatively new. While their investigation and corporate outreach programs have met with early successes, both of these programs (and especially the latter) have short track records, which gives us some uncertainty as to how well they will perform in the future. We are somewhat uncertain regarding L214's ability to handle their recent funding growth, which has been quite rapid—from $200,000 raised in 2013 to $2.7 million in 2016. Finally, they appear to put significant resources towards programs that might be less effective, such as encouraging menu changes at restaurants and prosecuting individual animal agriculture employees.1
Why didn't L214 receive our top recommendation?
We think that some of L214's programs, including investigations and corporate campaigns, are likely to be highly effective. We are also glad to see them working in France, which seems to have fewer effective animal advocacy organizations than similar countries. However, their track record is relatively short, and they have grown a great deal recently, making us less certain that they will be able to continue to use funds as effectively as they have been able to in the past.
L214 was one of our Standout Charities from November 2017 to December 2019.
---
How L214 Performs on our Criteria
Criterion 1: The charity has room for more funding and concrete plans for growth.
Before we can recommend a charity, we need to assess the extent to which they will be able to absorb and effectively utilize funding that the recommendation may bring in. Firstly, we look at existing programs that have a need for additional funding in order to fulfill their existing purpose; secondly, we look at potential areas for growth and expansion. It is important to determine whether the barriers limiting progress in these areas are solely monetary, or whether there are other factors such as time or talent shortages. Since we can't predict exactly how any organization will respond upon receiving more funds than they have planned for, this estimate is speculative, not definitive. It's possible that a group could run out of room for funding more quickly than we expect, or come up with good ways to use funding beyond what we have suggested. Our estimates are indicators of the point at which we would want to check in with a group to ensure that they have used the funds they've received and are still able to absorb additional funding.
Recent Financial History
L214 has seen significant growth in their income in recent years, which has consistently grown at an increasing rate, from $200,000 in 2013 to $2.7 million in 2016.1, 2 In 2016, their expenses totalled $1.9 million, however approximately $700,000 of this was for a legal retainer and wasn't actually used, thus their true expenses were closer to $1.2 million.3 Through 2017, they are expecting that they will raise approximately $3 million and their expenses will increase to $3.3 million.
Planned Future Expenses
Up until 2016 L214 was paying their staff the French minimum wage, but since then they have been gradually increasing staff pay, with a target of reaching the median wage in France in order to provide a better quality of life for their staff.4 Based on their current rate of wage increase, we expect that they will achieve this in 1–2 years. When they were paying minimum wage, they found that they had relatively low turnover as they were hiring highly dedicated activists.5 However, as they expand they require more specialist roles to be filled and therefore are offering a higher wage for these roles, as well as for current employees.6 They estimate this will increase their wage expenses from $1.5 million to $2.1 million, assuming that the number of employees remains the same.7
Given further additional funding, L214 has several areas where they would reportedly put it to use. Firstly they would put it towards the launch of their broiler welfare campaign unit, supporting it with further hires of campaign coordinators. Secondly, they would increase the communications budget to improve media and public impact.8 They also have had plans to launch a fish welfare campaign, but other, more achievable projects have taken priority and the fish campaign has not been started.9 While this would represent quite a new direction for them, they feel that the number of animals affected would make this a worthwhile pursuit. Additional funding could therefore be used to put this campaign into action; however, we find it quite likely that a new campaign such as this would require a great deal of planning and research, and it is therefore likely that time would quickly become a limiting factor in its progression.
Conclusion
Overall we think that L214 could effectively use $700,000–$3 million split between the three mentioned areas of expansion.10, 11, 12
Criterion 2: The charity engages in programs that seem likely to be highly impactful.
Before investigating the way a charity's programs are implemented or the outcomes they've achieved, we consider the charity's overall approach to animal advocacy. We expect effective charities to pursue approaches that seem likely to produce significant positive change for animals, though we note that there is significant uncertainty regarding the long-term effects of many interventions.
L214 focuses primarily on reducing the suffering of farmed animals, which we believe is a high-impact cause area. L214 pursues many different avenues for creating change: they work to influence individuals, influence industry, build alliances, and influence policy. Pursuing more than one avenue for change seems to be a good idea because, if one proves to be ineffective, L214 still might be impactful. However, we don't think that charities that pursue multiple avenues for change are necessarily more impactful than charities that focus on one.
To communicate the process by which we believe a charity creates change for animals, we use theory of change diagrams. It is important to note that these diagrams are not necessarily complete representations of real-world mechanisms of change. Rather, they are simplified models that ACE uses to represent our beliefs about mechanisms of change. For the sake of simplicity, some diagrams may not include relatively small or uncertain effects.
Influencing Public Opinion
L214 works to influence individuals to adopt more animal-friendly attitudes and behaviors. We think that the impact of such work may be relatively limited compared to the impact of efforts to influence industry or law. However, we still think it's important for the animal movement to target some outreach toward individuals, as a shift in public attitudes could lead to greater support for new animal-friendly policies. Public outreach might even be a necessary precursor to achieving institutional change.
L214 conducts undercover investigations of conditions on factory farms, which we think is a particularly effective intervention. L214 works to get as much media exposure as possible for their investigations,13 and there is some evidence of a negative correlation between media coverage of animal welfare and meat demand.14
L214 also works to effect change through online outreach and various forms of grassroots outreach, including leafleting, pay per view videos, publishing a magazine, and organizing marches and demonstrations. There is little evidence available about the effectiveness of these interventions, though we do not currently recommend the use of leafleting as we suspect that it is not as effective as some other means of public outreach.
Influencing Industry
Working to influence the food industry can help animals by leading to welfare reforms or, less directly, by creating a climate in which it is easier for individuals to reduce their use of animal products. In the long term, putting pressure on the animal agriculture industry and paving the way for companies that produce alternatives to animal products could weaken the animal agriculture industry through the pressures of the marketplace, perhaps even without the presence of advocacy messages. Weakening the animal agriculture industry may enable stricter regulation of animal welfare.
L214 works with corporations and restaurants to adopt better animal welfare policies and increase the availability of plant-based alternatives to animal products.15 We believe that corporate outreach can be highly impactful when implemented thoughtfully, though we are less certain of the effects of promoting plant-based options in restaurants.
Building Alliances
We believe that the animal advocacy movement could benefit from building stronger coalitions with other movements. As a result of coalition-building, we can learn from other movements and perhaps even draw new activists into the animal advocacy movement. One way for animal advocates to help build coalitions is to advocate actively for other causes.
L214 engages in some multi-issue advocacy. For instance, they launched Viande.info to discuss the consequences of animal agriculture for public health, world hunger, and the environment. Similarly, they launched an ad campaign in the Paris metro about the effects of meat on the environment.16 We believe that multi-issue advocacy is important and relatively neglected in the animal advocacy movement.
Influencing Policy and Law
We think that encoding protections for animals into the law is a key component in creating a society that is just and caring towards animals. While legal change may take longer to achieve than some other forms of change, we suspect its effects to be particularly long-lasting.
L214 launched a website called "Politique & Animaux," which they use to track politicians' voting histories on animal welfare legislation. They are also part of a coalition of groups engaged in political lobbying to put animal welfare issues on the agenda in France. While we think that legal work in general can be highly impactful, there is little evidence on the effectiveness of these particular interventions.
Criterion 3: The charity operates cost-effectively, according to our best estimates.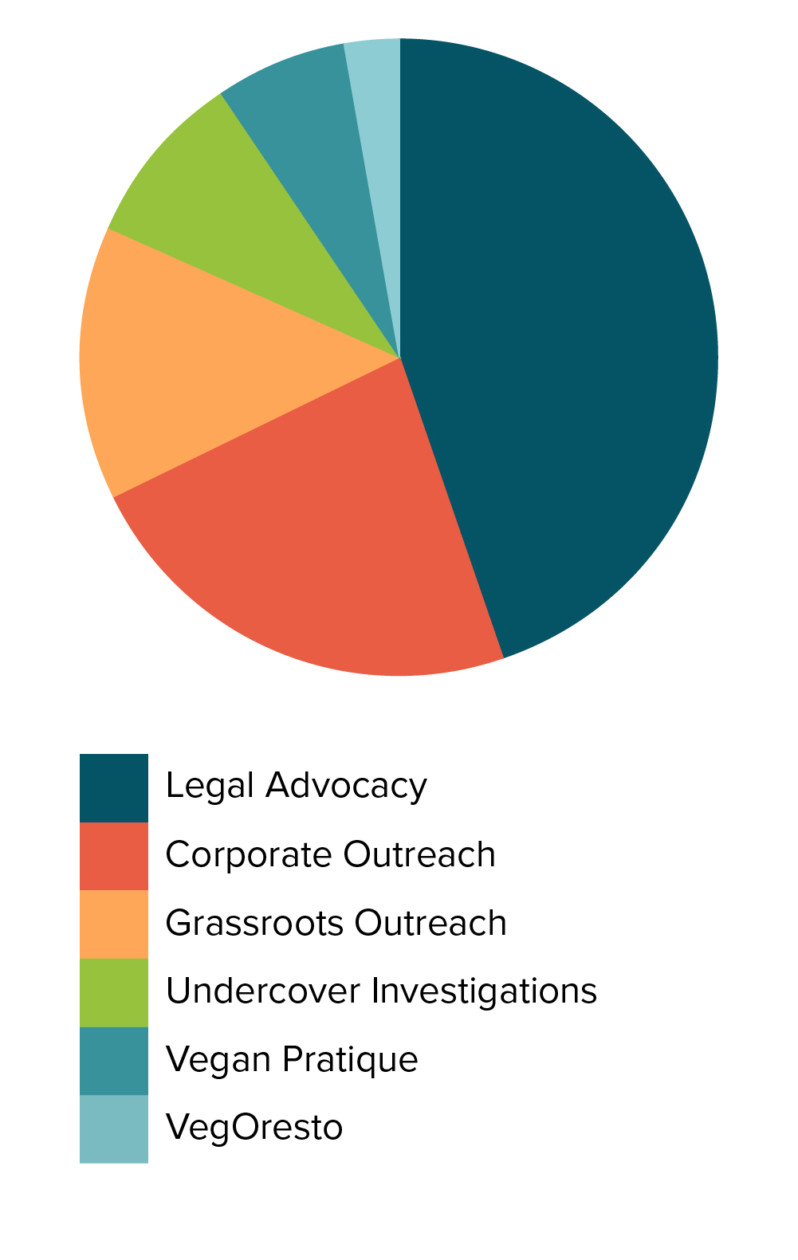 L214 runs several programs; we estimate cost-effectiveness separately for a number of these programs, and then combine our estimates to give a composite estimate of L214's cost-effectiveness. Note that all the estimates factor in associated supporting costs including administrative and fundraising costs.17 We generally present our estimates as 90% subjective confidence intervals (SCIs).18, 19 We think this quantitative perspective is a useful component of our overall evaluation because quantitative estimates of cost-effectiveness can be:
Helpful in our mission to identify highly effective ways of helping animals,20
Useful in making direct comparisons between different charities or different interventions,21 and
Helpful for increasing our transparency.22
However, the estimates of equivalent animals spared per dollar should not be taken as our overall opinion of the charity's effectiveness, especially given that we choose not to account for some less easily quantified kinds of impact in this section, leaving them for our qualitative evaluation. Furthermore, our cost-effectiveness estimates are highly uncertain approximations of some of the short term costs and short to medium-term benefits associated with L214's programs. As we have excluded more indirect or long-term impacts, the overall impact may be an underestimate.There is a very limited amount of evidence pertaining to the effects of many common animal advocacy interventions, which means that in some cases we have mainly used our judgement to assign quantitative values to parameters. Because charities have varying proportions of different types of impact, this makes our quantitative estimates particularly difficult to use to compare charities with a higher proportion of long-term impact to charities with a higher proportion of short-term impact.
We are concerned that readers may think that we have a higher degree of confidence in this cost-effectiveness estimate than we actually do. To be clear, this is a very tentative cost-effectiveness estimate and it plays only a limited role in our overall opinions of which charities and interventions are most effective.23
Legal Advocacy
We estimate that in 2017 L214 will allocate about 45% of their budget, for a total of around $1.7 million, towards use as a provision for financial risk arising from litigations.24, 25 L214 is involved in several lawsuits that include a slaughterhouse filing for trespassing and invasion of privacy, and lawsuits by slaughterhouses and farms that attempt to stop L214 from publishing their investigation.26 In 2013, L214 lost a case that was similar to the latter mentioned and was made to pay a heavy fine and remove the footage of the investigation from the internet.27
Corporate Outreach
We estimate that in 2017 L214 will spend about 23% of their budget, or $850,000, on corporate outreach.28, 29 This is associated with some companies adopting new policies, and these policies seem to result in reduced suffering for some farmed animals. We estimate that L214's corporate outreach will help cause policy changes affecting between 4 million and 20 million laying hens.30, 31, 32 The policies focus on moving laying hens to cage-free systems.
Undercover Investigations
We estimate that in 2017 L214 will spend 9% of their budget, or around $330,000, on undercover investigations.33, 34 This will result in six to eight undercover investigations being released in 2017.35, 36, 37 We estimate that media coverage of these investigations will have the opportunity to be seen between 15 million and 64 million times, including all views when someone sees coverage of one or more investigations multiple times.38, 39, 40 This is an estimated cost of between $41,000 and $55,000 per investigation,41 but only $0.55 to $2.30 per 100 views.42, 43
Grassroots Outreach
We estimate that in 2017 L214 will spend 14% of their budget, or around $540,000, on grassroots outreach.44, 45 As a result of their grassroots outreach, L214 will distribute between 400,000 to 2 million leaflets on vegan eating and factory farming.46, 47, 48 Additionally, they will distribute 70,000–600,000 L214 magazines,49, 50, 51 and their grassroots outreach will be associated with 3,300 to 14,000 pay-per-view watches.52, 53, 54 We estimate that the cost per person reached through any one of these grassroots outreach methods is $1.10 to $4.00.55, 56
Vegan Pratique
We estimate that in 2017 L214 will spend about 6.6% of their budget, or around $210,000, on Vegan Pratique.57, 58 This appears to be closely related to 15,000–100,000 people signing up for the Veggie Challenge.59, 60, 61 This comes to a cost of $2.50–$18 per person signed up for the Veggie Challenge.62, 63
VegOresto
We estimate that in 2017 L214 will spend about 2.6% of their budget, or around $97,000 on VegOresto.64, 65 We estimate that 75–225 restaurants will add a vegan meal to their permanent menu as a result of this.66, 67, 68 This comes to a cost of $430–$1,300 per restaurant that adds a vegan option to their menu.69, 70, 71
Communications and Social Media
We estimate that in 2017 the videos that L214 shares via Facebook will receive 4 million–7.3 million unique views to 95% of the video length.72, 73, 74 However, we note that users also engaged with L214's content in many other ways, such as watching parts of videos, reading text posts, and reading blog posts.
Changes Since 2016
Figure 3 shows the way in which L214's budget size and allocation has changed since 2016.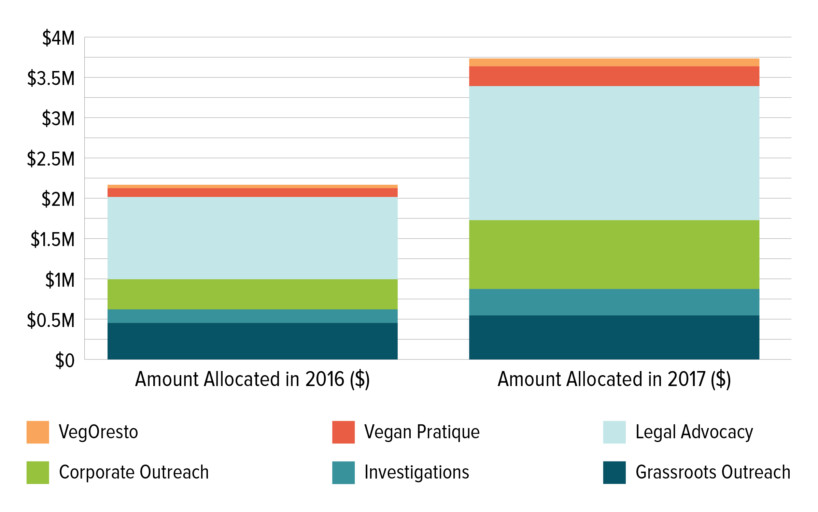 All Activities Combined
To combine these estimates into one overall cost-effectiveness estimate, we need to translate them into comparable units. This will introduce several sources for errors and imprecision, so the resulting estimate should not be taken literally—it is a rough estimate, and not a precise calculation of cost effectiveness.75 However, it will provide some information about whether L214's efforts are comparable in efficiency to other charities'.76
We use our estimate of the effectiveness of leaflets as the basis for our rough estimate that between -10 and 1 farmed animal(s) are spared per dollar L214 spent on grassroots outreach.77, 78, 79 We also use that estimate and a subjective adjustment factor80 to roughly estimate that L214 spared between -10 and 0.30 farmed animals per dollar spent on investigations.81, 82, 83
We consider multiple factors84 to roughly estimate that L214 spares an equivalent of between -5 and 10 farmed animals per dollar spent on corporate outreach.85, 86, 87 We exclude results from VegOresto, Vegan Pratique, and legal advocacy in our cost-effectiveness estimate and don't attempt to convert them into an equivalent animals spared figure. The majority of money used in L214's legal advocacy is set aside in case they lose litigation battles, and so it is unclear how to estimate the effectiveness of those funds. In addition, we felt too uncertain about the impacts of L214's VegOresto and Vegan Pratique.
We weight our estimates by the proportion of funding L214 spends on each activity; overall, we roughly estimate that, in the short term, after excluding the results of a number of their programs,88 L214 spares between -2 and 2 farmed animals per dollar spent.89, 90, 91 This equates to between -2 and 3 farmed animal years averted per dollar spent.92, 93, 94 Because of extreme uncertainty even about the strongest parts of our calculations, we feel that there is currently limited value in further discussing these estimates. Instead, we give weight to our other criteria.
Criterion 4: The charity possesses a strong track record of success.
Have programs been well executed?
L214 appears to have a strong track record with their investigation work. From October 2015 to June 2017, they released eight undercover investigations of French slaughterhouses, all of which received national media coverage and resulted in some temporary closures.95 This work led to the government launching a Parliamentary Inquiry Committee to find out how to improve welfare for animals in slaughterhouses; the committee later published a report which has led to CCTV cameras being included in draft legislation and approved by the National Assembly.96 L214 has also pursued legal action against individuals filmed in the investigations, with the first trial resulting in one person being fined and banned from slaughterhouse work and the local administration which ran the slaughterhouse also being fined.97 They are yet to see substantial success with their investigations into the foie gras industry, however.98 L214 is the most prominent organization working on animal welfare investigations in France, and we can conclude with some confidence that their efforts caused these changes to come at least a few years sooner than they otherwise would have.
Corporate outreach makes up a smaller proportion of L214's activities, but they have also seen some substantial successes with this program.99 Their VegOresto initiative aims to get restaurants to offer a vegan alternative; they have convinced 825 restaurants to sign their charter in the last two years, and are now targeting larger chains.100 They also are part of the Open Wing Alliance (OWA), and in 2016 (thanks in part to the guidance of The Humane League) they were able to secure cage-free commitments from all major French retailers101 and more than 80% of the food service sector.102 Most of these commitments will come into action between 2020 and 2025.103
They also have a vegan outreach program, which centers around two initiatives—Vegan Pratique and the aforementioned VegOresto. Vegan Pratique serves as an educational resource about veganism, offering dietary information and recipes, and it currently attracts over 4,000 daily visitors.104 They have recently started a "Veggie Challenge" program that provides daily information about diet change over 21 days. It currently has 10,000 subscribers,105 which seems to be a promising number, as it was launched in July 2017.106 As part of the VegOresto initiative, they have created a searchable website database to help consumers find restaurants offering vegan alternatives.107 The plant-based options available in restaurants may help reduce vegetarian/vegan recidivism and will generally decrease animal product consumption, but we do not think its impact is as large as the impact of their other programs.
Have programs led to change for animals?
Undercover investigations have a history of inspiring stronger animal protection legislation and better corporate policies, both of which relieve some suffering for farmed animals.108 There is weak evidence that the media attention generated by investigations may be correlated with a reduction in the demand for meat.109 It is difficult to establish how investigations affect animals in both the short and long term, but we think that L214's investigations have a strong record. In particular, the government inquiry and subsequent plan to introduce CCTV into slaughterhouses should help to reduce the suffering of animals, both through increasing public awareness of the abuses that take place in industrial agriculture, as well as making slaughterhouse workers more accountable for their actions, and so less likely to commit acts of cruelty in the future.
The commitments resulting from L214's corporate outreach campaigns will likely affect a large number of animals once they have been implemented. As these commitments are not legally binding, it will be important to follow up with companies to ensure they are adhered to. As far as we are aware, L214 has not made explicit plans to follow up with companies yet; however, as most commitments are for 2020 to 2025, it is probable they will in the future. If these pledges are implemented, their corporate campaigns will have led to direct and measurable increases in the number of animals being raised under higher welfare standards. We estimate that the cage-free commitments they have secured will affect 4 million–16 million hens per year once implemented.110 While this work was carried out in conjunction with the OWA, the successes in France are likely mostly attributable to L214.
The change for animals as a result of L214's institutional meat reduction work is less clear. Increasing the number of plant-based options available in restaurants may help reduce vegetarian/vegan recidivism, and will likely generally decrease animal product consumption; however, this is also dependent on consumer interest in plant-based options, and we don't have a clear idea of this for France.
Outreach targeted to individuals, both locally and online, has less strongly documented effects for animals. Research so far suggests that some of these activities have a positive effect, whereas some—such as leafleting—may have a slightly net-negative effect.111 Generally the research is not substantial enough for many of the interventions, and some have not been formally evaluated at all. However, we believe that changing individuals' beliefs and behaviors is a crucial part of building a better world for animals, and we do not want to penalize groups doing this work for the inherent difficulties of measuring success.
Criterion 5: The charity identifies areas of success and failure and responds appropriately.
L214 sets concrete, relevant goals for most of their programs. They appear to use relevant measures to evaluate their programs' outcomes, although we think they may benefit from setting goals or using metrics that more directly assess the number of animals affected by their programs. They have also demonstrated some willingness to respond to indicators of success and failure in the past.
L214 appears to set annual program goals that are plausibly achievable and are relevant to their mission of reducing animal product consumption and improving farmed animal welfare.112 Some of the goals appear to be fairly specific and measurable, especially for their grassroots and restaurant outreach programs—although we think their goals to achieve a particular number of restaurant pledges might be more mission-relevant if they targeted the likely number of meals or customers affected instead.113 Our understanding is that they currently aim for their investigations to draw as much press coverage as possible.114 While this broadly aligns with their aim of drawing public attention to the mistreatment of animals, we think they could benefit from setting more concrete goals for their investigations program, which would help them to evaluate its progress relative to reasonable prior expectations.
L214 assesses their programs' outcomes through a variety of relevant measures. For their non-slaughterhouse investigations, they focus on the effect they have had on the food industry, including evidence that one of their investigations lowered the reputation of the investigated corporation. Their slaughterhouse campaign is more focused on affecting public opinion and galvanizing political change.115 To our knowledge, they have not specified measures of success for this campaign,116 but we believe it was reasonable for them to continue the program despite this, given that it appears to have generated significant news coverage as well as a political response. L214 evaluates their corporate outreach program by the number of large companies that have signed their cage-free pledges,117 estimates the number of animals affected by the campaigns,118 and tracks the amount of media coverage and web traffic they receive as a result of publicized campaigns119—though they (reasonably, in our view) do not consider either form of coverage as a target metric.120 They mainly evaluate their VegOresto restaurant outreach program by the number of restaurants that decide to offer vegan meals, and are conducting a survey to help evaluate their recent Vegan Pratique individual outreach campaign.121
These metrics provide useful information, but we think an organization prioritizing among many different interventions also could benefit from the use of metrics that are more directly related to their ultimate goals. L214 already estimates the number of animals affected by their corporate outreach campaign.122 Conducting similar estimates for programs such as individual outreach or encouraging vegan menu options might be useful for determining marginal cost-effectiveness and allocating marginal funds across programs.
We also have some evidence that L214 is willing to change their actions in response to relevant indicators of failure. For example, they reorganized a longstanding annual grassroots campaign against foie gras, deciding to target specific companies after they found that the campaign had begun to receive less media attention.123 Similarly, for years their cage-free campaigning was focused on achieving a legal ban; after achieving little success for many years, they decided to target companies directly.124
Criterion 6: The charity has strong leadership and a well-developed strategic vision.
L214 is committed to helping farmed animals,125 and they appear to have some commitment to doing so effectively.126 They also have a strong commitment to collaboration, sharing their knowledge and combining their efforts with other organizations in a wide variety of ways.127, 128, 129 Their board is occupationally diverse, and they appear to give their non-leadership staff a significant role in their strategic planning process.130 However, the board does not appear to play a major role in the organization's decision making.
The charity's mission emphasizes effectively reducing suffering/helping animals.
Our understanding is that L214's long-term mission is to "weaken and transform" the animal agriculture industry, which they target in particular because it accounts for the vast majority of animals exploited by humans.131 As mentioned in Criterion 2, many of the programs they carry out towards these goals are plausibly effective, although some are less so. As mentioned in Criterion 5, they appear to have responded well to indicators of success and failure in the past, although we believe they could be more active in seeking out out these indicators.
Given their mission and their history of conducting evidence-supported interventions, we expect L214 to remain committed to helping farmed animals, and we believe that they have some commitment to doing so effectively.
The strategy of the charity supports the growth of the animal advocacy movement as a whole.
L214 shares their knowledge and resources with a large number of animal advocacy organizations. They are part of the international Open Wing Alliance and have collaborated with the group by sharing relevant information and coordinating campaigns against French-based multinationals.132 Recently, they helped found a coalition of 26 French animal charities focused on political change. They contributed their expertise on farmed animal issues, writing several of the coalition's political propositions.133 They have also shared knowledge and collaborated with a variety of French and other European organizations on a smaller scale.134
L214 shares all of their photos and videos from investigations under a Creative Commons license, enabling other organizations to make use of them; for example, their foie gras campaign materials helped several organizations worldwide campaign against foie gras.135 In addition, they spend a significant portion of their budget on providing leaflets and other materials to support local action,136 which appears to include actions conducted by local organizations otherwise unaffiliated with L214.
L214's investigations help draw public attention to farmed animal welfare,137 and some grassroots organizations organize protests to coordinate with their campaigns.138 L214 has also told us that they are the only animal advocacy organization in France frequently conducting investigations,139 making them contributors to a neglected area of animal advocacy. They also pursue some movement-building initiatives, such as the annual March to Close All Slaughterhouses.140
The board of the charity includes members with diverse occupational backgrounds and experiences.
L214 has an eight-person board. Its current members include the editor in chief of an antispeciesism magazine, two writers, an activist, a therapist, and two computer scientists, one of whom co-founded a local animal rights organization.141 The previous eighth Board Member joined L214 as a staff member in August, and they are electing a new Board Member to take his place.142
According to U.S. best practices, nonprofit boards should be comprised of at least five people who have little overlap with an organization's staff or other related parties.143 However, there is only weak evidence that following these best practices is correlated with success, and if they are correlated, that may be because more competent organizations are more likely to both follow best practices and to succeed—rather than because following best practices leads to success. Since L214 is a French nonprofit, we think their board composition's alignment with U.S. best practices does not provide significant evidence in favor of their effectiveness.
The evidence for the importance of board diversity is somewhat stronger than the evidence recommending board sizes of five or greater, in large part because there is a significant body of literature indicating that team diversity generally improves performance. However, the evidence we are aware of for the importance of board diversity on organizational performance specifically is less strong.144 L214's board appears to have a high level of occupational diversity, but the board does not play a large role in the organization's decision making, making their variety of viewpoints and expertise less likely to benefit L214 than it otherwise would. Overall, this provides a small amount of evidence in favor of L214's effectiveness as an organization.
The board of the charity participates regularly in formal strategic planning on behalf of the charity, and involves other stakeholders in that process.
Our impression is that L214's board does not play a major role in actively deciding on the organization's plans and strategy.145 However, non-leadership staff are involved in the process; L214 reviews progress and sets goals biannually during weeklong all-staff meetings.146 Decision-making otherwise appears to fall to the executive committee, which is composed of the organization's Director and department leaders.147 They meet for two days several times per year to discuss priorities, achievements, and strategy.148
Criterion 7: The charity has a healthy culture and a sustainable structure.
L214 is a quickly growing organization, having roughly tripled in size between late 2015 and late 2017.149 They've made efforts in the past two years to increase their stability and efficiency along with that growth, such as no longer paying everyone the local minimum wage and instituting more hierarchy and specialization in the organization.150, 151 The staff members we spoke with told us that they saw this process as having made the organization more effective, and allowing staff members to focus on what they were best at and most interested in.152, 153 Despite these changes, L214 still has a relatively non-hierarchical structure and expects to reorganize with a more formal structure in the near future to accommodate recent growth, which could increase efficiency but may also lead to unforeseen challenges.154 This growth was fueled by (and likely contributed to) an increase in members and donations for the organization, leading to the present situation in which L214 is almost entirely donor-supported, but with a broad base of small donors.155
The charity receives support from multiple and varied funding sources.
L214 receives support from donations and from some partnerships with businesses, although they tell us that the revenue generated by their business partnerships comprises a minimal part of their budget.156 They are a membership organization, and members make a donation when they join.157 As of 2016, they had over 25,000 members, roughly ten times as many as they had in 2013.158 This growth in membership and donations allowed them to expand the organization, and we would agree that although their donations may come from very similar sources, they do have a large number of donors to rely on.159
The charity provides staff and volunteers with opportunities for training and skill development, helping them grow as advocates.
L214 has provided staff with limited training opportunities so far, but intends to focus more on staff development in the near future.160 Staff have been trained in specific areas like video editing and nutrition, and L214 has paid for staff to attend the International Animal Rights Conference.161 The two staff members we spoke with confidentially provided examples of receiving on-the-job training from coworkers, but they also reported having trouble either accessing further resources for training or finding the time to spend on it.162 We look forward to seeing increased efforts from L214 in this area, as taking time for training helps staff become more effective and efficient in their work.
The charity has staff from diverse backgrounds and with diverse personal characteristics (e.g., race, gender, age), and views diversity as a resource that can improve its performance.
L214 has no particular programs in place to encourage diversity in their workforce, though they tell us that they oppose discrimination.163, 164 The staff members we spoke with confidentially told us that they found L214 staff to be diverse in terms of gender and sexual orientation, and that L214 allows staff and volunteers to freely be themselves, specifically with regard to sexuality and religion, the latter of which can be a contentious issue in France.165 They also remarked on the lack of people of color on L214's staff, though they noted that an increasing number of volunteers came from ethnic minorities in France, including some in positions of relative responsibility.166
The charity works to protect employees from harassment and discrimination.
L214 currently has no specific policies in place to prevent harassment or discrimination.167 We spoke with two non-leadership employees and performed some due diligence searches, and are not aware of any reports of harassment or discrimination at L214.168
Questions for Further Consideration
Why does a significant portion of L214's outreach focus on dietary change rather than directly shifting public attitudes?
Some argue that the effectiveness of a strong focus on individual behavior change (e.g., dietary change) isn't supported by historical examples or other empirical evidence.169, 170, 171 They might argue that most successful social movements have focused their rhetoric on the institution they opposed rather than on individual behavior supporting that institution.172 Critics also believe it is difficult to build a mass movement when the perceived criteria for acceptance in the movement is a lifestyle change, and that a consumer focus provokes less moral outrage than focusing on the institution—thus missing an important driver of activism and subsequent social change.173
It's important to note that work on dietary change and on attitude change are not mutually exclusive; many animal advocacy activities, including many of L214's programs, could plausibly lead to both types of change. In general, however, some of L214's programs seem more focused on incremental change than on building a mass movement supporting institutional change.
According to L214's interpretation of the relevant research, changes in behaviors can precede changes in attitudes.174 This means that the development of vegan, meat-free or cage-free options and their progressive passing into the mainstream—whether in restaurants or supermarkets—creates a favorable framework for further long-term change.175 These changes remove the dependence on animal products and make it easier for the public to sympathize with animals.176 L214 believes though that both approaches are necessary to create a "virtuous circle," and they dedicate a considerable part of their resources to awareness campaigns, through investigations and other type of public outreach.177
Some of L214's activities (particularly undercover investigations) have the potential to backfire, either by leading to legislation targeting activists or by negatively affecting public opinion of activists. Should donors support such activities?
Critics have argued that some tactics employed by animal advocates, including protests, risk turning public opinion against the animal advocacy movement.178 While these activities make up a small proportion of L214's work, they do organize and participate in protests and demonstrations.179 Investigations make up a larger part of L214's work and have sometimes led to a slightly different type of backlash in which industry and government respond by attempting to pass laws that target advocates, such as ag-gag legislation in the United States.180 While L214 tries to maintain good relationships with media and the government, and France does not have ag-gag laws, they have sometimes been the target of lawsuits by industry because their footage is taken without permission.181 L214 has sometimes suffered negative consequences as a result of these lawsuits, such as fines or the requirement to take footage down from their website.182, 183
L214 tries to conduct investigations in such a way that, when courts need to decide between protecting farms and slaughterhouses or protecting L214's right to speech and the public's right to information, they will decide in favor of free speech and information.184 This means conducting the investigations seriously, recording information like dates, times, locations, veterinary concerns, and violations observed.185 They also file legal complaints with each investigation.186 Generally, this has led to judges finding in their favor.187
As regards public opinion, while L214 agrees that there could be mistrust of advocates who film inside farms and slaughterhouses without consent, they have generally found that investigations increase public sympathy with the organization.188 For example, L214 finds that releasing investigations tends to lead to an increase in donors to the organization.189 They see a similar pattern with followers on social media.190 Finally, they try to focus on systemic problems rather than individual farm or slaughterhouse workers, to avoid criticism related to human concerns.191
Does L214 worry that focusing on some of the most extreme confinement practices could lead to complacency with other forms of suffering farmed animals endure or with meat consumption?
Since pushing for welfare reforms often involves working directly with food industry companies, this work can give the public the impression that these companies treat their animals well when this is not the case, especially when animal advocates are incentivized to make the reforms seem like drastic improvements when animals still suffer substantially.192 Critics would also argue that, empirically, welfare reforms such as banning battery cages reduce only a very small portion of the harm of animal agriculture, if any, so they are not the most cost-effective use of time.193, 194, 195
In addition, some argue that welfare reforms (e.g. bans on battery cages) might lead consumers to think that farmed animals no longer suffer and that helping them is no longer a priority.196 They cite as evidence that some corporations market themselves as "humane" and "ethical," which suggests that appearing to support animal welfare does benefit those companies.197 However, this may only reflect gains to individual companies from positioning themselves as the most humane option.198 There isn't much evidence that this kind of marketing increases animal product consumption on the whole, and there is some evidence of a negative correlation between media coverage of animal welfare and meat consumption.199
On the other hand, some advocates argue that this work could increase the credibility of the animal advocacy movement by showing that it can make progress for animals on an institutional scale, not just an individual one.200 Single campaigns may not eliminate all suffering in a specific area, but they can provide useful information and momentum for future campaigns. The success of welfare reforms also establishes the moral aspects of animal agriculture as a topic in the public domain, which seems important for further progress.
L214 sees a focus on intense confinement practices as addressing the most common situations of farmed animals in France, where L214 says that 95% of pigs, 85% of chickens, 68% of hens and 99% of rabbits are farmed under intensive conditions.201, 202 They believe that creating incremental change for these large populations of animals harms the meat industry and also helps to increase public concern for animals.203 They aren't aware of any evidence that this type of incremental change leads to complacency.204 However, they don't limit their work to addressing extreme confinement practices; in their public outreach they include information that shows that the best way to help animals is not to use them at all.205 They also address some "higher welfare" operations in their investigations, such as organic-certified slaughterhouses.206
There are many more farmed fish than other species of farmed animals. Has L214 considered allocating more of its resources towards farmed fish advocacy?
Each year, an estimated 37 billion–120 billion finned fish are slaughtered in the animal agriculture system, compared to roughly 60 billion–80 billion land animals.207, 208, 209 While many organizations aim to maximize their impact by advocating for chickens, some argue that those organizations should instead focus more on farmed fish advocacy, as there are even more farmed fish than farmed chickens and the field is currently relatively unexplored.210 We agree that helping fish is a valuable area that could potentially use much more work, though we think organizations might be understandably wary of the potential difficulty of campaigning for animals that people may be less likely to be concerned about, as well as the greater uncertainty regarding which changes should be prioritized.211, 212 Recently, several charities have entered this arena; Mercy For Animals has conducted a study on how messaging affects behavior and attitudes regarding fish, while the Albert Schweitzer Foundation conducts farmed fish advocacy programs informed by research on fish welfare.213, 214
While L214 agrees it's likely that the number of farmed fish exceeds the number of farmed land animals globally, they believe the number in France specifically to be smaller.215 They also believe they are more likely to have success in campaigns that focus on land animals, at least at the present time.216 However, L214 is considering investing resources in investigations and outreach related to farmed fish, and could begin such projects within the next few years.217 In addition, they see their work related to veganism as benefiting all species of animals, including fish.218
There are some who think that the scale of suffering in the wild is much greater than the scale of farmed animal suffering. What is L214 doing to address wild animal suffering?
There are so many wild animals that improving their welfare may be a large-scale cause area even if only a minority of them are in distress.219 It is also a highly neglected cause area; although many organizations work to help wild animals in a general sense, few operate from a perspective that primarily values individual experience and that doesn't focus on preserving charismatic species at the expense of more numerous ones.220, 221 However, wild animal suffering is also a relatively intractable problem, both because it is not directly caused by humans (so we can't simply stop the actions that lead to it) and because there are currently few people working on it, so possible interventions are not well-developed or understood.222 Even when we can think of things that seem like they would help wild animals fairly cost-effectively, there may be difficulties to implementing them that we simply don't know about because they haven't been attempted.223 ACE is also concerned that the general public has strong intuitions against intervention in the wild, and it's not clear how easily these intuitions can be overcome through thoughtful advocacy, so convincing others to join in helping wild animals might be particularly difficult.224 Because the cause of wild animals is so large-scale and neglected, ACE thinks we should direct resources to it if we can find opportunities to contribute.
L214 believes that in all likelihood, the amount of suffering happening in the wild is greater than the suffering experienced by farmed animals, and shares the opinion that all sentient beings matter, whether their suffering is caused by humans or by other factors.225 However, considering that practical solutions to wild animal suffering are scarce and that the organization's field of expertise lies in field activism and outreach rather than in research, L214 favors a pragmatic approach—aiming to achieve concrete results, mostly for farmed animals.226 On a limited scale, L214 provides the public with advice to limit the suffering of wild animals who coexist with humans.227
---
The following materials are supplementary research documents associated with our charity review process and are referenced in the Comprehensive Review.
Research Documents