Archived Version: December, 2014
Status
Top Charity
Primary Work Area

Industrial Agriculture

Website
The Humane League
Review Published
December, 2014
Type
Archived Review
Current Version
November, 2020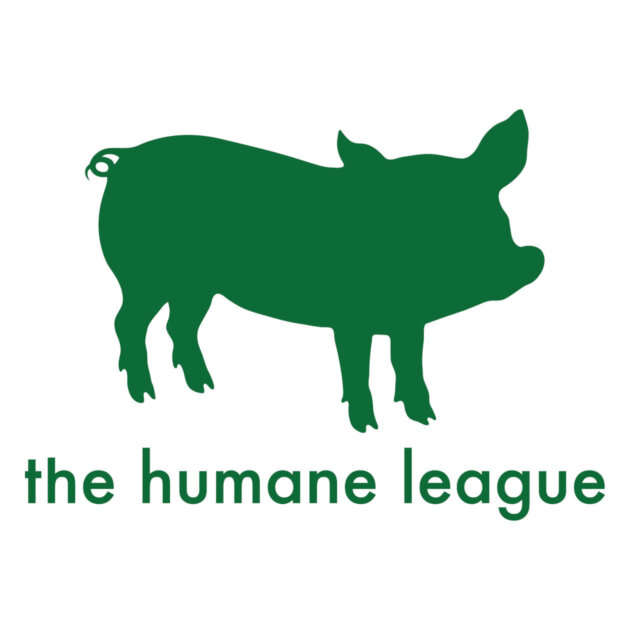 Donate
What does The Humane League do?
The Humane League (THL) engages in a variety of programs that aim to persuade individuals and organizations to adopt behaviors that reduce farmed animal suffering. THL's main program, based on their budget, is their online ads program. They place targeted ads online that direct the viewer to a page where they can watch a video about farming practices and receive information about adopting a vegan or vegetarian diet in response. They also distribute leaflets, work on cage-free and Meatless Mondays campaigns with schools, present humane education lectures to students, and do corporate outreach promoting shifts to higher animal welfare policies.
What are their strengths?
THL's most impressive accomplishment for us is not through any one of their programs, but through their overall outlook and approach to advocacy. Among animal advocacy organizations, they make exceptionally strong efforts to assess their own programs and to look for and test out ways of improving them. Their success in applying these techniques to their online ads program, and their publication of their research through Humane League Labs, has shifted the outlook and programming of several larger advocacy organizations toward finding the best ways to advocate for animals.
We feel that online ads are a promising way of exposing many people to information about animal agriculture, and that well-targeted ads likely result in significant dietary changes. We aren't sure that all their programs are equally effective, but THL is actively involved in assessing their performance, and we think their assessment methods and goals are solid. We are also confident that much of the current local outreach is highly effective, as a large proportion of it is leafleting, which we believe is one of the best ways of creating change at the individual level. Their organizational structure appears to be strong, and their track record, while not exceptionally long, shows plenty of successes.
What are their weaknesses?
THL does not appear to hold transparency as a value in itself, and some information about the organization can be hard to find via their website, but they responded very cooperatively to our inquiries and freely shared information of value. We also have some concerns about their system of considering local offices cost effective as long as they raise as much money as they spend, regardless of their programs' effectiveness when compared to the national programs' effectiveness. Finally, although we are impressed with the creation of their Humane League Labs program, we would like to see more statistical analysis of their findings.
Why do we recommend them?
THL has an exceptionally strong commitment to using studies and systematic data collection to guide their approach to advocacy. They also have room for considerable amounts of increased funding to support both local offices and the online ads program. Our cost-effectiveness estimates show that their overall effectiveness is in line with that of other organizations we have evaluated in this depth.
We find THL an excellent giving opportunity because of their strong programs and evidence-driven outlook, and are pleased to recommend donating to them.
How much money could they use?
We are setting a target amount of $50,000, but we think THL could use about $270,000 in increased funding this year. Of this, they could use about $80,000 to open two more local offices than they plan to open (thus expanding all of their local outreach programs), and $190,000 to roughly double the amount they'll spend on online ads.
What do you get for your donation?
From an average $1,000 donation, THL would spend about $540 on online ads, leading to 2,160 online video views. They would spend about $150 on leafleting, resulting in the distribution of about 1,667 leaflets (Vegan Outreach bears the $400 cost of printing and shipping these leaflets). THL would also spend about $120 campaigning for cage-free eggs on college campuses or for Meatless Mondays in K-12 schools and $10 on national corporate campaigns. They would spend about $80 giving humane education lectures to about 8 students in high schools and colleges, and $20 refilling news–racks with 286 Vegetarian Starter Kits (These are usually printed and shipped by PETA, and we think the cost to PETA would be about $69). Finally, depending on how the costs of their research are included in their budget, they'd spend about $80 on Humane League Labs (or, if these costs are included in the budgets for other programs, all the amounts listed above would be increased slightly). Our rough estimate is that these activities combined would spare about 3400 animals from life in industrial agriculture.
We don't know exactly what THL will do if they raise additional funds beyond what they've budgeted for this year, but we think additional marginal funds will be used similarly to existing funds.
This review is an archived copy, originally published in December 2014. See the most recent review of The Humane League.
How The Humane League Performs on Our Criteria
Criterion #1: The Organization Has Concrete Room for More Funding and Plans for Growth
THL has room for more funding to expand their online ads program and to open offices in additional cities more quickly than they would otherwise be able to.1 In recent years they have secured enough funding to fully fund their existing programs and to expand to new cities with their local offices,2 but the constraint on further expansion of their programs has been financial.3 At the end of 2013, their assets were worth about 68% of their 2013 expenditures.4 This is an assets to expenditures ratio in the range we would expect from an organization that is able to spend funds as it receives them but is maintaining a responsible fiscal cushion.
Typically, one of THL's local offices costs around $40,000 to open and operate for the first two years.5 After this point, each office is expected to cover its own expenses through local fundraising events.6 THL currently operates nine offices around the country, and has plans to open an additional two offices in 2015.7 They could use $40,000 or $80,000 to fill the gap between offices they have time to open and offices they have funds to open.8
The online ads program is a more flexible use of funding; additional funds in amounts not suitable for opening offices could go to this program.9 There is no increment of funding too small to increase the number of ads they're able to buy.10 They've recently started placing ads to appear in other countries, and these markets are very far from saturated, so they could use a lot of funding to expand this program.11 Specifically, we think they could reasonably double its size, which would use an additional $190,000 this year.
Criterion #2: A Back-of-the-Envelope Calculation Finds the Organization is Cost-Effective
THL runs several programs; we estimate cost effectiveness separately for each of their main programs and then give a composite estimate of their overall impact. Note that all estimates factor in associated supporting costs including administrative and fundraising costs.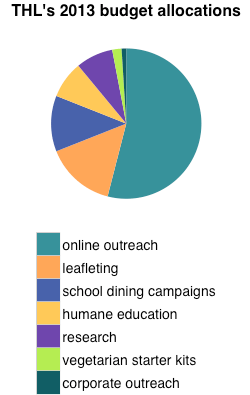 Online Outreach
THL's largest program in terms of budget is the online ads program.12 In 2013 they reported over 1,000,000 clicks on their English language ads.13 By our estimate, setting up and paying for these online ads used about 54% of THL's budget, or $253,882.14 This works out to an average cost of about 25 cents per click,15 close to the marginal cost of 20 cents per click that is commonly cited.16
Leafleting
Several of THL's other programs appear to have quite similar costs, and our uncertainty about how exactly costs are allocated is significant enough that we don't really know which receive the largest shares of THL's resources.17 We estimate that about 15% of THL's budget, or $69,656, went to leafleting.18 In 2013, THL reported distributing 768,665 leaflets, mostly printed by Vegan Outreach.19 This works out to an average cost to THL of about 9 cents per leaflet distributed;20 they report a marginal cost of 4-6 cents per leaflet.21 Since Vegan Outreach (VO) covers the design, printing, and shipping costs of the leaflets, we also are considering the cost of leaflet distribution to VO.22 We estimate VO's marginal cost per leaflet at about 11 cents based on their online order form; it may be lower for distributions to THL because shipping costs per leaflet are lower when many leaflets are shipped together.23 Their average cost per leaflet, based on their entire budget, is around 24 cents (plus 11 cents for distribution, covered here by THL).24 Thus the comprehensive average cost per leaflet is around 33 cents; the comprehensive marginal cost per leaflet is around 14 cents.25
Cage-free Campaigns and Meatless Mondays
We estimate that around 12% of THL's budget, or $56,308, went to cage-free campaigns in 2013.26 In 2013, these campaigns produced commitments from 9 college campus dining services to serve only cage-free eggs.27 In 2014, a portion of this went instead to Meatless Monday campaigns.28 Two school districts adopted Meatless Monday policies throughout their district as a result of THL's work, and one adopted such a policy for half the district.29 THL estimates that around 3,200,000 meat-free meals will be served per year that these policies are in effect.30 Ignoring the cage-free policies entirely, this works out to a cost of under 2 cents per meal affected.31
Humane Education
We estimate that about 8% of THL's budget, or $35,662, went to conducting humane education lectures, mostly for high school and college students.32 In 2013, THL presented to 3753 students,33 which works out to a cost of about $9.50 per student.34
Vegetarian Starter Kits
We estimate that about 2% of THL's budget, or $9,593, went to distributing Vegetarian Starter Kits, mainly through news racks.35 In 2013, THL distributed 136,479 starter kits, mostly supplied by PETA.36 This works out to an average cost per kit of about 7 cents for THL;37 they reported a marginal cost of 2 cents.38 We do not have detailed information about the costs to PETA of printing and shipping the starter kits; assuming these costs are similar to those for leaflets, we estimate a comprehensive average cost of 31 cents per kit and a comprehensive marginal cost of 13 cents per kit.39
Corporate Campaigns
We estimate that about 1% of THL's budget, or $5,839, went to corporate campaigns in 2013.40 THL was solely responsible for campaigns leading Au Bon Pain and Johnsonville Sausage to pledge to reduce cruelty in their supply chains, and also took part in successful campaigns to change policies at Aramark and Sodexo.41
Studies of Advocacy Methods
Humane League Labs has a budget of $30,000 for 2013-2014.42 Including some administrative costs, we figure that its true cost is probably around $37,638, or 8% of THL's total budget.43 Over this two year period, they plan to carry out and publish 14 studies.44
All Activities Combined
To combine these estimates into one overall cost-effectiveness estimate, we need to translate them into comparable units. This will introduce several sources for errors and imprecision, so the resulting estimate should not be taken literally.45 However, it will allow us to judge whether THL's efforts are comparable in efficiency to other groups'.46 We use our Online Ad Impact Calculator and Leafleting Impact Calculator47 to find that THL spares about 5.5 animals from life on a factory farm per dollar spent on online ads,48 and about 2 animals per dollar spent on leafleting (using the average costs of 25 cents per view and 33 cents per leaflet49 ).
It is also relatively easy to see the impact of Meatless Monday campaigns in animals spared. We use our Leafleting Impact calculator (which factors in elasticity of supply and demand) to estimate that one person going vegetarian for a year would spare 10.3 animals,50 which means serving one vegetarian meal instead of a meat-based one spares about .0094 animals.51 Then THL's local campaigns spare about .5 animals per dollar through Meatless Monday campaigns, even assuming each policy change lasts for only one year.52 We also estimate that cage-free policies spare suffering equivalent to about 1,000 animal lives on factory farms over the life of the policy, or about .2 animals per dollar spent on local campaigns.53 So overall THL's cage-free and Meatless Monday campaigns spare about .7 animals per dollar, and more if the average Meatless Monday policy will last for more than one year, which we think is likely.54
Finally, we estimate that each of the two corporate campaigns that THL conducted on their own will result in the equivalent suffering spared of 10,000 animals living on factory farms,55 so THL's work in that area results in about 3.4 animals spared per dollar spent.56 We do not estimate the suffering spared by the Humane League Labs or THL's newsracks, about 10% of their activities in total.57 We weight our estimates by the proportion of funding THL spends on each activity to find that overall THL spares about 3.4 animals per dollar spent,58 within the same range as other groups we have reviewed at this depth.59 Because of extreme uncertainty even about the strongest parts of our calculations (the calculators linked above each have error bounds spanning 2-3 orders of magnitude), there is currently limited value in further elaborating this estimate.60 Instead, we give weight to our other criteria.
Criterion #3: The Organization is Working on Things That Seem to Have High Mission Effectiveness
THL works on many programs that educate young people about the realities of factory farming and encourage them to respond by adjusting their diets and getting involved in activism.61 This is highly effective by addressing the situation of farmed animals, an exceptionally good opportunity to help animals given the present circumstances.62
Online and Grassroots Outreach
Online and grassroots outreach to individuals seems highly effective because it is focused on changing the culture of animal use for food. This culture must ultimately be changed if conditions are to improve significantly for animals, as it is not possible that animal agriculture can continue to grow at its present rate in a way that is respectful of animals' interests.63 The effectiveness of this type of outreach is somewhat limited when compared to some other forms because viewers and readers are encouraged to make small-scale individual changes and may not influence others the way a change in law or corporate policy influences many people.64
Specific Institutional Campaigns
Specific institutional campaigns undertaken by THL include cage-free campaigns and Meatless Mondays campaigns.65 Cage-free campaigns reduce animal suffering in the short term by a somewhat uncertain degree, but THL staff conducting such campaigns recruit and train student activists to work on them, and the benefits of growing the animal advocacy movement in this way may be significant.66 We think Meatless Monday campaigns have high potential to create a large amount of change.67 By convincing a few decision makers, advocates can significantly reduce meat consumption by many more people.68 The broader impact on social memes is uncertain, but likely to be positive.69 While there is a possibility that people are eating more meat on other days of the week to make up for not having meat on Monday, we find that to be unlikely, and instead believe that the promotion of a discussion about eating choices, and thus the need or lack thereof to eat meat/eggs/dairy, will likely have a positive effect on future decisions.70
Corporate Outreach
Corporate outreach seems to have high mission effectiveness because it involves convincing a few powerful people71 to make decisions which influence the lives of millions of animals.72 This seems likely to be easier than reaching and persuading millions of consumers in order to accomplish the same goal. However, corporate outreach often deals with small welfare improvements.73 It's not clear whether such improvements, even if very easy to achieve, are highly effective in the long term, since as well as changing conditions for animals, they may also influence public opinion, either towards concern for farmed animals or towards complacency with regard to industrial agriculture.74
Studies of Advocacy Methods
Studies specifically designed to be applicable to the work of THL and other similar organizations have the possibility to increase the effectiveness of campaigns by better understanding what makes a video, leaflet, or other persuasive material more influential.75 If some of these studies are able to improve upon the effectiveness of the materials currently being used, a group could increase not only their own effectiveness, but also that of many other organizations, by making the study results freely available.76 Over several years, this could lead to a very high impact for a low price.77
Criterion #4: The Organization Possesses A Robust and Agile Understanding of Success and Failure
THL has one of the best understandings of success and failure that we have seen among animal advocacy organizations. They actively work to evaluate their own programs' efficiency, quantitatively when possible, in order to determine what is working best and what they need to do less of or modify.78 By making as much as possible of what they learn public through Humane League Labs, they also prioritize the success of the animal advocacy movement as a whole.79
We think that one of the strongest examples of their approach to determining which programs is successful is their recent decision to test Meatless Monday campaigns with resources they had previously used for cage-free campaigns.80 THL local organizers have typically led campaigns to convince college dining services to switch to using cage-free eggs.81 However, after learning about good results that The Humane Society of the United States has had promoting Meatless Mondays in K-12 schools, THL decided to have some staff spend a semester working on this kind of campaign instead.82 Based on their findings, they have spent more time working on Meatless Mondays initiatives over the past six months with some notable successes.83 They have found that Meatless Mondays campaigns take more time to prepare and carry out,84 so while they haven't yet completed an especially high number of campaigns in this area, they are planning on more of these in the future.
Another example is THL's approach to online ads. They take advantage of the flexibility and responsiveness of online media to continually split-test both ads and videos as needed to improve their success rates (typically measured in clicks to download Vegetarian Starter Kits.)85 This allows them to respond quickly to ads that don't work or are poorly targeted, which is particularly crucial as they expand their online ads program to other countries and languages, as they likely have less prior information about what will work in these situations.86 We do have reservations about the appropriateness of clicks to download Vegetarian Starter Kits as a metric, since since it has not been shown they are a good proxy for behavior change.87 However, we appreciate that they are among the most logical of the metrics that are easily available for all viewers.88
THL is relatively comfortable with and interested in explicit cost-effectiveness estimates, compared to other organizations. They use these cost-effectiveness estimates to help guide their actions, with one exception; they say that they would not close their local offices to focus only on online outreach even if that seemed to be the most cost-effective activity, because their local offices do their own fundraising and as such do not take away from the national budget.89 We have some concerns that this may not be the correct way to consider the situation, as some donors to the local offices might still donate to the national organization or to another similar group if there were no local office.90 However, in practice we do not feel that existing cost-effectiveness estimates are sufficiently robust to drive a dramatic shift to a single priority program, even if local offices are not viewed as self-funding.91
Finally, THL is using Humane League Labs to better understand what works best through research. Though we wish they would provide more statistical analysis of their findings, we are encouraged that their research is a concerted effort to understand impact, and believe that they will be willing to shift their focus upon learning of new or improved advocacy techniques. We have also engaged in ongoing conversation with them about ways to improve the rigor of their studies and the meaningfulness of the results they report, and believe they are improving in these areas over time.92 In particular, we are encouraged that they are currently planning one study to be carried out with the help of a professional research group.93 We think this will both result in a strong study and in a learning experience that helps them in deciding how to implement future study designs.
Criterion #5: The Organization Possesses a Strong Track Record of Success
Successfully carrying out planned programs
THL was founded in 2005 and has engaged in its current programs for several years.94 They have undergone substantial growth in recent years, with their 2013 budget over 10 times as large as their 2009 budget.95 This means that they have a substantial track record both carrying out their programs and training new staff and opening offices in new cities.96
Programs leading to change for animals
Some of THL's programs have clear track records of success as affecting actual animals, such as the cage-free campaigns and corporate programs.97 These programs lead to direct and measurable increases in the number of animal products being produced under higher welfare standards (and decreases in the numbers being produced under lower standards), and therefore their short term effects for animals are clearly substantial and positive.98 While THL's direct impact cannot be tracked in campaigns on which they have joined with other organizations, they have had enough successes attributable solely to their own impetus that we are confident they are having success in both these areas.99
Many of THL's programs attempt to influence individual behavior, and these are substantially harder to measure as regards ultimate impact upon animals.100 Included in this category are online ads, leafleting and other literature distribution, humane education, and most Humane League Labs studies. Studies so far suggest substantial positive effects of some of these activities, while others have not been formally evaluated at all.101,102 Even in cases where studies have been done, self-reported data is not fully reliable and the amount of available information is limited.103 In particular with the case of Humane League Labs, THL has faced difficulties releasing their findings on their planned schedule,104 and have not provided the level of statistical analysis that we would like to see.105 However, we believe that changing individuals' beliefs and behaviors is a crucial part of building a better world for animals, and we do not want to penalize groups doing this work for the inherent difficulties of measuring success.
Criterion #6: The Organization Has Strong Organizational Leadership and Structure
THL has solid and stable leadership, with key staff for program leadership having been with the organization for several years.106 The Executive Director, David Coman-Hidy, has been with the organization for around 3 years.107
THL has well-established procedures for hiring new local office staff and opening new offices, because it has grown significantly in the past few years.108 Local office staff operate mostly independently with help in different areas from the Executive Director, Director of Campaigns, and Director of Operations.109 We believe this structure is especially stable because many people in the organization know how to do most of the important program-related tasks.110
Criterion #7: The Organization is Transparent
THL is exceptionally forthcoming with information through Humane League Labs111 and cooperated fully with our questions during the evaluation process. We find their new website somewhat less informative than the old one, which featured real-time reports on the activities of each local office.112 However, they share information very willingly upon request, and have cooperated with us and with other advocacy groups on studies and other projects frequently in the past.113 They don't appear to value transparency for its own sake,114 but do an excellent job of sharing information that they know will be useful to others.
---
The following materials are supplementary research documents associated with our charity review process and are referenced in the Comprehensive Review.
Research Documents