Archived Version: November, 2016
Status
Top Charity
Primary Work Area

General Animal Advocacy

Industrial Agriculture

Website
The Humane League
Review Published
November, 2016
Type
Archived Review
Current Version
November, 2020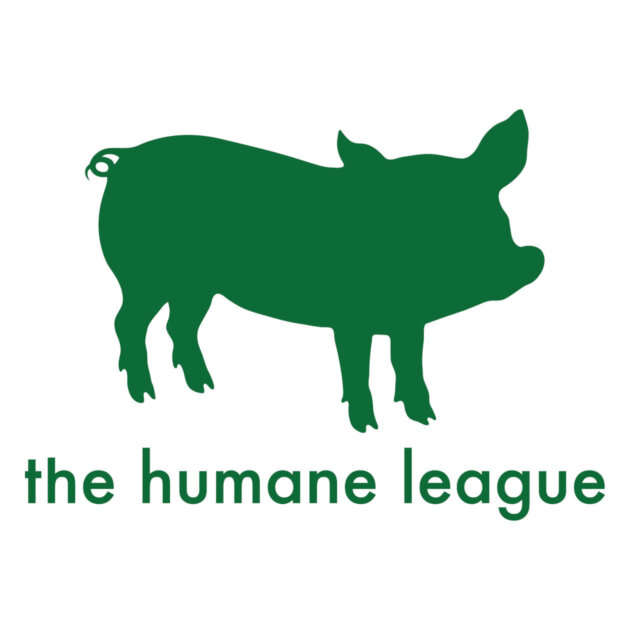 Donate
What does The Humane League do?
The Humane League (THL) engages in a variety of programs that aim to persuade individuals and organizations to adopt behaviors that reduce farmed animal suffering. THL's largest programs, based on their budget, are their corporate campaigns and grassroots outreach. They encourage corporations to shift to policies dictating a higher animal welfare standard and they educate the public using leaflets and online videos. THL also works with schools to implement Meatless Monday programs, presents humane education lectures to students, and trains college activists.
What are their strengths?
In our view, THL's most significant advantage is not any single program, but rather their general approach to advocacy. Among animal advocacy organizations, THL makes exceptionally strong efforts to assess their own programs and to look for and test ways to improve them. Their success in applying these techniques to their online ads program, and their publication of their research through Humane League Labs, has shifted the outlook and programming of several larger advocacy organizations toward finding the best ways to advocate for animals.
THL's organizational structure appears to be strong, with a cohesive, positive, and democratic culture promoting positive relationships between THL staff, Board Members, and volunteers. We think this is especially important for THL because part of the intention of their local offices is to build a grassroots movement, and setting a positive and results-oriented tone for those new to the movement is good for animal advocacy as a whole. Their track record demonstrates significant success. Recently, they've been especially successful with their corporate campaigns.
What are their weaknesses?
We have some concerns about THL's view that their local offices will be cost-effective as long as they raise as much money as they spend, regardless of their programs' effectiveness when compared to the national programs' effectiveness. Also, we would like to see deeper critical engagement from them with regard to big questions as well as smaller ones like how to interpret particular study findings. One big question that seems especially important for THL is the value of individual dietary change. This is especially due to the concern that strategies focusing on this effect, like online ads, might be less promising when measured by other effects—like growing the animal advocacy community and shifting social norms. THL does plan to spend a smaller proportion of their budget on online ads in 2017.
Why do we recommend them?
THL has an exceptionally strong commitment to using studies and systematic data collection to guide their approach to advocacy. Our back-of-the-envelope cost-effectiveness estimates suggest that THL is highly cost-effective relative to other animal charities. We find THL to be an excellent giving opportunity because of their strong programs and evidence-driven outlook, and we are pleased to recommend donating to them.
How Much Money Could They Use?
We think that THL could use at least $1 million to $1.5 million more in funding next year than they had this year, with about $500,000 to $1 million of that coming from individual donors. It's likely that they would use it to expand their international work, including corporate campaigns and possibly grassroots work, and to expand their campus outreach program.
What Do You Get for Your Donation?
From an average $1,000 donation, THL would spend about $300 on corporate outreach to campaign for higher welfare policies. They would spend about $290 on grassroots outreach, including leafleting, supporting corporate campaigns, and humane education. THL would also spend about $250 on online ads, $120 on communications and social media, and about $40 on campus outreach. Our rough estimate is that these activities combined would spare 100,000 to 1.7 million animals from life in industrial agriculture.
We don't know exactly what THL will do if they raise additional funds beyond what they've budgeted for this year, but we think additional marginal funds will be used similarly to existing funds.
The Humane League has been one of our top recommended charities since August 2012.
How The Humane League Performs on Our Criteria
Criterion #1: The Charity Has Concrete Room for More Funding and Plans for Growth
In 2015, we predicted that THL could use up to $380,000 in increased funding, spread across basically all of their program areas.1 We now estimate that they'll spend almost $800,000 more in 2016 than in 2015, so we should expect to see that they have grown substantially.2 This does seem to be true, with the majority of the growth coming in the corporate campaigns program, which is now their single largest program area.3 They have also significantly increased their spending on online ads and expanded their campus outreach program.4
The one program area which did not expand as much as we might have expected was their local grassroots offices; they have added two offices since we spoke in 2015.5 They also added two offices between our 2014 and 2015 reviews.6 In both years we predicted that with additional funding they would be able to open more than two additional offices, but they maintained their usual rate of growth in this area, with increased funding actually going to expand other programs.7 To some extent, this reflects funders' preferences; THL has received considerable support from large donors interested in funding specific programs, mostly online ads and corporate campaigns.8, 9 But we now think that, given past events, it's unlikely that THL will substantially increase the number of new offices they open per year in the immediate future.
We think that THL will have room to expand in most or all of their program areas in the coming year, including continuing to expand their campaign presence, and possibly their local grassroots work, internationally; expanding their campus outreach work; and opening a small number of new local offices.10 They expanded their staff considerably in 2015 and again in 2016 and seem to be doing well at incorporating new staff, maintaining morale, and addressing the problems of growth.11 Even without expansion plans, they would likely need more funding in order to comply with the new Fair Labor Standards Act, since it raises the salary threshold below which U.S. employees must be paid for working overtime.12
This year, THL is in an unusual position with regard to room for funding. Since the Open Philanthropy Project started making grants for farmed animal welfare early in 2016, they have announced 2 grants to THL, covering a significant part of their budget for 2016 and projected budget for 2017.13 The first two grants aim to fill THL's room for funding for their corporate campaigns program, and have largely fueled the expansion of that program, including additional staff positions and expansion of THL's corporate work internationally through both their own work and the development of the Open Wing Alliance.14
If major funders want to fill all of THL's room for funding in some or all areas of work, then the case for individual donors to fund them is not as strong. However, there are some mitigating factors: major funders could change their funding priorities in the future, may prefer to support charities which can also secure funding from other sources, and may choose only to support certain programs, which is especially important for a charity like THL with many different programs.15 THL has told us that they want to avoid being funded only by a few major donors, and we think these are all reasons which make sense and could apply to their situation.16 Additionally, if donors decide not to give to THL because of the Open Philanthropy Project grants, this could incentivize the Open Philanthropy Project to give fewer or smaller grants to THL in the future.
THL's goal is to raise about $1.5 million more in 2017 than in 2016.17 Given the amount they expanded in 2016, it does seem reasonable that they would be able to use at least $1 million to $1.5 million more in 2017 than 2016. Given the timing of the Open Philanthropy Project grants, we estimate that they will provide about $500,000 of this, so that at least $500,000 to $1 million is left to other donors to contribute.18 Since we can't predict exactly how any organization will respond upon receiving more funds than they have planned for, this estimate is speculative, not definitive. We could imagine a group running out of room for funding more quickly than we expect, or coming up with good ways to use funding beyond what we have suggested. Our estimates are indicators of the point at which we would want to check in with a group to ensure that they have used the funds they've received and are still able to absorb additional funding.
Criterion #2: A Back-of-the-Envelope Calculation Finds the Charity is Cost-Effective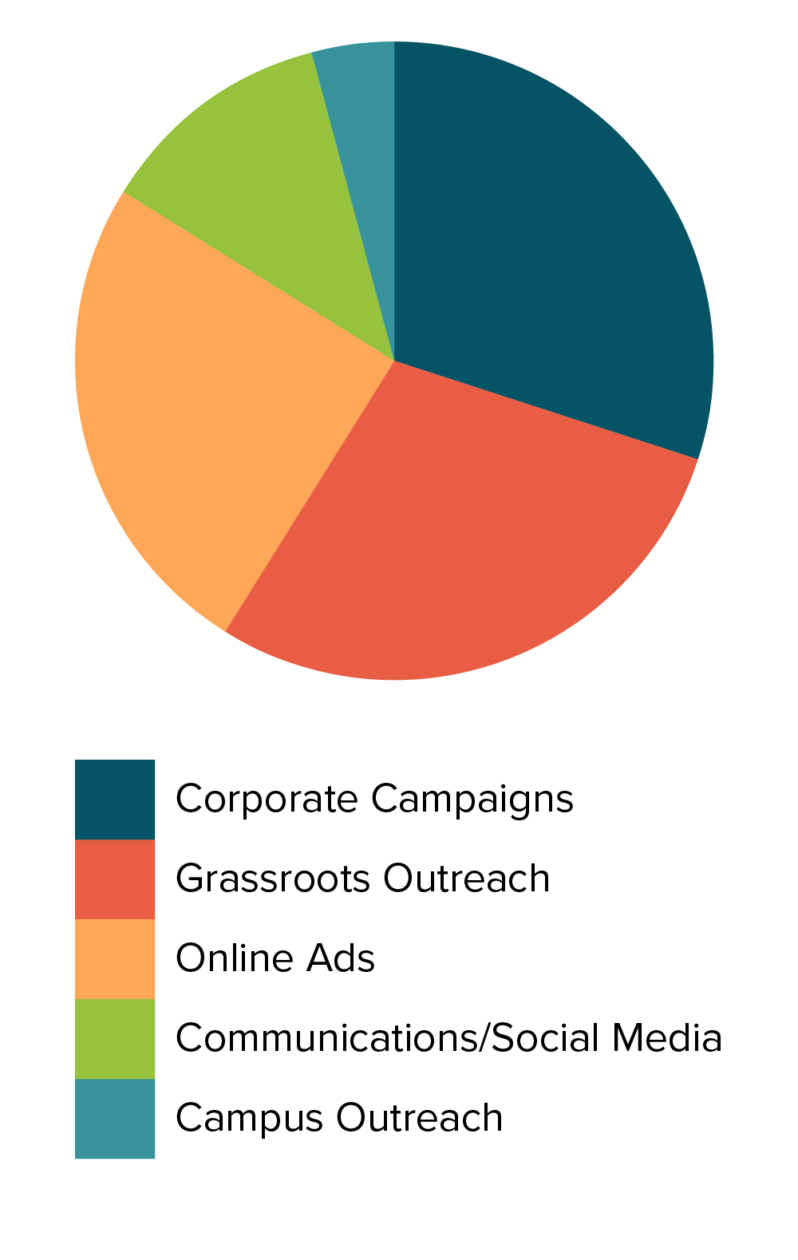 The Humane League runs several programs; we estimate cost-effectiveness separately for each of their main programs and then give a composite estimate of their overall impact. Note that all estimates factor in associated supporting costs including administrative and fundraising costs. Where we give estimates as ranges, they represent our 90% subjective confidence intervals; that is, we expect the true value to be within the range given in 90% of cases.19 We think this quantitative perspective is a useful component of our overall evaluation, but the estimates of equivalent animals spared per dollar should not be taken as our overall opinion of the organization's effectiveness, especially given that we choose not to account for some less easily quantified forms of impact in this section, leaving them for our qualitative evaluation.
Corporate Campaigns
We estimate that in 2016 THL will spend 30% of their budget, or around $483,000, on corporate campaigns.20 This results in some companies adopting new policies, and these policies result in reduced suffering for animals.21 We estimate that THL's corporate campaigns will help cause between 95 and 110 policy changes affecting between 200 million and 400 million laying hens and male chicks each year, accounting for the risk that some companies might not follow through with their commitments.22, 23 The policies include moving laying hens to cage-free systems, as well as a policy by the United Egg Producers, a large industry group, that calls for the majority of the U.S. egg production system to move to in-ovo sexing technology for egg-laying hens, which would eliminate the current system of killing male chicks shortly after hatching.24, 25
Grassroots Outreach
We estimate that in 2016 THL will spend 29% of their budget, or around $477,000, on grassroots outreach.26 This will include the distribution of between 1 million and 1.3 million pieces of literature,27 between 1,800 and 2,400 pay-per-view video views, and between 8,000 and 10,000 students reached with humane education presentations.28 We're unsure how costs are split between these activities, but note that if the costs are all assigned to leafleting, the cost per leaflet distributed is between $0.38 and $0.50.29
Online Ads
We estimate that in 2016 THL will spend 25% of their budget, or around $407,000, on online ads.30 The ads are placed on Facebook, and clicks lead viewers to pro-veg and pro-animal content.31 We estimate that they'll get between 18 million and 30 million clicks on their ads in 2016, making their cost per click between $0.01 and $0.023.32
Communications and Social Media
We estimate that in 2016 THL will spend about 12% of their budget, or $194,000, on social media outreach and other communications, including their blog, Facebook page, etc.33 We estimate that this year the videos they share will get between 2 million and 3 million unique views to 95% of the video length.34 This gives us a cost of between $0.06 and $0.09 per video view to 95%.35 However, we note that users also engaged with THL's content in many other ways, such as watching parts of videos, reading text posts, and reading blog posts, so the cost per engagement is lower.
Campus Outreach
We estimate that in 2016 THL will spend 4% of their budget, or around $59,000, on campus outreach.36 Their campus outreach program shares some elements with their grassroots outreach, and results of campus outreach such as leafleting and pay-per-view views are included with similar results from grassroots outreach for simplicity.37 The campus outreach program will also give between 60 and 75 student campus coordinators experience in organizing for animal rights, lead to campus policy changes benefiting 1,500 to 5,000 hens (mostly by shifting from using conventional to plant-based mayonnaise),38 and generate 11,000 to 14,000 individual Meatless Monday pledges.39, 40
Changes Since 2015
In both 2015 and 2016, THL has produced significantly more corporate policy change than in the previous year.41, 42 We think the progress in corporate campaigning is in part because the commitments they and others sparked last year caused a shift in the industry attitude towards battery cages that allowed other companies to adopt cage-free policies more easily; in particular, this year THL and other groups were very successful in attempts to change grocery retailers' policies.43 We think this speaks to the difficulty in making cost-effectiveness estimates for long-term campaigns, since they can have diffuse effects years later, including effects they could have on new policies and commitments that aren't directly attributable to the organization who ran the long-term campaign. We're not sure whether these gains can continue, as the types of policy on which THL has been working are now widespread throughout the U.S. industry, and they will need to start a move towards some other policy to improve farmed animal welfare in order to continue reaching large numbers of animals through these techniques.44 As of November 2016, however, THL and other charities have begun making progress in both international cage-free reforms and other areas of welfare policy like reducing the suffering of chickens raised for meat.
All Activities Combined
To combine these estimates into one overall cost-effectiveness estimate, we need to translate them into comparable units. This will introduce several sources for errors and imprecision, so the resulting estimate should not be taken literally.45 However, it will provide information about whether THL's efforts are comparable in efficiency to other charities'.46
We use our Online Ad and Leafleting Impact Calculator to find that THL spares between -4 and 45 animals from life on a farm per dollar spent on online ads,47, 48 and between 1 and 6 animals per dollar spent on grassroots outreach.49 We use a separate impact calculator for social media to find that THL spares between 0.3 and 10 animals per dollar spent on social media programs (other than online ads).50
We consider the number of animals affected by THL's corporate policy victories, the extent to which THL worked with other groups to achieve those victories, and the proportion of suffering alleviated by the policy changes to estimate that THL spared an equivalent of between 300 and 6000 animals per dollar spent on corporate campaigns in 2016.51 Note that even though many of our ranges are quite wide, this one is exceptionally so. We note that a large part of both the impact and uncertainty is from the chicks affected by the United Egg Producers policy, which may be a one-time opportunity due to its unusually large reach and the fact that, unlike most corporate policies, its primary effect is to completely prevent animals from being born into industrial agriculture.52 These chicks live very short lives, only around one day, so many readers might want to focus on the years spared figures instead of lives spared.53
We use estimates of campus dining services purchasing and estimate the average effect of Meatless Monday pledges to estimate that THL spares between 0.4 and 15 animals per dollar spent on campus outreach.54
We weight our estimates by the proportion of funding THL spends on each activity to estimate that in the short-term, THL spares between 100 and 1700 animals per dollar spent.55 We have also run parallel calculations to estimate that this means THL spares animals between -20 and 110 years of suffering on farms per dollar spent.56, 57 Because of extreme uncertainty even about the strongest parts of our calculations, there is currently limited value in further elaborating this estimate. Instead, we give weight to our other criteria. We also exclude more indirect or long-term impacts from this estimate, which could result in it being an underestimate of overall impact. Because charities have varying proportions of different types of impact, this makes our quantitative estimates particularly difficult to use to compare charities.
Criterion #3: The Charity is Working on Things That Seem to Have High Mission Effectiveness
Online and Grassroots Outreach
Inspiring individual consumers to make animal-friendly changes affects animals by reducing the demand for animal products. Increasing the number of vegans and vegetarians could also lead to greater support for new animal-friendly policies, such as the institutional adoption of plant-based products. We think that outreach targeted to individual consumers might even be a necessary precursor to more institutional change.
Still, the impact of grassroots outreach seems limited relative to the impact of other interventions. Even if viewers and readers make individual changes, they might not influence many others to do the same. By comparison, a change in corporate policy or the law can influence many people's behavior and might have a greater indirect impact on social norms and the growth of the animal protection movement. THL does plan to shift their grassroots focus towards supporting corporate campaigns in the coming months, and they plan to spend a smaller proportion of their budget on online ads in 2017.
Corporate Outreach
Corporate outreach seems to have high mission effectiveness because it involves convincing a few powerful people to make decisions that influence the lives of millions of animals. This seems likely to be easier than reaching and persuading millions of consumers in order to accomplish the same goal. However, the gains achieved through corporate outreach are often small welfare improvements. It's not clear whether such improvements, even if easy to achieve, are highly effective in the long term. Small welfare reforms may improve conditions for animals, but they may also influence public opinion, either towards greater concern for farmed animals or towards complacency with regard to industrial agriculture. We expect the impact on public opinion to be favorable for animals, overall.58
Studies of Advocacy Methods
Conducting research on effective advocacy can play a pivotal role in how successful an organization can be. A group might expertly carry out a particular intervention, but if that intervention isn't effective (or if it has negative effects), then the group is not as impactful as they could be. They may even unintentionally cause net harm. By investigating the effectiveness of their persuasive material, THL may be able to increase their impact. By publishing their findings, they may also help to increase the impact of other groups.
Criterion #4: The Charity Possesses a Robust and Agile Understanding of Success and Failure
THL has one of the best understandings of success and failure that we have seen among animal charities. They actively work to evaluate the efficiency of their own programs, quantitatively when possible, in order to determine what is working best and what they need to do less of or modify.
THL is using Humane League Labs to better understand what works best through research. In the past, Humane League Labs seemed to have difficulty releasing their findings on a planned schedule,59 and they initially did not provide the level of statistical analysis we would have liked to see.60 However, they recently hired Harish Sethu to run Humane League Labs and are looking for another capable Researcher to work with him.61 We are encouraged that they make a concerted effort to understand impact and believe that they will be willing to shift their focus upon learning of new or improved advocacy techniques.
THL's board and staff are committed to reducing suffering; they are not committed to any particular strategies for accomplishing their goal. They emphasize their ability to change directions as needed. By making as much as possible of what they learn public through Humane League Labs, they also work to increase the effectiveness of the animal advocacy movement as a whole.
THL is relatively comfortable with and interested in explicit cost-effectiveness estimates, compared to other organizations. They use these cost-effectiveness estimates to help guide their actions, with at least one exception: in 2014, they told us that they would not close their local offices to focus only on online outreach and national campaigns even if that seemed to be the most cost-effective intervention, because their local offices do their own fundraising and as such do not take away from the national budget.62 We do not necessarily agree with this reasoning, as some donors to the local offices might still donate to the national organization or to another similar group if there were no local office.63 However, in practice we do not feel that existing cost-effectiveness estimates are sufficiently robust to drive a dramatic shift to a single priority program, even if local offices are not viewed as self-funding.64
In 2015, THL made some changes to internal processes. For example, in at least some offices, they have become more selective about intern recruitment, to avoid situations like interns throwing leaflets into the trash instead of distributing them.65 Their professional recruitment has also increased its focus on attitude and personality rather than technical suitability, which has produced good results.66
In 2016, THL has been working to expand their donor base. Currently, much of their funding comes from a small number of major donors or foundations, and having a more diversified base of support would lend THL greater stability. They are working on growing their social media reach and their mailing list and they hope that their name will become more widely known.67
Criterion #5: The Charity Possesses a Strong Track Record of Success
Have programs been well executed?
THL was founded in 2005 and has engaged in their current programs for several years. They have undergone substantial growth in recent years; their 2015 budget was almost 25 times as large as their 2009 budget.68 They have a substantial track record of carrying out their programs, opening offices in new cities, and training new staff.69
Perhaps their most successful campaigns in 2015 were their corporate cage-free campaigns. As a result of THL's work, several of the largest food service companies in the world agreed to expand their animal welfare policies and transition to cage-free eggs. In the following months, THL obtained more than 60 similar commitments. In 2016, THL continued to secure cage-free commitments from more than 90 dining companies, restaurants, manufacturers, and retailers in the United States.
THL's corporate outreach program landed another major achievement in 2016: they convinced United Egg Producers to eliminate the practice of culling male chicks. Instead of suffocating or grinding male chicks after they hatch, United Egg Producers will now use a new technology to determine the sex of chicken embryos before they hatch.70 Note that this welfare reform could be more likely to happen without animal advocacy involvement than other reforms because it seems more likely to be a financial savings for companies who make the change.
THL continues to engage in grassroots outreach, particularly on college campuses. They conduct humane education and recruit and train student interns and campus coordinators. They also distribute leaflets, Vegetarian Starter Guides, and dining guides.
Have programs led to change for animals?
Some of THL's programs have clearly benefitted animals, like their corporate outreach program. Their corporate campaigns have led to direct and measurable increases in the number of animal products being produced under higher welfare standards (and decreases in the numbers being produced under lower standards), and therefore their short-term effects for animals are clearly substantial and positive.
While THL's direct impact cannot be tracked in campaigns on which they have joined with other organizations, they have had enough successes attributable solely to their own impetus that we are confident they are having success. They conducted many of their cage-free campaigns independently or by taking the lead, and United Egg Producers' decision to end chick culling was made after "exclusive conversations with The Humane League."71
Many of THL's programs attempt to influence individual behavior, and the impact of these is substantially harder to measure.72 Included in this category are online ads, leafleting and other literature distribution, humane education, and most Humane League Labs studies. Research so far suggests that some of these activities have a positive effect, while others have not been formally evaluated at all.73 However, we believe that changing individuals' beliefs and behaviors is a crucial part of building a better world for animals, and we do not want to penalize groups doing this work for the inherent difficulties of measuring success.
Criterion #6: The Charity Has Strong Leadership and Long-Term Strategy
Leadership
THL has solid and stable leadership, with key staff for program and organizational leadership having been with the organization for several years.74 Executive Director David Coman-Hidy has been with the organization for over 6 years.75 Coman-Hidy has shown capable leadership skills over the years: maintaining high staff morale and friendly relationships with other animal advocates, prioritizing high-impact projects and self-evaluation, and engaging with criticism of THL's work in a healthy and productive manner. Most key staff at THL have served as local office Directors or co-Directors at earlier times, allowing them insight into the everyday activities of other employees.76
The Board of Directors has also remained stable; they don't have term limits, and most Board Members have been on the board since shortly after The Humane League adopted that name in 2008.77, 78 We had questions about this degree of stability in the board; a board that does not change its composition could prevent an organization from adapting, or could fail to meet the needs of the organization as it grows. For THL, however, the board organization and composition appear to be working. The board usually operates by consensus, so compromise and changing positions are regular occurrences for all Board Members and the Executive Director.79 Additionally, when they search for new Board Members, a good fit in terms of personality is seen as an essential condition; good candidates have a willingness to learn from new evidence and adjust their beliefs.80 Because existing Board Members have these characteristics, THL has been able to change methods and programs when opportunities arise or there is reason to believe a change will make them more effective.81
Long-Term Strategy
THL seeks to "reduce animal suffering by inspiring change at all levels."82 THL takes this mission seriously in their strategic decisions, such as focusing on welfare improvements for egg-laying hens and chickens raised for meat, who endure some of the most suffering of any population of farmed animals.83 They have also shown dedication to effectiveness through their research wing, Humane League Labs, and their engagement with ACE and the effective altruism community. We support THL's choice to focus on improving farmed animal welfare and promoting plant-based diets because we consider farmed animal protection to be the most promising area for most animal advocacy, other things being equal.84
THL is currently working on strategic planning for the next five years.85 Because of the rapid acceleration of corporate policy progress over the past two years, in addition to the Open Philanthropy Project funding, it makes sense that they are having to reshape their plans and we expect them to do so in a reasonable way.
THL has at least three potential roles in the animal movement they can fill: First, they already are, and could become more of, a leader in corporate and potentially legal policy change. Particularly, THL uses negative campaign pressure to encourage companies to change policies, often by working with friendlier organizations who can relieve the pressure and give incentives for moving in the right direction. This role makes sense because of their strong grassroots network and relatively more radical position. Second, THL is already serving as a leader in the internationalization of animal-friendly policies. Through the Open Wing Alliance, they are helping create global cage-free egg policies, which could be quickly followed by reforms for chickens raised for meat. Third, THL is developing a large grassroots network of effectiveness-focused activists that can assist, and already have assisted, with corporate campaigning. We think each of these roles are important in the animal movement, and the grassroots network in particular seems relatively neglected within the effective animal advocacy community.
Criterion #7: The Charity Has a Healthy Culture and Sustainable Structure
THL has well-established procedures for hiring new local office staff and opening new offices, because they have grown significantly in the past few years.86 Until 2015, many of the procedures were somewhat informal; last year they created more detailed handbooks to support new employees, particularly local office staff during their first year.87 Local office staff operate mostly independently with help in different areas from the national grassroots Director and Director of development.88 The campaigns department also has several members with overlapping duties.89 We believe this structure is especially stable because many people in the organization know how to do most of the important program-related tasks.90
THL deliberately maintains a positive and cohesive internal atmosphere.91 Staff and Board Members intentionally create community through an informal Facebook group, to help them deal with the fact that most work in cities where no other THL employee lives.92 In our deep review in 2015, staff, interns, and volunteers all told us that the positive and welcoming atmosphere created by others at THL was one of the strengths of the organization, especially for grassroots organizing.93, 94, 95 Staff also told us that open communication and the opportunity for everyone to give input on programs within the organization was a strength.96 Leaders at THL have recently begun placing more emphasis on maintaining these positive cultural aspects, by improving communication structures and placing more emphasis on cultural fit during the hiring process for new employees.97, 98 THL has also shown sustained fundraising ability over the years with consistent and rapid growth.
THL is exceptionally forthcoming with the work conducted by Humane League Labs and cooperated fully with our questions during the evaluation process.99 We find their current website somewhat less informative than the old one, which featured real-time reports on the activities of each local office.100 However, they share information very willingly upon request, and have cooperated with us and with other advocacy groups on studies and other projects frequently in the past.101
With their corporate campaigns department in particular, THL is actively collaborating with other animal charities. We are especially impressed by THL's leadership role in the Open Wing Alliance, where they offer support and coordination to campaigning charities in other countries to push for animal-friendly policies.
Criticism/FAQ
Why does THL use local grassroots offices, when it might be that more animals can be affected on a national level?
Many animal advocacy organizations, including Mercy For Animals, which have historically engaged in grassroots activism, choose not to operate local offices.102 Typically, this is because they believe they have a larger reach and can be more effective by operating programs online or through national media than by engaging in grassroots action. Sometimes these organizations still have a volunteer base which they encourage to engage in grassroots action, but without local staff support.103
THL believes that grassroots efforts are a crucial part of the animal advocacy movement,104 and lend strength to organizations pushing for policy change.105 They find that their local offices help to organize the community in the cities where they're located, especially if there is no similar office or organization in the area. They would like to see such offices in every metropolitan area, whether they are part of THL or of another organization.106
THL says that the strategy of having grassroots offices is distinct from the strategy of engaging in any of the particular activities which the grassroots offices now take part in. By having trained, dedicated staff throughout the country, they're prepared for situations in which they find that it's beneficial to change the specific tactics they engage in.107 For instance, in the past year, grassroots offices have switched from running local cage-free campaigns to running local meat reduction campaigns because of victories of the national corporate campaigns group,108 and they have also started supporting the national corporate campaigns more.109
Why does a significant portion of THL's outreach focus on dietary change, e.g. reducing meat consumption, rather than directly shifting public attitudes?
Critics argue that a strong focus on dietary change isn't supported by historical examples or other empirical evidence.110,111,112 Some argue that successful social movements have focused their rhetoric on the institution they opposed rather than on individual behavior supporting that institution.113 Critics also believe it is difficult to build a mass movement when the perceived criteria for acceptance in the movement is a lifestyle change, and that a consumer focus provokes less moral outrage than focusing on the institution, thus missing an important driver of activism and subsequent social change.
Some charities feel that a focus on dietary change in certain programs, such as leafleting, is more likely than other approaches to lead to immediate behavior change that directly spares animals If people simply change their attitudes with respect to farmed animals, that might not lead to actual impact for animals. After all, many people currently care about animals, but relatively few are vegetarian or vegan.114 It might actually be easier to change individuals' attitudes after convincing them to change their diets, since they will no longer need to reconcile their compassion towards farmed animals with their practice of eating them.
In general, however, THL's approach seems more focused on incremental change than on building a mass movement, which may be the real underlying difference between the two sides.
Does THL worry that focusing on some of the most extreme confinement practices could lead to complacency with other forms of suffering farmed animals endure or with meat consumption?
Critics argue that humane reforms (e.g. bans on battery cages) might lead people to think that farmed animals no longer suffer and that helping them is no longer a priority.115 Some cite as evidence that the animal agriculture industry markets itself as humane and ethical, which suggests this messaging actually benefits those companies.116 However, this may only reflect gains to individual companies from positioning themselves as the most humane option.117 There isn't much evidence that this kind of marketing helps the industry as a whole, and there's weak evidence of a negative correlation between media coverage of animal welfare and meat consumption.
Since humane reforms often involve working directly with food industry companies, this can give the public the impression that these companies treat their animals well when this is not the case, especially when animal advocates are incentivized to make the humane reforms seem like drastic improvements when animals still suffer substantially.118 Critics would also argue that, empirically, humane reforms such as banning battery cages reduce only a very small portion of the harm of animal agriculture, if any, so they are not the most cost-effective use of time.119, 120, 121
THL has not seen evidence of increased complacency among corporations as a result of their achievements thus far, as companies have often been more willing to work with them after making progress on some issues. It's not clear whether they would be aware of increased complacency among consumers as a result of their work.
As activists and potential activists notice THL's progress, their grassroots network (and the animal advocacy community in general) grows and can push for better animal welfare policies in the future. Also, making institutional progress for animals could increase the credibility of the animal advocacy movement, as it becomes clear that animal advocates are not just passionate about changing their personal diets; they are also capable of making significant institutional changes.122
The success of humane reforms also establishes moral discussions of animal agriculture as an important and tractable topic in the public domain, which seems important for further progress. It may even be important for facilitating the transition to vegan alternatives, like cultured meat. Consumers may support alternatives to animal agriculture more enthusiastically if they are aware of a history of other attempts to reform the system.
---
The following materials are supplementary research documents associated with our charity review process and are referenced in the Comprehensive Review.
Research Documents