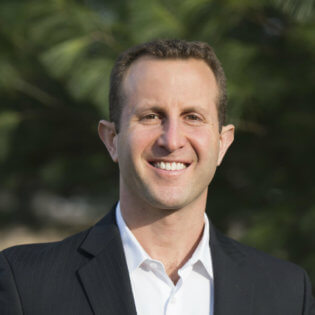 We had the privilege of speaking with Paul Shapiro, Vice President of Policy for the Humane Society of the United States (HSUS). In his role at HSUS, Paul has overseen numerous successful introductions of state laws and corporate policies implementing farmed animal welfare reforms. He's also directed efforts to convince retailers, food-service providers and institutions to expand their vegan options and reduce their use of meat. Paul was previously Campaigns Director for Compassion over Killing, which he founded in 1995. He is the author of "Moral Agency in Other Animals," contributor to "Animal Welfare in Animal Agriculture," and has published dozens of articles about animal welfare. His first book—on the clean meat movement—is forthcoming in late 2017. Paul spoke with Jon Bockman, ACE's Executive Director.
We've featured a few highlights from the interview below. You can read the interview in its entirety here.
JB: How did you first get involved with animal advocacy?
PS: I grew up in a household that had dogs. I loved those dogs so much that they were like my siblings. I probably even loved them more than my actual sibling at that time! When I was thirteen, a friend showed me a video about what happens to animals in factory farms, slaughter plants, fur farms, circuses, and experimentation labs. I watched it and thought "Oh my Lord, we are bullies." As a kid, I hated seeing bullies. I hated seeing stronger kids taking advantage of weaker kids. After that, I became a vegetarian. This was back in the early 90s, and there was essentially no internet, so I wrote letters to animal groups and asked them to mail me information. They snail-mailed me back (I guess it wasn't really snail mail in those days) these packages and they were talking about this thing called being a 'vay-gan.' I remember thinking 'What's a 'vay-gan? Oh my God, they don't eat eggs or dairy.' I thought that sounded like holding your breath; you can do it for a little while, but do it too long and you'll die. But I started volunteering with animal groups in my area where I met people who I learned were called 'vegans' and I thought 'Wow, real vegans.' I looked at them trying to ascertain if they looked healthy and asked them how long they'd been vegan. Many had been vegan for years. Then I found out Carl Lewis—a champion American sprinter in the Olympics—was vegan. I worshipped Carl Lewis. I decided if he was vegan, I'd become vegan.
There was no animal group at my high school, so in my sophomore year I started Compassion Over Killing (COK). I quickly realized I wanted it to be more than a high school club, so I turned it into a D.C.-wide volunteer organization. When I finished high school, I got COK incorporated, got 501(3)(c) status with the IRS (my father was very kind and helped!), and started trying to build it into a national organization. I kept running it as a volunteer throughout college. By the time I finished college, COK had raised enough money to hire one full-time staffer, and nepotistically I thought I was qualified and hired myself. Over the following years I hired more and more people, including Josh Balk, who soon became like my brother from another mother. When Wayne Pacelle became President of HSUS, he wanted to start a new Farm Animal Protection Campaign, which they had never had before. He asked if Josh and I would come to HSUS to help create the Farm Animal Protection Campaign. In 2005, Josh and I came to HSUS, and 12 years later we're still here. I'm now the organization's vice president of policy, still working on farm animal issues, but on other animal protection campaigns too. And Josh is now very appropriately our VP of farm animal protection.
JB: Could you talk about how you feel grassroots efforts such as leafleting and pay-per-view contribute to the success of the movement?
PS: I'm respectful of it and I've done a lot of it myself. I think that can be a good use of volunteers' time, but generally speaking it's less efficient than policy and institutional reforms are. I would recommend to animal groups they try to think about ways they can engage their volunteers to be part of broader campaigns, whether that's a campaign to get a major company to remove eggs from certain products or get them to offer plant-based options, or to be a part of a ballot initiative. I think this motivates people in a way other things don't, because there's a tangible end; you can actually win, as opposed to something that feels Sisyphean, as though there's never an end in sight. That's why so many people get involved in ballot measures. They form these amazing communities. It's sad because they're often not sustained once there's no overarching campaign left. But while it happens, it's truly amazing to see. I think groups ought to try to provide that for their volunteers. Or even encourage volunteers to try something like getting a local school to go adopt a Meatless Monday policy.
JB: What do you think the biggest gaps and needs currently are in the animal movement? Do you feel it's more of a talent gap or a funding gap?
PS: The movement is short on money. That's a huge problem, so donating is a great way to help animals. At the same time there aren't enough companies doing what's needed to build a plant-based economy. If you look at the start-up space, right now there are more money and funders than there are companies: meaning, there are many venture capital funds looking to invest.
The Good Food Institute has a list of company concepts they want entrepreneurs to form to fill this white space. We need more clean fish, clean pork, clean chicken and plant-based food companies out there. We don't have enough entrepreneurs in the animal movement trying to do what Hampton Creek, for example, is trying to do. So if someone is a good entrepreneur, that would be something to consider. Journalism is also potentially a good career path to consider. Although most big media outlets are shedding journalists rather than gaining them, journalists play a really integral role in helping the movement advance, and they have a very big influence on what people see and think. But my overall feeling is that people do what they like and become good at what they like. I think generally speaking we excel at things we enjoy doing.